December, 30, 2013
12/30/13
2:00
PM ET
It's been nine long years, but Warren Holloway still can't go a week without hearing about
"The Catch."
The former Iowa wideout became a household name in the Hawkeye State after a single play in the 2005 Capital One Bowl, when he caught a last-second Hail Mary touchdown from Drew Tate to stun LSU 30-25. Ever since then, that moment's never really left him.
Sometimes, the co-workers inside his Chicago office will tease him in front of clients or customers: "You see this guy on YouTube? He's all over the place." Sometimes, his family or friends will bring up the play, maybe the most unlikely game-winning play in Hawkeyes history.
[+] Enlarge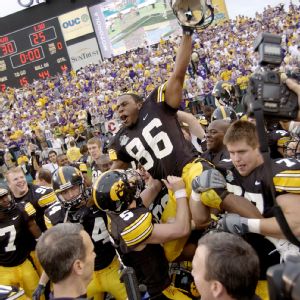 Matt Stroshane/Getty ImagesWarren Holloway is still getting praise from his game-winning catch against LSU as time expired in the 2005 Capital One Bowl.
But without fail, Holloway said, it'll get brought up at least once every week. And with LSU set to take on Iowa in the Outback Bowl on Jan. 1 -- the first time the teams have met since Holloway's catch -- he's had to deal with a bit more talk than usual about "The Catch."
"Honestly, it still plays a pretty good role in my life," Holloway said. "Anyone who knows me, if they know me long enough, they tend to come across that information. It's one of those cool little facts. They're like, 'You never told me.' It's kind of cool to have that in your backpocket -- and it's absolutely a blessing."
Holloway was an unlikely hero in that last meeting between LSU and Iowa. He entered that game, his final game, with no touchdown catches and just 256 career receiving yards. But, as his friends and co-workers found out, no one played a bigger role in that bowl victory.
The 31-year-old can still recall that play with great clarity, as if it happened yesterday. He answers most questions with a sentence or two but, when asked about that play, he dives into a 5-minute soliloquy that's so detailed you can still hear the chills in his voice.
Most Iowa fans probably remember it just as well. The Hawkeyes took over at their own 30, trailing 25-24, with less than a minute left in the game. Tate and Co. were just trying to get into field goal range but, after back-to-back completions, time started to slip away. With the time about to expire -- unbeknownst to Tate -- he decided to fire the ball downfield on one more play from the Iowa 44 -- a play that'd be forever etched in Hawkeyes history.
The prayer of a pass veered to the sideline, as Holloway initially thought the intended receiver was Ed Hinkel. But, luckily for Tate, Holloway figured he might as well try to catch up to the pass that drifted over his head. As Hinkel got in the way of one defensive back the ball slid into Holloway's hands, and he sprinted 15 more yards into the end zone to complete the 56-yard TD play.
"That was the fastest 15 yards in my life," Holloway said. "I feel like I only took three steps."
That touchdown, one which is sure to replayed over and over in the days leading up the Outback Bowl, felt like a movie to Holloway. Time literally slowed down on Holloway's route, he said, until time seemed to speed up faster once the ball was in his hands -- as if it needed to catch up to itself.
Once he crossed the end zone, he didn't even know time had expired. He still remembers standing there for a moment, not fully realizing the enormity of what he had done. His helmet began to vibrate -- the result of a dazed-but-screaming crowd -- and the earth literally began to shake beneath his cleats, "like a stampede." Every one of his teammates had left the sideline, sprinting straight toward him, and he still remembers what felt like an earthquake before they reached him.
He remembers some of his teammates -- he won't say whom -- openly weeping. One of his sobbing teammates just turned to him and said, "I love you, man." It was Holloway's first -- and only -- career touchdown catch.
"As far as being overcome with emotion, I don't know what else'd come close," he said, pausing. "Maybe having a kid."
Holloway will likely be reliving that moment quite a few times in the coming days. He hopes to be on the sideline when the Hawkeyes take on LSU at 1 p.m. Wednesday in Tampa, Fla. And, even if he might have to endure some more ribbing from his co-workers, he's looking forward to this LSU-Iowa matchup -- and reminiscing about the last one.
"It's something I'll always remember and appreciate," he said.
January, 19, 2010
1/19/10
11:06
AM ET
The last decade brought us many memorable moments in the Big Ten. From coaching milestones to individual awards to a national championship to the possibility of expansion, the Big Ten had it all in the aughts.

Here's a look back at 10 moments that stand out:

1. The Game pits No 1. vs. No. 2 -- Nov. 18, 2006: The Big Ten had the national stage all to itself as its premier rivalry pitted college football's top two teams, No. 1 Ohio State and No. 2 Michigan, at Ohio Stadium. A day after the death of coaching legend Bo Schembechler, the Buckeyes and Wolverines met in the most anticipated regular-season game ever. Ohio State won, 42-39 and earned the right to play in the BCS National Championship Game.

2. The Flag -- Jan. 3, 2003: It was the most famous -- or infamous -- call of the decade, a pass interference penalty on Miami's Glenn Sharpe that gave Ohio State new life in overtime at the 2003 Fiesta Bowl. The Buckeyes went on to tie the game and win in the second overtime for the Big Ten's only national championship in the aughts.

3. JoePa passes The Bear -- Oct. 27, 2001: Joe Paterno became college football's all-time winningest coach as Penn State rallied from a 27-9 deficit to beat Ohio State 29-27 at Beaver Stadium. Paterno's 324th career win pushed him past Paul "Bear" Bryant for the record.

4. Iowa wins bowl on final play -- Jan. 1, 2005: In one of the most exciting bowl game finishes ever, Iowa's Drew Tate found Warren Halloway for a 56-yard touchdown with no time remaining as the Hawkeyes stunned LSU 30-25 in the Capital One Bowl. LSU had taken a 25-24 lead with 46 seconds left before Tate's heroics.

5. Big Ten announces expansion plans -- Dec. 16, 2009: For the first time, the Big Ten publicly announced it would explore the possibility of expansion. More football coaches and athletic directors were behind the movement than ever before, and the league felt that the "time is right" to seriously look into a hot-button issue.

6. Starks' fumble return against Purdue -- Oct. 16, 2004: Purdue entered the game ranked No. 5 nationally and boasted the Heisman Trophy frontrunner in quarterback Kyle Orton. The Boilers led 17-14 late in the fourth quarter when Orton, running for a key first down, lost the ball. Wisconsin's Scott Starks recovered and raced 40 yards for a touchdown. Purdue never recovered that season.

7. Spartans win in Clockgate -- Nov. 3, 2001: Michigan State beat archrival Michigan 26-24 as Jeff Smoker found T.J. Duckett in the end zone with no time remaining. Many believe the Spartans shouldn't have had a chance to run the final play, as the clock could have expired before Smoker spiked the ball on third down.

8. Deaths of Walker and Hoeppner -- June 29, 2006 and June 19, 2007: The Big Ten tragically lost head coaches Randy Walker (Northwestern) and Terry Hoeppner (Indiana). Walker died suddenly of a heart attack weeks before training camp, while Hoeppner lost a battle with brain cancer almost exactly one year later.

9. Michigan beats Penn State on final play -- Oct. 15, 2005: Penn State's quest for a perfect season and a national championship ended on the final play at Michigan Stadium. Chad Henne found Mario Manningham for a 10-yard score as Michigan handed Penn State its only loss.

10. Krenzel to Jenkins on fourth down, Nov. 9, 2002: Ohio State's national title hopes teetered as the offense faced fourth-and-1 with less than two minutes left against Purdue. On a call that surprised everyone, Craig Krenzel threw to Michael Jenkins for a 37-yard touchdown as the Buckeyes rallied for a 10-6 win and went on to the championship.