College Football Nation:

Drew Terrell
January, 1, 2013
Jan 1
8:27
PM ET
PASADENA, Calif. -- A nip-and-tuck defensive battle was expected in the 99th edition of the Rose Bowl Game presented by Vizio. And neither Stanford nor Wisconsin disappointed as the Cardinal downed the Badgers
20-14
. Here's how it all went down in Pasadena:


It was over when
: Stanford's
Usua Amanam
recorded the first turnover of the game when he intercepted Wisconsin's
Curt Phillips
with two minutes left in the fourth quarter.
Turning point
: An interference penalty while
Drew Terrell
attempted to fair-catch a punt gave the Cardinal great field position with about 10 minutes left in the game. The drive resulted in a 22-yard field goal from
Jordan Williamson
and a 20-14 Stanford lead.
Game ball goes to
: While this certainly wasn't the cleanest game for Stanford quarterback
Kevin Hogan
(12-of-19, 123 yards), he kept plays alive with his feet, rushing for 54 yards on seven carries, and he didn't turn the ball over. As we saw, even one turnover can make the difference.
Unsung hero:
After taking quite a beating following last season's Fiesta Bowl, Williamson turned in a solid performance, hitting field goals of 47 and 22 yards.
What it means for Stanford
: It's a bit of good news for the Pac-12, which has had a disappointing bowl season. The Cardinal, playing in their third BCS bowl game in as many years, get to wash away a bit of the bad taste from last season's Fiesta Bowl loss.
What it means for Wisconsin
: The Badgers now are 0-for-their past three Rose Bowls, and the Big Ten has won just one Rose Bowl Game since 2000. It also caps a disappointing day for the conference, which saw Michigan, Nebraska and Purdue all go down.
December, 1, 2012
12/01/12
2:12
AM ET
PALO ALTO, Calif. -- It didn't matter to Stanford that everyone was handing the Pac-12 to either USC or Oregon in the preseason. But, of course, it did. It didn't matter to Stanford that many expected the Cardinal to take a significant step back after losing quarterback Andrew Luck, the first overall pick in the 2012 NFL draft. But, of course, it did.
That's the twin engine that drives Stanford. It's contradictory only on the surface. Stanford doesn't pay attention to what you think because that chip is already on its collective shoulder. It's part of the program's culture. It doesn't care what you think but -- just in case -- it's certain you doubt them.
Yet here the Cardinal are, headed to the Rose Bowl as the Pac-12 champions after beating UCLA
27-24
on Friday, gutting out a victory over a foe that looked a lot tougher than it did six days earlier in a 35-17 defeat. The Cardinal is headed to a third consecutive BCS bowl game with a chance to finish a third consecutive season in the final top 10.
Surely that will convince the naysayers that the most elite academic institution playing FBS football is also elite on the gridiron?
"They probably still won't give us credit," outside linebacker
Chase Thomas
said. "They never have. They just don't get it. They counted us out before the season after Andrew left. They counted us out when [coach Jim] Harbaugh left. And when [running back Toby] Gerhart left."
While you might quibble with Stanford not getting credit -- it has finished ranked fourth and seventh in the final Associated Press poll the past two seasons -- you can't quibble with the facts: The Cardinal is now 11-2 and headed to the Rose Bowl after replacing one of the great college quarterbacks of the past decade, not to mention a handful of other early-round NFL draft picks.
This program has some legs.
But this one wasn't easy. The Bruins showed up for take two. It was only decided when
Ka'imi Fairbairn
missed a 51-yard field goal attempt with 34 seconds left.
After rushing for just 73 yards and giving up seven sacks in game one, the Bruins rushed for 282 yards and yielded three sacks. They outgained the Cardinal 464 yards to 323.
Said Stanford coach David Shaw, "They just played better."
But two plays changed the game. First, with UCLA leading 14-7 and facing a second-and-16 from the Cardinal 36-yard line, quarterback
Brett Hundley
threw his only interception on the night, but it was returned 80 yards by
Ed Reynolds
to the Bruins' 1-yard line. A play later, it was 14-14, and the Cardinal quashed early UCLA momentum.
[+] Enlarge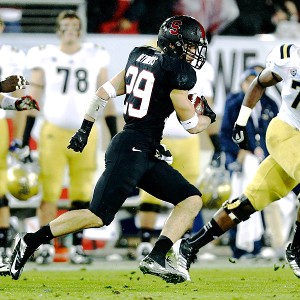 AP Photo/Marcio Jose SanchezEd Reynolds halted a UCLA drive with this 80-yard INT return, which Stanford immediately cashed in.
Then, early in the fourth quarter with UCLA leading 24-17, Stanford faced a third-and-15 from the Bruins' 26-yard line. The Cardinal sent out four vertical receivers, with tight end
Zach Ertz
cutting underneath in the middle. The safety followed Ertz. Quarterback
Kevin Hogan
saw receiver
Drew Terrell
get some space along the right sideline.
"The corner sat a little bit," Hogan said.
Hogan found Terrell for a 26-yard touchdown to tie the score.
Said UCLA coach Jim Mora, "We busted a coverage."
Hogan won game MVP honors, and Stanford's transformation can be traced to him. The redshirt freshman made his first career start Nov. 10 against Oregon State, but now he has beaten four consecutive ranked teams, including the victory at Oregon that keyed the Cardinal taking the North Division title.
"It's been a good month," Hogan said.
Hogan is already notorious for two things: poise and a desire not to talk about himself. It's better to have others talk about him, a signal-caller who can do damage with his arm and legs.
"He's an impressive kid," Mora said. "He's very poised. He's careful with the ball. He makes good decisions."
Shaw said Hogan's "ceiling is very high" and that his poise is "innate."
"You don't train a guy like that," Shaw said. "You find a guy like that."
Hogan completed 16 of 22 passes for 153 yards and rushed for 49 yards on 11 carries. But the biggest number is this: No turnovers for the Cardinal offense. On a day when UCLA was statistically superior, that might have been the difference.
"You're a freshman?" Thomas joked with Hogan on the podium during a postgame news conference, then turning back to reporters. "He sure doesn't play like one."
Stanford hasn't played in a Rose Bowl since losing to Wisconsin after the 1999 season. Shaw is the Pac-12 Coach of the Year. The Cardinal has won at least 10 games in three consecutive seasons for the first time in their history.
There are probably a few folks who don't believe they will do it a fourth time in 2013. At least, that's what they hope in the Cardinal locker room. Not that they care what you think. But they know you think that.
Remember: These guys are nerds. They know things.
Said Shaw, "We expect to be good again next year."
September, 9, 2012
9/09/12
4:14
AM ET
By
Kyle Bonagura, Special to ESPN.com
| ESPN.com
PALO ALTO, Calif. -- That's more like it.
A week after Stanford sputtered to a 20-17 win against San Jose State, the Cardinal returned to form in a
50-13 victory
against Duke.
Back to usual on the Farm? Not exactly.
The lopsided win didn't follow the script Stanford fans have become accustomed to over the past three years. There was no power running game to open up the pass, in fact Duke's nine-man defensive fronts caused the Cardinal to nearly abandon the run completely.
"If anyone has nine-man front run plays, please, don't keep them to yourselves," Stanford coach David Shaw said. "I give the coaching staff of Duke a lot of credit. They did the same thing to us last year; they made it tough on us. They made it hard on us and just like last year, you got to make plays in the passing game."
Stanford (2-0) finished with just 92 yards rushing on 26 carries, which snapped a 49-game streak in which the Cardinal ran for over 100 yards as a team. The last time it fell short of the century mark was a 31-14 loss at TCU on Sept. 13, 2008.
Without much room to operate, running back
Stepfan Taylor
ran for 69 yards on 14 carries and scored on a 13-yard run early in the second quarter.
While Duke (1-1) stacked the box to have success against the run, the Cardinal's base 3-4 defense fared even better. The Blue Devils had negative yards rushing for most of the first half and finished the game with 27 yards on 23 carries.
[+] Enlarge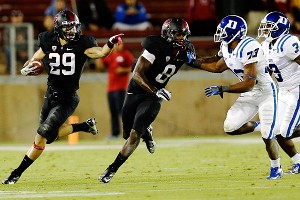 AP Photo/Marcio Jose SanchezEd Reynolds, left, scored two interceptions against Duke, returning one 71 yards for a touchdown.
By no coincidence did the stout defensive effort coincide with the return of linebacker
Shayne Skov
. Skov, who missed most of last season with a torn anterior cruciate ligament, made just four tackles, but the potential All-American's presence on the field was no doubt felt by his teammates.
"It's great to have his energy," safety
Ed Reynolds
said. "He brings so much passion to the game as a teammate, as a leader and just having him out there running around doing what he does best was definitely a plus for us."
Skov said there were no lingering effects from the torn anterior cruciate ligament.
"It didn't bother me at all today. I think adrenaline is a hell of a deal, it can completely change you," Skov said. "It changes how you feel and tomorrow, if you ask me how I feel, it'll probably be a completely different answer."
When it mattered, the Cardinal pass defense was effective too. Duke lived on a steady diet of quick, high-percentage passes to the perimeter throughout the game and didn't hit on anything deeper until the game was well out of hand.
Reynolds, who has taken on a lot of the responsibilities that
Michael Thomas
held last year, has been an obvious bright spot through the first two games. After opening the season with an interception last week, he added two more against Duke and returned the first 71 yards for a touchdown to put Stanford up 43-6 late in the third quarter.
"Nothing has ever seemed too big for him," Shaw said. "He's got a great knack for reading quarterbacks and great knack for getting to the ball and the thing with him is that he's a former running back, so once he gets his hands on the ball he can be dangerous."
Last year, Thomas led the team with three interceptions and it took the team seven games to combine for that many.
Duke quarterbacks
Sean Renfree
and
Anthony Boone
combined to complete 42 of 63 passes for 358 yards, but just 105 of those yards came in the first half as Stanford built a 23-3 lead.
Drew Terrell
took a lot of the pressure off the Stanford offense before it hand a chance to step on the field. After the defense forced a three-and-out to open the game, Terrell took the ensuing punt 78 yards for a touchdown.
"I saw on film earlier in the week that their punt team wasn't real good at getting out," Terrell said. "The punter outpunted the coverage. I saw there was one guy to beat. Fortunately, I was able to get inside of him and I saw it was me and the punter and as a returner you can't let the kicker bring you down."
Quarterback
Josh Nunes
couldn't have been happier with how things opened up.
"That gave us an extra boost of confidence," he said, "seeing Drew run down the sideline, it gets us all hyped up."
Terrell added three catches for 39 yards and another touchdown to round out the best game of his college career.
With Duke set on stopping the run, Nunes had a chance to air it out more than in his debut. He completed 16 of 30 passes for 275 yards and three touchdowns, but threw his first career interception.
As well as the Cardinal played Saturday, it'll take another significant week of improvement if the team expects to contend with No. 2 USC in the Pac-12 opener for both teams next week.
"All hand on deck, honestly," Skov said. "It's going to take everything we got and we know what's ahead of us."
September, 9, 2012
9/09/12
2:09
AM ET
By
Kyle Bonagura, Special to ESPN.com
| ESPN.com
PALO ALTO, Calif. -- Thanks to a 78-yard punt return for a touchdown by
Drew Terrell
following the first series of the game, the Stanford offense didn't take a snap without the lead as the Cardinal cruised to a
50-13 win
. Here are a few highlights from the Cardinal's impressive victory:


It was over when:
Duke failed to recover an onside kick to begin the second half. Stanford capitalized with a quick touchdown drive -- capped by a 19-yard pass from
Josh Nunes
to Terrell -- to go up 30-3.
Game ball goes to:
Safety
Ed Reynolds
already has as many interceptions this season (three) as team leader
Michael Thomas
did all of last year. He had two picks against Duke, the first of which he returned 78 yards for a touchdown.
Stat of the game:
Four yards rushing for Duke in the first half. Stanford forced the Blue Devils to be one-dimensional from the start, which had a trickle down effect on their passing game. Duke settled for quick passes to the perimeter, which played into Stanford's strength on defense.
Unsung hero:
Shayne Skov
. Coming off a torn anterior cruciate ligament, Skov might not have shown up in the box score like he's been known to do (four tackles, one pass breakup), but his presence added a noticeable swagger to the defense -- something it lacked against San Jose State.
What it means:
Stanford will still be big underdogs next week when it hosts No. 2 USC, but the prognosis for the rest of the season looks much better than it did after its closer-than-anticipated win against San Jose State in the season opener. By building a big early lead, coach David Shaw and offensive coordinator Pep Hamilton were able to keep a lid on portions of the offense that'll be available against the Trojans.
September, 1, 2012
9/01/12
4:19
AM ET
By
Kyle Bonagura, Special to ESPN.com
| ESPN.com
PALO ALTO, Calif. -- What a difference a year can make.
Nearly a year removed from a 54-point drubbing of San Jose State, Stanford rang in the post Andrew Luck era with a thud. The Cardinal needed a 20-yard field goal from
Jordan Williamson
early in the fourth quarter to provide the difference in a
20-17 victory
.
The smiles and laughter that followed last year's 57-3 season-opening win against the Spartans were replaced by straight faces and looks of concern.
Running back and potential Heisman Trophy candidate
Stepfan Taylor
said the team needs to work on its communication. Coach David Shaw said the poor play was due to a lack of execution. Whatever it was, it won't be good enough when the Cardinal entertain better opponents -- certainly not No. 1-ranked USC in two weeks.
[+] Enlarge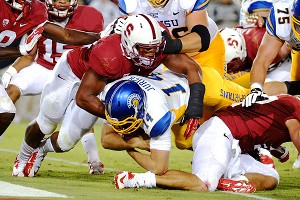 Kyle Terada/US PresswireStanford's defense couldn't quite keep a lid on San Jose State, which trailed just 17-10 after this Blake Jurich touchdown early in the third quarter.
With Luck and offensive linemen David DeCastro and Jonathan Martin off to the NFL, the supposed strength of the team was its defensive front.
That wasn't the case Friday as the Cardinal struggled to get pressure on San Jose State quarterback
David Fales
, who completed 24 of 35 passes for 216 yards.
"(They didn't play) up to their capability, flat-out," Shaw said. "I told them flat-out after the game, they are much better than the execution that was out there. Those guys shouldn't stay blocked. It's one thing to get blocked, it's another thing to stay blocked."
The team's best pass-rusher was nickelback
Usua Amanam
, who recorded a pair of sacks and four tackles for loss.
Usually that designation would belong to outside linebacker
Chase Thomas
, who considered a jump to the NFL but returned for his fifth year on the Farm. San Jose State keyed in on Thomas, who finished with five tackles and half a sack. He did, however, provide the biggest hit of Fales on the night, but it came after he'd already got rid of the ball.
Next week against Duke, the front seven should benefit from the return of potential All-American linebacker
Shayne Skov
. Skov, who missed most of last season with a torn anterior cruciate ligament, served a one-game suspension Friday for a February drunk-driving arrest.
"(Skov's) experience is going to be huge," Shaw said. "Getting him back will give us four guys on the inside that can play."
Skov is expected to start alongside sophomore
James Vaughters
, who displaced last year's leading tackler,
Jarek Lancaster
, as a starting inside linebacker. Vaughters made five tackles in his starting debut, but has some cleaning up to do, Shaw said.
While expectations are high for the front seven, the same can be said for the Cardinal running game which, early on, looked like the same unit that helped the team qualify for BCS bowl games in each of the past two seasons.
Behind Taylor and its power running game, Stanford scored touchdowns on its first two possessions. By halftime, the Cardinal led 17-3 and had 118 yards on the ground with 86 from Taylor.
The second half was a different story.
After averaging 5.6 yards per carry before halftime, Stanford ran for just 37 yards on 20 carries the rest of the game.
What happened?
"That's what I want to know," Shaw said. "Next question."
Taylor pointed to a lack of communication that comes with breaking in several new offensive linemen in the first game of the year, and while Shaw agreed, he wasn't ready to make any excuses.
[+] Enlarge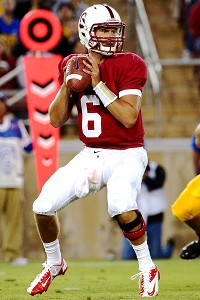 Kyle Terada/US PresswireJosh Nunes was 16-for-26 for 125 yards and a touchdown in his starting debut.
"They made some adjustments, which always happens," Shaw said. "We made some adjustments after that. And, honestly, we made a lot of mistakes. We need to make sure we step it up a notch, but at the same time, when we run a play against a defense and it's successful, and we run the same play against the same defense and it's not successful, we'll look to see why."
Taylor finished with 116 yards on 26 carries.
While Luck had autonomy at the line of scrimmage last year, his replacement,
Josh Nunes
, isn't quite there yet. The redshirt junior was solid in the first start of his career, but wasn't asked to do a whole lot.
"It was everything I dreamed," Nunes said. "I wasn't nervous at all.
It was nice being back on the field again."
Nunes completed 16 of 26 passes for 125 yards and found
Drew Terrell
on an 11-yard first-quarter touchdown, the first of his career.
"He played extremely well and was very poised under pressure," Shaw said. "San Jose State gave a few looks we had not seen and Josh handled it all very, very well. He showed great leadership for our team out there and we look forward to having him do so throughout the season."
Nunes knows he won't be Luck, but realizes there will be comparisons.
In Luck's first start as a redshirt freshman, he was 11 of 23 for 193 yards and a score in a 39-13 win at Washington State.
August, 8, 2012
8/08/12
12:00
PM ET
While so much offseason drama has focused on who will be delivering passes at Stanford, there is also the question of who is going to be catching those passes.
Gone are leading wide receivers Griff Whalen (56 catches, 749 yards, four touchdowns) and Chris Owusu (35-376-2), who missed a lot of time last year anyway with injury. And we use the term "leading" accurately, but lightly, because often times last year head coach David Shaw was critical of the wide receiver contributions.
Then again, he didn't need the wide receivers to be great. Part of it was the tight end trio of Coby Fleener,
Zach Ertz
and
Levine Toilolo
, who accounted for 20 of Stanford's 38 passing touchdowns -- including 10 from the departed Fleener. Part of it was also quarterback Andrew Luck, who threw a pretty darn good ball, but was also very good at distributing to multiple receivers and position groups.
[+] Enlarge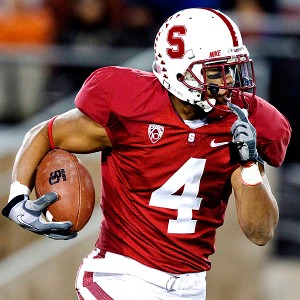 Jason O. Watson/US PresswireDrew Terrell is one of only two senior receivers on Stanford's roster this season.
Running backs/fullbacks caught nine touchdowns and the wide receivers accounted for the other nine. That's more than 23 percent. And let's be honest, maybe
the best catch of the 2011 season
was by the guy usually doing the throwing.
Translation, with a new quarterback and the top three pass-catchers gone -- the Cardinal are going to need stronger wide receiver play in 2012.
"It's vital," Shaw said. "It's vital to our success. We got a really good start.
Jamal Rashad-Patterson
is in the best shape of his life.
Drew Terrell
has really attacked his senior year much like Griff Whalen did the year before and Doug Baldwin the year before."
Terrell is an interesting prospect. Of the 15 wide receivers on Stanford's roster, Terrell is one of only two seniors along with Rashad-Patterson -- and ironically, the guy who threw the ball to Luck. He's a standout on special teams and with a very young receiving corps, he's going to have to be a standout in the locker room and on the field.
"It's a big year for him, no doubt," Shaw said of Terrell. "He's got such a great trust from the coaching staff. He knows all the plays and formations ... he's the leader in that room and of the group. How we use him will change week to week. He's a good route runner and he's been our best blocker for two years."
But he only caught eight balls for 81 yards and a score last year. That leaves sophomore
Ty Montgomery
-- with his 24 catches and two touchdowns -- as the No. 1 threat. As a true freshman, he emerged late in the season as Owusu's primary replacement and in a short time showed why Shaw is excited about him.
"I think Ty Montgomery is going to be a star in college football," Shaw said. "And we've brought in four new guys to compete. They've all shown flashes. We're excited about them. And the gauntlet is out there for these guys. We've proven over time that at every position, if you show us you can help us, we'll put you on the field to help us. The competition is there and we'll see who puts themselves in a position to play."
March, 26, 2012
3/26/12
12:00
PM ET
So far, the quarterback competition at Stanford is going as head coach David Shaw has planned: Five men enter, two men leave.
The original five —
Brett Nottingham
,
Josh Nunes
,
Robbie Picazo
,
Kevin Hogan
and
Evan Crower
— all entered spring drills with, according to Shaw, an equal chance to be the guy replacing
Andrew Luck
.
As the spring session winds down in the next few weeks, Shaw said he believes that Nunes and Nottingham have separated themselves from the pack of five.
"We've got a couple of good, viable candidates," Shaw said. "It's not like no one has played well and we can't make a decision. Both (Nunes and Nottingham) have played well. But no one has separated themselves just yet. The positive is we have a couple of good options. Thankfully we have a little more time to see who separates themselves."
[+] Enlarge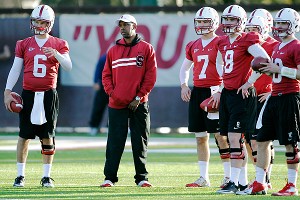 AP Photo/Paul SakumaJosh Nunes (6) and Brett Nottingham (7) look to be leading Stanford's quarterback competition.
If you're a Stanford fan, this is a very good sign. The last thing you want to see at the end of spring practices is a quarterback competition going into the summer that still involves five quarterbacks. That's a recipe for chaos and an indication that there is still no direction. It doesn't appear this is the case.
No one, Shaw included, expected there would be a starting quarterback by the end of April. But the hope all along was that two -- possibly three -- players would emerge to take the competition to the next level when the Cardinal start camp in the summer in preparation for the 2012 season.
Nottingham, who was the backup to Luck last season, appeared in six games for the Cardinal, completing 5 of 8 passes for 78 yards, including a 39-yard touchdown strike
Coby Fleener
in the season opener against San Jose State. Picazo was the only other quarterback on the roster to throw in a game last season, completing 3 of 3 balls for 15 yards.
Drew Terrell
's lone pass -- the heralded one-handed catch by Luck -- wasn't enough to earn him a spot in the arms race.
Nunes was originally penciled in as Luck's backup last season until a turf-toe injury sidelined him for most of fall camp and a good part of the season.
In an interview last week
, Nunes said he was feeling 100 percent and the turf toe was no longer an issue.
While it's in vogue at some schools to use multiple quarterbacks, Shaw reiterated that the practice is not an option for him.
"The quarterback position is unique because if you were talking about another position, two or three guys can compete for another spot, and we can rotate at outside linebackers or running backs or receivers," Shaw said. " But we're not going to rotate quarterbacks, so you don't want to lose a single rep. You want to jump in there when you get an opportunity so it is competitive."
All of the above quarterbacks were outstanding high school players. Nottingham was a four-star recruit from the 2010 class and Nunes ranked 137th in the 2009 ESPNU 150 list -- coming in as the 12th-ranked quarterback in the nation.
Hogan and Crower were both three stars. Hogan was mostly sought after by the ACC and Big East while Crower was wooed by the Pac-10/12. Picazo joined the program as a walk on after setting a slew of records at Tesoro High in Las Flores, Calif.
"All of these guys are leaders in their own right," Shaw said. "It's hard to be the overall, true leader that you want to be when you're not a starting quarterback. So there is some jockeying there."
January, 2, 2012
1/02/12
11:30
PM ET
GLENDALE, Ariz. -- Momentum, she is a swinging.
The Cardinal stopped OSU on its first drive of the second half, then a 26-yard punt return from
Drew Terrell
gave the Cardinal solid field position at their own 41. They marched down to the OSU 15 where
Andrew Luck
connected with
Zach Ertz
on a 16-yard scoring strike.
Momentum swing.
After stopping OSU again, Quinn Sharp pinned the Cardinal at their own 3-yard line, and fullback
Geoff Meinken
fumbled at the Stanford 4, which OSU recovered.
Momentum swing.
But OSU failed to get in after three tries and opted for a 19-yard Sharp field goal.
Momentum swing?
Plus,
Coby Fleener
came out with a lower leg injury.
Momentum swing?
Maybe. Stay tuned...
October, 2, 2011
10/02/11
4:00
PM ET
PALO ALTO, Calif. -- Sorry Stanford fans,
Andrew Luck
will not be catching anymore balls this season. Or so head coach David Shaw would have us believe.
"We won't come back to it again this year," Shaw said.
[+] Enlarge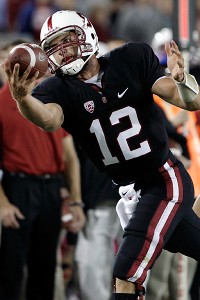 AP Photo/Paul SakumaStanford quarterback Andrew Luck makes a one-handed catch on a trick play against UCLA.
He's, of course, referring to Luck's
one-handed sideline grab
in the first quarter of Saturday night's 45-19 win against UCLA. Luck pitched the ball to
Tyler Gaffney
, who flipped it to wide receiver
Drew Terrell
on the reverse. But Terrell stopped and tossed to Luck, who stretched and brought the ball down with his right hand, and was able to drag his left foot to keep it inbounds.
"There are about five positions the guy can play," Shaw said. "Receiver, tight end, outside linebacker. We kind of like what he does at quarterback. We put him in a position to make plays and he never disappoints."
Few 13-yard receptions are met with such fanfare.
Not to be outdone,
Coby Fleener
(four catches, 78 yards, two touchdowns) came back later in the drive with his own one-handed grab. Luck fired a missile at Fleener in the end zone, and the tight end smoothly snapped it out of the air for an 18-yard touchdown.
"I knew Andrew was trying to make me look bad with his one-handed catch so I felt like I had to one-up him," Fleener joked after the game. "The line gave Andrew enough time to get the ball off and Andrew put it in a spot where only I could get it. And it kind of worked out well."
Shaw, however, sided with his quarterback in the battle of one-handed catches.
"I thought (Fleener's) was a close second to Andrew," Shaw said. "But it was a heck of a catch as well."
Said Luck: "Drew made a hell of a throw under pressure. It's tough for guys to come into a football game when you've never thrown. I just tried to put my hands up and catch the ball and hope I had a foot in bounds."
It was a play that they had worked on in practice. And while it only went for 13 yards, it was yet another amazing highlight for Luck to add to his reel.
"We thought it had a chance to be a good play," Shaw said. "I would have loved for him to stay in bounds and see if he could score. It was a heck of a catch."
October, 2, 2011
10/02/11
12:06
AM ET
PALO ALTO, Calif. -- Quick thoughts on Stanford-UCLA at the half:


Turning point:
Without question, Stanford's goal-line stand on UCLA's first drive of the game. Rather than take the field goal on fourth-and-goal at the Stanford 2, UCLA coach Rick Neuheisel opted to go for it -- a quarterback draw from
Richard Brehaut
. He was stopped at the 1. Stanford then turned around and marched 99 yards for a touchdown.
Best call
: It goes to replay official Bill Fette, who correctly reversed
Andrew Luck
's non-reception in the first quarter. Originally called out of bounds, the quarterback made a sparkling one-handed catch on an end-around wide receiver pass from
Drew Terrell
. With his right arm extended, Luck cradled the ball and dragged his left foot. Fette reversed the call -- much to the joy of a very vocal Stanford Stadium.
Best player (1A):
Easy to say it's Luck. He's only 10-of-12 for 85 yards with a touchdown and a 13-yard reception. But I've been really impressed with Jarek Lancaster. There was a huge spotlight on him and A.J. Tarpley to fill the void of Shane Skov at middle linebacker. Both have played well, but Lancaster has really stood out. His solo stop on third down during the goal-line stand was huge. He was tagged with pass interference that negated what would have been the first interception of the season. But it was a
bad
call, and led to a UCLA touchdown before the end of the half. Other than that, a great first half from Lancaster.
Best player (1B):
Stepfan Taylor
is on pace for another career game. The running back has 11 carries for 77 yards and scored his 20th career touchdown.
March, 1, 2011
3/01/11
5:40
PM ET
Stanford has a secret: 2010 wasn't only about
Andrew Luck
. And, if things go according to plan, 2011 won't be either.
[+] Enlarge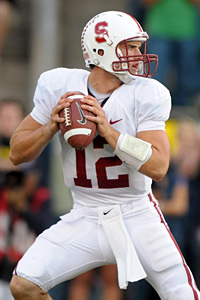 Kirby Lee/Image of Sport/US PresswireAndrew Luck is just part of the reason Stanford has high expectations this season.
It's not that Stanford doesn't recognize the benefit of having the best quarterback in the nation. It does. But the program's transformation from also-ran to BCS bowl winner was more about attitude than Luck.
That attitude -- play with "
character and cruelty
" --started up front under former coach Jim Harbaugh, and that attitude will remain in place under new coach David Shaw, at least according to offensive coordinator Pep Hamilton, whom Shaw promoted from receivers coach.
"We are a power running team," Hamilton said. "We are going to get off the bus running power. We're going to establish and control the line of scrimmage. We want to out-physical our opponent."
Of course, when you're beating a defense up at the line of scrimmage, it makes it a lot easier for any quarterback. And when your quarterback likely would have been the top pick in this spring's NFL draft, well, you're in pretty good shape when the goal is to keep a defense guessing and off-balance.
Just consider the numbers from the
40-12 beatdown
of Virginia Tech in the Orange Bowl. Sure, Luck got lots of attention for throwing four pretty touchdown passes. But the Cardinal rushed for 247 yards and two scores, and averaged eight yards a carry.
There, however, is work to be done this spring. The Cardinal needs to replace three starters from its 2010 line, including All-American center Chase Beeler. So it's not unreasonable to wonder if the offensive line will continue to be -- to use Hamilton's phrase -- "big, tough guys who enjoy imposing their will on their opponent."
Hamilton thinks so, in large part because of the two coming back: left tackle Jonathan Martin and right guard David DeCastro, who both earned first-team All-Pac-10 honors.
"Their personalities, their physical mentalities will permeate amongst the rest of the offensive line group," he said.
Khalil Wilkes and Sam Schwartzstein are battling to replace Beeler. Kevin Danser has been running with the first unit at left guard, while Tyler Mabry is the right tackle. Cameron Flemming and David Yankey also could play their way into the mix.
Still, the Cardinal might take a step back at the line of scrimmage, at least early in the season. Last year's unit welcomed back four starters, and it was widely hailed in the preseason as perhaps the best unit in the Pac-10 after it had paved the way for Toby Gerhart's runner-up finish in the 2009 Heisman Trophy race. As good as Martin and DeCastro are, and as intriguing as the new talent is, it often takes lines time to mesh.
That's where Luck comes in. As a third-year starter, he should be able to carry the load at times in the passing game. An outstanding athlete, he's fully capable of making plays outside of the pocket or with his feet if protection breaks down. But he's also adapting to change with the departure of his two leading receivers,
Doug Baldwin
and
Ryan Whalen
.
"He has some new wide receivers, so he has to work to develop some continuity with those guys," Hamilton said.
With
Chris Owusu
sitting out, those "new" receivers include
Griff Whalen
,
Jamal-Rashad Patterson
and
Drew Terrell
(each is at least a third-year player).
Hamilton doesn't envision Luck's role changing this year, even with his national celebrity as the leading Heisman Trophy candidate. He certainly doesn't want Luck to feel like he needs to transform into an alpha dog in the locker room. That would mean Luck isn't being himself.
"His personality is something that teammates gravitate towards. They all want to reach his level of success. He has field credibility in our locker room," Hamilton said. "He says the right thing at the right times. I don't see that changing."
The offense will try to retain the identity from the "Harbaugh Transformation," but there will be some tweaks to schemes, without question. Said Hamilton, "It's premature to say we've established our offensive identity."
As for life post-Harbaugh, Hamilton said he doesn't expect things to be any less emotional or edgy in the locker room. Sure, Shaw is smoother and less eccentric than Harbaugh. But that doesn't mean he lacks intensity.
"Coach Shaw brings a lot of emotion as well," said Hamilton, who also coached with Shaw when both were with the Baltimore Ravens. "When he's in front of the cameras, he gives a perception that he's laid back. But he's a fiery guy. He's as competitive as any other coach in college football, or in the NFL for that matter."
And if he is successful in 2011, it won't all be about Luck.