NCF Nation:

Ducks-Beavers-120410
December, 4, 2010
12/04/10
10:18
PM ET
CORVALLIS, Ore. -- Oregon's perfect season has been filled with so many thrills, so much euphoria. Perfect regular seasons do that. And celebrating a berth in the national title game after whipping your rival
37-20
, as the Ducks did at Oregon State on Saturday, surely is the greatest moment. Probably in the history of the program.
But there also is little question of the lowest moment during this charmed season. It was a moment of despair, which drove more than a couple of Ducks to tears.
That would be when running back
Kenjon Barner
was knocked senseless by a head shot on a kickoff return at Washington State on Oct. 9. As Barner lay motionless on the field, and the TV broadcast replayed the hit over and over, it was impossible not to fear the worse.
[+] Enlarge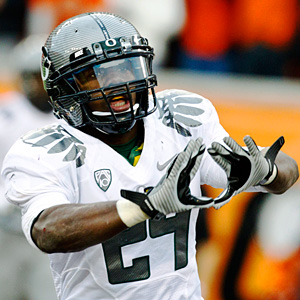 Jason O. Watson/US PresswireKenjon Barber had a 133 yards on 15 carries and scored two touchdowns in Oregon's win over Oregon State.
"He was down for a while," linebacker Casey Matthews said. "When you go out and play football, you don't think of that stuff. You think you are invincible. The tears were falling. It was definitely emotional."
The distance between the moment running back
LaMichael James
covered his head with a towel to keep his emotions private as he prayed for his best friend and the pair sitting on a podium celebrating their Civil War victory after evenly splitting 267 yards rushing is vast.
"Just getting back on the field with these guys, it's a blessing," said Barner, who rushed for 133 yards on just 15 carries -- 8.9 yards per rush -- with a 23-yard touchdown in the fourth quarter that iced the game.
The Ducks season is overflowing with good stories, but Barner's may be the best. His season started with a bang of a different sort. With James suspended for one game due to offseason legal issues, Barner tied the Oregon record with five touchdowns -- in just the first half! -- in the opener versus New Mexico. He needed just 17 carries to pile up 147 yards. He also caught a 60-yard touchdown pass.
But between that bang and the bang at Washington State, there was mostly silence.
Barner, who had a breakout performance in the Rose Bowl last January, was expected to be a Robin to James' Batman this season. But in the two games before heading to Pullman, he rushed just six times for 14 yards. He mostly disappeared and was not happy with himself or his role.
"There were times I was really frustrated," he said.
Then he woke up in a hospital room, where James showed him video of the hit. It was not something he could just shrug off.
"I watched the hit a couple of times," he said. "It made my stomach cringe. It wasn't a good feeling. It's still not a good feeling. It was never me thinking I never wanted to play again. It was just like, 'Man is that going to happen again? Am I going to go through the same thing again?'"
He wasn't the only one who took deep measure of the moment.
"It was pretty sobering," offensive tackle Mark Asper said. "You kind of realize the fragility of the situation. There's been a lot of attention about concussions in football this year and to have it brought home like that with Kenjon -- it was a scary moment. This is the closest team I've been on. To see someone get hurt like that -- he's one of your friends."
Barner didn't play in the Ducks' next two games. He saw his first action since the hit nearly a month later against Washington, rushing for 60 yards on nine carries with a touchdown. Pretty good numbers.
At first Barner said he felt fully restored -- confident and in sync. But that really wasn't the case.
"Against Washington, I wasn't as aggressive as I was today," he said. "With time, it came."
Said Asper, "It did take a couple of weeks. It took a while for everybody to stop handling him with kid gloves. Then you realize, he's a football player, a top athlete."
Barner turned in some of his best work late against California. Then he rushed for 71 yards in the win over Arizona. But the player in Reser Stadium on Saturday was the Barner of old -- speedy, shifty and elusive on the edge, a dangerous runner in space. He also delivered some blows and ran aggressively, driving for extra yards.
Barner (5-11, 180) and James (5-9, 185) are about the same size. Both are fast, though James is faster. Yet their teammates say they are very different backs. Matthews said Barner is more physical and a better receiver, and James is faster. Asper went the other way saying Barner is better on the edge and James is better between tackles. Coach Chip Kelly talked about James' speed and Barner's "shiftiness."
Whatever. Kelly provided a bottom line on the two sophomores: "I think maybe defenses have a sigh of relief when you take LaMichael out, but when you thrown Kenjon in there, it's very difficult."
James, who scored two touchdowns against the Beavers, is the unquestioned leader. He's the nation's leading rusher and a Heisman Trophy candidate. His 1,682 yards this year -- a new Pac-10 record for a sophomore -- is the second most ever gained by an Oregon back. He's also set a school record with 22 total touchdowns this year. Barner converted from defensive back just last year. He's still learning the position.
But Barner again looks like the quality backup folks expected him to be in the preseason, one who can stress a defense, who can be a dangerous counter punch to the lightning of James.
"It's unbeknownst to me sometimes who we have in," Asper said. "We'll be pulling the pile apart and it's like, 'Hey, it's Kenjon.'"
It was Kenjon -- big -- against the Beavers. And the Ducks are thankful for that in ways that go beyond yards and touchdowns.
December, 4, 2010
12/04/10
6:57
PM ET
CORVALLIS, Ore. -- Oregon is going to play for the program's first national title on Jan. 10 in Glendale, Ariz., after beating rival Oregon State
37-20
.


How the game was won
: Oregon State fought hard, but Oregon was just better. It wasn't a pretty performance -- the Ducks offense sputtered at times -- but the defense stepped up and the Beavers could not find a consistent answer for the Ducks running game.
Turning point
: Holding a 7-6 lead, Oregon State faced a third-and-8 on Oregon's 43-yard line, but
Ryan Katz
's pass was tipped by Spencer Paysinger and cornerback Talmadge Jackson returned the interception 52 yards to the Beavers 12-yard line. Though the Beavers held Oregon to just a field goal -- that put the Ducks ahead -- they would never trail thereafter.
Player of the game
:
Kenjon Barner
is back. The Ducks backup running back suffered a severe concussion at Washington State on Oct. 9, and it took a while for him to regain his rhythm. But his 133 yards on just 15 carries with a 23-yard touchdown means Auburn needs to prepare for two good running backs.
Best call
: Oregon coach Chip Kelly called a fake punt on a fourth-and-3 from the Ducks 28-yard line while holding a 16-7 lead in the third quarter. A 64-yard run from Michael Clay -- a direct snap run right up the middle -- more than converted. And then they scored a touchdown and went up 23-7.
What Oregon learned, What Oregon State learned
: Oregon learned it's going to play for the national title. Oregon State learned it will finish 5-7 and won't go to a bowl game.
December, 4, 2010
12/04/10
6:42
PM ET
CORVALLIS, Ore. -- Oregon's defense has been the star of the Civil War.

John Boyett's interception with 7:10 may have ended things. The Ducks scored a touchdown after it with 4:27 left, and now lead 37-13.

The Ducks have forced three turnovers and twice held the Beavers to just three points after facing first-and-goal situations. The Beavers scored a touchdown in the first quarter, but they haven't been in the end zone since then.

Oregon State might pile up some yards late, but it only has 257 yards at this point.
December, 4, 2010
12/04/10
6:17
PM ET
CORVALLIS, Ore. -- This one ain't over, folks.
After forcing Oregon to punt from its own endzone, Oregon State kicked a 22-yard field goal to narrow the Ducks lead to
23-13
.
On the down side, that's the second consecutive Beavers possession that saw a first-and-goal situation yield only three points.
Oregon is a quarter away from playing for the national title. But the Beavers won the third quarter.
Who wins the fourth? That's been Oregon's quarter all season.
December, 4, 2010
12/04/10
6:05
PM ET
CORVALLIS, Ore. --
It's 23-10 Oregon
, but Oregon State has the ball in Ducks territory and a chance with 2:30 left in the third quarter.
That's all the Beavers could ask for: A chance in the fourth quarter.
This is typically when Oregon's foes wear down. But the Beavers are feeding off their home crowd.
Oregon is so close to the national title game, it probably can see it on the horizon.
But the Beavers aren't making things easy. A couple of big plays, and this one could get interesting.
December, 4, 2010
12/04/10
5:50
PM ET
CORVALLIS, Ore. -- Oregon is in control, but its offense has been sputtering. So Chip Kelly reached into his bag of tricks.
A 64-yard run from linebacker Michael Clay on a fake punt -- a run up the middle on a direct snap -- set up a Ducks TD and
now it's 23-7
with 8:39 left in the third quarter, and the Beavers' situation is dire.
The Ducks turned the ball over on downs on the Beavers' 32 on their first possession of the second half. They then looked like they would go three-and-out before the fake punt.
The TD came on a third-and-6 play -- 19 yards on an inside screen to
D.J. Davis
.
Oregon State needs to respond, but the Ducks' defense has stepped up since the first quarter.
December, 4, 2010
12/04/10
5:16
PM ET
CORVALLIS, Ore. -- It was a sloppy first half, but if Oregon holds onto its lead, it will play for the national title.
Turning point
: Holding a 7-6 lead, Oregon State faced a third-and-8 on Oregon's 43-yard line, but
Ryan Katz
's pass was tipped by Spencer Paysinger and cornerback Talmadge Jackson returned the interception 52 yards to the Beavers' 12-yard line. Though the Beavers held Oregon to just a field goal, that put the Ducks ahead, and they were in control for the rest of the second quarter.
Stat of the half
: Oregon rushed for 186 yards in the first half, averaging 7.4 yards per carry.
Best player in the half
: Ducks RB
LaMichael James
has 91 yards on 12 carries with a TD at the half.
What Oregon needs to do, What Oregon State needs to do
: Oregon is a half away from playing for the national title. They need that to drive them to stay focused and keep the pressure on and not take this one for granted. As for the Beavers, their defense is getting gashed by the Ducks' running game, particularly on the edges. The Ducks have been running a standard pitch option and a few times it was hard to figure out who had the pitchman.
December, 4, 2010
12/04/10
4:31
PM ET
CORVALLIS, Ore. -- You wouldn't think a mere blocked extra point could come back to haunt point-a-minute Oregon. But you never know.
The No. 2 Ducks trail
7-6
after one quarter. Both teams have been sloppy -- see three turnovers -- and both teams have moved the ball well.
The Beavers lead by one because Brandon Hardin blocked Rob Beard's PAT.
This looks like the Beavers that beat USC. The Beavers are four of six on third down after converting early in the second quarter.
Not yet sure which version of the Ducks we have.
December, 4, 2010
12/04/10
4:15
PM ET
CORVALLIS, Ore. -- That's what the Beavers needed.
Oregon State went 62 yards in 15 plays -- converting on 3rd-and-17, 3rd-and-2 and 3rd-and-6 -- to take a
7-0
lead against No. 2 Oregon in the Civil War.
The drive took 7:36 off the clock. It was the longest drive this year for the Beavers in plays and in time.
It's the eighth time this year the Ducks have trailed in the first quarter, so this is nothing new.
It's clear
Jacquizz Rodgers
has shown up: he's rushed eight times for 33 yards and caught two passes for 14 yards, including the 6-yard TD from
Ryan Katz
.
December, 4, 2010
12/04/10
4:00
PM ET
CORVALLIS, Ore. -- There have been three turnovers in four minutes in the Civil War, not to mention a scare at quarterback for Oregon State.
Ryan Katz
was slammed on the first play of the game by Oregon blitzing Oregon linebacker Casey Matthews, but he's back in the game.
Oregon has two fumbles -- one on a Cliff Harris punt return; one that ended a drive into Beavers territory -- and Katz threw an interception off a pass tipped at the line of scrimmage.
Things figure to settle down. Or will they?
December, 4, 2010
12/04/10
2:05
PM ET
CORVALLIS, Ore. -- Oregon coach Chip Kelly has said -- over and over and over this season -- that every game is a "Super Bowl" for the Ducks. Well, with the Civil War, he's got a point.
[+] Enlarge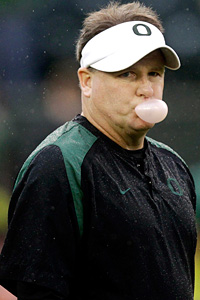 AP Photo/Rick BowmerCoach Chip Kelly and Oregon can reach the BCS National Championship Game by beating rival Oregon State.
Perhaps the battle with rival Oregon State is closer to the NFC championship. If the Ducks win, they advance to college football's Super Bowl: The BCS National Championship Game in Glendale on Jan. 10.
The Ducks have never finished a season unbeaten in the modern era, nor has the program won a national title. This, therefore, is uncharted territory. But for the laser-focused Kelly and his Ducks, it's just the next game. At least, that's the official word.
"Nothing has changed," Kelly said. "We feel we've got a formula that works for this group. It's worked 11 times and hopefully it will work a 12th."
The stakes are also clear for Oregon State. If it wins, it not only delivers an axe wound to its rival's season, it also reaches 6-6 on the year, which means bowl eligibility. The Beavers this week leaned on that as a primary motivation, not crushing the Ducks dreams (though the consolation prize for Oregon is the Rose Bowl, which typically ain't too shabby).
"There's no hatred," Beavers running back
Jacquizz Rodgers
said when asked if he were jealous of the Ducks' success. "When you win games, you get that attention."
So, for a third consecutive year, the Civil War is a high-stakes affair. The previous two seasons, it had major Rose Bowl implications. In 2008, the Ducks blew out the Beavers in Reser Stadium, which knocked Oregon State out of the Rose Bowl. Last year, the stakes were the Rose Bowl, and the Ducks won again in Eugene.
The Beavers, however, have won five of the past six in Corvallis, so home field has mattered of late in a series where the teams have split their past 12 meetings, though the Ducks actually have a better all-time winning percentage in Corvallis (.573) than in Eugene (.519).
Most prognosticators believe Oregon should roll. Even if Oregon State keeps things close, it's hard to believe a team that lost to UCLA and Washington State can keep up with the point-a-minute Ducks.
The Beavers will need to play a near-perfect game and hope that the Ducks are out of sorts. Perhaps the largeness of the moment finally gets to Oregon?
And you know what they say: You throw out the records in rivalry games.