NCF Nation:

Ducks-Cardinal 110709
November, 7, 2009
11/07/09
11:11
PM ET
Posted by ESPN.com's Ted Miller
STANFORD, Calif. -- A week after being nearly perfect, Oregon crashed back to earth at Stanford.
| | |
| --- | --- |
| | |
| | Kyle Terada/US Presswire |
| | Ducks coach Chip Kelly will have to rally his team after a tough loss. |
At least the Ducks already know they can bounce back. Their
51-42 loss to the Cardinal
probably won't feel nearly as stunning as the season-opening defeat at Boise State did, particularly without any notable post-game complications.
"The guys' reaction in the locker room is we've been here before," tight end
Ed Dickson
said. "It all starts with practice on Monday. We've got to win the day. And we didn't win today."
That's for sure. Stanford led by 17 points at halftime and pushed its lead to 20 points in the fourth quarter before the Ducks made a last, desperate and abortive rally.
While a team loses as a team, Dickson and all the other Ducks know what went wrong against the Cardinal.
"We can't allow them to score on every single drive," he said.
The Oregon offense wasn't nearly its finely tuned self for much of the game, at least not the version that piled up 613 yards and looked unstoppable against USC. But it did end up scoring 42 points and rolling up 570 yards.
The problem was Stanford had 505 of its own, and it was evenly spread throughout the game, as well as between running back
Toby Gerhart
(223 yards rushing, three touchdowns) and quarterback
Andrew Luck
(251 yards, two TDs).
"We had a real hard time stopping them," Ducks coach Chip Kelly said.
The Ducks entered the game ranked 20th in the nation in total defense (301 yards per game) and 19th in scoring defense (17.13). They had surrendered just 58 points in their first five Pac-10 games.
Gerhart and Luck didn't seem impressed. If the Ducks ganged up to stop Gerhart, Luck beat them downfield. If they dropped into coverage, Gerhart bowled them over.
Stanford also seemed to consistently get the upper hand at the line of scrimmage, and defensive tackle Brandon Bair said the Cardinal confused them with formations that gave them extra blockers at the point of attack.
"It was something we needed to adjust to and it took us too long to do it," he said. "We didn't give it the attention we should have."
As for why the Ducks failed to pressure Luck?
"We needed to keep guys back in coverage and we didn't have a chance to get as much blitzes as we normally wanted," Bair said.
The Ducks were sloppy at times on both sides of the ball, despite not committing any turnovers. They were flagged for nine penalties for 89 yards -- a number of which came at inconvenient times -- and dropped a handful of passes.
Kelly took note of those, but he wouldn't blame them on a hangover from the USC victory.
"We got beat by a better team," he said. "If you say we were looking behind or ahead, it takes away from Stanford. Stanford is a heck of a football team."
Oregon (7-2, 5-1) and Arizona (6-2, 4-1) are the only Pac-10 teams that control their own destiny. They play in Tucson on Nov. 21.
Thus Kelly's message in his locker room after the game
"The same thing I told them after the Boise game: One game doesn't define you," he said.
The Ducks will start their second push for redemption Saturday at home against Arizona State.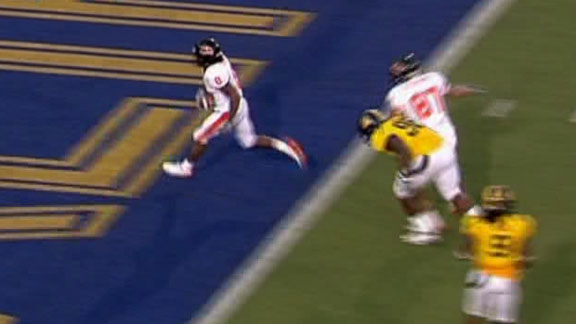 November, 7, 2009
11/07/09
10:24
PM ET
Posted by ESPN.com's Ted Miller
| | |
| --- | --- |
| | |
| | AP Photo/Marcio Jose Sanchez |
| | Stanford running back Toby Gerhart, center, is congratulated by fans after Saturday's 51-42 win over Oregon. |
STANFORD, Calif. -- Stanford sat at home during its bye week and watched Oregon shred USC 47-20. Most of the nation went, "Wow!" The Cardinal went, "Hmm."
They took some notes. They paused and rewound some video. They grinned when reporters asked them if they felt intimidated facing the No. 1 offense and No. 1 defense in the Pac-10.
And then they went out and
ran all over the eighth-ranked Ducks in a 51-42 victory
.
Stanford coach Jim Harbaugh, in fact, called the bye week an "improvement week." It was one of many correct calls he's made of late.
While Oregon rallied in the fourth quarter, this one was about a balanced Stanford offense that never let up. Running back Tony Gerhart piled up a school-record 223 yards on 38 carries and scored three touchdowns, while redshirt freshman quarterback
Andrew Luck
passed for 251 yards and two scores with no interceptions. His favorite target was
Chris Owusu
, who piled up 111 yards receiving on just four receptions.
"We saw some things that we could take advantage of, but we focused more on us, not them," quarterback Andrew Luck said. "I think that paid off."
Yep. Stanford, now 6-3 on the year and 5-2 in the Pac-10, is bowl eligible for the first time since 2001.
So what? said Harbaugh.
"That's never been our goal," he said. "Our goal has been to win the Pac-10 championship. We're still alive for that."
That's certainly true. Stanford opened the door for a number of teams by handing the Ducks (7-2, 5-1) their first conference defeat.
The Cardinal could make a major statement for themselves if they win next weekend at USC. That should be no problem, considering they have already beaten the two teams that beat USC: the Ducks and Washington.
Stanford led 31-14 at the half and pushed its lead to 48-28 early in the fourth quarter, but the Ducks kept clawing back. They actually outgained Stanford 570 yards to 505 in a contest that was a horror story for defensive coordinators.
"It's scary," Gerhart said. "Normally when you have a 20-point lead, you feel good about yourself. But against them I was till on edge."
Stanford's offense was physically dominant -- let's hear one for power trumping speed for once! -- but a defensive stop and curious coaching call played a big role in the second half.
Stanford stopped Oregon on a fourth-and-3 play on the Cardinal 39-yard line on the last play of the third quarter with the score 45-28. Stanford cornerback Michael Thomas perfectly timed a blitz and tackled Ducks quarterback
Jeremiah Masoli
for a loss as he tried to run a read-option keeper.
"That was kind of key," Oregon coach Chip Kelly said.
Then, with 15 seconds on the clock and Oregon out of time outs, Harbaugh, leading 48-42, opted to attempt a 47-yard field goal instead of conservatively falling on the ball. A blocked field goal could have been a disaster and would have made him a massive goat if the Ducks had pulled out a miracle finish.
But Nate Whitaker, who'd missed from 44 yards on his previous attempt, booted through the kick, which essentially ended the game.
"I just had a good feeling about Whitaker," Harbaugh said. "I just felt like he was going to make it."
As previously noted, Harbaugh made a number of good calls on this day.
November, 7, 2009
11/07/09
7:15
PM ET
Posted by ESPN.com's Ted Miller
STANFORD, Calif. -- Oregon couldn't stop Stanford. That's the story.
Andrew Luck
completed 12 of 20 for 251 yards with two touchdowns and no interceptions to lead Stanford past Oregon, 51-42.
Toby Gerhart
rushed for 223 yards and three touchdowns.
Stanford finished with 505 total yards. Oregon had been giving up only 301 yards per game.
Sure, Oregon seemed to suffer a hangover from its 47-20 win over USC last weekend. But this was about Stanford's offense dominating the Ducks defense, and the Ducks offense not being able to keep up.
What does it mean?
It means the Pac-10 is now wide-open. Arizona controls its own fate, but there is so much football left that it's almost meaningless to speculate.
It means the Pac-10 is out of the national title hunt.
It means the Oregon vs. Boise State rankings debate ends.
And it means Stanford, at 6-3, is bowl eligible. The Cardinal haven't gone to a bowl since 2001.
November, 7, 2009
11/07/09
5:30
PM ET
Posted by ESPN.com's Ted Miller
STANFORD, Calif. -- Stanford has jumped all over Oregon.
Do the Ducks have a major comeback in them? Or does the Pac-10 race suddenly get complicated again?
Ducks get the opening kickoff in the second half and they need to score. And their defense needs to show up.
Turning point
: With Stanford leading 10-7 in the first quarter, it looked like Oregon made a defensive stop. But cornerback Javes Lewis was flagged for his second pass interference penalty, which gave the Cardinal a first down on their 39. Nine plays later, it was 17-7, and it became clear that the Ducks weren't in for an easy afternoon.
Stat of the half
: 316. That's Stanford's total yards at halftime against a defense that gives up on 300 yards per game. The Cardinal are killing the Ducks with balance -- 189 yards passing, 127 yards rushing.
Best player in the half:
Stanford quarterback
Andrew Luck
is making it impossible for the Ducks to gang up on
Toby Gerhart
. He's completed 9 of 14 passes for 189 yard with a touchdown and he hasn't let a couple of dropped passes -- including one that would have gone for a touchdown -- get to him.
What Oregon needs to do, What Stanford needs to do
: Oregon can't score 17 points on its first possession after the break. But it needs seven with a drive that gets quarterback
Jeremiah Masoli
back in sync. A touchdown makes the Cardinal lead a manageable 10 points. Of course, then the Ducks need their defense to step up. As for Stanford, it needs to finish. Oregon is fully capable of coming back. The Cardinal can't get too conservative but it also can't take unnecessary risks. It would be really good to thwart the Ducks first possession and not let them get any second-half momentum.
November, 7, 2009
11/07/09
4:49
PM ET
Posted by ESPN.com's Ted Miller
STANFORD, Calif. -- The best offense in the stadium is wearing red. At least right now.
Stanford, now
leading 24-7
, is showing great balance and pushing around the No. 1 defense in the Pac-10.
Quarterback
Andrew Luck
has completed 7 of 11 passes for 140 yards and a touchdown.
Toby Gerhart
has rushed for 73 yards on 16 carries with two touchdowns.
Toss in two defensive stops, and you have a big Stanford lead.
Is this about Oregon being flat? Maybe some.
But right now Stanford is just executing its game plan very, very well.
And yet ... Right after Stanford recovered an Oregon fumble on its 15, it gave the ball right back to Oregon on a Toby Gerhart fumble.
Can Oregon cash in?
November, 7, 2009
11/07/09
4:29
PM ET
Posted by ESPN.com's Ted Miller
STANFORD, Calif. -- There was a question whether Oregon's fast defense could go mano-a-mano with Stanford's physical offense.
Early returns: No.
Stanford's offensive line and running back
Toby Gerhart
are winning the early battle, and the Cardinal lead 17-7.
Gerhart has 13 carries for 61 yards in the first quarter with two TDs.
He's either running through big holes, or making his own holes.
November, 7, 2009
11/07/09
2:37
PM ET
<em>Posted by ESPN.com's Ted Miller</em>

STANFORD, Calif. -- It's a spectacular fall day at Stanford Stadium, but the <a title="recent news" href="http://espn.go.com/blog/pac10/post/_/id/4914/stanfords-defense-takes-huge-hit" target="_blank">recent news</a> for the Cardinal hasn't been terribly sunny.

The loss of linebacker Clinton Snyder, a four-year starter, to a season-ending knee injury this week is not good news at any time. And too bad for Snyder who's labored away during down times and now will miss a potential bowl berth.

With Oregon coming to town, fresh off a 47-20 dismantling of USC, a big hole in the middle of the defense -- physically and emotionally -- doesn't bode well for Stanford. The Cardinal are going to need their best to slow <a href="http://sports.espn.go.com/ncf/player/profile?playerId=381755" target="_new">Jeremiah Masoli</a>, <a href="http://sports.espn.go.com/ncf/player/profile?playerId=379314" target="_new">LaMichael James</a> and the jet-fueled Ducks offense.

How the heck is Stanford going to stop these guys?

Stanford has struggled this year against fast teams. Oregon is the fastest team it has and will face. Heck, Oregon is probably as fast as any team in the nation.

Maybe Stanford's power-rushing attack plays ball-control keep-away. But can the defense, which will use fullback <a href="http://sports.espn.go.com/ncf/player/profile?playerId=237161" target="_new">Owen Marecic</a> in Snyder's stead -- yeah, he's going both ways -- force Oregon to make mistakes? The Cardinal has gathered only eight turnovers the entire season.

Oh, and that Cardinal offense is facing the Pac-10's No. 1 defense, one that's forced 20 turnovers this season.

Special teams? Both teams are outstanding on that front. And the Ducks might even be a bit better there, based on kicker Morgan Flint and a better punt return game.

It seems there's no margin for error if Stanford is going to pull the upset.

Still, there are obvious elements for <a title="an upset to take place" href="http://blogs.mercurynews.com/collegesports/2009/11/04/pac-10-football-10-reasons-stanford-beats-oregon/" target="_blank">an upset to take place</a>.
<ul>
<li>Oregon could be flat after its celebrated, emotional win over USC.</li>
<li>Stanford could off-set Oregon's speed with its power.</li>
<li>Stanford quarterback <a href="http://sports.espn.go.com/ncf/player/profile?playerId=380470" target="_new">Andrew Luck</a> could have a monster game. Or maybe that could be running back <a href="http://sports.espn.go.com/ncf/player/profile?playerId=188524" target="_new">Toby Gerhart</a>.</li>
<li>It's hard to go unbeaten in the Pac-10. USC did it in 2004 and 2005. UCLA in 1997-98. Odds are not great Oregon won't slip again before season's end.</li>
<li>And, you know, Stanford has some history in the upset department. The Cardinal ruined the Ducks' perfect season in 2001. They also stunned a 41-point favorite a few years back, you may recall.</li>
</ul>
Still, for those of us who have watched Oregon gradually grow into the juggernaut that dominated USC last weekend, it's hard not to expect to the Ducks to emerge with a victory.
TOP 25 SCOREBOARD
Thursday, 12/5
Friday, 12/6
Saturday, 12/7
TOP PERFORMERS