NCF Nation:

Ducks-Cardinal-111112
November, 13, 2011
11/13/11
2:36
AM ET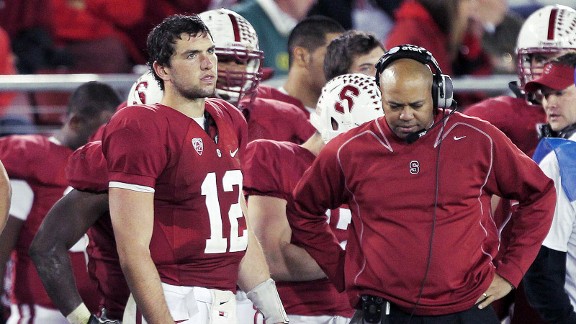 Ezra Shaw/Getty ImagesStanford QB Andrew Luck and coach David Shaw saw their 17-game win streak evaporate.
STANFORD, Calif. -- Babies don't go from crawling to running marathons. They stumble along the way. They awkwardly grope for something to hold on to. And when there is nothing there, they fall.
In terms of playing in significant college football games, Stanford is a program still very much in its infancy. And when it tried to get up and run, it fell. And when it groped Saturday night -- usually for Oregon running back
LaMichael James
-- there was nothing there. And when the Cardinal fell, they took the nation's longest winning streak and a shot at the national championship along with them.
"Now, we're going to see maturity-wise how we handle coming back from a game like this," said David Shaw, who suffered his first loss as Stanford's head coach. "It's hard to say what's going to define a season because the season is not over. We have a lot of football to be played, so we'll see how it all shakes out."
Stanford may very well end up in a BCS game as an at-large team (let's go ahead and assume Oregon doesn't lose its remaining two games, to USC and Oregon State). It could still win out and have one of the strongest seasons in school history. No shame in that.
But this is the one that people are going to remember. The one-sided
53-30
score, for sure. But also the missed tackles and turnovers -- five of them, if you're keeping count at home.
They won't remember a fantastic, two-touchdown game from wide receiver
Griff Whalen
, who at times looked like the only guy in red capable of catching a ball. They'll remember the drops. They'll remember James going for 146 yards and three touchdowns.
They won't remember a pretty good 99-yard rushing game from
Stepfan Taylor
-- who once again wasn't tackled for a loss. They'll remember the three sacks and two interceptions by quarterback
Andrew Luck
, who finished 27-of-41 for 271 yards and three touchdowns.
"They were fast on film and they were fast on the field," said Luck. "It was no surprise. They are a very good defense. They did a lot of good things. That forced us to make some bad decisions. Fast, definitely. Probably the best defense we've faced all year."
And that defense made a high-powered offense look mediocre, holding the Cardinal to 129 yards rushing and knocking Luck around the backfield. For perspective, he'd been sacked only four times in the previous nine games -- including seven games without a sack.
"We're not a team that turns the ball over," said center Sam Schwartzstein. "We're a team that executes extremely well. When you turn the ball over, it doesn't matter how well you execute. They did what we expected them to do. We had a good game plan. But they forced turnovers and got us out of our element."
That might be the most telling thing any player or coach said all night. Stanford fell behind early and was forced to play catch-up all night. They were out of their element. They threw 41 times and rushed 35 times. It was the first time this season a tight end didn't have a touchdown.
"Schematically, I thought we were fine," Shaw said. "This was not going to be one of those games where we run for 300 yards. This was going to be, the way we had it mapped out, a tight game -- which is what it was for a while. But once you turn the ball over and put it back in their hands, that's what they're built for."
And Oregon didn't pussyfoot. It ran right at the teeth of the Stanford defense and the Cardinal failed to make the stops. Oregon ran between the tackles 34 times for 168 yards and three touchdowns.
"The bottom line is they're a great team and great teams execute," said defensive lineman Matt Masifilo. "Great teams find your glitches and they executed more than us. They found our flaws and they exploited us."
And it didn't help that safety Delano Howell -- who had just returned after missing three games with a hand injury -- went out at the 8:13 mark in the second quarter after using his casted hand to force a fumble.
Stanford turned that into a 37-yard Eric Whitaker field goal to cut the deficit to 15-9. But in the third quarter, after James fumbled a punt, the Cardinal weren't able to capitalize. Trailing 29-16, Stanford got the ball at the Oregon 34, but moved the ball only 4 yards before Whitaker missed from 48 yards. It was the first time Stanford failed to score this season after gaining a turnover.
Oregon, meanwhile, had three touchdowns off five Stanford turnovers (though the last two fumbles happened when the game was well out of hand and Oregon wasn't trying to score).
"They took advantage of our turnovers," Shaw said. "We got turnovers and didn't turn them into points. That's the bottom line. You play against a team with that kind of speed, that kind of talent that is as well-coached as they are, you turn the ball over and you can't win."
It was clear Saturday night that -- as a program -- Stanford has some growing up to do.
"We're close," Shaw said. "We're not there yet. We have to keep recruiting. We have to keep coaching and our guys that are here have to keep pushing and fighting.
"I expect them to rebound greatly. We have a lot of guys in our locker room with a lot of character. They love playing the game of football. We've got two regular-season games and next week is Cal. We don't need help with motivation this week."
Saturday night, Stanford stumbled and fell. Next week, we'll see if they can stand back up.
November, 12, 2011
11/12/11
11:42
PM ET
STANFORD, Calif. -- Instant analysis from Oregon's
53-30 win
over Stanford.
How the game was won: Oregon was just better. Better on offense. Better on defense. Stanford's tight ends couldn't hold on to the ball. Andrew Luck looked tight and never got into a rhythm. And Oregon capitalized on the big play -- scoring touchdowns of 58, 41 and 59 yards. The five Stanford turnovers didn't help either.


Turning point: Luck was sacked for the second time in the third quarter and fumbled deep in his own territory. LaMichael James scored on a fourth-and-2 a few plays later and the Ducks went up 36-16. It was too big of a deficit for the Cardinal to overcome.
Player of the game: James was the best player on the field -- on either side of the ball. Whether he was running inside the tackles our bouncing to the outside, he was too fast and elusive for Stanford's defenders. He finished with 146 yards and three touchdowns on 20 carries.
Unsung hero of the game: Not often that we refer to Oregon quarterback Darron Thomas as an "unsung" hero, but he was quietly efficient with three touchdown passes. James stole the show, but Thomas quietly orchestrated an Oregon offense that Stanford could not stop.
What it means: Stanford's national championship aspirations have expired. Oregon's, however, seem to have been resuscitated. For Luck, his Heisman campaign suffers its first serious setback of the year. He threw two interceptions and fumbled. He looked sharp at times, average at others, and below average others. James, on the other hand, gave his Heisman hopes a nice shot in the arm.
November, 12, 2011
11/12/11
9:46
PM ET
STANFORD, Calif. -- First-half thoughts from The Farm.


Stat of the half (or quarter)
: -1, total yards for the
Oregon Ducks
after the first quarter – though the Ducks held an 8-0 lead. The score came on Andrew Luck's sixth interception of the season. Oregon turned it into a 4-yard touchdown pass from
Darron Thomas
to
Lavasier Tuinei
. The pass from
David Paulson
to Mike Garrity on the conversion surprised the Cardinal and the Ducks went up 8-0.
Best player
: Even though Oregon is leading, Stanford wide receiver
Griff Whalen
has really established himself as the No. 1 receiver for the Cardinal over the past few games. He's got six catches for 72 yards and two touchdowns. Coming up big on the few third downs Stanford has completed.
Best call
: Has to be the 2-point conversion. Gutty call on the road by Oregon coach Chip Kelly. If it failed, we'd all be hammering him for the bad decision. But it didn't. And the fact that Stanford missed a PAT makes it look even more impressive. A very close second was the screen pass to
De'Anthony Thomas
on fourth-and-7. Stanford sold out on the blitz. Perfect call, and 41 yards later, the Ducks were up 22-9.
November, 12, 2011
11/12/11
8:08
PM ET
STANFORD, Calif. – The
Stanford Cardinal
and
Oregon Ducks
are about to kick off, and now we know what they are playing for -- at least the physical incarnation.
The Pac-12 unveiled its championship trophy this afternoon about an hour before kickoff.
The stainless steel trophy begins with a 12-sided base to represent the 12 teams and then splits into an arched v-shape with a football in the middle.
Created by UCLA alumnus Archie Held, the trophy goes to the winner of the conference's championship game between the winner of the north and south divisions. With a win, Stanford can clinch the Pac-12 North and a berth in the title game.
"It's the jubilation of scoring a touchdown, the hands in the air, the arched back, the excitement and joy of winning," Held said of his design. "I like to take complex ideas and emotions and whittle them down to their simplest form. With those images in mind I created the design."
November, 12, 2011
11/12/11
7:10
PM ET
STANFORD, Calif. -- It's probably safe to assume that Stanford quarterback
Andrew Luck
and running back
Stepfan Taylor
will play a major role in the outcome of this game – one way or the other.


Here's three Stanford players to keep an eye on who could have a major impact on the game.
WR Griff Whalen: With Chris Owusu out, Whalen is likely to be Luck's No. 1 target. In the past four games, Whalen has been targeted 31 times by Luck and he has 24 catches for 341 yards and a touchdown.
NG Terrence Stephens: He has nine tackles in the past three games -- but where he thrives is blowing opponents off the ball and occupying space and blockers. That keeps the offensive linemen off of the middle linebackers and outside linebackers and allows the back four to make plays.
RB Tyler Gaffney: Whether it's running the Wildcat or catching a screen, Gaffney has essentially taken over as the No. 2 back behind Taylor. The more successful he is, the less the Cardinal will have to lean on Taylor so he can be as fresh as possible and continue to grind out 6-plus yards per carry.