NCF Nation:

Ducks-Devils-101812
October, 19, 2012
10/19/12
2:21
AM ET
TEMPE, Ariz. -- This was not a test of the Oregon football system. If this had been an actual test, you would have seen Arizona State still in the game after the first quarter.
Some test? After an odd flurry to start the game, No. 3 Oregon was never challenged by Arizona State in a
43-21 victory
Thursday night in Sun Devil Stadium, which was less than half full to start the third quarter.
We all know that Ducks coach Chip Kelly is not much for media scripts. The Washington game is supposed to be a bitter rivalry. Kelly gave that a shrug and a "Neh," and announced how much he liked and respected Huskies coach Steve Sarkisian.
The visit to Arizona State on Thursday was supposed to challenge the Ducks. It was supposed to give us a measure of redshirt freshman quarterback
Marcus Mariota
in a frenzied, hostile environment.
But after a horrible start -- a fumble on the second play, a 28-yard Sun Devils touchdown pass on the third -- the Ducks simply rolled. Test Mariota? He didn't need to throw. It was 22-7 after the first quarter and 43-7 at the break.
"One thing I love about this team," Kelly said, "is we don't flinch."
Oregon rushed for 329 yards. By halftime.
Mariota didn't play in the second half, yielding to
Bryan Bennett
and the second unit.
[+] Enlarge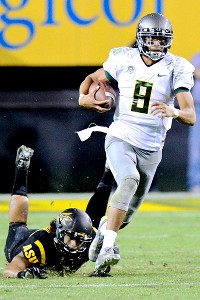 Matt Kartozian/US PRESSWIREMarcus Mariota and Oregon have more challenges than just USC awaiting them in Pac-12 play.
Arizona State entered the game 5-1, ranked 24th in the coaches' poll. The Sun Devils topped the Pac-12 in most major defensive categories and were led by quarterback
Taylor Kelly
, who was No. 1 in the conference in passing efficiency. While the naysayers are sure to come out -- they lost to Missouri! -- this was, at least, a solid team.
And Oregon simply curb-stomped them.
Just as they had done to the rest of their Pac-12 schedule thus far. Average margin of victory in four games: 31.8 points. And that includes three teams that have been ranked at some point this season.
In defense of the Sun Devils, they lost their best player -- defensive tackle
Will Sutton
-- to a knee injury just after he forced a fumble from Mariota on the game's second play. Shortly thereafter defensive end
Junior Onyeali
went down with a shoulder injury.
Those were major blows to the Sun Devils' defense, without a doubt.
"Losing Will was very disruptive and we did a poor job being prepared for that as a staff," Arizona State coach Todd Graham said. "So much of what we had planned was around him and you have to have a plan B and it took us well into the game to figure out what to do there. Making no excuses, we got beat by a team tonight that's a lot better than us, but we made them look a lot better by making a lot of mistakes."
The Ducks' defense fully matched the offense. It grabbed four interceptions, two which in the first half were returned inside the Sun Devils' 10-yard line. It also relentlessly pressured Sun Devils quarterbacks, recording five sacks. The first-team defense only gave up the early touchdown on a 28-yard pass. The other Arizona State scores came in the fourth quarter on a pick-six and a late tally against backups.
The Sun Devils finished with 408 yards, but gained only 202 through the first three quarters.
Mariota had an 86-yard TD run, a beautiful 6-yard scoring toss to
Bralon Addison
and even caught a touchdown pass from Bennett. He completed 9 of 12 passes for 46 yards, bouncing back from the early fumble to demonstrate plenty of poise. In his first road game, in Seattle against Washington State, he threw two interceptions. This was a more polished outing.
"Up in Seattle, I tried to do too much," he said.
But the Ducks aren't going to say too much. They're not into the idea of making statements.
Asked what statement a blowout win made, safety
Avery Patterson
deadpanned, "That we're 7-0."
Said Mariota, "I'm happy about tonight, but it's just one game."
Oregon's next, er, Super Bowl is at back at home against Colorado on Oct. 27. Then comes the much-ballyhooed trip to USC on Nov. 3.
Whether the Ducks admit it or not, they made a statement: This team is clearly good enough to contend -- again -- for the national title. But, as Kelly and players said, there's plenty of work ahead. Starting with, yes, the woeful Buffaloes.
Said Kelly, "We're going to get everybody's best shot. We know that."
Another part of this evening's statement? Everybody else's best shot may not be enough to even get close to the Ducks.
October, 19, 2012
10/19/12
12:28
AM ET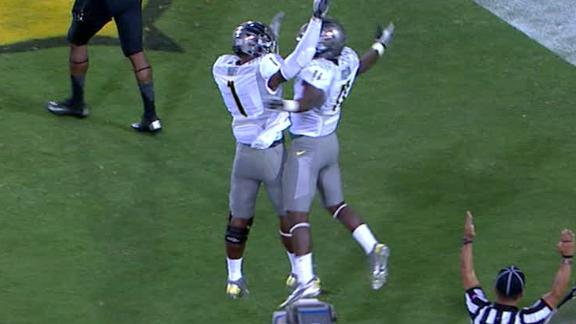 Both Arizona State and Oregon were looking to make statements. One succeeded. Here's how the Ducks ran away with it,
43-21
, on the road:
It was over when:
On the first play of the second quarter Arizona State quarterback
Taylor Kelly
was intercepted by
Boseko Lokombo
. It was Kelly's first interception in 103 attempts. Three plays later,
Kenjon Barner
plowed ahead on a 1-yard touchdown run to put the Ducks ahead 29-7. You could certainly argue it was over before that, but this one felt like the proverbial nail in the coffin.


It was really over when:
Jesse Palmer and Rece Davis started sucking down burgers in the TV booth (11:23 in the second quarter).
Game ball goes to:
Oregon running back Kenjon Barner, who rushed for 143 yards on 16 carries with three touchdowns -- including a 71-yard touchdown run.
The cycle:
A rare statistical achievement for Oregon quarterback
Marcus Mariota
, who had one passing touchdown, one rushing touchdown and a receiving touchdown.
Stat of the game, 20:
That's how many consecutive games Oregon has scored at least 30 points.
Fun stat of the game, 195:
The number of pushups between The Duck and Sparky (153 for the Duck, 42 for Sparky).
Unsung hero:
Oregon linebacker
Dion Jordan
had two sacks and five tackles (all in the first half) to stymie Taylor, who was 10-of-18 for 93 yards with a touchdown and two interceptions.
Unsung hero II:
Snaps to ASU running back
D.J. Foster
for his touchdown in the fourth quarter. It was a 23-yard run on fourth-and-6 following a swing pass from
Michael Eubank
. He cut back across the middle of the field, broke two tackles and kept his balance for the score.
What it means for Arizona State:
Nothing left to do but pick up the pieces, because this was a kick in the teeth. It didn't help that they lost
Will Sutton
on the second play of the game. That was a factor -- but only on defense -- because Sutton doesn't impact what they do on offense. The Sun Devils can't let this game beat them twice because they've got UCLA next week followed by Oregon State and USC. One bad loss could turn into a tailspin if they can't bounce back.
What it means for Oregon:
Business as usual for the third-ranked Ducks. Another week, another blowout win. They've got Colorado next week before that big showdown at USC on Nov. 3. If they didn't turn heads in this game, they can certainly do it on Nov. 3 with a similar performance.
October, 18, 2012
10/18/12
7:47
PM ET
TEMPE, Ariz. -- Oregon is looking to show the nation it's a legitimate national title contender. Arizona State is looking to show it's legitimate, period.


Oregon has owned this series of late, winning the past seven meetings and 11 of the last 14 dating back to 1998. Further, the Ducks' ludicrous speed offense moves at an even more absurd pace against the Sun Devils. Against Arizona State in the Chip Kelly era, Oregon has scored all 14 of its touchdowns in two minutes or less. The Ducks are averaging 15.2 seconds of possession per play against Arizona State, their fastest pace against any FBS opponent.
The Ducks have averaged 43.8 points in their past four games in Tempe.
But that was the old Arizona State. This crew under first-year coach Todd Graham is playing efficiently and with discipline on both sides of the ball. Other that a rotten performance at Missouri, this team has been dominant, albeit against a questionable schedule.
Oregon and Arizona State rank Nos. 1 & 2 in scoring offense in the Pac-12. Arizona State is No. 1 in scoring defense and Oregon is No. 4. Arizona State quarterback
Taylor Kelly
is ranked first in the Pac-12 in passing efficiency. Oregon's
Marcus Mariota
is second.
The quarterbacks probably hold the key. Both teams are likely going to aim to stop the run first and force the QBs to throw. The Ducks secondary is outstanding. It has not only grabbed 10 interceptions so far, it's returned four for touchdowns. Arizona State's most obvious weakness is its secondary, which lacks depth.
Other stars could have "hello world" moments on ESPN tonight.
Sun Devils defensive tackle
Will Sutton
has played as well as any defensive player in the nation thus far. He could make himself an All-America candidate with a big game.
For Oregon, playmakers
Kenjon Barner
and
De'Anthony Thomas
could create some Heisman Trophy buzz with some did-you-see-that? plays. Thomas, who has been fairly quiet of late, could pose a challenge for the Sun Devils secondary. Look for Kelly to seek opportunities to get Thomas the ball in space.
And if Barner has a big game, that means the Ducks ran the ball well. When they do that, they almost never lose.