NCF Nation:

Ducks-Trojans-103010
October, 31, 2010
10/31/10
2:38
AM ET

Ivan Maisel and Ted Miller break down Oregon's win over USC and where the Ducks go from here.

October, 31, 2010
10/31/10
2:32
AM ET
LOS ANGELES -- The skinny, shaggy-haired receiver isn't the sort to bluster or pound his chest. He's handled being overlooked before. USC didn't even send
Jeff Maehl
a recruiting letter when he starred for Paradise (Calif.) High School. Oregon was his only scholarship offer. So, he didn't seem necessarily angry that Trojans defensive tackle Jurrell Casey had told ESPN Los Angeles that the Duck were a two-man team.
But, yes, he was aware of it. Yes, word got around the Ducks locker room that Casey said, "They have a good running back and a good quarterback. Other than that, they're really not that good."
[+] Enlarge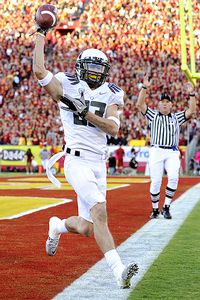 AP Photo/Mark J. Terrill Oregon's Jeff Maehl caught eight passes for 145 yards and three touchdowns against USC.
And, yes, he and other Ducks were motivated by Casey relegating them to roles as faceless extras behind running back
LaMichael James
and quarterback
Darron Thomas
. Said Maehl, "Definitely, any time you've got guys on the other team saying we're a two-man show, it's going to give guys a lot of motivation."
James was his typical fancypants self, rushing for 239 yards and three touchdowns in the No. 2 Ducks'
53-32 win
over USC, which entered the game ranked 24th in the AP poll. And Thomas threw for 288 yards and four TDs. But let's just say Maehl and the other guys were supporting actors like, say, Robert Duvall played a supporting role in "The Godfather."
You know: Like the show wouldn't have been half as good without them.
Maehl caught eight passes for 145 yards and three TDs against the Trojans, including a beautiful diving grab on a 45-yard touchdown pass in which he tipped the ball to himself and caught it as he fell into the end zone.
Of course, Maehl's description of the game's most spectacular play was mired in self-deprecation.
"I really shouldn't have even jumped," the 6-foot-1, 184-pound senior said. "Then I mistimed the jump. It hit my hands and then kind of fell into my lap."
Any of you guys see that catch happening like that?
Ducks coach Chip Kelly praised Maehl as an athlete and as a competitor and even celebrated his conduct on the basketball court. He wasn't, however, ready to say this was Maehl's "hello world" game, noting that Maehl made huge plays in the Ducks double-overtime win in 2009 at Arizona.
Said Kelly, "I'm just glad we can start rating them: 'What's the best Jeff Maehl game?' Hopefully, it's next week."
But let's not starting treating it like Oregon is now a
three
-man team, with Maehl joining the James-Thomas club. Receiver
Lavasier Tuinei
caught seven passes for 78 yards and a touchdown.
Josh Huff
had a 57-yard reception and two runs for 28 yards. The Ducks' offensive line surrendered only one sack and pushed the Trojans around for 311 yards rushing. The defense got eight tackles for a loss divided among nine players. Seven different players broke up at least one pass. Two players grabbed interceptions. Another forced a fumble. Two others recorded sacks.
The Ducks scored quick -- three of their four first-half TD "drives" took less than 30 seconds. And they scored slow -- three of four second-half scoring drives took more than four minutes. They threw downfield; they misdirected; and then they pounded. Relentlessly.
You get the point. 52 guys played for Oregon. And there was a lot of contributing going on out there.
But Maehl seems like one of the guys who merits note after you finish writing sonnets about James' Heisman Trophy candidacy and how Thomas might be starting a campaign for All-Pac-10 quarterback. Oregon has plenty of fancy, but it also has some guys who didn't look the part to recruiting powerhouses like USC.
When asked if Maehl might not impress an opposing defensive back when he walks on the field -- it's noted he's a skinny white dude with a let-it-be haircut that belongs with the Kings of Leon, not the Kings of Offense -- linebacker Casey Matthews smiled.
"He's not the prototype," he said.
Thomas, however, isn't buying the idea that anyone underestimates Maehl any longer.
"Maybe at the beginning of the season, but if they watch film on him -- he's a big-time player," he said.
Casey, apparently, didn't get that impression from Maehl or any other Ducks -- other than Thomas and James -- in the week leading up to the game. After Oregon rolled up 599 yards of offense, here's a guess his mind might change when he reviews this latest film.
October, 30, 2010
10/30/10
11:49
PM ET
LOS ANGELES -- Oregon made a strong statement about its status as a national title contender with
53-32 win
over USC. And about being the new big dogs in the Pac-10.


How the game was won
: Oregon just wore down the Trojans, who turned in a game performance. The Ducks scored with quick strikes in the first half. They scored with power drives in the second half. Their defense did a solid job of containing one of the nation's best units.
Turning point
: USC quickly overcame a 12-point halftime deficit to jump ahead of Oregon 32-29 with a pair of TDs scored on short fields in the third quarter. But the Ducks immediately answered with a pair of long TD drives that killed the Trojans' momentum. And seemed to exhaust the Trojans defense. USC never challenged again.
Stat of the game
: Some weeks Oregon barely even sees third down. But against the Trojans they were 13-for-19 on third-down conversions, showing they can convert clutch plays on the road.
Player of the game
: So many. While quarterback
Darron Thomas
and running back
LaMichael James
put up great numbers, let's give this one to receiver
Jeff Maehl
, who caught eight passes for 145 yards and three TDs, including a beautiful, diving 45-yard TD grab.
Record performance
: Oregon is now 8-0 for the first time since 1933.
What it means
: This was a workmanlike effort by a team that seems like it's comfortable with all the national attention -- perhaps because, as coach Chip Kelly insists, they aren't paying it much attention. USC remains a talented team, and it fought hard, but it just didn't have enough talent and scheme to hang with the Ducks for four quarters.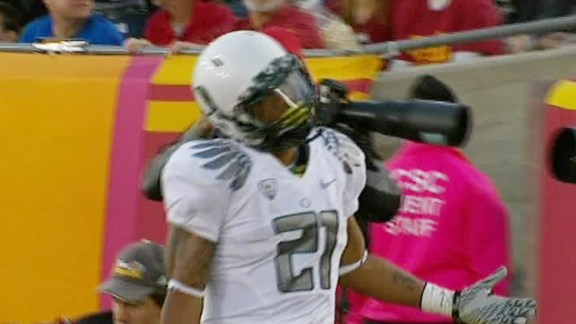 October, 30, 2010
10/30/10
11:03
PM ET
That's how you answer a challenge.

USC took the lead, but Oregon answered with a 12-play, 69-yard drive and a 10-play, 80-yard drive to score consecutive TDs, the Ducks retaking the lead 43-32.

Both drives took over four minutes, which is very un-Duck like. Their entire time of possession while scoring 29 first-half points was 8:29.

Oregon has outgained USC 471 to 264 through three quarters.

You can sense fatigue with the Trojans' defense. Can the Trojans offense counter with a long drive? And then can the D step up.
October, 30, 2010
10/30/10
10:33
PM ET
Talk about a momentum shift.
USC quickly overcame a 12-point halftime deficit to jump ahead of Oregon 32-29 with a pair of TDs scored on short fields.
USC defensive tackle Jurrell Casey intercepted a pass at the line of scrimmage on the Ducks' opening possession of the third. The Trojans scored two plays later.
Then, after an Oregon three-and-out -- and a 55-yard punt return from
Ronald Johnson
-- the Trojans scored another TD, and the 2-point conversion gave USC a 32-29 lead.
Who's got the quick strike offense now?
October, 30, 2010
10/30/10
10:05
PM ET
LOS ANGELES -- Oregon leads USC
29-17
at the break.
USC isn't wilting, but the Ducks' big plays are making the difference.
Turning point
: USC took a 17-15 lead and then forced an Oregon three-and-out in the second quarter. The Trojans then faced a 2nd-and-10 on the Ducks' 44-yard line. Quarterback
Matt Barkley
appeared to call for the snap, then when it came, he wasn't ready. Oregon recovered the errant snap on the Trojans' 45. One play later,
Jeff Maehl
made a brilliant catch on a 45-yard TD pass for a 22-17 lead. The momentum swung to the Ducks.
Stat of the half
: 8:42 -- That's Oregon's first-half time of possession. The Ducks scored four TDs. Three drives took 28 seconds or less.
Best player in the half
: Maehl not only made a brilliant, tip-it-to-himself catch, he also caught a 15-yard TD pass. He had four catches for 82 yards at the break.
What Oregon needs to do, What USC needs to do
: Oregon needs to continue doing what it's doing. Play solid defense. Assault the Trojans relentlessly on offense. Then wear them out. As for USC, it needs a defensive stop to start the third quarter and then some points. It needs to show immediately that the Ducks won't have things easy in the second half.
October, 30, 2010
10/30/10
9:04
PM ET
LOS ANGELES -- The early returns, we have a game:
10-8
after one quarter.
Of course, Oregon can explode at any time -- recall a 21-3 deficit to Stanford -- but at this point USC is matching the Ducks and, most importantly, getting defensive stops.
Numbers are fairly even -- both teams have eight first downs. Both quarterbacks are playing well. The crowd is into the action.
USC just can't make things easy with penalties, turnovers and three-and-outs. And it can't settle for three in the red zone as it did on its opening possession.
October, 30, 2010
10/30/10
8:00
PM ET
LOS ANGELES -- Oregon has started slowly in a number of games this year. USC may need that to happen this afternoon.

It seems strange to type, "The Trojans need to build some early confidence," but they do.

The 47-20 loss at Oregon last year is surely fresh in their minds. Further, if Oregon gets in rhythm early, it's hard to get them out of it. A fast Oregon start also takes the crowd out of the game.

Finally, the season-long question with USC has been motivation.

A fast start builds the Trojans' confidence and their motivation. A slow start damages their confidence and challenges their motivation.

When the Oregon pace starts to get them tired, it will be harder to dig deep if the scoreboard is reporting bad news.
October, 30, 2010
10/30/10
6:48
PM ET
LOS ANGELES -- This one might be about big chunks of yards.
Oregon's offense -- and most particularly running back
LaMichael James
-- thrive on fast-paced drives fueled by big plays. And USC's defense has given up yards in large chunks this year.
James leads the nation with 32 runs of more than 20 yards over the past two seasons. That's a big reason that Oregon has 10 TD drives of 70-plus yards this year that took less than two minutes.
Meanwhile, USC's defense has given up 114 plays of 10 yards or more this season. USC opponents are averaging a 10-yard gain on almost a quarter of all plays, according to ESPN Stats & Information, a percentage that ranks it beside bottom-feeders like Colorado, Washington State and Minnesota.
So the first order of business for USC's defense is to stop the James and the Duck from piling up big plays.
The second order is to find a second wind in the second half.
The Trojans aren't deep. So far this season, they haven't rotated in many guys -- unlike Oregon, they rely heavily on their starters. And there have been times when the Trojans have seemed tired.
Oregon might be the best second-half team in the country. It's outscoring foes 156-23 after the break. It's reasonable to believe opponents wear down late due to the Ducks' pace of play.
Will USC?
Or might USC counter by holding onto the ball, grinding down on a fast, but undersized Ducks defense with a power running game, and then having
Matt Barkley
go over the top to
Robert Woods
and and
Ronald Johnson
?
Sure, these are not the dominant Trojans of 2002-2008. They are 4-4 in their past eight Pac-10 games -- after winning 55 of 63.
But if the defense can maintain a high level of play for four quarters, the Trojans' potent, balanced offense has the fire-power to win a shootout.
At this point, "Road Block Saturday" hasn't been good to unbeatens. Can the Ducks manage to thrive on the road and continue their pursuit of the school's first national championship?