NCF Nation:

Ducks-Wildcats 112109
November, 22, 2009
11/22/09
2:42
AM ET
TUCSON, Ariz. --
There were big plays
. There were strange plays. There were seemingly huge gaffes that really didn't mean much. An
Oregon cheerleader got knocked out
by a water bottle hurled from the stands. There were expectant Arizona fans on the field, encircling this drama like a red ribbon, who ended up standing in stunned silence after Oregon quarterback
Jeremiah Masoli
generated his sixth and final touchdown to conclude the second overtime of this thrilling and nearly four-hour evening.
[+] Enlarge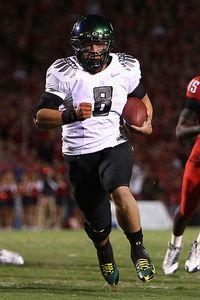 Christian Petersen/Getty ImagesJeremiah Masoli threw for three scores and ran for three more to rally the Ducks.
"It got quiet really fast," Masoli said after Oregon prevailed 44-41 and took one step closer to its first Rose Bowl since the 1994 season.
Masoli scored three touchdowns running, including a 1-yard carry that won it. He also passed for three touchdowns, including an 8-yard toss that tied the score with six seconds left in regulation.
Oregon jumped to a 14-0 lead. Then Arizona scored 24 unanswered points. Both defenses were in control at times. And at times, both offenses seemed unstoppable. The score then was knotted at 24, 31 and 38, at which point Arizona's field goal in the second overtime fell short of the Ducks touchdown.
Both teams had 22 first downs. Oregon's 459 total yards was just 18 more than the Wildcats. It was about as closely contested as a game can be.
"There's nothing to be ashamed of," said Arizona quarterback
Nick Foles
, who passed for 314 yards and four touchdowns.
But the mood in the two locker rooms couldn't have been more different.
"I have no words for it," said jubilant Oregon running back
LaMichael James
, who rushed for 117 yards and set a new Pac-10 freshman rushing record with 1,310 yards.
The 11th-ranked Ducks (9-2, 7-1) now pause for a moment to collect themselves and before beginning earnest preparation for a Civil War showdown with Oregon State on Dec. 3 that has very simple stakes: The winner goes to the Rose Bowl.
James, by the way, broke the record Oregon State running back
Jacquizz Rodgers
set last year.
The Wildcats (6-4, 4-3), meanwhile, will try to regroup for a visit to archrival Arizona State on Saturday.
Said Arizona's senior safety Cam Nelson, "I can sit here and say we're not going to let it [get us down] but at the end of the day, we all know it is. It's something that is going to stick with us the rest of our lives knowing we let this opportunity slip out of our hands. I can sit here and say 'no, we're going to put it behind us,' but I'm not."
Some game oddities:
Arizona kicker Alex Zendejas made a career-long 47-yard field goal just before the half, despite two timeouts from Oregon coach Chip Kelly intended to ice him. After which, he jawed at the Ducks sideline with amusing abandon. He also missed a 24-yard chip shot in the third quarter.

Oregon kicker Morgan Flint tied the game at 24-24 in the fourth quarter when his line-drive field goal bounced off the crossbar and decided to go through the uprights anyway.

Arizona receiver David Douglas fumbled right before he scored a touchdown in the first quarter, but Juron Criner turned a short bubble screen into a 71-yard touchdown despite seeming to be surrounded the entire run.
Perhaps most curious was when Kelly decided to go for a fourth-and-4 from his 45-yard line with 6:26 left with Arizona ahead 31-24. The Ducks failed to convert, at which point the Wildcats fans started their plan to storm the field.
"We never flinched," Kelly said, bringing up the call before he was even asked about it. "I went for it on fourth down because I was confident we could get a stop and get another chance."
Which is exactly what happened. Foles threw his only interception in the end zone on a third and 16 play from the Ducks 40, which mostly functioned as a punt.
Masoli and company took over with 3:11 left.
"That's a lot of time for us," Kelly said.
Oregon went 80 yards in 15 plays. It converted a third-and-11 from the Arizona 46 with an 18-yard run up the middle from James. It converted on a fourth-and-4 from the Wildcats 22 with a 7-yard pass from Masoli to
Jeff Maehl
, who had a career-best 12 receptions for 114 yards with two touchdowns.
The drive was vintage Masoli. A little out-of-control. A little unconventional. Lots of things getting made up as he went along.
"He's unflappable," Kelly said. "Nothing bothers him."
That take was seconded by Arizona defensive coordinator Mark Stoops.
"The plays he made in critical situations are remarkable," he said.
It was a remarkable game that was worthy of simplifying what had been a complicated Pac-10 race.
A Civil War on Dec. 3 will send one Oregon program to the Rose Bowl.
November, 22, 2009
11/22/09
12:05
AM ET
November, 21, 2009
11/21/09
11:47
PM ET
TUCSON, Ariz. -- When Oregon desperately needed it,
Jeremiah Masoli
delivered.
He led Oregon 80 yards in 15 plays for the tying TD and we're headed to overtime.
Masoli connected with tight end
Ed Dickson
for the 8-yard scoring pass with six seconds left, but the big play was a fourth-and-5 completion to
Jeff Maehl
for eight yards to the Wildcats 15 with 17 seconds left.
Arizona will play defense first in OT.
Buckle up.
November, 21, 2009
11/21/09
11:18
PM ET
TUCSON, Ariz. -- Wow, the momentum swung hard to Oregon just when it seemed to be going all Arizona's way.

Ducks answer Wildcats TD with an 80-yard TD drive of their own, then force a three and out.

Then they tie the game with the ugliest 43-yard field goal in history -- the line drive bounced off and over the cross bar.

So it's 24-24 with eight minutes left.

Stats are fairly even.

So: Will it be a mistake or big positive play that decides this?
November, 21, 2009
11/21/09
10:57
PM ET
TUCSON, Ariz. -- Arizona owned the third quarter.
Oregon gained just 40 yards in the quarter. Arizona piled up 137.
That's the first scoreless quarter for Oregon in four games, since the first quarter at Washington.
And with a short
Nick Foles
TD pass, the Wildcats have now scored 24 unanswered points and lead 24-14.
Now, can they close the deal?
November, 21, 2009
11/21/09
10:26
PM ET
TUCSON, Ariz. -- After falling behind 14-0, Arizona has scored 17 consecutive points to take its first lead.

Oregon's offense has gone quiet.

Before the game, Arizona looked like it had the athletes to slow the Ducks, the question was whether they could be consistently disciplined.

They have been. And they've slowly taken control of the line of scrimmage.

Oregon may need an answer. The 'Zona Zoo is getting into it.
November, 21, 2009
11/21/09
9:59
PM ET
TUCSON, Ariz. -- Just when it looked like Oregon was going to assert itself, Arizona rose up.
Oregon leads 14-10 at the break, and Arizona scored the final 10 points of the first half to take momentum into the locker room.
Turning point
: Oregon had a first down on its 38 with 4:27 left before the half and a 14-0 lead. But quarterback
Jeremiah Masoli
, who'd been living on the edge much of the evening with his ball security, saw his pass tipped by Cam Nelson and intercepted by Sterling Lewis. The Wildcats drove for a touchdown and added a field goal as the first-half clock ran down, the turnover fueling a huge momentum shift.
Stat of the half
: Anyone else surprised this is such a defensive struggle? Oregon has just 181 total yards; Arizona 206.
Best player in the half
: Masoli's turnover was a critical turning point, but he also ran 14 yards for a TD and passed 9-yards for another. Both plays were improvisations. He's been held in check, but he's always just one play away from something big.
What Arizona needs to do, What Oregon needs to do
: Neither team has run the ball well. The guess here is the team that runs better in the second half wins.
November, 21, 2009
11/21/09
8:50
PM ET
TUCSON, Ariz. -- Arizona's defense has stepped up since yielding a touchdown drive on the game's first possession.

That was a particularly impressive forced three-and-out after the Wildcats fumbled on the Oregon goal line.

That could have become a huge momentum swing in favor of the Ducks. Instead, the Wildcats get the ball back knowing they can move the ball on Oregon -- and, perhaps more important, stop the Ducks.

Total yards are even. The fumble on the goal line is the difference through one quarter here with Oregon leading 7-0.
November, 21, 2009
11/21/09
7:58
PM ET
TUCSON, Ariz. -- We've seen white-outs and black-outs this year.
This one's going to be a red-out.
Arizona is in all-red. So are their fans in Arizona Stadium.
Before the Wildcats did their pre-game stretch, their Samoan players led them in "haka" dance, a staple of Polynesian rugby teams, particularly the New Zealand All-Blacks.
Oregon is in white jerseys and black pants, the same colors they wore, by the way, here in 2007 when quarterback Dennis Dixon went down with a knee injury. The Ducks national title hopes followed him with an upset defeat.
This place hasn't been kind to Oregon quarterbacks. Kellen Clemens broke his ankle here in 2005, but the Ducks managed to win that one 28-21.
The first thing to look for: How much will Arizona get out of running back
Nic Grigsby
, who's trying to come back from a shoulder injury?
November, 21, 2009
11/21/09
6:47
PM ET
TUCSON, Ariz. -- Will the 'Zona Zoo come through? Or will this one produce a Civil War for the ages?
The red-clad, 'Zona Zoo student section started to fill up two hours before the game, and this beautiful evening in the desert should get pretty hectic.
Oregon (8-2, 6-1), ranked 11th in the BCS standings, and Arizona (7-3, 4-2) both control their Rose Bowl destiny. All they have to do is keep winning, starting tonight.
The Ducks enter as the favorite. They own the Pac-10's No. 1 scoring offense and scoring defense. Arizona, meanwhile, slightly smudged the gravity of the matchup when it lost at California last weekend, which knocked it out of the national rankings.
But the Wildcats are a different team at home. They've won 12 of the last 14 in Arizona Stadium and all five games this season.
The buzz certainly was strong. With ESPN's College GameDay in town -- Lee Corso donned the Duck head, much to the consternation of the gathered throng -- the locals have become intoxicated with the smell of roses.
Who can blame them? Arizona is the only Pac-10 program that hasn't played in a Rose Bowl.
Arizona is no slouch statistically, either. It ranks second in the conference in total offense and total defense. It has the offensive balance to keep the Ducks defense honest, particularly with the return of elusive tailback
Nic Grigsby
from a shoulder injury. It has the defensive speed to keep up with the Ducks ludicrous speed spread-option offense.
But does it have the discipline? The Wildcats have lost twice this year -- at Washington and Cal -- due to late fluke plays, but in both cases they allowed the flukes to happen by not asserting themselves in the fourth quarter.
The Wildcats linebackers need to play soundly tonight in order to contain
Jeremiah Masoli
and
LaMichael James
and company. Getting caught out of position can lead to disaster. Just ask USC.
And
Nick Foles
and the offense can't make mistakes and give the Ducks a short field. They need to take advantage of opportunities and score touchdowns instead of field goals when they push into Ducks territory.
As for Oregon, if it prevails, it will play host to rival Oregon State on Dec. 3 with the Rose Bowl as the stakes -- the Civil War winner takes the Pac-10 and heads to Pasadena to play Ohio State.
If Arizona finishes on top, it still must win at Arizona State next weekend and at USC on Dec. 5 to earn the Rose Bowl berth.
In large part, this one acts as a Rose Bowl elimination game.
So the stakes couldn't be much higher.