NCF Nation:

Duran Christophe
May, 30, 2013
5/30/13
2:00
PM ET
On Wednesday we started an interview with first-year NC State offensive coordinator Matt Canada. Here is the second part of our interview:
How is the running game looking? Who's coming back?
Matt Canada:
We've got Shad, [
Shadrach Thornton
] Shad's coming back.
Right, he was a nice surprise last year.
MC:
Yeah, he had a very good freshman year. And
Tony Creecy
is a great kid, a very durable, solid guy who had a very, very good spring. Those two guys certainly carried most of the load this spring. And we've got some guys coming in here in the fall, so there will be some freshmen at the skill positions who might be able to have an impact a little faster than the linemen, those types of spots. You never know.
[+] Enlarge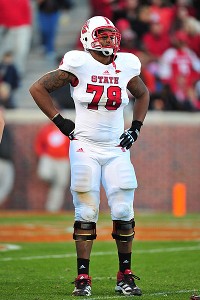 David Scearce /Icon SMIAfter losing four offensive linemen from last season, NC State will be relying on Rob Crisp for leadership.
And how do you look up front?
MC:
That's the key to everything.
Rob Crisp
, he's a guy who played a lot of football. He's a guy coming back, and we're certainly counting on him to be a leader in every way, starting with his play and the way he leads that group. I think he understands that. When you lose four linemen, there's a lot of leadership that left the room. You work through that and understand that. The other guys have played,
Tyson Chandler
has played, [Duran] Christophe, everyone is still competing. Competition is a great thing, and we're going to continue to have it every day until the opener.
Just in general, what was the most challenging thing for you guys this spring?
MC:
I don't know. Putting in a new offense is fun, it's exciting. Spring is the best time of year to do those things. You go out, you just ball. Changing the tempo, we've done it a couple times now -- once at Northern and once here now. Those are things you see and have to work through, those things have been good.
How has Pete [Thomas] done in the no-huddle?
MC:
Very good. He's a smart quarterback, understands it, and has done a good job.
What's your main priority to get done this summer?
MC:
We'll just continue to evaluate the spring film, look at what we did well, decide exactly where we're going to head, and how we're going to attack the season with the players we have. We've got 15 days of film.
You mentioned Asa Watson, what kinds of things can he do in this offense? How does he fit in?
MC:
He can do it all. He blocks well, he can catch the football. I think he's a very versatile player, so I'm excited about him and watching him develop. … He'll be full strength in camp. He's a leader. He's a very good person, a great kid, and a guy we're looking to to lead us.
June, 24, 2011
6/24/11
2:00
PM ET
Ranking offensive linemen is not easy. But hey, either is being an offensive lineman. Here are your best "big uglies."

1. North Carolina:
Three starters and one part-time starter return from last year's team, and this line could be the biggest and best since Butch Davis was hired. Guard Jonathan Cooper (22 starts), center Cam Holland (20) and tackle James Hurst (12) have combined for 54 career starts. Travis Bond has four starts and is the leading candidate to take over at the other guard position.

2. Miami:
The Canes return nine of their top 10 offensive linemen including four starters from last year, and Joel Figueroa was granted a sixth season of eligibility. Even with the coaching change, the Canes should be strong up front. Center Tyler Horn is a veteran, Brandon Washington is a difference-maker, and there's enough competition that Seantrel Henderson spent most of the spring as a backup.

3. Clemson:
First-year offensive line coach Robbie Caldwell has four returning starters to work with in Landon Walker, Antoine McClain, Dalton Freeman and David Smith. They also have top reserve Mason Cloy, who has 19 career starts and has played in 38 games. There is plenty of depth for a dependable rotation.

4. Virginia Tech:
All four returnees started every game last year, and there is enough depth that the Hokies should be able to rotate the most players up front they ever have. It's a veteran group led by Blake DeChristopher, Andrew Lanier, Jaymes Brooks and Greg Nosal.

5. Florida State:
Despite the losses of Rodney Hudson and Ryan McMahon, there's experience up front. This fall, the starting lineup will consist of tackle Andrew Datko, left guard Bryan Stork or David Spurlock, center Jacob Fahrenkrug, right guard Spurlock or Stork, right tackle Zebrie Sanders. Just how good they'll be remains to be seen as the majority of them were out with injuries this past spring.

6. NC State:
The Pack lost Jake Vermiglio and will be without injured left guard Andrew Wallace for about half of the season, but Zach Allen, Camden Wentz and R.J. Mattes are returning starters. There's also a lot of talent waiting to emerge with young players like Duran Christophe, Rob Crisp, Tyson Chandler, Torian Box and Andy Jomantas.

7. Virginia:
Four players return with a combined 64 career starts in Anthony Mihota, Austin Pasztor, Oday Aboushi and Morgan Moses, who started the final seven games of the season as a true freshman. Pasztor is in his fourth season as a starter and has 32 career starts.

8. Boston College:
Despite the losses of Anthony Castonzo, Thomas Claiborne and Rich Lapham, the Eagles are almost settled up front, it's the experience behind the starters that's reason for concern. The No. 2 offensive line is comprised entirely of redshirt freshmen. Mark Spinney returns at center, the projected starting guards are Nathan Richman and Ian White, who started three games as a freshman, and the tackles are Emmett Cleary and John Wetzel.

9. Maryland:
It's been an injury-prone group the past two seasons and that didn't change this past spring. Left tackle Justin Gilbert, one of the top linemen on the team, reinjured the same knee he had ACL surgery on and will be out until October. R.J. Dill was also injured this spring, though he played in the spring game, and Justin Lewis was rehabbing from offseason surgery. Pete White also missed practices, so the group needs to solidify the two-deep roster.

10. Georgia Tech:
The Jackets return three starters in guard Omoregie Uzzi, guard Will Jackson and tackle Phil Smith. Sophomore Jay Finch played extensively last season and Ray Beno and Nick McRae were key reserves. Redshirt freshmen Catlin Alford and Morgan Bailey could also work their way into the rotation. Uzzi will be the leader of the line, but they were outplayed by the defense this spring.

11. Wake Forest:
Four starters are back, but the Deacs will sorely miss the experience and leadership of former center Russell Nenon. Garrick Williams started the final three games of 2010 -- two at guard and one at center, but he struggled with the snaps towards the end of spring and isn't where the staff needs him to be yet.

12. Duke:
The Blue Devils should take another step forward this season under offensive line coach Matt Luke, and they need to -- Duke's running game was last in the ACC last year and 104th in the country. Brian Moore replaces a three-year starter at center, but given his experience at right guard the past two seasons, it should be a smooth transition. That will leave a hole, though, at the right guard position, where Laken Tomlinson and John Coleman are the top candidates.