March, 28, 2013
3/28/13
9:00
AM ET
Rutgers was the last Big East team to open spring practice, kicking things off on Tuesday.
Kyle Flood is back in Piscataway, N.J., for his second season at the helm of the program, and his ninth overall with the school. We caught up with the head coach Wednesday, with one practice in the books and the Scarlet Knights looking to leave a lasting impression as they ready for their final season in the Big East.
What are you looking for Gary Nova to improve upon this spring? What do you want to see from the guys behind him?
Kyle Flood
: I think Gary's got a unique advantage coming into this spring that we haven't had a quarterback have in a long time around here, in that he got a chance to play in 13 football games last year as a starting quarterback and essentially played in the entirety of every one of them. So I think there's an experience advantage that he has that hopefully we can capitalize on. I think the fastest ways we can capitalize on it is if we can keep the highs and make them consistent, and then take some of the low points and take some of the games where maybe he wasn't as pleased with his performance and move him up a little bit, so you don't see the big swings between the really positive games and the games he wasn't happy with. So I think that in and of itself, if we can get to that point -- and I don't know if that happens in just 15 practices in the spring; I think that's the combination of everything he's done since the bowl game, spring practice and then what's going to come afterwards -- but going into next season that's hopefully what we can do.
You guys obviously have a challenge without Brandon Coleman this spring. What are you looking for from the receiving corps during these practices, and is there anyone you're looking to see rise to the occasion?
KF
: I think they're all fighting to find out what their role is going to be. Guys like
Miles Shuler
, who has got a tremendous skill set and really has come a long way in terms of being a receiver the last year. I'm excited to see what kind of spring Miles is going to have. A guy like
Quron Pratt
, who has been an excellent player here — statistically maybe that hasn't shown up, but he really has done a lot of things for us over the last two years. He can now have a much bigger role. When guys like
Timmy Wright
and
Mark Harrison
graduate, it provides opportunity, and with Brandon Coleman not there this spring it'll be even more opportunity for him to showcase himself. And then you've got some younger guys also, guys like
Ruhann Peele
and
Carlton Agudosi
, who are fighting right now to show the coaching staff how big of a role they should have next year.
There's no Coleman, and we know about Savon [Huggins]. Who are some of the other playmakers you are hoping to emerge from spring?
[+] Enlarge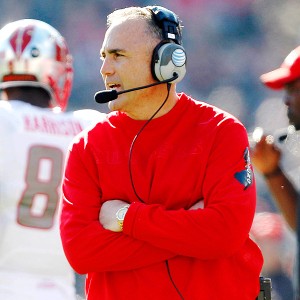 Frank Victores/USA TODAY SportsCoach Kyle Flood said spring drills at Rutgers have been a bit choppy so far -- though that's normal as younger players see more time on the field.
KF
: I have seen so much of Savon through his career right now in terms of practice and then in games -- I'm very confident Savon's going to do an excellent job for us at running back. I think everybody else right now at that position is doing exactly what those young receivers are doing; they're fighting to show us as players how big of a role they should have, and I think that competition is going to be exciting for everybody, including Savon. I didn't get a chance to get to it, but I would feel the same way really about the quarterbacks. I think all these quarterbacks right now, they're lined up behind Gary. And
Chas [Dodd]
is a little bit of a unique commodity in that he's won football games for us at Rutgers. Those guys create a very competitive environment. Every player in our program right now this spring could see opportunity, and that kind of competitiveness in the rooms, and the opportunity that spring provides, it really gives everybody a chance as we go through the spring.
You guys are breaking in two new coordinators this spring. Offensively with Ron Prince, do you expect this spring to be a little bit of a feeling-out period, or do you think things will go over relatively smoothly with him in charge of the offense?
KF
: It'll go over smoothly from coach Prince's perspective and from mine. I think that the bumps in the road are going to be some of the young players who now are going to have a lot more on their plate than they've ever had, and that'll create -- even yesterday in our first practice, some of the young receivers and running backs not having been in the fire, so to speak, are out there and they're struggling to get lined up. They're not as quick as maybe you would like them to be or maybe the group of receivers would have been last year because they were used to doing it. Those are all going to be things that are part of the learning curve as we go forward. I think there are going to be some rougher patches this spring at every position, but generally when those things happen it's much more about the younger players being allowed and given more opportunities than anything else. When you get to the season you're really only repping your starters and your ones and one-and-a-halves, as we call them. So right now everybody's getting reps, and at times that can make it a little bit slower or a little bit more choppy than you'd like it to be, but it's a necessity because you've got to find out what they know.
Defensively, you lose an all-timer in Khaseem Greene and another really good linebacker in Steve Beauharnais. Are those players really replaceable, or do you look for a collective effort from the group?
KF
: I don't think you replace players really at any position. Football is the ultimate team game, and to think that you're going to replace a Khaseem Greene or a Steve Beauharnais, that's really not the way we think about it. We've played defense at a high level here for a long time and we've done it with a lot of different pieces. And I think now what the staff is looking to see is who are the pieces going to be. And at linebacker we've got two guys in
Jamal Merrell
and
Kevin Snyder
, who, in my opinion, have already established themselves as players in our defense. We're trying to figure out who the third piece of that puzzle's going to be. Is that going to be a new Mike? Is that going to be a new Will? I'm not sure I can answer that question just yet. But I'm confident with what we have coming back that we'll be able to continue our tradition here of playing defense at a high level.
Three new starters in the secondary. Jeremy Deering is back there full-time. What do you see from him and that position group as a whole? What makes you feel more comfortable with him back there?
KF
: As coaches I think we'd better always be trying to get our best athletes on the field. And if there is a guy on your team you think can be a starter on defense but he's on offense, and he has a significant role on offense but maybe it won't be showcased the way he could be on defense, I think it's our responsibility to see if that player would have an interest in it. And I approached Jeremy with that decision and he was really excited about it. And it was certainly something that we tinkered with a little bit last year trying to build some depth in our sub packages, and we weren't really able to really put it in as far as we wanted to, but now with having an offseason and needing a guy with the departures of
Duron Harmon
,
Wayne Warren
and some of the other defensive backs, it's really a position on our team that will have more new faces than any other. And we really thought that Jeremy Deering, even though he is going into his senior year, he's got the right skill set to do that. He's got the right frame of mind to do it and he has the desire to do it, and I think Jeremy's going to do very well back there for us.
Big-picture, the Big East has been going through a lot of changes. The conference welcomes in four new teams this fall. I was just curious from your standpoint if there's anything different that you have to prepare for when you're seeing fresh staffs and fresh players on your schedule this season?
KF
: I think with the way the Big East was constituted in the past, we've seen a good variety of pro-style offenses, spread offenses. We have played the academies, so we've seen the option. We had West Virginia in the conference for a long time, so we played against the 3-3 defense. I don't know that there will be anything in this new collection of teams that will be significantly unique. Now I do know that each one will bring very specific challenges and they'll have strengths and weaknesses to their teams just like we do. But those will be things we'll address after spring practice. Right now we're trying to figure out what we are. We're trying to figure out who are going to be the playmakers on our team that are going to be out there. Who are going to be the people in the sub packages, and really what is our football team going to look like? And that's what I'm most concerned about, and I think that's what spring practice is for. We have the schedule, so we know who the first four games are going to be now. We'll get a little bit involved into doing some early game-planning for them, but we won't do that until after spring practice is over.
November, 10, 2012
11/10/12
3:28
PM ET
What for three quarters looked to be a letdown following loss No. 1 ended up being a back-to-basics performance for Rutgers.


Timely defensive plays -- led by Khaseem Greene's monster 22-tackle effort.
Stout running.
And, of course, game-changing special teams plays.
It all added up to a
28-7
win against Army, as the Scarlet Knights improved to 8-1 and recovered from their loss to Kent State two weeks earlier.
Rutgers was as conservative as ever offensively, but
Gary Nova
bounced back very nicely from his six-pick performance against the Golden Flashes. He completed 14 of 17 passes Saturday for 123 yards with a touchdown and a pick, though the interception came off a dropped ball from
Miles Shuler
.
Jawan Jamison
threw a touchdown pass himself in the first quarter, hitting
Brandon Coleman
for a 16-yard strike in the second quarter to tie the game at 7.
That score held until the 8:49 mark of the fourth quarter, when Coleman caught a 31-yard strike from Nova to give Rutgers its first lead of the game. That came four plays after Army's
Chris Boldt
shanked a punt nine yards, giving the Scarlet Knights possession at the Black Knights' 45.
Army's next drive ended with a high snap on a punt, with Rutgers recovering the ball at the 1.
Savon Huggins
punched it in two plays later to give the Scarlet Knights enough breathing room, and
Duron Harmon
added a 73-yard fumble return for a touchdown with 40 seconds left to account for the final margin.
Army looked ready to break the 7-7 tie several times, most notably when it drove down to the Rutgers 15 late int he third quarter. But Greene forced a
Larry Dixon
fumble, which
Marvin Booker
recovered.
Rutgers blocked a 30-yard field goal attempt late in the first half, too, after a controversial non-touchdown call following a pass to the end zone that was dropped late.
Jamison left the game in the third quarter with a lower leg injury but returned in the fourth, finishing with 90 yards on 22 carries, plus that touchdown pass.
No, it wasn't pretty, but Rutgers football rarely is. The Scarlet Knights did Saturday what they usually do, making more than enough game-changing plays and pulling away from a tied contest by scoring the final 21 points of the game.
Next week's contest at Cincinnati should be a good one.
October, 14, 2012
10/14/12
9:00
AM ET
How about a few helmet stickers for a job well done?

Khaseem Greene, LB, Rutgers.
Greene had his best game of the season in a
23-15 win over Syracuse
, racking up 14 tackles, three forced fumbles, one interception and 1.5 sacks. Rutgers needed to rely on big plays from its defense, and the Scarlet Knights got them from their defensive leader. Special consideration to
Duron Harmon
, whose 75-yard touchdown off a blocked field goal in the third quarter swung momentum for Rutgers.
Montel Harris, RB, Temple.
Harris had his best day for the Owls, running for 142 yards and a touchdown on 30 carries in a
17-14 overtime win over UConn
. His performance was a huge reason why Temple was able to stay in the game, especially since he had the majority of the carries with
Matt Brown
out. Harris now has consecutive 100-yard rushing games for the Owls. Special consideration also given to
Brandon McManus
, who won the game with his 29-yard field goal in overtime.
Senorise Perry, RB, Louisville.
Perry ran for 101 yards and a career-high four touchdowns in a
45-35 victory over Pitt
. His 59-yard run late in the fourth quarter sealed the victory to keep the Cardinals unbeaten. Perry became the first running back to rush for four touchdowns in a game since Michael Bush did in a triple overtime game against West Virginia on Oct. 15, 2005. He has six rushing scores in his past two games, and leads the team with nine touchdown runs. Special consideration to
DeVante Parker
, who had 153 yards receiving for the first 100-yard game of his career.
October, 13, 2012
10/13/12
3:41
PM ET
It was not the prettiest win, but No. 20 Rutgers will take the ugly victory against Syracuse
23-15
on Saturday to become bowl eligible and stay undefeated.


The game essentially turned in the third quarter.
The teams went into halftime tied at 7. But Syracuse (2-4, 1-1) came unraveled in the second half. After opening the quarter with a nice-looking drive, its momentum was stalled because of a familiar bugaboo -- penalties.
Ross Krautman
lined up for the 33-yard field goal attempt, but it was blocked and
Duron Harmon
returned it 75 yards for the touchdown.
Rutgers, of course, thrives on huge special teams plays -- it was its fourth block of the season and first blocked field goal. Since 2009, Rutgers (6-0, 3-0) has an FBS-leading 27 blocks. Things unraveled from there for the Orange, with two more turnovers leading to 10 points for the Scarlet Knights.
Syracuse had its opportunities in the fourth quarter. Down 23-7, the Orange had eight attempts to score from deep inside Rutgers territory. It started with a first-and-goal at the Rutgers 10. A penalty on Rutgers on fourth down kept that drive alive. But Syracuse could do nothing with a fresh set of downs.
After forcing Rutgers into a three-and-out, Syracuse finally got on the board in the second half when
Ryan Nassib
threw a 40-yard touchdown pass to
Christopher Clark
. The 2-point conversion to
Marcus Sales
was good. Syracuse got one more chance with a little less than 2 minutes left, but Nassib threw an interception to end the threat.
So the grand tally on the day for Syracuse: four turnovers, one field goal attempt blocked, seven penalties and 5-of-15 on third-down conversions. Rutgers linebacker
Khaseem Greene
was a menace all afternoon, forcing three fumbles and delivering a critical interception while finishing in double digits in tackles. He was the hands down defensive player of the game for Rutgers, which relied once again on its defense and special teams to win.
Rutgers' offensive play-calling was conservative for most of the game, particularly once it had the lead. But this is the formula Rutgers is going to follow for the rest of the season. The run game was not as effective today --
Jawan Jamison
had 64 yards on 23 carries, the first time all season he failed to reach 100 yards.
But Rutgers did enough to win the game, and made the plays when it had to.
Brandon Coleman
had six catches for 104 yards, and
Gary Nova
was efficient, throwing for 152 yards and a touchdown without an interception.
September, 23, 2012
9/23/12
10:00
AM ET
What did we learn in Week 4? Keep in mind, no do-overs allowed.
1. Rutgers is the real deal.
Given the way Arkansas has imploded, the way the Scarlet Knights won Saturday night does not come as much of a surprise. But what was at least some sort of validation is that they played Arkansas at full strength -- with quarterback
Tyler Wilson
in the starting lineup -- and still won. Incredibly, it was Rutgers quarterback
Gary Nova
outplaying Wilson with the best game of his very young career, throwing for 397 yards and five touchdowns in the
35-26 victory
. Headed into this game, the Rutgers passing game was really inconsistent and at times nonexistent. But on Saturday, Rutgers got the run and the pass working together.
Jawan Jamison
also went over 100 yards for the fourth time this season and Rutgers controlled the clock for nearly 40 minutes. The defense yielded some big plays (never say the name
Cobi Hamilton
in Piscataway) but also came up with big plays when they were needed. That was plainly evident when
Duron Harmon
intercepted Wilson with three minutes to go to preserve the victory. Rutgers now moves to 4-0 for the first time since 2006.
[+] Enlarge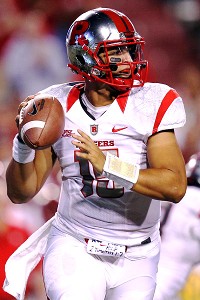 Nelson Chenault/US PresswireWith five TDs and 397 yards at Arkansas, Gary Nova erased doubts about Rutgers' passing game.
2. Everywhere else ... misery.
The Big East went 2-4 in its games against FBS opponents on Saturday, including 0-2 against the MAC. To put it bluntly, that is simply unacceptable for a league that is constantly the butt of jokes around the country. You want to be taken seriously? You win the games you are supposed to win. It was incredible to see UConn, USF, Syracuse and Temple just fail to show up in their games. Everybody but Temple was favored to win. In those four losses, the Big East teams scored an average of 18.5 points. Syracuse, which went into its game against Minnesota as the No. 1 offense in the Big East, scored a season-low 10 points and had 350 yards of offense -- nearly 200 yards below its average. USF showed once again it could not stop anyone defensively. UConn could not even beat a Western Michigan team that played without starting quarterback
Alex Carder
for the final quarter. Temple had 13 first downs and went 3-of-12 on third down in a
24-13 loss
to Penn State. I will say it again: Unacceptable.
3. But how about Louisville?
Louisville has had two consecutive "meh" performances. The Cardinals did not look impressive in the second half against North Carolina on Sept. 15, and they did not look impressive at all in their
28-21 victory
over Florida International on Saturday. Yes, they are 4-0 for the first time since 2006, and will remain ranked in the Top 25. Yes, they are a good team. Yes, they still won even when
Teddy Bridgewater
had a bad day by his standards (first two interceptions of the season, 17 incompletions). But let's just say it this way: Nobody in this league looks unbeatable. Not Louisville, not Rutgers. The first order of business should be figuring out how to play better defensively, particularly up front. Louisville has four total sacks in four games -- right at the bottom of the Big East. Second order of business: shoring up third-down defense. FIU converted 50 percent of the time on third down, right around what Louisville has allowed all season.
4. Pitt seems to have turned a corner.
Given the poor performances at the bottom of the Big East this weekend, it is easy to say Pitt belongs in the top half of the power rankings -- this despite losing its opener to Youngstown State and getting blown out in Cincinnati. While I realize Gardner-Webb is not even a very good FCS team, the Panthers are on the right track headed into their bye week, and did not have any letdown following their win over Virginia Tech a week ago.
Tino Sunseri
had more than 300 yards passing, and he has found a nice groove with receiver
Mike Shanahan
.
Ray Graham
also has been extremely productive, with 362 yards in four games. Pitt has to be headed into Big East play with an enormous amount of confidence.
5. USF appears to be a bust.
USF followed up its loss to Rutgers with an uninspiring performance in a loss to Ball State, and was plagued by all the familiar bugaboos of a team that has been highly undisciplined over the past several seasons. The Bulls went into the game as one of the most penalized teams in the nation, and they followed suit against Ball State,
committing 11 penalties
while also turning the ball over twice. USF had the game won, going ahead with four minutes to go. But the Bulls couldn't hold on. This was the preseason pick to finish No. 2 in the conference because of its big senior class. But now the Bulls are in danger of falling off a cliff, with Florida State coming to town Saturday.
August, 29, 2012
8/29/12
9:00
AM ET
Here are my picks for the Big East all-conference team.

Offense
QB
B.J. Daniels
, USF
RB
Lyle McCombs
, UConn
RB
Ray Graham
, Pitt*
RB
Montel Harris
, Temple*
TE
Ryan Griffin
, UConn
OT
Justin Pugh
, Syracuse
OT
Martin Wallace
, Temple
C
Mario Benavides
, Louisville
OG
Chris Jacobson
, Pitt
OG
Mark Popek
, USF
WR
Alec Lemon
, Syracuse
WR
Andre Davis
, USF
Defense
DE
Trevardo Williams
, UConn
DT
Scott Vallone
, Rutgers
DT
Aaron Donald
, Pitt
DE
Ryne Giddins
, USF*
DE
Walter Stewart
, Cincinnati*
LB
Khaseem Greene
, Rutgers
LB DeDe Lattimore, USF
LB
Sio Moore
, UConn
CB
Logan Ryan
, Rutgers
CB
Adrian Bushell
, Louisville
S
Hakeem Smith
, Louisville
S
Duron Harmon
, Rutgers
Special teams
PK
Kevin Harper
, Pitt
P
Pat O'Donnell
, Cincinnati
RS Ralph David Abernathy IV, Cincinnati
* = tie
Notes:
About those ties. Graham is a no-brainer all-conference back when healthy. The only problem is I have no idea how healthy Graham is right now or how healthy he is going to be when the season ends. He could start slow and finish fast. Or maybe he won't regain his old form. So I am hedging my bets a little and putting him on there with Montel Harris of Temple. Harris has the potential for a 1,000-yard season.
Defensive end:
I really think Williams, Giddins and Stewart have the potential to hit double-digits in sacks this season. That is how highly I think of them. And if the Big East coaches have ties on their all-conference team at the end of the year, so can I!
Tight end:
This was a tough one. Griffin is in my preseason Top 25 countdown, but I was a little worried when I saw he would not be starting against UMass. Coach Paul Pasqualoni said not to pay attention to the depth chart because he and John Delahunt are interchangeable. Still got me to thinking that Hubie Graham of Pitt could very well be the first-team tight end at the end of the season.
Receiver:
This is a toss-up. I really love Davis' potential. I know a lot are going to clamor for Devin Street to be on the list. He is my next man up. I went with Lemon over Street because I have more confidence in the Syracuse passing game than Pitt.
January, 31, 2012
1/31/12
9:00
AM ET
With one day to go before signing day, it is worth taking a look back at how the players on the Big East first-team fared when they were coming out of high school.
You will see, once again, that recruiting rankings generally have nothing to do with the way a player will do in college. So anybody freaking out about what your school does or does not have in the way of commitments for 2012, just take a deep breath. And look at how some of the most unheralded players out of high school become some of the best in the Big East.
I used ESPN recruiting rankings. Note only one player honored on the first team was ranked as an ESPNU150 player. Many on defense came in as either athletes, receivers or quarterbacks.
Offense
[+] Enlarge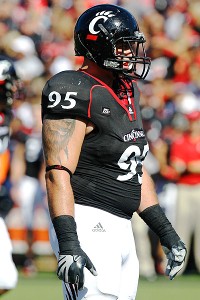 AP Photo/Al BehrmanCincinnati defensive tackle Derek Wolfe -- the 2011 co-Big East Defensive Player of the Year -- was unranked coming out of high school.
WR Mohamed Sanu, Rutgers.
Sanu was ranked the No. 18 safety in the nation coming out of high school in 2009, with a scout grade of 80.
WR/RS Tavon Austin, West Virginia.
Austin was rated the No. 41 running back in the nation coming out of high school in 2009 -- three spots behind De'Antwan Williams (Rutgers) and one spot behind Jason Douglas (Pitt). Know who else was ranked ahead --
Victor Marc
and
Bradley Battles
of USF.
OT Justin Pugh, Syracuse.
Unranked at his position for the class of 2009, Pugh got a scout grade of 40. Talk about making the most of somebody who was "undervalued."
OT Don Barclay, West Virginia.
Ranked No. 65 at his position in the class of 2007. One other West Virginia player was ranked athead of him, at No. 55 --
Gino Gradkowski
, who transferred to Delaware.
OG Randy Martinez, Cincinnati.
Rated the No. 161 defensive end in the class of 2007.
OG Art Forst, Rutgers.
Forst was ranked the No. 25 offensive tackle in the class of 2008 -- the second-highest Big East player on the list behind
Lucas Nix
of Pitt.
OG Andrew Tiller, Syracuse.
Tiller was unranked and did not even get a scouts grade when he was being evaluated in 2009 out of Nassau Community College.
C Moe Petrus, Connecticut.
The best center in the Big East was unranked and had no scouts grade when he signed with UConn in 2007.
TE Nick Provo, Syracuse.
Provo was ranked No. 86 at his position in the class of 2007
QB Geno Smith, West Virginia.
Smith has lived up to his billing -- ranking No. 97 on the ESPNU150 in the class of 2009. He was the No. 8 player at his position and No. 15 in the state of Florida.
RB Isaiah Pead, Cincinnati.
The No. 152 ranked running back in the class of 2008, Pead got a scout grade of 71. He just won MVP Honors on the Senior Bowl.
RB Ray Graham, Pittsburgh.
Rated the No. 66 running back in the class of 2009, Graham was rated behind West Virginia's Daquan Hargrett (left program) and USF's
Adaris Bellamy
(academics).
RB Antwon Bailey, Syracuse.
Ranked the No. 128 running back in the class of 2008 -- well behind fellow signee Averin Collier (No. 42). Collier was considered the gem of the class, but academics derailed his career.
K Dave Teggart, Connecticut.
Teggart was ranked the No. 25 kicker in the class of 2007.
Defense
DL Derek Wolfe, Cincinnati.
Wolfe was unranked at his position in the class of 2008 and got a scout grade of 40. Four years later, he was the co-Big East Defensive Player of the Year.
DL Kendall Reyes, Connecticut.
Reyes also was unranked in his position in the class of 2007 with a scout grade of 40. Believe it or not, he came into UConn at 220 pounds (he's now around 300) and now has a shot to be a mid-round draft pick.
DL Chandler Jones, Syracuse.
Jones came to Syracuse as a 230-pound tight end, unranked and giving a scout grade of 40. Now he is headed to the NFL draft as a projected second-to-third round pick.
DL Bruce Irvin, West Virginia.
Irvin took an
incredible journey to West Virginia
through Mt. SAC junior college after dropping out of high school.
LB JK Schaffer, Cincinnati.
Schaffer was ranked the No. 93 outside linebacker in the class of 2008, behind such players as
Tyler Urban
,
Marvin Booker
(Rutgers), Quavon Taylor (USF) and Marcus Witherspoon (Rutgers).
LB Khaseem Greene, Rutgers.
No ranking or scout grade for Greene, who went to prep school before arriving at Rutgers.
LB Najee Goode, West Virginia.
Goode was a quarterback and linebacker in high school who was not ranked.
CB Adrian Bushell, Louisville.
Bushell was ranked the No. 21 cornerback in the class of 2008 and originally signed with Florida. After playing at junior college, he made an immediate impact with the Cardinals.
CB Keith Tandy, West Virginia.
Tandy was ranked the No. 207 quarterback in the nation in the class of 2007. The same group that featured Jimmy Clausen and Ryan Mallett.
S Drew Frey, Cincinnati.
Frey was a receiver coming out of high school and unranked, with a scout grade of 40.
S Hakeem Smith, Louisville.
Smith was ranked the No. 93 receiver in the class of 2009, but his athleticism allowed him to switch to defense and emerge as one of the best safeties in the league.
S Jarred Holley, Pittsburgh.
Also a receiver in the class of 2008, Holley was ranked No. 230 at that position with a scout grade of 65.
S Duron Harmon, Rutgers.
The No. 49 athlete in the class of 2009, he was ranked below teammate
Jamal Merrell
,
Todd Thomas
of Pitt and
Kayvon Webster
of USF.
P Pat O'Donnell, Cincinnati.
O'Donnell was unranked with a scout grade of 40, but he has emerged as one of the most impressive iron men in the league.
December, 9, 2011
12/09/11
10:30
AM ET
Editor's Note: Tune into the "AT&T ESPN All America Team Show" on Saturday (ABC, 1:30 p.m. ET) to see who ESPN's writers and experts selected.
You saw what the coaches had to say when they picked the All-Big East team. Now it is my turn. I only have a few different opinions than the coaches. To start, West Virginia receiver
Stedman Bailey
is on my first team over
Tavon Austin
. Bailey finished with more yards; Austin with more receptions. But I thought Bailey was a little more consistent over the course of the entire season.
I also have West Virginia defensive lineman Julian Miller on the first team ahead of Bruce Irvin. Miller got off to a slow start, mostly because he was hobbled with an injury. But late in the season with games on the line, he was almost unstoppable. Pitt running back
Ray Graham
also gets a nod even though he missed the final five games of the season with a knee injury.
Without further adieu:
OFFENSE
QB:
Geno Smith
, West Virginia
RB:
Isaiah Pead
, Cincinnati
RB: Ray Graham, Pitt
OT: Don Barclay, West Virginia
OT: Justin Pugh, Syracuse
C: Joe Madsen, West Virginia
OG: Randy Martinez, Cincinnati
OG: Andrew Tiller, Syracuse
WR:
Mohamed Sanu
, Rutgers
WR: Stedman Bailey, West Virginia
DEFENSE
DL: Julian Miller, West Virginia
DL: Kendall Reyes, UConn
DL: Derek Wolfe, Cincinnati
DL: Chandler Jones, Syracuse
LB: JK Schaffer, Cincinnati
LB: Najee Goode, West Virginia
LB: Khaseem Greene, Rutgers
S: Hakeem Smith, Louisville
S: Duron Harmon, Rutgers
CB: Adrian Bushell, Louisville
CB: Keith Tandy, West Virginia
SPECIALISTS
PK: Dave Teggart, UConn
P: Pat O'Donnell, Cincinnati
RS: Tavon Austin, West Virginia
September, 10, 2011
9/10/11
1:57
PM ET
Rutgers is hanging with North Carolina thanks to three defensive turnovers. But Scarlet Knights fans are probably shaking their heads because Rutgers has only converted them into six points.
The first provided the best chance for a touchdown. After Duron Harmon returned an interception to the 2 in the first quarter, Rutgers made it to the goal line but was stuffed. Two throws and a run on the first three downs yielded no points. Rutgers went for it on fourth-and-goal, but
DeAntwan Williams
was stuffed.
David Rowe recovered two fumbles and Rutgers turned those into two field goals from San San Te. His second was from 50 yards out, tying a career high.
Turnovers are the biggest reason Rutgers is in the game,
down 14-6
in the second quarter.
Bryn Renner
has started 11-of-13 for 189 yards with a touchdown and an interception. The two fumbles off completions certainly were not his fault. He basically has picked up where he left off last week and is threading passes to open receivers. The run defense had been doing a nice job until Giovani Bernard broke through several missed tackles to score on a 60-yard run. Until that dash, UNC had 3 total yards on the ground.
Meanwhile, the Rutgers offense has not been able to do much of anything against a UNC defensive front that has shut down the run and consistently harassed
Chas Dodd
.
Mark Harrison
has two critical drops that would have probably been touchdowns.
September, 4, 2011
9/04/11
12:22
AM ET
A tip of the helmet to these players for a job well done:

USF defense
. When can you get a helmet sticker after giving up 508 yards of offense? When you get five turnovers, including three inside your 5-yard line. The Bulls defense made one gigantic stop after another in
a 23-20 win
over Notre Dame. It started with Jerrell Young on the first drive of the game, and it ended with Jerrell Young late in the fourth quarter.
Antwon Bailey, Syracuse.
The night didn't start off so great for Bailey, but he quickly changed that in the fourth quarter. His 56-yard scoring run tied the game against Wake Forest at 29 and helped Syracuse erase a 15-point deficit. The Orange eventually
won 36-29 in overtime
, and Bailey finished with 114 yards and two touchdowns.
Zach Collaros, Cincinnati.
The Bearcats may have played an overmatched opponent in Austin Peay, but it still is noteworthy when you throw four first-half touchdowns in
a 72-10 win
. Collaros went 12-of-19 for 134 yards and no interceptions in a quick half of work.
Ray Graham, Pittsburgh
. The Panthers may not have been the high-flying offense many wanted to see, but they had good ol' Mr. Reliable Ray Graham. The running back ran for 201 yards -- including a 75-yarder -- and four touchdowns in
a 35-16 win
over Buffalo.
Duron Harmon, Rutgers
. The Scarlet Knights had an easy time in a 48-0 win over NC Central, but there were some big plays. Harmon had two interceptions, including one he returned for a touchdown, as he got off to a good start in taking over for Joe Lefeged.
Lyle McCombs, Connecticut
McCombs didn't find out he was starting until
an hour before game time
. But he made the most of his first career start. The redshirt freshman ran for 141 yards and four touchdowns -- tying the school record for most touchdowns in a game in the Division I-A era of the school. McCombs got the nod because a sprained ankle kept
D.J. Shoemate
out of the game.
September, 2, 2011
9/02/11
9:00
AM ET
It may not have been the prettiest night of football, but the Big East opened the 2011 season Thursday night 3-0 -- including a thrilling come-from-behind win for Syracuse.
So what do we take away from Louisville, Rutgers and the Orange? It is hard to take away much from Week 1.
Rutgers beat an overmatched NC Central team 48-0
. The defense looked good, but we will know more about the Scarlet Knights after next week's game at North Carolina.
The Cardinals defense looked better than expected in a
21-9 win over Murray State
, but the offense was hit or miss and made way too many mistakes. I am not sure any Louisville fan feels good about the offensive performance this morning, especially against an average FCS team.
Syracuse, meanwhile, had the game of the day. The Orange, hoping to build off an impressive bowl season in 2010, looked completely lifeless for three quarters. Fans on Twitter joked about being reminded of the Greg Robinson era. But the fourth quarter was a different game. The Orange scored 22 unanswered points to
stun Wake Forest 36-29 in overtime
.
The comeback was spurred, in part, when Wake Forest starting quarterback
Tanner Price
went down with a knee injury in the fourth quarter. He threw for 289 yards and three touchdowns, particularly picking on cornerback Kevyn Scott. There was little pass rush, and the defense seemed flat footed. But after Price left the game, Wake managed just 59 total yards.
Despite the early struggles, Syracuse never gave up and deserves credit for that. No matter how you get it, any win is a big win.
Now here is more on the good and the bad for each team that played Thursday night.

Louisville
The good: You have to start with the defense. Many thought a pass-happy Murray State would be able to pass over a secondary featuring two inexperienced starters at cornerback. But starters Anthony Connor and true freshmen Andrew Johnson held their own. Connor picked up his first career interception, and Murray State never got a consistent string of big pass plays. Murray State quarterback Casey Brockman threw for just 148 yards and three interceptions. Meanwhile, the defensive line was without B.J. Butler, Roy Philon and Brandon Dunn, and Greg Scruggs played just a handful of snaps. In their place, true freshman B.J. Dubose, sophomore Marcus Smith, Randy Salmon, William Savoy and Malcolm Mitchell all played well. True freshman receiver DeVante Parker also flashed.
The bad: The offense has to get into a rhythm. The offensive line had five new starters and remains a work in progress. Of the 10 Louisville penalties, five were false starts and one was a hold. Will Stein had good plays and bad plays and fumbled once. Victor Anderson fumbled for the first time in his career. Jeremy Wright fumbled, too. Highly touted true freshman quarterback Teddy Bridgewater only played one series, which featured two false starts, a delay of game and his first career interception.

Rutgers
The good: The defense had a nice game, posting the ninth shutout under coach Greg Schiano. Rutgers had nine sacks -- the most since a nine-sack day in a 44-9 victory over Cincinnati on Nov. 26, 2005. Scott Vallone got his first career touchdown when he recovered a fumble in the end zone. Duron Harmon had two interceptions, including one he returned 37 yards for his first career touchdown. Harmon, in particular, seemed to be everywhere. Another highly touted freshman, Savon Huggins, got his first two career touchdowns but averaged just 3.2 yards a carry.
The bad: It is hard to find anything bad in a 48-0 rout. All you can really say is Rutgers did not get much of a test before a big game on the road next weekend. Perhaps Rutgers wants more consistency out of its running game. DeAntwan Williams, Jawan Jamison, Jeremy Deering and Huggins all played, and collectively averaged 3.3 yards a carry. Jamison had the longest run of the day at 14 yards.

Syracuse
The good: Everybody loves a come-from-behind win. The Syracuse offense finally showed its capability in the fourth quarter, when Antwon Bailey ripped off a 53-yard touchdown run to help tie the game at 29. Ryan Nassib, inconsistent early in the game, was a perfect 8-for-8 to close the game. Hard to believe it was the same offense that had fewer total yards (52) than penalty yards (56) in the first half. The defense came through with some big plays down the stretch, including an interception from Kevyn Scott. But perhaps what you love most is the moxie Syracuse showed in coming from behind to gut out a win.
The bad: In the first three quarters, the offensive line looked shaky. Receivers had drops. Bailey and Nassib could not generate much of anything. The defense looked slow, out of position and not aggressive. There were wide open Wake Forest receivers left and right. Not much of a pass rush, either. There also was a go-ahead field goal attempt late in the fourth quarter by Ross Krautman that was blocked because of a bad snap.