NCF Nation:

Dustin Keller
May, 22, 2012
5/22/12
1:05
PM ET
When you think Big Ten football, what usually comes to mind is big, corn-fed Midwestern players and bruising offenses. The kind of place that would be perfect for a tight end.
But the 2011 season was a little lackluster for that position in the league, at least as far as the passing game goes. Sure, Northwestern's Drake Dunsmore and Wisconsin's
Jacob Pedersen
were Mackey Award semifinalists, but those two and Michigan State's Brian Linthicum were the only two tight ends in the conference to record more than 25 catches. Some guys we expected to have big years, like Nebraska's
Kyler Reed
, Minnesota's Eric Lair and Indiana's
Ted Bolser
, were nearly invisible on the stat sheet. And there was certainly no one who rose the level of recent Big Ten stars like Dallas Clark, Matt Spaeth, Travis Beckum, Lance Kendricks or Dustin Keller.
[+] Enlarge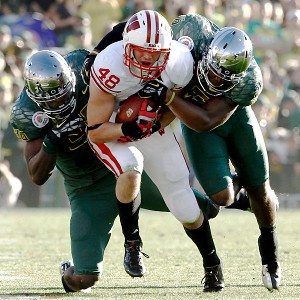 AP Photo/Matt SaylesJacob Pedersen led the Big Ten's tight ends with eight touchdown catches last season.
Dunsmore, who won the league's inaugural Kwalick-Clark tight end of the year award, and Linthicum have both graduated. Yet 2012 is shaping up as a potentially big season for tight ends across the league.
Some of it has to do with changing offenses and playcallers who love utilizing the tight end. Urban Meyer made a star out of Aaron Hernandez at Florida and could do the same with
Jake Stoneburner
, who started off blazing hot last year before the Ohio State offense forgot about him. With the Buckeyes searching for playmakers, expect Stoneburner to be utilized heavily in 2012.
"Seeing Hernandez make all those plays makes someone like me pretty happy," Stoneburner told Adam Rittenberg last month. "It's something I've been waiting for since I graduated high school, being able to go out there knowing you're going to get the opportunity to get the ball more than once or twice a game. "
Bill O'Brien coached Hernandez and Rob Gronkowski as offensive coordinator with the New England Patriots, which featured the tight end as much as anybody in football. Now O'Brien is at Penn State, where tight ends have mostly been an afterthought. That will change quickly.
"That's a very important part of what we're going to do offensively," O'Brien told reporters in March. "Obviously, the last two years in New England taught me a lot about the use of a tight end, multiple tight ends."
At Iowa, new offensive coordinator Greg Davis is raving about sophomore
C.J. Fiedorowicz
, a 6-foot-7, 265-pounder who began to emerge late last season as a weapon. With an uncertain running game and an excellent passer in quarterback
James Vandenberg
, Fiedorowicz could follow in the footsteps of Clark and Tony Moeacki as breakout Hawkeyes tight ends. Coincidentally, Iowa's new offensive line coach is Brian Ferentz, who coached the tight ends with the Patriots last year.
"You'll see the tight ends playing outside sometimes," Davis told the Des Moines Register during spring practice. "Used to seeing them in motion, but there will be motion in wide receiver sets in some situations because they're tough match-ups."
Wisconsin returns one of the best tight ends in the country in Pedersen, who had led Big Ten tight ends with eight touchdown catches a year ago. Bret Bielema is also excited about the depth at the position, with veterans
Brian Wozniak
and
Sam Arneson
, redshirt freshmen
Austin Traylor
and
Austin Maly
and Pittsburgh transfer
Brock DeCicco
. Given the inexperience at receiver outside of
Jared Abbrederis
, the Badgers could look to throw to their tight ends even more this season.
Indiana's Bolser had only 14 catches last year, but he was one of the stars of the spring for the Hoosiers. An improved passing game should help him become more of a factor. Purdue likes the depth it has at tight end, led by
Gabe Holmes
and
Crosby Wright
.
"A year ago it was one of the leanest positions on our football team," Boilers coach Danny Hope told reporters in the spring, "and now I think going into the season that the tight end position is going to be one of our strengths."
Reed's numbers dropped last year, but he still led Nebraska with an average of 17.1 yards per catch. He and fellow senior
Ben Cotton
form a nice tandem of targets for
Taylor Martinez
. Michigan State must replace Linthicum but is optimistic about 6-foot-5, 280-pound
Dion Sims
, who practiced this spring with a cast on his hand. Sims could provide a safety valve for new quarterback
Andrew Maxwell
early on as the Spartans break in some green receivers.
Minnesota's
Moses Alipate
will at least be a curiosity as a former quarterback who grew to 290 pounds. Michigan needs
Brandon Moore
or someone else to step in for
Kevin Koger
, while Illinois'
Jon Davis
could have a different role in the team's new spread offense after a promising freshman campaign. Whoever replaces Dunsmore for Northwestern should get a lot of touches.
Tight ends could play an important part of many Big Ten teams' attacks this fall. Just as it should be.
October, 6, 2008
10/06/08
9:45
AM ET
Posted by ESPN.com's Adam Rittenberg
Fifth-year senior Curtis Painter will start at quarterback when Purdue visits No. 12 Ohio State on Saturday (ABC, 3:30 p.m. ET). Whether Painter takes snaps the entire game remains to be seen.
Boilermakers coach Joe Tiller reiterated Sunday that Painter would start despite replacing the record-setting quarterback with Joey Elliott in the fourth quarter of last week's loss to No. 6 Penn State. Tiller nearly replaced Painter two weeks earlier against Central Michigan and made the switch after Painter completed just 13 of 22 passes for 112 yards and an interception against the Nittany Lions.
Here's what Tiller told The (Lafayette, Ind.) Journal and Courier:
"I'll talk to him probably midweek or so, but I'm not going spend a lot of time on it because of his experience. I tell the quarterbacks every year that anybody can get replaced at any time, don't read anything into it. You get a chance to come back and play, you come back and play your best."
Tiller made the right call to stick with Painter, and Painter strikes me as mature enough to handle his momentary demotion. But it's still somewhat surprising when a guy who likely will finish his career second on the Big Ten's all-time passing yards list gets sent to the bench. Painter has completed just 57.6 percent of his passes with as many touchdowns (5) as interceptions this year. He clearly misses Dorien Bryant and Dustin Keller -- can't blame him there -- and is still trying to build chemistry with his new set of wideouts.
It won't be easy to find a rhythm against Ohio State, but Purdue needs Painter at the top of his game before the season starts to slip away.
Purdue has made a change at kicker after Chris Summers missed two field goals and an extra point against Penn State. Freshman Carson Wiggs will kick for the Boilers at Ohio Stadium
July, 21, 2008
7/21/08
12:15
PM ET
Posted by ESPN.com's Adam Rittenberg
Despite losing seven of the league's top 10 receivers from last season, this group should once again be solid in 2008. Teams like Ohio State, Penn State, Illinois and Northwestern return groups of receivers that have played together for a season or longer. Minnesota has a budding star in Eric Decker, while Wisconsin lacks a proven wide receiver but boasts arguably the nation's best tight end in Travis Beckum. Purdue is restocking at wide receiver but has history on its side, and Iowa welcomes back several key contributors from injuries.
As with the running backs, these rankings are broken down into two sections:
INDIVIDUALS
| | |
| --- | --- |
| | |
| | AP Photo/Phelan Ebenhack |
| | Wisconsin's Travis Beckum had 75 receptions for 982 yards last season. |
1. Travis Beckum, Sr., TE, Wisconsin -- It's rare that a tight end tops this list, but Beckum transcends his often overlooked position. The All-America candidate had 75 receptions for 982 yards and six touchdowns last season. If Beckum returns at top form following offseason shoulder surgery, he'll continue to flummox defenses with his size and speed.
2. Brian Robiskie, Sr., WR, Ohio State -- He averaged 17 yards a catch and had the third most touchdown catches (11) in the league last season. Now imagine what Robiskie will do without a torn meniscus in his knee that required offseason surgery. A deep threat on a squad with several of them, Robiskie is on the brink of a big season.
3. Arrelious Benn, So., WR, Illinois -- Fully healthy after shoulder surgery, Benn could easily become this season's Devin Thomas and rise to the top of the list. Illinois will get the ball in his hands as much as possible, whether it's in a ramped up passing attack, out of the backfield or on returns. A good route-runner with breakaway speed, Benn might be the league's most dynamic player.
4. Eric Decker, Jr., WR, Minnesota -- After putting up big numbers for a bad team last season, Decker should get more praise from fans and more attention from defenses this fall. A tremendous athlete who also plays baseball for the Golden Gophers, Decker gives quarterback Adam Weber a proven target who can get to the end zone (nine touchdowns in 2007).
5. Deon Butler, Sr., WR, Penn State -- Butler quietly has become one of the league's most reliable receivers. He needs just 36 receptions to become Penn State's all-time career receptions leader and likely will claim several other school records. As the Nittany Lions transition to more of a spread offense this fall, Butler should excel.
6. Eric Peterman, Sr., WR, Northwestern -- Just when defenses label Peterman as a standard possession wide receiver, he'll gash them for a big gain. He tied for seventh in the league in receptions last season and will once again be C.J. Bacher's top target in the passing game, particularly on third down.
7. Greg Orton, Sr., WR, Purdue -- After playing behind three-time Big Ten receptions leader Dorien Bryant, Orton takes center stage as a senior. He must stabilize a new-look Boilermakers receiving corps and provide senior quarterback Curtis Painter a reliable first option. Orton has 125 receptions the last two seasons.
8. Andy Brodell, Sr., WR, Iowa --Remember the 2006 Alamo Bowl? Brodell torched Texas for a bowl-record 159 receiving yards, including a 63-yard touchdown. A broken leg cut short his 2007 season, but he's back and ready to restore his place among the Big Ten's top receivers.
9. Brian Hartline, Jr., WR, Ohio State -- Don't forget about Ohio State's other Brian, who collected 52 receptions for 694 yards and six touchdowns last fall. As Robiskie stretches the field, Hartline provides an excellent complement who goes over the middle and absorbs contact. He turned in an excellent spring as Robiskie recovered from injury.
10. Derrick Williams, Sr., WR, Penn State -- Most thought Williams would be higher on this list when he arrived in Happy Valley, but he hasn't matched the hype -- yet. His speed and athleticism remain top notch, and he should do well in a spread offense. A big-play threat who can do damage in the return game, Williams could finish his career with a flourish.
TEAM
1. Ohio State -- Finding a third option remains on Ohio State's to-do list, but few teams boast a better passing tandem than the Brians. After a season to jell with quarterback Todd Boeckman, Robiskie and Hartline will punish defenses worrying about Heisman Trophy candidate Beanie Wells.
2. Penn State -- In terms of continuity at wide receiver, Penn State ranks at the top of the list. But the long-tenured group of Butler, Williams and Jordan Norwood hasn't always met expectations. As seniors, they should shine despite having to work with a new starting quarterback.
3. Illinois -- The league knows all about Benn, who will do even more damage at 100 percent this fall. His supporting cast includes Jeff Cumberland, a 6-5, 247-pound former tight end who can outjump defenders, as well as Chris James, who missed all of last season with a torn ACL. The Illini will accentuate the passing game more this fall, and this group should step up.
4. Northwestern -- This could be the Wildcats' best group of wideouts sinc
e they installed in the spread offense in 2000. Peterman is good for 6-10 receptions per game. Ross Lane provides Bacher with a red-zone threat, and Andrew Brewer, considered the team's top wideout before suffering a fractured humerus in training camp, rejoins the group.
5. Iowa -- Embattled quarterback Jake Christensen is thrilled to see what's coming back this fall. Brodell returns from a broken leg and gives Iowa a viable deep threat. Promising tight end Tony Moeaki is also back in the fold following an injury. Sophomore Derrell Johnson-Koulianos, the team's top receiver last season, provides depth along with Trey Stross.
6. Wisconsin -- Beckum and understudy Garrett Graham are the only reasons why the Badgers are this high. For them to stay there, several wide receivers must emerge from an unproven group. Kyle Jefferson displayed promise as a freshman and David Gilreath showcased his speed as a returner, but there are more questions than answers here.
7. Purdue -- It's impossible to replace Bryant's production or the mismatch problems Dustin Keller created, but Orton gives Purdue a strong first option with good size. More important, the Boilermakers have a track record of success at wide receiver and a senior quarterback (Curtis Painter) who can help unproven players. Junior-college transfer Aaron Valentin bolsters a group that also includes Desmond Tardy.
8. Minnesota -- I'm tempted to put the Gophers higher because of Decker, but there's not much behind him. Ernie Wheelwright's departure leaves a hole, which could be filled by dynamic freshman Brandon Green, sophomore Ralph Spry or several others. If Minnesota finds a solid second option for Weber, it will climb several spots.
9. Michigan -- Before you flood my inbox, allow an explanation. The Wolverines have no proven quarterbacks, only one semi-proven wide receiver (Greg Mathews) and a dramatically different offense to learn. A drop-off is likely, but not certain. Freshman Darryl Stonum bolsters the new-look corps, and players like Junior Hemingway and Toney Clemons could shine after waiting their turn for playing time.
10. Indiana -- There's no James Hardy on the roster, but juniors Ray Fisher and Andrew Means should stabilize a passing game led by quarterback Kellen Lewis. Tight end Max Dedmond provides another option in the new no-huddle offense, though another target or two needs to emerge.
11. Michigan State -- Javon Ringer told me to expect big things from this group, but I'm not convinced. Thomas and underrated tight end Kellen Davis will be missed, and Ringer had more receptions last season than any of the returnees. Deon Curry, Mark Dell, B.J. Cunningham and Blair White have the chance to step up -- and move up the list.