NCF Nation:

Dwayne Thomas
August, 13, 2014
Aug 13
3:00
PM ET
BATON ROUGE, La. -- Les Miles didn't offer many specifics about LSU's first preseason scrimmage on Wednesday -- particularly about which quarterbacks completed the two touchdown passes -- but the Tigers' coach described the 26-play scrimmage as "pretty productive."
Miles confirmed that freshmen
Leonard Fournette
and
Malachi Dupre
are both dealing with injuries, adding that tailback Fournette ran a handful of times in "thud" drills (not full contact) and that he should participate in a greater role in Saturday's full scrimmage.
"He really could have been involved today, but [with] a little bruise, we decided not to," Miles said.
[+] Enlarge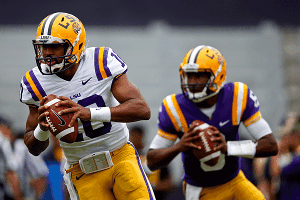 Derick E. Hingle/USA TODAY SportsCoach Les Miles said that QBs Anthony Jennings, left, and Brandon Harris are both grasping LSU's offense.
He made similar comments about wide receiver Dupre, who already missed a couple of practice days with an undisclosed injury.
"He's really nicked and on the heal and they don't think it's anything major in any way, but we've just got to continue to treat and get him going," Miles said.
He didn't say which quarterbacks threw the passes, but Miles did reveal that
Avery Peterson
and
Travin Dural
caught touchdowns in the scrimmage.
Speaking generally, he said that quarterback contenders
Anthony Jennings
and
Brandon Harris
are in command of the offense most of the time. The rest remains a work in progress.
"They're young, they're both engaged in leadership and want to have command of the offense -- and they do for the most part," Miles said. "They don't know what command is. They don't necessarily understand exactly what has to be communicated to make this thing go easy. They're learning.
"I'd say 70 percent of today was just very, very well done and 30 percent's probably not enough for anybody that sits in the stands to even notice. And yet that 30 percent we expect from our quarterbacks."
Miles said defensive tackle
Quentin Thomas
-- initially thought to be lost for the season with a torn bicep -- worked in individual drills on Wednesday and might still play this season.
"Today he went through individual and moved and used his hands. It's one of those things when you have a big old arm and you get it nicked, you can't quite tell what it is and what it isn't initially. Frankly he's as fortunate as he could be."
Miles added that the Tigers' occupational therapist, "looked at it and he says there's absolutely no reason to do anything else than rehabilitate and let him play."
Thomas' versatility:
One of the primary benefits of LSU's "Mustang" defense is that it's difficult to tell which rushers will attack the line of scrimmage on any given play. So perhaps it fits that one of the Tigers' key players in that package is
Dwayne Thomas
, since you never know where he might play.
Thomas said he has learned the duties of every position in the secondary, joining
Jalen Mills
as the only Tiger defensive backs who can do that.
"Corner, safety, nickel and dime -- I pretty much know the entire defense," Thomas said. "Wherever Coach [Corey] Raymond needs me, I just go fill in. It's a great opportunity to do that. Being able to be in the mix of any position is good for the next level."
Thomas said he added safety to his repertoire since the end of last season, having worked at the position throughout spring practice.
"Once I got safety down pat, that was like the last position I had to learn for the entire defense," Thomas said. "I had already been doing nickel and dime and corner. After the spring passed, getting all the safety reps down pat was just fantastic."
But it's that Mustang role where Thomas might make the biggest impact. Because of his speed off the edge -- aided by his ability to jump the snap count, work with assistant coach Brick Haley on the finer points of pass rushing and film study of former Mustang standouts Tyrann Mathieu and Ron Brooks -- Thomas could be even more valuable in that role this season.
"Dwayne really gives us what we're looking for at that position. He does a great job there," defensive coordinator John Chavis said when asked about who will play the rushing positions in the Mustang. "Jalen Mills has played a lot at that position. I'm not ready to say anything other than we expect Thomas to be one of those guys."
Kick returners:
Dural said one factor will probably determine who eventually wins LSU's kickoff and punt return jobs.
"We're battling every day to see who's going to drop the ball first," Dural chuckled.
Dural listed a half-dozen candidates who are contending for the return jobs when they catch balls before and after practice each day.
"It's just me,
Tre White
, Leonard, Jamal [Adams], Malachi,
Trey Quinn
. We're all back there battling for a spot," Dural said. "Everybody wants to be that dynamic player. Everybody wants to be the kickoff guy or [punt]."
LSU had one of the nation's best return men last year in Odell Beckham, who entered the NFL draft after winning the Paul Hornung Award as college football's most versatile player. Dural said it won't be easy to replace the explosive Beckham, but he believes the Tigers have plenty of promising candidates.
"It's hard to replace someone like that, but we have a lot of guys who have the ability to make those plays," Dural said. "Tre White, he's a guy that can return punts and return kickoffs as well as Leonard. Leonard's back there returning both of them. So as the season goes on, whoever that guy may be, you'll start to see him make those types of plays that Odell did."
August, 10, 2012
8/10/12
3:15
PM ET
At the end of the day,
Tyrann Mathieu
just couldn't stop thinking about himself.
Months after proclaiming he was changed, humbled and ready to lead, Mathieu's selfishness cost him his LSU career, as
Les Miles announced his player's dismissal at a news conference Friday
.
[+] Enlarge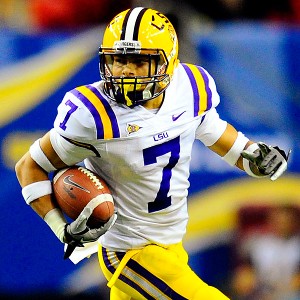 Dale Zanine/US PresswireTyrann Matheiu emerged last season as one of the nation's top cornerbacks and punt returners.
Miles, with disappointment scribbled all over his face, stood up and announced to the college football world that one of the most exciting players in the game -- and a Heisman Trophy finalist a year ago -- is no longer a part of LSU's football because he violated team policies again.
One of the best game-changers and playmakers -- regardless of position – that the game had to offer claimed to have learned from his mistakes, but he is now leaving a team capable of making back-to-back national championship runs.
The face of LSU's program, who went with the celebrity flow by posing for preseason magazine shots this year and showed off his punt-returning skills to the nation on ESPN, let his team and its fan base down by once again thinking of himself first.
Miles didn't give details as to what Mathieu did to earn a one-way ticket out of Baton Rouge, but from the way Miles sounded during his press conference, Mathieu had run out of chances. And Miles had run out of patience with the Honey Badger.
"This is a very difficult day for our team," Miles said. "We lose a quality person, teammate and contributor to the program. However, with that being said, we have a standard that our players are held to, and when that standard is not met, there are consequences.
"It's hard because we all love Tyrann. We will do what we can as coaches, teammates and friends to get him on a path where he can have success. We are going to miss him."
What they'll miss on the field is his unbelievable playmaking ability. Mathieu had a true nose for the ball, constantly locating and flying to it no matter where he lined up, and amazing vision. He wasn't the biggest player or the best cover man, but he just had a way of disrupting things that few could mimic. And on special teams, he proved he could completely change the landscape of a game with one cut.
During his two years at LSU, he totaled 133 total tackles (16 for loss), grabbed four interceptions and forced 11 fumbles (most in school history). He also recovered eight fumbles and averaged 15.59 yards per punt return (with two scores) last year.
The Tigers will now look to a committee of players to replace Mathieu. Redshirt freshman
Jalen Collins
could get work at corner, while true freshmen
Dwayne Thomas
,
Deion Jones
and
Corey Thompson
could get work at nickel. Redshirt freshman safety
Micah Eugene
could also get some work there.
But none are the Honey Badger.
In January, Mathieu sat at a podium inside the Marriott Convention Center in New Orleans just days before the national championship expressing his feelings about his celebrity status and how it transformed him.
He admitted to getting carried away with his Honey Badger persona that took the Internet and college football by storm. The T-shirts, signs, videos and slogans that made him so captivating and famous slowly began to inflate his ego. He went from playing with a chip on his shoulder to playing like he owned the world.
Then, just as he was sitting on top of the world, he was suspended halfway through the season for reportedly failing a drug test. Mathieu later said his one-game suspension helped him realize he wasn't as invincible as he thought. It helped bring him back to reality and made him truly cherish his time with his team.
But the past caught up with Mathieu, who leaves a team poised to be better in 2012. The offense is expected to take off with quarterback
Zach Mettenberger
, and the defense, which ranked second nationally last year, had a chance to be even better, too. But Mathieu won't be around to help.
LSU has met distractions before, but to lose someone with so much talent and status is a real shot to a team hungry to make up for last year's championship failure. This team will regroup, but it has to feel betrayed.
The childlike smile, blonde hair and charismatic play that made Mathieu so endearing in Baton Rouge are all gone. And Mathieu has no one to blame but himself.