NCF Nation:

Dwight Jackson
February, 22, 2012
2/22/12
4:00
PM ET
We continue with our final 2011 position rankings by moving to linebacker. There were plenty of exemplary individual performances in this group, as six teams were represented on the Big East first and second teams. But this evaluation is of the unit as a whole, so I am factoring in the performance of every starter, along with depth and stats.
[+] Enlarge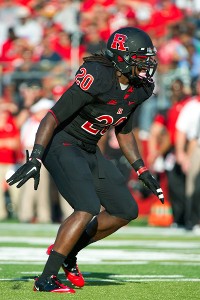 Rich Kane/Icon SMIKhaseem Greene's position switch went better than anyone could have expected, as he ended up leading the conference in tackles.
1. Rutgers.
Khaseem Greene
's move to linebacker was the smartest position change of the year, pushing the Scarlet Knights into the top spot in this category. Greene led the league with 140 tackles en route to Big East Co-Defensive Player of the Year honors. He was essentially all over the field. Greene and
Steve Beauharnais
were the only linebacker tandem to finish in the top 10 in the Big East in tackles for loss. Add in the much-improved
Jamal Merrell
and it's easy to see why this group is No. 1.
Preseason ranking
: No. 4.
2. Cincinnati.
J.K. Schaffer
had yet another outstanding season for the Bearcats, racking up 100 tackles once again. But quietly,
Maalik Bomar
put together a nice year as well, and that helped make up for some serious question marks that surrounded this unit going into the season. True freshmen
Dwight Jackson
and
Nick Temple
made contributions, but on the whole it was the Schaffer show again and that was enough to boost this group.
Preseason ranking:
8.
3. Louisville.
Dexter Heyman
and
Preston Brown
had career seasons for the Cardinals, elevating the position and helping Louisville post another outstanding season on defense. Heyman and Brown finished in the top 15 in the Big East in tackles, and Heyman ranked fourth in the league with 16 tackles for loss. His play earned him second-team honors, and he leaves a big hole to fill for 2012.
Preseason ranking:
3.
4. UConn.
The Huskies were one of two teams without a linebacker on the Big East first or second team. But I thought this position group was vastly underrated for most of the year.
Sio Moore
came up with some big plays, and
Yawin Smallwood
and
Jory Johnson
developed nicely throughout the season. To illustrate how active Moore was, he was the top linebacker in tackles for loss with 16. This unit should be even better in 2012.
Preseason ranking:
2.
5. USF.
The Bulls were the other team without a linebacker named to the Big East first or second team but that shouldn't diminish the season
DeDe Lattimore
had. He had seven sacks, 13 tackles for loss and led the team in tackles. In fact, all three linebackers led the team, in
Mike Lanaris
and
Sam Barrington
. But the group as a whole underachieved, as the Bulls struggled to get teams off the field and were often times out of position to make a play.
Preseason ranking:
1.
6. West Virginia.
Middle linebacker
Najee Goode
had a terrific season, earning first team Big East honors. But beyond him, there were few significant contributions. Injuries hurt and so did inexperience. Plus, the expected emergence of junior college transfer
Josh Francis
never materialized. Between
Jared Barber
,
Jewone Snow
and
Doug Rigg
, there was not much doing in this group.
Preseason ranking:
5.
7. Pitt.
The problem in evaluating Pitt is this --
Brandon Lindsey
played both end and linebacker in the hybrid Panther role. Does he get evaluated with the line group or the linebacker group? He started eight games on the line, so I gave more weight to his contributions at end. However, I did take him into account for this unit, though it was not enough to life this group up much as a whole.
Max Gruder
was solid, but otherwise this was a lackluster bunch.
Todd Thomas
showed some spark but injuries slowed him down. Between
Shane Gordon
,
Greg Williams
and
Tristan Roberts
, there were problems all year.
Preseason ranking:
6.
8. Syracuse.
It was a struggle for the Orange on defense this season, and linebacker was no exception.
Marquis Spruill
had to make the transition to middle linebacker and struggled at times.
Dyshawn Davis
showed glimpses as a true freshman.
Dan Vaughan
actually was the leading linebacker in tackles. You generally want your linebackers to lead the team in that category, and that was not the case this season. But there is talent here. Another year of development for Spruill and Davis could yield big things in 2012.
Preseason ranking:
7.
July, 6, 2011
7/06/11
4:30
PM ET
We continue our team position rankings with the linebackers. This position was one of the hardest hit in the league with the number of quality players who are gone. You could probably interchange teams 2-7 in the rankings, depending on your point of view. So who is going to step up? Let's peer into the crystal ball.
[+] Enlarge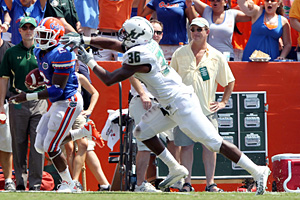 Kim Klement/US PresswireSouth Florida linebacker Sam Barrington, 36, leads the Big East's best group of linebackers.
1. South Florida.
Sam Barrington and DeDe Lattimore form the best linebacking duo in the league, helping put the Bulls into the top spot. By no means have they fully arrived -- plenty of room for improvement here. What also helps with the ranking is depth. Reshard Cliett had a nice spring, after coming into USF as a safety. Junior college transfer Mike Juene was in for spring and also has raised expectations. Mike Lanaris and Curtis Weatherspoon should be important contributors as well.
2. Connecticut.
The strength of the team is on defense, but if there is one group on this unit that has the biggest questions it is linebacker. There is no disputing Sio Moore is one of the best in the league. But the Huskies lost four-year starters Lawrence Wilson and Scott Lutrus. Jory Johnson, Jerome Williams, Mike Osiecki and Yawin Smallwood are all in the mix, but there is no question this group is much more inexperienced than a year ago. Still, Moore makes this a top-tier group.
3. Louisville.
The Cardinals lose Brandon Heath and a few other players who brought valuable experience. But
Daniel Brown
and Dexter Heyman are experienced starters who will anchor this unit. The Cardinals took a hit when Brandon Golson reportedly decided to transfer, so they are going to need to work on some depth.
4. Rutgers.
Some players moved around during the spring -- Manny Abreu moved from strongside linebacker to defensive end, and Khaseem Greene moved from safety to weakside linebacker. These moves should make the defense better. Steve Beauharnais switched back to the strong side from the middle, a move that should benefit him. Ka'Lial Glaud is now penciled in to start in the middle. Marvin Booker had a good spring as well. Depth is an issue and true freshman Quentin Gause and Kevin Snyder could play. But this group should be better.
5. West Virginia.
Najee Goode is a proven big-time player, but there were some huge losses for this unit. Anthony Leonard, JT Thomas and Pat Lazear are all gone. Junior college transfer Josh Francis and Casey Vance are competing on the weakside and Doug Rigg, Tyler Anderson and Donovan Miles on the strong side. Francis would add athleticism to the group, but first he has to win the starting job.
6. Pittsburgh.
The Panthers are transitioning to a 3-4 and experimented plenty during the spring with various combinations. They have experience, with the top seven linebackers on the team returning. Plus Brandon Lindsey is going to play more of a hybrid defensive end/linebacker role. But this was one of the worst units on the team last season. Max Gruder and Greg Williams have to be better for this unit to be ranked higher.
7. Syracuse.
The Orange lose not only two of their best players, but two of their biggest leaders in Doug Hogue and Derrell Smith. Smith led the team in tackles, and Hogue was right behind him, making linebacker one of the biggest question marks on this team heading into the season. Two other contributors, Malcolm Cater and Brice Hawkes, were kicked off the team. That leaves sophmore Marquis Spruill as the only player with significant playing time among the linebackers, and he moved to a new position in the middle. Early enrollee Dyshawn Davis, a receiver in high school, is penciled in to start so that should tell you where this group is headed into the fall.
8. Cincinnati.
JK Schaffer is one of the best in the Big East, but depth here is a concern. Walter Stewart has moved to defensive end, leaving a hole at one of the linebacker spots. True freshmen Nick Temple and Dwight Jackson were in for spring practice are expected to compete for starting jobs. This unit was not very good last year and undersized, making it the group with the most to prove in 2011.
Previous rankings
June, 23, 2011
6/23/11
2:00
PM ET
Colleague Bruce Feldman has a new blog post ranking his
Top 10 impact true freshmen.

Two are from the Big East, and should come as little surprise.
Louisville quarterback Teddy Bridgewater comes in at No. 5 and Rutgers running back Savon Huggins ranks right behind at No. 6. Here is what Feldman has to say about them.
On Bridgewater: Landing the Miami native was quite a coup for Charlie Strong. Bridgewater arrived in time for the spring and battled for the job vacated by Adam Froman and Justin Burke. His only challenger is 5-foot-10 former walk-on Will Stein. ... Given the Cards' inexperience on the offensive line, Bridgewater's playmaking skills and mobility only figure to be that much more valuable this fall.

On Huggins: Greg Schiano needs a big-time back to emerge, and the 5-foot-11, 195-pound Huggins has the kind of "lets-get-to-business" running style the coach likes. The book on Huggins is that he doesn't waste time, he just attacks the hole and has the burst to get through, and can finish off his runs. For a program that has struggled in the running game since Ray Rice left for the NFL after the 2007 season (finishing 80th, 78th and 110th in the last three seasons), Huggins' arrival is a welcome one.
How about candidates for the other Big East schools?
Marquise Vann and Jefferson Ashiru, Connecticut.
Linebacker is the biggest question on defense after the Huskies lost two starters in Lawrence Wilson and Scott Lutrus. Vann and Ashiru were two of the most highly touted in the signing class in February and should have a chance to contribute immediately.
Nick Temple/Dwight Jackson, Cincinnati.
The Bearcats have the potential to have a handful of impact true freshmen. Jameel Poteat, Shaq Washington and Akise Teague could have filled in this spot here. But I am going with the linebacker tandem of Temple and Jackson because the Bearcats are in need of help on defense more than offense. With Walter Stewart moving to the hybrid defensive end/linebacker spot, Cincinnati really needs one of its freshmen to step up at linebacker.
Ejuan Price, Pittsburgh.
The Panthers landed a pretty explosive player in Price, who came to Pittsburgh after being granted his release from Ohio State. Price seems to be the perfect fit for the 3-4, and will no doubt compete for playing time at the "Panther linebacker" spot as a hybrid linebacker/defensive end.
Elkino Watson, USF.
The four-star defensive tackle prospect was perhaps the biggest coup for the Bulls on signing day, when he chose USF over Miami. He will have a chance to play immediately and help the USF defensive line.
Dyshawn Davis, Syracuse.
Davis enrolled in school early and ended the spring atop the depth chart at weakside linebacker. This is one of the biggest question marks for the Orange, so it makes the most sense for Davis to have the biggest impact here.
Andrew Buie/Vernard Roberts/Dustin Garrison, West Virginia.
Yes, I am a weasel for not picking one of these players. Easy way out for sure. But I have to honestly say I am not sure which of these players is going to emerge, and I am pretty sure the coaches have no idea, either. But I do think one of these guys is going to come out and make an impact. No question this is going to be one of the most fun competitions to watch during fall practice.
March, 25, 2011
3/25/11
4:00
PM ET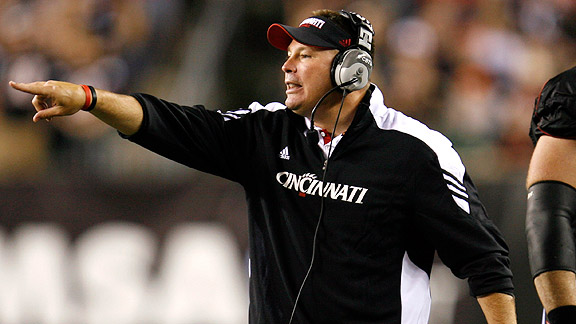 Jim Owens/Icon SMIButch Jones hopes a productive offseason will translate into victories on the field in 2011.
Cincinnati coach Butch Jones will kick off his second spring practice with the Bearcats on Tuesday, looking to improve upon a disappointing 4-8 debut campaign. I caught up with Jones to preview the spring, and here's Part I of our conversation.
After the rough year in 2010, how are the players' attitudes heading into the spring?
Butch Jones:
I've been very pleased. I think we've had a very, very productive offseason. I've liked our leadership, and that's the biggest thing -- teaching our players about leadership and team unity. We've talked about each day is a different challenge. Each day you've got to win the day. We've talked about how before you can even be in contention to win a championship, your team has to be comprised of individual champions. Yesterday our winter quarter grades came out, and we have 83 players, scholarship and non-scholarship. We had a 2.9 GPA, which is very impressive. So they've answered that challenge, and they've answered the challenge in the strength and conditioning area. And now we need to answer the challenge for spring football.
It's the second year for your system now, and your entire coaching staff returns. How much positive impact will that have?
BJ:
You win with continuity. At Central Michigan, we were very fortunate to keep our coaching staff intact. This year was extremely challenging, because we had four staff members be offered other BCS, high-caliber, high-profile jobs. And all four stayed. I think that speaks volumes about how they feel about the direction of our program and our players, loyalty, all that stuff. You look at what our defensive players have gone through, with three defensive coordinators in three years, and I'm just a firm believer you win with continuity. Everyone knows what's expected. That's been a huge benefit this offseason.
Looking at your defense, you have all 11 starters back. But the defense obviously struggled last year. So do you look at it as a good thing that every starter is back, or that there needs to be some major change there?
BJ:
The key there is, we can't just be older; we must get better. We have to take major, major strides on that side of the ball. It comes first and foremost with a physicality and presence, and we've got to get much more tougher, much more physical. When I say tougher, it's both mental and physical. It's being able to handle sudden changes, it's creating turnovers, it's third down and getting off the field. So there's so much that goes into improving the defense and making us a better tackling team. This spring is going to be very, very physical. We're going to challenge them as we did in our winter conditioning.