NCF Nation:

Dwight Roberson
July, 22, 2014
Jul 22
9:40
AM ET
By
ESPN.com staff
| ESPN.com
The Big 12 media days continue on Tuesday in Dallas, as Oklahoma's Bob Stoops and new Texas coach Charlie Strong each take the stage. Keep this page open throughout the day's proceedings as we bring you the latest from our reporters, who will cover all 10 teams at the event.
October, 4, 2010
10/04/10
11:02
AM ET
Oregon State was able to beat Arizona State at home without
James Rodgers
. Will his return from a concussion be enough for the Beavers to record an upset at No. 9 Arizona on Saturday?
Rodgers, one of the nation's most dangerous and versatile offensive players, is
expected to play
against the Wildcats, but linebacker Dwight Roberson -- the Beavers' leading tackler through three games -- is questionable with a knee injury.
Cliff Kirkpatrick points out an interesting factoid: Notice
anything about this list
? The Beavers have already played against the nation's No. 1 and No. 3 defenses in Boise State and TCU. Guess who ranks No. 2?
That opposition might explain why the Beavers offensive numbers aren't terribly impressive.
September, 30, 2010
9/30/10
9:00
AM ET
»
Predictions
:
ACC
|
Big 12
|
Big East
|
Big Ten
|
Pac-10
|
SEC
|
Non-AQ
Went 4-2
last week
-- clearly an editor switched my upset prediction from UCLA to Oregon State -- and the season mark is now 27-7.
Now things get tough: Conference games.
Oregon 41, Stanford 35
: The Ducks had a "We just pounded USC" hangover early in last year's game. That won't be the case this year. Two things swing this to the Ducks: 1. Speedy players making big plays in space; 2. The frenzied Autzen horde.
USC 38, Washington 27
: Huskies QB
Jake Locker
will bounce back and turn in a solid performance. But the Huskies defense won't be able to get enough stops on the road for the upset to happen.
Arizona State 31, Oregon State 24
: Two good teams with two losses due to brutal schedules. What tips this in the Sun Devils favor is two Beavers injuries: Linebacker Dwight Roberson, who is out, and wide receiver
James Rodgers
, who is questionable. (And Oregon State fans can thank me for finally picking against them later).
UCLA 28, Washington State 20
: Doesn't this set up like a trap game? And isn't the health of UCLA QB
Kevin Prince
a concern? The Bruins struggle but prevail.
September, 29, 2010
9/29/10
8:37
PM ET
There are cold hard facts. And grounds for optimism. There's frustration. And there's a silver lining that suggests hope and possibility.
Best of all: There are still many games ahead in which Oregon State and/or Arizona State can rewrite the season's script.
Still, the cold hard facts are the records: 2-2 for the Sun Devils and 1-2 for the Beavers. No matter that all four defeats came in competitive performances against teams ranked in the nation's top-11. The end-result is what-could-have-been-but-wasn't.
[+] Enlarge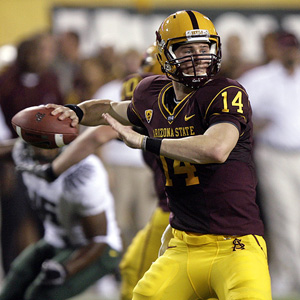 AP Photo/Paul ConnorsSteven Threet's four interceptions were part of a seven-turnover night for Arizona State against Oregon.
"I think it's frustrating and exiting," ASU QB
Steven Threet
said. "[It's frustrating] in terms of driving the field and not finishing off drives and getting points when we should. It is exciting, though, because we are very close. If we correct these mistakes then we are right there."
And the team that doesn't? It isn't right there. Though bowl requirements
might be eased out of necessity by the NCAA
, the Sun Devils, because only one of their two wins over FCS foes can count toward bowl eligibility, need to win five of their final eight games. Five of their final seven might be too much to expect.
So Saturday's game at Oregon State is a must-win for ASU.
As for Oregon State, it's built its reputation on an uncanny ability to overcome slow starts: They started 2-3 three straight seasons from 2006-2008 until starting 2-2 last year, but ended up winning 36 games over those four seasons. Still, past performance doesn't guarantee future results.
"You know from experience and your knowledge of the past, it can be done, but it's certainly not given to you by right of passage," coach Mike Riley said. "You have to earn it. Those teams improved. That's my message -- those teams persevered. They recognized where they needed to go, what they need to do better."
Arizona State has been pretty productive on both sides of the ball, but turnovers and penalties are killing the Sun Devils. They also haven't been very good in the red zone, which is partly due to turnovers. They had seven against Oregon.
"We can't turn it over seven times in the football game and expect to win," Sun Devils coach Dennis Erickson said. "People can ask you anything about that football game but that's it right there. We were down in the red zone nine times. We turned it over three times down there. We fumbled and had two picks down there."
Oregon State's chief problem might be playing two top-five teams, but if you ignore the competition level, there are a lot of worrisome issues. For one, the Beavers can't stay on or get off the field -- they are bad on third down on both sides of the ball -- and they are struggling to get pressure on the opposing quarterback. The offense has been mostly anemic, averaging 270 yards per game game, which ranks last in the Pac-10.
There also are personnel issues: All-American receiver
James Rodgers
suffered a concussion against Boise State and is questionable for Saturday, while linebacker and leading tackler Dwight Roberson is out with a sprained knee.
Still, cornerback James Dockery said he and his teammates aren't worried and haven't lost confidence.
"I feel that everyone outside of the building is a lot more worried about the Beavers right now," he said. "That is kind of tough to say because we have to have wins, so we can be perceived more positively. Inside of the locker room, we still have a high level of confidence. We know that the schedule we had was going to be a challenge coming into this season."
Both teams have been hardened by tough games. Neither will be shocked by the competition level. The Beavers were projected to finish third in the preseason media poll. Both believe they are bowl teams.
In other words, these are two pretty good teams with mediocre records that are wounded and hungry. And they really need a win.
One victory might be enough to start a momentum swing toward hope and optimism.
"We have to find a way to win the football game; that's the bottom line," Erickson said. "Once you start winning games, it becomes contagious."
September, 27, 2010
9/27/10
11:34
AM ET
Oregon State's loss at Boise State was
costly in more ways than one
.
First, All-American receiver
James Rodgers
is questionable for Saturday's home game with Arizona State after suffering
a concussion in the loss to Broncos
.
Second, linebacker Dwight Roberson, the Beavers' leading tackler, is doubtful with
a sprained knee
.
Those could be two big personnel losses heading into a game that is critical for both teams.
As for the hit on Rodgers that knocked him out, coach Mike Riley had this to say: "I don't know what to say. It was definitely helmet to helmet. I don't know if it was inadvertent."
The Sun Devils, meanwhile,
aren't exactly healthy
after losing to Oregon. They might be without starting left tackle Dan Knapp, who also sprained his knee. Linebacker Vontaze Burfict and defensive tackles Lawrence Guy and
Saia Falahola also are banged up.
September, 23, 2010
9/23/10
2:51
PM ET
The blue turf is always a story. It's, er, different. But how much would anyone care if Boise State hadn't won 56 consecutive regular-season games on it? "College GameDay" wouldn't be setting up shop in front of Bronco Stadium on Saturday unless the team that plays on so-called Smurf Turf was really, really good. As in "No. 3 in the nation and might play for the national title" good.
A home-field advantage? Absolutely. Bronco Stadium ain't big -- capacity is officially 33,500 -- but it's darn loud. Still, Boise State beat Oklahoma in the 2007 Fiesta Bowl on green turf, and it beat TCU in the Fiesta Bowl in January on green turf, and the Broncos got the same positive result a few weeks back against Virginia Tech on green turf. Those last two victories were part of a 16-game winning streak, nine of which came on boring, ol' green grass.
The turf is blue, but the
team
is what leaves nearly every opponent green with envy. Or is it seeing red?
[+] Enlarge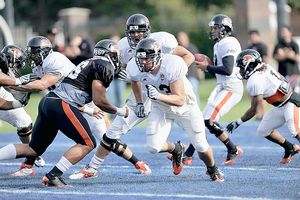 AP Photo/Corvallis Gazette-Times/Scobel WigginsThe Beavers practiced on a blue field to prepare for playing at Bronco Stadium.
"They're darn good," said Oregon State coach Mike Riley, whose 24th-ranked squad will try to end the Broncos' home winning streak on Saturday. "They've got good players and they are extremely well coached. That's the biggest factor."
Nonetheless, Oregon State this week went to great lengths to give its players a feel for seeing blue underfoot. The school painted a practice field "reflex" blue and then dressed its scout team in the same color.
Riley said the decision was based as much on "fun" as strategy. And the Beavers' players don't seem to be too taken by the notion of a blue-turf mystique.
"The turf is blue and their jerseys are blue, but there's 11 guys over there," linebacker Dwight Roberson said. "I don't feel like the blue turf has to do with anything. It's a field; you play football on it. For me, it's nothing different than playing any other football game."
More than a few coaches whose teams have struggled inside Bronco Stadium, however, have observed that the blue-on-blue effect does provide a competitive advantage, a notion Riley shares. His team was a victim during the winning streak, falling 42-14 in 2006 after jumping to an early 14-0 lead.
"I think it is an advantage for sure," he said. "Even watching them on film, it's hard to get numbers. It all blends together."
Boise State, a veteran group that welcomed back 22 of 24 starters from last year's unbeaten team, plays with such precision opponents can't afford to lose track of players morphing into the playing surface. So there's method to the madness of a blue practice field.
But the bigger issue is slowing down junior quarterback
Kellen Moore
, whose extraordinary efficiency has transformed him from lightly regarded recruit ignored by the Pac-10 into a leading Heisman Trophy candidate. His offensive line has yielded just one sack, and the Beavers' pass rush has been limp in the early going, recording just two sacks in two games.
Moore has shown little inclination to get rattled by pressure. The three-year starter has thrown just 14 interceptions in three seasons, 10 of which came as a freshman.
"This guy is the best at extending the play a little bit by moving in the pocket," Riley said. "He doesn't get sacked. It's beautiful quarterbacking."
Said cornerback James Dockery, "He just seems to make all the right decisions. He knows how to manage the game and win. He's a winner."
[+] Enlarge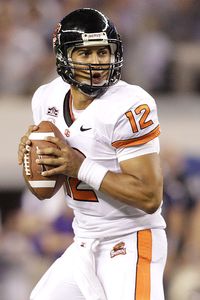 Tim Heitman/US PresswireOSU quarterback Ryan Katz will be making his first true road start against the Broncos.
The Beavers will counter with sophomore
Ryan Katz
, who will be making his first "true" road start, considering the TCU game in Cowboys Stadium was considered a neutral field -- and, to be honest, was half-full and not terribly loud.
Katz has mostly avoided major mistakes (see four touchdown passes, no interceptions) but he's completing under 50 percent of his throws and is averaging just 151 yards passing per game. Yet Broncos coach Chris Petersen, who's 26-0 at home since taking over for Dan Hawkins in 2006, said he's been impressed with Katz on film.
"He's got some tremendous physical tools," he said. "He's going to be really, really good."
Katz's main assignment: Get the ball to the Rodgers brothers, running back Jacquizz and receiver James, and hope they find space in which to maneuver.
Boise State's defense held Virginia Tech to just 314 yards in its 33-30 victory. Meanwhile, its offense is averaging 516 per game, though much of that came in Game 2 against hapless Wyoming.
The Broncos are proficient and experienced on both sides of the ball. While some might dismiss them as a well-coached "system" team that thrives in a weak conference, Riley said he sees plenty of talent on game tape.
"Maybe they weren't five-star guys going in, but they're five-star guys going out," Riley said of Boise State's recruiting and development.
A college football nation will be divided on this one. Haters of the BCS system and fans of non-automatic qualifying programs -- though probably not TCU or Utah -- will be rooting hard for the Broncos. Fans from AQ conferences who want one fewer obstacle to the national title game or even a BCS bowl game will be rooting hard for the Beavers.
The Beavers absorbed the blue all week. To a man, they seem to think that the least of their worries is the color of the turf.
Said safety Lance Mitchell: "I think that's more for 'GameDay' and the fans. We will practice on it, so if it helps us get prepared for it, that's all good."
June, 3, 2010
6/03/10
6:13
PM ET
At what position is the Pac-10 deep? At what position in the Pac-10 thin? Here's the third of three parts taking a look at just that.
Deep: Specialists
[+] Enlarge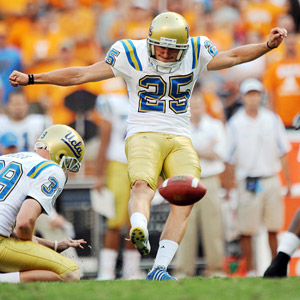 Jim Brown/US Presswire Kai Forbath of UCLA is one of two Lou Groza Award winning kickers returning to the Pac-10 this season.
Why is it deep
? Eight teams welcome back both their punter and kicker, and many of them are quite happy about that. Three conference kickers ranked among the top-20 in field goals per game, while three punters ranked in the top 21. No team is replacing both specialists. Oregon is replacing kicker Morgan Flint and USC is replacing kicker Jordan Congdon, who ranked fifth and seventh, respectively, in field goals per game in 2009.
The big names
: Start with two Lou Groza Award winning kickers: UCLA's Kai Forbath (2009) and Arizona State's Thomas Weber (2007). Then there's Oregon State's Justin Kahut, who made 22 of 27 field goals with a long of 50, and Washington's Erik Folk, who was 18 for 21 with a long of 48. As for the punters, Arizona State's Trevor Hankins ranked No. 1 in the Pac-10 and 10th in the nation in punting (44.2 yards per punt), while UCLA's Jeff Locke (43.6) was 16th in the nation and Washington State's Reid Forrest (43.2) was 21st. Oh, and California's Bryan Anger might have the biggest foot of everyone; he dropped a conference-high 24 punts inside the 20 last year.
Thin
:
Linebacker
Why is it thin
? Four of the six linebackers who made up the first and second All-Pac-10 teams are gone as are five of the 11 LBs who earned honorable mention. Only two teams -- USC and Oregon -- welcome back all of their starting LBs from 2009, and a big story this spring was the Trojans lack of depth at the position, while the Ducks moved Eddie Pleasant to safety (in large part because of depth at the position). Arizona is replacing all three starting linebackers, while Arizona State, Oregon State and UCLA only have one returning starter at the position (though the Beavers outside linebacker platoon of Dwight Roberson and Keith Pankey probably should count as more than one starter).
Fill the void
? This is not a "strength" position, but the cupboard is hardly empty: UCLA's Akeem Ayers, California's Mike Mohamed and Arizona State's Vontaze Burfict are All-American candidates, while Oregon's Casey Matthews earned second-team All-Pac-10 honors in 2009 and Washington's Mason Foster is a likely breakout player. The Ducks, in particular, are fast and deep at linebacker, while the Sun Devils aren't far behind in terms of young talent.
March, 12, 2009
3/12/09
6:42
PM ET
Posted by ESPN.com's Ted Miller
Popeye has his spinach. Oregon State linebacker Keaton Kristick has his coffee.
And it's fair to say his aggressive, attacking style -- see 14 tackles for a loss in 2008 -- comes off as fully caffeinated.
"I'm a coffee fiend. I love coffee. I can't go a day without coffee," said Kristick, sounding a bit like he's already had a cup or three.
| | |
| --- | --- |
| | |
| | Jesse Beals/Icon SMI |
| | Linebacker Keaton Kristick believes the Beavers' front seven will turn some heads this fall. |
It's not unreasonable to guess a young man leaving the warm, sunny climate of Fountain Hills, Ariz., for the, er, less warm and sunny clime of the Northwest would adopt coffee as a crutch to get through the dark days of a Corvallis winter.
But Kristick came to coffee before that. He had to get up early in the morning to drive a long distance to attend his private high school, St. Mary's in Phoenix.
It was there that Kristick, obviously fully awake on the football field, was first noticed by Oregon State assistant Mike Cavanaugh.
The Beavers were first and they were tenacious recruiting him. He was their type of guy -- a good athlete operating mostly under the radar who clearly loved playing the game.
While most other interest in Kristick came from the Mountain West Conference, Arizona State and Northwestern also made pushes.
Kristick never seriously considered the Sun Devils, though, which apparently annoyed then-coach Dirk Koetter.
"I wanted to get out and experience something new -- I wanted something green in my life," Kristick said. "Dirk Koetter didn't like me too much after that. I'd see him after games and I ran into him like three or four times [in Scottsdale]. He worked out where I worked out. There was small talk. It was kind of funny. Kind of uncomfortable."
Speaking of comfort -- and lack thereof -- the Beavers 2008 season can be largely summed up by two disparate experiences in Reser Stadium.