August, 25, 2011
8/25/11
3:30
PM ET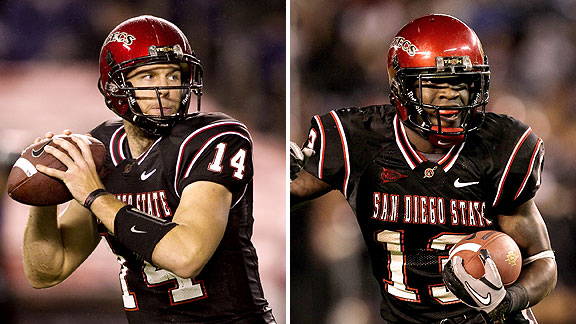 Getty ImagesRyan Lindley and Ronnie Hillman will be called on to carry the San Diego State offense this season.
There is no disputing that
Ryan Lindley
and
Ronnie Hillman
are the two best players for San Diego State. But perhaps more than last season, their fortunes this season seem to be tied together.
Hillman burst onto the scene as a true freshman in 2010, announcing himself as a legitimate threat each time he carried the football. He ran for 1,532 yards, ranking No. 10 in the nation in rushing as the top freshman running back. He is no longer a surprise, nor a revelation.
Couple that with the challenge Lindley faces. His two leading receivers, Vincent Brown and DeMarco Sampson, are gone. Two receivers pegged to replace them --
Dominique Sandifer
and
Jay Waddell
-- were both lost for the season during the summer. Lindley has one receiver currently on the roster that has caught a pass in a collegiate game --
Dylan Denso
with four. So, you would have to think that teams will load up the box to try and stop Hillman, forcing Lindley to beat them with a fairly green receiving corps.
"Obviously, that's the smart thing to do," Lindley said. "If I was a defensive coordinator, I would do the same thing. But it's something where those guys are going to have to grow up pretty quick. We're going to have to draw some stuff up to get our playmakers the ball. That's where Coach [Andy] Ludwig is such a great offensive mind and he's already doing that. It's the game of football. They're always going to do something to stop your strength and you're going to try to do something different to affect their weakness."
Indeed, there are ways to try to counter the glaring weakness San Diego State has on offense. Hillman will be counted on to do more out of the backfield. Though he only had nine catches for 68 yards and a touchdown, Hillman does have good hands. He had 853 yards receiving and 13 touchdowns as a senior in high school.
In addition to Hillman and Lindley, San Diego State has as talented a group of tight ends you will find in the nation with
Gavin Escobar
,
Alston Umuolo
returning from injury,
Bryce Quigley
and
D.J. Shields
. True freshman
Adam Roberts
is likely to play this season as well. It is a guarantee they will be more involved.
There is one other benefit for San Diego State this season. Ludwig, the new offensive coordinator from Cal, has adapted the Aztecs system already in place. That meant less of a transition for everybody returning. Still, there have been some rough patches this fall. In two scrimmages, the offense has failed to score a touchdown. Coach Rocky Long is still waiting on receivers to step up, but he is going to run out of time quickly with the Sept. 3 game against Cal Poly looming.
Meanwhile, the Aztecs took extreme precaution with Hillman during camp. He has been kept out of live tackling drills to avoid injury, a clear indication of how much San Diego State must rely on him this season.
"From what the coaches tell me, it's prevention," Hillman said. "So nobody goes rolling on me or my ankles. They don't want to wear me out so they can keep me healthy."
Hillman fully anticipates more of a spotlight on him this season, but shrugs that off.
"It's nothing I'm stressing about. I'm going to play for the team and have Ryan Lindley to take some of that pressure off me," Hillman said. "I expect for people to put nine in the box or eight in the box. Once they start to realize we have guys that can beat them deep, they're going to play us honest again, and we'll be right back to where we were last year."
First, those receivers have got to step up -- for Lindley and for Hillman.
May, 19, 2011
5/19/11
4:00
PM ET
San Diego State quarterback
Ryan Lindley
has a pretty long to-do list for this summer:
1. Work with new receivers
2. Work on becoming a better leader
3. Work on mastering the offense
Lindley has been through plenty in his Aztecs career, but how well he does everything on his to-do list will go a long way toward determining what type of season his team has in 2011. Granted, not everything will be on his shoulders. But Lindley is skilled enough and smart enough to know that he is a big key in the offense.
[+] Enlarge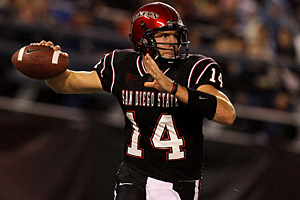 Stephen Dunn/Getty ImagesAztecs QB Ryan Lindley makes good decisions and is dangerous in the medium-range passing game.
He is coming off the best season of his career, having thrown for 3,830 yards, 28 touchdowns and 14 interceptions. He finally got help from his running game in the form of
Ronnie Hillman
, and had his always-reliable receivers Vincent Brown and DeMarco Sampson, who both went over 1,000 yards.
But much is different in San Diego this season. Brown and Sampson are gone. Coach Brady Hoke is gone, along with offensive coordinator Al Borges. So Lindley has taken it upon himself to step up as a leader, not only to help break in his new receivers, but to rally his teammates as well.
"It's been a new experience," Lindley said in a phone interview. "The quarterback position is a leadership role, but the past three years I've been playing there's been a strong senior leader in the receivers room and this year they're young. There's not a senior in the group. I stepped up a little bit, to take on more of a vocal role, getting these guys ready and letting them know what it takes to compete."
Lindley tried out several different styles with his receivers during practice. He got on them when they made mistakes, but then realized it would be much better to just pull them aside and explain what they did wrong.
"There's a time and place to get in a guy's grill, but you have to understand and remember they're younger guys working their way in," Lindley said. "As long as they're not making the same mistake over and over, there's no reason to get on a guy like that."
Among those who could fill in nicely is
Dylan Denso
, who had a breakout spring.
Dominique Sandifer
could also be a go-to player. Also, San Diego State could utilize the tight end position even more.
Gavin Escobar
had a great season as a true freshman in 2010, and
Alston Umuolo
is back from injury.
For Lindley, all these changes come with a new coordinator in Andy Ludwig -- the third coordinator he has played for in his San Diego State career. But the offensive scheme remains relatively the same. In fact, new coach Rocky Long had Ludwig keep the same terminology so his players would not have to learn an entirely new offense. Ludwig has added in his own wrinkles, though, and Lindley wants to be as in sync with his new coach as possible.
"I need to get into Coach Ludwig's head and know what he's going to call. When a quarterback can know and anticipate what the coordinator is going to call, it works best," Lindley said. "With Coach Ludwig, it started to come at the end of spring. With film study, by fall camp I'm highly confident we'll have that down."
April, 13, 2011
4/13/11
3:00
PM ET
Time to check in on San Diego State, which is trying to build on a 9-4 season -- its best since 1996. With a new coach in Rocky Long and new coordinators, the spring was mainly used to get comfortable with the new staff, schemes and build depth.

Questions answered:
One of the big ones is how
Ryan Lindley
and
Ronnie Hillman
would adjust to new coordinator Andy Ludwig. Ludwig does have a different coaching style, but San Diego State will still run a pro-style offense, with plenty of runs and play-action. But where the key in 2010 was getting the run game established, it is the reverse in 2011 because of inexperience at receiver. Teams are going to load the box and dare Lindley to beat them. Lindley does not have
Vincent Brown
or
DeMarco Sampson
to rely on, and he has been mistake-prone at times. Getting that balance going again is going to be huge. Alec Johnson has moved from left guard to center to replace Trask Iosefa. Emilio Rivera is penciled in to start at left guard.
Questions unanswered:
Receiver. Losing Brown and Sampson is going to hurt. No receiver that is currently on the roster caught a touchdown pass last season. Brown and Sampson combined for 18.
Dominique Sandifer
and
Dylan Denso
are most likely to replace them. Also in the mix are redshirt freshmen
Jay Waddell
and
Ezell Ruffin
. Sandifer missed most of the spring with a groin injury. Long was not overly impressed with his receivers early in camp. It is obvious somebody is going to have to step up quickly for the Aztecs to have any shot at building on 2010. Rob Andrews and Jake Fely are competing to start at middle linebacker.
Spring stars:
Denso did stand out, especially in the spring game. He ended up catching four passes for 66 yards -- tops among all receivers -- and had a 19-yard touchdown reception. Lindley told the San Diego Union-Tribune that Denso "
has been a rock
." Lindley will need more of the same come fall.
Of note:
Defensive end Perry Jackson was dismissed from the team for an unspecified violation of team rules. Meanwhile, cornerback J.J. Whittaker re-injured his knee. Long is hopeful he will return in the fall. Whittaker was a highly prized recruit who chose the Aztecs over Arizona, but redshirted last season with a knee injury. Fullback
Anthony Miller
has decided to transfer... San Diego State could have a two-way player in Leon McFadden. The all-MWC defensive back took some reps at receiver this spring in case he is needed, given the inexperience at the position.