July, 9, 2012
7/09/12
10:56
AM ET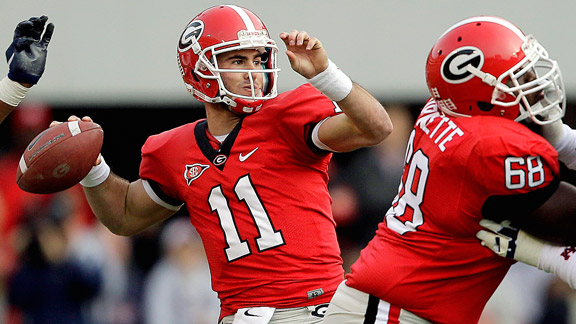 AP Photo/David GoldmanAaron Murray and the Georgia quarterbacks rank as the top position group in the SEC.
As we get closer and closer to the 2012 college football season, it's time for one of the blog's most popular items -- position rankings.
This is never easy. We go back and forth dozens of times before finding any sort of confidence in our lists. After checking with colleagues and people around the league, we come up with lists ranking each position and in the end someone gets upset. Someone has to be last and someone is always underrated or overrated.
Such is life.
The important factors for every position were great players, true game-changers, depth and experience. We also considered past performances, but we also had to think about possible projections for the upcoming season.
We'll start with the quarterback position:
1. Georgia:
Aaron Murray
has thrown 59 touchdowns in his first two seasons and is on his way to breaking several school records. He has great toughness and mechanics, but needs to cut down on his 14 interceptions from a year ago. The staff is looking to redshirt
Hutson Mason
, but he might be the league's best quarterback insurance policy. He could be used if Murray suffers a serious injury. Freshmen Faton Bauta and
Christian LeMay
are both talented, but inexperienced.
2. Arkansas:
Tyler Wilson
is arguably the SEC's best quarterback and probably would have been a first-rounder had he come out this past season. Junior
Brandon Mitchell
complements Wilson well with his running ability, but he'll be in an intense battle with redshirt freshman
Brandon Allen
, who is a stronger drop-back quarterback.
3. Tennessee:
If
Tyler Bray
can stay healthy, he's potentially a 3,000-yard, 30-touchdown guy.
Justin Worley
was thrown into the fire last season and gained some valuable experience, and the Vols also have high hopes for true freshman Nathan Peterman, who showed promise in the spring before dislocating his finger.
4. Alabama:
If
AJ McCarron
picks up from 2011, he could contend to be the league's top quarterback. He has all the tools, but needs to keep making strides with his decision-making. Behind McCarron, Alabama doesn't have much experience with
Phillip Sims
transferring to Virginia. Next in line would probably be redshirt freshman
Phillip Ely
, but true freshman Alec Morris has turned heads in summer workouts.
5. Vanderbilt:
Jordan Rodgers
put a charge into the Commodores' offense when he took over midway through last season. He's a big-play quarterback, but needs to cut down on his turnovers. The other thing Vanderbilt has going for it is Austyn Carta-Samuels, who started for two seasons at Wyoming and rolled up nearly 2,100 yards in total offense in 2010. Plus, the staff is excited about early enrollee Patton Robinette, who is one of the top quarterback prospects to sign with Vandy in a while.
[+] Enlarge
Spruce Derden/US PresswireNow that Missouri is in the SEC, James Franklin enters as one of the most versatile quarterbacks.
6. Missouri:
James Franklin
enjoyed a breakout season in 2011 and enters his first year in the SEC as the league's best dual-threat quarterback. However, will he be all the way back after undergoing shoulder surgery in the spring? With Franklin out, redshirt freshman
Corbin Berkstresser
worked with the Tigers' first team this spring and performed well. Junior
Ashton Glaser
is in his fourth season, but has barely played.
7. South Carolina:
Connor Shaw
is hardly the biggest quarterback in the SEC and runs a lot, so that's never an ideal situation. However, he improved greatly toward the end of last season and made strides this spring to use his arm more than his legs. The Gamecocks have barely any experience behind Shaw, as
Dylan Thompson
and
Andrew Clifford
battle for the No. 2 spot.
8. LSU:
It's
Zach Mettenberger
time in Baton Rouge, as he takes over a unit that has struggled with consistency. He was a very talented high school player a few years ago and helped make LSU's offense much more pass-friendly this spring. While he's an obvious upgrade for the Tigers, he's still pretty unproven at this level. Behind him, there's no experience, as
Jerrard Randall
and
Stephen Rivers
both redshirted in 2011.
9. Auburn:
The Tigers should have quite the quarterback battle on their hands.
Clint Moseley
returns with more experience under center, but he lost ground to
Kiehl Frazier
this spring because of shoulder soreness. Frazier was a run-first QB last year, but looked much more confident with his arm this spring with help from new offensive coordinator Scot Loeffler. Zeke Pike was a top QB prospect coming out of high school, but off-field issues sent him home for the summer.
10. Florida:
Will Muschamp said following spring practice that he felt like he had two quarterbacks he could win with. Nonetheless, he wasn't ready to name either
Jacoby Brissett
or
Jeff Driskel
the starter. Both struggled for the most part last year, but both were very talented high school prospects and each could excel with more experience. The reality is that both will end up playing this season.
11. Mississippi State:
Dan Mullen said this spring that he was very pleased with how
Tyler Russell
performed this spring, but Russell has had consistency issues in the past. The hope is that now that Russell knows he's the starter, he'll be more comfortable on the field. However, Mississippi State only has one other scholarship quarterback on its roster: redshirt freshman
Dak Prescott
. Quarterbacks
Dylan Favre
and Nick Schuessler both transferred.
12. Kentucky:
Maxwell Smith
was far from perfect last year, but he took advantage of his time on the field. After replacing the injured
Morgan Newton
late in 2011, Smith was named to the SEC's All-Freshmen team. He also seemed to improve this spring with Newton watching and rehabbing. Newton's time as a starter could be over, but both will be pushed by incoming freshman Patrick Towles, who might be more physically gifted than the two ahead of him.
13. Texas A&M:
Kevin Sumlin is working with a ton of inexperience at quarterback. Sophomore
Jameill Showers
has the edge, but he's thrown all of five career passes. Things got even foggier for the Aggies when backup
Johnny Manziel
was arrested in late June and charged with disorderly conduct by fighting, failure to identify and having a fake driver's license. That leaves sophomore
Matt Joeckel
and true freshman Matt Davis with the chance to catch Showers.
14. Ole Miss:
It looked like Bo Wallace would come in and snatch the starting job, but as spring went on
Barry Brunetti
played himself into a tie with Wallace. But Brunetti was the starter coming out of last spring and played in just five games last fall.
Randall Mackey
moved from quarterback to wide receiver, while
Zack Stoudt
left the team in June, so there is very little experience at the quarterback position in Oxford.
December, 15, 2011
12/15/11
10:15
AM ET
The bowl season doesn't get started in the SEC for another couple of weeks, but there are still things to keep an eye on around the league until then:

1. Coordinator shuffle:
It's that time of year when coaches are not only getting bowl preparation in order, but also having to set up job interviews. For Alabama, Auburn and Florida, the next few weeks will be devoted to not only figuring out game strategies, but trying to find the right men to take over coordinating positions. Auburn is in the hunt for both an offensive and defensive coordinator, while Alabama and Florida are searching for offensive coordinators. With all three teams in the market right now, you have to wonder if there could be a bidding war or two in the near future. One lucky person has to draw the straw of being in line for all three offensive coordinating jobs, right? Wouldn't that be fun? For Florida's Will Muschamp, this is a major hire. His first year in Gainesville didn't go well, and now that Charlie Weis is gone, it's time for Muschamp to find someone who can get this offense back on track. He has the defense to compete, but he has to find the offense or things won't get better in the Swamp. Also, South Carolina defensive coordinator Ellis Johnson is a candidate for the Southern Miss job, so the Gamecocks could get in on the coordinator scramble as well.
2. Tyler Russell's knee:
While there has been no official word that Russell's knee injury in practice is serious, Mississippi State's quarterback was very limited Wednesday. He wore a brace and found it hard to put a lot of weight on his leg. Sure, it's early in the healing process and it could just be sore, but knee injuries are nothing to just glance over. Russell is the Bulldogs' best passing threat, and the offense runs at its best when he's in the pocket. They'll need him for the bowl game, as
Chris Relf
just hasn't been the same quarterback he was a season ago. The Bulldogs don't exactly have the depth they had at the position for most of the season, either, as
Dylan Favre
decided to transfer after the regular season.
3. The grade game:
Final grades for the semester are upon us and that can be a nerve-racking time for coaches. There are going to be some players flirting with being academically ineligible for bowl games, and some who just don't make it at all. It happens to nearly every program every season. It can be hard to stomach for coaches, but it's how college athletics work. Sometimes it' a big player or two, and rumors will definitely begin to swirl about players not being eligible for bowl games because of academics. Now, we'll know for sure once final grades are in the hands of the head coaches.
4. Auburn's running back situation:
With starter
Michael Dyer
officially ruled out of the Chick-fil-A Bowl against Virginia for violating unspecified team rules, the Tigers will look to
Onterio McCalebb
and
Tre Mason
to handle the bulk of the rushing load. Coach Gene Chizik said he'd work with other offensive players in the backfield as well, but is staying tight-lipped on who might get some carries here and there. Dyer was Auburn's best offensive weapon and one of the most complete backs in the SEC. He was not only powerful between the tackles, but he has the speed to take a run outside and around the corner for a big play. McCalebb is a home run threat, but isn't much of a downhill runner. Mason rushed for just 97 yards this season, but made his mark on special teams. He was Auburn's top kickoff return man and recorded a touchdown. He has big-play ability, but he'll need to get more work in the backfield leading up to the bowl game to be more of a factor on offense.
5. Urban Meyer's southern recruiting success:
The former Florida coach has been doing pretty well recruiting for Ohio State recently, and it wouldn't shock anyone if his efforts slowly started to creep back down south. He had loads of success in this part of the country when he was with the Gators, and while most of Ohio State's class is made up of northern prospects, that's sure to change under Meyer. The little he can do right now in recruiting is working, and from what prospects are saying, you can tell that SEC coaches are starting to feel his presence more and more. Meyer is too smart and too good of a recruiter to just leave the South alone. He'll be putting a lot of pressure on SEC coaches in the recruiting world in no time.
April, 12, 2011
4/12/11
5:20
PM ET
Spring practice is all about working the kinks out and getting guys back into the regular football flow.
It's also time for some of the more unheralded players to try and make a name for themselves.
Four springs are in the books in the SEC, and here are some under-the-radar guys who came up big:
Florida
QB Tyler Murphy
-- He wasn't even the favorite to be the No. 2 quarterback in Gainesville, but had the best spring game of the quarterbacks and improved mightily. Murphy finished with a game-high 68 yards and a touchdown on 7-of-11 passing.
WR Quinton Dunbar
-- Coach Will Muschamp said Dunbar made the biggest plays in practice this spring. He had two catches for 45 yards, including a 29-yard catch-and-run in Florida's spring game.
LSU
WR Kadron Boone
-- Boone showed he has the speed and athleticism to be a threat in the Tigers' offense. He's unproven, but had a solid spring. Boone finished LSU's spring game with a game-high four catches for 77 yards.
CB Tharold Simon
-- Throughout the spring, Simon drew praise from coach Les Miles, who said he's competing for regular time in LSU's cornerback rotation. Though he recorded just one tackle in the spring game, he kept some of the tightest coverage on the field.
Mississippi State
QB Dylan Favre
-- The redshirt freshman went 17-of-26 passing for 199 yards, with a touchdown and an interception, and also carried the ball 10 times for a game-high 41 yards in the Bulldogs' spring game.
Chris Relf
is the starter, but Favre provides some nice depth at the position.
WR Robert Johnson
-- Johnson made strides as a part of Mississippi State's talent receiving corps. He led all receivers with seven receptions during the spring game and finished with 74 yards, including a 24-yard touchdown.
South Carolina
WR DeAngelo Smith
-- South Carolina was looking for some big-play ability to complement
Alshon Jeffery
and might have found it in Smith. He was named the offensive player of the spring for the Gamecocks and caught three touchdowns in the spring game. One went for 62 yards.
OL A.J. Cann
-- The redshirt freshman entered the spring as the No. 2 left guard, but also pushed for time at right guard. He could be a viable option at either position for the Gamecocks.