October, 20, 2014
Oct 20
5:00
PM ET
AUSTIN, Texas -- Charlie Strong went back to his coaching playbook after Texas' 48-45 win over Iowa State and dug up a familiar tactic. He wanted to make sure his defenders hadn't deceived him.
When his defense met Sunday, they went to the tape. Strong pulled up five plays that bothered him. He'd caught a few players letting up, not running to the ball, jogging. So he brought back the lowlight reel.
"I said, 'This is not us, but I want you to see these five plays,'" Strong said Monday. "'If this is us, I need to know that. If it's an imposter wearing your jersey, I need to know that. I want you guys to watch this tape.'"
[+] Enlarge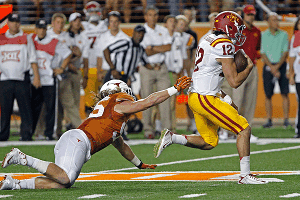 AP Photo/Michael ThomasSam Richardson and Iowa State humbled Texas' defense this past Saturday.
Strong used the same tactic this offseason, meeting individually with each Longhorn and showing them their worst plays of 2013. It's a measure meant to hammer home how good those players can be with better effort.
He brought it back this week because, seven games into this season, Strong has seen how good this Texas defense can be. He's OK with winning by three points. He's OK with a last-second victory, Texas' first win in a close game all season.
He's not OK with Iowa State putting 45 points on the scoreboard, 38 of them permitted by his defense.
"Our defense did not play to the standard we're used to seeing them at," Strong said.
Iowa State gained 10-plus yards on 22 different plays, the second most a Strong defense has allowed in his five years as a head coach. ISU quarterback
Sam B. Richardson
, responsible for 18 of those big gains, threw for 345 yards and three scores against the nation's No. 3-ranked pass defense.
Stats aside, Iowa State came into Texas' house, kept scoring in crunch time -- a TD with five seconds left in the first half, another with 28 seconds left in the ballgame -- and had a lot of right answers offensively.
"He was mad," Diggs said of Strong. "We're all mad. We know we didn't play well."
Credit masterful play calling from offensive coordinator Mark Mangino and consistently stout play from Iowa State's offensive line. With the exception of his two interceptions, Richardson played keep-away from Texas. He found holes in Texas' zone coverage with quick intermediate passes that beget good tempo.
Safety
Dylan Haines
picked off Richardson for a 74-yard touchdown, but conceded this unit backed off a little too much after Texas' offense provided a fast 14-0 start.
"We started missing keys, missing our drops in our zone coverages," Haines said. "I think when they started to make those throws, they were able to get momentum and move with tempo. I don't think we were ever able to slow them down after that."
Just two of Richardson's 55 attempts went longer than 20 yards. He got into a rhythm with tight end
E.J. Bibbs
, and missed tackles created opportunities for running back
Aaron Wimberly
. ISU's 38 points were all hard-earned.
"Those guys attacked all their keys and did everything they were supposed to do," cornerback
Quandre Diggs
said. "They didn't make many mistakes. They were throwing the ball quick, getting it out in a hurry. Those guys played a good game. We still won."
The good news, Strong says, is the particular mistakes and missteps Texas defenders made this past Saturday are teachable and correctable.
"It's all about fundamentals, technique, alignment, gap integrity, them making throws that never should've been made," Strong said.
He'll praise the growth of quarterback
Tyrone Swoopes
and Texas' offense and acceptable play on the special-teams front this week, no doubt. A four-loss team takes its wins by any means necessary.
But with a trip to No. 11 Kansas State up next, Strong will not take it easy on his defense this week. The shaming phase is probably complete. A little humbling never hurts. The next step? Address the formula the Cyclones offered and find a better way to stop it.
"If that formula's there," Strong said, "it's there every week in this conference."
September, 8, 2014
Sep 8
10:00
AM ET
AUSTIN, Texas -- A perfect quarter, it was not. But it came pretty darn close.
BYU embarrassed Texas once again, this time by a 41-6 score, thanks in large part to a third-quarter run no team could've overcome. This was a perfect storm in all three phases of the game.
[+] Enlarge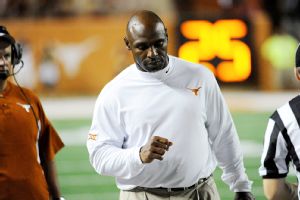 Brendan Maloney/USA TODAY SportsBYU handed Texas' Charlie Strong the worst quarter of his coaching career.
In 26 plays, the Cougars' offense collected 199 yards, including 138 on the ground. They racked up 13 first downs and faced third down just twice. Their quarterback,
Taysom Hill
, accounted for 129 total yards and three scores for a near-perfect single-quarter QBR of 99.3.
A 6-0 nailbiter turned into a 34-0 thrashing in less than 11 game minutes.
The 28-point swing was one of the first things Texas coach Charlie Strong brought up in his postgame opening statement. In the past 10 years, a Strong-led defense had never allowed 28 in one quarter.
"You can't do that if you think you're going to play great defense," he said.
BYU went into halftime and made no more than three offensive adjustments, coach Bronco Mendenhall said afterward. They didn't need to tweak much. They just needed to unleash Hill.
He drove the Cougars 75 yards in three minutes to start the second half, then dropped the jaws of 90,000-plus when he hurdled diving Texas safety
Dylan Haines
at the end of a 30-yard touchdown scramble. Texas had roughed him up in the first half, but Hill wasn't touched on his first score to go up 13-0.
After
Marcus Johnson
was stuffed at his own 11-yard line on the ensuing kickoff, Texas promptly went three-and-out. BYU's offense came back went 55 yards in five plays, highlighted by
Jordan Leslie
's diving, juggling 27-yard snag in between a pair of Texas defensive backs.
Adam Hine
found the end zone on a strong stiff-arm and an 8-yard run to make it 20-0.
Texas' offense returned to brutal field position again, this time at the 7-yard line after a holding penalty. Another three-and-out. The Longhorns' first two drives of the second half produced minus-3 yards on six snaps.
William Russ
' punt didn't cross midfield, and Mitch Juergens returned it to the Texas 29. Hill capped a quick seven-play drive with a 2-yard run in which he put his shoulder down and snuck around five Texas defenders. 27-0.
Can't get much worse than that, right? Just before Texas could push the panic button, Johnson got stripped on the kickoff return. BYU recovered at the Longhorns' 24-yard line.
"Even though you play short field, it doesn't matter," Strong said afterward. "Get into third down and just make a play."
But Texas' defense couldn't force third down. BYU was back on the goal line after a 12-yard pass, and Hill put the nail in the coffin with 4:33 left in the quarter, on a 1-yard keeper. 34-0. Ballgame.
Almost 50 percent of BYU's total yards Saturday came in one swift barrage. A run game held to 2.7 yards per carry the rest of the night cranked out 7.7 per rush in the quarter.
"There is no reason for it," Strong said. "You have to play better defense than that."
There are a handful of logical excuses -- field position, defensive busts, the takeaway, poor adjustments, tempo, confidence -- but another stands out: Hill is simply a phenomenal talent with a knack for burning Bevo.
"There are just some sheer athleticism things that aren't coachable," Mendenhall said.
When Hill scored to open the half, Texas needed to bounce back in a big way. It's about adversity, Strong said, and how a team handles heightened stakes. The Longhorns failed on that front in their first loss of the new coach's tenure.
"We started the game off really hard. It was the third quarter that got us," linebacker
Jordan Hicks
said. "Whatever it was, I'm not sure. We'll have to look at it."
That should make for one unpleasant film session. But as Texas players were reminded Saturday, after the worst quarter of Strong's head coaching career, what matters is how they respond.
August, 7, 2014
Aug 7
5:40
PM ET
AUSTIN, Texas -- If you'd told Alan Haire years ago this is how it would play out, he would've chuckled.
[+] Enlarge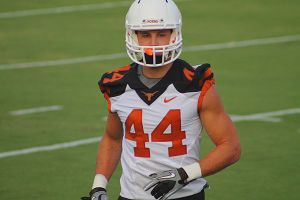 Max Olson/ESPN.comTexas walk-on Dylan Haines has a legitimate chance of beginning the season as a starting safety.
Dylan Haines
, a walk-on legacy from little Lago Vista High, pushing for a starting job on
Texas
' defense?
"I would've said, 'Aw, come on now ... that's going to be a stretch,'" Haire said.
The Lago Vista head coach couldn't help but marvel Thursday at the fact Haines even got this far. But indeed, this is getting real. When the Longhorns took the field Monday for their first fall practice, Haines was a member of the No. 1 defense.
The sophomore, once a do-everything talent at the Class 2A school, is trying to do just enough to prove Charlie Strong should trust him with a job. He stepped out of the shadows in Texas' spring game and hasn't looked back since.
"He's made plays," Texas senior safety
Mykkele Thompson
said. "That's the name of the game. You make plays."
Haines was the surprise name of the Orange-White game in April, when he picked off
Tyrone Swoopes
' first pass attempt of the day and picked up 23 yards on the return. That eye-opener earned Haines first-team reps in the scrimmage.
When you're a third-year walk-on, and the window of opportunity cracks open ever so slightly, you better jump through it. Haines did just that. Then Strong blew the window wide open with his recent suspension of senior safety
Josh Turner
and dismissal of redshirt freshman
Chevoski Collins
.
Turner's suspension of at least one game means that, when Texas opens the season Aug. 30 against North Texas, it's entirely possible Haines could get the call to start.
"He has the chance of a lifetime there," Haire said.
In Lago Vista, a town of 6,000 located 35 miles northwest of Austin, Haines was known as a good four-sport athlete who played a little bit of everything -- corner, safety, receiver, running back, left-footed kicker. But he was better known as
Dakota Haines
' little brother.
"You know how big brothers are. He was in the shadows," Haire said. "Once Dakota graduated and Dylan became a senior, it became evident that, hey, Dylan might be just as good an athlete or better."
The brothers were raised by a pair of Longhorns. John Haines was an All-Southwest Conference defensive tackle at Texas in the 1980s who played four years in the NFL. Their mother, Sandra, was on the Texas track and field team from 1976-78. Her father and uncle both ran at UT, too.
After Dakota followed in their footsteps, enrolling at Texas in 2011 as a walk-on receiver, Dylan took over. His finest game came against San Saba, when he scored on receiving, rushing and interception-return touchdowns in one night.
"He took games over," Haire said. "He's the type of kid who took it over. He's what they call a baller now. If it's up in the air, he's going to go make a play."
And yet, the only other college that showed interest was Lamar, an FCS school in Beaumont, Texas. But Haire knew Haines could play. The level of weekly preparation he learned from his father and brother set him apart.
"He's the type of kid who would come in on Tuesday and tell you the other team's favorite routes and, with the kid he was covering, what his routes were depending on splits and alignment," Haire said. "He was a student of the game. I think he's a late bloomer if you ask me. He didn't reach his full potential until college. To me, he's still developing."
Surely his head coach can appreciate that. After all, Strong was a walk-on defensive back in his days at Central Arkansas. Defensive coordinator Vance Bedford tells his players he couldn't care less if they were five-stars or two-stars.
"Coach Bedford made that clear when he came here -- there were no starting spots," defensive end
Cedric Reed
said. "Everybody had to work for it. Dylan was one of those guys who went in there, went to the weight room, watched film, did everything he could to get on the field and it's working out for him."
Haines was back in Lago Vista a few weeks ago for extra workouts before the start of fall ball. He looked bigger to his old head coach, at 6-foot-1 and 190 pounds, and he sounded confident. He told Haire he's going to get a chance.
Strong cautioned Wednesday it's "just so early right now" to predict whether Haines can become a starting safety. But even if his chance is just one game, one shot to prove he belongs, the walk-on will take it.
"I think it's one of those feel-good stories," Haire said. "You'd have to have a smile on your face."