NCF Nation:

Dymonte Thomas
March, 21, 2014
Mar 21
9:00
AM ET
Seven cornerbacks were voted first- or second-team All-Big Ten from the coaches and the media in 2013. Only one of them returns this season.
[+] Enlarge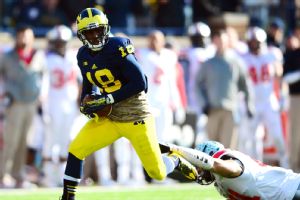 Andrew Weber/USA TODAY SportsMichigan's Blake Countess, who had six interceptions in 2013, wants to be the Big Ten's best cornerback this fall.
That's Michigan junior
Blake Countess
who, by process of elimination, could inherit the title of league's best corner. Don't think that hasn't crossed his mind.
"If I'm not in that role next year, then I'll feel like I have taken a step backwards, which just cannot happen," he told ESPN.com. "So that's definitely a goal in the back of my mind. Last year is over and done with, but moving forward means taking the next step."
While Countess had a solid 2013, finishing tied for the Big Ten lead with six interceptions, he knows he still has room to improve. And the Wolverines could be asking more of him as they try to tighten up their defense this fall.
Defensive coordinator Greg Mattison has made becoming a better blitzing team one of this spring's priorities. Michigan gave up far too many big plays in 2013, in part because it didn't do a great job bringing pressure and in part because the secondary struggled to contain wide receivers. Mattison hopes his front seven can do a better job getting to the quarterback this fall when he dials up a blitz. That means the corners have to be ready, too.
"That's where we're at now in our defense," he told reporters last month. "As you become more experienced, as our philosophy may change a little more as we feel like we can get more pressure, we've got to play more aggressive on receivers, tighten the coverage up."
Countess said he's spent a lot of time this offseason working on press and man-to-man coverage. It's a more aggressive approach than some of the zone coverages he's played in the past, and he relishes it.
"All DBs love to play press," he said. "I've never met a DB who says, 'Nah, I don't like to get up there and press.' It puts you close to the receiver, and if we give the receiver space, that's what [he wants]. So it puts you in a better position to make plays.
"A lot of guys played press all throughout high school, and then they get here and are forced to play a little bit more zone than they may have in high school. So it's kind of like getting back to what we've done in the past."
The Michigan cornerbacks have a new position coach this spring, as Roy Manning is now overseeing that group after coaching outside linebackers last season. Manning, a former Wolverines linebacker, has brought some new ideas on technique, Countess said. But his biggest contribution so far might be his attitude.
"He played here, so he knows what it means to play here," Countess said. "He's pushing us. He's done a great job of staying on top of us."
Countess is also trying to take charge of the secondary as he enters his fourth year in the program. He and senior cornerback
Raymon Taylor
are now the veterans of the group, and they'll need to lead guys like sophomores
Jourdan Lewis
,
Channing Stribling
and
Dymonte Thomas
. Heavily hyped recruit
Jabrill Peppers
arrives this summer and could play anywhere in the defensive backfield.
"I'm helping out a lot more with the younger guys this spring than I have in the past," Countess said. "I'm here to get the younger guys settled, because that's the future. The cornerback position has a lot of guys who have had significant snaps and game-time decisions so that's going to create a lot of competition."
Countess and others had strong moments last season, but the secondary as a whole didn't deliver as much as hoped for Michigan, which finished seventh in the Big Ten in pass defense. There's no sugarcoating the performance in Ann Arbor.
"You have to look at it as a team, and as a team we were 7-6," Countess said. "That's not good enough at all. We definitely didn't play well enough as a team and looking at our position, we didn't play well enough. I don't think anybody on the team, as far as their positions, are happy with the outcome."
The improvement, they hope, begins this spring. And a great place to start is with arguably the top returning cornerback in the Big Ten.
September, 2, 2013
9/02/13
11:00
AM ET
Exhale.
You wait nearly nine months for the return of college football, to see players and coaches that have been endlessly analyzed all offseason, and then it all spills out on opening weekend. So of course the natural inclination is to make immediate judgments on what you've seen, and to find instant reasons to panic.
Nebraska's defense is going to be historically bad! Michigan State's offense is somehow worse than last year's! Ohio State is wildly overrated! Purdue and Iowa might not win a game in the conference besides the one against each other!
Some concerns obviously are valid. But remember that it was just opening week. Teams and players are still figuring things out, learning who and what they are. In Week 1 last year, for example, Michigan State beat a ranked Boise State team, Michigan got destroyed by Alabama, Minnesota needed triple-overtime to put away a bad UNLV team, Penn State lost at home to Ohio and Illinois rolled over Western Michigan. Those outcomes hardly defined the season for those teams.
Or better yet, look back to Iowa's win over Northern Illinois in the first game of the 2012 season. Who would have guessed then that the victorious team would wind up 4-8 and that the loser would go to the Orange Bowl?
Many of Saturday's games were also played in extreme heat, a stark contrast to the unseasonably cool August temperatures most teams trained in during the preseason. That's not an excuse, because Big Ten opponents had to deal with the same conditions. But the league race will be decided in October and November in much different weather, and probably by teams that will look a whole lot different.
It's a coach's cliché that teams make their biggest improvements from Week 1 to Week 2. So it's not time to panic yet. At least not for another Saturday.
Take that and rewind it back:
[+] Enlarge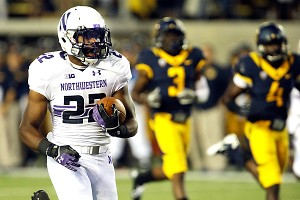 AP Photo/Ben MargotTreyvon Green rushed for 129 yards and two touchdowns in the victory over Cal.
Team of the week:
Northwestern. The Wildcats went to Pac-12 country, where Big Ten teams have had little success in recent years. They lost starting quarterback
Kain Colter
to injury on the second play against Cal, star tailback/returner
Venric Mark
spent more time on the exercise bike than the field, and cornerback
Daniel Jones
went down with a knee injury right before halftime. Meanwhile, Cal threw some haymakers and seemed to seize the momentum in the third quarter. Yet Northwestern -- which had some trouble holding onto late leads last year -- prevailed 44-30.
The win didn't come without controversy, as Cal fans and coaches thought Wildcats players were faking injuries in the second half to slow down the Bears' high-tempo offense. During one Cal drive, Northwestern players went down to the turf after three consecutive plays. Some players, such as linebacker
Damien Proby
, went down more than once. Cal coach Sonny Dykes threw up his hands in frustration at one point, while Bears fans booed, which was pretty funny, given
Cal's own history with faking injuries
against a high-tempo offense.
Northwestern coach Pat Fitzgerald said his team wasn't up to any hijinks.
"If anybody were to question the integrity of myself, our program or our players, I question theirs," he said in the postgame news conference. "When our guys get dinged up, they are instructed to go down, not hobble off to the sideline."
Worst hangover:
The Boilermakers got outscored 35-0 in the second half of their 42-7 loss at Cincinnati and might have gotten shut out if not for a botched Bearcats punt return late in the first half. Purdue was a mess in just about every area and was neither physical nor disciplined, two traits that Darrell Hazell has made priorities.
We're going streaking:
Thanks to Iowa's loss and Illinois' escape against Southern Illinois, the Hawkeyes now have the Big Ten's longest current losing streak, at seven games. That's tied for the fifth-longest losing streak in the FBS and second-worst among AQ teams, behind only Kansas, which was idle last week. The good news is that Iowa should finally get back in the win column this week versus Missouri State, and its Week 3 opponent, Iowa State, lost to Northern Iowa on Saturday.
Fun with numbers (via ESPN Stats & Information):
Yes, the Michigan State passing attack was as bad as it looked against Western Michigan. Through Sunday's games, the Spartans rank second-to-last among all FBS teams in yards per pass attempt (3.14) and percentage of completions that went for at least 10 yards (17.6). ... No team gave up more first downs in Week 1 than Nebraska, which allowed Wyoming to move the chains 35 times. The Huskers were also one of only two AQ teams that gave up more than 500 yards of offense to a non-AQ team in regulation. Oregon State was the other. ... Michigan's
Devin Gardner
threw two interceptions, but he had the Big Ten's
top QBR score
and was No. 15 nationally in Week 1. ... Wisconsin averaged 8.9 yards per rush against UMass and ranks third nationally in that stat. ... Penn State is last in the FBS in third-down conversions after going 1-for-16 against Syracuse. Of course, third down is often only a prelude to the next play for Bill O'Brien.
Point-ing up:
Indiana leads the nation in scoring after putting up 73 against Indiana State on Thursday. The schedule really helped, but offense was up throughout the Big Ten. Eight of the 12 league teams scored at least 37 points and the conference scoring average after one week is 39.5 points per game. Compare that to last year, when the league averaged 26.7 points per game in Week 1. Again, many of the opponents weren't great last week, but the simple eyeball test tells you that several Big Ten teams look more comfortable and have more playmakers on offense. With a couple of notable exceptions.
Big Man on Campus (offense):
Sure, it was against an FCS team, which is why we excluded him from our helmet stickers. But let's recognize Illinois quarterback
Nathan Scheelhaase
, who threw for a carer-high 416 yards and two touchdowns in Bill Cubit's new offense. In one game, Scheelhaase accounted for more than 30 percent of his entire passing yardage in the 2012 season.
Big Man on Campus (defense):
Northwestern linebacker
Collin Ellis
helped save the day, er, night at Cal with a pair of pick-sixes.
Big Man on Campus (special teams):
Tons of big special teams plays this weekend, including kickoff returns for scores by Minnesota's
Marcus Jones
and Illinois'
V'Angelo Bentley
and a punt return TD from Indiana's
Shane Wynn
. Michigan's
Joe Reynolds
scored on a blocked punt by teammate
Dymonte Thomas
. But how about Penn State's
Sam Ficken
? The kicker who was such a liability early last season has turned into a strength, and he made all three of his field goals -- including a career-best 46-yarder -- in the Nittany Lions' 23-17 win over Syracuse.
Best play:
Michigan State safety
Kurtis Drummond
's
one-handed interception against Western Michigan
. Now, can he play receiver?
Looking ahead:
The "GameDay" crew will be at Notre Dame-Michigan, and the Big Ten had better hope for a good showing in this spotlight game. That's because there's nothing much else of interest going on in Week 2. Two Big Ten opponents -- South Florida (at Michigan State) and San Diego State (at Ohio State) -- were blown out by FCS squads in their openers, while another, Southern Miss (versus Nebraska) lost to Texas State. Northwestern-Syracuse is probably the week's second-best game, and the Orange are 0-1 after losing to Penn State.
August, 31, 2013
8/31/13
7:04
PM ET
ANN ARBOR, Mich. -- No. 17 Michigan had a shaky start with an interception from quarterback
Devin Gardner
on the Wolverines' first offensive drive, but came back and rolled to a
59-9 season-opening win
over Central Michigan. It wasn't all pretty and the Wolverines will definitely have some game film to study, but it seems as though they've found some kind of an identity as an offense as they head into their big matchup with Notre Dame next weekend.


It was over when:
it started. Yes, Gardner threw an interception, but even when the Wolverines weren't looking spectacular, there was never really any serious worry that this would be anything other than a blowout. Central Michigan running back
Zurlon Tipton
(who was held to just four carries for 10 yards) exited the game during the first quarter and QB
Cody Kater
followed his running back to the sideline not long after. With their biggest offensive threat and their first-string quarterback on the sideline, the Chippewas really didn't stand much of a chance.
Game ball goes to:
Wide receiver
Jeremy Gallon
. The senior had only four catches, but this game proved his prowess in this Michigan offense. While he's not exactly the fit the Wolverines want at WR (he's only 5-foot-8 … on a good day), he proved to be Gardner's security blanket with glue for hands and a vertical that few defensive backs can match. He accounted for one 16-yard touchdown reception before exiting the game with a big Michigan lead.
Stat of the game:
35-point run. From the beginning of the second quarter until the beginning of the fourth quarter, the Wolverines went on a 35-0 scoring run. The Chippewas' scoring drought lasted 27:24 and was a combination of Michigan's defense (the Wolverines accounted for three sacks, one interception and one QB hurry during that drought) and a struggling CMU offense, devoid of its starting quarterback and running back (backup QB
Alex Niznak
was 5-of-8 during that time but CMU only accounted for 10 rushing yards).
Unsung hero:
Kyle Kalis
. In his first start at right guard for the Wolverines, the redshirt freshman excelled. Michigan accounted for 242 rushing yards -- much of which was behind the 302-pound guard while he was in.
What Michigan learned:
It's hard to really say too much considering one of the biggest takeaways from this game is that the Wolverines were able to beat a team they should beat. But in a game that gave the Wolverines the ability to get younger, inexperienced guys on the field, they were able to figure out that some of those guys might be able to be contributors this year.
Shane Morris
looked serviceable as a backup QB.
Dymonte Thomas
blocked a punt that was returned for a touchdown on the opening series.
Derrick Green
looked solid in the run game.
Channing Stribling
appeared stout in the secondary. These are all guys who can use this kind of experience to build on as the season goes on.
What Central Michigan learned:
Life's hard without Eric Fisher. The No. 1 overall pick in last year's NFL draft gave the Chippewas a continuity and strength on the offensive line that just isn't there this season. Central Michigan only accounted for 144 passing yards and 66 rushing yards and much of that came after the Wolverines began to call up their second- and third-string guys.
May, 8, 2013
5/08/13
3:00
PM ET
College football coaches aren't known for their patience, especially in the warp-speed realm of recruiting, but Nebraska assistant Ross Els knows there's no other choice.
Els, the Huskers' linebackers coach and recruiting coordinator, knows what's happening elsewhere: Michigan (eight verbal commits for 2014, seven in the ESPN 150), Ohio State (seven commits for 2014), Michigan State (six commits), Penn State (six commits), Northwestern (five commits) ... and so on.
Nebraska, meanwhile, has just one pledge for its 2014 class in safety/tight end Luke Gifford, who lives just down the road from campus in Lincoln.
[+] Enlarge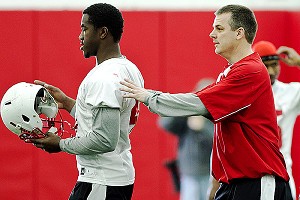 AP Photo/Nati HarnikNebraska's location doesn't make recruiting easy. But recruiting coordinator Ross Els said that the program's staff and facilities help the cause.
"I want to be done now," Els told ESPN.com. "The problem is we aren't going to get a ton of commitments, obviously, until we get kids on campus. And because of our small population base around here, it's hard to get kids to come visit us right away when we're not paying for it. It's expensive."
Nebraska's location makes it challenging for prospects to pay their own way on unofficial visits before their senior years. Els had to interrupt our interview to take a call from a recruit in Texas. The recruit asked about the cost of an air ticket to Nebraska.
The Huskers will gladly pay for recruits to take official visits after the start of their senior year in high school, but
the value of the official visit has changed
as recruits are committing earlier and earlier.
For example, Michigan has made early commits a hallmark of its recruiting under coach Brady Hoke. The Wolverines had six verbal commits for the 2012 class before May 1, 2011. They had 20 of 25 recruits verbally committed before the start of the 2011 season. Michigan accelerated the process even more for the 2013 class, as two players (quarterback Shane Morris and cornerback Dymonte Thomas) committed in 2011 and 12 committed before March 2012. Michigan once again added a small portion of its recruits (six of 27) after the 2012 season kicked off.
Nebraska has had to be more patient, if if not by choice. The Huskers had three verbal commits at this time last year, and only 10 of the eventual 25 signees pledged before the season. Big Red made its big recruiting push in the weeks before signing day as it hosted prospects on official visits. The 2012 class followed a similar pattern, as only five of 17 signees committed before the season.
"Some kids will make the circuit," Els said. "They'll go along that East Coast and hit four or five schools. Well, when you come to Nebraska, where else are you going to go? No place is really very close. They have to make a special trip. ... It's not an excuse. It's just a fact that it's hard to get kids up here early.
"Once we do, we've got a great shot at them because of the facilities, the people. So I'd love to be done, but we'll take 'em when we get 'em."
Els said Nebraska doesn't shy away from recruits who are anxious to make verbal commitments. In those cases, the coaches strongly encourage them to get to campus.
Nebraska often doesn't land recruits in a hurry to decide if they aren't in "that magical 500-mile radius we talk about," Els said, but because the Huskers recruit nationally, many of their targets will make several trips (unofficial and official) before finalizing their choice closer to signing day.
Els has a simple message to Husker fans anxious about the 2014 class: be patient.
"You can't compare us to Ohio State and Michigan and Notre Dame," he said. "We will not fill up that quickly. If we're filling up that quickly, it's either because we just won the national championship and everybody wants to play for us, or we might be not very selective in who we're taking. We don't throw offers out there just to throw 'em out there."
March, 13, 2013
3/13/13
9:00
AM ET
Michigan begins spring practice on Saturday with both some question marks and some major returning talent. Brady Hoke says of his team: "We're very young. But these guys have a lot of fight to them." There will also be a lot of fighting for starting jobs, beginning in a few days. I recently caught up with the third-year Wolverines coach for his thoughts on the approach of spring ball:
What are the main things you're looking for this spring?
Brady Hoke:
Well, you know, we've got a lot of open spaces. Some guys graduated, some guys aren't with the program anymore and we've got a lot of young guys. I think we only have 11 starters back on both sides of the ball, so there's going to be a lot of great competition, which is exciting. I think the leadership of our seniors, they've done a nice job of holding everybody accountable. But when you get out there with the pads on, it's a little different than just running around in shorts.
[+] Enlarge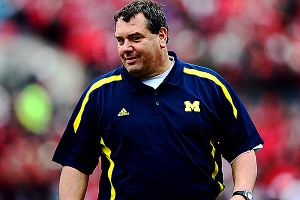 Andrew Weber/USA TODAY SportsWith only 11 returning starters, Michigan coach Brady Hoke said he's excited about the competition this spring.
Some of that competition will be on the offensive line, where you've got three open jobs on the interior. How do you see those battles right now?
BH:
Well, I think the interior of both lines, there's going to be a lot of competition. We've got to find a center, and that's between [
Jack] Miller
and [
Graham] Glasgow
, and
Joey Burzynski
will try to figure that out a little bit, too. At the guard positions,
Ben Braden
is going to move down inside and start out at the left guard, but he'll have a lot of competition because Burzynski is back and so is
Blake Bars
.
Kyle Kalis
will move into the right side, and it will be interesting again with [
Kyle] Bosch
and some of the guys who have been here a little bit. I think it will be a really good competition at all three of those inside positions.
Having
Taylor [Lewan
] back is huge. I think it's great for him and great for Michigan.
Mike Schofield
has had a really good winter. He had some real bright spots during the course of last season, and I think his development is going to be something special.
You mentioned the defensive line, where you also lost a couple of veterans. How does that shape up?
BH
: I think inside, we get
Jibreel Black
for another year and
Quinton Washington
. But once you get through that, there are a lot of young guys ...
Willie Henry
,
Ondre Pipkins
,
Ryan Glasgow
,
Richard Ash
and
Chris Wormley
are all guys who can either play the inside tackle or the strongside end. We'll find out the guys who are competitive.
Tommy Strobel
is another guy we think had a real good winter, and
Keith Heitzman
. So it's going to be fun to see them compete.
Does having so many young guys in key spots on the line make you nervous? Or do you have a lot of confidence in them because you recruited most of them?
BH:
I think it makes you nervous if you think you may have recruited the wrong guys. But we like the work ethic. We like how they've come in to learn and with a lot of enthusiasm. I think there's some competitiveness that we need to keep pushing as a program. You know, we lost five games on the road. We've played pretty well at home but we've got to do better on the road and that's a mindset, a mentality that you have to compete through everything, on every down.
Devin Gardner goes into spring practice as your starting quarterback. How has he developed as a leader?
BH:
I have been really excited about the progress he's made. I'm seeing that maturity that it takes and the leadership it takes and the competitiveness it takes to be the quarterback at Michigan. I think that's a real big part of how he's grown, and I think he's done a nice job with it. I'm liking the direction he's going, and hopefully he can just keep going and keep growing.
What about your running back position this spring, with Fitz Toussaint hurt and Derrick Green not there yet?
BH:
You know, Fitz has come along pretty well. I don't think he'll do a lot of contact or anything like that, but I think he'll be cleared for a lot more drill work. That's gone real well. We've moved [
Dennis] Norfleet
back to running back and we're going to give him an opportunity. Dennis, he's a smaller guy, but he's a very competitive, very tough young man.
Drake Johnson
is a guy we redshirted a year ago, and we really liked the way he competed in scout situations. In the bowl practices, we did some scrimmages and gave him a lot of carries, and we're very excited about what he has to offer.
Thomas Rawls
is coming back, and I think he learned a lot last year about the vision he needs to play with, and I like how he's competed through the [winter]. And
Justice Hayes
is a guy who gives you a little bit different look because of how he can get on the perimeter. He did some things in a couple of games last year, but now I think he'll have a big stage to prove himself more this spring. And he's a bigger guy now, he's 190-something pounds, so he's a little bigger.
[+] Enlarge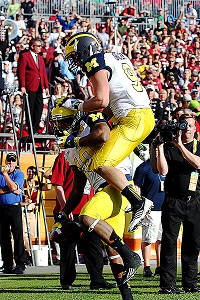 Kim Klement/USA TODAY SportsMichigan coach Brady Hoke said that he's pleased by more than just the on-field success of WRs Drew Dileo and Jeremy Gallon.
You have Jeremy Gallon back at receiver, but you lost Roy Roundtree. You sounded excited about some of the younger guys there during bowl prep. Is spring their time to step up now?
BH:
Yeah, I think so. First of all, I think the leadership with Gallon and
Drew Dileo
, they've done a really nice job being leaders at that position. They're not big guys, but they have a real spirit for the game and really do a nice job of working and leading. We have
Amara Darboh
, who played a little last year, and
Jehu Chesson
, who we redshirted a year ago. And I think
Jeremy Jackson
has had a very good winter; we're very excited about some of the progress he's made.
Joe Reynolds
is a guy who walked on here, and he's done a very nice job. And
Bo Dever
, his dad played here and he walked on. I think that during the course of the spring, we'll be in pretty good shape there. I think as we keep going, we'll keep improving at that position.
Linebacker was a strength for you last year and looks to be so again. Do you see some good competition there this spring, particularly at the weakside spot?
BH:
Yeah, I think with
Desmond Morgan
and
James Ross
, there's going to be great competition.
Joe Bolden
and
Royce Jenkins-Stone
and
Mike Jones
are all guys who are very competitive, and I think the three young guys coming in are going to be guys who will give us a lot of good competition and a lot of good depth.
Kaleb Ringer
is coming back from injury, so we'll see what he can give us. At the sam linebacker,
Jake [Ryan
] is coming back, and we really like what
Cam Gordon
has done during the winter. So I think we feel a little stronger at that position.
How do you replace what Jordan Kovacs gave you in the secondary?
BH:
I don't know if you ever replace that kind of leadership, but I really think
Thomas Gordon
, he's played a lot of football here, and it's time for him to demonstrate the leadership. And he's doing that. Because of the number of snaps and everything he's done, he's really fallen into his own a little bit.
Courtney Avery
has played a lot of football, and whether he's a corner a nickel or wherever, he's got to give us great leadership and great reps.
Blake Countess
is getting healthier; he'll do some things during the spring.
Josh Furman
, I think, has come on.
We've got to see where
Terry Richardson
is and where
Marvin Robinson
is. Both those guys have played a number of snaps. We've got
Raymon Taylor
back, who I think started every game for us last year, we're excited about his development.
Dymonte Thomas
is a guy who's going to compete, and he'll pressure some guys.
Jarrod Wilson
is another guy who played some last year for us. Ross Douglas is here early.
Jeremy Clark
is a 6-foot-4, 210-pound safety we redshirted a year ago, and it's going to be a big spring for him to make some moves.
So I think we may have more personnel back there. And even more in the fall when
Channing Stribling
gets in, and
Reon Dawson
gets in and
Jourdan Lewis
. I think it's going to add something to our secondary.
Finally, what has your message been to the team this offseason after last year's 8-5 season?
BH:
Well, our message has been, we haven't met the expectations at Michigan. That's something that as a football community… that we really feel that we have to do a much better job in all areas, from the coaching aspect of it, from learning and playing with the competitiveness we want to have, from every player at every position playing with the intensity we want to play with. It's about having a mindset and a mentality of how we want to play the game. We make no excuses, but at the same time, we know we have a lot we can do to play better football.
April, 17, 2012
4/17/12
3:00
PM ET
The 2013 ESPN 150 -- our list of the top high school rising seniors in the country (now with less U!) -- was unveiled this afternoon. And the Big Ten's hand prints are all over the list, which you can find in its entirety
here
. (You can read more about the class, including spotlights on Penn State commit
Christian Hackenberg
and Ohio State recruit
Cam Burrows
,
here
).
Twenty players from the list have already committed to Big Ten schools. So of the 77 players who have committed, the Big Ten claims more than a quarter of them. The Big Ten only signed 12 players from the 2012 ESPN 150 list.
Michigan is responsible for the biggest portion of that haul. The Wolverines -- who have 17 total commitments for the '13 class -- boast 11 ESPN 150 prospects in their corner so far.
That's easily the most of any school in the country. Texas and Florida are next with seven ESPN 150 commits each, followed by Alabama and Georgia with six. Alabama had the top class in the country this year with 13 ESPN 150 signees. Michigan has a chance to compete for the top class ranking next year if this current group holds together and gets a few more notable additions. Brady Hoke and his staff have done an excellent job of locking up early pledges.
Ohio State is doing well, too. The Buckeyes currently have five ESPN 150 commits for Urban Meyer, including three in the top 55 of the list.
But the league school with the highest-ranked prospect so far is Penn State. Let's take a look at the players from the list who are currently committed to a Big Ten team:
No. 11:
Christian Hackenberg, QB, Penn State
No. 12:
Eli Woodard
, CB, Ohio State
No. 21:
Cam Burrows, CB, Ohio State
No. 37:
Shane Morris
, QB, Michigan
No. 39:
Adam Breneman
, TE, Penn State
No. 55:
Jalin Marshall
, ATH, Ohio State
No. 63:
Gareon Conley
, CB, Michigan
No. 75:
Mike McCray II
, OLB, Michigan
No. 92:
David Dawson
, OG, Michigan
No. 97:
Logan Tuley-Tillman
, OT, Michigan
No. 98:
Dymonte Thomas
, ATH, Michigan
No. 105:
Chris Fox
, OT, Michigan
No. 107:
Jourdan Lewis
, CB, Michigan
No. 112:
Kyle Bosch
, OG, Michigan
No. 113:
Matt Alviti
, QB, Northwestern
No. 115:
Taco Charlton
, DE, Michigan
No. 121:
Patrick Kugler
, OG, Michigan
No. 123:
Greg Webb
, DT, Penn State
No. 127:
Marcus Baugh
, TE, Ohio State
No. 142:
Evan Lisle
, OT, Ohio State
Here is where we issue the requisite word of caution, as these are only verbal commitments and it's a long way until signing day next February. Things can change a lot between now and then, and star rankings do not always predict college success. But clearly the Big Ten is doing a good job competing for the nation's highest-ranked prospects during this recruiting cycle.