NCF Nation:

Earl Campbell
September, 23, 2014
9/23/14
1:30
PM ET
While Billy Sims took in an Oklahoma practice this preseason, another Red River legend came to his mind whenever he watched freshman
Samaje Perine
.
"The strength, the power, the way he ran over people, it kept reminding me of Earl Campbell back in the day," said Sims, who the Heisman Trophy for the Sooners in 1978, a year after Campbell won it at Texas in 1977.
Perine is no Earl Campbell yet.
But he's off to an Earl Campbell-like start to his career.
[+] Enlarge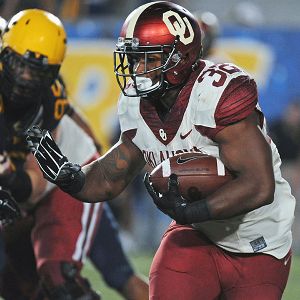 Tyler Evert/Associated PressOklahoma freshman Samaje Perine is leading the Big 12 in rushing with 419 yards and five touchdowns this season.
The 5-foot-11, 243-pound "Tank" -- though "Optimus Perine" is his preferred nickname -- came a yard away from rushing for his weight, finishing with 242 yards and four touchdowns in Oklahoma's
45-33 victory
at West Virginia over the weekend.
Perhaps just as impressive, Perine carried the ball 34 times and afterward looked like as if he had done nothing more than taken a light morning jog.
"He works so hard with his conditioning and training," coach Bob Stoops said. "He's a guy that can handle all those carries. At the end of the game he wasn't all that taxed. I saw him get on the bus and he looked great. He's exceptional in his conditioning and his strength. He's physically gifted that way."
Like Campbell used to do to opposing defenses in the 1970s, Perine wore the West Virginia defenders down as they bounced off him like pingpong balls. While the Mountaineers' resolve to tackle him began to wane in the second half, Perine seemed to get stronger, as he finished with 84 of his rushing yards in the fourth quarter.
"He was able to sustain it for four quarters," West Virginia coach Dana Holgorsen said. "That tells you what kind of shape he's in."
The emergence of Perine, who now leads the Big 12 with 419 rushing yards and five touchdowns, has left the Oklahoma offense in great shape, too, heading into the heart of the schedule. After the open week this weekend, the Sooners face three of the toughest front sevens in the league in TCU, Texas and Kansas State. But this Oklahoma rushing offense is beginning to smack of the Barry Switzer days when the Sooners could run right through opponents when they wanted to.
"I was glad to see the ground-and-pound game," Sims said. "Let the big guys up front eat and the backs do their thing."
The big guys up front ate well again after the game, too, courtesy of Perine. Showing he doesn't just have physical maturity, Perine ordered pizzas for the entire offensive line Sunday.
"We were watching film, and he just walked right in and set the boxes of pizza down and walked out," center
Ty Darlington
said. "That's who he is."
Though Perine was one of the major storylines in college football over the weekend, he wasn't even the most highly touted running back in Oklahoma's signing class.
Joe Mixon
, suspended for the year for an altercation before the season, was viewed as the gem of the recruiting class, with offers from every major program in the country. Perine, who hailed from the Austin, Texas, suburb of Pflugerville, didn't even receive an offer from Campbell's Longhorns as he recovered from a knee injury his junior year and barely averaged double-digit carries his senior season for Hendrickson High School.
The Sooners, however, always felt Perine was a unique talent.
"He's a very special player," Stoops said. "We felt that all along in the recruiting process. We loved him. Physically, he's so powerful and strong. He's also got great vision, great speed. He's got hands."
While Sims invoked Campbell to describe Perine, Stoops didn't hesitate to compare Perine's immediate impact to other great runners to pass through Norman in recent years like Quentin Griffin and
Adrian Peterson
.
"Samaje, his performance the other night, was as good as any of those in one game," Stoops said. "I believe he'll continue to add on to it. He's a similar player like that. He's unusual in that his size and power are different than maybe anyone else we've had.
"We'll see if he can continue to build on it."
Sims, however, is a believer that will happen.
"After watching him in practice, what he's doing now, it doesn't surprise me," Sims said. "Oklahoma is known for great running backs. He has the potential to be the next."
August, 5, 2014
8/05/14
3:00
PM ET
Determining the greatest individual performances for ESPN.com's new series
The Season
was, in all honestly, not too difficult for many FBS schools.

Picking Oklahoma State's best, for example, could not have been easier. Same with Baylor and Texas Tech. But Texas presented a bit of a challenge.
After much research and debate, Vince Young's 2005 campaign was ultimately selected to represent the Longhorns. In fact, Young's national championship year earned the No. 6 spot in the 16-man bracket to determine the very best of The Season.
But there were a handful of other Texas players legitimately worthy of consideration. Was VY the right choice? Be sure to vote in this poll, especially if you disagree.
A rundown of the résumés for a few more Longhorns we debated for The Season:
RB Earl Campbell, 1977:
Won the Heisman Trophy after rushing for 1,744 yards (breaking UT and Southwest Conference records) and 18 touchdowns. Campbell led the Longhorns to a perfect 11-0 regular season and was All-America in every sense, leading the NCAA in rushing, scoring and all-purpose yards. He eclipsed 100 rushing yards in 10 games and put up 222 yards and three scores in the regular-season finale against Texas A&M. The Tyler Rose had the superior career, but was this season by itself better than Young's best?
RB Ricky Williams, 1998:
Won the Heisman Trophy and set 21 NCAA records by dashing for 2,124 yards and 27 TDs. Williams led the nation in rushing for a second straight season, broke Tony Dorsett's 22-year-old NCAA all-time rushing record with 6,279 career yards and became the first two-time winner of the Doak Walker Award -- all in Mack Brown's first season at Texas. He snapped Nebraska's 47-game home win streak with a 150-yard performance and became the first to surpass 300 rushing yards twice in one season.
QB Colt McCoy, 2008:
He guided Texas to the BCS title game in 2009, but McCoy's 2008 campaign was more impressive, especially statistically. The Heisman Trophy runner-up threw for 3,859 yards and 34 TDs with just eight INTs and completed an NCAA-record 76.7 percent of his passes. He also led the Longhorns in rushing (561 yards, 11 TDs) and broke Young's single-season record for total yardage along with school records for passing yards, TDs and passer rating. Texas went 12-1 and capped McCoy's junior year with a win over Ohio State in the Fiesta Bowl.
QB James Street, 1969:
The numbers would not wow today's audience, but Street was a big-time playmaker who led Texas to a perfect season and a national championship. He finished with 699 passing yards and three TDs plus 412 yards and five rushing TDs, but he won't be remembered for those stats. He'll go down in Longhorn lore for his fourth-down pass completion to seal No. 1 Texas' comeback victory over No. 2 Arkansas in the Game of the Century. He went on to beat No. 9 Notre Dame for the title and went 20-0 as Texas' starting quarterback.
November, 23, 2011
11/23/11
6:52
PM ET
His name is
John White
. His name isn't flashy, even if you add the "IV" to the end of it to distinguish him from his pop, who is known as John White III. But John White is going to get your defense. You know he's coming. You've schemed him up. You've stacked the box. But John White is going to get you.
And there's not really anything you can do about it.
Utah has won five of six and four in a row and -- after an 0-4 start in Pac-12 play -- has a decent chance of winning the Pac-12 South Division. It needs to beat Colorado (likely) on Friday and hope Arizona State loses to California (possible) and UCLA loses to USC (likely).
What has been the key to the turnaround? John White.
[+] Enlarge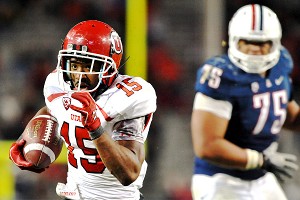 Chris Morrison/US PresswireUtah is 7-0 this season when running back John White rushes for more than 100 yards.
"He was a one-man show in the Pittsburgh game," Utah coach Kyle Whittingham said. "That was probably when we said, 'Hey, this guy is special. He's going to be our guy'... The blueprint for us to win a football game is to feed him the ball a bunch of times and not turn it over."
Let's quantify that. During those five wins, White averaged 34.6 carries. He's a first-year junior-college transfer. He's hardly more seasoned than a freshman. He's just 5-foot-8, 186 pounds. He's not exactly Earl Campbell. And yet he's carried the ball 280 times this year, 39 more times than anyone else. Oregon running back
LaMichael James
led the Pac-10 with 294 carries last year. White is almost certain to exceed 300 before a bowl game.
White had 36 carries for 171 yards against Pittsburgh. The Utes passed for 127 yards. He had 205 yards on 35 carries against Oregon State. The Utes passed for 62 yards. He had 42 carries for 186 yards against Washington State. The Utes passed for 172 yards.
Get the point? Since starting QB
Jordan Wynn
went down, the Utes' offense has taken an extremely conservative approach. The Utes rank last in the Pac-12 and 101st in the nation in passing yards per game with 170.4.
It's been about John White left, John White right, John White up the middle. Repeat. And it's worked. The Utes are 7-0 when White eclipses 100 yards rushing, 0-4 when he doesn't.
Meanwhile, White is re-writing the Utes record book. His 14 rushing TDs already has tied a team record. He's rushed for 1,377 yards -- his 125.2 yards per game ranks eighth in the nation -- and needs 131 yards to set the single-season school rushing mark, breaking Carl Monroe's record of 1,507 set in 1982.
White was a solid prospect out of South Torrance (Calif.) High. He was heavily recruited by Oregon before going to L.A. Harbor College because he didn't qualify academically. A bevy of programs from across the country pursued him after he rushed for 1,491 yards and averaged 8.1 yards per carry for L.A. Harbor, earning Central West Conference Offensive Player of the Year. But few expected White to immediately become a candidate for first-team All-Pac-12.
And that includes White, who's as understated as his name.
"I am surprised, I'm not going to lie," he said. "I came out of spring kind of iffy."
He's iffy no longer. UCLA coach Rick Neuheisel said White was the best running back the Bruins faced (33 carries, 167 yards, 2 TDs). While James and Washington's
Chris Polk
are the conference's best known backs, White has made as big, if not bigger, an impact without the supporting cast those two have.
"He's not a real big guy but he is tough and he's got great quickness," Oregon State coach Mike Riley said. "What really separated him as a good runner is his great vision."
And toughness. Said Whittingham, "He is one of the mentally toughest and physically toughest players I've ever coached."
That's because he faces defenses geared to stop him -- eight, nine and sometimes 10 guys packed along the line of scrimmage. Sometimes they do. But he almost always gets away at least once. In nine of 12 games this season, he has produced at least one run of 18 or more yards. In five games, he's produced at least one run of 30 or more yards.
Whittingham, a longtime defensive coach and coordinator before taking over the Utes, said it's "demoralizing" for a defense when it knows what's coming but can't stop it.
"If you load the box and people are just knocking you off the ball, it's a feeling of helplessness," he said.
So White's name isn't fancy like God Shammgod or Leonidas Thermopylae or World B. Free. But you're going to know it. Because you're going to hear it over and over again.
Including when the All-Pac-12 team comes out.
November, 19, 2009
11/19/09
2:13
PM ET
By
Tim Griffin
| ESPN.com
It was the kind of play that delighted old-school Texas fans who are still a little wary about the team's reliance on the spread offense.
[+] Enlarge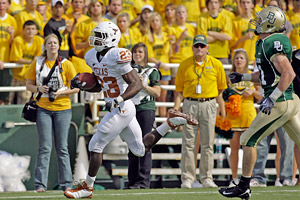 Brett Davis/US PresswireTre' Newton took it to the house on a 45-yard scamper against Baylor.
So when
Colt McCoy
lined up directly under center last week against Baylor and then handed off to redshirt freshman
Tre' Newton
, it was a start. But when Newton sharply veered before producing a textbook cutback that finished off a scintillating touchdown run 45 yards later, it was like old times for the Orangebloods.
Maybe Cedric Benson, Ricky Williams or Earl Campbell weren't coming back any time soon. But it still was a signal that the Longhorns hadn't ditched their traditional running attack completely and could still move the ball on the ground when they needed to.
The installation of
Cody Johnson
as the starter and Newton as the speedy backup is indicative that Mack Brown has turned to two precocious but talented parts of his stable of backs for a late-season lift.
"We needed balance and we felt we could do a few things with Cody and Tre'," Brown said. "They both stepped up. We feel our offense can be really good if we are balanced."
With 224 yards rushing and 187 yards passing against the Bears, the Longhorns had more rushing yardage than passing yardage for only the second time all season.
"Basically, running the ball was our No. 1 concern," said Johnson, who was the fourth different Longhorn to start at tailback this season. "Of course, we can still pass the ball, but we put a huge focus on running the ball and being more effective when we were out there. And I think the way we did it opened up a lot of eyes out there."
Brown has yet to identify a featured back. But he appears to have growing comfort in the "Thunder and Lightning" tailback tandem of Johnson and Newton to perhaps alternate in that role.
Newton, who rushed for 80 yards, has been installed as the team's primary backup heading into Saturday's game against Kansas. It's a signal, Brown said, that the team's rushing attack appears "headed in the right direction."
"Every time we've put Cody in, he's made yards," Brown told reporters earlier this week. "And when Tre's in, he's made yards, too."
Running the ball had been a real concern for the Longhorns, who had produced only 297 rushing yards on 100 carries in their three previous games before playing Baylor.
A simplified playbook that relied on a handful of running plays helped spark the Longhorns to an impressive 6.4 yards-per-carry average against Baylor. It was their best performance against any conference foe this season.
[+] Enlarge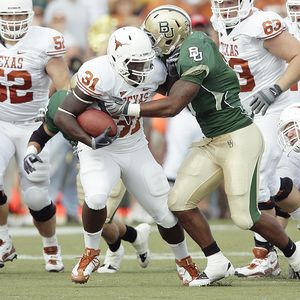 Brett Davis/US PresswireCody Johnson got a a career-best 19 carries against Baylor.
Sure, the Bears came into the game ranked only 82nd nationally in rush defense, but it was still a strong sign of the return of the Longhorns' ground attack.
Johnson had struggled with problems with his weight before finally rounding into shape over the last several weeks. His bullish running style appears to improve with the more carries he receives. He gained 109 yards after notching a career-best 19 carries last week.
"Backs I've been around like Ricky [Williams] and Cedric [Benson], they got better and better the more snaps they got," Texas offensive coordinator Greg Davis said. "They would see things, lather up and really get going. I think the same started happening for Cody after we got him going."
Newton had been hobbled since sustaining a concussion in a victory against Colorado last month. After a recovery of several weeks, it appears he is nearing peak performance.
"It feels good being back," Newton said. "It's always frustrating when you can't help your team. You have to stay focused and just be ready to help out when you get your chance."
Together, their divergent talents provide a good combination in the Texas backfield.
"Cody is just a beast out there -- he's so physical," Texas guard Charlie Tanner said. "And Tre' is awesome. You give him an extra second and he's gone. He has a great burst and can just run by people if you give him a chance."
The Texas offense will remain centered on McCoy and the passing game. But the development of Johnson and Newton gives the Longhorns hope of balance that had been missing much of the season.
"This shows the world we can actually run the ball," Johnson said. "It's not just the passing game. We can actually line up and run the ball. And now, they have to respect both the run and the pass when they play us."
March, 19, 2009
3/19/09
1:51
PM ET
Posted by ESPN.com's Tim Griffin
Thanks for squeezing in a few minutes for some lunch links during the basketball games today. Hopefully, these will be more interesting than a couple of early 2-15 blowouts.
Here are some of the more notable Big 12 stories people are talking about.
Enjoy them -- and the basketball games, too.
October, 28, 2008
10/28/08
1:10
PM ET
Posted by ESPN.com's Tim Griffin
Here's a lunchtime fix of the top stories from across the Big 12 this morning. Enjoy them.
September, 29, 2008
9/29/08
4:58
PM ET
Posted by ESPN.com's Tim Griffin
Six Big 12 teams made the Associated Press Top 25 poll and the USA Today coaches' poll Sunday.
Speaking of six, here's a late-afternoon snack of six links that will keep your stomach from growling too much before dinner. Enjoy them.
August, 16, 2008
8/16/08
12:57
PM ET
Posted by ESPN.com's Tim Griffin
Few schools have the rich historical base of Texas. And that's why the recent addition at Darrell K. Royal/Texas Memorial Stadium is so neat.
School officials have installed an exhibit in the stadium's north end zone that will list and honor the five retired numbers in the school's football history. Players who have been honored include Vince Young, Ricky Williams, Bobby Layne, Earl Campbell and Tommy Nobis.
Other schools have done this. I always have a fond remembrance of the past when I see Johnny Roland's or Kellen Winslow's number at Faurot Field or Rashaan Salaam at Folsom Field. It's a great way to recall the past.
I'm still waiting for some school to erect its own version of Monument Park like I saw at Yankee Stadium. Walking up to the bronze plaques of Babe Ruth, Lou Gehrig and Mickey Mantle left me with a lump in my throat. And I don't even like the New York Yankees.
Here's hoping that the Texas architects have arranged for these retired numbers to be prominently displayed where it will occasionally be noticeable on television broadcasts and be clear enough for people in the stadium. Because schools need to remember great players and their history.
And hopefully, these links will be as similarly cherished in 50 years.