November, 6, 2013
11/06/13
11:00
AM ET
The signature sideline scowl had disappeared, leaving in its place a look of genuine pride.
[+] Enlarge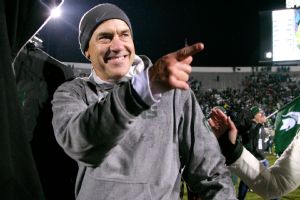 AP Photo/Al GoldisFor all his success at Michigan State, Mark Dantonio knows he still has work to do.
As Michigan State's players and coordinators stood at a podium and reviewed Saturday's destruction of Michigan, head coach Mark Dantonio watched from the back, admiring the men who had helped his vision become reality. He leads a Michigan State program that appears headed for a third 10-win season in the past four years and a second Legends Division title in the past three seasons. The 29-6 victory against Michigan marked the Spartans' fifth in the past six seasons, their best stretch in the series since winning six of seven between 1956-62.
Dantonio didn't look satisfied. Not after a regular-season win, even against a rival. Not for a guy who considers Nick Saban and Jim Tressel his two main coaching influences.
The 57-year-old looked more like an architect admiring his latest and greatest creation. College football's best coaches are often praised for shaping their programs in their own images. That's what Dantonio has done in his seventh season at Michigan State.
How many other Big Ten coaches can say the same?
"We're going to play to win, and we're going to play hard, and we're going to play like I've been taught throughout my coaching career," Dantonio said Saturday. "We're going to play good defense. We're going to try and run the ball. We're going to try and physically win."
Good defense -- actually,
great defense
-- along with the power run game and physical play are three characteristics of a culture Dantonio feels has been in place at Michigan State for some time. It has translated into 28 Big Ten victories in the past five seasons, more than any other league squad. Michigan State's seniors are a win away from becoming the program's all-time winningest class, a mark currently held by the 2011 seniors.
The 2012 season -- when the Spartans, a popular preseason pick to win the Big Ten title, dropped five league games by a total of 13 points -- has become the exception more than the rule in East Lansing. But Dantonio sensed better days were ahead when Michigan State won its final two games, including a come-from-behind victory against TCU at the Buffalo Wild Wings Bowl.
At the team banquet, he told the group:
You will be the ones.
"I felt like they were destined for greatness, but we've got to do the work," he told ESPN.com this week. "It's not our God-given ability. It's an attitude and a culture. What separated last year's team from this year's team, quite honestly, were inches.
"We're just finding the inches this year."
The offensive woes that plagued MSU in 2012 spilled into this season, as the Spartans, despite more superb defense, scrambled for answers on the other side of the ball. Defensive end
Shilique Calhoun
scored
three touchdowns in the first two games
, more than the entire Spartan offense.
A 17-13 road loss at Notre Dame on Sept. 21 suggested another season of what-ifs, but Big Ten play once again has brought out the best in Dantonio's team, which now complements the nation's best defense with a decent offense led by quarterback
Connor Cook
.
"



We're going to play to win, and we're going to play hard, and we're going to play like I've been taught throughout my coaching career. We're going to play good defense. We're going to try and run the ball. We're going to try and physically win.



"


-- Michigan State coach Mark Dantonio
"People left us for dead after September and said, 'They're playing good defense but they can't score,'" Dantonio said. "Now it's sort of changed through October, and the first week of November, all of a sudden, people are saying, 'Hey, maybe.'"
Dantonio has tried to incorporate the best elements of the men he has worked for, whether it's Saban's famous "process" and attacking defense, or the way Tressel approached rivalry games. He hopes to be a combination of Saban, Tressel and his other former bosses (Glen Mason and Earle Bruce are two others), but the MSU program undoubtedly belongs to him.
Dantonio believes in empowering his players and assistants.
He allows players to help structure open weeks like this one and choose uniform combinations on game days (the Spartans went
all green
against Michigan). Although his external image is, fairly or unfairly, characterized by that
game-day scowl
, he has a lighter side, as he showed after the Michigan win, when he danced with players in the locker room to Rich Homie Quan's "Type Of Way."
"Our team has done it this entire year after every win," he said. "I told everybody, 'Hey, I'm not dancing until the Michigan win. When we win, then I'll dance.'"
Dantonio can come off dry in public, but he showed his sense of humor after the Michigan win, telling Spartan fans, "Walk the streets. Don't
burn any couches
, though."
"Everybody says I'm very stoic on the sideline, but I like to have fun, and I want our team to have fun, and I try to make it fun for them," Dantonio said. "At the same time, they don't need somebody soft sitting at the head of the table, either."
Dantonio isn't soft. He's quickly becoming one of the nation's better coaches. But like his team, he has one step left and that's taking Michigan State to the Rose Bowl.
The Spartans came close in both 2010 and 2011 but lost out to Wisconsin in both seasons. Despite a win against the Badgers in 2010, the Spartans were passed over for the Rose Bowl because of Wisconsin's higher ranking in the final BCS standings. The following season, the two met in the inaugural Big Ten championship, an exhilarating game that Wisconsin won 42-39.
Heading into this season, Dantonio made "Chase It" the team theme, not to be confused with Ohio State's credo, "The Chase."
"That's what we'll do, we'll chase it down," Dantonio said. "We've been to New Year's Day bowl games, won one against Georgia, beat TCU last year, but to truly get there, you've got to win a championship. To truly establish yourself, you've got to do that. And that's something that hasn't been done here for a while.
"So we truly are chasing it."
The Spartans hope to catch it Dec. 7 in Indianapolis. If they do, "Type Of Way" will play in the locker room, and Dantonio will once again dance along.
This much is clear: Dantonio's type of way is working at Michigan State.
February, 12, 2013
2/12/13
1:00
PM ET
The legend of Woody Hayes needs no further embellishment at this point. Stories about the iconic Ohio State coach and his approach to the game and life abound.

But there might not be another story quite like the one Urban Meyer recently shared about Hayes.
The current Buckeyes coach attended the Ohio coaches convention over the weekend, and CoachingSearch.com's Chris Vannini
transcribed this tale
that Meyer spun for the crowd.
"So I guess Ohio State had lost the bowl game, so Earl Bruce brings in Woody Hayes. I had been there just a week and I'm thinking, 'Holy, this is Coach Hayes.' I'm sitting in the back. Coach Hayes was not healthy at the time, but stands up and starts laying into the coaching staff about toughness. That we have no toughness in the program. That's why we lost the game. On and on and screaming, this old guy pounding the table. He says, 'We have no toughness, and the reason is because you're not tough. No one on this staff is tough enough, and that's a problem.'

"He reaches down and grabs this box, slides the top and there was something in the box moving around. He reaches in and he pulls out this turtle. He reaches down, this turtle's snapping and he says, 'I'm going to show you toughness.' He unzips his pants and takes out whatever he takes out. The turtle reaches up and snaps at him. You see the veins and the sweat [on Hayes]. He screams at the coaches, 'That's toughness! That's eff'n toughness!' He reaches down, pokes the turtle right in the eye and it falls off. He wipes the sweat off his forehead and says, 'That's the problem. We don't have anybody in this room tough enough to do that right there.

"[One assistant] raises his hand and says, 'Coach, I'd do this. Just promise not to poke me in the eye.'"
Click on the link above for video proof of Meyer telling the story. It's around the 3:00 mark.
UPDATE: Meyer told the same story at the same event last year, only it was Bruce who, uh, used the turtle as a prop (you can view it around the 10:40 mark
here
). Is there any truth in this tale? Well, never let the facts get in the way of a good story.
November, 28, 2012
11/28/12
1:00
PM ET
Former Ohio State coach Jim Tressel was a victim of his own success when it came to winning Big Ten Coach of the Year honors.
Tressel never claimed the award despite dominating the league during most of his Buckeyes tenure. If Tressel had a down year midway through his run at Ohio State, only to get the team back to a league title or a BCS bowl the following year, he would have had a better chance.
In many ways, the Big Ten Coach of the Year award is about what happened the previous season or the previous offseason rather than the actual season for which the honor is presented. Recent history also shows first-year coaches who bolster programs have a good chance for the award.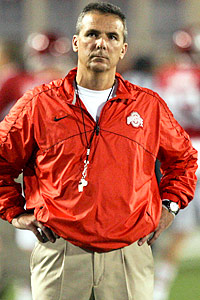 Pat Lovell/US PresswireUrban Meyer led the Buckeyes to a rare 12-0 season in his first season at Ohio State.
And that's why Ohio State coach Urban Meyer might never win it.
Penn State's
Bill O'Brien on Tuesday swept the Big Ten Coach of the Year honors
-- the Hayes-Schembechler award (voted by the coaches) and the Dave McClain award (voted by the media). O'Brien guided Penn State to an 8-4 record in his first season.
He beat out another first-year Big Ten coach, Meyer, who went 12-0 in his first season in Columbus, including a road win against O'Brien's Lions. Buckeye fans were hopeful Meyer would be the first Ohio State boss to win Big Ten Coach of the Year honors since Meyer's mentor Earle Bruce got it in 1979.
O'Brien's selection stems primarily from the way he kept Penn State afloat after a turbulent summer that brought severe NCAA sanctions on the program, followed by the departures of several key players, including star running back
Silas Redd
. After an 0-2 start that had many writing off Penn State for the foreseeable future, O'Brien guided Penn State to wins in eight of its final 10 games (6-2 in Big Ten play).
Although Penn State actually won more games in the previous season -- the Lions' nine wins later were vacated -- O'Brien's work under such unusual circumstances made him a deserving candidate.
But it begs the question: Will Meyer ever win the award?
Unless Ohio State takes a surprising step backward during his tenure, probably not.
Let's look at the recent winners of the McClain Award.
Brady Hoke, Michigan, 2011
Backstory: Michigan went 7-6 in 2010 under coach Rich Rodriguez, who was fired following the Gator Bowl after a historically poor three-year run. Hoke came in from San Diego State and guided Michigan to an 11-1 record and a Sugar Bowl championship.
Mark Dantonio, Michigan State, 2010
Backstory: Michigan State tumbled to a 6-7 finish in 2009 and had a highly publicized off-field issue that decimated its roster for the Alamo Bowl. Dantonio guided the Spartans to an 11-1 regular-season mark in 2010.
Kirk Ferentz, Iowa, 2009
Backstory: Iowa improved from 9-4 in 2008 to 11-2 in 2009 and won an Orange Bowl championship. The 2009 season truly showed the Hawkeyes had escaped a down stretch from 2005-07.
Joe Paterno, Penn State, 2008
Backstory: Penn State went from 9-4 the previous season to an 11-1 regular-season mark, a Big Ten title and a spot in the Rose Bowl (all wins later were vacated). The Lions were in the national title talk for much of the 2008 campaign.
Ron Zook, Illinois, 2007
Backstory: Illinois went from 2-10 in 2006 (4-19 in Zook's first two seasons) to a Rose Bowl berth in 2007. The Illini knocked off then-No. 1 Ohio State in Columbus.
Bret Bielema, Wisconsin 2006
Backstory: Bielema was in his first year as a head coach and led Wisconsin to an 11-1 record in the regular season (12-1 following a bowl victory).
Joe Paterno, Penn State, 2005
Backstory: The Lions had endured losing seasons in three of the previous four years, and calls for Paterno's retirement had increased. He then shocked everyone by guiding Penn State to a Big Ten championship and an Orange Bowl title (both later vacated).
See the pattern here?
The award either goes to first-year coaches or coaches who have bolstered a team's win total from the previous season.
Meyer did both at Ohio State, which went from 6-7 in 2011 to 12-0 this season. But O'Brien ultimately was judged to have overcome more challenges at Penn State.
Tressel's best chance for the award came in 2002, when Ohio State went from 7-5 in his first season to a 13-0 regular-season mark (and an eventual national title). But Iowa's Kirk Ferentz instead earned Big Ten Coach of the Year honors for guiding Iowa to a share of the Big Ten title a year after going 7-5.
Ferentz topping Tressel in 2002 reminds me a lot of O'Brien topping Meyer this season.
Given the trajectory of Ohio State's program under Meyer and the standard set by the 2012 team, it seems unlikely the Buckeyes will take a big step backward -- so Meyer can then bring them forward and win the award -- any time soon.
Meyer has won two national titles and several top coaching honors, including the Eddie Robinson National Coach of the Year award in 2004. But don't be surprised if like Tressel, he'll go through his Ohio State career without ever being named Big Ten Coach of the Year.
November, 14, 2012
11/14/12
10:00
AM ET
At Ohio State, historic seasons are recorded in three ways.
1. Big Ten championships:
the Buckeyes have won or shared 34
2. Rose Bowl championships:
the Buckeyes have 7
3. National championships:
the Buckeyes have 13 (including all selections), most recently the BCS national title in 2002
At a traditional power like Ohio State, if no championship is won, the season is pretty much forgotten.
Ohio State's seniors entered their final season with the sobering knowledge that they couldn't achieve any of these goals. A postseason ban for NCAA violations deprived them of competing in the Big Ten title game or any bowl game. The only championship they could win was the Leaders Division.
Their only chance to truly make history was to do something that often has proven harder than winning the Big Ten, the Rose Bowl or even the national title. They had to be perfect. Only 10 previous Ohio State teams have recorded undefeated, untied regular seasons. Only five previous Ohio State teams -- 1916, 1944, 1954, 1968 and 2002 -- finished the postseason without a loss or a tie. Only two previous Buckeye squads, the 2002 and 2006 versions, started a season 12-0.
Add in the fact Ohio State had a new coach (Urban Meyer), a partially new staff and a mostly young team coming off of the program's first 7-loss season since 1897, and the idea of perfection seemed more fantasy than reality.
It's real now.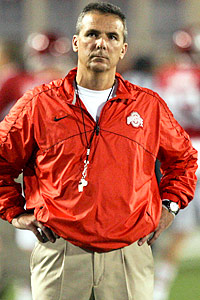 Pat Lovell/US PresswireUrban Meyer and the Buckeyes could accomplish a rare 12-0 season at Ohio State, despite being on probation.
"It's right in front of us," Buckeyes senior tight end
Jake Stoneburner
told ESPN.com. "Not that we didn't have anything to play for, but the two things we had to play for were win every game and beat Michigan. So both goals are hopefully going to be able to happen at the same time. We can win our side of the conference, but there's no Big Ten championship or anything like that, so all you can play for is win every game and go undefeated.
"So far, we've done a pretty good job of that."
Ohio State sits at 10-0 for the first time since 2007. The Buckeyes are one of just four undefeated teams in the FBS (No. 1 Kansas State, No. 2 Oregon and No. 3 Notre Dame are the others). They have quite possibly their two toughest games left, a trip Saturday to Wisconsin followed by The Game against archrival Michigan on Nov. 24 at Ohio Stadium.
The focus inside the Woody Hayes Athletic Center this week is Wisconsin, just like it had been Illinois, Penn State and Purdue in previous weeks. But Ohio State's quest for perfection is in the home stretch.
"It'll be one of those things where, after the Michigan game, if we are 12-0, we'll look back and be like, 'Wow, we really did it. We really went 12-0,'" Buckeyes linebacker (formerly fullback)
Zach Boren
told ESPN.com. "But we still have two huge weeks ahead of us."
Let's attempt to put into context what a 12-0 season would mean for Ohio State and Meyer, with help from the fine crew at ESPN Stats & Info:
Ohio State would be the fourth team on postseason probation to record an undefeated season. Auburn was most recent to do it in 1993 (11-0). Oklahoma also recorded back-to-back undefeated seasons in 1973 (10-0-1) and 1974 (11-0), winning the AP national title in 1974.

Few undefeated teams from major conferences suffered as many losses the previous season as Ohio State's seven in 2011. You have to go back quite a few years for some of the better comparisons. Purdue went from 1-8 in 1942 to 9-0 in 1943. Stanford went from 1-7-1 in 1939 to 10-0 in 1940. Ohio State went from 3-5 in 1943 to 9-0 the following year.

Meyer would tie Wisconsin coach Bret Bielema for the most wins in his first season in the Big Ten. He's already the third Ohio State coach to start his career at 10-0 -- Earle Bruce (1979) and Carroll Widdoes (1944) are the others.

Widdoes (12-0) and former Michigan coach Fielding Yost (29-0) are the only Big Ten coaches to start their careers with 12 or more wins.

Meyer would become just the second coach to go 12-0 or better in his first season at a school. Larry Coker went 12-0 at Miami in 2001, winning a national title, and Chris Petersen went 13-0 at Boise State in 2006. Terry Bowden might be the best comparison to Meyer, as he went 11-0 with probation-laden Auburn in 1993.
The potential historical significance isn't lost on the Buckeyes, especially the seniors.
"That's how I want to go out," Stoneburner said. "It'd be nice to go 12-0 and get an opportunity to play for a national championship or play for a Rose Bowl, but we were able to play for a Rose Bowl [three seasons ago], we were able to play for a Sugar Bowl [two seasons ago, later vacated] and a Fiesta Bowl [four seasons ago]. The one thing we can't say is that we went undefeated throughout a season.
"For this class and what we've gone through, for us to be able to go 12-0, that'd be probably my biggest accomplishment since I've been in school. We're going to make sure we do everything to make that happen."
Boren credits Meyer and the staff for keeping the focus on the immediate. The team doesn't shout "12-0!" at the end of practice or have any signs about going undefeated. Instead, the signs around the complex point to the next win total. There were a lot of 10s displayed before the last game against Illinois, and there are a lot of 11s displayed this week.
Meyer said Tuesday he considered selling the Wisconsin game as Ohio State's Big Ten championship and the Michigan game as the Buckeyes' bowl. But the team doesn't need that.
"I don't think we're going to have to make any special T-shirts or talk about bowl games or championships," he said. "... There's no issue with us getting ready for this game."
The Buckeye seniors also understand that this season is a starting point.
"We wanted to make sure we had a good first year under Coach Meyer and a good last year for us," Boren said. "This program's just going to take off, and we wanted to help any way possible. We knew if we could set the tone this year and have a good season, even when nothing really counted, that the younger guys will learn how to win."
The three championships will be back on the table in 2013. Ohio State likely will be favored to win the Big Ten and possibly the Rose Bowl, and the Buckeyes will be mentioned as a potential national title contender. They'll attempt to record a season to remember.
Just like they're doing now.
"Any time you can go undefeated and finish strong, especially with this senior class, you'll definitely leave a legacy," Boren said. "Even in a season where we can't go to the Big Ten championship game or a bowl game, you can still have a season that you will always remember."
November, 8, 2012
11/08/12
10:15
AM ET
Ten items to track around the Big Ten in Week 11.
1. Leaders of the pack:
How nutty is the Leaders Division? There could be only one bowl-eligible team (Wisconsin). Indiana could represent the division at the league title game with a 5-7 record. Oh, yeah, and Wisconsin and Indiana are playing an incredibly significant game on the second Saturday of November. Pretty sure no one predicted that. Wisconsin can secure a spot in the Big Ten title game with a victory in Bloomington, where the Badgers have won six of their past seven games. Indiana, meanwhile, plays arguably its biggest home game in decades. A win puts the Hoosiers in the driver's seat to represent the Leaders Division in Indy with two games to play. But Kevin Wilson and his players aren't getting wrapped up in the hype. "We're 4-5 and 2-3 in the league," Wilson said. "We always play in bad TV slots and we don't get much coverage, so we're going to just keep plugging along and getting better. ... We are a long way from being a good football team."
2. The M&M QBs matchup:
Arguably no two Big Ten players have improved more from the 2011 season than Penn State quarterback
Matt McGloin
and Nebraska signal-caller
Taylor Martinez
. McGloin leads the Big Ten in passing (270.7 yards per game), while Martinez is second (215.7). They rank second (Martinez, 289.7) and fourth (McGloin, 271.2) in total offense, and they're tied for the Big Ten lead in touchdown passes with 18. The two men share the field Saturday at Nebraska's Memorial Stadium, where Martinez has been very good. Martinez needs just 190 passing yards to become Nebraska's all-time leader, and he just needs four more passing touchdowns to tie Zac Taylor's team mark. McGloin needs four touchdown strikes to pass Daryll Clark for Penn State's career record.
[+] Enlarge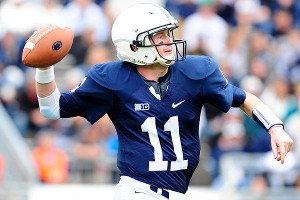 Evan Habeeb/US PresswireMatt McGloin and Penn State are looking to go 4-0 on the road in Big Ten play this year.
3. Quarterback questions:
While both Nebraska and Penn State know who will be leading their offenses Saturday, other Big Ten teams have questions at the most important position on the field. Coach Bret Bielema has made a decision on a starter for the Indiana game, and while he's not revealing it publicly,
Curt Phillips
reportedly will
finally get his shot to lead the offense
after years of battling injuries. Michigan coach Brady Hoke also isn't saying much about the availability of top quarterback
Denard Robinson
(elbow), who sat out last week. Both Robinson and backup
Devin Gardner
took reps in practice this week. Indiana and Northwestern, meanwhile, have had ups and downs with their respective quarterback rotations this season. Indiana's
Cameron Coffman
and Northwestern's
Kain Colter
both stepped up big in their most recent performances. Will the coaches stick with them on Saturday?
4. Gophers' one win away:
Minnesota coach Jerry Kill always talks about the time it takes to build a program, and he's right. But the Gophers can take a significant step Saturday when they visit slumping Illinois. A victory makes Minnesota bowl eligible and likely ensures the Gophers go somewhere warm for the holidays for the first time since the 2009 season. After wasting several opportunities last week against Michigan, Minnesota must capitalize in Champaign or run the risk of a late-season slide. The Gophers finish with Nebraska on the road and Michigan State at home, so they really need this one. Minnesota has won its past three road games against Illinois, last falling at Memorial Stadium in 2001. The Gophers are 0-2 on the road this season.
5. Boilers, Hawkeyes on the ropes:
Once-promising seasons for both Purdue and Iowa have spiraled out of control in recent weeks. The Boilers have been blown out in four of five Big Ten games and must win their final three contests to go bowling. Fourth-year coach Danny Hope is under fire --
Purdue reportedly is putting feelers out for a new coach
-- but maintaining his eternally optimistic view, saying this week, "I'm not going to let a disgruntled fan or any one person take my spirit away or take away from what it is that we're here to do, and that's to coach football and have fun and to win." Purdue needs a win as it travels to Iowa, where head coach Kirk Ferentz is also feeling the heat (although he has no chance of being fired). Iowa hopes to avoid its first four-game losing streak since the 2007 season.
6. November reign:
Every Big Ten team is hoping to make it a November to remember, and several Big Ten coaches have done their best work in the season's pivotal month. Wisconsin's Bielema is 17-3 in November games during his six previous seasons as Badgers boss, including a 9-3 mark in November road contests. Nebraska's Bo Pelini boasts a 13-4 mark in November games, although he went 2-2 in his first November in the Big Ten. Pelini has lost to only one unranked team in November at Nebraska (Northwestern last season). Speaking of the Wildcats, they are 10-5 in November in the past four seasons. Pat Fitzgerald is 13-8 overall in November games at Northwestern, which squares off against a Michigan team that went 3-1 in November in Brady Hoke's first season as coach. There's more of this coming next week, as Ohio State's Urban Meyer (33-7 in November) and Michigan State's Mark Dantonio (13-4 in November) return to the field.
7. Road warriors:
Missed field goals cost Penn State in its first road game at Virginia, but since then, the Lions have been dominant away from Happy Valley, winning their three Big Ten road games by a combined score of 107-30. Penn State aims to sweep its Big Ten road schedule for just the third time (previously done in 2009, 1994) in its 20-year history as a member of the league. Bill O'Brien is one of only five first-year Big Ten coaches (Meyer being another) to win his first three league road games. Former Ohio State coach Earle Bruce is the only Big Ten coach since 1950 to win his first four conference games on the road, accomplishing the feat in 1979. Nebraska provides by far the toughest road test for Penn State, which makes its first trip to Lincoln since 2003.
8. Stayin' alive in Ann Arbor:
Although Michigan is tied with Nebraska atop the Legends Division and Northwestern is just a game back, both the Wolverines and the Wildcats would lose head-to-head tiebreakers with the Huskers, making their margin for error razor-thin. The loser of Saturday's Northwestern-Michigan game at Michigan Stadium could completely drop out of the race, especially if Nebraska defends its home turf against Penn State. Northwestern is 16-9 in true road games since the start of the 2008 season, including a win at the Big House in 2008, but Michigan has been perfect (12-0) at home under Hoke, averaging 37.8 points and 465 yards per game this season.
9. Unlucky 13:
The one number Minnesota wants to avoid Saturday -- unless it's signifying a victory -- is 13. The unlucky number has been exactly that for the Gophers this season, as they've scored 13 points in all four of their Big Ten losses (against Iowa, Northwestern, Wisconsin and Michigan). Minnesota has moved the ball decently at times, but has struggled to translate yards into points and has repeatedly stubbed its toe in the red zone. The Gophers have scored touchdowns on only 16 of 30 red zone opportunities this season and on only 6 of 13 opportunities during conference games. Illinois actually ranks in the top half of the Big Ten in red zone defense, so Minnesota will have to be more polished in Saturday's game, especially if top wide receiver
A.J. Barker
(ankle) can't play. The Gophers likely won't need many points to win -- Illinois has scored 24 or fewer in eight of nine games -- but another 13-point performance could spell trouble.
10. Veterans Day tributes:
Several Big Ten teams honor the nation's military veterans Saturday, including Iowa, which will don special uniforms for its game against Purdue. The
Hawkeyes are expected to wear
silver pants, black shoes and silver helmets, and the nameplates on the backs of their jerseys will list a branch of the armed services -- chosen by each player. Illinois will
have several veterans tributes
for its game against Minnesota, including the coaching staff wearing camouflage hats and American flags being passed out to the first 10,000 fans at the game.
October, 22, 2012
10/22/12
11:23
AM ET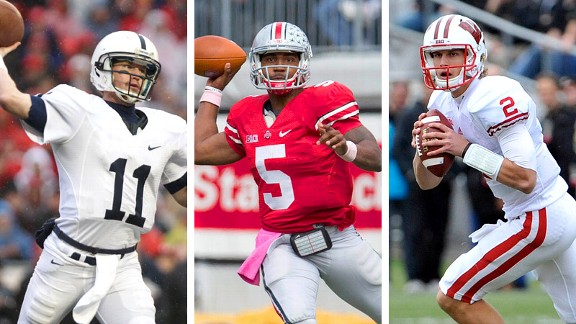 US PresswireThe recent performances by (L to R) Penn State's Matt McGloin, Ohio State's Braxton Miller and Wisconsin's Joel Stave give the Big Ten some hope for improved quarterback play.
Of the many theories to explain the Big Ten's collective struggles this season, the one about the league's dearth of elite quarterbacks certainly rings true.
Through eight weeks, the Big Ten has just one quarterback ranked among the nation's top 30 in pass efficiency (Nebraska's
Taylor Martinez
at No. 15). The league has just one quarterback in the nation's top 30 in completions per game (Penn State's
Matt McGloin
at No. 19). The league has zero quarterbacks ranked in the nation's top 30 in total passing yards.
As former
Ohio State coach Earle Bruce told me last month
, "A team can't get cut short at that position. I don't know whether the evaluation of the quarterbacks has been wrong, or they had injuries or whatever, but the quarterback position is down in the Big Ten. There's no doubt about that."
Bruce is right. There's no doubt. But there's also hope on the horizon for a league that hasn't had a quarterback selected in the first round of the NFL draft since 1995 (Penn State's Kerry Collins).
I sat in Kinnick Stadium on Saturday night and watched McGloin pick apart what had been a pretty salty Iowa defense. McGloin had complete command and tremendous awareness of his receivers and tight ends. He made correct reads and confident throws. McGloin's mobility is, well, limited, but one of his best plays came in the first quarter, when he evaded the rush and spotted tight end
Jesse James
on a deep crossing route to set up Penn State's first touchdown. As I
tweeted at the time
, McGloin is simply a different quarterback.
The same Matt McGloin who looked lost for much of the past two seasons has thrown 14 touchdown passes and just two interceptions in 259 pass attempts. The same guy whose selection as the Lions' starting quarterback this spring elicited groans from much of Nittany Nation, and understandably so, is by far the best drop-back passer in the Big Ten. Some say that's an indictment against the league, and they're right to a degree. But it's also a tribute to what new Penn State coach Bill O'Brien can do with a quarterback.
If O'Brien can do this with McGloin, a former walk-on (sorry, Matt, had to mention it) in one offseason, think of what he can do with a quarterback who comes to Penn State with bona fide next-level potential. Like Christian Hackenberg, the nation's No. 1 quarterback prospect, who has verbally committed to O'Brien and the Lions.
There are other reasons for optimism at the most important position on the field. Ohio State's
Braxton Miller
has exceeded all expectations in his first year as a spread-offense quarterback. Whether or not Miller hoists the Heisman Trophy in December -- or even gets to New York for the ceremony -- he'll enter 2013 as the likely Heisman front-runner. There's little doubt Miller's skills fit seamlessly with what Urban Meyer and Tom Herman want to do on offense.
Youth is a common theme among current Big Ten quarterbacks. New offensive systems is another.
Minnesota coach Jerry Kill pressed the fast-forward button Saturday, burned
Philip Nelson
's redshirt and decided the future is now at quarterback. While Nelson made some expected mistakes in his first career start at a very tough venue (Wisconsin's Camp Randall Stadium), he also showed why Minnesota fans are so excited about his potential. The experience this fall only will make him better in 2013.
The other quarterback on the field at Camp Randall Stadium, Wisconsin freshman
Joel Stave
, also is hardly a finished product. But he's a good play-action passer who doesn't make a ton of mistakes in a newish offense. Stave is another guy who should be better in 2013. Wisconsin also will have
Danny O'Brien
,
Jon Budmayr
and heralded recruit
Bart Houston
, provided Budmayr and Houston recover from their injuries.
Northwestern sophomore
Trevor Siemian
is another young Big Ten quarterback who looks his age. He's a half-step slow on his reads and his deliveries, and he's not connecting on the short-to-midrange routes that have defined Northwestern's offense for years. The good news is coordinator Mick McCall has a proven track record of developing younger quarterbacks into top-level Big Ten players in their junior and/or senior seasons (Dan Persa, Mike Kafka, C.J. Bacher). There's no reason to think Siemian, who has played more than the others as a sophomore, won't make a similar jump in 2013.
Look around the Big Ten, and most of the current signal-callers will be back next fall.
Nebraska's Martinez is a confounding player at times, particularly away from Lincoln, but he also has undoubtedly improved in 2012 -- he completes a league-best 67 percent of his passes with 15 touchdown strikes and four interceptions -- and will enter next year as one of the nation's most experienced quarterbacks. Another player who falls under that label is Illinois'
Nathan Scheelhaase
, who has had his struggles this season but also has been operating in a new system with barely any weapons around him. Scheelhaase and the Illini offense will be better in 2013.
Indiana might have the Big Ten's deepest group of quarterbacks in 2013, as
Tre Roberson
returns from injury to join
Cameron Coffman
and
Nate Sudfeld
in a pass-oriented scheme coordinated by Seth Littrell.
This isn't to suggest Big Ten teams don't have concerns at quarterback, both now and in years ahead.
Andrew Maxwell
's struggles at Michigan State are unsettling. Then again, he's a first-year starter with no proven receivers. Michigan loses one of the most productive players in team history in
Denard Robinson
. Then again, Robinson's departure accelerates Michigan's transition to the true pro-style offense Al Borges wants to run. If incoming recruit
Shane Morris
is as good as advertised, Michigan's future at quarterback looks promising.
No one expected Iowa's
James Vandenberg
to struggle so much in his senior season. Then again, the Hawkeyes are operating in a new offense under Greg Davis, and another full offseason could pay dividends for the new starter (most likely
Jake Rudock
).
The quarterback spot is and has been a problem in the Big Ten. There's no sugarcoating it.
But I saw reason for optimism with McGloin in Iowa City, and the combination of coaches, new systems, maturing players and incoming recruits suggests better days lie ahead.
September, 28, 2012
9/28/12
4:30
PM ET
Some questions and answers before the weekend. Not surprisingly, a lot of you are weighing in on
this story
.
CK from Seattle writes:
I'm going to call it right now Adam. B1G has a good bowl season (or at least better than recent years -- not saying much I know). Reason being the B1G teams seem to often play higher ranked teams and teams playing close to home. With our poor rankings this year, I imagine we'll have some more even matchups. That said -- Wisconsin has looked terrible, Michigan isn't impressive, MSU struggled against mediocre ND and Nebraska had a laugher in Cali. Verdict is still out on OSU. Well -- after saying that, I feel less confident, but still think we'll get better matchups this year.
Adam Rittenberg:
CK, you very well could be correct. It's hard to envision the Big Ten keeping its streak of multiple BCS berths alive. Then again, I've thought the streak would end in the past, and it hasn't, as Big Ten teams and their massive fan bases remain so attractive to the big bowls. The matchups undoubtedly would be better and potentially more appropriate if the Big Ten only sends a team to the Rose Bowl. And if the Big Ten does well, I think the league will get credit because difficulty of bowl lineup doesn't seem to matter much with how leagues are perceived. That said, the Big Ten has to start winning Rose Bowls again. One victory in the past nine is pretty bad.
---
Dan from Austin, Texas, writes:
As a proud PSU alum, it's tough to see the conference in this state. I agree with the premise you are attributing this to, however to understand why the talent pool is low, you have to understand what QBs in other markets are doing all year round. Look at how many Texas QBs are leading D1 programs around the country and starting in the NFL. The reason 7-on-7 leagues that were started about 10 years ago. You now have a generation of Texas QBs who have been able to have 2x to 3x more reps than QBs in the North.
Adam Rittenberg:
I think 7-on-7 leagues are a factor, Dan, but spring football in the south might be a bigger one. Former Purdue coach Joe Tiller told me that from a talent standpoint, the recruits he landed from Texas and other states weren't way above those from the Midwest. But the fact that the Midwest kids didn't have spring football in high school made them less prepared to play college ball right away. "The southern states are really getting the edge," Tiller told me. "Florida with their spring practices and Georgia with their spring practices and Texas with their spring practices, those kids, I know when we recruited them to Purdue, they were just advanced players over the guys we were getting out of the Midwest. They weren't necessarily more gifted naturally, but they were just advanced in the sense that they played so much more football." Tiller also noted that some southern states (Texas) have longer regular seasons than those in the Midwest, so players are playing more games before they arrive at college.
---
Steve from San Francisco writes:
I can't agree with Earle Bruce, and not just because I went to Michigan. I think the quarterbacks in the league are not the problem. Look at Alabama. Greg McElroy and
AJ McCarron
have led them to National Championships and they are not NFL caliber quarterbacks. Maybe they will be backups for a while, but they aren't carrying those teams, it is the top-down talent around them -- strong defenses, speedy, large, wide open receivers, and huge, yardage-churning running backs. Go back to UM-Bama to start the season, McCarron's and
[Denard] Robinson
's numbers were eerily similar, and how close was the final score? McCarron missed a bunch of receivers too, he just happened to also have 3 running backs tearing up the field. The question is: will the Big Ten ever be able to pull enough talent in all schools so that every class has the depth to match the SEC and I think the answer is no. I wanted to go to Michigan, but I grew up in the north. Most of the talent these days is in the south. Why would they ever go to a place that is frozen in the winter when they could be in the sun with girls in bikinis? Yes, you get your one-offs, but it is all positions talent and depth where the Big Ten has lost its prestige.
Adam Rittenberg:
Some good points here, Steve. Bruce also told me the running back position is down in the Big Ten, and while I don't necessarily agree with him there, the number of elite QB-RB combinations might not be as high as it should be. The wide receiver spot certainly has been down in the league, and I would also look at cornerback as a weakness in recent years. Everyone points to defensive line play and says that's where the SEC has the advantage, but I look at the linemen the Big Ten has produced in recent years -- J.J. Watt, Ryan Kerrigan, Cameron Heyward, Jared Odrick etc. -- and don't see a massive shortage. Maybe there's not as much depth in the Big Ten as there is in the SEC, but I don't think there's a dearth at defensive line. Your last point is spot on. The issues go beyond just one position, and it's hard for the Big Ten to recruit overall rosters that can match the best teams from the SEC.
---
Brutus from the Ninth Circle writes:
Hey Adam, have a question about Penn State. With the departure of
Paul Jones
, I'm beginning to think that there are 2 key things going on. First, [coach Bill] O'Brien knows that he has to get the scholarships down to a certain level and he has to "trim the fat," if that's the right phrase. Second, every team has under-performers, so they would be the first to go. It seems to me that BOB is cleaning house to get to the levels that he needs to be at, protecting the core players, and lightening the load with players that are less critical. Jones was the 3rd string quarterback and way down the list on TE. Seems like a good call to let Jones go. Thoughts?
Adam Rittenberg:
Brutus, I don't think O'Brien is running players off from Penn State. I think he's being honest with them about their futures, and he didn't see a future for Jones at quarterback for the Lions. I believe O'Brien when he said he saw Jones as a contributor at tight end, but ultimately Jones wanted to play quarterback, as
he tweeted Wednesday night
, and he couldn't do that at Penn State. It's probably too soon to how Jones would have fared as a tight end for PSU, and there are quite a few players ahead of him at that spot. While I don't think O'Brien will lie awake at night thinking about how he could have kept Jones in State College, I don't think he's thrilled to see Jones leave. As O'Brien said Thursday night, Jones just needed a fresh start.
---
Dylan from Nebraska writes:
Adam, Is there a Big 10 team that could, with some help, still contend for a national title? Would a 1-loss Nebraska, or Michigan St team make it? Would an undefeated Minny or Northwestern make it?
Adam Rittenberg:
It's very hard to envision any Big Ten team taking the field in Miami on Jan. 7. The problem is the Big Ten didn't do much of anything in the first four weeks to justify having a 1-loss team make the title game ahead of comparable squads from other conferences. Between Minnesota and Northwestern, I'd say Northwestern would have the better chance because it has a slightly stronger strength of schedule than the Gophers do. And while I've been impressed at what both teams have done, there's little to believe either squad will run the table, especially in the tougher division (Legends). UCLA, which beat Nebraska, already has a home loss to Oregon State, pretty much eliminating the Huskers. Maybe if Notre Dame runs the table and so does Michigan State, there would be a slight, slight chance. But it's hard to see a national title game without featuring a team from the SEC, which has won the past six championships.
---
Jesse from Lansing writes:
Adam -- Coach Kill seems to be a great fit for Minnesota right now. He doesn't reek of that used car salesman attitude (all talk-no walk) that [Tim] Brewster brought to the U. I am really enjoying his matter-of-fact, tough-love gotcha style and the fact that he's more focused on developing his players than the previous regime. Points also for the consistency brought on by his loyal coaching staff. Say Kill is able to build back this program in the next 3-4 years, what are the chances another BCS program lures away him away? I would like to think he's happy here and would stick around for a while. The U administration has been more than generous in providing him the resources he needs to get the job done as well as the time (7-year contract, I believe). Still, Bill Snyder can't stay at Kansas State forever, and being a native Kansan, that would be another opportunity for him to say retire close to home.
Adam Rittenberg:
Jerry Kill might not have been Minnesota's first or second choice, but the guy looks like the right choice for a long-suffering Gophers program. He has definitely paid his dues in coaching at the lower rankings, and he doesn't take this opportunity for granted. That said, he obviously has ties to the Kansas area. Ideally, Kill would build up Minnesota's program enough so a move to Kansas State would be more lateral than an obvious step up. I don't get the sense he's a guy who wants to keep moving around every few years, but I doubt you're the only Gophers fan who made the connection to the K-State situation. Kill won't make any move until he feels like he has built up the program sufficiently, which likely is still a few more years away.
---
Nick from Jacksonville, Fla., writes:
Hi Adam. I am a die-hard, but very realistic Iowa Fan. Its probably taboo to make comparisons between the last 4 years of Hayden Fry's dismal career and where Kirk's career currently is. The reality is Hayden Fry recruiting significantly diminished after the Tavian Banks/Tim Dwight era which led to more losses. Ferentz had to completely rebuild Iowa. Over the last few years the talent, development has reduced with the losses increasing. Ferentz use to personally coach special teams and it showed. Since he stopped coaching them they have gone down hill ... quickly. I see him now more as a figure-head like Hayden Fry's last years. Do you see these comparisons as well? The angst is growing in Florida among the Iowa fans.
Adam Rittenberg:
Nick, I can understand your frustration, and I doubt you're the only one making that comparison. While Iowa's program undoubtedly has lost momentum since 2009, I don't know if there has been a huge drop in talent. Iowa never was talented enough to overcome mistakes like running away from an onside kick or committing a dumb personal foul penalty in the closing seconds of a 2-point game. Most of Ferentz's teams have played smart, fundamentally sound football and often played above their collective talent level to win a lot of games. I don't think the 2012 Hawkeyes fit this description. It's fair to wonder if players are being developed as well as they used to in Iowa's program, but aside from a handful of recruiting classes (i.e. 2005), I haven't seen major differences in the types of players Iowa signs. I'm sure the facilities upgrades will help in recruiting, and I also think Ferentz has a lot left as a coach. But it's definitely a rough situation right now in Hawkeye Country.
---
Charlie from Ames, Iowa, writes:
Adam, Just listened to your "Game of the Week" talk and noticed you said that
Le'Veon Bell
is the Big Ten's best running back. I think that's a little presumptuous to proclaim this early in the season. Based on a larger time scale (last year) and his performance in limited time this year, I'd still take
Rex Burkhead
. Now, I know what you're going to say. You're going to pull out the Brian Bennett card and base everything you think, do, and say on "body of work." But, this isn't directly about body of work, it's who you think is best based on all past performances and projected future performances. Although Bell will unquestionably, unless he gets hurt, finish the year with more yards than Burkhead, don't you think Burkhead deserves just as much mention for the Big Ten's best running back?
Adam Rittenberg:
Charlie, my comment pertained strictly to this season. No one would argue -- aside from a few Northwestern fans -- that Bell has been the Big Ten's best running back this season. We've barely seen Burkhead, and he could turn out to be the league's top back, but he hasn't been to date this season because of the knee injury. Burkhead's overall career has been more impressive than Bell's, but I think Bell has closed the gap -- more because of what he has done lately, not because of any shortcomings with Rex's game. I will say this: Le'Veon Bell
projects better to the NFL than any back in the Big Ten
, including Burkhead and
Montee Ball
. If he keeps this up, he could be a potential first-round pick in next year's draft if he chooses to forgo his senior season.
---
Dave from Denver writes:
Does Schlabach get paid by the SEC too?
Adam Rittenberg:
Only in joy.
January, 12, 2012
1/12/12
6:31
PM ET
Former Notre Dame assistant coaches Ed Warinner and Tim Hinton officially joined head coach Urban Meyer's staff at Ohio State on Thursday, the Buckeyes announced.

Warinner will coordinate the running game as the team's co-offensive coordinator/offensive line coach. Hinton will be the tight ends and fullbacks coach.
"I was very pleased with the coaches already in place on this staff," Meyer said in a statement, "and now we've gotten even better with the additions of Ed Warinner and Tim Hinton. Both are excellent coaches who bring a tremendous amount of experience and knowledge to our staff."
Warinner had served as the Irish's offensive line coach and running game coordinator. Hinton was the team's running backs coach.
Notre Dame coach Brian Kelly had promoted former safeties coach Chuck Martin, not Warinner, to offensive coordinator when Charley Molnar left the post to become head coach at Massachusetts. Warinner had served as Kansas' offensive coordinator for three seasons before joining the Irish.
"I really wanted to hire a coach with coordinator experience," Meyer said. "That was very important to me. Ed has that experience. His offenses at Kansas were not only impressive, but they were some of the top offenses in the country."
Hinton had served as a graduate assistant with Meyer under former Buckeyes coach Earl Bruce in 1986, and his named had been linked to Meyer's staff the minute Meyer was hired by the Buckeyes, though he had previously denied any interest.
"Tim is an awesome coach," Meyer said. "He and I worked together on the Ohio State staff in 1986, but what I am most impressed with is his time spent as a high school coach in Ohio. He had some outstanding teams at Harding, and his extensive experiences coaching in the state were crucial in my desire to want him on our staff."
"I have always felt it would be an honor to have an opportunity to coach for and to represent Ohio State," Hinton said in a statement. "This is a once in a lifetime opportunity to be able to work with great people and great coaches at such a wonderful place."
Both assistants are Ohio natives -- Warinner from Strasburg; Hinton from Amanda.
"I've always strived to coach in positions where I have a lot of responsibility," Warinner said in a statement. "Serving as a coordinator goes beyond just coaching what my guys are doing. It is a thought process of attacking and moving the ball, and strategies and reading plays. There is a big picture as a coordinator that I am into and really enjoy, and it's a position from where I think I can make a significant contribution to the success of a team."
November, 28, 2011
11/28/11
12:10
PM ET
Ohio State football is headquartered at the Woody Hayes Athletic Center. The Buckeyes play their home games at 411 Woody Hayes Drive.
[+] Enlarge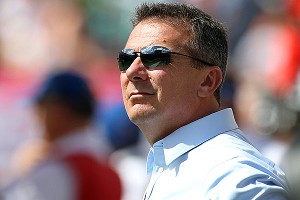 Robert Mayer/US PresswireOhio State has never hired a coach with a resume as impressive as Urban Meyer's.
No name is more synonymous with Ohio State football than Wayne Woodrow "Woody" Hayes, the Buckeyes' coach from 1951-78. He's a college football icon and Ohio State royalty. Hayes was bigger than the program.
But he didn't arrive that way, coming to Ohio State from Miami (Ohio). Ohio State's subsequent coaches -- Earle Bruce, John Cooper and Jim Tressel -- made similar, somewhat understated entrances, from Iowa State, Arizona State and Youngstown State, respectively. Tressel, like Hayes, achieved icon status at Ohio State, but only after he had been on the job for a while. And the buttoned-down, sweater-vested Tressel never truly became bigger than the program, at least not like Hayes.
Enter Urban Meyer, rock-star coach. Roll out the scarlet carpet. Ohio State has never seen anything quite like this.
Meyer, expected to be introduced as Ohio State's coach today at a news conference scheduled for 5:15 p.m. ET, comes to Columbus as one of the biggest names in college football. He has won two national championships and enjoyed tremendous success at his three previous coaching stops (Florida, Utah and Bowling Green). He doesn't come to Ohio State from another program, but from ESPN, where he has been on your TV screen throughout the college football season.
When Ohio State introduces Meyer as its next coach, no one is going to look at the podium and ask, "Who's this guy?"
Meyer likely will talk about coming home to Ohio, and to a program where he got his start in college coaching as a graduate assistant in 1986. He'll discuss the program's tradition and mention its status, until recently, as a powerhouse both in the Big Ten and nationally. He'll try to make it about Ohio State.
Not happening. Urban Mania is sweeping through Columbus, and Meyer will be the top story in college football during the first part of championship week. The spotlight will be on Meyer's decision to return to coaching, his health status and whether he was hypocritical for leaving Florida. Coaches rarely make the jump from one national powerhouse to another -- with a network TV gig in between -- but Meyer always has been on a faster track.
This is a big-time, big-money, big-splash hire for the Scarlet and Gray.
How will Ohio State react to a coach who's bigger than the program? Most fans will be and should be thrilled, especially after a subpar season and a nightmarish 11 months. But there could be some skeptics as well, unsure of the new coach with the championship rings and the good looks and the glitzy offense.
Buckeye Nation will agree on one thing: expectations for Meyer. They'll be sky-high.
Tressel had consistent success at Ohio State, but his program lacked flashiness of other elite ones around the country. I remember covering USC-Ohio State in 2009, and attending USC's walk-through at Ohio Stadium the day before the game. Hollywood had definitely come to flyover country.
Meyer might not be Hollywood, but he's in the neighborhood.
And it's not just Meyer who will increase Ohio State's Q score. Tressel assembled quite possibly the most anonymous staff of any national program. He had some good assistants, but you rarely heard much about them outside Columbus.
Just a hunch, but Meyer's staff will have a little more national appeal.
Meyer ultimately will be judged by what he does
after
he gets the Ohio State job. And he should be. The same held true for Hayes, Tressel and the others.
But unlike previous Buckeyes bosses, Meyer won't have to introduce himself to Ohio State. Everyone already knows who he is.
The spotlight is ready and the big show is coming. Brace yourself, Columbus.
November, 20, 2009
11/20/09
9:52
AM ET
Ohio State-Michigan doesn't matter.
That's the general sentiment around the country this week as college football's greatest rivalry gets ready to resume Saturday at Michigan Stadium (ABC, noon ET). One of my esteemed colleagues called this the "most uninspiring November weekend in recent memory." There are valid reasons for this belief, namely Michigan's 5-6 record, Ohio State's guaranteed BCS bowl berth and the likelihood that Wolverines head coach Rich Rodriguez will be safe no matter what takes place between the lines on Saturday.
I say let them thumb their noses at The Game. You and I know better. The Game always matters.
As I watched the end of the 1987 Ohio State-Michigan game (Earle Bruce's final triumph) and the start to the high-scoring 1988 contest on ESPN Classic during lunch Thursday, I started to get excited about Saturday's contest.
Here are some reasons why:
Throwback jerseys:
Ohio State will don helmets and uniforms honoring its 1954 national championship team, a decision that drew mixed reviews from Buckeye Nation. The helmets certainly give the players a different look. Ohio State just hopes there won't be a different result after dominating Michigan under head coach Jim Tressel.
Justin Boren:
Boren's departure from Michigan and his parting shot that the team's "family values have eroded" was in many ways the first of several public setbacks for Rodriguez. It didn't help when Boren transferred to archrival Ohio State. He now leads an improving Buckeyes offensive line into the Big House, where he figures to receive a rough reception from the crowd. I'm definitely excited to see Boren take on Michigan star defensive end Brandon Graham.
Last stand for Wolverines:
A Michigan loss ends the season for the Wolverines, who seemed destined for a decent bowl game after a 4-0 start. The sense of urgency in this one certainly rests with the Wolverines, who try to end a five-game slide against their archrivals in most unlikely fashion. A win doesn't wash away a miserable Big Ten season, but it certainly eases the pain and allows Michigan the right to celebrate.
Terrelle Pryor and the spread offense:
When Pryor sputtered midway through the season, people started buzzing about how the quarterback would have been better off in Rodriguez's offense at Michigan. Last year's Wolverines didn't have the trigger man to effectively run the spread, but freshman quarterback
Tate Forcier
fits the scheme. It will be interesting to watch how Pryor fares against Michigan's vulnerable defense and contrast that with how Forcier fares against Ohio Sate's D.
Ohio State vs. another young QB:
It's hard to explain, but Ohio State's defense has performed much better against experienced quarterbacks than young ones this fall. The Buckeyes shut down Penn State's
Daryll Clark
, Minnesota's
Adam Weber
and Illinois'
Juice Williams
, but they struggled at times against USC true freshman
Matt Barkley
and Iowa redshirt freshman
James Vandenberg
, who made his first career start last week. Forcier comes off of a solid effort against Wisconsin, but he needs to have his best performance of the season to give Michigan a shot.
Ohio State aims for outright title:
The Buckeyes already have clinched at least a share of the Big Ten title for the fifth consecutive season, but they want more. A victory Saturday clinches the Big Ten title outright for the third time in the past four seasons. An Ohio State loss means the Buckeyes might have to share the crown with as many as three other teams (Iowa, Penn State and Wisconsin).
November, 4, 2009
11/04/09
9:55
AM ET
Posted by ESPN.com's Adam Rittenberg
Ohio State heads to Penn State on Saturday as the underdog, trying to avoid a loss that would end its run of four consecutive Big Ten titles (won or shared) and four consecutive BCS bowl games.
| | |
| --- | --- |
| | |
| | Gregory Shamus/Getty Images |
| | Jim Tressel has a 23-4 record in November in eight previous seasons at Ohio State. |
The Buckeyes are the younger team, the more banged-up team, the team with more question marks and the lower-ranked team. Plus, their Big Ten road win streak is over, snapped in shocking fashion Oct. 17 at Purdue.
But one factor still favors the Scarlet and Gray: the calendar.
It reads November, and under head coach Jim Tressel, Ohio State owns November.
Tressel boasts a 23-4 record in November in eight previous seasons at Ohio State, never losing twice in the month and dropping only one game since 2004. Last year, Ohio State won its three November games by a combined score of 117-37. During the last four seasons, Ohio State has outscored its opponents 416-174 in November games.
"Coach Tressel puts it as, 'Septembers are for pretenders and Novembers are for contenders,'" junior linebacker Ross Homan said. "In order to be great, you have to be great in November. That's what you strive for, year in and year out."
Tressel picked up the catchphrase from former Ohio State coach Earle Bruce, whom he worked for in Columbus from 1983 to 1985. He has emphasized it to his team each season, particularly this one, as Ohio State plays a backloaded schedule that finishes with No. 11 Penn State, No. 4 Iowa and archrival Michigan.
The Buckeyes still can win the Big Ten and reach their first Rose Bowl since 1997 by sweeping the final three games.
"We hope that we're teaching every day, we hope we're evaluating the same whether we're winning or we're not winning," Tressel said. "We hope that there's progress and learning going on at all times. And if indeed that's the case, then logically you should be better at the end of the year.
"You hope to enter the month of November with a chance left at your goals."
Ohio State in November under Jim Tressel
Year
Record
Notable
2001
3-1
Upset No. 11 Michigan 26-20 in Ann Arbor
2002
4-0
Held three teams to nine points or fewer
2003
3-1
Lost to No. 5 Michigan; OSU's last defeat in rivalry
2004
2-1
Upset No. 7 Michigan 37-21
2005
3-0
Allowed just 30 points during month
2006
3-0
Beat No. 2 Michigan 42-39 to advance to BCS title game
2007
2-1
Beat two ranked teams but stumbled vs. unranked Illinois
2008
3-0
Won by a combined score of 117-37
September, 12, 2008
9/12/08
4:45
PM ET
Posted by ESPN.com's Adam Rittenberg
| | |
| --- | --- |
| | |
| | Aggie Skirball/WireImage |
| | Pete Carroll, according to former coach Earle Bruce, "really fits the Southern Cal job very, very well." |
Among the dozens of assistants Earle Bruce hired during a two-decade run as a college head coach were the two men whose teams will meet Saturday night at the L.A. Coliseum (ABC, 8 p.m. ET).
Bruce gave USC's Pete Carroll his first full-time coaching job with Iowa State in 1978 before they both went to Ohio State the next season. Carroll departed after 1979 to apprentice for Monte Kiffin at N.C. State. Three years later, Bruce brought in Tressel from Syracuse to coach Ohio State's quarterbacks and wide receivers.
Though Bruce has more history with Tressel and hired Carroll at the infancy of his career, he noticed Carroll's trademark boyish enthusiasm that has restored USC as a national powerhouse.
"Pete was alert, he knew the game of football," Bruce said this week. "He could relate well with kids. The Southern Cal kids, he could relate to better, but he relates to all kids. ... He can teach the game of football. That's what's important, even then. But he's grown."
Tressel and Carroll have been contrasted all week: the conservative, sweater-vested football purist vs. the effervescent mastermind who has proven that you can have fun and win (a lot) at the same time.
Bruce acknowledged that Carroll is "a little loose" with his approach, which can be good and bad.
"That means that maybe sometimes you're loose when you're playing a great opponent, that's OK," Bruce said. "But when you're playing Stanford and you're loose, you lose to a team that's never won a game yet. What the hell are we talking about? You don't want to do that. You want to be a little more steady than that."
Bruce credited Ohio State's businesslike approach for helping avoid a disastrous loss to Ohio University last Saturday.
"We were pretty serious about the game of football," Bruce said of the Buckeyes. "I'm not mocking what approach [Carroll] takes because he's a successful football coach and has done a great job. But regardless, he really fits the Southern Cal job very, very well."