NCF Nation:

Earnest Thomas
March, 7, 2013
3/07/13
5:45
PM ET
Big Ten officials ejected
only one player
(Illinois safety
Earnest Thomas
against Penn State) for a helmet-to-helmet hit during the 2012 season.
If the new NCAA rules for targeting had been in place, that number would have swelled to seven or eight, according to Big Ten coordinator of football officials Bill Carollo. The NCAA's playing rules oversight panel on Thursday approved a new rule that
requires the ejection of players flagged for targeting or contacting defenseless opponents
above the shoulders. The current targeting penalty includes only a 15-yard penalty. The new policy, which goes into effect for the 2013 season, requires the penalty plus an ejection.
[+] Enlarge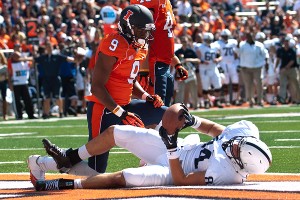 Bradley Leeb/USA TODAY Sports Under new NCAA rules, ejections for targeting a defenseless opponent above the shoulders -- Illinois' Earnest Thomas was the only Big Ten player ejected for that last season -- could become more common.
The ejection for targeting mirrors the one for fighting. Players who commit the foul in the first half miss the remainder of the game, while those who commit the foul in the second half miss the remainder of the game and the first half of the next contest.
"It's a very serious penalty," Carollo told ESPN.com on Thursday. "It's a big change. However, I think it will be a big positive point for the game. When we look back in 3-5 years, I think we're going to say this is a really big moment."
Player safety has become an increasingly bigger point of emphasis for officials in recent years, especially with increased education about the effects of concussions. The Big Ten has led the charge nationally, and while the number of unnecessary roughness penalties in the league has remained about the same, Carollo has seen a slight decrease in helmet-to-helmet targeting fouls.
The hope is that the numbers continue to drop because of the new, stricter policy.
"The impact is not that we're going to throw out a lot of guys," Carollo said. "The impact is we're going to have a lot of coaches and a lot of players adjusting to the rules. It may take a little bit of time, a few months of practice and a few weeks in August, and maybe even a couple games, but I think we'll get some positive results.
"The impact will be positive from the standpoint that players will continue to work hard to lower the target zone and to take the head out of the game."
Carollo and others in his position will spend the coming months working with officials to define targeting as clearly as possible. It can be a tedious process, as there can be helmet-to-helmet contact without obvious targeting, while intent "has nothing to do with it," Carollo said.
Officials will make mistakes -- Carollo has told Big Ten coaches that one out of every 10 high hits called on the field technically was a legal hit -- but their consistency on the field must be as strong as possible. They also
have a safety net of sorts in the replay booth. The replay official will review every on-field targeting penalty that carries an ejection and will rule whether the ejection should be upheld.
"Now we're asking replay to get a little bit involved more in the judgment call," Carollo said. "They do [currently] have some judgment, a few rules where they can create penalties, but the replay person in the booth is not the eighth official. The game is being officiated by the seven men or women on the field.
"Now he'll buzz down once it's targeting, and he'll confirm that hit. ... The targeting calls are going to stand unless there's indisputable video evidence that shows it's nowhere near above the shoulders."
Carollo supports the use of replay in these instances but doesn't want to "make a 5-minute production out of it." The onus remains with the on-field officials.
Carollo also expects to review targeting ejections -- submitted to him by coaches after games -- along with Big Ten commissioner Jim Delany, and, in some cases, reduce the penalty impacting the following contest.
Not surprisingly, Carollo received some "good rebuttals" from "defensive-minded" Big Ten coaches about the proposed change at their annual meeting last month. He told them the policy change was inevitable and showed them plays that may or may not be targeting
, including a block by Nebraska receiver Kenny Bell against Wisconsin cornerback Devin Smith in the 2012 Big Ten championship.
Bell was flagged for a personal foul, negating a touchdown. Carollo thinks the hit merited a penalty, but not an ejection for targeting the head.
The coaches also reviewed the now-famous hit against Michigan's
Vincent Smith
by South Carolina's
Jadeveon Clowney
in the Outback Bowl, which didn't draw a penalty.
"The tackler had his helmet up," Carollo said. "It was helmet-to-helmet, but it wasn't targeting. The helmets kissed, if you will, with the helmet up like that. The helmet came, the ball popped out, all at the same time. It looked vicious because [Smith's] helmet popped off, but technically, it was probably a legal play. That's in the gray area where it's close."
Carollo doesn't expect football to stop becoming fast and violent and noted that many "really vicious" hits are completely legal. But officials are going to err on the side of player safety whenever a blow to the head is involved.
The it's-just-football excuse no longer flies.
"It may be 'just football' for the last 50 years," Carollo said. "But going forward, we're trying to get that play out of the game."
In addition to another revision of the rules on low blocks, the rules committee also approved a rule requiring at least three seconds to remain on the clock in order to spike the ball to stop the clock at the end of halves. Carollo said the change stems from the 2012 Rose Bowl, where Wisconsin's
Russell Wilson
attempted to spike the ball for one more play with two seconds left, but the clock ran out.
March, 4, 2013
3/04/13
9:00
AM ET
Very little went right for Illinois under first-year coach Tim Beckman last year. After a 2-10 season, the Illini are ready to turn the page and look forward to 2013 when they hit the practice field Tuesday.
I recently caught up with Beckman to ask about the pressing issues his team faces this spring. Here is that Q&A:
[+] Enlarge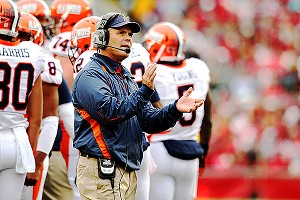 Brace Hemmelgarn/USA TODAY SportsDespite a 2-10 record this past season and a slew of changes on his staff, Illinois' Tim Beckman is full of optimism heading into spring workouts.
You turned over half your staff from last year, with some voluntary departures and some not. What has that been like and how much transition are you going through right now?
Tim Beckman:
Well, it's kind of crazy, because I saw a stat the other day where there's only, like, 22 staffs that haven't changed in college football, so it's been the norm. But I think with the professionalism that coaches have and the guys I've been able to hire into this new family, they're outstanding people. They're professionals, they've been coordinators, they've been head coaches, they've been in great programs. The transition has been good. I've been able to hire two Illini, which is huge, with [receivers coach Mike] Bellamy and [defensive line coach Greg] Colby.
So I think it's been a great transition. Our players have been really excited. With Mike Bellamy, he's been involved with this program for a year. So the kids were pumped when he was hired on staff, because they know him. And now he brings that Illinois flavor to the staff. All the other coaches, we've been working with each other. Jim Bridge was telling me the other day there are four or five other guys that he's been with at other places. So that's one of the unique things, because it's like a fraternity. These guys have worked with one another.
How much will the offense change with new coordinator Bill Cubit?
TB:
Well, it's Bill's offense. It's what Bill was hired for. And that's how it's always been, really, with the coordinators. But I think the uniqueness that Bill has, in coaching against him, is that he's been able to adapt his offense based on personnel. He's had
Jordan White
, a great, great football player. He's had great wide receivers, and he's been able to move them around and adapt his offense to the guys that need to be getting the football.
After a year like last year, what do you do to keep the players' confidence up?
TB:
We went back to a lot of competition, back to a lot of leadership building. We addressed the situation that occurred. I met, as I always do, with each one of the players for 10 minutes. That takes a good week. We did that in December. I asked them what their goals were, because we split up the season into four quarters -- winter workouts, spring practice, summer workouts and then the most important quarter, the season. And I had them set goals for themselves to attain each quarter. So they just wrote out their goals out for spring ball. And I also do the same thing for the team. "What do you want this team to be able to say they can do after each quarter?"
Our motto is win whatever is needed, and win the day. Whatever is needed today for us to become a better and closer football team.
What are your primary concerns for this spring?
TB:
The scenario here is depth. There hasn't been depth. And when you get a young man injured, it hits you drastically because you just don't have that depth. We were able to get 10 young men here in January, five junior college players and five high school players. Junior college wise, there hasn't been a whole bunch here before. There might have been one or two. But we needed to add age to our football team, and that's what the junior college players help us do.
You've only seen the junior college guys in winter workouts so far, but what is your early impression of those guys?
TB:
The first thing that I look at always is how have they been accountability wise. Because it's new. They get in here, and, bam, they're thrown into the fire right away. I'm proud, because they've all been very accountable. We haven't been late for things. Being in school and being a football player hasn't got their minds out of whack or anything like that. They've shown football wise that they can compete, but they've also shown that they're doing a very good job of being accountable on and off the football field.
How do you see the quarterback competition, where you've got a veteran starter in Nathan Scheelhaase but also a guy in Reilly O'Toole who's played a lot and a big-time recruit (Aaron Bailey) coming in?
TB:
As in any position, there's competition. Nathan will go in as the guy, being the starter. Somebody's got to beat him out. But Nathan's won a lot of football games here. We had a tough year, no question, but that's not going to be on Nathan's shoulders. He was getting sacked too many times. All those things you can't have your quarterback doing, getting hit. We've got to get better at protecting our quarterback, and we've got to be able to get the ball out quicker and do those types of things so our quarterback can be successful.
[+] Enlarge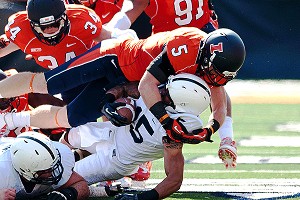 Bradley Leeb/USA TODAY SportsSteve Hull will be trading in delivering hits for making catches on offense this spring.
You talked often last year about the lack of depth at the offensive skill positions. How has that come along?
TB:
It's getting better. Those young men we played with last year have moved up in age. We've taken
Steve Hull
and moved him to offense, so that adds age and depth to that position. Wide receivers and DBs are the big concern here. And we've been able to add freshmen and junior college players to those positions.
Why did you move Hull to receiver?
TB:
He's had some issues with injury. We felt that Steve, for his fifth year, would be better suited to play on the offensive side of the ball to take out maybe some of the direct collisions he was getting as a safety. And he's been great with it. He loves it, and he's emerged as being one of the big vocal leaders on the team.
The offensive line really struggled last year, and you lost two senior starters in Graham Pocic and Hugh Thornton. How does that position group look going into spring?
TB:
Losing the two senior starters, they were dinged up a little bit during the season, so we had to move some players around. But we also had three, really four, players that got a lot of playing time last year. So they should be a year better. I like the philosophy that coach Bridge brings in here as our offensive line coach and what coach Cubit does with the running game. Our offensive line has done a great job these last three months -- and [strength coaches] Aaron Hillman and Dave Andrews get a lot of credit for it -- of getting stronger, getting bigger and doing those things you need to do to be a Big Ten offensive lineman.
You played a lot of freshmen on defense last year, like Monheim and Mike Svetina. Do you expect them to be much farther along this spring because of that experience?
TB:
No question. They're not going to be freshmen that are 18 years old out there starting in the Big Ten. They're going to have a year's experience. We played
Teko Powell
on the defensive line last year so he could gather experience.
V'Angelo Bentley
played a bunch last year as a true freshman, so he got a bunch of experience. Now these players that were just brought in in January, plus the redshirt freshmen, are going to have to step up and be involved in the front and in the back end. You had a guy like a
Jake Howe
, who was playing very good and then broke his hand and was out for the year. You have
Austin Teitsma
, who got quite a few reps last year. Darius Caldwell.
Houston Bates
, who got hurt last year.
Jonathan Brown
. We've got to get those guys back and healthy.
You mentioned concerns about depth in the secondary. What young players do you expect to step up there?
TB:
I think
Eaton Spence
has done a good job for us. V'Angelo Bentley has done a good job. The two freshmen we brought in have done a good job in winter workouts. I haven't seen them on the football field, but they've been doing their change of direction stuff very well. A young man named
Taylor Barton
, a true freshman, has done a good job. Eric Finney, who came in from junior college,
LaKeith Walls
,
B.J. Bello
,
Jevaris Little
-- these are names who have worked extremely hard this season. They're not names a bunch of people know because they've not played yet, other than Spence and Bentley. But these guys have definitely improved.
Have you started identifying leaders on this team yet?
TB:
Well, we have really been pushing it. We've been meeting on it. We've been talking about it as a team and then as individual classes, and then our honor council. We've had a guest speaker come in every Monday and talk about leadership, from military people to a gold medal winner in the wheelchair marathon. So we've really built that in. I've seen players from young and old step up in winter workouts, step up and be leaders. Steve Hull has emerged as a guy who definitely does an outstanding job of leading this football team.
Mason Monheim
, who was a freshman, he's jumped up and taken control.
Earnest Thomas
. Guys that probably weren't as much leaders last year that might not be seniors have jumped up and tried to lead this football team well.
We've got 62 players who are freshmen and sophomores, so there's a big number of guys who have been here three or less years because of redshirts. So we've got to be able to all be leaders in this program, and that's what we're stressing.
Not surprisingly, the fan base was really down on last year. What can you do to create some more optimism?
TB:
I opened up the Friday practices again to the community. This is the University of Illinois. It's our state, our team. We talk about it, and that's the truth. I want to get the community involved in this program. I've always wanted to do that and we're going to do it even more. We're going up to Chicago for a practice. Of course, we've got a game in Chicago at Soldier Field, which is an outstanding opportunity for Illini Nation and those things. We're moving forward.
Nobody was happy with last year. I mean no one. I haven't been involved in that type of year. So we have to move forward and we have to take this program forward. And that's what we asked this football team and this coaching staff to do.
February, 4, 2010
2/04/10
2:23
PM ET
Illinois Fighting Illini
The class
Recruits:
20 (19 high school seniors, one junior college player, three players enrolled early)
Top prospects:
Chandler Whitmer
gives the Illini another option at quarterback as the team tries to replace four-year starter Juice Williams. Wide receiver
Darius Millines
, a last-minute addition, bolsters the receiving corps, while safety
Earnest Thomas
will get a chance to play right away in the secondary.
Sleepers:
Linebacker
Mark Wilson
should help a group that regains the services of Martez Wilson this fall. Arguably the team's most intriguing prospect is junior college safety
Trulon Henry
, the younger brother of former Illinois star
Arrelious Benn
. Henry served nearly five years in prison for armed robbery but has turned his life around and should help in the secondary.
Needs met:
Time will tell if Illinois addressed its need in the secondary, as players like Henry and Thomas need to contribute right away. Losing safety
Corey Cooper
to Nebraska hurt, but embattled head coach Ron Zook and his new-look staff closed recruiting well with players like Millines and
Brandon Denmark
. The wide receiver position should once again be strong this season.
Analysis:
The class isn't drawing high marks, which puts pressure on the coaching staff to develop players for a make-or-break 2010 season. Illinois held onto Whitmer, which could be key, and finished strong after the class looked bleak in early December. If the defensive recruits can come in and contribute this fall, Illinois might be able to stabilize itself on that side of the ball.
Scouts Inc. grade:
C-minus
What Ron Zook said:
"The strengths are the linemen and obviously the receivers. If you go back and you look at who we lost, we filled in the positions. ... Hopefully, we're getting to a point where we don't have to continually count on freshmen playing. Although I think there will be some guys [in this class] who have a pretty good opportunity to do that."
"Darius [Millines] is an unbelievable athlete, he can run like a deer. He probably surprised a lot of people down there because he committed early to West Virginia. Doc Holliday really had a great relationship with him, and he's at Marshall now. I think he has a chance to be a special guy. Jarred Fayson said, 'Coach, he's one of us.' That makes me feel good."

"There's been a lot of negative recruiting going on, but that's part of it. People don't have to say anything. They just take the articles that are written and show them. You're defending your manhood, you're defending everything about you every time you go out there."