NCF Nation:

Eastern Michigan Golden Eagles
November, 30, 2011
11/30/11
11:49
AM ET
Eastern Michigan coach Ron English was selected MAC coach of the year after engineering a terrific turnaround, taking a program that went winless in 2009 to a 6-6 season in 2011.
Northern Illinois quarterback
Chandler Harnish
won the Vern Smith Leadership Award, as selected by the league coaches and given annually to the top player in the conference. Harnish also was selected the MAC offensive player of the year.
Harnish set a school single-season record with 4,043 total yards of offense as the Huskies earned a spot in the MAC title game against Ohio on Friday night.
Western Michigan defensive lineman Drew Nowak was selected defensive player of the year and Ohio kicker Matt Weller was selected special teams player of the year. Bowling Green running back
Anthon Samuel
was named freshman of the year.
English, in his third year at Eastern Michigan, went 2-22 in his first two seasons with the Golden Eagles. But this year, Eastern Michigan went 6-6 overall and 4-4 in conference play. Eastern Michigan had the third-best defense in the MAC and the fourth-best rushing offense.
Nowak tied for the lead in the MAC with 8.5 sacks and ranked second with 20 tackles for loss. He had 83 tackles this year.
Weller leads the conference with 22 field goals and his long of 49 yards is tied for the longest field goal made by any kicker in the conference this season.
Samuel rushed 144 times for 844 yards and five rushing touchdowns. His 844 yards rushing set a school record for the most rushing yards by a freshman.
Toledo led the way with five first-team selections. You can check out all the first, second and third-team selections
here
.
2011 All-MAC First Team Offense
QB: Chandler Harnish, Northern Illinois
C: Scott Wedige, Northern Illinois
OL: Mike VanDerMeulen, Toledo
OL: Trevor Olson, Northern Illinois
OL: Joe Flading, Ohio
OL: Pat Boyle, Temple
TE: Evan Rodriquez, Temple
WR:
Jordan White
, Western Michigan
WR:
Eric Page
, Toledo
WR:
Nick Harwell
, Miami (Ohio)
WR:
Kamar Jorden
, Bowling Green
RB:
Bernard Pierce
, Temple
RB:
Branden Oliver
, Buffalo
PK: Mathew Sims, Northern Illinois
2011 All-MAC First Team Defense
OLB: Aaron Morris, Ball State
OLB: Khalil Mack, Buffalo
ILB: Brian Wagner, Akron
ILB: Dwayne Woods, Bowling Green
DL: Roosevelt Nix, Kent State
DL: Adrian Robinson, Temple
DL: Chris Jones, Bowling Green
DL: Drew Nowak, Western Michigan
DB: Jahleel Addae, Central Michigan
DB: Dayonne Nunley, Miami (Ohio)
DB: Desmond Marrow, Toledo
DB: Sean Baker, Ball State
P: Brian Schmeidebusch, Bowling Green
2011 All-MAC First Team Specialists
KR: Eric Page, Toledo
PR: Eric Page, Toledo
October, 24, 2011
10/24/11
1:00
PM ET
Time to take a look back at Week 8 for the non-AQs:
Quarterbacks rule.
In case you missed it, three quarterbacks had pretty awesome days on Saturday.
Dominique Davis
of East Carolina completed 26 straight passes.
Kellen Moore
of Boise State tied the NCAA record for career wins with 45.
Case Keenum
of Houston became the NCAA career leader for total offense, with the NCAA career passing mark and NCAA career touchdown passing mark in his sights. You can read more about their days
here
.
[+] Enlarge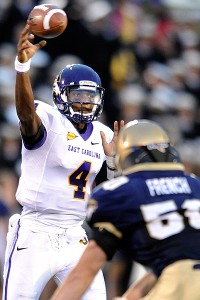 AP Photo/Gail BurtonDominique Davis misfired on only five of his 45 pass attempts in East Carolina's win over Navy.
Southern Miss streaking.
The Golden Eagles are off to their best start since 2000 after an impressive 27-3 win over SMU. They are ranked No. 25 in the coaches' poll, their first ranking since 2004, and have won five straight.
Austin Davis
has been impressive but so has the defense, which has made big-time improvements this season and has been a major reason this team is now the favorite to win the East Division in Conference USA. SMU came into the game with its high-powered passing offense, but Southern Miss totally shut down the Mustangs, who had season lows for points and passing yards (173). Southern Miss had two interceptions, including one returned for a touchdown. After it plays UTEP (4-3) Saturday, Southern Miss does not have a team left on the schedule with a winning record, making it conceivable the Golden Eagles could win out. Who would they face in the C-USA title game? The West is still wide open between Houston (7-0, 3-0), Tulsa (4-3, 3-0) and SMU (5-2, 3-1), but the No. 17 Cougars would have to be the favorite if they keep rolling. They get Rice this Thursday, but close the season with back-to-back games against the Mustangs at home, then at Tulsa on Nov. 26.
Bowl bound:
Southern Miss and Houston are two of five non-AQs already bowl eligible (Boise State, ULL, BYU).
Next up on deck, with games this weekend:
Arkansas State (5-2) vs. North Texas
Toledo (5-3) vs. Northern Illinois (Nov. 1)
Ball State (5-3) at Western Michigan
Northern Illinois (5-3) at Toledo (Nov. 1)
Temple (5-3) vs. Ohio (Nov. 2)
Ohio (5-3) vs. Temple (Nov. 2)
TCU (5-2) vs. BYU (Arlington, Friday)
SMU (5-2) at Tulsa
* Eastern Michigan is 5-3 but the Golden Eagles need to get to seven wins because they have two wins over FCS opponents.
Disappointments:
This has been a popular question during my weekly chats: Which team(s) have been the biggest disappointment. There are three on my list today: Fresno State, UCF and Colorado State. The Bulldogs had WAC nemesis Boise State out of the way this season, the perfect opportunity to win a league championship before moving on to the Mountain West. Instead, they have sputtered to a 3-5 start and just lost to Nevada. Fresno State needs to win three games to become bowl eligible. It should be able to get there, but nothing is a given with the improved play of Louisiana Tech, New Mexico State and San Jose State. Meanwhile, there were those who thought Colorado State had everything it needed to get back to a bowl game, with a young quarterback in
Pete Thomas
and 14 starters returning. But injuries have completed decimated this team, and the Rams are 3-4 and are going to need to pull an upset or two to get to six wins with UNLV, San Diego State, TCU, Air Force and Wyoming left.
Perhaps most disappointing of all, though, has been UCF. Here you have a program coming off the first Top 25 season in school history and a win over Georgia in the bowl game. Many thought that would give this program much-needed momentum and a building block for the future. Instead, the Knights dropped to 3-4 and 1-2 in conference last week after a loss to previously winless UAB, losing to a team that played its backup quarterback and backup running back. Starting quarterback
Jeff Godfrey
was benched in favor of
Blake Bortles
, who nearly led the Knights to a win. Now UCF might have a quarterback controversy on its hands, as coach George O'Leary has declined to say who would start Saturday against Memphis. The Knights have some tough games left and are going to need help to make it back to the C-USA title game.
The heartbreak:
You have got to feel for Navy, one of the most snake-bitten teams in college football. Navy has lost four games this year by a total of eight points. The Midshipmen, Utah State and Indiana are the only three teams in the country to lose four games by eight points or fewer. The heartbreak continued Saturday in a 38-35 loss to East Carolina. The Midshipmen hung tough after losing starting quarterback
Kriss Proctor
(elbow) and had a chance to win in the closing minute. An apparent touchdown pass from
Trey Miller
to
Matt Aiken
was ruled incomplete, and then Navy missed yet another field goal. Aiken appeared to cross the plane after catching the ball at the 2, but the ball came loose as he hit the ground. Replay officials ruled Aiken did not maintain control as the reason for the ruling of an incomplete pass. Navy dropped to 2-5 and is in danger of breaking its eight-year bowl streak.
Helmet stickers
Mike Ball, RB, Nevada.
Ball had a career-high 198 yards rushing and a touchdown on 26 carries in a 45-38 win over Fresno State. He had rushes of 35 and 41 yards, the two longest runs by any Nevada player this year.
Byron Hout, LB, Boise State.
Had a career-high 18 tackles in a 37-26 win over Air Force. His tackle total is the most by a Broncos player since Korey Hall had 15 against New Mexico State in 2006.
Javonti Greene, RB, Eastern Michigan.
Caught a 50-yard pass from
Alex Gillett
in the first quarter and scored on a 50-yard run midway through the fourth quarter for both touchdowns in a 14-10 victory over Western Michigan.
Bobby McCain, DB, Memphis.
McCain had a 79-yard interception for a touchdown in a 33-17 win over Tulane. The interception gave the Tigers the lead for good in their first conference win since beating UTEP 35-20 Oct. 10, 2009.
Bobby Rainey, RB, Western Kentucky.
Rainey ran for 206 yards and a career-high three touchdowns as the Hilltoppers won their first home game since 2008 with a 42-23 victory over Louisiana-Lafayette. Rainey moved into fourth place on the WKU career rushing list with his performance -- the second 200-yard rushing game of his career.
October, 17, 2011
10/17/11
1:00
PM ET
Taking a look some of the top stories among the non-AQs in Week 7.
The turnaround kids:
Bravo to Louisiana-Lafayette (6-1) for becoming bowl eligible after a 30-10 win against North Texas, continuing a remarkable turnaround under first-year coach Mark Hudspeth. Not only have the Ragin' Cajuns doubled their win total from a season ago, they are the first Sun Belt team to ever win six of its first seven games. They already have beaten preseason favorites FIU and Troy en route to a 4-0 league mark, and are hoping for their first bowl appearance since 1970.
But Louisiana-Lafayette is not the only team that has doubled its win total from a season ago.
Eastern Michigan:
In 2009, the Golden Eagles finished the season 0-12. Today they are 4-3 after
Alex Gillett
scored on a 30-yard run with 37 seconds left in a 35-28 win against Central Michigan 35-28. Eastern Michigan racked up 350 yards rushing and all five of its touchdowns came on the ground. This is the first time it is above .500 in October since starting 3-2 in 2005. It finished that season 4-7.
[+] Enlarge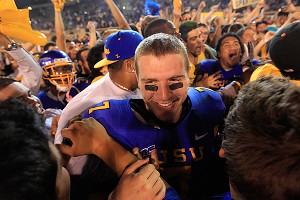 AP Photo/Marcio Jose SanchezSan Jose State QB Matt Faulkner is mobbed by fans after the Spartans' win against Hawaii.
San Jose State:
The Spartans were one of the worst teams in the country last season, finishing 1-12 after injuries decimated the team. But now they have equaled their win total from the past two seasons combined and sit at 3-4, very much in the thick of the too-hard-to-predict WAC race after a wild 28-27 win against Hawaii on Friday night. Fans stormed the field, and coaches and players danced in celebration, too. After so many dark years, San Jose State is 2-1 in WAC play.
Conference shenanigans:
If you want great examples of parity, take a look at the MAC West and the WAC. Five teams are at 4-3 in the MAC West, including Eastern Michigan and Ball State, two of the worst teams in the nation last season. Toledo leads the division with a 3-0 mark in league play. Western Michigan, Eastern Michigan, Ball State and Northern Illinois are all at 2-1 in league play.
The WAC is having a tough time without Boise State this season. No team is above .500. Fresno State (3-4), which went winless in league play and got smoked 57-7 by Boise State, sits atop the conference at 2-0. Hawaii, the preseason favorite, has had two ugly losses to San Jose State and UNLV. Nevada, which lost one game a year ago, is 3-3. New Mexico State, one of the worst teams in the country the past several seasons, is 3-3 with one league win. Just about every team has a shot at the league, maybe save Idaho (1-6, 0-3).
Let's hear it for the Chandlers:
Chandler Jones
, WR, San Jose State. Jones scored three different ways in a 28-27 upset win against Hawaii on Friday night. His 20-yard run on a reverse got the Spartans on the scoreboard. Next, a 23-yard fumble return off a fumbled kickoff return gave San Jose State a 20-7 second-quarter lead. Finally, he caught the game-winning 37-yard touchdown pass with 36 seconds to go. Incredibly, his longest play going into the game was a 16-yard reception against Nevada in September.
Chandler Harnish, QB, Northern Illinois:
Harnish became the 10th player in FBS history to rush for 200 yards and pass for 200 in a single game, after he accomplished the feat in a 51-22 win against Western Michigan. Harnish ran for a career-high 229 yards, including runs of 51, 29, 45, 40. He also passed for 203 yards. And oh by the way, he only played three quarters.
Denard Robinson
was the last to pull the 200-200 double -- doing it twice last season.
Helmet stickers
Ronnie Hillman, RB, San Diego State.
Hillman ran 27 times for 172 yards and two touchdowns in a 41-27 win at Air Force. It was the Aztecs' first victory in Colorado Springs since 2004, and Hillman's fifth 100-yard rushing game this season.
Cody Hoffman, WR, BYU.
Hoffman had nine catches for 162 yards and a touchdown in a 38-28 win against Oregon State.
J.J. McDermott, QB, SMU.
McDermott went 20-of-31 for 358 yards with two touchdowns and an interception in a 38-17 win against UCF.
Kellen Moore, QB, Boise State.
Moore went 26-of-30 for 388 yards and four touchdowns in a 63-13 win against Colorado State. He started the game with 18 straight completions. It is the second time this season he completed more than 80 percent of his passes. Teammates
Tyler Shoemaker
(180 yards receiving) and
Doug Martin
(200 yards rushing) deserve mention as well.
Bernard Pierce, RB, Temple.
Pierce ran for 152 yards and two touchdowns in a 34-0 win against Buffalo, breaking four school records in the process. He now has 44 touchdowns (43 rush, one receiving) in his career, passing Paul Palmer (1983-86). Pierce re-wrote his own single-season record for touchdowns and now has 18 (previous record was 16 from 2009). He also re-wrote his own season record for points scored (96, which he shared with Brandon McManus in 2009) and now has 102 points this season.
July, 26, 2011
7/26/11
9:45
AM ET
Miami (Ohio) and Toledo were picked to win their respective divisions in the MAC preseason media poll released Tuesday. Toledo was the choice to finish as MAC champion.

Miami edged Ohio as the champ in the East by one point, while Toledo edged Northern Illinois in the West by two points.

The RedHawks return 17 starters from a team that went 10-4 last season and won the MAC championship. Miami capped a dramatic turnaround to become the first program in college football FBS history to go from double digit losses (1-11 in 2009) to double digit wins (10-4 in 2010) in consecutive years and become the most improved program in the country. They do have a new coach this season in Don Treadwell.

Ohio actually received more first-place votes in the East.

Toledo also returns 17 starters, including receiver Eric Page, who was named to four All-America teams in 2010.

The complete poll:

Team (First Place Votes) Points

MAC East Division

1. Miami (4) 97

2. Ohio (8) 96

3. Temple (4) 88

4. Kent State 57

5. Bowling Green 48

6. Buffalo 37

7. Akron 25

MAC West Division

1. Toledo (8) 83

2. Northern Illinois (5) 81

3. Western Michigan (2) 76

4. Central Michigan (1) 55

5. Ball State 27

6. Eastern Michigan 24