October, 28, 2013
Oct 28
11:00
AM ET
You know the old adage about offense selling tickets and defense winning championships? Forget about it.
If that were true, how could you explain that four of the top five scoring teams in the country are Baylor, Oregon, Florida State and Ohio State? And that all four are undefeated, ranked in the top five in the major polls and in the BCS title chase? (No. 4 on that list, by the way, is Texas A&M, which has a reigning Heisman Trophy winner and is 12th in the BCS standings). Even Alabama is averaging 41.2 points per game, 13th best in FBS.
[+] Enlarge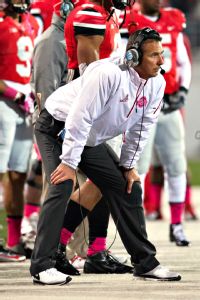 Greg Bartram/USA TODAY SportsUrban Meyer and Ohio State were on the offensive against Penn State.
The only team in the Top 25 nationally in points per game that doesn't have a winning record? Indiana, which is tied for eighth at 42.4 PPG -- but also is No. 119 in total defense.
You've got to score a lot to win big in college football these days, and you've got to do the same to stand out in the BCS crowd. So no wonder Urban Meyer and Ohio State put their foot on the gas pedal Saturday against Penn State, scoring 42 points in the first half en route to a 63-14 rout.
The Buckeyes' 686 total yards were their most ever against a Big Ten opponent. Meyer, in classic step-on-your-neck fashion, challenged a spot on a Penn State fourth-down play late in the third quarter. Ohio State led 56-7 at the time -- and got the call reversal to go its way. Nittany Lions coach Bill O'Brien just stared ahead for several seconds when a a reporter later asked about that challenge, then declined to comment. But O'Brien did say of the game, "We'll remember some things."
Still, it's hard to blame the Buckeyes for doing everything they could to put up an impressive score after they've heard about their lack of style points all year long. The scary thing for the rest of the Big Ten is that Ohio State and
Braxton Miller
appear to be just now finding their stride on offense. Yes, that's a funny thing to say for a team scoring 47.2 points per contest and that has seven 50-point games since 2012, or one more than the program managed in the entire Jim Tressel era. But it's true.
This is an offense that appears to be steamrolling toward a championship. Wouldn't it be fun if Michigan State's equally dominating defense got a chance to test that old adage in Indianapolis?
Take that and rewind it back:
Team of the week:
For the second straight week, it's Minnesota. Of course it is, after the Gophers knocked off Nebraska for the first time since 1960, got their signature Big Ten win and clinched bowl eligibility. What the team has been doing while head coach Jerry Kill is on a leave of absence is incredible.
Worst hangover:
There have been some ugly losses in the Bo Pelini era at Nebraska, but maybe none as dispiriting as Saturday's defeat at Minnesota. The 9-7 home loss to Iowa State might be the only one to trump it. Tommie Frazier, who publicly criticized Pelini and his staff after the UCLA debacle, tweeted out "Do I need to say anymore?" right after the game ended. It will be another uncomfortable week in Lincoln.
Best play:
Facing third-and-7 from the Northwestern 8-yard line in overtime,
Iowa's
Jake Rudock
dropped back to pass and almost immediately had blitzing safety
Ibraheim Campbell
in his grille. When Rudock released the ball, it looked in live action as though he was merely throwing it away. Instead, the ball sailed perfectly to tight end
C.J. Fiedorowicz
for the touchdown that proved to be the game winner.
[+] Enlarge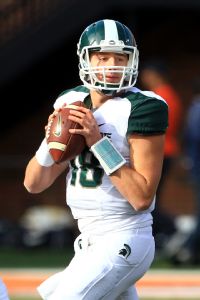 Pat Lovell/USA TODAY SportsConnor Cook won't soon forget Saturday's win.
Craziest play:
Speaking of surprising touchdown passes,
Connor Cook
must be living right. The Michigan State
quarterback scrambled to his right late in the first half
on a third-and-25 from the Illinois 29-yard line. He then threw toward the end zone into double coverage, and a pair of Illini defensive backs,
Jaylen Dunlap
and
Eaton Spence
, were in front of Bennie Fowler for the underthrown pass, and Dunlap tipped it twice before it fell in the hands of Fowler for a TD. The score was 7-3 before that play, and it was the start of 35 unanswered points for Michigan State. "I was a little afraid," Cook said of his throw. But he finished with just one incompletion in 16 attempts.
Big Man on Campus (Offense):
Braxton Miller is getting hot. Scorching hot, in fact. He went 18-of-24 for 252 yards and three touchdowns through the air while rushing for 68 yards and two scores in the 63-14 trouncing of Penn State. If he plays like that, nobody in this league is beating the Buckeyes.
Big Man on Campus (Defense):
Iowa linebacker
Anthony Hitchens
had nine tackles, a sack and a key forced fumble in the win over Northwestern.
Big Man on Campus (Special teams):
His team lost, but
Pat Smith
did all he could for Nebraska. Smith went 3-for-3 on field goals, connecting from 37, 42 and 45 yards on a windy day. Say this for the Huskers: They keep churning out excellent kickers.
Got a plane to catch?
This might be the craziest number of the week: 2:50. That's how long the Northwestern-Iowa game lasted. Yes, the two teams somehow managed to play an overtime game in less than three hours, or about the time it takes for two David Ortiz at-bats. Of course, it might have taken a bit longer had Pat Fitzgerald elected to use his timeouts at the end of the game.
After a
Mike Trumpy
fumble, Iowa took over at midfield with 3:14 remaining. The Hawkeyes struck on an 18-yard Fiedorowicz pass reception to get near field goal range and then started going conservative as the clock drained. Fitzgerald, who had two timeouts in his pocket, did not call either of them to save some potential time for the Northwestern offense. He finally called one after Iowa had used its own timeout on fourth-and-11 with 15 seconds left. The Wildcats then intercepted the pass but had no time to do anything but take a knee.
Fitzgerald said later that he thought the wind would make it tough on Iowa to kick a field goal and that "we were playing to win the game." It sure seemed instead that he was playing for overtime, and we saw in the Michigan game that playing not to lose often leads to exactly the thing you're trying to avoid.
March, 4, 2013
Mar 4
9:00
AM ET
Very little went right for Illinois under first-year coach Tim Beckman last year. After a 2-10 season, the Illini are ready to turn the page and look forward to 2013 when they hit the practice field Tuesday.
I recently caught up with Beckman to ask about the pressing issues his team faces this spring. Here is that Q&A:
[+] Enlarge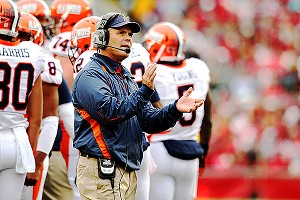 Brace Hemmelgarn/USA TODAY SportsDespite a 2-10 record this past season and a slew of changes on his staff, Illinois' Tim Beckman is full of optimism heading into spring workouts.
You turned over half your staff from last year, with some voluntary departures and some not. What has that been like and how much transition are you going through right now?
Tim Beckman:
Well, it's kind of crazy, because I saw a stat the other day where there's only, like, 22 staffs that haven't changed in college football, so it's been the norm. But I think with the professionalism that coaches have and the guys I've been able to hire into this new family, they're outstanding people. They're professionals, they've been coordinators, they've been head coaches, they've been in great programs. The transition has been good. I've been able to hire two Illini, which is huge, with [receivers coach Mike] Bellamy and [defensive line coach Greg] Colby.
So I think it's been a great transition. Our players have been really excited. With Mike Bellamy, he's been involved with this program for a year. So the kids were pumped when he was hired on staff, because they know him. And now he brings that Illinois flavor to the staff. All the other coaches, we've been working with each other. Jim Bridge was telling me the other day there are four or five other guys that he's been with at other places. So that's one of the unique things, because it's like a fraternity. These guys have worked with one another.
How much will the offense change with new coordinator Bill Cubit?
TB:
Well, it's Bill's offense. It's what Bill was hired for. And that's how it's always been, really, with the coordinators. But I think the uniqueness that Bill has, in coaching against him, is that he's been able to adapt his offense based on personnel. He's had
Jordan White
, a great, great football player. He's had great wide receivers, and he's been able to move them around and adapt his offense to the guys that need to be getting the football.
After a year like last year, what do you do to keep the players' confidence up?
TB:
We went back to a lot of competition, back to a lot of leadership building. We addressed the situation that occurred. I met, as I always do, with each one of the players for 10 minutes. That takes a good week. We did that in December. I asked them what their goals were, because we split up the season into four quarters -- winter workouts, spring practice, summer workouts and then the most important quarter, the season. And I had them set goals for themselves to attain each quarter. So they just wrote out their goals out for spring ball. And I also do the same thing for the team. "What do you want this team to be able to say they can do after each quarter?"
Our motto is win whatever is needed, and win the day. Whatever is needed today for us to become a better and closer football team.
What are your primary concerns for this spring?
TB:
The scenario here is depth. There hasn't been depth. And when you get a young man injured, it hits you drastically because you just don't have that depth. We were able to get 10 young men here in January, five junior college players and five high school players. Junior college wise, there hasn't been a whole bunch here before. There might have been one or two. But we needed to add age to our football team, and that's what the junior college players help us do.
You've only seen the junior college guys in winter workouts so far, but what is your early impression of those guys?
TB:
The first thing that I look at always is how have they been accountability wise. Because it's new. They get in here, and, bam, they're thrown into the fire right away. I'm proud, because they've all been very accountable. We haven't been late for things. Being in school and being a football player hasn't got their minds out of whack or anything like that. They've shown football wise that they can compete, but they've also shown that they're doing a very good job of being accountable on and off the football field.
How do you see the quarterback competition, where you've got a veteran starter in Nathan Scheelhaase but also a guy in Reilly O'Toole who's played a lot and a big-time recruit (Aaron Bailey) coming in?
TB:
As in any position, there's competition. Nathan will go in as the guy, being the starter. Somebody's got to beat him out. But Nathan's won a lot of football games here. We had a tough year, no question, but that's not going to be on Nathan's shoulders. He was getting sacked too many times. All those things you can't have your quarterback doing, getting hit. We've got to get better at protecting our quarterback, and we've got to be able to get the ball out quicker and do those types of things so our quarterback can be successful.
[+] Enlarge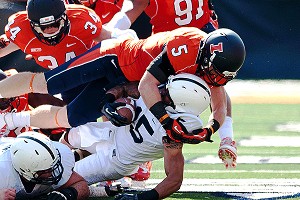 Bradley Leeb/USA TODAY SportsSteve Hull will be trading in delivering hits for making catches on offense this spring.
You talked often last year about the lack of depth at the offensive skill positions. How has that come along?
TB:
It's getting better. Those young men we played with last year have moved up in age. We've taken
Steve Hull
and moved him to offense, so that adds age and depth to that position. Wide receivers and DBs are the big concern here. And we've been able to add freshmen and junior college players to those positions.
Why did you move Hull to receiver?
TB:
He's had some issues with injury. We felt that Steve, for his fifth year, would be better suited to play on the offensive side of the ball to take out maybe some of the direct collisions he was getting as a safety. And he's been great with it. He loves it, and he's emerged as being one of the big vocal leaders on the team.
The offensive line really struggled last year, and you lost two senior starters in Graham Pocic and Hugh Thornton. How does that position group look going into spring?
TB:
Losing the two senior starters, they were dinged up a little bit during the season, so we had to move some players around. But we also had three, really four, players that got a lot of playing time last year. So they should be a year better. I like the philosophy that coach Bridge brings in here as our offensive line coach and what coach Cubit does with the running game. Our offensive line has done a great job these last three months -- and [strength coaches] Aaron Hillman and Dave Andrews get a lot of credit for it -- of getting stronger, getting bigger and doing those things you need to do to be a Big Ten offensive lineman.
You played a lot of freshmen on defense last year, like Monheim and Mike Svetina. Do you expect them to be much farther along this spring because of that experience?
TB:
No question. They're not going to be freshmen that are 18 years old out there starting in the Big Ten. They're going to have a year's experience. We played
Teko Powell
on the defensive line last year so he could gather experience.
V'Angelo Bentley
played a bunch last year as a true freshman, so he got a bunch of experience. Now these players that were just brought in in January, plus the redshirt freshmen, are going to have to step up and be involved in the front and in the back end. You had a guy like a
Jake Howe
, who was playing very good and then broke his hand and was out for the year. You have
Austin Teitsma
, who got quite a few reps last year. Darius Caldwell.
Houston Bates
, who got hurt last year.
Jonathan Brown
. We've got to get those guys back and healthy.
You mentioned concerns about depth in the secondary. What young players do you expect to step up there?
TB:
I think
Eaton Spence
has done a good job for us. V'Angelo Bentley has done a good job. The two freshmen we brought in have done a good job in winter workouts. I haven't seen them on the football field, but they've been doing their change of direction stuff very well. A young man named
Taylor Barton
, a true freshman, has done a good job. Eric Finney, who came in from junior college,
LaKeith Walls
,
B.J. Bello
,
Jevaris Little
-- these are names who have worked extremely hard this season. They're not names a bunch of people know because they've not played yet, other than Spence and Bentley. But these guys have definitely improved.
Have you started identifying leaders on this team yet?
TB:
Well, we have really been pushing it. We've been meeting on it. We've been talking about it as a team and then as individual classes, and then our honor council. We've had a guest speaker come in every Monday and talk about leadership, from military people to a gold medal winner in the wheelchair marathon. So we've really built that in. I've seen players from young and old step up in winter workouts, step up and be leaders. Steve Hull has emerged as a guy who definitely does an outstanding job of leading this football team.
Mason Monheim
, who was a freshman, he's jumped up and taken control.
Earnest Thomas
. Guys that probably weren't as much leaders last year that might not be seniors have jumped up and tried to lead this football team well.
We've got 62 players who are freshmen and sophomores, so there's a big number of guys who have been here three or less years because of redshirts. So we've got to be able to all be leaders in this program, and that's what we're stressing.
Not surprisingly, the fan base was really down on last year. What can you do to create some more optimism?
TB:
I opened up the Friday practices again to the community. This is the University of Illinois. It's our state, our team. We talk about it, and that's the truth. I want to get the community involved in this program. I've always wanted to do that and we're going to do it even more. We're going up to Chicago for a practice. Of course, we've got a game in Chicago at Soldier Field, which is an outstanding opportunity for Illini Nation and those things. We're moving forward.
Nobody was happy with last year. I mean no one. I haven't been involved in that type of year. So we have to move forward and we have to take this program forward. And that's what we asked this football team and this coaching staff to do.
TOP 25 SCOREBOARD
Saturday, 12/21
Monday, 12/23
Tuesday, 12/24
Thursday, 12/26
Friday, 12/27
Saturday, 12/28
Monday, 12/30
Tuesday, 12/31
Wednesday, 1/1
Thursday, 1/2
Friday, 1/3
Saturday, 1/4
Sunday, 1/5
Monday, 1/6