November, 20, 2013
11/20/13
9:20
AM ET
Rhys Lloyd doesn't remember much about the 2003 Wisconsin-Minnesota game except the final seconds and his wild dash afterward.
Lloyd drilled a 35-yard field goal on the game's final play to give the Gophers a
37-34 win
. As he recalls it now, Lloyd didn't even see the ball clear the uprights, because he was already sprinting toward the Wisconsin sideline to grab Paul Bunyan's Axe.
[+] Enlarge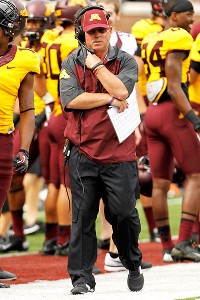 AP Photo/Ann HeisenfeltMinnesota has lost nine games in a row to Wisconsin. Gophers coach Jerry Kill said to expect "old-fashioned football" on Saturday.
"I give my old teammates a lot of [grief] and tell them I was the superior athlete because I got to the axe first," Lloyd told ESPN.com this week. "There were a lot of benches on the Wisconsin sideline, and instead of running around them, I decided to hop over one. Luckily, I didn't trip or make a fool of myself."
There are few cooler scenes in college football than when the winner of the sport's most-played rivalry seizes that axe and celebrates with it, often by pretending to chop down one of the goal posts. But that's a sight Minnesota has watched from the losing end far too often of late. That 2003 win was the last in the series by the Gophers, and the Badgers' current nine-game winning streak matches the longest by either team in a series that spans 122 games.
"Someone told me the other day that my kick came in the last Minnesota win and asked how that made me feel," Lloyd said. "I said, 'I feel extremely old now.'"
Minnesota senior offensive lineman
Ed Olson
remembers that '03 game well. He sat in the stands and watched it along with his grandfather, father and brother. He was in the fourth grade at the time.
Olson -- a Minnesota native whose father, Ed Sr., also played for the Gophers -- grew up understanding the importance and significance of the rivalry. Olson would love nothing better than to plant the axe in the Twin Cities when Wisconsin visits TCF Bank Stadium on Saturday.
"It would mean the world," he said. "It's the biggest rivalry, and we always talk about it. A lot of alumni come back and tell us stories about the games. I've gotten a lot of texts from alumni saying how important this game is and how much they want the axe back."
Minnesota has had a special season already, overcoming the leave of absence coach Jerry Kill took earlier in the year to post an 8-2 start, its best record since -- you guessed it -- 2003. Among the Gophers' achievements this season are four straight Big Ten victories for the first time since 1973, beating Nebraska for the first time since 1950, taking the Governor's Victory Bell trophy from Penn State for the first time since 2004 and earning a national ranking for the first time since 2008.
But the Gophers will be the first to tell you that snapping the losing streak against their top rival would top all of those milestones.
"Even though we are happy with our season so far, when you go into rivalry games, whatever you've done means nothing," safety
Brock Vereen
told reporters on Tuesday.
Wisconsin has manhandled Minnesota the past decade, winning by an average of 17 points during its nine-game streak and outscoring the Gophers 121-49 the last three seasons. The Badgers have dominated the line of scrimmage, averaging 241.4 rushing yards to just 132.4 for Minnesota since 2003.
But the Gophers might finally match up better physically against their neighbors to the East, as this season's team has thrived on a powerful running game that chews up time of possession. Minnesota has averaged more than 222 rushing yards during its current four-game winning streak, and it ranks No. 20 nationally in rushing yards per game this season.
Expect a lot of grounding and pounding on Saturday, as the forecast calls for a high of about 20 degrees.
"

It would mean the world. ... I've gotten a lot of texts from alumni saying how important this game is and how much they want the axe back.

"

Minnesota lineman Ed Olson on what a Gophers win over Wisconsin would mean.
"It kind of adds to what it's all about," Kill said. "It's old-fashioned football."
Kill has talked about pulling off marquee wins and getting trophies back as part of his rebuilding job. But he said most of that discussion with his own team came in the summer. Not much motivation is needed this week.
"They already know," he said. "We don't have to say a whole lot about it. Our job is just to keep 'em grounded."
At least until the game is over. If the Gophers figure out a way to beat Wisconsin, they have a license to go a little crazy. Lloyd, who now lives in Florida and will attend his first game in TCF Bank Stadium this weekend, remembers "running around the middle of the field like an idiot" after the 2003 win.
"We're starting to build and I think we're getting stronger again," Lloyd said. "I think we'll actually give them a game this Saturday, and hopefully we'll pull it off and get the axe back again."
April, 17, 2013
4/17/13
3:00
PM ET
By the end of last season, Minnesota's offense was being held together by little more than spit and string.
Offensive line injuries and a general lack of depth had the coaching staff scrambling for anything that would work. Offensive coordinator Matt Limegrover remembers the desperation that went into writing out the game plan for those final few weeks in November.
[+] Enlarge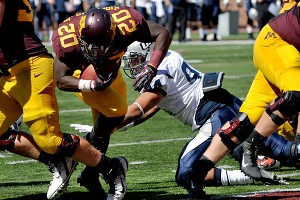 AP Photo/Tom OlmscheidFollowing a solid 2012 season, running back Donnell Kirkwood and the Gophers' offensive unit are excited for what's ahead in the upcoming year.
"We got to where we were putting up plays and going, 'OK, we hope this one gets us five yards. If we run this one once, hopefully it's enough to get us into a second-and-normal situation,'" Limegrover told ESPN.com. "There just wasn't that flow."
Everything changed during bowl season. The offensive linemen regained their health and the coaches got 15 extra practices to reset the approach. After averaging just 13.5 points per game over their final four regular-season contest, the Gophers scored 31 against Texas Tech in the Meineke Car Care Bowl of Texas. Though they lost that game, they gained something potentially more valuable: an offensive identity.
"Really for the first time since we've been here, I feel like a lot of the components of what we want to do and who we want to be are in place," said Limegrover, who is entering Year 3 in the Twin Cities along with the rest of head coach Jerry Kill's staff.
The confidence earned in that bowl performance has carried over into spring practice. Minnesota discovered last December that it had something to build its offense around: a strong running game. The Gophers ran for 222 yards against Texas Tech and are looking to continue that same hard-nosed philosophy this year.
It helps that they return leading rusher
Donnell Kirkwood
, whose 926 yards as a junior were the most by a Gopher back since 2006. The 223-pound Kirkwood came into spring focused on correcting all the little mistakes he made last year and learning not to dwell on them.
"I'm more comfortable with myself," he said. "I'm not grading myself as hard and not getting in the gutter when I do something bad. I'm very critical of myself, but I've kind of learned that's part of the game. I've got to keep playing after mistakes."
Limegrover says Kirkwood is becoming more of a complete back in all areas of his game.
"The guys up front love him," Limegrover said. "They know he's going to run hard and he's going to hit where he needs to hit. They know that if we do our job, he makes us look good."
Kirkwood is also getting pushed by 235-pound sophomore
Rodrick Williams Jr.
, who came on late last season and ran for 60 yards and a touchdown in the bowl. And Limegrover said junior
David Cobb
might have the most natural ability of all the running backs on the roster and could "really be a kid that pops on the scene" if he figures out the finer points of the game.
Minnesota has some backs with meat on their bones and an offensive line that is starting to develop a nasty streak, even with tackle
Ed Olson
out this spring because of an injury.
"The days are gone of saying, 'Well, our offensive line is young, they're inexperienced,'" Limegrover said. "We've got to step up and be able to play with the big boys up front. I don't know if offensive linemen ever have a swagger, but there's definitely a different feeling in that room right now about what we can and can't do."
Having that power run game should also benefit quarterback
Philip Nelson
. Not only will it open things up in the play-action game, but the Gophers won't have to ask Nelson to run the ball as much. Limegrover said Minnesota relied too much on the quarterback run game last year because it went into the season thinking it would have
MarQueis Gray
under center all year. Now, they can use it as a complementary piece of the offense and pick their spots with it.
The passing game still needs polish, but the running game has given the Gophers a great building block. At a recent Saturday practice, Limegrover said the offense was clicking like an advanced operation.
"I had to kind of readjust my eyes because things were happening very quickly," he said. "It was really the first time since I've been here where we were like, 'Wow, that happened pretty fast.'"
And the days of holding together the offense with spit and string seemed like a distant memory.
July, 31, 2012
7/31/12
9:00
AM ET
Offensive linemen are usually a pretty anonymous bunch by nature, but Minnesota has taken that to another level in recent years.
You won't find any names from the Gophers' O-line on the Outland or Rimington trophy watch lists this preseason, or on any preseason All-Big Ten teams, for that matter. That's just continuing a recent trend. No Minnesota offensive lineman has been named a first-team All-Big Ten performer since Outland winner Greg Eslinger and Matt Setterstrom both did so way back in 2005.
That's an awful long time for a program that used to produce outstanding linemen on a regular basis, and the current players know all about the drought.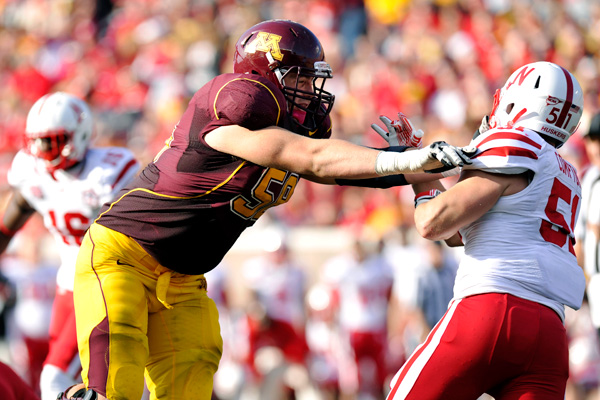 Cal Sport Media via AP ImagesMinnesota linemen, such as left tackle Ed Olson, have focused on bulking up this offseason.
"All offseason, we've been saying we've got to get a name for ourselves," tackle
Ed Olson
said. "We haven't had the best name for Minnesota football in the past few years, not since Matt and Greg."
One could understand why the Gophers have struggled to produce, say, All-American defensive tackles or first-round quarterbacks. But their roster should seemingly be chock full of burly linemen, given their location and the demographics of their state. After all, the flagship programs in neighboring states Wisconsin, Iowa and Nebraska all consistently field strong lines anchored by pro prospects.
"There's no question that you've got to do a good job in your state, and with where we're at, we've got to be able to get the big, strong physical kids," second-year Minnesota coach Jerry Kill said. "That's who you are. That's the state of Minnesota -- hard-working, lunch-pail type people -- and we need to recruit and develop a football team with the mentality of our state."
Kill has always had physical teams known for running the ball at his previous four head-coaching stops, and that's what he's hoping to build with the Gophers. It all starts with recruiting, and that's why Kill is excited about two in-state, incoming freshmen the Gophers signed in February:
Jonah Pirsig
, a 6-foot-8, 300-pounder who was offered by Wisconsin and Iowa; and
Ben Lauer
, a 6-6, 260-pound tackle.
"Wisconsin made a pretty good living on our side [of the border] there for a while, but we've been able to keep some of those players in-state," Kill said. "And you once get length and size, you've got to build it in the weight room."
Minnesota has been trying to do that with the current players, and Kill said last week that the offensive linemen have put on an average of 15 to 20 pounds per man this offseason. Olson is a great example; the fourth-year junior weighed 290 pounds last season but said Friday that he's up to 320 now.
The starting left tackle might be the Gophers' best chance for a breakout star on the line this season. He was recruited by Iowa and Michigan but chose to follow in the footsteps of his father, also named Ed, who played for Minnesota in the early 1980s. His younger brother, Tommy, is one of three freshmen who started games on the line a year ago.
"We were young last year, but I think all that experience is making us all push each other more in the offseason," Ed Olson said. "[Offensive coordinator] Matt Limegrover always tells us that everything starts up front, and we take pride in that."
This much is for sure: Minnesota will need to start churning out standout offensive linemen again if it wants to finish higher in the Big Ten standings.
February, 2, 2011
2/02/11
2:05
PM ET
Most recruiting analysts say it's not fair to judge Minnesota's recruiting class until coach Jerry Kill and his staff have time to go through a full recruiting session.
Although
the Gophers' 2011 class
likely will rank near the bottom of the Big Ten, Kill and his staff continue to address an area Minnesota must bolster: the offensive line. The Gophers' O-line struggled with inconsistency during Tim Brewster's tenure, although Brewster brought in some talented prospects like Ed Olson and Jimmy Gjere.
Kill has followed things up by bringing in six offensive linemen in the 2011 class plus a walk-on O-lineman (Jon Christenson). Ed Olson's brother Tommy, a four-star guard and Minnesota's top-rated prospect according to ESPN Recruiting, headlines the Gophers' crop of O-linemen. Tackle Kyle McAvoy is the Gophers' No. 2 rated recruit.
Although Kill and his staff have a long list of areas to address, offensive line is a perfect place to start.
January, 25, 2011
1/25/11
9:00
AM ET
National Signing Day is just about a week away, so let's take a look at the recruiting needs for each Big Ten team.
In compiling these lists, I tried to look at positions that have depth issues for 2011 and/or 2012.
Let's start off with the Legends division.

IOWA
Running back:
Marcus Coker
's breakout performance in the Insight Bowl got Iowa fans excited for the future, but there's still a significant depth issue here. If
Adam Robinson
can't get reinstated, the Hawkeyes will be looking for No. 2 and No. 3 options behind Coker. As we've seen the past two seasons, freshmen backs will see the field at Iowa.
Linebacker:
Iowa felt the losses of Pat Angerer and A.J. Edds this season, and it must continue to rebuild the depth at the three linebacker spots. Multiyear starter Jeremiha Hunter departs along with players like Jeff Tarpinian and Troy Johnson. Iowa needs to build around rising star James Morris.
Wide receiver/tight end:
Iowa loses Derrell Johnson-Koulianos,
Allen Reisner
and
Colin Sandeman
this year. Also, receiver
Marvin McNutt
and tight end
Brad Herman
depart after the 2011 season. Although the Hawkeyes boast young talent at both positions, they need to build depth with this class.

MICHIGAN
Secondary:
The Wolverines couldn't find many answers here in 2010, and though the return of players like cornerbacks Troy Woolfolk and J.T. Floyd will help, there are opportunities for freshmen to make an immediate impact. Michigan simply needs more options at both secondary spots in 2011.
Defensive line:
It's crucial for coach Brady Hoke and defensive coordinator Greg Mattison to begin building depth up front. Future NFL player Mike Martin departs after 2011 along with Ryan Van Bergen, so Michigan needs to solidify both line positions.
Kicker:
Field goals were an adventure in 2010, and Michigan simply can't have so much uncertainty at kicker going forward. The Wolverines need a reliable leg here ASAP.

MICHIGAN STATE
Linebacker:
I like some of the young linebackers the Spartans bring back in 2011, but you can't overlook the losses of multiyear starters Greg Jones and Eric Gordon, not to mention reserve Jon Misch. Michigan State should have a decent group of first-string 'backers, but wants to build depth in the defensive midsection.
Offensive line:
Not only do the Spartans lose three starters from the 2010 line, but they're still not where they need to be depth-wise up front to become a consistent top-tier Big Ten program. Michigan State wants to become like Iowa and Wisconsin. The big step is to keep fortifying both lines, especially on the offensive side.

MINNESOTA
Pass rusher:
Minnesota finished last in the Big Ten in sacks last season (9) and hasn't had an intimidating pass rusher since Willie VanDeSteeg in 2008. The recent departure of defensive tackle Jewhan Edwards, who led the team in both sacks and tackles for loss in 2009, underscores this need.
Offensive line:
The Gophers lose three starters up front, and while they boast some promising young linemen like tackle Ed Olson, the depth just isn't there yet. Minnesota's best teams had powerful offensive lines, and new coach Jerry Kill must continue to create competition up front.

NEBRASKA
Running back:
The Huskers lose standout
Roy Helu Jr.
, and while
Rex Burkhead
quickly will become one of my favorite Big Ten players, he might not be an every-down back for Nebraska going forward. You always want options in the backfield, and Nebraska must continue to address its run game with the 2011 class.
Wide receiver:
Nebraska loses
Niles Paul
and wants to identify playmakers to surround
Taylor Martinez
or whomever starts at quarterback.
Brandon Kinnie
departs after the 2011 season, and while Burkhead helps in the receiving department, Nebraska needs others to emerge.

NORTHWESTERN
Running back:
Although
Mike Trumpy
and
Adonis Smith
emerged as possible answers late in the 2010 season, Northwestern needs to create real competition here. The Wildcats have lacked a dominant back during the Pat Fitzgerald era and need a dangerous rushing option to complement
Dan Persa
.
Defensive line:
The Wildcats lose only one starter (Corbin Bryant) from the 2010 squad, but four more rotation players (Vince Browne, Jack DiNardo, Kevin Watt and Niko Mafuli) depart after 2011. Fortifying the pass rush is a major priority going forward.
September, 1, 2010
9/01/10
8:25
AM ET
We knew going into the season that Minnesota had to replace nine defensive starters, more than any other Big Ten squad.
Make it 10. And possibly all 11.
Safety Kyle Theret is
suspended for Thursday night's opener at Middle Tennessee
, head coach Tim Brewster announced Tuesday. Theret continues to serve a penalty for his drunken-driving arrest in March, although he practiced with the team in preseason camp. Veteran offensive lineman Dom Alford, a projected starter, also is suspended for an unspecified violation of team rules. Ed Olson will start in Alford's spot.
Minnesota really could use Theret, who led the team in interceptions (3) last year and recorded 73 tackles and seven passes defended. The team's only other returning starter on defense, safety Kim Royston, also could miss the game as he continues to rehab a broken leg suffered in spring practice.
Brewster said there's only "a small chance" Royston will play, adding, "I don't want to put him out there until I'm 100 percent certain that he's ready."
If Royston sits, Minnesota will take the field with 11 new starters on defense. Good thing Middle Tennessee will be without star quarterback Dwight Dasher,
suspended for the game
.
Get to know names like Christyn Lewis, James Manuel, D.L. Wilhite, Mike Rallis and Michael Carter. They're just some of the new starters Minnesota needs to step up Thursday night against the Blue Raiders.
August, 5, 2010
8/05/10
2:32
PM ET
Schedule:
The Gophers hit the field Friday for their first practice.

What's new:
Another offensive coordinator, the Gophers' third in as many seasons. Jeff Horton isn't bringing dramatic changes like his predecessor Jedd Fish, and he'll try to simplify things for senior quarterback
Adam Weber
, who retained his starting job after spring ball. There are also a ton of new faces on defense as Minnesota loses nine starters, including productive linebackers Lee Campbell, Nate Triplett and Simoni Lawrence. The Gophers also have a new wide receivers coach in former NFL player Steve Watson, who must identify some playmakers after the loss of standout Eric Decker.
Sidelined:
We thought Kim Royston would be in this category, but the senior safety has
healed extremely well from a broken leg
this spring. Royston won't be 100 percent for the start of camp, but barring any setbacks, he should be ready for the start of the season. As one of only two returning starters on defense, Royston provides a strong presence in the secondary. Linebacker Sam Maresh, a possible starter, isn't with the team as he improves his grades at a junior college.
Key battle:
Name a spot on defense and there's probably some competition there, as Minnesota must find answers at linebacker, defensive end and cornerback. The linebacker group should be particularly interesting. Mike Rallis locked up a starting job this spring, but the other spots are open as Keanon Cooper, Gary Tinsley and others are in the mix. Cornerback also is a spot to watch as Michael Carter and Christyn Lewis try to lock up starting spots.
New on the scene:
Head coach Tim Brewster and his staff have recruited well, and it's time they start to see the rewards. Lewis and tight end Tiree Eure both are junior-college transfers who should contribute right away. Minnesota really likes redshirt freshmen offensive linemen Ed Olson and Brooks Michel, and incoming freshman tackle Jimmy Gjere is a name to watch. It also will be interesting to see if freshmen running backs Lamonte Edwards and Donnell Kirkwood can work their way into the mix.
Breaking out:
Brewster sings the praises of defensive end
Ra'Shede Hageman
, and Minnesota could really use a boost in the pass rush from the redshirt freshman.
MarQueis Gray
didn't win the starting quarterback spot, but he's a guy who needs the ball in his hands one way or another. Replacing Decker will be tough, but Minnesota has high hopes for
Da'Jon McKnight
, who averaged 18.3 yards on 17 receptions last year.
Time to step up:
Without a doubt, Minnesota's offensive line is the group that needs to elevate its play in camp. The line boasts both experience and some exciting young talent, and the players are used to coach Tim Davis and his demands. Minnesota simply can't rank last in the league in rushing year after year. It's time for the line to get tougher, come together and build off of a strong spring.
Quotable:
"We're bigger. We're stronger. We're faster. We're more athletic than we've been. And rightfully so. We need to be. We know that we're going to play one of the most challenging schedules in America this season. And our players are going to have to be prepared." -- head coach Tim Brewster
April, 22, 2010
4/22/10
11:12
AM ET
D.J. Burris doesn't need to be reminded of the way it used to be at Minnesota.
The Golden Gophers weren't just a good rushing offense, but a record-setting one. Minnesota didn't just produce good offensive linemen, but great ones like All-Americans Greg Eslinger and Ben Hamilton.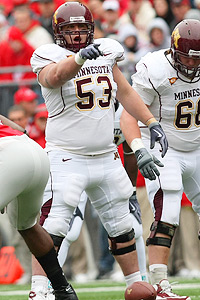 Aaron Josefczyk/Icon SMID.J. Burris & Co. are looking forward to running an offense that emphasizes the power run.
The team's history isn't lost on Burris and his linemates this spring.
"We're definitely aware of the tradition here about running the football," said Burris, Minnesota's starting center. "That's why we're taking it upon ourselves to get it back."
Pride is the word Burris and even non-linemen like quarterback
Adam Weber
use to describe what's happening up front this spring in Minneapolis. The team's running game hasn't merely slipped off its perch, but plummeted to the bottom of the Big Ten.
The last two seasons have seemed extremely un-Gopher-like:
2008: Minnesota finished last in the Big Ten and 104th nationally in rushing offense (103.8 ypg)

2009: Minnesota finished last in the Big Ten and 111th nationally in rushing offense (99.5 ypg)
Part of the problem has been a lack of continuity. Minnesota ran the spread offense under Mike Dunbar in 2007-08, and then switched to a pro-style system, designed to emphasize the power run, under Jedd Fisch last season.
The Gophers are adjusting to another new coordinator this spring, as Jeff Horton takes over the offense. But Horton's top goal, one the players clearly appreciate, is simplifying a convoluted system and identifying the hallmarks for the unit to succeed.
"We know where we're going as an offense," said Burris, who started at guard as a freshman before moving to center the last two seasons. "Our playbook's a lot thinner, and we know exactly what we're doing on every play now, so it's nice. Every season, it's been something new, something new, and then this year we simplified it with what we've already been doing.
"That makes us a lot more comfortable."
Head coach Tim Brewster didn't hide the fact he wanted more toughness from the line this spring, and he has seen the group respond. All five starters are back and continuing to work in the top spots, but they're being pushed by players like Ed Olson and Brooks Michel. Returning starters like Matt Carufel and Jeff Wills are healthier, and massive tackle Jeff Wills has slimmed down a bit.
During an April 10 scrimmage, the line started slow but got stronger as things went along, creating holes for backs
DeLeon Eskridge
and
Duane Bennett
.
Weber, who has a vested interested in the line's performance, has seen a difference this spring.
"They're playing with confidence and they're playing with pride," he said. "You can definitely tell, when it's third-and-1, when it's fourth-and-1, they can sense that they need to pick up their game a little bit, and we've been winning a lot of those battles."
After being pushed around too much the last two seasons, Burris and his crew expect to turn the tables this fall.
"As an offensive line, that's where your pride comes from, when you can walk into a game and you can run the ball up and down the field," he said. "That's when you feel good about yourself."