October, 30, 2013
10/30/13
11:00
AM ET
TUSCALOOSA, Ala. --
Ed Stinson
's mammoth shoulders shrink, relaxing from the form that only half an hour earlier flexed to crash and beat up on 300-pound blockers for a full 60 minutes. Alabama's senior defensive end looked tired in the eyes after his team beat rival Tennessee 45-10 on Saturday, his dark brown pupils soft and eager for rest. After three straight SEC contests and seven consecutive game weeks, he and his teammates were eager for some time off.
"I've been waiting for it," he said, flashing a slight grin. An ear-to-ear smile would have required too much energy. "I'm one of the guys [who] needs to be healed."
[+] Enlarge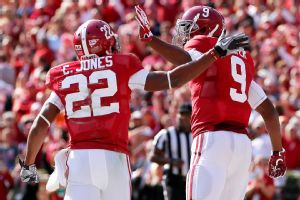 Kevin C. Cox/Getty ImagesAfter playing for seven straight weeks, No. 1 Alabama gets the weekend off to recover and heal.
The nature of his injuries are unknown, a buildup of bumps and bruises on his 6-foot-4, 292-pound frame. Nose guard
Brandon Ivory
, no lightweight at more than 300 pounds, is out in what coach Nick Saban describes as a "medical issue." H-back/running back
Jalston Fowler
can't make contact in practice because of a concussion. Cornerback
Deion Belue
is dealing with a nagging toe injury and the starter opposite him,
Bradley Sylve
, isn't yet 100 percent either.
And that's just the injuries we know of.
The bye week comes at the perfect time for top-ranked Alabama. The scoring margin the past six weeks, 246-26, has made it look easy. But the games have demanded their own pound of flesh, the toll evidenced in every wince and limp.
"In the SEC you bang hard every week, so you need time to rest up," Belue explained to reporters on Saturday night. "Then we have LSU, and they're going to come in and bang some more."
Ah, the matter of LSU. The 13th-ranked Tigers represent the biggest challenge to Alabama's undefeated season. Les Miles' squad always gives Alabama a hard time, and the last time his team came to Tuscaloosa (2011), it won. With a much improved offense thanks to new coordinator Cam Cameron, get ready for calls of an upset.
Zach Mettenberger
has progressed quickly into an NFL quarterback and with two of the best receivers in the SEC --
Jarvis Landry
and
Odell Beckham Jr.
-- to throw the ball to, they''ll be licking their chops to get at Alabama's secondary, which doesn't have much quality depth.
But in Alabama's camp, that's not the focus yet. At least not externally.
"I'm not thinking about that right now," quarterback
AJ McCarron
said Saturday in his usual no-nonsense manner, mimicking his head coach. "We've got a 24-hour rule and then a week off so I'm not really thinking about who we got next."
Said Saban: "We've got some big challenges and some stiff competition against some teams coming up here. This bye week comes at a pretty good time for us. We have a lot of guys banged up. We could use the rest, and we can use the time to try to help some of our players improve. So that's going to be our focus this week."
Notice the utter avoidance of LSU? The game was on the lips of every fan around Bryant-Denny Stadium on Saturday night, but it was nowhere to be found in Saban's postgame comments. When he spoke to the media again on Tuesday, he got three-quarters of the way through before LSU entered his consciousness, and even then it was to relive the 2011 game, not to focus on the game ahead of him.
"Just because we don't have a game doesn't mean you change anything about how you think and what we need to do to get better as a team," Saban said.
You're not going to catch this Alabama team looking ahead to LSU. Not even when LSU is the next team on the schedule. In their mind, this week is about recovery and a return to the basics. Saban said they'll spend an extra day on LSU preparation, but he doesn't want to throw the team off its usual schedule or burn them out too quickly, showing them the same plays and schemes too many times over the next two weeks.
Trey DePriest
, Alabama's starting inside linebacker, said he didn't think they'd spend any time on LSU this week. Maybe it was a bit of gamesmanship, but he reiterated it, saying they'd go back to "camp rules." Stinson backed him up, adding that there would be "no talk at all" of LSU.
"It's a positive, and it's definitely going to help us out," said veteran defensive end
Jeoffrey Pagan
, opening up where his teammates hadn't. "LSU's a tough team, and that kind of gives us an advantage to study the opponents more."
Just don't expect to hear much beyond that. Mettenberger and the LSU offense haven't been brought up. Neither has LSU's defense. Right now it's a matter of staying focused on the task at hand, even if that task doesn't involve another football team.
Really, it's Saban's way. When asked how he'd celebrate his birthday this week, he responded bluntly, "Whatever Miss Terry has planned is what I'll be doing."
If he could, he'd blow out his candles in the film room watching practice tape.
His is the kind of singular focus, and that makes Alabama unique. The build up to big games is the same as smaller ones. In fact, you often see a more fired up coaching staff for cupcakes like Georgia State than for "Game of the Century" type contests with LSU. They have to light a fire under their players for some games, but that won't be the case for next Saturday's home game against LSU. The battle lines were drawn well before the start of the season.
So why emphasize the matchups and specifics of the game now? With so many players hurt, why not take the week to rest? Inside the walls of Alabama's football offices, it might be different, but outwardly players aren't anxious for what's next.
"Our bodies need time to get ready for another physical game," said veteran wideout
Kevin Norwood
. "That's what we're going to do."
October, 26, 2013
10/26/13
8:32
PM ET
TUSCALOOSA, Ala. -- This is what Alabama football has become. It's no longer a matter of how the top-ranked Crimson Tide will win, but rather who is there to see it happen. The score gets out of hand quickly, the bleachers empty around halftime and Alabama continues its merciless march toward an undefeated season and a return trip to the national championship.
The outcome is routine. The journey's a matter of semantics.
With apologies to Nick Saban, this is where his program is. He might not like seeing fans head home before the game is over, but at some point it's understandable to leave. The way Alabama has demolished opponents lately -- hapless Tennessee being the latest sacrifice -- there's little reason to stick around Bryant-Denny Stadium. Alabama is so clearly the No. 1 team in the country, it's gotten boring. Why not find a couch, turn on the TV and see who might be worthy of No. 2?
[+] Enlarge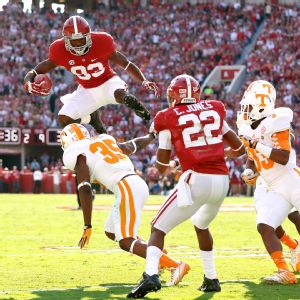 Kevin C. Cox/Getty ImagesKevin Norwood and Alabama's offense added a few highlight plays in their easy 45-10 win over Tennessee.
Scared Saban's death stare might find them on their way to the exits Saturday, not many fans dropped their red and white shakers to head home early. Only a small fraction of spectators left at halftime, satisfied with what they'd seen after sophomore safety
Landon Collins
intercepted a
Justin Worley
pass and returned it 89 yards for a touchdown to go ahead 35-0. The unranked Vols upset then-No. 11 South Carolina Oct. 19, but there would be no such letdown this weekend.
Alabama manhandled rival Tennessee on the way to a 45-10 win to improve to 8-0 on the season.
AJ McCarron
orchestrated the Alabama offense beautifully, completing 19 of 27 passes for 275 yards and no turnovers.
Kevin Norwood
led the team with six catches for 112 yards and a touchdown. The defense, meanwhile, gave up only its second touchdown since Sept. 14 against Texas A&M. All told, Alabama has outscored its last six opponents 246-26.
An Alabama fan held up a sign in the stands: "Saban, we'll stay for 60 [minutes] if you stay FOREVER."
"Sounds like a good deal to me," Saban said in response, cracking a smile. "I'm too damn old to go somewhere else and start over."
Saban was in a good mood after the game, clearly pleased with the turnout against Tennessee. He opened his postgame comments by applauding the fans' efforts.
"I know I'm really happy, I know our players are really happy and I hope our fans are really happy," he said. "I certainly appreciate our fans today. They stayed for the game and did a great job of supporting our team. It was a great atmosphere for our players to play in."
Ed Stinson
soaked in the final minutes of the game from the sidelines. As Alabama's starting defensive end, he was off the field well before the clock struck zeroes. The familiar tune of "Rocky Top" was drowned out as the crowd celebrated Alabama's 50th all-time win over Tennessee.
Stinson, a senior, said he's been happy with the way his team has come into its own in recent weeks. Alabama's rough start to the season against Virginia Tech and Texas A&M seems like a thing of the past after winning so handily since then.
"I feel like we're clicking right now," Stinson said. "We're on the right track. Everything is going fluidly."
But Saban, forever the cynic, focused on what's next, looking ahead to the matter of getting better during the bye week.
"You get defined by what you do every week," he said. "It's going to be important for us to focus on the bye week to try to improve, to try to get more players to play winning football.
"We've got some good challenges and some stiff competition against some really good teams coming up here."
Saban stopped short of mentioning specific teams, but his target seemed obvious: 13th-ranked LSU's visit to Tuscaloosa on Nov. 9. When Alabama and LSU have gone head-to-head under Saban, the outcome has most often been defined as classics. And once again, the two teams will be competing for the chance to represent the West in the SEC Championship Game.
And for the first time in a while, we'll see a game in Bryant-Denny Stadium that demands our attention from start to finish.
September, 4, 2013
9/04/13
10:30
AM ET
When asked about the performance of his defense following Alabama's 35-10 win over Virginia Tech in Atlanta Saturday night, Nick Saban had a hint of surprise in his answer.
He was so used to seeing historically good (or close to it) defenses lining up on his side, but with questions surrounding this one entering the 2013 season, he wasn't quite sure what to expect in Week 1.
[+] Enlarge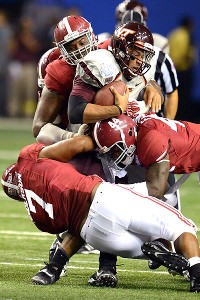 Dale Zanine/USA TODAY SportsAlabama's defense didn't allow Logan Thomas and the Virginia Tech offense to get comfortable on Saturday night.
What he got was a dominating performance from a group that faced new schemes with a few new parts of its own.
"I thought we did a really good job defensively," Saban said. "They didn't do anything on offense that we practiced against, all right? We didn't know how they would use their personnel.
"Our players on defense did a fantastic job of adjusting in the game."
All the talk about Alabama's ugly offensive line play has overshadowed a superb defensive outing.
The Hokies, who registered just 212 total yards and averaged 3.6 yards per play, threw some unexpected option at the Crimson Tide defense, but it didn't really faze Saban's players. Outside of a nice 77-yard touchdown run by
Trey Edmunds
in which guys got out of position and Saban said the secondary "didn't squeeze the ball properly," it was hard for the Hokies to do much of anything against Alabama's defense.
Virginia Tech was 3-of-17 on third down, had just seven first downs and finished with nine three-and-outs on 12 total drives. Future NFL draft pick
Logan Thomas
was rendered ineffective, too.
While Thomas dealt with sloppy drops from his receivers, Alabama's defense helped him look very pedestrian under the Georgia Dome lights. He completed just 5-of-26 passes for 59 yards and one interception that was returned for a touchdown by safety
Vinnie Sunseri
. He completed consecutive pass attempts just twice and, according to ESPN Stats & Information, Thomas left the game with a QBR of 1.9, the lowest in the FBS.
Alabama's extremely fast and very aggressive defense flew around the ball and delivered a handful of bone-ratting hits for dramatic effect. With key players to replace and unknowns to account for, Alabama's defense dominated for the most of Saturday night's 25-point win. Take away Edmunds' 77-yard touchdown run, and it's hard to imagine the Hokies seeing the end zone.
What really had to make Saban happy was the pressure Alabama was able to generate up front. This was an area he wanted to see improve from last season, and even though Alabama had just one sack, it was very obvious that Thomas was uncomfortable all night. Defensive lineman
Ed Stinson
even led the team with eight tackles.
Fellow lineman
Jeoffrey Pagan
said he felt the defense wanted to put the game on its back from the start. With the offense sputtering most of the time, the defense got that exact opportunity and didn't disappoint.
"Somebody's got to [step up]," Pagan said. "If it's not the offense, then it's the defense, and if it's not defense, it has to be special teams. They came up with two touchdowns, and the defense came up with one. That's a game-changer."
This group was by no means perfect, but it was a solid start to a very long season. The stats were impressive, but it was the on-field execution that was so striking. Even with inexperience taking the field at various positions, the defense was still able to adjust and adapt. The foreign schemes Virginia Tech thew at this crew didn't startle it, which had Saban gushing as only he knows how to gush over his defense.
"I think our players on defense understand the system, they kind of believe in it," he said. "They have enough experience out there that they can adapt to things that we haven't played or practiced against."
June, 13, 2013
6/13/13
2:30
PM ET
Everyone who knows anything about college football knows that one major thing that separates the SEC from all the other conferences is the play -- and talent -- along the defensive lines.
Ask any coach out there to describe the biggest difference and "defensive line" is bound to be one of the first things that slip out of his mouth. It truly is all about the trenches in the SEC, both defensively and offensively. The offensive lines deserve some love for just putting up with their burly counterparts, but the defensive lines really do get all the attention.
So it should come as no surprise that when Phil Steele
ranked his top 15 defensive lines
in college football that the SEC was represented by five teams -- the most of any conference.
[+] Enlarge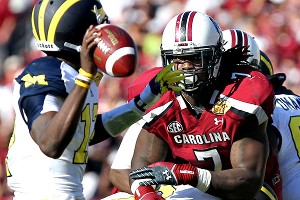 Kim Klement/USA TODAY SportsJadeveon Clowney headlines a deep crop of SEC defensive linemen.
While none ranked first or second -- that was reserved for Notre Dame (No. 1) and USC (No. 2) -- South Carolina topped the SEC lines at No. 3 on Steele's list. Florida ranked sixth, Ole Miss was 12th, Alabama was 13th and LSU was 14th.
That's pretty good when you consider that Florida lost first-rounder Sharrif Floyd and Mr. Solid Omar Hunter in the middle, while LSU pretty much lost its entire starting defensive line from a year ago.
The SEC truly does just reload up front.
South Carolina's ranking isn't surprising because there's more than just
Jadeveon Clowney
to work with. Sure, Clowney might be the best player in the country, but he has help from
Kelcy Quarles
and
J.T. Surratt
inside and
Chaz Sutton
on the other side of him. Quarles was pretty consistent for the Gamecocks last year, while Sutton grabbed five sacks as a backup. The departure of starters Devin Taylor and Byron Jerideau shouldn't shake this lineup too much.
Getting
Ronald Powell
back should help the Gators with Lerentee McCray gone on the outside. Powell will play that hybrid linebacker/defensive end "Buck" position, where he'll get help from freshman All-SEC player
Dante Fowler Jr
.
Dominique Easley
is moving back to defensive tackle, where he was very disruptive during his first two years on campus. He can still move outside if needed. End
Jonathan Bullard
is coming off of a solid freshman season, while more is expected out of tackle
Damien Jacobs
, who came from the junior college ranks last year.
Ole Miss still has depth issues at defensive tackle, but has plenty to work with at end.
C.J. Johnson
should be healed from the leg injury he suffered this spring, while
Cameron Whigham
is coming off of a season in which he started 11 games. Rising sophomore
Channing Ward
should be fun to watch, and top recruit Robert Nkemdiche is expected to see the field very early. Tackle
Issac Gross
should be back from his groin injury this fall and he'll get help from juco transfer Lavon Hooks, who had a very good spring.
Alabama might not have the elite players it's had in the past up front, but defensive ends
Jeoffrey Pagan
and
Ed Stinson
could have big years. Pagan has a lot of potential, while Stinson recorded 30 tackles last season, including 8.5 for loss and three sacks. Stinson is versatile enough to play both inside and out. Then there's
Brandon Ivory
at noseguard, who has to replace the talented Jesse Williams. Alabama still needs players to step up more as starters and reserves because the line as a whole has a ways to go before the season starts.
You can tell how well Les Miles has recruited along the defensive line when the Tigers can lose so much but still have a line that's considered one of the nation's best. Tackle
Anthony Johnson
has so much potential and it sounds like he's ready to unleash his talents on the rest of the league. Miles raved about end
Jermauria Rasco
this spring and doesn't think the Tigers will miss much of a beat with him outside. True freshman Christian LeCouture played his way into the two-deep at defensive tackle this spring, while Miles expects to get more from tackle
Ego Ferguson
and ends
Danielle Hunter
and
Jordan Allen
.
June, 20, 2011
6/20/11
9:55
AM ET
Today we look at the big uglies that cause all the mayhem in the trenches. The SEC consistently spits out nasty defensive linemen and this year has more of an athletic feel.
Here's how the teams stacked up:
1. South Carolina:
The Gamecocks return a defensive line that would make any offensive line shutter. Plus, incoming freshman Jadeveon Clowney comes in as the top high school player in the country and could be one of the best ends in the league this fall. Devin Taylor leads the group at end and was second on the team with 7.5 sacks as a sophomore. Helping on the outside is Melvin Ingram, who plays inside on passing downs, and led South Carolina with nine sacks a year ago. Senior Travian Robertson, who came off injury to get four sacks last year, is solid in the middle as well.
[+] Enlarge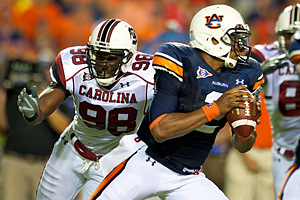 Dale Zanine/US PresswireDevin Taylor made a habit of harassing quarterbacks last season.
2. Arkansas:
The Razorbacks might have the best pass-rushing group Arkansas has seen in a while. Things revolve around defensive end Jake Bequette, who was one of the more unheralded players in the league last year, despite having seven sacks. On the other side of the line is Tenarius Wright, who will make up the second part of a formidable outside duo in Fayetteville with his speed and athleticism. In the middle, there are plenty of options. Byran Jones and DeQuinta Jones missed spring due to injury, but will be back this fall and there's a wealth of depth behind them. Junior college transfer Robert Thomas might be the best and most athletic option in the middle is primed to break out.
3. LSU:
There are some questions about the experience the Tigers bring back, but no one will question the talent and athleticism in Baton Rouge. Sam Montgomery is back at defensive end, after suffering a serious knee injury. He hasn't played much, but the coaches believe he's got what it takes to be a top end in this league. Kendrick Adams started 11 games last year at end, while Lavar Edwards filled in for Montgomery. Ego Ferguson redshirted last year, but should get a ton of playing time in the middle this fall. He is already one of the most athletic tackles in the SEC. Don't forget about five-star early enrollee Anthony Johnson, who made very strong impressions on his coaches this spring and will be in the rotation inside.
4. Florida:
This unit was criticized for lacking toughness last season, but will be full of that and even more athleticism in 2011. Jaye Howard is returning from spring ankle surgery and is already considered a top defensive tackle prospect in next year's NFL draft. Alongside him are youngsters Sharrif Floyd and Dominique Easley. Floyd was the most consistent of the much-ballyhooed freshman class last fall, while Easley struggled with attitude problems. Easley has rebounded and both excelled this spring. Omar Hunter is finally healthy and will share time with Floyd at noseguard and senior William Green will occupy an end spot. This group is even better when Ronald Powell lines up at end in the 4-3.
5. Alabama:
On paper, there are a few questions with this group, but it's hard to drop Alabama very far on this list. The 3-4 scheme will have senior Josh Chapman at noseguard. Chapman started 12 games in the middle last fall, totaling 31 tackles, including 3.5 for loss. Damion Square will compete for time on the outside, and since returning from his ACL injury, he's gained a lot more playing confidence and could be a budding star in the league. Junior college transfers Quinton Dial and Jesse Williams will compete for time on the line as well, while sophomore Ed Stinson will stay at end after starting last season at Jack linebacker.
6. Mississippi State:
The Bulldogs have arguably the top returning tackle tandem in the SEC. Fletcher Cox and Josh Boyd are the behemoths in the middle who combined for 53 tackles, 13 for loss and five sacks last year. Finding any sort of inside running game against Mississippi State will be extremely tough. Developing a pass-rusher is the next step for the Bulldogs' staff. Sean Ferguson occupies one side, but the other is still up for grabs. Trevor Stigers and Shane McCardell battled for the spot this spring, but neither has really pushed ahead.
7. Georgia:
There is a lot of talent in Athens, but there could be a lot of movement on the line. JUCO transfer John Jenkins is the big -- and we mean big -- name up front and he's yet to play a down in the SEC. He arrives with a ton of hype, but is perfect at noseguard in Todd Grantham's 3-4. DeAngelo Tyson moves to his natural position outside after playing noseguard last year. Kwame Geathers played in the middle this spring, but could be usurped for Jenkins this fall and move outside. Abry Jones is still maturing after moving to end and recording 34 tackles including 3.5 for loss last season and had a 16-tackle performance against Georgia Tech.
8. Auburn:
The Tigers must replace three starters this season. Inside, Auburn is talented but inexperienced with Kenneth Carter and Jeffrey Whitaker having 13 combined tackles from a year ago. There's less concern on the outside with lone returning starter Nosa Eguae on one side and sophomore Corey Lemonier on the other. Eguae might have more experience with 11 starts, but Lemonier appears to be more athletic and should be near the top of the defensive end pool this year. After that, the Tigers are young across the board.
9. Tennessee:
The Volunteers' line will grow with senior Malik Jackson running things in the middle. He had 48 tackles and five sacks a year ago and some think he'll be even better this fall. A lot will also be expected from incoming JUCO transfer Maurice Couch. He's pretty athletic at 6-foot-4, 327 pounds and he'll be greatly needed, considering the dismissal of Montori Hughes. Jacques Smith has All-SEC potential and will hold one of the end spots. After that, Tennessee has some young, but encouragingly talented bodies at each position.
10. Ole Miss:
Some of the best news of the spring coming out of Oxford was the return of Kentrell Lockett at defensive end. Lockett was granted an extra year of eligibility by the NCAA and will not only be the Rebels' top lineman but possibly their best defensive player. After that, the questions roll in with four tackles gone and youth coming in. Tackle Justin Smith has yet to really emerge as the All-SEC talent he was expected to be and Ole Miss is smaller up front. JUCO transfer Gilbert Pena could add some size in the middle. Gerald Rivers returns to get time at end, but has played in just 15 career games in two years.
11. Vanderbilt:
This was supposed to be a strength for the Commodores last year until injuries hit. Still, Vanderbilt returns three starters. Experience is there, but this unit has to continue to improve, especially in the pass-rushing department where the Commodores had just 20 sacks in 2010. Rob Lohr led Vanderbilt with four sacks a year ago and had 35 tackles. T.J. Greenstone is coming off of injury and will line up inside. Tim Fugger was one of the Commodores' most consistent players at end, playing in every game and registering three sacks and four forced fumbles.
12. Kentucky:
End Collins Ukwu and tackle Luke McDermott return with the most experience on Kentucky's line. Ukwu improved not only on the field but in the weight room this spring and is expected to be a more consistent pass-rusher. McDermott is a walk-on currently ahead of Donte Rumph, who has the talent to be one of Kentucky's top defenders, but has yet to fully buy in to the program. The coaches are also waiting for tackle Mister Cobble to finally break out of his funk and be a regular contributor. The rest of Kentucky's linemen have some developing to do and are inexperienced.
April, 15, 2011
4/15/11
9:30
AM ET
Spring game:
3 p.m. ET on ESPNU and
ESPN3.com

Questions answered:
Julio Jones
might not be out there anymore, but Alabama will still have a solid group of receivers this fall. Returning starters
Marquis Maze
and
Darius Hanks
have bee flying around this spring. Neither has the skill Jones had, but both will be formidable matchups for defenders this fall. Alabama should also be fine at running back without former Heisman winner
Mark Ingram
.
Trent Richardson
returns and he's healthy, while newcomer
Dee Hart
has added a lot of speed to the position. Richardson not only has tremendous talent, but he has increased his leadership skills. This offense will be leaning on him quite a bit this season.
Questions unanswered:
Greg McElroy
is gone, but his replacement hasn't been named. There are two guys --
A.J. McCarron
and
Phillip Sims
-- still battling for the spot and it looks like a starter won't be named until the fall. McCarron entered as the favorite, but Sims has made a major push this spring. Players have been pretty tight-lipped about the quarterback position, making Saturday's spring game that much more interesting. Alabama's secondary was an issue for the Tide in 2010 and this spring most of the unit was on the mend. Barron, Jarrick Williams, Dre Kirkpatrick and Nick Perry all dealt with injuries this spring. True evaluation of this unit won't come until summer and fall workouts.
Spring stars:
Hart was supposed to be getting ready for prom around this time, but instead he'll be getting reps in Alabama's spring game Saturday. Hart has played well in scrimmages and with his shiftiness and speed, he'll add another element to Alabama's bruising running game. Linebacker Dont'a Hightower seems to have his legs back this spring. After suffering a major knee injury in 2009 that even slowed him last year, Hightower has been solid in spring practices and is back to 100 percent. Linebacker C.J. Mosley made a ton of plays in scrimmages this spring. Receiver
DeAndrew White
was a bright spot on offense as well.
Of note:
Defensive tackle Kerry Murphy, receiver
Kendall Kelly
and defensive back Wesley Neighbors missed spring practice with injuries. … Senior safety Mark Barron was limited as he recovered from surgery to repair a torn pectoral muscle. … Linebacker Alex Watkins underwent knee surgery that kept him out of the latter part of spring practices, but should ready for preseason camp in August. Former linebacker Ed Stinson is now at defensive end. ... Former Ohio State receiver Duron Carter, the son of Cris Carter, is finishing up at Coffeyville (Kan.) Community College and plans to enroll at Alabama in June and will be eligible next season.