January, 8, 2015
Jan 8
10:30
AM ET
COLUMBUS, Ohio --
Taylor Decker
heard the doubters after Ohio State's offensive line couldn't block Virginia Tech in a Week 2 loss.
"A lot of people were against us after that loss," the junior left tackle said. "A lot of people said we couldn't play at this level, that we weren't good enough."
The group entered the 2014 season as a major question mark after losing four starters, and the Virginia Tech game seemed to solidify those concerns. The Buckeyes gave up seven sacks and rushed for just 108 yards on 40 carries against the Hokies' aggressive scheme.
[+] Enlarge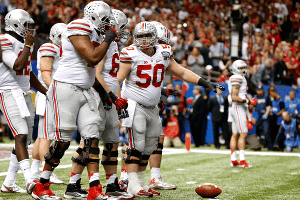 Matthew Emmons/USA TODAY SportsCenter Jacoby Boren (50) hasn't let being undersized stop him from being a force. "He plays mad," teammate Taylor Decker said.
But Ohio State is playing for the College Football Playoff National Championship presented by AT&T on Monday night versus Oregon in large part because its offensive line has developed into one of the best in the nation. That was obvious in last week's 42-35 semifinal win over Alabama in the Allstate Sugar Bowl, even though skeptics said the Buckeyes couldn't run up the middle against the Crimson Tide's massive defensive front.
"Everybody kept saying that," center
Jacoby Boren
said. "But ultimately, we knew that's something we take pride in, and we had confidence in knowing we would be able to do it."
Ohio State ran for 281 yards versus Alabama, which led the FBS in rushing defense during the regular season. The Crimson Tide hadn't allowed a 100-yard rusher all season until
Ezekiel Elliott
set a Sugar Bowl record with 230 yards. Elliott rumbled for 220 yards in his previous game against Wisconsin, another team that had one of the country's best rush defenses before getting bulldozed by the Buckeyes.
"The offensive line is opening up big holes for me," Elliott said.
The nature of Urban Meyer's offense is a power run game based out of a spread set, and it all starts with a strong effort up front. It took a while for this year's unit to jell because of youth and inexperience, but it is now operating at peak efficiency.
"No question, this is as well as they have played," Meyer said Tuesday.
This group was a bit more of a project than Meyer's first two O-lines in Columbus. It includes a fifth-year senior in right tackle
Darryl Baldwin
, who began his career on the defensive line and had never started before this year. There's a redshirt freshman in
Billy Price
at left guard and a sophomore in right guard
Pat Elflein
, who proved himself in an emergency start in last year's Big Ten title game.
The line is perhaps personified by Boren, an undersized junior who Meyer thought might project as a fullback when he first saw him. Ohio State brought in Alabama transfer
Chad Lindsay
this summer as its potential starting center, but Boren just worked even harder to beat him out. That was nothing new for him. Boren is such a grinder that he helped plow snow all night for his family's business last winter, showing up for 6 a.m. workouts on little or no sleep.
"Yeah, maybe he's not as tall or as heavy as you want him to be," Decker said. "But you can't teach that scrappiness, that edge he has to him. He plays mad. I think that's probably just a product of people telling him he can't do things. Without him, our offensive line wouldn't play as well as where we're at."
Decker is the star of the group, a 6-foot-7 road grader who was the only returning starter from 2013. Yet even he had to make adjustments this year as he moved from right to left tackle. Decker is an outgoing animal sciences major who interned at the Columbus Zoo last year and aspires to wrangle big cats one day when his playing days are done. For now, he's taming opposing pass-rushers.
"I would take him over any tackle in college football," Boren said. "I think he's done a great job out there."
The season didn't start out great for the offensive line, but Decker said the players never listened to critics or lost confidence. That's because they believed in position coach Ed Warriner. And rightly so. Warriner is a big reason three starters from last year's line -- Jack Mewhort, Andrew Norwell and Corey Linsley -- started in the NFL as rookies. Meyer will likely promote Warriner to offensive coordinator to replace Tom Herman after the national title game.
Just as Ohio State keeps pumping out successful quarterbacks, there also is now a tradition for "The Slobs," as Norwell nicknamed the offensive line last year.
"We always talk about theory and testimony," Meyer said, "and when Ed Warriner teaches an offensive lineman, that's the way it's supposed to be, it's not theory anymore."
The last challenge for this O-line comes against Oregon, which presents different obstacles than Alabama did. The Ducks show a lot of odd-man fronts, and while their front doesn't have the bulk of the Crimson Tide, they have speed and length -- especially with defensive ends
Arik Armstead
(6-8) and
DeForest Buckner
(6-7).
"We can't get a lot of double-teams, and that's kind of our strength as an offensive line," Decker said. "If people line up and play four down, we're going to kill them.
"So that makes it hard, because there are a lot of one-on-one base blocks, and they have long athletes pretty much across the board. They extend off blocks well, they use their hands well and they shed blockers well. They're going to be flying all over the field. But without a doubt, I think we'll be able to move the ball and score on them."
No one should be skeptical of this offensive line's ability anymore.
January, 4, 2014
1/04/14
3:07
AM ET
MIAMI -- Ohio State offensive line coach Ed Warinner huddled with his position group in a corner of the team's locker room following a 40-35 loss to Clemson in Friday's Discover Orange Bowl.
Warinner's voice started to crack as he told the players what they'd meant to him and what they'd accomplished. Warinner wrapped it up by saying, "You all are champions in my heart."
Unfortunately for the Buckeyes, they'll have to settle for those kinds of fond memories from their supporters. They've won 24 games the past two seasons, but it's the "And-2" that will haunt them. As in, 24-2.
Those two losses came at the worst possible times, first in the Big Ten championship game against Michigan State with a BCS title-game berth at stake, and then on the wrong end of a wild South Florida shootout. A program that went 12-0 the past two regular seasons managed to end up feeling disappointed at the end an otherwise magical run.
[+] Enlarge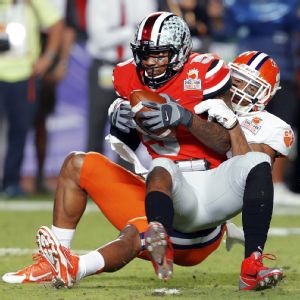 AP Photo/Lynne SladkyBraxton Miller was on his back as much as he was on his feet at times, but his gutty performance almost got Ohio State a win Friday.
"It's bittersweet," linebacker
Ryan Shazier
said. "We had a great year, and the year before was great. But at the end of day, the last two seasons we haven't won anything."
It's not hard to pinpoint why Ohio State fell short of earning a championship: a defense that literally limped to the finish line and a still-too-inconsistent passing game.
All of the pregame fears about Clemson's passing attack shredding the Buckeyes proved valid as the Tigers tandem of
Tajh Boyd
and
Sammy Watkins
abused a makeshift secondary. With star cornerback
Bradley Roby
sidelined by a knee injury and two players starting at their defensive backfield positions for the first time, Ohio State surrendered 378 passing yards and five touchdowns through the air, while Watkins set Orange Bowl records with 16 catches for 227 yards.
Even when they applied solid coverage, the Buckeyes' corners and safeties found themselves almost helpless against the best receivers they'd faced in three years. At one point,
Armani Reeves
was called for pass interference and tipped the ball out of the hands of the 6-foot-5
Martavis Bryant
in the end zone. Bryant still caught the ball for a touchdown.
"I can't get any closer than that," Reeves said. "That's what happens when you play great players."
Then again, Ohio State's defense made a lot of people look great down the stretch this season, giving up averages of 38.3 points and 539 total yards (Clemson piled up 576) in its final three games. If there's any optimism to be found there, it's that six players who were either freshman or sophomores started on defense Friday, and the future for guys such as
Joey Bosa
,
Jamal Marcus
and
Vonn Bell
looks bright.
Despite the defensive problems, the Buckeyes still had plenty of chances to win the game. They somehow led at halftime even after yielding 362 yards in the first two quarters. They were up 29-20 and were getting the ball back late in the third quarter when
Philly Brown
muffed a punt return to give the Tigers new life. That would be the first of four second-half turnovers that would ultimately doom Ohio State, the next three coughed up by quarterback
Braxton Miller
.
No one could fault Miller's effort. He accounted for four touchdowns while absorbing a severe beating most of the night. He injured his shoulder early in the game. He lay on the turf for a few minutes after taking a late hit on a touchdown pass to
Carlos Hyde
. Miller said he probably had a cracked rib to go along with his throbbing shoulder.
"That's probably one of the toughest games I've played in, as far as being hit-wise and being banged up," Miller said. "Probably the toughest one all year."
Ohio State coach Urban Meyer rightly called Miller "a warrior" for his performance. But Miller also turned the ball over twice in the final 3 minutes, 12 seconds and didn't see linebacker
Stephone Anthony
slide underneath a post route on the game-sealing interception near midfield. Miller was non-committal after the game about whether he'd go to the NFL or return to Columbus. Friday's game made it clear he still has a lot to work on in college as a quarterback, though he might want to save his body from more punishment with a nearly brand-new offensive line next season.
Miller had come through at the end of big games so many times before in his career that it was shocking to see him not do so against Michigan State and Clemson. Same goes for Meyer. Ohio State had made a habit out of choking out opponents in the fourth quarter in his tenure, and before Friday he was 4-0 in BCS games.
"That's what we train for," center
Corey Linsley
said. "We train to finish. It's definitely disappointing, because that was our M.O."
Ohio State was not far away from its championship goals this season. Another play or two against Michigan State, and maybe the Buckeyes are in Pasadena, Calif., right now getting ready to play Florida State, an admittedly frightening prospect given the tattered state of their defense. Friday's game went back and forth and could have ended differently if not for the untimely turnovers.
But a team's record tells the story. Ohio State won its first 12 games again this season. Then came the "And-2."
"Those were championship games," cornerback
Doran Grant
said. "And we didn't win 'em. Plain and simple."
April, 3, 2013
4/03/13
11:00
AM ET
COLUMBUS, Ohio -- Several factors usually get mentioned first as reasons for Ohio State's 12-0 season in 2012.
Braxton Miller
's heroics.
Carlos Hyde
's emergence. The play of the defense down the stretch, led by
John Simon
and
Ryan Shazier
.
But one factor probably doesn't get mentioned enough: the performance of the team's offensive line. A major question mark going into last season, the line shaped up as one of the best in the Big Ten last year under the tutelage of Ed Warriner. And with most of the group back and some better depth, the unit provides a strong reason to believe in the Buckeyes again in 2013.
[+] Enlarge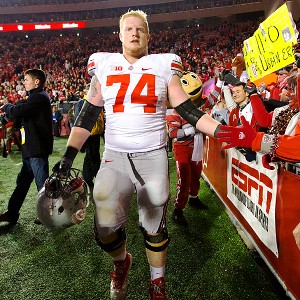 Jeff Hanisch/USA TODAY SportsLeft tackle Jack Mewhort, an all-Big Ten-level talent in 2012, could be the Buckeyes' next great leader.
Warriner turned in one of the better coaching jobs in the league last year, rounding into shape a crew that was previously undistinguished and underwhelming. He turned
Reid Fragel
, a former tight end, into a standout right tackle who should get drafted later this month.
Corey Linsley
went from playing guard to one of the conference's top centers, while
Jack Mewhort
developed into a top-flight left tackle. One of the indelible images of the Buckeyes' season was the line pushing around Michigan State's terrific defense to grind out the victory in East Lansing.
About the only thing Warriner had to worry about last season was health, as there was no experience and precious little depth behind the starters. He doesn't have the same worries this spring.
"It's a nice feeling to know you probably have a backup tackle and a backup guard," he told ESPN.com.
Four starters are back, so the real battle this spring is to replace Fragel at that right-tackle spot. Right now, sophomores
Chase Farris
and
Taylor Decker
are splitting a lot of first-team reps there, with
Darryl Baldwin
also in the mix.
"Those two guys have a lot of ability," Warriner said. "The more comfortable they get and the more confidence they get, one of them could take off -- or maybe both will and we'll play by committee. But they have high-level talent and all the traits of really good linemen."
Head coach Urban Meyer said Tuesday that redshirt freshman
Pat Elflein
has been one of the surprises of the spring, and he could add depth at guard or tackle. Warriner also said
Jacoby Boren
is making strides at center. While the team suffered a setback when reserve
Antonio Underwood
tore his anterior cruciate ligament late last week, the Buckeyes should still be able to rotate more guys on the offensive line this fall.
"If the next man in can play a certain amount but the level doesn't drop off enough to hurt our team, we might do that just to keep the unit fresh and hopefully be smart throughout the season," Warriner said.
But Ohio State will want its veterans on the field as much as possible. Mewhort, whom ESPN.com voted as a first-team All-Big Ten performer, has been hailed as one of the team's best leaders and anointed by Meyer as a possible replacement for Simon in that regard.
"He's what you want in terms of an attitude, of work ethic, of being a competitor," Warriner said. "When you're a first-year starter at a new position with a new coaching staff, sometimes you just worry about your own business, and that was him to some degree last year. But now, he's taking kind of a bigger role with his leadership on offense and even the team as a whole."
Warriner said guards
Andrew Norwell
, a first All-Big Ten team honoree by the media last season, and
Marcus Hall
have made maybe the biggest improvements of anyone on the line this offseason. Along with Linsley, whom Warriner said has "elite-level strength," the Buckeyes have the potential to field four all-conference type linemen.
"We think we possibly could, if they play up to their ability level," he said. "The good thing about the group is, they don't really care about that. If we won the Big Ten and none of them made all-conference, they wouldn't care a bit. That's the kind of unselfish players they are."
Warriner said he has challenged the group to help lead a top-five national offensive attack this season. Ohio State led the Big Ten in scoring last year (37.2 points per game) and finished second in rushing yards per game (242.3). The offensive line led the way, though players like Miller and Hall sure helped.
"We know the quality of our skill guys can erase some things and create some big plays," Warriner said. "If you block it for six, you might get 16. At some places, if you block it for six, that's what they'll get -- six yards."
Everything works in concert. But don't forget the Buckeyes' offensive line when talking about reasons for the team's success.
January, 12, 2012
1/12/12
6:45
PM ET
Urban Meyer officially completed his first Ohio State coaching staff on Thursday with the additions of former Notre Dame assistants Ed Warriner and Tim Hinton.

Warriner will coordinate the running game and serve as the team's co-offensive coordinator and offensive line coach. Hinton will be the tight ends and fullbacks coach. Both spent the past two years under Brian Kelly at Notre Dame.

Warriner is entering his 29th season as a college assistant and has spent nine years as a coordinator. Tom Herman is still expected to call the plays as quarterbacks coach and offensive coordinator.

Hinton is in his 31st year as a coach, 17 of them in college. He worked with Meyer on the Ohio State staff in 1986. Both coaches are Ohio natives, which played a big reason in why they left Notre Dame.

Meyer said he would serve as his own special teams coach, as he has in the past.

Meyer also talked Thursday about how good he feels to be back in coaching. Strength coach Mickey Marotti, who has known Meyer for years, said his boss looked "100 percent revitalized" and ready to roll.
April, 12, 2011
4/12/11
11:00
AM ET
SOUTH BEND, Ind. -- Like most people, Notre Dame guard Trevor Robinson had a preconceived notion when he first heard that Brian Kelly would be the new Irish head coach.
"My first thought was, 'Are we going to be pass-blocking 50 to 60 times a game?'" he said.
Kelly was known for his wide-open, high-powered spread offenses at Central Michigan and Cincinnati, and some wondered if that could work when the weather turned cold in South Bend. The opposite turned out to be true. Notre Dame took off late in Kelly's first season just as November arrived and it became -- dare we say it -- more of a smash-mouth team.
[+] Enlarge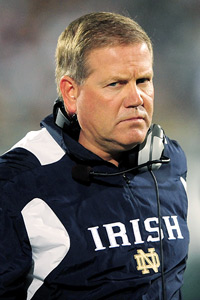 Andrew Weber/US PresswireCoach Brian Kelly has emphasized developing toughness in his football team.
Kelly had preached building toughness and putting the fight back in the Fighting Irish, which might have come across merely as good slogans. But that's just what happened in the final four games of 2010, all victories. In three of those four wins, Notre Dame ran the ball more times than it passed; the exception was the USC game, when the Irish used the ground game for the winning drive. The defense also threw its weight around, allowing fewer than three yards per carry in those four wins.
Last year's finish made it clear that Kelly had no intention of repeating the Charlie Weis era (i.e., throwing out gaudy offensive stats but folding up when other teams punched the Irish in the mouth). Yes, he had little choice but to change his style of play once skill players like
Dayne Crist
, Armando Allen and
Kyle Rudolph
got hurt. He also found out the true heart of his team lay in the trenches.
"I think it takes away any of the concerns that we're just going to run the spread because that's all he knows," Kelly said. "Our playbook is pretty thick, and we're going to do the things offensively that takes advantage of our strengths. The only group that was together for whole year for us was the offensive line, and I told them, 'Listen, you're going to have to carry the load for us.' That's how I think we started to have an identity."
There was no way of knowing that early in the year, as Taylor Dever and Zack Martin were first-time starters at the tackle spots, while Braxston Cave took over starting duties at center. Dever and Martin exceeded even optimistic expectations, and the line gained confidence as the year progressed. The offense leaned on the guys up front once true freshman
Tommy Rees
became the starting quarterback.
"The last four or five games were maybe the first time in my career that I felt like the offensive line was the unit that stepped up and increased our production to help the team out," Robinson said.
That line could once again lead the way in 2011 as every starter but guard Chris Stewart returns. Andrew Nuss and Chris Watt are competing for that spot, and the Irish think youngsters Tate Nichols and Chris Lombard can add depth.
"With the veterans coming back now, we can push past beyond just assignment and get to really good fundamentals," offensive line coach Ed Warriner said. "We can focus on footwork, technique and the little intricacies that make you a really good player. We're trying to go from gaining four or five yards on a running play to gaining six or seven."
The veteran offensive line's counterpart is a defense that came on strong at the end of last year and has added blue-chip talent in the front seven. Even when it looked like star receiver
Michael Floyd
could face a long suspension for his DUI arrest, Kelly remained confident Notre Dame could win without him because of the lines on both sides of the ball.
That type of toughness may not be what Kelly was known for in the past, but he appears to be building it in the present and for the future.
"At Central Michigan, they were starving for an offense," Kelly said. "At Cincinnati, we were trying to make that program relevant, so we had to have something we could sell, which was a no-huddle, exciting offense.
"Then you get to Notre Dame, and it's just about winning. We don't have to sell tickets, we don't have to raise money, we don't have to worry about any thing other than winning football games. So, schematically, it's about who on our football team will allow us to win games, and our strength is our offensive and defensive lines."
March, 22, 2011
3/22/11
3:00
PM ET
The absence of
Michael Floyd
isn't the only noticeable difference for Notre Dame as it prepares to begin spring practice on Wednesday. Here are some other changes and tidbits that head coach Brian Kelly outlined on Tuesday:
Austin Collinsworth has moved from receiver to safety. Kelly said the coaching staff loved Collinsworth's tackling and instincts on kickoff coverage last year.
Early enrollee Brad Carrico, listed as a defensive lineman when recruited, will move to offensive line. "He showed us in a short period of time in conditioning that he has quick feet and moves well," Kelly said. "He's a guy who we'll be able to get out in space, and he gives us some size and athleticism on the offensive line."
As previously reported, quarterback Luke Massa is headed to wide receiver, while Bennett Jackson goes from receiver to cornerback.
Assistant coach Kerry Cooks will move from outside linebackers coach to working strictly with the cornerbacks. Defensive coordinator Bob Diaco will handle the outside linebackers. Chuck Martin now will oversee the safeties. Ed Warriner becomes the running game coordinator, allowing offensive coordinator Charley Molnar a little more time for overall planning.
Defensive lineman Sean Cwynar is in a boot after surgery on a foot fracture and will not participate in the spring. Cwynar also had back surgery in the offseason and recovered well from that, Kelly said.
Star linebacker Manti Te'o had a scope done on his knee, and the Irish will be cautious with him this spring. "I think it's pretty safe to say right now we know a lot about what Manti Te'o can do," Kelly said.
As for the quarterbacks, Kelly said Dayne Crist (knee surgery) will be limited but should follow the same plan as he did last spring when he was recovering from an ACL surgery. That means he'll go through most drills but be held out of live contact. Andrew Hendrix and Everett Golson, who are more mobile quarterbacks, will get tackled some this spring to get a true evaluation of what they can do while running. Kelly said Crist's availability should make for a true competition this spring and that hopefully a pecking order would be established by the end of spring. But he said he had no idea of how the competition will go.
Though Theo Riddick will stay at slot receiver, there will be some packages where he and running back Cierre Wood are moved all over the field.
January, 5, 2010
1/05/10
4:47
PM ET
Notre Dame officially announced the hiring of three assistant coaches, all of whom have strong previous ties to new head coach Brian Kelly. His first staff appears to be nearly complete.

As expected, Chuck Martin resigned as head coach at Division II Grand Valley State -- where Kelly led the Lakers to two national titles -- to coach Irish defensive backs. Mike Elston rejoins Kelly from Cincinnati to coach defensive line, which he oversaw with the Bearcats. And Mike Denbrock, who spent last season at Indiana State and worked with Kelly at Grand Valley, will coach tight ends.

"Because these guys have worked with me in the past, all three guys understand the importance of player development and we share the same philosophies for making our team better," Kelly said in a statement.

Notre Dame had already announced that running backs coach Tony Alford would be the lone holdover from Charlie Weis' staff. The rest of the assistants will be named once they are vetted through the school's human resources department.

Kelly is expected to bring three more Cincinnati assistants with him: defensive coordinator Bob Diaco, passing game coordinator Charley Molnar and Tim Hinton, who coached Bearcats running backs and served as recruiting coordinator. It's also been reported that Kelly has tapped former Kansas assistant Ed Warriner as offensive line coach, and Big Ten blogger Adam Rittenberg reports that Wisconsin assistant Kerry Cooks will head to South Bend to coach linebackers.
October, 8, 2009
10/08/09
8:01
AM ET

Posted by ESPN.com's Tim Griffin
1.
The battle of young guns at Columbia:
Missouri and Nebraska both will be bringing largely untested quarterbacks into Thursday night's pivotal North Division showdown. Nebraska's
Zac Lee
has a small edge because he's played in a big game before -- losing by one point at Virginia Tech on Sept. 19.
Blaine Gabbert
will be facing his toughest test to date against the Cornhuskers. Whoever wins this battle likely will win the game.
2. Missouri's running game:
The Tigers are averaging only 3.8 yards per carry this season -- down significantly from last season's average of 5.2 yards per carry. Missouri's line needs some push against the talented Nebraska front, keeping Gabbert out of too many second-and-long and third-and-long situations. If
Derrick Washington
, De'Vion Moore and
Kendial Lawrence
can be productive and keep the Tigers in productive yardage situations, it will go a long way toward a Missouri victory.
3. Oklahoma State's reaction to the loss of Dez Bryant:
The Cowboys already are facing serious injury woes. But now they'll have to account -- perhaps for the rest of the season -- for the loss of their top offensive weapon and most explosive player after Bryant's suspension by the NCAA. His abilities as a receiver and punt returner made him a threat to score every time he touched the ball. Without him, the Cowboys won't be nearly as explosive. It will place more pressure on receivers like
Hubert Anyiam
,
DeMarcus Conner
and
Josh Cooper
. They have a combined career total of 21 receptions.
4. The Aggies respond to a blowout:
Texas A&M needs to blot out bad memories from a 47-19 loss to Arkansas last week in Arlington, Texas. The Aggies jumped to a quick 10-0 lead before Arkansas blew their doors off with 30 straight points. But their chances of stunning the Cowboys -- particularly with Bryant not playing -- might be better than you suspect. The first two or three possessions for the Aggies will be critical. A key will be whether the young A&M tackles can block better on the perimeter for
Jerrod Johnson
. And can they do a better job in sticking with the Oklahoma State offense that won't be nearly as explosive as it typically is. Kyle Field will be rocking. Will the Aggies feed off that support?
5. Sam Bradford's playing status:
The returning Heisman Trophy winner has hinted he'd like to return to action this week, building confidence before the pivotal game with Texas next week. The Baylor game would give him an ideal game to get his feet wet. But whether he is ready physically remains a question. And also, will Bradford be willing to jump back into battle with an Oklahoma offense stripped of its most potent weapons with the loss of
Ryan Broyles
and
Jermaine Gresham
?
6. Who starts for Baylor at quarterback?
The Bears have questions of their own as
Blake Szymanski
attempts to return to action after sustaining a bruised shoulder two weeks ago.
Nick Florence
had a strong debut last week in directing the victory over Kent State. But beating the Golden Flashes and Sooners is a completely different manner. Baylor coach Art Briles would feel more comfortable with an experienced player like Szymanski calling signals.
7
. Will Colt McCoy's first-half struggles continue?
Texas' Heisman Trophy contender is off to a slow start, having thrown four of his first five interceptions in the first half this season. He shouldn't be challenged against a Colorado defense that has produced only two interceptions this season, tied for 10th in the conference.
8. Colorado's struggling defense against talented Texas:
The Buffaloes have been gashed for 11 gains of 40 yards or more this season. Colorado defensive coordinator Ron Collins will face a huge challenge trying to curtail Texas' big-play abilities, especially considering the Longhorns' across-the-board edge in athleticism.
9. What do Grant Gregory and Steven Sheffield do for an encore?
Kansas State backup quarterback Grant Gregory engineered a victory from the start of the game over Iowa State. Texas Tech backup Steven Sheffield directed a Tech triumph over New Mexico after starter
Taylor Potts
was dinged late in the first half, scoring touchdowns on his first four possessions in charge. With both backups set to likely start again, who will emerge from Saturday's game in Lubbock better prepared to make it two straight triumphs?
10. Iowa State's attempts to account for Kansas' playmakers in space.
Kansas offensive coordinator Ed Warriner does a good job of getting his playmakers outside for big plays, with a talented array of standouts like running backs
Toben Opurum
and
Jake Sharp
and wide receivers
Kerry Meier
,
Dezmon Briscoe
,
Johnathan Wilson
and
Bradley McDougald
. Iowa State has been challenged to keep those kind of athletic players in check all season, particularly by an overachieving starting secondary that averages only 5-foot-9 in height. The Cyclones will be challenged to stick with Wilson, Briscoe, Meier (all 6-foot-3) and McDougald (6-foot-2). ISU will face its stiffest defensive test so far this season in terms of containing the Jayhawks' tall, talented and deep receiving crew.
May, 12, 2009
5/12/09
1:45
PM ET
Posted by ESPN.com's Tim Griffin
Ed Warriner only thinks he has it tough making third-and-long calls against tough defenses on Saturdays during the fall.
The Kansas offensive coordinator and his family will have an interesting dilemma Thursday afternoon when his two daughters, Madisyn and Merideth, will be on different sides of the field when their respective high schools play for the Lawrence city soccer championship.
Madisyn, a sophomore, is a forward for Lawrence Free State High. Merideth, a freshman at Southwest Junior High, has been called up to the varsity team at Lawrence High School, where she plays in the Lions' midfield.
It will be the first time the Warriners will face each other on opposite in a soccer game.
The Lawrence Journal-World provides an interesting profile of both players and their upcoming
"Come Wednesday night, there might be a little tension in the house," Madisyn told the Journal-World.
As Warriner juggles that potentially ticklish situation, here are a few lunchtime links from across the conference.
January, 13, 2009
1/13/09
12:19
PM ET
Posted by ESPN.com's Tim Griffin
After watching or listening to every play of every Big 12's bowl game, here are 10 observations gleaned from this bowl season.
| | |
| --- | --- |
| | |
| | Sam Greenwood/Getty Images |
| | Nebraska quarterback Joe Ganz turned in the performance of his career in a Gator Bowl win over Clemson. |
1.
No Ordinary Joe:
Nebraska quarterback
Joe Ganz
's career could be encapsulated in his Gator Bowl performance directing the Cornhuskers' triumph over Clemson. Ganz's career hasn't always been pretty -- just like his struggles against the Tigers. He was knocked around and even left the game with a bum shoulder that looked like it had knocked him out. But the resilient Ganz rebounded to direct a comeback and finish his career like he has this season -- with unexpected success.
2. Surging Jayhawks: Kansas provided the best overall performance by a Big 12 team with an impressive 42-21 victory over Minnesota in the Insight Bowl. Ed Warriner's offense was as strong as ever with Todd Reesing passing for 313 yards and Dezmon Briscoe and Kerry Meier combining for 24 catches and 314 yards and three touchdowns. But the biggest revelation was the play of the Kansas defense. After allowing touchdowns on the first two drives, the Jayhawks allowed only one scoring possession on Minnesota's final nine drives as Kansas allowed only 331 yards en route to the victory.
3. Pinkel erupts: Missouri coach Gary Pinkel had the fieriest in-game reaction when he verbally berated a Missouri fan who was expressing his displeasure at Chase Daniel as the Tigers left the field after struggling in the first-half against Northwestern in the Valero Alamo Bowl. The coach's response helped stoke the Tigers' overtime victory, which came despite a off-night by Daniel. After the game, it was revealed that Daniel sprained a ligament at the base of his right thumb the previous game against Oklahoma and had gamely played through the injury.
4. OSU can't overcome loss of Bryant: The most significant game-changing injury occurred when Oklahoma State wide receiver Dez Bryant sustained a knee injury against Oregon in the Cowboys' 42-31 Holiday Bowl loss. Oregon's leaky secondary didn't have an answer early as Bryant ripped them for seven first-quarter catches as the Cowboys jumped to an early lead. But after Bryant's injury, things certainly got easier for Oregon defensive coordinator Nick Aliotti. No Big 12 team was as dependent on a single receiver as the Cowboys were on Bryant. And his loss enabled the Ducks to zero in and eventually tee off on OSU quarterback Zac Robinson, who could no longer utilize Bryant on the quick routes that were blistering the Ducks earlier in the game. Robinson was the victim of several huge hits, sustaining a separated shoulder as the game continued. And it might not have happened if Bryant hadn't gotten injured in the first place.
5. Yes, Suh: Nebraska defensive tackle Ndamukong Suh provided the Big 12's best individual defensive game, helping stake the Cornhuskers' victory over Clemson with dominant inside play. Suh accounted for eight tackles, including 3.5 for losses and two sacks. For good measure, he provided a blocked field goal and a quarterback hurry and even played a little offense as a short-yardage blocking back. Suh is poised for an All-American season as a senior after his national coming-out party in the bowl game.
6. Maclin saves the Tigers: Jeremy Maclin's 75-yard punt return was not only the longest scoring play in a Big 12 bowl game, but also one of the most significant. Northwestern inexplicably kicked to Maclin despite dominating most of the first half while nursing a 10-3 lead in the Alamo Bowl. The Tigers had been limited to two interceptions and two punts in their first five drives to that point, gaining only 136 yards to that point of the game. But with 1:00 left in the first half, Maclin's TD return resuscitated his team after struggling early. Missouri overcame a sputtering offense for a 30-23 victory capped by Maclin's 7-yard touchdown grab from Chase Daniel in overtime. But his return earlier in the game was an even bigger play.
7. Colt does it again: The Big 12's most dramatic comeback came from Colt McCoy of Texas, directing the Longhorns' late victory over Ohio State in the Tostitos Fiesta Bowl. McCoy's 26-yard touchdown pass to Quan Cosby was a fitting conclusion to the former minor-league baseball player's career and capped a career-best 414-yard passing game for McCoy as well. But Cosby's late heroics on his touchdown grab never would have happened without the crucial fourth-down catch by sophomore James Kirkendoll two plays before.
8. Oklahoma's red-zone blues: The most surprising in-game trend in the FedEx BCS National Championship Game was the way that Oklahoma struggled in the red zone against Florida. Coming into the game, the Sooners were the one of the nation's most proficient teams inside opponents' 20-yard line, scoring on 76 of 80 drives with 69 touchdowns. But two huge stops inside the Florida 6 in the first half helped turn around momentum in the Gators' 24-14 victory. The Sooners never could recover from their self-inflicted mistakes, paving the way for their fifth-straight BCS bowl loss.
9. Tech's Cotton Bowl nightmare: The Big 12's worst collapse came from Texas Tech, which was unable to maintain its early success against Mississippi in the Cotton Bowl. The Red Raiders jumped to an early 14-point lead against the Rebels, but couldn't sustain that momentum as Jevan Snead's passing and a sure-tackling Mississippi defense gradually took control in Mississippi's 47-34 victory. It was a masterful in-game performance by Mississippi coach Houston Nutt, who thoroughly outcoached Mike Leach.
10. Harrell's ill-advised QB sneak: The worst single decision in a Big 12 bowl game came with Texas Tech's fourth-and-4 quarterback sneak by Graham Harrell early in the third quarter. Trailing 31-21, the Red Raiders had snatched momentum away from the Rebels after a missed field goal. But on fourth down, Harrell inexplicably tried a quarterback sneak that fell more than a yard short of the first down. Brandon Bolden scored on a 17-y
ard run for Mississippi three plays later and Tech would come no closer than 10 points during the rest of the game.