NCF Nation:

Eddie Jackson
November, 6, 2013
11/06/13
11:00
AM ET
TUSCALOOSA, Ala. -- So much about LSU-Alabama is built around the physical style of play, and rightfully so. UA coach Nick Saban called the game a "heavyweight fight" where you have to show up in every round. His veteran defensive end,
Jeoffrey Pagan
, said it was a "dog fight" he looks forward to every season.
[+] Enlarge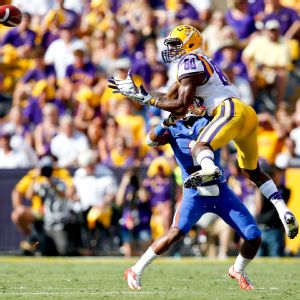 Derick E. Hingle/USA TODAY SportsWith a powerful run game, plus Jarvis Landry (pictured) and Odell Beckham Jr. stretching the secondary, LSU's offense presents a bigger challenge to Alabama's depleted secondary.
But it won't be all smash-mouth football when the two teams meet in Tuscaloosa on Saturday night. Don't be surprised if LSU coach Les Miles puts the ball in the air against the top-ranked Crimson Tide.
And given the Alabama's depth concerns in the secondary, why not? Eight different players have started there and two key pieces at safety --
Vinnie Sunseri
and
Nick Perry
-- are out for the season with injuries.
Deion Belue
has been consistent, but who plays opposite him at corner hasn't been.
John Fulton
,
Cyrus Jones
,
Eddie Jackson
and
Bradley Sylve
have all tried their hands there and none have risen to the top of the pile. It's unclear who among them will start against LSU.
"We like the matchup," Miles said of getting the ball to his two star receivers,
Jarvis Landry
and
Odell Beckham
Jr., who rank in the top 10 of the SEC in receiving yards and have combined for 16 touchdown catches. "We think that we kind of give them some challenges on the perimeter. We got a quarterback, first of all, that can make the throw and several receivers that can get open in space.
"Again, who we're playing, they are a very good team, but we think there is a matchup there that benefits us."
LSU certainly has the pieces to hurt Alabama through the air.
Zach Mettenberger
had his own personal coming out party against the Tide last season, throwing for a then-career high 298 yards in defeat. He carried that over to this year and has made the most dramatic improvement in opponent-adjusted QBR (+38.6) of any quarterback who qualified. His 85.7 opponent-adjusted QBR is seventh-best in the FBS, according to ESPN Stats & Information.
It helps that he's got two good ones to throw the football to.
"The combination of these two guys are as good a receivers as we've played against all year long," Saban said. "Not the same style as the Texas A&M guys, but very quick, very athletic. They have the speed to get on top. Very smart in terms of route runners. They do a good job of putting them in various positions that makes them difficult to cover and get the kind of matchups on that you'd like."
Beckham is as dangerous a weapon as there is in the SEC with his ability to create separation. He has premier top-end speed and the burst to make a guy miss and take it to the house. He's currently second in the country in all-purpose yards.
Landry, on the other hand, can go up and get it. He's listed as 6-foot-1, but plays much larger. He's sixth in the country in receptions (57), seventh in yards per catch (21.02) and fifth in creating first downs on a reception (40).
"They know how to run their routes, just like our receivers," UA safety
Landon Collins
said. "It's hard to stick our receivers. They know how to run their routes and stick on a dime. Watching it on film, it's going to be a pretty tough game sticking them, our safeties playing their wide receivers."
It won't help that LSU is so balanced. Alabama won't be able to help the secondary out by dropping many defenders back in coverage. There's simply no ignoring LSU's running game, headlined by
Jeremy Hill
, who ranks 13th nationally in rushing yards (922) and is tied for fourth in rushing touchdowns (12).
Given all that, the Tide secondary knows the task that lies ahead.
"They have very good wide receivers, very good quarterback," Collins said. "And their run game is tremendous. We just have to stay settled and stay watching our keys."
October, 16, 2013
10/16/13
2:00
PM ET
TUSCALOOSA, Ala. -- There's an elusive nature to
Vinnie Sunseri
's game, a nagging need to define what makes him so special. In a sports that lusts after measurables, he doesn't fit the mold. He makes play after play at safety for Alabama, but we're not sure why or how.
[+] Enlarge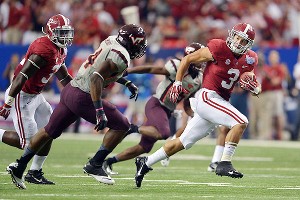 Paul Abell/USA TODAY SportsVinnie Sunseri has shown a big-play ability this season as both of his interceptions have been returned for scores.
Trey DePriest
wishes he could tell you what makes his friend and teammate such a playmaker, but the junior linebacker doesn't know. The two came up on special teams together as freshman and he's still trying to figure him out. Both of Sunseri's interceptions this season have been returned for touchdowns, including one which came against Texas A&M when he juked
Johnny Manziel
out of his shoes. He had no business making the defending Heisman Trophy winner look that bad. No one expected it.
"That's just what he does," DePriest said. "That's him."
At 6-feet tall, there's nothing inspiring about Sunseri's size. Sure he's sturdy, quick and has a nose for the football, but in terms of what scouts crave -- the numbers combines generate like 40-yard dash, vertical jump and the three cone drill -- he leaves something to be desired.
Mike Smith
, Sunseri's former coach at Northridge High (Ala.) did say via text: "He's a relentless competitor!"
"He's a throwback guy in a modern era," Mike Smith said. He knows how athletic Sunseri is having played him at linebacker, punt returner and running back, but defines him in simpler terms. "He's the way it used to be played. He breaks the mold of what we are led to believe is needed to win in college football."
Sunseri, the son of longtime college football assistant coach Sal, is a coach's dream. He hurls his body around like a bowling ball crashing against the lanes. And more than making plays at pivotal moments, he's a teacher and a leader. In a secondary that's had more than its fair share of turnover, he's been a driving force for youngsters like
Landon Collins
and
Geno Smith
who have had to fill in at free safety with
Ha Ha Clinton-Dix
serving a suspension.
One week it's Sunseri shouting out the play to
John Fulton
at cornerback, the next it's
Eddie Jackson
and then the next it's
Bradley Sylve
. The carousel in the back end of Alabama's defense has been spinning from early on this season with Sunseri calmly holding the wheel.
"Vinnie's a very smart guy," UA coach Nick Saban said. "He's been showing leadership in terms of making calls and trying to help the other guys in the secondary, which I think they appreciate.
"He all of a sudden is one of the most experienced guys back there right now."
Saban explained how the communication Sunseri provided against a no-huddle team like Kentucky was vital to the Tide holding the Wildcats one touchdown, less than 200 total yards of offense and under 50 percent completions through the air. Sunseri narrowly missed his third interception of the year when he jumped in front of a pass from
Maxwell Smith
, knocking it to the turf.
It was easy to see the joy in his face in the waning moments of the Kentucky game. He bear-hugged wide receiver
Kevin Norwood
on the sideline and congratulated his fellow defensive backs for a job well done. They'll need to improve with Arkansas coming to town this week and LSU in less than a month's time.
"It's been fun to see all these guys develop: Bradley, Eddie, Landon Collins, and see the players they're becoming and teach them all the things they need to know has just been something really fun," Sunseri said. "They're doing a great job."
"He's taken the leadership role very hands-on because he's got to make more calls now because we've got two new safeties doing the position," Collins said. "There's more calls now, doing a lot more and talkative so he's helping a lot more than I think and I appreciate that."
Though his role as a starter and leader of the secondary might be larger, teammates insist nothing has changed. He doesn't have the flash of some big-name players in the SEC, but he's just as important as any of them to his team.
"He's still the same old Vinnie, which has always been a leader," defensive end
Jeoffrey Pagan
said. "Since he's been here he's always been a leader."
It's everyone else that's just now catching on. Both ESPN and CBS Sports named Sunseri a Midseason All-American this week, though as many as three of Alabama's defensive backs could be more physically gifted. But it's that old-school idea that production trumps all that makes Sunseri so special. After a while, the interceptions and big plays are too much to ignore. The why and how he's doing it starts to become irrelevant.
"He's got great ball instinct," Pagan said matter-of-factly. "The guy knows football. I'll give him this: he's a football player."
October, 1, 2013
10/01/13
12:00
PM ET
TUSCALOOSA, Ala. -- It's safe to assume that
Eddie Jackson
understands the opportunity ahead of him at Alabama. He can't say as much publicly because of the school's policy prohibiting freshmen from speaking to the media. But given all he's already gone through, it would be a wonder if he didn't look back on his road to Tuscaloosa and comprehend the enormous turnaround it took for him to get there.
It's a wonder he's wearing Alabama's signature crimson helmet in the first place. The fact that he's starting at cornerback for the defending national champions is something even more implausible considering where he was at this time last year.
Jackson needed a change of scenery before any of the chips fell into place. He likely learned the value of a fresh start from his brother, Demar Dorsey, a former blue-chip defensive back prospect who signed a letter of intent to play for Michigan in 2010 but never made it to Ann Arbor. Dorsey's past included poor grades and three felony charges that robbed him of the opportunity to play at a BCS-level football program. He failed to meet Michigan's standard for admission, announced he would transfer to Louisville, failed to make it there because of more issues and eventually landed at Grand Rapids Community College. Dorsey was supposed to transfer to Hawaii in 2012, but he never reached the Big Island and today is not listed on Hawaii's roster.
[+] Enlarge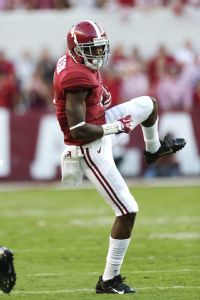 AP Photo/Dave MartinEddie Jackson was a virtual unknown in recruiting at this point last year. Now he's a key piece on defense for the No. 1 team in the country.
Wayne Blair knew of Dorsey's story when Jackson walked into his office at Boyd Anderson High in Lauderdale Lakes, Fla., looking to transfer after becoming academically ineligible at his previous school. Blair saw Dorsey's "pitfalls" up close at nearby University School, where he was an assistant in 2009. He took a chance on Jackson, who was then a junior with serious eligibility issues. His grades were "way below normal standards," said Blair, who helped get Jackson eligible just in time for spring football.
Blair's investment and Jackson's hard work paid off instantly.
"He played free safety for us at the time," Blair said of the spring game against University School, a national powerhouse. "He had an interception, he returned one for a touchdown and then had another interception. And I realized then that I had something really, really special on my hands."
Jackson, though, had no college offers at the start of his senior season. Blair worked the phones, calling contacts at all the major conferences looking for someone to take a flier on his wide receiver/defensive back, a tall kid with enormous raw potential. Blair said he told them, "I got a guy that if I can get him NCAA eligible, you might want to go ahead and put your vested interest into him." Of course, no one took him seriously.
What Jackson did on the football field as a senior caught their attention, though, making him an increasingly rare sight in college recruiting: a late-blossoming prospect.
"Every game he either did something extraordinary offensively or completely excellent defensively or on special teams," Blair said. "And the buzz started growing as we had ourselves a good year. We went into the playoffs and he went off."
Jackson's grandmother passed away early in Boyd Anderson's postseason run. Blair said that's when "he went from good to great within a two-week span."
Blair had to chuckle when he retold his "folklore of Eddie Jackson" by telephone this week. He remembered how Florida State offered Jackson as a wide receiver, LSU wanted him as a defensive back and Miami looked at him as a wide receiver. Alabama had him strictly as a cornerback, though, drawn to his raw athleticism and 6-foot-1 frame.
"We thought Eddie was a good player," Alabama coach Nick Saban said Monday. "There were some academic questions and some of those things. We're always looking for longer corners, guys that have got a little bit more size. We had
Maurice [Smith]
, who had committed to us. We were still looking for somebody else and we found Eddie. We'd known about Eddie, but we weren't sure we were going to be able to recruit him. As soon as we found out that he would be qualified and all that, we really jumped on him."
Being able to work closely with Saban, who coaches cornerbacks one-on-one at Alabama, was part of what swayed Jackson to sign with the Tide. The other factor was timing. With last season's top corner for Alabama, Dee Milliner, likely to enter the NFL draft and not much behind him in terms of depth, Jackson and Blair saw an opportunity to play right away.
"I knew he'd probably be jumping into the starting lineup; I just didn't know when," Blair said. "I was thinking by Week 6. Low and behold, here we are."
Blair's prediction was off by two weeks. Jackson accomplished the improbable, learning enough of Alabama's complicated defensive scheme by Week 4 that he was inserted into the starting lineup against Colorado State.
A week later he proved that his first start wasn't a fluke opportunity against a cupcake opponent, starting again against No. 21 Ole Miss. On Saturday, Jackson was fourth on the team in tackles, had two pass breakups and a key interception against the Rebels, prompting senior cornerback
Deion Belue
after the game to say, "We finally found a piece to our secondary so that we all can come together."
"He fit in perfectly," said safety
Vinnie Sunseri
. "Having
Jarrick [Williams]
and Deion [Belue] back was a huge part of it, too, but Eddie in there, and him getting comfortable and getting that one pick, kind of gave him that confidence booster that he needed. He played unbelievable. I was so proud of him."
Jackson's first-half interception was a defining moment. The rookie corner whiffed on
Donte Moncrief
, Ole Miss' veteran wideout, on the previous play, allowing a 36-yard gain and a first down. Coach Hugh Freeze then reached into his bag of tricks, calling for a backward pass to
Laquon Treadwell
, who looked toward Jackson's side of the field for a pass. But Jackson didn't bite on the fake, stuck to his assignment and secured the ball for the takeaway.
"He did everything perfect," Sunseri said. "He jammed the guy off the line, stayed, stepped in the divider, and he threw one right to him and he got the pick. It was a great momentum swing for us."
Saban, who covets long, aggressive corners such as Jackson, was pleased. He and his staff had been searching for an answer at the position after
John Fulton
and
Cyrus Jones
were torched by Texas A&M and
Mike Evans
, and in Jackson it appears they've found someone to work with. He's still just a freshman, but he's already done more in one game than all but Belue, Alabama's top on-ball defender.
"He played well," Saban said of Jackson. "Made a couple of mistakes, but I thought that most of those were because of communication, which is one of the things that we emphasize, where he wasn't sure about what the call was. But when it came to just his technique and what he was supposed to do and the way he competed in the game, I thought he did a really good job."
Blair, who talks to Jackson regularly, said it's now "his position to lose."
"Before it's all said and done, he could end up being the prototype defensive back like that guy over at Seattle, Richard Sherman," he said. "You have a tall, smart kid with good range, good hips. He can end up being the prototype Coach Saban has been looking for."
Reading into Blair's comments, it's clear he thinks that development could happen quickly. And why shouldn't it? It might seem improbable, but everything about Jackson's journey, going from academically ineligible with no college offers to a top prospect signing a letter of intent with Alabama, has been just that.
Jackson turned it around in a hurry in high school. What's to say he can't take the next step in just as timely a fashion? He's certainly showed he's no stranger to making the most of an opportunity.
September, 30, 2013
9/30/13
8:00
AM ET
TUSCALOOSA, Ala. -- There was no dipping a toe in the water for preseason No. 1 Alabama. The Crimson Tide instead had to jump right in, battling sharks every week in the first month of the season.
The early stretch was brutal at times. Sure, Alabama looked like the best team in the country and got through the first four games undefeated, but there were certainly some blemishes revealed along the way. Each week and each win was a struggle.
Virginia Tech opened the season by stifling Alabama's offense in Atlanta, getting into the face of quarterback
AJ McCarron
by applying constant pressure on the backfield. The offensive line, a group that featured three new starters, looked nothing if not inexperienced.
[+] Enlarge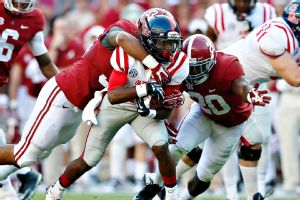 Kevin C. Cox/Getty ImagesThe Crimson Tide defense had its most complete effort of the season on Saturday.
Ninth-ranked Texas A&M then lit up Alabama two weeks later.
Johnny Manziel
and
Mike Evans
tore apart the secondary, abusing the Tide with the deep pass. UA set a kind of record you don't want to see, allowing the most yards in school history.
Even Colorado State, the $1.5 million cupcake courtesy of the Mountain West Conference, gave Alabama trouble. The Tide defense made too many mistakes and the offense was terribly inconsistent, failing to convert on a single third-down attempt in the first three quarters.
Then came No. 24 Ole Miss, an undefeated team playing with house money against Alabama. But this time, mercifully, the Tide put together a complete game and won, ending a four-game streak that tested the mettle of the championship contenders.
Now it's time to exhale. Alabama survived the early onslaught and can now take a breath to regroup with Georgia State, Kentucky, Arkansas and Tennessee up next. None of the four is ranked, and only the Razorbacks and the Vols are above .500, albeit at just one game over each. The four teams' combined record (7-11) is noticeably worse than the combined record of the first four teams Alabama faced (13-6) and the last four teams Alabama will face to end the season (11-6).
To make matters even more favorable for the Tide, Alabama will get a bye to start the month of November before hosting LSU on Nov. 9.
No team in the SEC has an easier next five weeks than Alabama. South Carolina is a close second and the only other school in the conference that won't face a ranked team over that time, but at least the Gamecocks don't have a cupcake like Georgia State to snack on. Instead, Steve Spurier's team will be tested somewhat by Kentucky, Arkansas, Tennessee, Mississippi State and undefeated Missouri. In fact, if one-loss South Carolina plays like it did against unranked UCF this past weekend, it might not be much of a championship contender come November.
The rest of the league's title contenders don't have it so easy. Georgia has rival Florida to contend with, LSU has Florida and Ole Miss in back-to-back weeks, and Texas A&M has to deal with the same explosive Rebels on Oct. 12.
Ole Miss is one of seven SEC schools to play two ranked opponents over the next five weeks. Only Tennessee and Missouri have it worse with three ranked opponents each in the month of October.
While Nick Saban might not be fond of focusing on records, it's hard to ignore the obvious -- if Alabama doesn't make it to November undefeated, it would be a shock. The Crimson Tide's coach isn't one to admit those things and he won't ever say an opponent is overmatched, but he and his staff do have the luxury of not stressing over serious competition the next few weeks.
Instead, they can budget their time wisely, resting banged up starters such as
Ryan Kelly
and
T.J. Yeldon
while working out the kinks with some younger guys for the stretch run, especially those on defense such as rookie cornerbacks
Eddie Jackson
and
Maurice Smith
.
"I'm looking more at the standard, not the record," Saban said following his team's shutout of No. 24 Ole Miss on Saturday night. "And I think it's important that our players do the same so we can continue to improve."
Improvement, though, might be the best Saban can hope for. Making another statement like his team did by thumping Ole Miss doesn't appear to be possible against the forthcoming carousel of unranked, overmatched opponents. Rather, building up some level of consistency over the next few weeks will be the challenge as the scoreboard certainly doesn't figure to be.
"We have high expectations for the standard of how we play," Saban said. "And I think more than what the record is, I think and our team thinks, what do we need to do so we can continue to improve so we can play the the standard on a more consistent basis.
"I would say if there's any criticism of myself, our staff and our team, it would be the fact that we have not been as consistent as we'd like to be."
Saban got through a rough, inconsistent start to the season intact and in the driver's seat for another run to the national championship. For the next month, he'll be in the enviable position of fine-tuning his team's mistakes against lesser competition.
While the rest of the SEC slogs through the ghoulish month of October, Alabama will be playing trick or treat each Saturday. All that remains now is reaching LSU on Nov. 9 without slipping on the proverbial banana peel.
September, 29, 2013
9/29/13
9:00
AM ET
Week 5 in the SEC provided what could have been the game of the year between Georgia and LSU. The nation's No. 1 team played up to its ranking, and there were plenty of impressive performances across the league. It's time to hand out the helmet stickers.

Aaron Murray, QB Georgia:
It wasn't long ago when Murray was labeled the quarterback who couldn't win the big game. It's time to throw that away. The senior finished 20-of-34 for 298 yards and five total touchdowns in Georgia's biggest game of the year. He has always been productive -- he could soon become the SEC's most productive quarterback of all time -- but add the clutch factor and there's no reason not to think he's a top contender for the Heisman this year. The Bulldogs control their own destiny in the SEC East, and Murray and company would love nothing more than a chance to avenge last year's loss to Alabama in the conference championship. They have to get through Florida first.
Zach Mettenberger, QB LSU:
It doesn't matter how well somebody plays, there has to be a winner and there has to be a loser. Unfortunately for Mettenberger, he finished on the losing side Saturday, but the former Georgia quarterback played admirably against his former team. He finished 23-of-37 for 372 yards with three touchdowns and no interceptions. Down the stretch, he made clutch throw after clutch throw to keep the Tigers in the game. LSU wide receivers
Odell Beckham
and
Jarvis Landry
had close to 300 yards receiving between them, but it starts with Mettenberger. He had a terrific homecoming but came up just short.
The Alabama secondary:
Before the game, Ole Miss quarterback
Bo Wallace
said he thought they could score on anybody. Evidently not Alabama. The No. 1 team in the nation shut out the Rebels, 25-0. Wallace singled out the Crimson Tide cornerbacks, saying they weren't exactly first-rounders, but
Deion Belue
and
Eddie Jackson
stepped up on Saturday. Jackson, a true freshman, was especially impressive locking up Wallace's favorite target
Donte Moncrief
for most of the game. He also came down with the Tide's lone interception. As a whole, the UA secondary held Ole Miss to just 159 yards through the air.
Mike Davis, RB South Carolina:
At halftime, it didn't look good for South Carolina. The Gamecocks trailed Central Florida, 10-0, and quarterback
Connor Shaw
was lost for the game with a shoulder injury. But Davis didn't care. He put his team on his back and carried it to victory. It started with a 53-yard touchdown run on the opening drive of the third quarter, the first points of the game for the Gamecocks. He scored twice more in the fourth quarter to extend the lead and put the game away. The sophomore back finished with 26 carries for 167 yards and three touchdowns as South Carolina survived a difficult road test.
The Texas A&M offensive line:
Johnny Manziel
gets most of the credit for Texas A&M's high-powered offense, but it was the offensive line that absolutely dominated Arkansas up front on Saturday. The Aggies rushed for 262 yards against the Razorbacks, averaging six yards per carry. No one player reached 100 yards rushing, but
Trey Williams
and
Tra Carson
played well down the stretch, and starting running back
Ben Malena
scored twice. Manziel still finished with 261 yards and two touchdowns through the air and another 59 yards on the ground, but it all started with the offensive line.
September, 19, 2013
9/19/13
1:00
PM ET
TUSCALOOSA, Ala. -- Alabama coach Nick Saban slipped into another soap-box moment this week when he took to the podium to describe how his secondary had played so poorly against Texas A&M.
"The players have to do what the coaches do, and that's the point," he said before launching into a narrative about civil disobedience, wrapped around what's becoming a borderline obsession with dog owners failing to keep their pets on a leash (he used the same "Nobody wants to be obedient now" rant the week before the game as well).
[+] Enlarge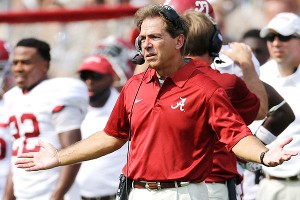 AP Photo/David J. PhillipNick Saban is hoping his players got the message after Alabama's defense struggled to stop Johnny Manziel and Texas A&M last Saturday.
What Saban's argument boiled down to was a four-word sentence nobody wants to hear: I told you so.
"No matter how many times you tell someone, 'Look, son. Don't touch the stove. It's hot,' " he said, lamenting the fact that they always have to see for themselves. "Once they touch it and get burned, then they start saying, 'Huh, maybe I'll listen to this guy. Maybe Dad knows what he's talking about.' So, I think a lot of lessons were learned in this game.
"So now, when you say, 'Don't drop your hands when you're playing bump and run,' and the guy does it 15 times in a game against me, now you'll see why you were telling him. If you've told a guy 100 times to get in the middle of the field and he doesn't get there, now you can see what happens when he doesn't get there. No different than touching the stove. Same old thing."
Alabama ought to have learned its lesson against Texas A&M. The memory should be seared into every player's skull by now. If the game didn't do it, then surely the film review did.
Though
Johnny Manziel
and the Aggies are certainly one of the best offenses in the country, that does little to explain the staggering inefficiency of the defense as whole. The same defense that allowed the fewest plays of 10 or more yards per game (8.42) and the fewest passing touchdowns (eight) a season ago was gashed for five passing touchdowns and 20 plays of 10 or more yards as Texas A&M racked up the most total yards allowed by an Alabama defense in school history (628).
The Manziel-to-
Mike Evans
combination couldn't be stopped. "It's a combination of both guys' strengths that make a difficult matchup," Saban tried to explain, citing Manziel's speed and Evans' overwhelming size. Saban used at least three different defensive backs on Evans, not counting the double coverage over the top, and still, the 6-foot-5 sophomore racked up a career high 279 yards receiving. Manziel was Manziel again, evading the grasp of pass-rushers left and right while exploiting every hole in the secondary to throw for a career-high 464 yards.
And that was supposed to be the game Alabama's defense had figured out, aided by an offseason of study and an extra bye week to prepare.
Instead, the Crimson Tide were torched on national television and sent back to the drawing board in search of answers.
"We've tried to play the more experienced guys," Saban said, "especially in these first two games, because they're tough games. Everybody's had an opportunity.
"Now, we're just going to ... need to compete better. And it's not just the corners now, the safeties weren't where they were supposed to be in the game some, too."
With starting cornerback
Deion Belue
questionable to play against Colorado State this weekend, the competition is wide open. Saban said two freshmen are in position to see the field more, and based on practice, it looks like
Maurice Smith
and
Eddie Jackson
are the two in line for an early opportunity.
Bradley Sylve
, a redshirt sophomore, has been mentioned as another possible replacement in the cornerback rotation as well.
Geno Smith
, who started at nickel as a freshman late last season, was supposed to be a part of that mix, but after being arrested for a DUI during the preseason, suspended for a game and sent to the bottom of the depth chart, even he's fighting to get back into the mix. For now, veteran
Jarrick Williams
is holding down his spot just fine.
"Geno's got to beat somebody out. He lost his job," Saban said. "Jarrick's played really well. So, I mean, nobody has a rite of passage here just because you played in two games last year, 'I'm guaranteed my job.' If you do the right things and you play well, nobody gets your job."
In fact, Williams might be the only bright spot in the Alabama secondary after last week's game. He held down the slot receiver well and had it not been for his tipped pass,
Vinnie Sunseri
's interception return for a touchdown never would have happened.
"He's been unbelievable," Sunseri said. "Jarrick has done exactly what we've asked him to do. He's had great coverage, been really physical at the point of attack and just been a real sound defensive player at that star position. I can't express how happy I am for him to get the opportunity and take advantage of it like he's been able to."
Williams, for his part, tried to stay positive about the game, saying that the mental errors and mistakes against Texas A&M were "nothing we can't fix." Asked whether the game was a letdown, he said simply, "No, sir."
"I think we're just going to get on there and keep on fighting."
Saban may still be fuming over the coverage breakdowns and big plays, but the players seemed to have moved on.
CSU coach Jim McElwain has, too. The former Alabama offensive coordinator went up against Saban's defense in practice from 2008-11, and he's not buying any theory of a downward trend. In his mind, Texas A&M was merely an outlier.
"People are going to say whatever about the Texas A&M yardage, but there's going to be a lot of people who give yardage up to that guy," he said, citing the one they call Johnny Football. "Yet, they were in position numerous times, right? So I truly believe that was simply a little blip on the radar."
August, 20, 2013
8/20/13
8:20
PM ET
TUSCALOOSA, Ala. -- He was talking about football at the time, but what Alabama coach Nick Saban said following Saturday's scrimmage was exactly the type of message he likes to deliver at this point of the year, a warning that every action has a consequence whether it's on the field or off of it. With the season opener exactly two weeks away, Saban outlined what his players couldn't be if they wanted to be successful.
"We can't have complacency," he said. "Can't be satisfied with where we are. … Can't have selfishness on the team because that will fracture the team chemistry. We can't lose our accountability and attention to detail. Those three things right there are very important in us being the kind of team we're capable of being. Everybody's got to make that choice and decide are they willing to do the things they need to do to do it."
[+] Enlarge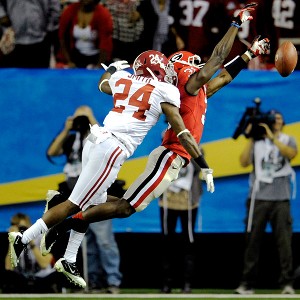 Paul Abell/USA TODAY SportsDefensive back Geno Smith was a key contributor late last season for Alabama.
He couldn't have made it any clearer, but what Alabama's seventh-year head coach said fell on deaf ears for sophomore cornerback
Geno Smith
, who dealt himself a major setback only hours later when he was arrested by the Tuscaloosa police department for suspicion of driving under the influence. He was held on $1,000 bond by the sheriff's office, but no amount of cash could save him from the
one-game suspension Saban awarded him
on Tuesday for his reckless behavior.
"He's never been in trouble here before, never been in my office for anything," Saban said, "but I think this is something that everybody should learn from that when you make a bad choice, sometimes the consequences of that choice can really have a negative effect. Some of these guys don't have enough foresight to understand cause and effect, but Geno has been a really good person in the program and just made a choice, bad decision. Made several of them, so now he's got consequences for it."
Smith, a former four-star prospect who came on late last year as a freshman, was expected to log significant minutes this season as the team's nickel back. Against teams like Virginia Tech who like to spread the field with multiple receivers, he would have played a big part of the Tide's defense, matching up against the slot receiver.
Now, Alabama must go back to the drawing board to determine who can fill his vacancy during the suspension. With
Deion Belue
and
John Fulton
projected to start as boundary corners, it falls to sophomores
Cyrus Jones
and
Bradley Sylve
to step up among the cornerbacks. Jones shifted to defense from wide receiver this year and has looked promising at the position, which he played in high school.
But the intriguing, and more likely option, is for Saban to utilize his depth at safety and bring down someone like
Nick Perry
,
Vinnie Sunseri
,
Jarrick Williams
or
Landon Collins
to play nickel, or "star" as Saban describes it. To get an idea of all the different combinations that are possible, take a look at what Saban said of the star and money positions in early April.
"Geno's been playing star, Vinnie can play star -- he played it all last year," Saban said. "Geno did it for the last three or four games of the season. Vinnie's been playing money, Landon Collins has been playing money, Jarrick Williams has been playing money, which is what he was before he got hurt. We've been trying to develop somebody other than Vinnie. Nick Perry can play star. We don't really have another corner that can play star. Also, Jarrick Williams is playing star. We have more multiples of guys right now than we had a year ago."
The options, clearly, are there. The problem, though, is that while Alabama is deep at safety, it's thin in terms of true cornerbacks. Signing
Anthony Averett
,
Jonathan Cook
,
Eddie Jackson
and
Maurice Smith
in February helped, but a freshman learning curve is inevitable. Given Saban's complicated defense, it's hard for rookies to see the field early. Hence, Geno Smith not coming on until late last year.
"First of all, opportunity is important, to have an opportunity to do that," Tide defensive coordinator Kirby Smart explained. "[It takes a] very conscientious kid to understand, 'Hey, I got to know this defense inside and out, I got to know all the checks, I got to know all the motions and checks, I got to know all the adjustments.' You've got to be very conscientious to do that, but you've got to have some ability. It's very easy for us to find those guys out there. When we recruit good players, they usually stick out as freshmen. We find ways to get them on the field and always have in some kind of role."