NCF Nation:

Eddie Pleasant
May, 4, 2012
5/04/12
12:00
PM ET
The 2012 NFL draft provided few surprises -- for about the first 10 minutes. After that, it was a slew of slips and falls that left many Pac-12 coaches and fans with a serious case of dry, itchy scalp.
When your Pac-12 bloggers got together this week in Arizona and started brainstorming ideas for this week's Take 2, the NFL draft was an obvious choice. We both agreed that the biggest surprise was that Washington running back Chris Polk was not drafted. No debate, no Take 2. So instead this week we decided to just toss out our thoughts on two more players who went undrafted.
Ted Miller
: It's an NFL tradition to underrate Oregon defensive backs, then hand them starting jobs -- see Jairus Byrd, T.J. Ward, Walter Thurmond, etc. So I am not shocked that former Ducks safety
Eddie Pleasant
didn't get drafted.
What will shock me is if he doesn't have an NFL career, whether that's with the Houston Texans, who signed him to a free agent contract, or not. I will admit that I vacillated between Pleasant and a more celebrated Pac-12 safety here: Stanford's
Delano Howell
. But I tapped Pleasant because I think he's a more consistent tackler and because, well, he played in the secondary at Oregon, which is an underrated NFL pipeline (and will continue to be so).
[+] Enlarge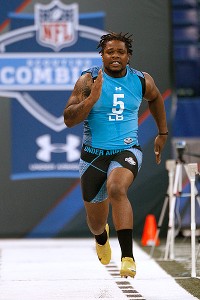 AP Photo/Dave MartinArizona State's Vontaze Burfict had a very poor NFL combine and did not get drafted.
Pleasant is not huge -- 5-11, 211 pounds -- and he's not hugely fast -- 4.63 40. But the main gripe on him was his struggles in pass coverage in space. Part of that likely is him only converting from linebacker -- where he started in 2009 after being a top reserve as a redshirt freshman in 2008 -- two years ago. In 2010, a lot of his struggles seem to come because he didn't exactly know what he was doing -- or feel comfortable doing it. His improvement in 2011 was notable because it suggested more is ahead. Finally, Ducks defensive coordinator Nick Aliotti, despite having plenty of physically talented candidates, has spent the entire spring wringing his hands -- as only Aliotti can wring his hands -- over how difficult it will be to replace Pleasant. When Aliotti speaks, I listen. For edification as well as amusement. Pleasant is going to be playing football a lot longer than a lot of safeties who did get drafted. You can count on that.
Kevin Gemmell
: The NFL is filled with stories of redemption. Sadly, my spidey senses tingle to the tune that Vontaze Burfict isn't going to be one of them.
Still, I'm mildly surprised that no one decided to take a flyer on him in the later rounds. It wouldn't have been the first time players with sketchy reputations/head cases/drug histories were admitted to the NFL fraternity via the draft. As one colleague said this week, NFL teams would draft an axe murderer if they thought he could help them.
After all, Warren Sapp took a little slide in the draft after he admitted to marijuana use pre-draft -- but still ended up in the first round. Luis Castillo was a first-rounder despite admitting to using androstenedione before the combine to recover from an elbow injury. Even Maurice Clarett found his way to Denver in the third round.
Sapp went on to have a very successful career, Castillo is still in the league with the team that drafted him and Clarett, well, he never played a down in the NFL. It goes to show that all it takes is one general manager to roll the dice.
The point is that Burfict must have been so unbelievably toxic that any potential he has as a linebacker was superseded by his shortcomings (pick one: physical, mental, emotional etc.)
Burfict's reputation proceeded him before ASU's season began -- but he was perceived as such a talent that most had no problem projecting him as a first-round pick; then a second-rounder; then a third-day pick before most eventually predicted he wouldn't be drafted at all. Mob stoolies in cement shoes don't sink that fast.
Maybe this is the wake-up call he needed. Burfict is an easy target for one-liners, but he's also still in the infancy of his adult life. The Bengals signed him to a zero-risk, free-agent contract. Maybe a veteran will take him under his wing and show him how to start manning up, because right now Burfict is the biggest joke of the draft. But when you really peel back the layers of his downfall, it's not all that funny.
January, 31, 2012
1/31/12
3:20
PM ET
Every team needs to hit every position group each recruiting season, but there are always priorities. It's not just positions where starters are lost or going to be seniors, it's about addressing weaknesses where a true freshman might be a better answer than a returning player.
Up next is the North Division.

California
QB
:
Zach Maynard
will be a senior, and it says something about the depth behind him that he never lost his job during his midseason swoon.
WR:
Keenan Allen
is back, but that's it in terms of returning production and experience.
S:
Three of the top four safeties from 2011 are gone.

Oregon
Skill:
In Chip Kelly's offense, you can never have enough fast guys. Sure,
Kenjon Barner
,
De'Anthony Thomas
and
Josh Huff
are back, but there's a lot of youth and uncertainty after that at running back and wide receiver.
TE:
His name is
David Paulson
, but he's gone.
Colt Lyerla
was a productive backup -- at least in terms of finding the end zone -- but after him things are uncertain. Tight end is one of the most underrated positions in the Ducks offense, so having more than one Kelly trusts is significant.
S:
Eddie Pleasant
is gone and
John Boyett
is a senior.
Avery Patterson
,
Erick Dargan
and
Brian Jackson
are next in line, but the young talent isn't as certain as it is at corner.

Oregon State
OL:
Oregon State lost three starters from a line that led the worst rushing attack in the conference and surrendered 27 sacks. Quarterback
Sean Mannion
has potential, but he needs time. And a running game.
DT:
The Beavers had the worst rushing defense in the Pac-12 in 2011. 'Nuff said.
LB:
The Beavers had the worst rushing defense in the Pac-12 in 2011. Almost enough said.
Cameron Collins
is gone, and all the contributors on the two-deep will be seniors, other than junior
Michael Doctor
.

Stanford
WR
: Perhaps the weakest position for the Cardinal in 2011, this need is augmented by the loss of
Griff Whalen
and
Chris Owusu
and the lack of up-and-comers other than sophomore
Ty Montgomery
.
DB:
Three of four starters are gone, including both safeties. In the Cardinal's two losses -- to Oregon and Oklahoma State -- an absence of top-end athleticism in the back half was exploited.
OL:
Three starters are back, but the losses are huge: Tackle
Jonathan Martin
and guard
David DeCastro
. And backup tackle
Tyler Mabry
and backup guard
Matt Bentler
also are gone. If coach David Shaw intends to remain a physical, downhill running team -- and he does -- he'll need to continuously stock up on linemen who can get the job done.

Washington
DB:
Lots of guys are back in the secondary, but the Huskies gave up 284.6 yards passing per game, which ranked 11th in the Pac-12. They couldn't cover anybody and often seemed out of position. So new blood might help.
DL
: (See if you can notice a theme here that ignores questions at wide receiver and running back). Two starters are gone from a line that consistently underperformed based on preseason expectations.
LB:
Second-team All-Pac-12 middle linebacker
Cort Dennison
is the only one of the eight men on the depth chart who won't be back, but he was the team's only consistent linebacker.

Washington State
DL:
Three of four starters are back, but all three will be seniors.
OL:
Three starters are back, but to make the next step on offense, the Cougars need to run the ball better. They ranked 10th in the conference in rushing offense. And that might reduce a conference-high 3.3 sacks per game. Mike Leach's quick-hit offense also might help.
RB:
170-pound sophomore
Rickey Galvin
is back, as is senior
Carl Winston
, but the backs need to share responsibility for a 3.1-yards-per-carry average, worst in the conference (of course, losing 237 yards to sacks doesn't help).
January, 19, 2012
1/19/12
9:00
AM ET
The coaches announced their All-Pac-12 team
here
, and the Pac-12 blog followed shortly thereafter
here
.
We even created an
All-Underrated Team
.
Now we recognize our Most Improved Players on both offense and defense.
[+] Enlarge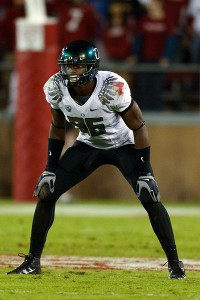 Jason O. Watson/US PresswireAll-Pac-12 junior defensive end Dion Jordan collected 7.5 sacks in 2011.
Defense (tie): Dion Jordan, DE, Oregon
Jordan went from single-game starter in 2010 to first-team All-Pac-12 as a junior in 2011. Jordan had 5.5 tackles for loss and two sacks in 2010, when he showed promise after converting from tight end. He lived up to that promise in 2011 with 13 tackles for loss and 7.5 sacks. Jordan figures to be a leading candidate for Pac-12 Defensive Player of the Year in 2012, particularly if he gets his skinny butt into the weight room and eats a lot of steak.
Star Lotulelei, DT, Utah
Lotulelei started the final three games of the 2010 season and finished with 21 tackles with 2.5 tackles for loss and 0.5 sacks. In 2011, he won the Morris Trophy as the Pac-12's best defensive lineman, as voted on by his peers -- the guys who had to block the 325-pounder. He earned first-team All-Pac-12 honors and was the lineman of the game in the Utes' Sun Bowl victory over Georgia Tech. He finished with 44 tackles, including nine for loss, but his main job was occupying two blockers so linebackers could make tackles. The Utes ranked third in the Pac-12 -- and 20th in the nation -- in run defense.
Honorable mention
:
Conroy Black
, CB, Utah;
Ben Gardner
, DE, Stanford;
Trevor Guyton
, DE, California;
D.J. Holt
, LB, California;
Josh Kaddu
, LB, Oregon;
C.J. Mizell
, LB, Washington State;
Nick Perry
, DE, USC;
Eddie Pleasant
, S, Oregon;
Jordan Poyer
, CB, Oregon State; Nickell Robey, CB, USC;
Trevin Wade
, CB, Arizona
Offense
:
Gerell Robinson, WR, Arizona State
Robinson went from bust to bust-out in 2011. In 2010, the once-touted recruit caught just 29 passes for 387 yards. He was best known for inconsistent hands. And at the start of 2011, he also caught an early case -- or two -- of the dropsies. But Robinson caught fire just as the rest of the Sun Devils started to tank, hauling in more than 100 receiving yards in six of the final eight games, including 13 receptions for 241 yards in the Las Vegas Bowl loss to Boise State. He finished with 77 receptions for 1,397 yards and seven touchdowns. His 107.5 yards receiving per game ranked ninth in the nation, and his 18.1 yards per catch was tied for first in the Pac-12. His late-season surge earned him a spot in the Senior Bowl.
Honorable mention
:
Mark Asper
, OG, Oregon;
Matt Barkley
, QB, USC;
Matt Kalil
, OT, USC;
Brock Osweiler
, QB, Arizona State;
Isi Sofele
, RB, California;
Markus Wheaton
, WR, Oregon State;
Marquess Wilson
, WR, Washington State;
Robert Woods
, WR, USC
November, 7, 2011
11/07/11
1:01
PM ET
Taking stock of the 10th week of games in the Pac-12.
Team of the week
: UCLA and coach Rick Neuheisel were left for dead on Oct. 20 after an embarrassing loss at Arizona in which ESPN commentators questioned the Bruins' pride. Since then, however, the Bruins have won two in a row, including nipping No. 19 Arizona State on Saturday. That 29-28 win means the Bruins control their own destiny in the Pac-12 South Division. Win-out, and they play for the conference championship on Dec. 2.
Best game
: The UCLA-Arizona State game wasn't decided until Sun Devils kicker Alex Garoutte missed from 46 yards on the game's final play. It was Garoutte's third missed field goal. The game featured five lead changes.
[+] Enlarge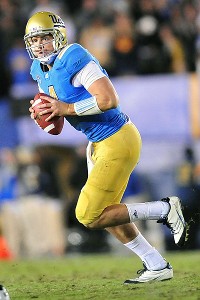 Gary A. Vasquez/US PresswireBruins quarterback Kevin Prince delivered in the clutch in UCLA's win against Arizona State.
Biggest play
: Facing a third and 29 from the Arizona State 39 on a desperation drive, UCLA quarterback
Kevin Prince
found
Nelson Rosario
for 33 yards to the Sun Devils' 6-yard line. Three plays later, the Bruins scored the winning points.
Offensive standout
: USC quarterback
Matt Barkley
set a school record with six touchdown passes in the Trojans
42-17 win
against Colorado. He completed 25 of 39 throws for 318 yards with an interception. His 28 touchdown passes ranks first in the Pac-12 and third in the country.
Defensive standout
: Oregon safety Eddie Pleasant grabbed two interceptions in the
34-17 win
against Washington. His returning those picks for 65 combined yards also helped set up two short Ducks touchdown drives.
Special teams standout
: Oregon State punter Johnny Hekker averaged 44 yards on five punts against Stanford, with three downed inside the 20, including one at the Cardinal 8-yard line and another at the 5-yard line. He also had a 65-yard punt.
Smiley face
: Oregon and Stanford took care of business -- last weekend and all season -- to set up the Pac-12 game of the year, a matchup of top-10 teams with national title implications in Palo Alto. It looked like a redletter date in the preseason, but both teams had to avoid upsets to make it happen. They did.
Frowny face
: Arizona State had a chance for a special season. The schedule set up for a 10-2 regular season and a South Division championship. Such a finish likely would have landed it in or at least near the top-10. And a win in the Pac-12 championship game would have earned them a Rose Bowl berth. The Sun Devils might, indeed, still win the South, but the loss at UCLA put an unexpected smirch on the season. And certainly made the Sun Devils, who are no longer ranked, look less like a team that could beat the eventual North champion.
Thought of the week
: Zzzzzzzzz. Oh, hey... Sorry. I was just watching a replay of last weekend's game of the century between Alabama and LSU. Great defenses yes. Some of the best we've seen in college football, no doubt. But, really, let's admit what's unquestionably true. The great numbers of SEC defenses are due, in part, because of bad -- terrible in some cases -- SEC offenses. I'd pick LSU and Alabama to beat any Pac-12 team. And, yes, extra time to prepare makes those SEC defenses particularly valuable in BCS bowl games. But I guarantee five conference teams -- Oregon, Stanford, USC, Arizona State and Washington -- would at least score a freaking touchdown against either one.
Questions for the week
: Speaking of games of the century, what will the Pac-12's version at Stanford yield? Will
Andrew Luck
and the Cardinal come out and make a Heisman Trophy and national title statement? If the Cardinal beats Oregon worse than LSU beat Oregon -- 13 points -- then that will raise some national eyebrows. And if the Ducks win decisively, might they become a darkhorse for the national title discussion? And when the smoke clears, will the Pac-12 be well-positioned, at least, to earn two BCS bowl berths?
November, 6, 2011
11/06/11
3:16
AM ET
Who gets a helmet sticker for a job well done (on a bad day for the Pac-12)?

California's defense
: The Bears held Washington State to 224 yards in a
30-7 win
. The Cougars rushed for just 69 yards and were 4-of-16 on third down. The Bears had three sacks.
John Hays, Utah
: While John White -- 109 yards and 2 TDs -- was the star for Utah in the
34-21 win
over Arizona, Hays passed for 199 yards and two TDs with no interceptions. Most important: No interceptions.
Eddie Pleasant, Oregon
: The Ducks safety grabbed two interceptions in the
34-17 win
over Washington. His 65 yards of INT return also helped set up two short Ducks TD drives.
Matt Barkley, USC
: The USC QB set a school record with six touchdown passes in the Trojans
42-17 win
over Colorado.
Derrick Coleman, UCLA
: The Bruins running back rushed for 119 yards on 17 carries -- 7.0 yards per carry -- and scored two TDs, including the 1-yard game-winner over Arizona State with less than a minute left in a game they
won 29-28
.
Griff Whalen, Stanford
: The underrated Whalen has become
Andrew Luck
's favorite target, and he'll need to be with
Chris Owusu
hurt. Whalen caught six passes for 87 yards with a TD in the
38-13 win
over Oregon State.
October, 30, 2011
10/30/11
3:25
AM ET
Who gets a helmet sticker for a job well done on week nine?
Chris Polk, Washington
: The Huskies running back scored five touchdowns and became the first player in Washington history with 100 yards rushing and receiving in a single game. Polk had 34 carries for 144 yards and four TDs and he caught four passes for 100 yards with another score in Washington's
42-31 win
over Arizona.

Eddie Pleasant, Oregon
: The Ducks safety had six tackles, a sack and an interception in the
43-28 win
over Washington State.
John White, Utah
: The Utes running back ran for a career-high 205 yards on 35 carries with a TD in Utah's
27-8 win
over Oregon State, the program's first in Pac-12 play.
Kevin Prince, UCLA
: The UCLA quarterback only passed for 92 yards but he also rushed for 163 yards on 19 carries in the
31-14 win
over California.
Andrew Luck, Stanford
: The Cardinal QB completed 29-of-40 for 330 yards with three TDs and an interception in the
56-48 triple-overtime win
over USC. He also rushed for 36 yards and a score.
Cameron Marshall, Arizona State
: The Sun Devils running back rushed for 114 yards on 15 carries with three TDs in the
48-14 win
over Colorado.
February, 14, 2011
2/14/11
2:12
PM ET
For every love won, there is love lost. For every thrill of victory, there is an agony of defeat.
While we only wish you happiness on Valentines Day, here are six top heartbreaks from the Pac-12.
[+] Enlarge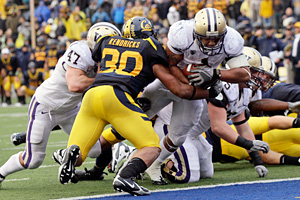 AP Photo/Marcio Jose SanchezWashington's Chris Polk lunges past California's Mychal Kendricks for the game-winning TD.
6.
Cal gets Polked
: Jeff Tedford had never had a losing season since he took over at California in 2002. And all his Bears had to do to maintain that impressive run was stop Washington on a fourth-and-goal from the 1-yard line with two seconds left, which would then earn them a bowl berth. Nope. Chris Polk scores a TD for a 16-13 Huskies win. The Memorial Stadium crowd, with no postseason to look forward to, goes home grumbling. The Huskies ride the win to their first bowl game since 2002.
5.
Thomas spurns USC for Oregon
:
DeAnthony Thomas
, widely considered one of the most dynamic athletes in the 2011 recruiting class, was a long-time USC commitment. He was expected to be one of the jewels of the Trojans' top-five class. But he took a late visit to Oregon just before signing day, when he broke USC hearts by signing with the Ducks.
4.
Trojans get kicked
: USC lost consecutive games the first two weekends of October -- 32-31 to Washington and 37-35 to Stanford -- on last-second field goals. And there was much gnashing of teeth.
3.
Buffalo slaughter
: Colorado led Kansas 45-17 with 14:52 left. Stick a fork in this one, right? Hey, maybe there was some life in Dan Hawkins' Colorado team. And Kansas, after all, was a bad team in turmoil under first-year coach Turner Gill, having lost 11 consecutive conference games. But no. Kansas scored the final 35 points in the fourth quarter and won 52-45. Epic collapse or epic comeback? Either way, it was stunning.
2.
James Brooks swats Alex Zendejas twice
: A blocked extra-point attempt is rare. Two in one game -- by the same guy -- is even more rare. And two PATs blocked by the same guy in game-deciding situations in a rivalry game? Well, that's great theater. But the thrill for Arizona State's James Brooks -- the mad swatter -- was pure agony for Arizona kicker Alex Zendejas. Brooks rejected Zendejas' PAT late in the fourth quarter, which forced overtime. He then turned away a Zendejas PAT in the second overtime, giving the Sun Devils an improbable upset win, 30-29.
1.
Dyer circumstances
: Auburn's freshman running back Michael Dyer looked down, tackled by Oregon rover Eddie Pleasant. If you watch the replay, you can interpret it any way you want, as many have. But the bottom line is Dyer's apparent short run late in the national title game turned into a controversial 37-yard scamper, which set up the Tigers' winning field goal as the clock expired in a 22-19 victory. One word: Ouch.
January, 18, 2011
1/18/11
10:19
AM ET
How can a football season be reduce to top 10 moments? It certainly isn't easy.
You might have your own ideas. There certainly are a few that were difficult to leave out.
We tried for diversity here: Games, performances, teams and plays. We came up with a list of 18 and then whittled things down.
Feel free to disagree.
1. Dyer circumstances
: Was
Michael Dyer
down? Oregon fans say yes, but the game -- and replay -- officials said no in the Tostitos BCS National Championship Game. The end result was a 37-yard run for the Auburn running back to Oregon's 23-yard line late in the fourth quarter, which set up the Tigers game-winning field goal in a 22-19 Ducks defeat.
2. The tying drive
: What was the biggest moment that led to Oregon tying the national title game at 19-19? First came Ducks linebacker Casey Matthews forcing a fumble from Auburn quarterback
Cam Newton
on a first-down run. Then came a 29-yard pass from
Darron Thomas
to
D.J. Davis
on a fourth-and-5 play. Or maybe it was the third-down shovel pass to
LaMichael James
that gave the Ducks a 2-yard TD. And don't forget
Jeff Maehl
's leaping catch for the 2-point conversion. It was a magnificent moment of almost.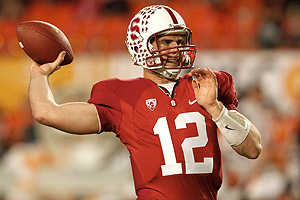 Joel Auerbach/Getty ImagesAndrew Luck threw for 3,338 yards and 32 touchdowns this season.
3. Pleasant fumble return
: Oregon safety Eddie Pleasant's 51-yard fumble return against Stanford was the turning point of the Ducks' Pac-10 game of the year win over Stanford. It was tied 31-31 in the third quarter, but Stanford was driving into Oregon territory after an
Andrew Luck
pass to
Chris Owusu
converted a third down. But Owusu fumbled on a hit from Javes Lewis and Pleasant rumbled to the Cardinal 3-yard line. A James run later and the Ducks took control.
4. It's better to be Luck than merely good
: Luck was masterful in the Discover Orange Bowl, completing 18 of 23 passes for 287 yards with four touchdowns in a 40-12 win over Virginia Tech. So that's what all those NFL scouts were talking about.
5. Polk's plunge
: You don't get much more basic than this: Fourth-and-goal from the 1 with just two seconds left, the game -- and bowl eligibility -- on the line. When Washington running back
Chris Polk
scored a TD as time expired to give the Huskies a 16-13 win at California, it became the centerpiece of a late-season surge that got Washington to its first bowl game since 2002. And it knocked the Bears out of the postseason.
6. Locker hurts Nebraska:
Washington quarterback
Jake Locker
's 25-yard TD run against Nebraska on the first possession of the third quarter of the Bridgepoint Education Holiday, which came immediately after he completed a 26-yard passing to wide receiver
D'Andre Goodwin
on third-and-8, gave the Huskies a 17-7 lead. It was the moment when everyone went, "Wow, the Huskies might beat a team that stomped them 56-21 on Sept. 18."
7. UCLA pounds Texas
: While it ended up not meaning a thing -- Texas wasn't that good; UCLA finished 4-8 -- don't forget how shocking UCLA's dominant 34-12 win at Texas was. No one -- no one! -- saw it coming.
8. For the defense
: Stanford's defense held Locker and Washington to just 107 total yards in a 41-0 shutout win in Husky Stadium, the Huskies' first shutout home loss since 1976. It was one of three shutouts for the Cardinal, whose transformation on defense was (almost) as big a story this year as Luck.
9. Five at the half
: USC quarterback
Matt Barkley
passed for a school-record-tying five touchdowns ... in the first half ... in USC's 48-14 blowout win over California. Barkley finished with 352 yards passing, but the Trojans, who led 42-zip at the half, opted not to run the score up.
10. Blowing PATs in the desert:
Arizona State beat rival Arizona 30-29 in double-overtime because James Brooks blocked two extra point attempts from Wildcats kicker Alex Zendejas. The first PAT probably would have won the game for Arizona in regulation. The second ended the game in the second OT. While the Sun Devils didn't earn bowl eligibility, the win sent them into the offseason with momentum for what figures to be a promising 2011 campaign. For the Wildcats, it was the fourth of what would become five consecutive defeats to end the season.
January, 11, 2011
1/11/11
2:47
AM ET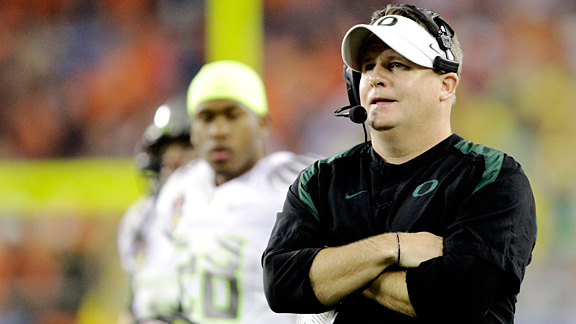 AP Photo/Matt York"The matchup with our offensive line against their defensive line was really the changing point in the football game," Ducks coach Chip Kelly said.
GLENDALE, Ariz. -- Oregon fought like heck. Its defense held Auburn to 21 points below its season average. The Ducks made things interesting with a late touchdown.
But when you cut to the chase of the Tostitos BCS National Championship Game, when you really talk about what matters in football, the reality is this: Oregon's offense got whipped up front by Auburn's defense in a
22-19 loss
.
"The matchup with our offensive line against their defensive line was really the changing point in the football game," Ducks coach Chip Kelly said. "I will give Auburn credit. They've got a great front four. Nick Fairley proved he was the best defensive lineman in the country. It was a tough matchup for us."
Fairley, the Lombardi Award winner, had three tackles for a loss and a sack and was a disruptive force inside. But he wasn't the only one. Auburn had 11 tackles for a loss and held the Ducks to just 75 yards rushing. They entered the game averaging 303.8 yards rushing per game. The Ducks averaged 6.1 yards per rush this season; they gained just 2.3 against the Tigers.
With the running game sputtering, that put the pressure on Oregon quarterback
Darron Thomas
. Sometimes he came through. Other times he didn't. The sophomore did shake off two early interceptions to set career highs with 27 completions on 40 attempts for 363 yards and two touchdowns.
The total yards were fairly close -- Auburn gained 520 yards and the Ducks piled up 455 -- but the Tigers' yards felt more meaningful, in large part because they rushed for 255 yards and converted 9 of 17 third downs, compared to the Ducks' 5-of-15.
[+] Enlarge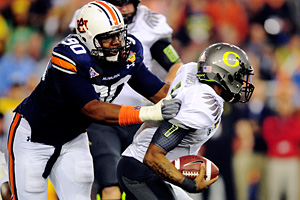 Mark J. Rebilas/US PRESSWIRENick Fairley and the Auburn defense combined for 11 tackles for loss against Darron Thomas and the Oregon offense.
Auburn ran 85 plays, a BCS National Championship Game record. Oregon ran 73.
"Their defensive line is really good," said Ducks running back
LaMichael James
, who was held to a season-low 50 yards rushing. "You know, it was tough to get around those guys. It was a difficult matchup."
A pattern has emerged: When a good defense gets extra time to prepare for the Ducks' offense -- Boise State, Ohio State and now Auburn -- it seems to thrive.
"You could say that," center Jordan Holmes said. "But we're not going to make excuses."
Still, Oregon had a shot. With the Ducks down 19-11 with five minutes left, linebacker Casey Matthews forced a fumble from Auburn quarterback Cam Newton, the Heisman Trophy winner. Oregon then drove 55 yards for a touchdown -- converting on a fourth-and-5 with a 29-yard pass in the process -- and
Jeff Maehl
made a spectacular leaping catch for the 2-point conversion to knot the count.
Only problem: There was 2:33 left on the clock. The Tigers took over and got a huge play from
Michael Dyer
: A 37-yard run deep into Ducks' territory when Dyer appeared down on a tackle from safety Eddie Pleasant, but broke away as defenders fatally relaxed.
The play was reviewed, but referee Bill LeMonnier of the Big Ten explained it like this: "The ruling on the field was there was nothing other than the foot that touched the ground. Replay... could not find any other body part touching the ground. So by rule he was not down."
The Tigers kicked a 19-yard field goal as time expired to earn their first championship since 1957.
And the Ducks were left to wonder about plays that were left on the field. Thomas seemed particularly frustrated by a pair of first-quarter interceptions.
"I came out killing us from the jump," he said of the two picks, one of which came on the Auburn 14-yard line.
Thomas felt it was Ducks miscues that hurt them more than what Auburn did: "I don't think Auburn stopped us from winning the game. We stopped ourselves."
But, really, it was about Auburn beating the Ducks. And it felt not unlike the Ducks' loss in the Rose Bowl to Ohio State last year, a game that Kelly also attributed to superior play by the Buckeyes' defensive line.
Obviously, for Oregon to take that final step up in the college football pecking order, it's going to need to get tougher up front on both sides of the ball.
The future was already on the Ducks' minds. They open against LSU in 2011 in Cowboys Stadium. That means they face another tough defense with lots of time to prepare.
"We have next year," James said. "We are going to play plenty more football games. We are going to win plenty more."
Or as Kelly said when he opened the postgame news conference for the losing team: "We'll be back."
January, 10, 2011
1/10/11
7:10
PM ET
GLENDALE, Ariz. -- Oregon's Autzen Stadium is a tough place to play, and not just because of crowd noise. The Ducks are just better there.
The Ducks average 143 more yards, 19 more points and 131 more rushing yards at home than they do on the road.
Of course, Auburn also is better at home -- just about every team is. But the Tigers home-road spread is not nearly what the Ducks is: 43 yards, eight points and 80 rushing yards.
The Tostitos BCS National Championship Game is close at hand and it, obviously, won't be played at either Oregon or Auburn. University of Phoenix Stadium is a neutral site.
Or that's the theory. It will be interesting to see if either crowd is boisterous enough to disrupt the other team -- i.e., false starts, unnecessary timeouts, communication issues, etc. It doesn't appear one fan base or the other will have a huge advantage in terms of numbers.
That's another point to consider among the multitude as we head into the biggest game these two programs have played ... ever.
Some others.
How fast will the Big Ten officiating crew spot the ball? A crew that works hard to get the ball spotted fast helps the Ducks.
How well can the Ducks contend with the Tigers two superstars: QB Cam Newton and DT Nick Fairley. Both can dominate a game and seemingly will their units to success.
The Ducks played in BCS bowl last year. The Tigers did not. That big stage experience should help the Ducks.
How much will the 37-day layoff affect the teams, and will one be more adversely affected?
Auburn played its best two games at the end of the season. Is that good, or did the Tigers peak too early?
Oregon didn't play its best late in the season, in large part because a couple of guys were banged up. Will they look even faster after resting -- and healing -- up?
Both teams sometimes start slowly. And both surge in the second half, particularly the fourth quarter. Who is true to form this go-round?
Does size matter? We've heard for 37 days how much bigger Auburn is than Oregon, particularly the Tigers veteran offensive line vs. the Ducks smallish front seven. Lots of folks on the Auburn side see that as a huge advantage. The Ducks, suffice it to say, do not agree.
Often a player we never saw coming steps up in big games. Who might that be? Josh Huff? Kenjon Barner? Jeff Maehl? Kenny Rowe? Eddie Pleasant?
Special teams, turnovers, third down. Those often decide tight games.
It's SEC versus the Pac-10. The winner is going to crow, and crow and crow. That's what you get for winning.
Feel free to think of your own. A lot of times the so-called pundits completely whiff on what turns out to be most important.
What we can say without a doubt: Chip Kelly told his team all season that every week was a Super Bowl. This time, it's not a motivational ploy for maintaining focus. This time it's true.
The Ducks are about to play the biggest game in program history. They've never won a national title.
Will they be dancing in the streets of Portland, Salem and -- most particularly -- Eugene tonight?
We shall see.
June, 3, 2010
6/03/10
6:13
PM ET
At what position is the Pac-10 deep? At what position in the Pac-10 thin? Here's the third of three parts taking a look at just that.
Deep: Specialists
[+] Enlarge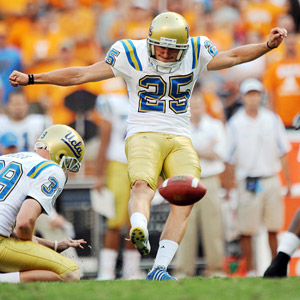 Jim Brown/US Presswire Kai Forbath of UCLA is one of two Lou Groza Award winning kickers returning to the Pac-10 this season.
Why is it deep
? Eight teams welcome back both their punter and kicker, and many of them are quite happy about that. Three conference kickers ranked among the top-20 in field goals per game, while three punters ranked in the top 21. No team is replacing both specialists. Oregon is replacing kicker Morgan Flint and USC is replacing kicker Jordan Congdon, who ranked fifth and seventh, respectively, in field goals per game in 2009.
The big names
: Start with two Lou Groza Award winning kickers: UCLA's Kai Forbath (2009) and Arizona State's Thomas Weber (2007). Then there's Oregon State's Justin Kahut, who made 22 of 27 field goals with a long of 50, and Washington's Erik Folk, who was 18 for 21 with a long of 48. As for the punters, Arizona State's Trevor Hankins ranked No. 1 in the Pac-10 and 10th in the nation in punting (44.2 yards per punt), while UCLA's Jeff Locke (43.6) was 16th in the nation and Washington State's Reid Forrest (43.2) was 21st. Oh, and California's Bryan Anger might have the biggest foot of everyone; he dropped a conference-high 24 punts inside the 20 last year.
Thin
:
Linebacker
Why is it thin
? Four of the six linebackers who made up the first and second All-Pac-10 teams are gone as are five of the 11 LBs who earned honorable mention. Only two teams -- USC and Oregon -- welcome back all of their starting LBs from 2009, and a big story this spring was the Trojans lack of depth at the position, while the Ducks moved Eddie Pleasant to safety (in large part because of depth at the position). Arizona is replacing all three starting linebackers, while Arizona State, Oregon State and UCLA only have one returning starter at the position (though the Beavers outside linebacker platoon of Dwight Roberson and Keith Pankey probably should count as more than one starter).
Fill the void
? This is not a "strength" position, but the cupboard is hardly empty: UCLA's Akeem Ayers, California's Mike Mohamed and Arizona State's Vontaze Burfict are All-American candidates, while Oregon's Casey Matthews earned second-team All-Pac-10 honors in 2009 and Washington's Mason Foster is a likely breakout player. The Ducks, in particular, are fast and deep at linebacker, while the Sun Devils aren't far behind in terms of young talent.
April, 12, 2010
4/12/10
8:08
PM ET
EUGENE, Ore. -- Quick: Who had the best defense in the Pac-10 last year?
Wrong. It was Oregon.
At least the Ducks had the best defense if you compare only Pac-10 games, which seems reasonable because of the broad range of relative difficulty with the nonconference schedules.
Oregon ranked No. 1 in the Pac-10 vs. conference foes in rushing defense (118.6 yards per game), No. 1 in total defense (316 yards per game), No. 1 in sacks (3.1 per game) and No. 2 in scoring defense (22.7 points per game).
(Some snarky sorts might point out that these numbers are skewed for a significant reason: Oregon's defense didn't have to play its offense, which was No. 1 vs. conference foes with 41.7 ppg).
Therefore, it's understandable that some Ducks might be affronted when pundits wonder whether Oregon, once viewed as the consensus conference favorite and a potential national title contender, will go south in 2010 because of the season-long suspension of quarterback
Jeremiah Masoli
.
"We took it as an insult because we're not just the quarterback position," linebacker Spencer Paysinger said.
Coach Chip Kelly has this to say about his defense: "We're going to be better than last year."
In one sense, the Ducks must replace four starters: end Will Tukuafu, tackle Blake Ferras, safety T.J. Ward and cornerback Walter Thurmond. But Ward and Thurmond missed significant action due to injury, so their backups actually qualify as returning starters.
Kelly believes he's two-deep at every spot on the depth chart. The loss of a pair of defensive linemen? He ticks off 10 guys he believes can contribute in 2010 and is particularly high on a guy who was a reserve tight end last year: sophomore
Dion Jordan
, who's moved to defensive end.
Jordan is 6-foot-7, 240 pounds and runs a 4.6 40-yard dash, according to Kelly.
"I think he's going to be a special, special player," Kelly said. "He's going to be the next really good football player here. He's shown it in just five practices. There are times he's unblockable."
Unblockable is good.
Moving speedy Eddie Pleasant from strongside linebacker to rover gives the Ducks secondary another physical presence -- as the hard-hitting Ward was -- while also opening up opportunities for Bryson Littlejohn, Bo Lokombo, Josh Kaddu and Michael Clay to get on the field at linebacker.
So how does Paysinger anticipate the Ducks defense will be different in 2010?
"We have a lot more speed," he said. "And hunger."
May, 19, 2009
5/19/09
11:05
AM ET
Posted by ESPN.com's Ted Miller
Much of the talk during spring practices is about guys who are raising eyebrows, pushing for starting jobs or are on the cusp of breaking through.
Here are some of those guys.
Conan Amituanai, Arizona, OG: This 335-pound junior played well this spring and is expected to give the Wildcats flexibility up front as they fill some gaps. Most particularly, his emergence allows Mike Diaz to move out to left tackle, where he'd replace Eben Britton.
Clint Floyd, Arizona State, FS: This sophomore saw action in 2008 -- when he wasn't hurt -- and he's the guy who will replace the invaluable Troy Nolan.
Alex Lagemann, California, WR: Fellow receiver Marvin Jones got a lot of attention for his strong spring, but Lagemann also opened eyes. The sophomore could emerge if returning veterans don't rise to the challenge.
Eddie Pleasant, Oregon, LB: New coach Chip Kelly raved about his linebackers this spring, and Pleasant earned kudos for stepping in for the departed Jerome Boyd.
Suaesi Tuimaunei, Oregon State, S: The Beavers are rebuilding their secondary, with all four 2008 starters gone. While there are concerns at cornerback, Tuimaunei and sophomore Lance Mitchell are an upgrade athletically at the two safety spots, and some believe this position will be stronger next fall.
David DeCastro, Stanford, OG: This redshirt freshman earned good reviews and is almost certainly going to start on one of the guard spots.
Aaron Hester, UCLA, CB: Hester will need to show mental toughness because teams are going to target this redshirt freshman opposite Alterraun Verner.
Tyron Smith, USC, OT: The Trojans welcomed back all five 2008 starters on their offensive line. Smith wasn't one of them. The true sophomore is just too talented to sit.
Jermaine Kearse, WR, Washington: The Huskies need a receiver to emerge to complement D'Andre Goodwin. Kearse, a sophomore, could be the guy. Or maybe it will be fellow sophomore Devin Aguilar. Or both.
Skyler Stormo, TE, Washington State: The redshirt freshman had the best spring of any Cougar at the position and caught a couple of passes in the spring game. Showed promise blocking, too.