NCF Nation:

Eddie Vanderdoes
November, 4, 2013
Nov 4
9:00
AM ET
SOUTH BEND, Ind. -- As Brian Kelly was finishing up his postgame press conference Saturday, an unexpected visitor made an appearance during the penultimate question.
"Jaylon, we'll be done in a second," Kelly said to
Jaylon Smith
, who had entered prematurely. "I know it's your press conference, but I'll be done in a second, and we'll let you get going. Is that all right?"
"Sorry," Smith said to the room of reporters. "I'm new to everything."
Within 24 hours, it turned out the freshman linebacker would be a seasoned veteran by Notre Dame's defense's standards. The Irish are hurting on that side of the ball -- just trying to get by, in a sense, with this weekend's game at Pitt preceding a much-needed bye before a two-game stretch against BYU and at Stanford.
[+] Enlarge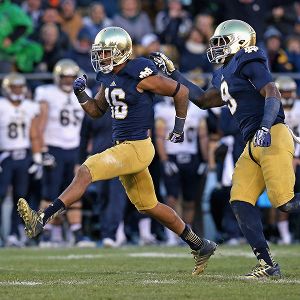 Jonathan Daniel/Getty ImagesSafety Eliar Hardy (left) is one of several Notre Dame reserves that were pressed into action due to injuries.
BCS dreams have essentially taken a backseat to figuring out just who is going to play and where, and how the remaining available guy will get ready for when their time comes.
"I think this is probably close to the pinnacle," Kelly said during Sunday's teleconference when asked if this defense has been hit as hard as any he's had in 23 years as a head coach. He added: "They don't give you any points for complaining about it. If they did, I'd complain every minute. So we just take care of it internally and get the next guy ready."
Ben Councell
, the man behind Smith most of the season at the dog linebacker spot,
was ruled out for the season Sunday after suffering a significant knee injury in the 38-34 win over Navy
. Smith and Councell, of course, waged a preseason battle for a starting spot only after senior
Danny Spond
, last season's starter, was forced to retire because of hemiplegic migraines. And the linebacking corp is less than a month removed from its other big hit, when
Jarrett Grace
broke his leg in the Oct. 5 Arizona State game, costing the Mike linebacker the rest of his redshirt sophomore season.
It only gets worse up front, where
Kona Schwenke
is lost for at least this Saturday's game at Pitt because of a high-ankle sprain suffered on the Midshipmen's final drive. And Schwenke was only starting these last two games in place of nose guard
Louis Nix III
, who at first was ruled to have a shoulder injury suffered in the USC game, and then knee tendinitis, and now tendinitis and a small meniscus tear, though the school says he will practice this week after undergoing an MRI Sunday. Before that, Schwenke filled in for end
Sheldon Day
, who missed most of a three-game stretch after leaving a Sept. 14 game against Purdue with a high ankle sprain, and then re-aggravated said ankle sprain against Navy.
And no, it is not a coincidence that most of these injuries have come during this two-game stretch against Air Force and Navy, teams that often cut-block.
"It's unfortunate," Kelly said. "It's the style of offense that the academies play. It is what it is."
Kelly said it will make sense to possibly avoid scheduling multiple option teams in a single season, but that is a bridge he will cross when he gets to it. For now, his next-man-in philosophy is being tested by, well, a lack of next-men-in.
He said he guards against that by putting those who saw 15 or fewer plays in a game through extra conditioning that following Monday, while reserves get roughly half the work of the starters during 11-on-11 and scout team work in a given week.
"I think that we're so close that you don't really think about it in terms of, Oh, I've never seen you out here," redshirt senior linebacker
Dan Fox
said. "We get a lot of guys in at practice, there's a lot of reps to go around, so next man in and next man in."
Underclassmen such as
Jarron Jones
,
Isaac Rochell
and
Romeo Okwara
have been thrust into more meaningful time than most could have reasonably expected entering the season, while names unfamiliar to all but the closest of program observers --
Tyler Stockton
,
Justin Utupo
and
Eilar Hardy
, to name a few -- saw extended action.
The last of those names, Hardy, helped set Smith up for the game-clinching tackle on Navy's
Shawn Lynch
during the visitors' final fourth-and-4 try. And he was only there because
Austin Collinsworth
suffered a neck strain that will require an MRI Monday.
Fellow safety
Elijah Shumate
, meanwhile, is expected to play against the Panthers after being sidelined the last three games with a hamstring injury, though Kelly had said the sophomore would play going into the Navy game, too.
There are also the knee injuries to left guard
Chris Watt
(PCL) and cat linebacker
Ishaq Williams
(ACL), both of whom left the Air Force game a week ago but only one of whom, Watt, could possibly return this week, depending on how quickly the redshirt senior can acclimate to the knee, which will not require surgery. Williams was in an immobilizer this week and could possibly return for the Nov. 23 BYU game.
The return of Watt would give Notre Dame four of its five starters back on the offensive line, as it lost right guard
Christian Lombard
for the season because of back surgery after the USC game. Still, the bruises have taken their biggest tolls on the other line, which during the spring and summer lost reserves
Chase Hounshell
(shoulder) and
Tony Springmann
(knee) for the season, in addition to seeing freshman signee
Eddie Vanderdoes
leave for UCLA.
All of it leaves the Irish, winners of four in a row, crawling to the finish line, every last piece of Kelly's three straight top-10 recruiting classes fitting into the plan for his push toward a second straight BCS-bowl berth.
"We are running out of next men. We're at that point where from a defensive standpoint, and particularly the defensive line, we're left with very few options," Kelly said, adding, "We'll figure something out. We'll get 11 guys out there. It's just not going to be one of those things where we're going to have the same group of guys out there all the time. As you know, we're going to have to find a way to stop a big, physical offensive line at Pittsburgh, and that is the thing that concerns you the most."
September, 25, 2013
Sep 25
10:30
AM ET
Pretty much every team plays true freshmen. But how much of an impact are those freshmen having on the game? Through four weeks, some have made immediate impacts. Others have seen some mop-up time. Across the ESPN blogosphere this morning, we're looking at the five teams in each conference who have had freshmen make the greatest impacts on their team.
[+] Enlarge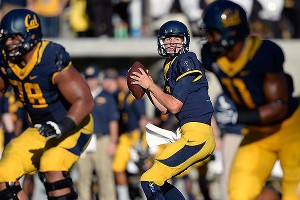 Thearon W. Henderson/Getty ImagesCal signal-caller Jared Goff is off to a big start in his career.
1. California
: The quarterback is the most important position, and anytime you have a true freshman playing quarterback, it's going to have a significant impact on the outcome of the game. So far, quarterback
Jared Goff
has risen to the occasion, even if it hasn't translated into wins for the Bears. He leads the country in total offense. He's completing 61 percent of his passes (103-of-168) and has seven touchdowns to four interceptions. Goff is one of seven true freshmen who have seen time for the Bears. Running back
Khalfani Muhammad
is tied for second on the team with 21 carries (97 yards, one touchdown).
2. UCLA
: The Bruins have played 16 true freshmen so far, which, as of last week, was second in the country only to Texas A&M. Linebacker
Myles Jack
has had the biggest impact with 14 tackles, including two for a loss and a team-high four pass breakups. They are also getting good production from
Eddie Vanderdoes
, who had two tackles for a loss against New Mexico State, and offensive lineman
Alex Redmond
has started all three games at guard.
3. USC
: The Trojans have gotten impact performances on both sides of the ball from their freshmen. Seven have seen the field for the Trojans. Safety
Su'a Cravens
has been as advertised so far with 18 tackles, half a tackle for a loss, and an interception. With
Silas Redd
out, running back
Justin Davis
has supplemented
Tre Madden
nicely. In four games, Davis has rushed for 189 yards and two touchdowns, averaging 47.2 yards per game and a team-high 5.9 yards per carry.
4. Washington State:
The Cougars have gotten quality -- not necessary quantity -- out of their true freshmen. They have only played four. But two of them are getting quality playing time and making significant contributions. Cornerback
Daquawn Brown
made his first career start against USC and posted a team high 11 tackles while breaking up two passes. He also had an interception against Southern Utah. Wide receiver
River Cracraft
is fourth on the team with 10 catches for 111 yards.
5. Colorado
: The Buffs aren't going as young as they did last year, but they are still getting production from their rookies. And they have found something special in linebacker
Addison Gillam
. Through two games he's the Buffs leading tackler with 20 stops -- including a sack, two tackles for a loss and five stops on third down. He also blocked a punt. Defensive end
Jimmie Gilbert
should also continue to see time. In 64 snaps he has three tackles and a sack.
Honorable mentions
These guys have been impactful, but chances are their teams would still have had success if they weren't on the field based on quality of competition and/or depth at a position. But their contributions shouldn't be overlooked.
June, 24, 2013
Jun 24
9:00
AM ET
Is it Aug. 31 yet?
Jan. 7 must feel like it was a lot more than six measly months ago for those in South Bend, Ind., as an offseason out of left field threatened to dissipate all of the goodwill built up during Notre Dame's renaissance 2012 campaign.
To recap, since losing to Alabama by 28 in the Discover BCS National Championship, the Irish have:
Spent days on their toes and watched four-star linebacker Alex Anzalone flip to Florida as head coach Brian Kelly flirted with the Philadelphia Eagles in the days following the national title game.

Suffered through the humiliation of the revelation of the Manti Te'o girlfriend hoax, which tainted much of the remarkable story behind the Heisman Trophy runner-up.

Watched three second-year players -- including quarterback Gunner Kiel -- leave for other destinations before or early in spring ball, leaving the Irish without their top four players from the class of 2012, according to ESPN. (Cornerback Tee Shepard left shortly after enrolling in the spring of 2012.)

Withstood a long battle with five-star defensive tackle Eddie Vanderdoes, a saga that ended with ESPN's No. 10 prospect going to UCLA after signing with Notre Dame, costing him a year of eligibility.

Lost quarterback Everett Golson, who had upward of 40 starts remaining in an Irish uniform, for at least this season because of what he called "poor academic judgment."
So yes, the 2013 season opener against Temple at Notre Dame Stadium probably cannot come soon enough for many who are tired of the negative headlines and stream of bad news.
[+] Enlarge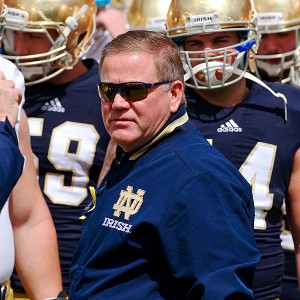 Matt Cashore/USA TODAY SportsNotre Dame coach Brian Kelly is well-versed in steering squads through quarterback issues.
That doesn't mean good things aren't happening in Kelly's fourth year, however. For one, even without Vanderdoes, he has another strong recruiting class that can make an immediate impact this fall. (It was ranked No. 4 nationally by ESPN when Vanderdoes was in the fold.)
Kelly also has experience navigating an uncertain quarterback field, though the position for the Irish is not as dire as it would be for most programs when losing a starter from a perfect regular season.
Just look at senior
Tommy Rees
, who saved Notre Dame in three of its first six games last season, who is 14-4 as a starter, knows the offense inside and out, and has the respect of the locker room.
Redshirt junior
Andrew Hendrix
has some experience and plenty of potential as well, and the promise of early-enrollee southpaw
Malik Zaire
, ESPN's No. 6 signal-caller from the class of 2013, impressed the staff this spring.
On the other side of the ball, there are eight starters back from a unit that finished second nationally in scoring defense last season, with a secondary that is much more experienced and should give coordinator Bob Diaco some flexibility with the unit as a whole.
Kelly once used five quarterbacks in a single season in Cincinnati during a season that ended in the Orange Bowl. If anyone can handle the haymakers the position has been thrown, it is he.
Rees' 20 turnovers during an 8-5 2011 campaign soured him on many fans, but if he can be more judicious, and if the defense can put forth a comparable performance to last season's, there is no reason this team cannot go BCS-bowling for the second consecutive year.
If it doesn't? Things may get complicated, but this is the last year Notre Dame will have to worry about a fallback plan.
Whether Golson returns and is back in form moving forward remains to be seen, but the program can feel the comfort of having a place at the table for the college football playoff from 2014 on, as the Irish will play five ACC teams each year and have much, much better bowl access.
No program is perfect, however picturesque Alabama might look from the outside.
Oregon? Hello, NCAA. TCU? Where do we even begin?
Notre Dame proved in 2012 that it is once again a big-boy program. Stuff happens to big-boy programs. That doesn't make the future any less bright for the Irish -- something they can't wait to prove come Week 1.
June, 13, 2013
Jun 13
5:00
AM ET
1. Notre Dame head coach Brian Kelly said that the university wouldn't release 2013 signee
Eddie Vanderdoes
to play at UCLA this year because he must be held accountable. Kelly is right. Vanderdoes signed the document. He has to live by it. So what took Notre Dame so long to commit to play at Arizona State in 2014? Sun Devils athletic director Steve Patterson said on the ESPNU College Football Podcast that it took a lot of lawyers and a lot of negotiation to get Notre Dame to agree to honor the contract it signed in 2008.
2. Wisconsin fifth-year linebacker
Chris Borland
is in that sweet spot for all college football fans. He is an immensely talented player who stuck around for all four years of eligibility. Those guys are so rare these days that it feels like Borland has been around forever. Doesn't it seem like Borland played at least two seasons for Barry Alvarez, who retired in 2005? Nebraska senior quarterback
Taylor Martinez
is the same deal. I could swear he played for Frank Solich.
3. Borland, whom my ESPN colleague Matt Millen named as the No. 3 linebacker in the nation, is from Kettering, Ohio, and former Boston College All-American linebacker
Luke Kuechly
is from Cincinnati. What does it say that a) Ohio State signed neither player and b) that the Buckeyes' star linebacker,
Ryan Shazier
, is from Pompano Beach, Fla.? The last native Buckeyes All-American linebacker is
A.J. Hawk
, also of Kettering, in 2005.
June, 4, 2013
Jun 4
2:45
PM ET
Eddie Vanderdoes
, the nation's top-rated defensive tackle recruit in 2012-13,
has changed his mind
and will attend UCLA instead of Notre Dame, despite signing a letter of intent with the Fighting Irish in February.
Vanderdoes, the No. 10 overall recruit on the ESPN 150, will have to sit out this season and lose a year of eligibility because Notre Dame has refused to release him from his letter of intent.

From the article:
Several coaches across the country have reached out to Notre Dame and also Florida State coaching staffs to ask they not release high-profile incoming freshmen from their NLIs.
These coaches feared that a precedent could be set forcing staffs to continue to recruit incoming freshmen after they already signed. Florida State incoming freshman linebacker
Matthew Thomas
similarly has sought a release from his scholarship.
That actually makes sense. A national letter of intent functions as a binding, one-year contract.
But this is also why elite prospects, such as Vanderdoes, should consider the option of merely signing scholarship papers on national signing day. That allows for a last-minute change of heart with no penalty.
Of course, most prospects can't be so bold. Scholarship spots fill up, and coaches might not want to play ball with a prospect who might back out on them.
But, from what I hear about Vanderdoes, he could right now go anywhere he wants. And now he's going UCLA.
The Bruins have some questions -- mostly based on injuries -- on their defensive line this fall, but starting NT
Seali'i Epenesa
is a senior, so Vanderdoes could step in and start in 2014. All three projected Bruins' D-line starters, in fact, are seniors.
February, 8, 2013
Feb 8
9:00
AM ET
The Pac-12 had mixed results on national signing day.
No Pac-12 team ranked in the top 10 of the ESPN recruiting rankings. Just three teams ranked in the top 25. That's not good. The best player on the West Coast, defensive tackle
Eddie Vanderdoes
, a former USC commit, ended up signing with Notre Dame.
That said, folks at UCLA are happy. They probably feel pretty good at Washington, too. And USC fans should realize that, despite the decommitments, the 2013 class is pretty darn strong. Further, there are plenty of intriguing players in some of the other classes who scream "underrated!"
You can see where every class ranked here
.
And here's a final look.
Biggest winner on signing day
: UCLA addressed needs in the secondary and on the offensive line with high quality players. But the most notable takeaway is the continued positive momentum for the program. When Jim Mora was first hired, many Bruins fans were uncertain about him. Here's a guess that is no longer the case. He won the Pac-12 South Division his first season and beat USC on the field and in recruiting. There's clearly a buy rating on the Bruins.
Biggest loser
: Stanford's class ranked seventh in the Pac-12, according to ESPN recruiting, but nearly every other recruiting service rated the Cardinal 11th in the Pac-12. Most of that is numbers: 12. Stanford's roster didn't allow for a large class. But this is the Rose Bowl champion, a team that has played in three consecutive BCS games. Other than QB
Ryan Burns
, Stanford didn't sign any player ranked among the top 15 at his position. Last year, in a class of 22, they signed six such players, and that doesn't include
Aziz Shittu
, the No. 17 defensive tackle.
Best closer
: UCLA added ESPN 150 defensive end
Kylie Fitts
(Redlands, Calif./Redlands East Valley) on Tuesday. They then landed ESPN 150 quarterback
Asiantii Woulard
(Winter Park, Fla./Winter Park), the nation's No. 1-rated dual-threat QB, and ESPN 150 inside linebacker
Isaac Savaiinaea
(Honolulu/Punahou) on signing day. That's a strong troika.
Best closer, rookie coach division
: Oregon was hit hard by the loss of running back
Dontre Wilson
,
who seemed like a perfect hybrid speed guy for the Ducks' offense, but he opted for Ohio State. Still, new coach Mark Helfrich also rallied on signing day, getting a big pair of flips: Defensive end
Torrodney Prevot
and offensive guard
Cameron Hunt
. Prevot flipped from USC and Hunt from California.
Biggest loss
: Maybe the Pac-12 blog isn't recruiting savvy, but it was surprised that Vanderdoes opted to bolt the West Coast for Notre Dame. The general feeling over the past couple of weeks was if Vanderdoes didn't end up at UCLA, he would sign with Alabama. He's going to love winter in South Bend. Of course, by signing with the Irish, Stanford and USC will get to see plenty of him over the next few seasons.
Ready to go? Here's a guess at one player per team who will get playing time next season
: Arizona (WR
Samajie Grant
); Arizona State (DT
Marcus Hardison
); California (DE
Sione Sina
); Oregon (RB
Thomas Tyner
); Oregon State DT
Kyle Peko
); Stanford (TE
Greg Taboada
); UCLA (CB
Johnny Johnson Jr.
); USC (S
Su'a Cravens
); Utah (DT
Sese Ianu
); Washington (WR
Damore'ea Stringfellow
); Washington State (WR
Vince Mayle
).
February, 8, 2013
Feb 8
9:00
AM ET
National signing day 2013 is in the books. Let's take a closer look at what the Irish newcomers mean for the program moving forward.
Biggest winner of signing day:
We'll just go ahead and call the program a winner here. Notre Dame made it to the national title game in 2012, landed the nation's No. 4 recruiting class and returns upward of 15 starters to a team coming off a 12-1 season. All of those questions the past 24 years of whether the Irish could still succeed in today's college football climate have been put to rest, and the program is in great position to be, at the very least, a BCS-bowl contender year-in and year-out.
Best closer:
Tony Alford thrived in his first year as the Irish's recruiting coordinator, helping them land Oklahoma decommit and ESPN 150 running back
Greg Bryant
(Delray Beach, Fla./American Heritage) and ESPN 150 athlete
Tarean Folston
(Cocoa, Fla./Cocoa) late in the recruiting calendar.
Biggest surprise:
Five-star defensive tackle and USC decommit
Eddie Vanderdoes
(Auburn, Calif./Placer) chose Notre Dame over Alabama and UCLA on Wednesday night, giving the Irish ESPN's No. 1 defensive tackle, No. 10 overall prospect and one more elite talent to a recruiting class that was already the best in the Brian Kelly era.
Who flipped/biggest loss:
Four-star linebacker
Alex Anzalone
(Wyomissing, Pa./Wyomissing) enrolled at Florida in early January during Kelly's flirtation with the NFL. Anzalone, who decommitted from Ohio State before decommitting from Notre Dame, is an elite talent who would have had the chance to compete for immediate playing time. That being said, the fact he is the only piece the Irish lost during Kelly's silence is fairly impressive and a testament to the staff as a whole.
February, 7, 2013
Feb 7
9:00
AM ET
We're reviewing hits and misses in Pac-12 recruiting, starting with the South Divison.
ARIZONA

Needs filled
: The Wildcats have two incoming quarterbacks -- USC transfer
Jesse Scroggins
, who's already in school, and
Anu Solomon
-- who will be in competition to replace the departing
Matt Scott
. The class includes five linebackers, a need position. Don't be surprised if running back
Pierre Cormier
gets touches behind
Ka'Deem Carey
. It seems that coach Rich Rodriguez stocked up on athletes -- receivers and defensive backs.
Holes remaining
: The Wildcats' biggest weakness in 2012 was the defensive line -- they ranked last in the Pac-12 in sacks and gave up more than 200 yards rushing per game -- and this class of 23 includes just two defensive linemen. Who's going to rush the passer in 2013?
ARIZONA STATE

Needs filled
: The Sun Devils needed receivers and defensive backs. They signed five receivers and and five defensive backs -- and one athlete, who could play either. Defensive tackle
Marcus Hardison
, the nation's No. 5 junior college player, should help bolster a poor run defense.
Holes remaining
: The Sun Devils lost QB
Joshua Dobbs
to Tennessee on signing day, which means they haven't signed a quarterback in two consecutive classes. Nine JC transfers means the Sun Devils are counting on immediate impact rather than long-term development. That approach can be a gamble, though four of the juco recruits have three years of eligibility instead of two.
COLORADO

Needs filled
: The Buffs have a lot of needs, as they were last in the Pac-12 in scoring offense and scoring defense in 2012. The class includes six offensive linemen, and quarterback
Sefo Liufau
, 6-foot-4, 215-pound product of Bellarmine Prep in Tacoma, Wash., is a guy Buffs fans should be excited about. Considering the poor production at the position last season and the fact that there's a new scheme, he might get into the mix this fall.
Holes remaining
: This is a fairly balanced class but there isn't a single interior defensive lineman. The Buffs gave up 226 yards rushing per game last season. The Buffs did, however, sign nine defensive linemen last year. While Liufau is the star of the class, this crew is lacking pizzazz and will rank last in the Pac-12, which is not surprising for a 1-11 team that fired its coach.
UCLA

Needs filled
: Jim Mora said his top needs were offensive line, defensive back and linebacker. He signed seven offensive linemen, four defensive backs -- highly rated safety
Priest Willis
is still pending -- and three linebackers. As for the offensive line, two are ESPN 300 prospects and a third is a four-star lineman. Including Willis, who is expected to sign with the Bruins, two defensive backs are ESPN 150 players, a third is an ESPN 300 recruit and the fourth is rated with four stars. As for linebacker, two are ESPN 150 players.
Holes remaining
: The Bruins signed the Pac-12's top-rated class and had a great final week. There is little not to celebrate, other than defensive tackle
Eddie Vanderdoes
picking Notre Dame. The most obvious hole is running back, where there's no obvious replacement for
Johnathan Franklin
.
Craig Lee
had committed to the Bruins but hasn't signed, so there's no true RB in this class.
USC

Needs filled
: USC lost three of four starters from a secondary that underperformed last year, so signing two of the top three safeties in the nation --
Su'a Cravens
and
Leon McQuay
-- as well as the No. 11 cornerback in
Chris Hawkins
is a pretty nice haul. The Trojans also added a pair of elite running backs in
Ty Isaac
and
Justin Davis
, the nation's No. 3 DT in
Kenny Bigelow
and the No. 2 quarterback in
Max Browne
. All three spots were need areas.
Holes remaining
: The story of this class, as good as it is, is the handful of decommitments. In November, this was the No. 1 class but fell out of the top 10. Bigelow is the only defensive lineman; there are only two offensive linemen. In November, the question was how was USC going to finagle its way to just 75 scholarships, per NCAA sanctions. That's no longer an issue.
UTAH

Needs filled
: With the graduation of RB
John White
and three voids on the defensive line, those were two need spots addressed by this class of 23. The Utes signed five defensive linemen, including three defensive tackles. They also signed four running backs, including JC transfer
Devontae Booker
.
Holes remaining
: One bit of bad news for the defensive line is that DT
Lowell Lotulelei
, younger brother of Star and the Utes' highest-rated player, didn't sign because he's going on a Mormon mission right out of high school. This is a balanced class but it includes just two offensive linemen. The Utes also didn't get great linebacker play last season and this class only includes one,
Uaea Masina
.
February, 6, 2013
Feb 6
9:02
PM ET
The cat seemed to get out of the bag early, but that didn't lessen the impact of defensive tackle
Eddie Vanderdoes
(Auburn, Calif./Placer) announcing on Wednesday evening that he will sign with Notre Dame.

There was a small hiccup earlier in the day, when Vanderdoes' name appeared on a Notre Dame press release announcing the 2013 recruiting class for the Fighting Irish before the nation's top defensive tackle had signed his letter of intent. On the next press release, it won't be a mistake.
This is a huge win for Notre Dame, which adds to a stellar class by landing California's lone five-star prospect and a former USC verbal commitment.
The 6-foot-3, 310-pound defensive tackle originally committed to the Trojans over the summer, when scholarship spaces in USC's top-ranked recruiting class were dwindling. But Vanderdoes opened up his recruitment in December and programs from across the country pounced.
Vanderdoes took official visits to UCLA, Washington, USC, Notre Dame and Alabama -- his five finalists -- and was left with a very difficult decision that wasn't finalized until late in the process.
He was seemingly linked to all five schools through various reports, though he maintained his uncommitted status through the final few weeks, eventually committing to and signing with Notre Dame on Wednesday.
Vanderdoes tallied 72 tackles and nine sacks as a senior, leading Placer to 11 wins on the season.
What is the impact of Vanderdoes' decision?
To continue reading this article you must be an Insider
February, 6, 2013
Feb 6
5:30
PM ET
Following his introduction of the then-22 players entering the Notre Dame football program Wednesday, coach Brian Kelly left a cliffhanger that will not be fully answered until later in the evening.
"We feel like there's still some work to be done," Kelly said. "The day is not over yet. Stay tuned."
Whereas last year's national signing day for the Irish was marked by a notable defection, this year's -- already considered the best in Kelly's four years at Notre Dame -- could become even better when all is said and done.
[+] Enlarge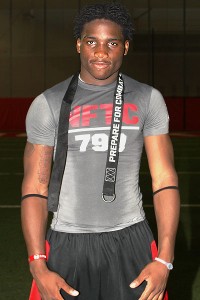 Tom Hauck for ESPN.comFive-star linebacker Jaylon Smith leads a Notre Dame recruiting class which may yet grow bigger.
Kelly welcomed 22 players during a Wednesday afternoon news conference, and he added one more a few hours later when ESPN 150 athlete
Tarean Folston
signed his national letter of intent
. At 8 p.m. ET tonight, Placer (Calif.) High's
Eddie Vanderdoes
, the nation's No. 1 defensive tackle prospect, will announce his decision, with Notre Dame right in the thick of things.
Deontay Greenberry
's 2012 signing day defection to Houston this is not, but it could instead mark an even greater jolt to a class currently ranked fourth nationally following a season that ended in the Discover BCS National Championship.
"I love agreeing with experts," Kelly said, when told this was considered to be his best class. "It's a recruiting class that -- you know, when you're looking at it from my perspective, it meets the time and place as to where we are right now. We're a team that has gone from unranked to top-10 ranking, top-five ranking, at times we're the No. 1 team in the country, and I think your class begins to reflect that as you move forward."
The upcoming season should mark the first time during Kelly's Notre Dame tenure that he will be able to play a full season with 85 scholarship players, something the team was hamstrung by in its preparation for Alabama in the title game.
Kelly and his staff bolstered that depth significantly up front, where they added five offensive linemen to a position group that Kelly said was down to five fully functional bodies by the end of the regular season, limiting live action in practice.
While some of his earlier classes were built on the selling of opportunity on a re-building program, Kelly this year faced the challenge of convincing elite prospects that they could add value to the depth of a potential championship-caliber unit.
"Then they're not elite players if they're afraid of competition," Kelly said. "Those that back off and say, 'Well, you've got two of these guys and you've got three of those' -- now, sometimes that makes a difference, granted; I understand that. But by and large, we've made the case in recruiting where we see you, and we're honest with them.
"Here's where we see you're at and this is where you're going to be, and if you do this, you're going to get your playing time. So I think from our end, the elite players have that confidence, that no matter who's in front of me, I'm going to beat them out."
February, 6, 2013
Feb 6
7:00
AM ET
ESPN RecruitingNation
has signing day covered. Follow ESPNU's coverage, chat with analysts and get breaking news on our
Signing Day Live
page beginning at 7:30 a.m. ET through 7 p.m. ET. For more on what to expect on signing day, check out the
SEC conference breakdown

.
Bold Prediction for the SEC:
Ole Miss' class will eventually be ranked in the top five nationally with the addition of No. 1 overall prospect
Robert Nkemdiche
from Loganville (Ga.) Grayson and possibly ESPN 150 prospects
Chris Jones
from Houston (Miss.) High and
Antonio Conner
from Batesville (Miss.) South Panola.
SEC East
Florida
Biggest need:
Florida wants immediate help at defensive tackle.
Jarran Reed
from Scooba (Miss.) East should be able to provide that if he decides to sign with the Gators on national signing day.
Biggest recruit:
The Gators have two five-star commitments: cornerback
Vernon Hargreaves III
from Tampa (Fla.) Wharton and running back
Kelvin Taylor
from Belle Glade (Fla.) Glades. No other school in the country can say that.
Georgia
Biggest need:
The Bulldogs would like to pick up another top offensive lineman. They looked destined to land
Laremy Tunsil
from Lake City (Fla.), but the competition has heated up for him lately.
Biggest recruit:
With 12 ESPN 300 commitments, Georgia has plenty of star power. However, it's impossible to overvalue the commitment of
Brice Ramsey
from Kingsland (Ga.) Camden, a quarterback the Bulldogs can build around.
February, 6, 2013
Feb 6
7:00
AM ET
ESPN RecruitingNation
has signing day covered. Follow ESPNU's coverage, chat with analysts and get breaking news on our
Signing Day Live
page beginning at 7:30 a.m. ET through 7 p.m. ET. For more on what to expect on signing day, check out the
Pac-12 conference breakdown

.
Bold prediction for the Pac-12:
UCLA is in a position to shock the conference and perhaps the country on signing day. Already in possession of a top-12 class, the Bruins have a chance to close with a bang, as UCLA is in a good position with ESPN 150 prospects
Eddie Vanderdoes
,
Isaac Savaiinaea
and
Asiantii Woulard
. If all goes well in Westwood on signing day, Jim Mora could finish the day with a top-five recruiting class.
Arizona
Biggest need:
Linebacker. Arizona's defense is in need of some immediate help in all three levels, but the Wildcats will add some serious depth at linebacker with five commitments at the position.
Biggest recruit:
QB
Jesse Scroggins
. A case could be made for either quarterback commitment --
Anu Solomon
is the other -- but with Scroggins' experience at USC and his status as an early enrollee, he could have an advantage when it comes to battling for the vacated starting quarterback spot.
Arizona State
Biggest need:
Secondary. Arizona State is set to add plenty of help at the offensive skill positions, but the Sun Devils needed to add depth on the defensive side of the ball, and they did so. Safeties
James Johnson
and
Jayme Otomewo
are strong additions, as are cornerbacks
Damarious Randall
and
Will Earley
.
Biggest recruit:
DT
Marcus Hardison
. Getting defensive tackle Will Sutton back for another year was a big win for Arizona State's defense. Getting the No. 5 junior college player in Hardison, a 6-foot-4, 275-pound defensive tackle who can help Sutton inside this year, is another big win.
California
Biggest need:
Offensive line. With head coach Sonny Dykes and offensive coordinator Tony Franklin, Cal is looking to take off offensively, but that can't happen without a dominant front. Six offensive line commitments, including four-star tackles
Aaron Cochran
and
Erik Bunte
, are a good way to continue building up front.
Biggest recruit:
OT Aaron Cochran. This is true figuratively and literally. Cochran, at 6-foot-8 and 364 pounds, is an important recruit for Cal, as the offensive tackle plays a position of need. He is the younger brother of Cal lineman Matt Cochran. Honorable mention here to
Cameron Hunt
, who committed to Cal last summer but opened his recruitment after the coaching change and now appears to be headed to Oregon.
Colorado
Biggest need:
Offensive line. The Buffaloes need help everywhere, but solidifying the offensive line is step one for the new regime. Colorado holds commitments from five offensive linemen as it looks to take a step forward in the Pac-12.
Biggest recruit:
QB
Sefo Liufau
. While building along the lines is important, Colorado needs to add playmakers at every position, and Liufau is definitely that at quarterback. He understands and appreciates the challenge at Colorado and is the kind of player the Buffs need to bring in and build around.
Oregon
Biggest need:
Running back. While the Ducks have been blessed with an embarrassment of riches at tailback, it's important that they continue to stock the cupboard in order to keep finding those gems and running the blur offense. Three tailbacks were a possibility in this class, as there will be an opportunity for playing time.
Biggest recruit:
RB
Thomas Tyner
. This was big on two fronts as Tyner has an opportunity to contribute as a freshman, and the Ducks were able to keep Oregon's top recruit from leaving the state. Tyner's commitment became even more important when
Dontre Wilson
flipped from Oregon to Ohio State on Monday.
Oregon State
Biggest need:
Defensive line. The Beavers looked to get bigger and better up front and did so in a big way. Six defensive linemen are headed to Corvallis, including four junior college defensive tackles capable of playing as soon as they arrive on campus.
Biggest recruit:
CB
Dashon Hunt
. Oregon State needed to add talent in the secondary as well and Hunt -- the Beavers' lone ESPN 300 commitment -- will help there. Hunt's commitment also helped Oregon State continue its presence in Southern California, which it recruited extremely well with this class.
Stanford
Biggest need:
Wide receiver. The Cardinal needed to add receiving threats in this class, and adding wide receivers
Francis Owusu
and
Taijuan Thomas
did that. Of course, at Stanford, no position poses more of an offensive threat than tight end, and the Cardinal have commitments from three high school standouts who will suit up there.
Biggest recruit:
WR
Jordan Cunningham
. As the Cardinal continue to hunt for pass-catchers in this class, snagging Cunningham -- an ESPN 150 wide receiver -- on signing day would nicely cap an undermanned but still impressive recruiting class. It would also carry over Stanford's terrific signing-day success from last year.
UCLA
Biggest need:
Offensive line. While it might not be the most immediate need for the roster, the UCLA coaches saw a need to infuse the offensive line with young talent and they went out and did just that. There are offensive line recruits, including two ESPN 300 prospects and a third four-star lineman.
Biggest recruit:
DT Eddie Vanderdoes. The country's top defensive tackle will announce at 5 p.m. PT and the Bruins are thought to be in good position. Landing Vanderdoes -- a former USC commitment -- would be another positive sign for the Bruins in their quest to tip the rivalry in their favor.
USC
Biggest need:
Secondary. The Trojans have been shaky in the secondary for several years now and are in need of players capable of adding depth and perhaps playing as freshmen. Signing day could offer a disappointment if cornerback
Jalen Ramsey
goes elsewhere, but the early enrollee group of safeties
Su'a Cravens
and
Leon McQuay
and cornerback
Chris Hawkins
, gives the Trojans three players capable of stepping in and offering a solution to the pass defense troubles.
Biggest recruit:
S Su'a Cravens. USC is set to add plenty of impact players in this recruiting class, but landing Cravens as an early enrollee was huge. A local player who plays a position of need and has the talent to make an impact as a freshman, Cravens was as close to a must-get recruit as the Trojans had in this class.
Utah
Biggest need:
Running back. With
John White
finished at Utah, the Utes have just one player returning in 2013 who logged more than 25 carries last season. While there are several tailbacks on the roster, Utah looked to add talent at the tailback position in this class and did so with four commitments from running backs, including junior college back
Devontae Booker
.
Biggest recruit:
DT
Lowell Lotulelei
. There is no guarantee that the defensive tackle will turn into his older brother, Star Lotulelei, a likely top-five pick in the upcoming NFL draft. But getting a commitment from Lowell Lotulelei was arguably the most important piece of Utah's recruiting puzzle. The four-star defensive tackle is Utah's top-ranked commitment and will look to take over where his brother left off.
Washington
Biggest need:
Offensive line. The Huskies hoped to find several big bodies to position as the future of the offensive line in this class and have commitments from three high school linemen, including four-star center
Dane Crane
. While the Huskies lost a commitment from
Sean Harlow
, who flipped to Oregon State, they could make up for it in a big way by grabbing ESPN 300 tackle
Nico Falah
away from USC on signing day.
Biggest recruit:
WR
Damore'ea Stringfellow
. The highest-ranked player in the class, the ESPN 150 wide receiver is a playmaker capable of providing an immediate spark for Washington's offense. He also gives the Huskies a big recruiting win in Southern California, as he was sought after by UCLA and USC.
Washington State
Biggest need:
Offensive line. While much of the attention with Mike Leach's offense goes to the offensive skill players, it can't take off without an effective offensive line. Six offensive linemen, including junior college tackle
Jacob Seydel
, are headed to Pullman in this class.
Biggest recruit:
QB
Tyler Bruggman
. The Cougars won a big recruiting battle for Bruggman, as they were able to pull him away from hometown Arizona State. He was someone Washington State targeted early on as a player who could fit into and succeed in the offense.
February, 4, 2013
Feb 4
1:30
PM ET
Florida leads the nation and USC leads the Pac-12 with national signing day just two days away, according to the
ESPN.com recruiting rankings
.
USC is followed by UCLA at No. 11, but the Bruins and Trojans are battling for a number of prospects down this final stretch. That order could end up reversed.
Alabama is No. 2, Notre Dame No. 3, Ohio State No. 4 and Michigan No. 5.
Watch out for the Crimson Tide. They could land three or four big names on signing day and end up No. 1.
As for the rest of the Pac-12: Washington is 19th, Oregon 22nd, California 28th, Arizona 37th, Stanford 28th and Arizona State 40th.
Here are some of the
top prospects still on the board
.
The biggest remaining battles? DT
Eddie Vanderdoes
(UCLA, USC, Alabama, Notre Dame) and DE
Kylie Fitts
(UCLA, USC, Washington).
It seems possible the Crimson Tide are going to steal Vanderdoes away from the West Coast --
just check out his Twitter feed from his 'Bama visit
.
UCLA also is in on a number of prospects, including QB
Asiantii Woulard
and RB
Cornelius Elder
.
So, as usual, there will be plenty of signing day intrigue on Wednesday. And perhaps beyond.