NCF Nation:

Eduardo Clements
August, 9, 2013
8/09/13
9:00
AM ET
You want to find a good quarterback in the ACC? Plenty of places to look.
A solid receiver? Plenty of places to look.
A game-changing running back? Well, let's just say this is not a position of strength for the ACC headed into 2013.
Both 1,000-yard rushers from a year ago are gone. So are five of the top 10 rushers in the league. Now factor in recent developments from the offseason:
Virginia Tech back Michael Holmes was kicked out of school following his arrest after the spring game.

Pitt Rushel Shell decided to transfer, to hated rival West Virginia no less.

Maryland back Wes Brown has been suspended for the season after an offseason arrest.

Wake Forest leading rusher Josh Harris is not with the team while the Deacs wait for an answer from the NCAA on his eligibility.

NC State running back Shadrach Thornton was suspended one game after being charged with misdemeanor assault on a female following a June 6 arrest.
[+] Enlarge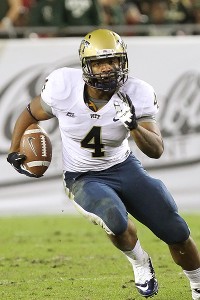 Kim Klement/USA TODAY Sports Running back Rushel Shell left Pitt for rival West Virginia.
Holmes and Brown were expected to be significant contributors this year; Shell and Harris were expected to start; Thornton led the Wolfpack in rushing last year.
So let us take stock of who remains. Essentially, the ACC has one big-time headliner in
Duke Johnson
at Miami, and several teams with talent and depth.
Take Florida State. The Noles have a great duo in
James Wilder Jr.
and
Devonta Freeman
. Syracuse has a 1,000-yard rusher returning in
Jerome Smith
, plus more depth than nearly everyone in the league. Duke has its top six rushers back from a year ago.
Still, the league overall has improving to do in this important category. In 2012, the ACC had the fewest 1,000-yard rushers of the five biggest conferences. It also only had two teams ranked in the Top 30 in rushing offense (Georgia Tech and Florida State), tied with the SEC for fewest among the top five conferences.
But here is the big distinction between the two. The SEC only had one team ranked in the bottom 30 in rushing offense last season: Arkansas. The ACC had a whopping six -- Virginia, Duke, NC State, Maryland, Wake Forest, Boston College -- the most among the power five.
Will fortunes improve this season? Let us take a look at one key statistic that could have some bearing. I broke down how many returning carries there are per team headed into 2013.

DUKE
Top returners: Jela Duncan, Josh Snead

Percent carries returning: 87 percent

What it means: Duke has perhaps the best opportunity of any team in the league to boost its rushing numbers this year, with its top six rushers back, a more mobile quarterback in Anthony Boone and four starters returning on the offensive line.

SYRACUSE
Top returners: Jerome Smith, Prince-Tyson Gulley

Percent carries returning: 82 percent

What it means: Syracuse has had a 1,000-yard rusher in five straight seasons, and has pretty terrific depth going into the season. It is a pretty safe bet the Orange will make it six straight 1,000-yard rushers.

BOSTON COLLEGE
Top returners: Andre Williams, Dave Dudeck

Percent carries returning: 75 percent

What it means: Though the Eagles don't have much in the way of depth, they do have experienced players returning in Williams and Dudeck. Given the way Steve Addazio likes to run the football, expect to see the Eagles much better than No. 115 in the nation in rushing.

VIRGINIA TECH
Top returners: Logan Thomas, J.C. Coleman

Percent returning carries: 70 percent

What it means: Even though this was a weak spot for the Hokies, they do return their top rushers even with Holmes gone. Thomas led the team in carries and rushing last season. Virginia Tech wants to change that this year.

GEORGIA TECH
Top returners: Zach Laskey, David Sims

Percent returning carries: 68 percent

What it means: Tevin Washington and Orwin Smith take nearly all the missing carries (176), meaning the Jackets have plenty of experienced players and depth to fill all their running back spots. Shouldn't be a drop-off here.

NC STATE
Top returners: Shadrach Thornton, Tony Creecy

Percent carries returning: 63 percent

What it means: Once he returns from suspension, Thornton will carry the load with Creecy, the way they did last season. Given the emphasis Dave Doeren puts on the run in his offense -- Northern Illinois ranked No. 12 in rushing offense last season -- the Wolfpack should not be in the bottom 30 again.

CLEMSON
Top returners: Tajh Boyd, Rod McDowell

Percent returning carries: 62 percent

What it means: Interesting stat here, considering the Tigers lose 1,000-yard rusher Andre Ellington. He is one of the biggest losses this team has to replace on offense. Having Boyd run as much as he does certainly helps these numbers, but there's no question Clemson has to find a way to replace Ellington's production.

MIAMI
Top returners: Duke Johnson, Eduardo Clements

Percent returning carries: 59 percent

What it means: Miami loses Mike James, but that just means Johnson moves into a starting role and will get more carries. If he continues the work he did last season, Johnson should be the leading rusher in the ACC this season.

WAKE FOREST
Top returner: Deandre Martin

Percent returning carries: 57 percent

What it means: Wake Forest is still waiting to see whether Harris will be eligible this season. There are serious concerns about this position right now, as coach Jim Grobe has said he still hasn't seen anybody step up and prove they can be an every-down back.

NORTH CAROLINA
Top returners: A.J. Blue, Romar Morris

Percent returning carries: 56 percent

What it means: The prevailing storyline in Chapel Hill has centered around replacing Giovani Bernard, the other 1,000-yard rusher in the ACC last season. Blue and Morris combined for 151 carries a year ago, so there might not be as big a drop-off in total production as some might anticipate. Each averaged more than 5 yards per carry.

MARYLAND
Top returners: Brandon Ross, Albert Reid

Percent returning carries: 48 percent

What it means: The Terps lost significant carries from Brown (90) and Justus Pickett (69). I also did not count Shawn Petty's 58 carries, because he went back to defense. Overall, Maryland feels good about Ross and Reid being able to carry the load, but questions still remain about whether this group can be consistent.

FLORIDA STATE
Top returners: James Wilder Jr., Devonta Freeman

Percent Returning carries:45 percent

What it means: This one is the most misleading among all ACC teams, because the Noles do return two terrific talents and expect contributions from a third in Mario Pender. Those lost carries are from Lonnie Pryor and EJ Manuel, along with Chris Thompson (who was out for the second half of the season anyway). Florida State should continue to be an excellent running team.

VIRGINIA
Top returners: Kevin Parks, Khalek Shepherd

Percent carries returning: 44 percent

What it means: UVa lost carries from Clifton Richardson, Perry Jones and Phillip Sims, but the Hoos believe they will be better running the ball this season -- especially if Taquan "Smoke" Mizzell is as good as advertised. He could be a breakout star.

PITT
Top returners: Isaac Bennett, Malcolm Crockett

Percent returning carries: 9 percent

What it means: I thought this number would be low with Shell and Ray Graham gone. But this is actually worse than anticipated. Pitt has little in the way of experienced players or depth at running back, and we are talking about a team that relies heavily on the run.
November, 1, 2012
11/01/12
6:00
PM ET
Here are your injury reports for tonight's game in Sun Life Stadium (7:30 p.m. ET, ESPN, #VTvsMIA)

MIAMI

Probable
Surgery/Out for the season:
VIRGINIA TECH

Out for Season
Probable

October, 9, 2012
10/09/12
9:00
AM ET
Lost in the doom and gloom of another miserable nonconference loss for the Miami Hurricanes? They still have a very real shot at winning the ACC Coastal and playing for a conference championship.
That is about the only positive to take away from a tough weekend in Chicago. And in the end, that is bigger in the grand scheme of the season than the way the Canes failed to compete against Kansas State and Notre Dame.
Forget about being outscored 93-16 in those games. Miami must focus on this critical ACC stretch to come, starting Saturday at home against North Carolina.
"We're just going to put this behind us," linebacker
Denzel Perryman
said after the loss to the Irish. "We've got a big stretch of ACC games. We have to put this behind us and move forward."
[+] Enlarge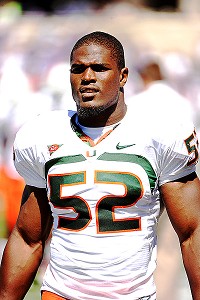 AP Photo/ David DurochikWhy has Miami struggled on defense? Linebacker Denzel Perryman said the Hurricanes' woes are from a lack of focus.
When asked how, Perryman said, "The game's over. There's nothing we can do about it. Just put it behind us."
One look at the Coastal shows Miami is in a good spot. The Hurricanes are in first place with Duke -- the only two teams in the division undefeated in ACC play. North Carolina looked terrific in a win over Virginia Tech and is going to cause major problems for a Miami defense that has not stopped one FBS team this season. But the Tar Heels are ineligible for postseason play.
Behind Miami, Virginia Tech, Virginia and Georgia Tech all have major problems to address. The Hurricanes already have a win over the Jackets, so at least there is an edge there.
Still, a look on the bright side is also accompanied by a stark reality. Miami has won its three ACC games in shootout style. Its defense is a mess. Perryman lamented a continuing lack of execution after the loss to the Irish. He was asked why that problem persists now that half the season is over, and he gave a remarkably candid answer, calling out teammates for having "brain farts" on the field.
"I don't know. I don't know what's going on in their head mentally," Perryman said. "All it comes down to -- just guys doing their job."
Miami defensive coordinator Mark D'Onofrio has taken his share of heat for the poor defensive performance this season, but he is working with a group that is extremely young, raw and not as talented as Hurricane defenses of the past. There is only so much you can do when your players are unable to execute, tackle properly or take the wrong angles in pursuit.
Coach Al Golden knows he has a young group, and cannot afford to be overly critical. He doesn't want to lose his players, not with so much still at stake.
"We've got a lot of young guys that are going to grow up some day, and that's a tough task," Golden said. "We are not going to get negative. We are not going to go that route. There's too many kids in that room that have bright futures and that really played hard. We just didn't play well enough."
We have seen this offense play well enough to win ACC games, in spite of its porous defense. It was disappointing to see a group that racked up 1,260 yards of offense in two games, muster just a field goal against Notre Dame. There were no quick touchdown strikes, no breakaway runs. In fact, Miami's longest run of the day belonged to
Eduardo Clements
, who ran 17 yards on the second-to-last play of the game.
Duke Johnson
had 11 touches on offense, for 60 yards.
Stephen Morris
was held to 201 yards passing. Miami was hamstrung by its own mistakes, including a litany of dropped passes -- two on the opening drive by
Phillip Dorsett
. Miami also had a touchdown called back on a holding call, missed a field goal and only converted four of 12 third-down attempts.
Compounding the problem was an inability to sustain drives, and the defense's failure to stop Notre Dame. Miami had the ball for 20:52 -- and only 3:36 in the decisive third quarter.
Perhaps more than any other player on the roster, Dorsett has to find a way to put Saturday behind him. His two drops on the first series were tough to watch, and even tougher to live through. "I was already humble, but this humbles you even more," he said afterward, a young player big enough to face the tough questions after a disappointing performance.
Dorsett showed an inordinate amount of maturity after the loss. It was a teachable moment for an impressionable bunch, one that has to be put aside the way the loss at Kansas State was pushed away. Miami reeled off three straight wins after that defeat. The Hurricanes can only hope another winning streak like that follows.
If it does, Miami could very well end up with a division championship.
September, 8, 2012
9/08/12
3:25
PM ET
The
Kansas State Wildcats
showed why Big 12 pundits should be paying closer attention to Bill Snyder's squad with a dominant
52-13 victory
over Miami. Here's a closer look at how it happened:


It was over when:
Miami appeared to be driving to tie the game at 7-7 early in the first quarter, but KSU defensive end
Adam Davis
had other ideas, forcing a
Eduardo Clements
fumble which was recovered by
Arthur Brown
. Davis' play gave the Wildcats all the momentum and, more importantly, sent the message that Davis and the rest of the KSU defense were going to be creating havoc for most of the game.
Game ball goes to:
The Hurricanes didn't have an answer for
Collin Klein
. The Wildcats' quarterback accounted for four touchdowns (three rushing, one passing) and showed improved passing skills. He's not a finished product by any means but he's improving, undoubtedly putting a scare into defensive coordinators across the Big 12.
Unsung hero:
Davis. The Wildcats' linebacker forced two fumbles and recorded two sacks. If he was wearing No. 92 in black and gold, you would have sworn James Harrison was on the field.
Unsung hero, Take 2:
While the skill position players get the attention, the Wildcats dominated the game in the trenches. KSU's offensive line opened running lanes and paved the way for 498 total yards (288 rushing, 210 passing) on offense.
Heisman watch:
Largely considered a dark-horse candidate, Klein could catapult into the Heisman conversation if he continues to play like he did on Saturday. The senior had 210 passing yards and 71 rushing yards in the win. The Wildcats' Sept. 22 date with Oklahoma could be a defining moment.
What it means:
The Wildcats' win boosts the BCS profile of the Big 12 Conference after a dominating win over an ACC opponent. And for KSU, the battle with the Sooners -- assuming KSU wins its home game against North Texas on Sept. 15 -- has become a huge game with national implications.
April, 3, 2012
4/03/12
2:30
PM ET
Andrea Adelson had a chance to sit down with Miami coach Al Golden during a recent visit to Coral Gables. Here is a little of what he had to say.
I know depth is an area of concern. How are you working to address that this spring?
Al Golden
: Any time you're bringing in a class of 33, that's three starting units. Obviously, those guys are going to have an impact somewhere on your depth. You never want to have a year where you take six receivers or seven defensive backs, but the symmetry at those positions was not good. It was not vertical depth. It wasn't fifth-year seniors, fourth-year seniors, juniors, sophomores, freshmen, then incoming guys. It didn't exist. So that was a blanket approach of trying to bring in a lot of guys to fix a depth issue. Between the depth and those guys challenging for playing time as starters, that's going to improve our team. I'm not worried about playing young guys. We'll find a way to get them in a game if they're talented and they learn it and they're in good condition. I don't care whether they're freshmen or seniors, I just need guys who want to execute.
You lost some senior leaders. How is that aspect of your team developing?
[+] Enlarge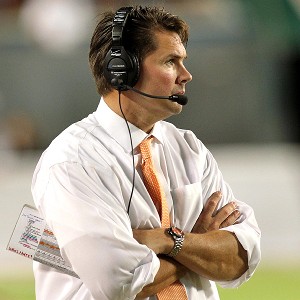 Robert Mayer/US PresswireCoach Al Golden has been impressed with the physicality of the linebacking corps this spring.
AG
: So far it's been good.
Mike James
and
Eduardo Clements
at running back,
Stephen Morris
at quarterback. (Brandon) Linder on the offensive line has been very good.
David Perry
at tight end has been a nice surprise for us.
Allen Hurns
at wideout has done a nice job with the leadership. Defensively, (Ramon) Buchanan will be a leader for us, Ray Armstrong will be a leader for us, Jimmy Gaines has been and will be a leader for us. It's been positive in terms of that. We just have to continue to develop leaders and give them opportunities to lead.
How about some questions that have been answered about your defense so far?
AG
: I think the one thing that jumped out in the (first scrimmage) is we had a lot of linebackers that played physical. So that part of it was good. Even the young guys, [Raphael] Kirby was physical,
Gionni Paul
was physical, Denzel [Perryman] was physical on top of [Tyrone] Cornileus and Jimmy Gaines and those guys. Seeing that was good. We tackled a lot better in Scrimmage 1 this year than Scrimmage 1 a year ago, which was important, and we're still trying to develop our depth on the defensive line and at cornerback. Those are two positions we need to bolster this spring.
Speaking of the defensive line, you don't have many players with starts or experience. What do you want to see out of that group this spring?
AG
: I want to see, like
Curtis Porter
, I'd like to see him take his game to the next level.
Darius Smith
has got to continue to improve. Then we're going to have a host of other guys at the defensive tackle position that need to compete and improve their game. At defensive end,
Shayon Green
's had a good spring for us so far, and really at defensive end, we're going to have in addition to what we have right now, we're going to have three defensive ends coming in that are going to have to compete for starting jobs and also add depth.
Right now, do you have any idea of what team you will have in the fall?
AG
: We have a long way to go. I just think before these other 23 players come in, because 10 are here now, you have to assess where you are at every position and see how they come out of it. We have a long way to go to get through spring ball, and then from April 14 until Aug. 5 there's a great opportunity for them to grow and develop. It's too early to assess where we are right now as a team.
A year into the job, what are your impressions of coaching at Miami, a place where championships are always expected?
AG
: We're not at that level right now. The first order of business when you're trying to fix something or you're trying to build something is to recognize where you are and then to not only plot a course but then to follow that path, follow that strategy and execute it. I'm glad the standards are where they are, and I'm glad we produce NFL players, and I'm glad we have so many things to offer young people. It's the reason why you take the job. But we can't jump from where we are right now to there without taking all the steps we need to take in between. We're just trying to implement our schemes and our system and follow the process on a daily basis.
April, 3, 2012
4/03/12
9:00
AM ET
Andrea Adelson had a chance to sit down with Miami coach Al Golden during a recent visit to Coral Gables. Here is a little of what he had to say.
I see Ryan Williams has had a nice spring with Stephen Morris out. Will he or any of the other quarterbacks you have competing this spring really push Stephen in the fall?
[+] Enlarge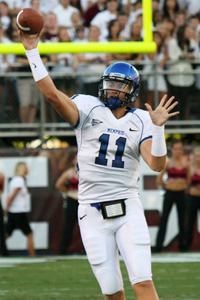 AP Photo/Kerry SmithRyan Williams, a transfer from Memphis, has had a nice spring and could push presumptive starter Stephen Morris this fall.
Al Golden
: We want to see how these guys develop this spring. Certainly, Ryan, because he has game experience at the Division I level, is a little ahead of those guys but they're all going to continue to get reps with the ones and we'll see how they develop in the summer. Someone, if not all, will challenge Stephen between now and summer camp.
How is the situation playing out at running back with Lamar Miller gone?
AG
:
Mike James
is doing a good job. He's had a good offseason.
Eduardo Clements
has done a good job. We'll work
Dallas Crawford
in there as well, and then we have two guys coming in. In that group, we have to see who emerges and obviously design plays to match their skill set.
Receiver is a position where you only have a handful of scholarship players this spring. How are they doing?
AG
: Tired.
I'm sure.
AG
: They're taking a lot of reps. We just didn't have any symmetry at that position and we didn't have the type of depth that we needed so those guys are shouldering the majority of the reps. It's good exposure and good experience for them, and we just have to be careful to change the personnel groups enough so they're not getting overworked.
What questions about the offense have been answered so far?
AG
: I think Michael and Eduardo -- Lamar is obviously a very talented player to replace -- and so I think those guys have answered the bell so far this spring. And hopefully the offensive line, although we're not experienced beyond the starters right now or that deep, so far they've looked like they've been able to have some continuity and some ruggedness about them, which we need to continue to develop. Then,
Rashawn Scott
at receiver has done a nice job so far. Not that that's been a surprise, but he's brought his off-field and offseason program work ethic to spring ball, which has been nice.
March, 28, 2012
3/28/12
10:30
AM ET
Miami guard
Jon Feliciano
is out for the remainder of the spring after suffering a right knee injury during the Hurricanes' Saturday scrimmage, according to multiple reports.
The sophomore-to-be started eight games last season at right tackle and was making the transition to left guard this spring.
Feliciano
described the injury to the Miami Herald's Susan Miller Degnan
following the scrimmage:
"I was pulling and I hit the safety, Ray-Ray [Armstrong], [and] OT [RB Eduardo Clements] was about to break but he got hit in the back and he kind of fell into my knee. Hopefully it's just a sprain. They haven't told me anything. I'll just keep some ice on it and see how it goes.''
March, 26, 2012
3/26/12
2:30
PM ET
Three ACC schools held scrimmages over the weekend. Here's a roundup of the good and bad from a busy weekend.
DUKE

Sean Renfree
completed 14 of 17 passes for 220 yards and three touchdowns. Tight ends
David Reeves
and Issac Blakeney had scores of 31 and 70 yards, respectively.
Corey Gattis
led all pass-catchers with six receptions for 81 yards and a 42-yard touchdown catch from Thomas Sirk. Sirk did a bit of everything, completing 5 of 9 passes for 75 yards, carrying it four times for 54 yards and hauling in two receptions for 25 yards.
The Blue Devils' spring game is March 31.
MIAMI

No
Stephen Morris
, no problem. At least on Saturday at Ted Hendricks Stadium in Hialeah. With Morris out recovering from back surgery,
Ryan Williams
completed 14 of 21 passes for 228 yards and four touchdowns. Early enrollees Gray Crow and Preston Dewey were behind the Memphis transfer, going a combined 11-for-26 for 64 yards in action that was more situationally simulated than a typical spring game, which Miami will hold April 14.
Mike James
and
Eduardo Clements
combined for 134 rushing yards and four touchdowns on 31 carries, with James accounting for three of those scores.
The Hurricanes will hold another scrimmage at 6:45 p.m. ET this Friday at Bishop Verot High School in Fort Myers.
Also, defensive back
Keion Payne
was dismissed from the team for a violation of team rules,
UM associate athletic director for communications and marketing Chris Freet told reporters
. Payne had appeared in just two games.
WAKE FOREST

Michael Campanaro
impressed as the Demon Deacons' top receiver, catching 10 balls for 116 yards to lead the offense, which got off to a rough start.
After misfiring on seven of his first eight pass attempts,
Tanner Price
finished strong, completing 17 of 30 passes on the day for 169 yards and a touchdown on six drives.
Nikita Whitlock
had an 87-yard interception return for a score on Price.
Reserve signal-caller
Patrick Thompson
finished 5-for-6 passing for 79 yards with a touchdown, and Wake's defense finished with five sacks from five different players.
"I think we've improved quite a bit from the first day of practice when we didn't look very good," coach Jim Grobe said of the offensive line. "I thought Thursday we improved a little bit and I thought today we got a little better. It's going to take time before these guys are really comfortable.
"We've got guys who like to play, who like to get after it but they're just making too many mistakes right now and you can't do that up front. We just play against too many good people. You want to get to the point where when they beat us, they beat us physically and not because we didn't block the right guy."
Wake Forest's spring game is April 14.
December, 12, 2011
12/12/11
3:58
PM ET
This is a punch in the gut to Miami's offense.

Running back
Lamar Miller
, the second-leading rusher in the ACC, has decided to forgo his final two seasons of eligibility and
enter the NFL draft
. Miller is ranked No. 30 in Todd McShay's latest top 32 draft-eligible players, and McShay writes that Miller appears "ready for the NFL."
Apparently he agrees. Miller's decision shouldn't come as a huge surprise, considering how highly he is regarded by many draft experts, but that doesn't lessen the blow to Miami's offense.
It's not like the Canes won't have any depth at the position -- they've still got
Mike James
and
Eduardo Clements
, redshirt sophomore
Darion Hall
, and any incoming recruits who could contribute immediately. The opportunity for immediate playing time could also be a selling point on the recruiting trail. There's no question the Canes will be missing their primary ball carrier, though, next year, and the ACC will be missing a potential Heisman candidate.
March, 22, 2011
3/22/11
9:49
AM ET
Miami has released its
second depth chart of the spring
, and the most noticeable change is at quarterback, where
Jacory Harris
has moved back to the No. 1 spot, followed by
Stephen Morris
and
Spencer Whipple
. (And Miami fans aren't sure whether to celebrate or panic.)
Running back
Storm Johnson
has moved up to the No. 1 spot, and
LaRon Byrd
and
Travis Benjamin
are once again the top receivers.
Defensively, redshirt freshman Travis Williams is in the top linebacker spot Ramon Buchanan used to occupy before
he was suspended
this week. Sophomore
Eduardo Clements
, who played primarily on special teams in 2010, has moved from running back to cornerback.
Strong safety Ray-Ray Armstrong is back at No. 1 after being limited at the beginning of spring ball but is now back to full participation. True freshman cornerback Thomas Finnie is apparently the real deal. It was surprising to see a true freshman in a starting role on
the first spring depth chart
, but he has maintained his hold on that spot. Linebacker Jordan Futch has moved from the middle to outside.
February, 4, 2010
2/04/10
10:32
AM ET
There wasn't quite the buzz around the Hurricanes'
No. 13 class
that there has been in recent years -- unless, of course, you're talking to coach Randy Shannon. Miami finally has some staff stability, save for the departure of former defensive line coach and recruiting coordinator Clint Hurtt. It's finally reached the point where the numbers and depth have improved, making it easier to target a wider variety of positions.
"I think most of the players you see across the country, they're starting to see what Miami is about," Shannon said. "Instead of this coach or that coach they're going for the program. That's the one thing I see from the young men that's part of this university. They see the program. They see where we've been and where we're going. They see the improvement every year, the family-type atmosphere with the players. Coming on a visit is not just lip service. They see the opportunity and that every year I've been here freshmen in some form or fashion play."
What they don't have? A lot of ESPNU 150 players. The Canes added three -- the fewest they've seen under Shannon -- and missed out on several top uncommitted players who went elsewhere on signing day. But that doesn't mean this class isn't loaded with future talent and speed, and most importantly, the Canes met several position needs.
"Our needs are getting our numbers right," Shannon said. "On the offensive line, we had a depth situation that was going to be tough, and now we have a couple of guys on the team who in the long term can help us establish where we need to be instead of a quick fix. The more depth you have on your football team, the better your football team will be.
"It's not like in my second year, where you have to go out and get eight receivers," Shannon said. "Now we're almost at the point where we can say we need two at this position, two at that position instead of trying to recruit 25 and 30 guys. Now it's about 15 and you know your program is going in the right direction."
That approach has made it easier not only to recruit, but to make it through an entire season. The staff went aggressively after tight ends and linebackers. It also added depth to the running back position where Javarris James graduated, Graig Cooper is coming off a knee injury and Damien Berry will be a senior. Four-star running backs
Storm Johnson
and
Eduardo Clements
should help there. As for who might see playing time first?
"Your best shot is to look at the seven guys who came in in January," Shannon said. "They always play for some reason."