NCF Nation:

Eers-Bearcats-111112
November, 12, 2011
11/12/11
6:08
PM ET
CINCINNATI -- Eain Smith shot through a gap, reached his right hand up high and felt all ball. Do not let any other West Virginia player tell you he was the one who got the Mountaineers back into the Big East race with one swift, beautiful block.
Smith envisioned his season-changing play as Cincinnati kicker Tony Miliano lined up for the game-tying 31-yard field goal with three seconds left. "I've gotta get the block," Smith thought to himself. "I don't want to go into overtime."
Although the play was designed for
Ryan Nehlen
to attempt the block, it was Smith who took advantage of a low-line drive kick. When he got it, the entire West Virginia sideline spilled onto the field, hooting and hollering over a
24-21
win Saturday afternoon.
[+] Enlarge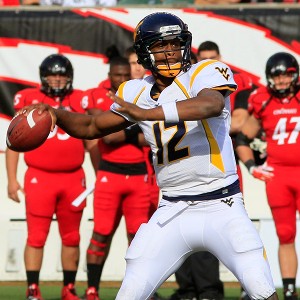 AP Photo/Al BehrmanGeno Smith and West Virginia remain in the hunt for a spot in a BCS bowl game.
"One word," quarterback
Geno Smith
said. "Pandemonium."
In the West Virginia locker room afterward, everyone tried to take credit for the block. "Even guys who weren't on the field," coach Dana Holgorsen said.
For good reason. That block helped turn the Big East race into a free-for-all. Cincinnati lost its first Big East game after losing starting quarterback
Zach Collaros
to an ankle injury in the second quarter. Coach Butch Jones said afterward that Collaros would undergo more testing to determine the extent of the injury.
The No. 23 Bearcats (7-2, 3-1) still control their destiny in the Big East race as the only team with one league loss. But West Virginia (7-3, 3-2) and four others are right behind with two losses each. If Collaros is out for an extended period as anticipated, there are no guarantees that the Bearcats will win out to earn the BCS berth.
That is where West Virginia comes in, of course. The preseason favorites fell out of the Top 25 last week after a dispiriting 38-35 loss to Louisville. It was the second head-scratching league loss of the season for the Mountaineers, who lost to a Syracuse team that can barely get points on the board these days.
When Holgorsen addressed his team last Sunday, he never mentioned X's and O's. He had one message -- play with energy. Play with excitement. Play for each other. He harped on that message during his weekly news conference, when he threatened to bring only 55 players with him on the trip if his players did not pick themselves up and learn how to fight.
From the start against Cincinnati, you could see his message came through. After Cincinnati scored first, the Mountaineers immediately responded and did not get their heads down. When West Virginia put together a terrific goal-line stand, quarterback Geno Smith and receiver
Stedman Bailey
ran onto the field to congratulate their teammates.
On and on it went, teammates lifting each other up through various spurts of adversity throughout the game.
"The energy was great," Bailey said. "It was great all over the sideline, even myself. I found myself running off the sideline a couple of times because I was into the game. Usually we're all quiet and stuff. Anything goes wrong for us, and we're quiet on the sideline; it hurts us. It was pretty good today. We just have to continue with that."
Why did it take so long to play that way?
"I'm not sure," Bailey said. "I wish we could get those losses back, but they're in the books. It's just a wake-up call for us. I'm not going to say we got big-headed. We probably just needed that to wake us up and get us on track."
There were bleak moments in the game for both teams. After Collaros went down, backup quarterback
Munchie Legaux
was extremely ineffective, going 1-of-5 for minus-5 yards on his first six attempts. But he got going as he got more comfortable, rallying Cincinnati from a 10-point deficit to take a 21-17 lead with 13:20 to go.
West Virginia, inconsistent on offense for most of the game, got its turn next. Smith and his teammates knew exactly what had to be done. Without saying a word to one another, they realized the season was on the line. A loss in this game would give West Virginia three in the Big East and effectively eliminate it from championship contention.
Smith began the decisive 12-play drive at the West Virginia 26, and made two huge third-down conversions: a 13-yard pass to Bailey and a 23-yard pass to
Tavon Austin
on third-and-15.
Shawne Alston
capped the drive with a 1-yard touchdown run to put West Virginia up 24-21. Austin and Bailey were particular menaces for the Bearcats' secondary, each getting more than 100 yards in the game.
The Mountaineers tried to ice the game later in the quarter, but Tyler Bitancurt missed a 47-yard field goal. That allowed Legaux one final opportunity to rally the Bearcats to their fourth straight comeback win. He marched the team down to the West Virginia 15 before its drive stalled. Miliano, who made all four of his kicks last week, simply could not connect Saturday.
That sets up for yet another wild, unpredictable finish to Big East play.
"Our goal -- the BCS -- it's not over," Alston said.
November, 12, 2011
11/12/11
4:03
PM ET
CINCINNATI -- How about another Big East race that is all scrambled up?
West Virginia
beat league leader Cincinnati 24-21
Saturday as the Bearcats took twin blows on the day. Not only did they lose their first Big East game of the season, they lost starting quarterback
Zach Collaros
, who went out with a right leg injury in the second quarter and never returned.


Backup
Munchie Legaux
gave a valiant effort, but the Bearcats were not able to post their third straight comeback win. Tony Miliano lined up for a game-tying 31-yard field goal with two seconds left in the game, but the snap was high and the kick was blocked by Eain Smith. It was Miliano's second miss on the day, after going a perfect 4-for-4 in a win over Pitt last week.
West Virginia quarterback
Geno Smith
led what turned out to be the decisive drive of the game. After Legaux scored on a 7-yard run, Smith delivered when it counted, thanks to a big assist from
Tavon Austin
. His 23-yard completion to Austin was one of the big plays on the game-winning drive. West Virginia marched 74 yards on 12 plays, and
Shawne Alston
scored the game-winner on a 1-yard run with 8:52 to go to put his team up 24-21.
Cincinnati was able to get pressure on Smith, but it was unable to contain Austin, who had 125 yards receiving. The Mountaineers may not have been perfect on the day -- too many penalties, another blocked field goal, missed chances in the red zone -- But their much-maligned special teams came up with the big play when it mattered most.
Now, there are five teams with two losses in the league behind Cincinnati (3-1). Buckle up.
November, 12, 2011
11/12/11
3:05
PM ET
CINCINNATI -- These are the Comeback 'Cats, right?
Cincinnati has clawed back into its game behind backup quarterback
Munchie Legaux
, and now trails West Virginia 17-14 through three quarters. After appearing lifeless on offense following the loss of starter
Zach Collaros
, Legaux and
Isaiah Pead
gave the Bearcats a spark.
Legaux completed a 45-yard pass to Pead on a wheel route, and then Legaux scored from 7 yards out to close the gap. The Bearcats have played inspired in the quarter, and have come from behind to win all three of their Big East games.
Meanwhile, West Virginia has had its share of mistakes. For the second straight week, the Mountaineers had a field goal blocked. On that drive, West Virginia got to the Cincinnati 14 but
Geno Smith
took a sack and once again the Mountaineers could not score a touchdown in the red zone. They settled for a field goal earlier in the game after getting to the Cincinnati 12.
Later in the quarter,
Dustin Garrison
fumbled in Cincinnati territory. West Virginia has been able to move the ball today, but the Mountaineers have struggled to find points.
November, 12, 2011
11/12/11
2:01
PM ET
CINCINNATI -- West Virginia leads Cincinnati at halftime. Here is a quick first-half analysis:


Turning point:
Cincinnati starting quarterback
Zach Collaros
going down with a right leg injury with 8:11 to go in the second quarter. Collaros was sacked and fumbled into the end zone on the play. West Virginia recovered to
take a 17-7 lead
but more devastatingly, it appears the Bearcats have lost their leader on offense. His return is questionable. Backup
Munchie Legaux
came into the game and the Cincinnati offense was unable to do a thing. Cincinnati had 3 total yards of offense in the second quarter.
Stat of the half:
Minus-1. Yards Legaux has thrown for on 1-of-5 passing since taking over for Collaros. He also has an interception.
What Cincinnati needs to do:
Try to get
Isaiah Pead
going. Pead was unstoppable on the first two drives but has done little since then. With Legaux in at quarterback, West Virginia has focused even more on taking Pead away. But he is the best player on the field for the Bearcats so they must find a way to get him the ball. Legaux is the least experienced player on the field, so Cincinnati has to attack in a different way.
What West Virginia needs to do:
The Mountaineers have been able to move the ball, but just need a bit more consistency on offense, especially when they get into Cincinnati territory.
Tavon Austin
has been spectacular, but he also has a few drops. West Virginia had to settle for a field goal once it reached the Cincinnati 12, too. West Virginia has one defensive score, so it has 10 points on offense but has had plenty of opportunities for more.
November, 12, 2011
11/12/11
1:26
PM ET
CINCINNATI -- Cincinnati starting quarterback
Zach Collaros
was taken off the field on a cart with a right leg injury in the second quarter against West Virginia, a potentially devastating blow for the Bearcats.
He was on the sideline for the second half in street clothes, on crutches.
Collaros was hurt after he was tackled and his leg bent back awkwardly. He fumbled on the play, and West Virginia defensive tackle Julian Miller recovered in the end zone to put the Mountaineers up 17-7.
His backup,
Munchie Legaux
, only has limited game experience this season. Collaros is the heart of not only the offense, but his team, and is an exceptional leader whom his teammates have rallied around this season. He went into the game needing 34 completions to become the second quarterback in school history with 5,000 yards passing, 500 completions and 50 touchdowns.
November, 12, 2011
11/12/11
1:07
PM ET
CINCINNATI -- After Cincinnati and West Virginia traded quick touchdowns
early in the first quarter
, it appeared a shootout was in the works.
That could still happen, but neither team has been able to take advantage of some opportunities in the early going. The most glaring was the way Cincinnati was unable to convert a fourth-and-goal from the 1. The Bearcats had lined up for a short field goal, but an offside penalty on West Virginia moved the ball to the 1. Coach Butch Jones decided to go for it. Rather than run
Isaiah Pead
-- who had busted tackles left and right throughout the quarter -- he opted for the quarterback keeper with
Zach Collaros
.
But the West Virginia defense was there to greet him at the goal line and Cincinnati came away with no points. It was quite an impressive goal line stand for the Mountaineers, who adjusted nicely after allowing Pead to run for a 40-yard touchdown on the Bearcats' first drive.
West Virginia has tried to take advantage of some holes in the Cincinnati secondary, and did so when
Geno Smith
found
Stedman Bailey
for a 59-yard touchdown pass. But the Bearcats have gotten consistent pressure on Smith. It hasn't helped that the Mountaineers have been flagged six times for 35 yards.
November, 12, 2011
11/12/11
11:09
AM ET
CINCINNATI -- It is a perfect day for football here at Paul Brown Stadium as West Virginia prepares to play No. 23 Cincinnati in a game with major Big East implications.


West Virginia (6-3, 2-2) needs a win to keep its slim championship hopes alive. Cincinnati (7-1, 3-0) needs a win to keep its momentum and is stranglehold atop the league standings.
Here are a few keys for each:
Cincinnati
1. Balance.
The Bearcats are at their best when they are getting balance from
Isaiah Pead
and
Zach Collaros
. Pead has been terrific this season in a much bigger role in the offense. Collaros is a gamer who has willed his team to win. Both are capable of taking this game over.
2. Pressure.
Cincinnati has got to get pressure on
Geno Smith
in order to take pressure off the secondary, which has given up some big plays this season. The last thing the Bearcats want is for Smith to march his teammates up and down the field, because he is perfectly capable. Coach Dana Holgorsen will no doubt be looking for matchup advantages, and to get Smith to release the ball as quickly as possible.
West Virginia
1. Energy.
Holgorsen preached this week that his players have not played with the same energy as their opponents. They have got to against the Bearcats, who have shown perhaps the most heart of any team in the Big East. This is a team that never quits. Can West Virginia say the same?
2. Force mistakes.
West Virginia has not forced many turnovers this season, but there is an opportunity to force some mistakes from Collaros, who has eight interceptions this season. Generally those come when he is rushed out of the pocket and forced into making a poor decision. If West Virginia can get him into these mistakes, the Mountaineers have got to convert them into points.
One note: West Virginia starting safety Terence Garvin is not on the dress list due to injury. After threatening to only bring 55 players with him, Holgorsen has 64 on the dress list.