January, 23, 2012
1/23/12
9:00
AM ET
National signing day is inching ever closer, so it is time to take a look at the biggest recruiting needs for every team in the Big East.
Cincinnati

Defensive line.
Cincinnati loses a host of seniors from this position, including Co-Defensive Player of the Year
Derek Wolfe
,
John Hughes
,
Monte Taylor
, and
Rob Trigg
. Factor in the key contributors for 2012 will be seniors in
Dan Giordano
,
Brandon Mills
and
Walter Stewart
and it is time to reload at this position.
Receiver.
There is some promising young talent on the roster, but several guys are going to be leaving in the next few years. The Bearcats really need a guy who can stretch the field and make some big plays to join
Anthony McClung
and
Alex Chisum
.
Secondary.
The Bearcats are going to take a hit at this position after 2012, losing a ton of seniors-to-be, including Cam Cheatham,
Drew Frey
,
Dominique Battle
and
Reuben Johnson
. Senior safety
Wesley Richardson
is already gone. The lone four-star commitment the Bearcats have is from a safety, Marcus Foster.
UConn

Quarterback.
This need has been addressed in this recruiting cycle, with junior college transfer Chandler Whitmer and Casey Cochran already enrolled in school.
Tight end.
With the impending departure of
Ryan Griffin
and
John Delahunt
, the Huskies could use another young player to be groomed to take over. Tight end is a critical part of the UConn offense.
Offensive line.
UConn is losing its two best linemen in
Moe Petrus
and
Mike Ryan
. Of the 16 linemen currently listed on the roster, seven are juniors or seniors. Linemen generally take a redshirt season, so it never hurts to sign more to be able to restock.
Louisville

Linebacker.
The Cardinals are losing
Dexter Heyman
and have a lot of juniors and seniors on their roster at this position. It is no surprise, then, that three of the top players coming in are linebackers -- Keith Brown and James Burgess are already enrolled; four-star recruit Nick Dawson has given a commitment.
Offensive line.
Louisville has young players here, but not much depth, as evidenced this season when several true freshmen were forced to play much earlier than anticipated. It never hurts to build depth here, and the Cardinals have gotten a huge commit from four-star guard Abraham Garcia out of Miami.
Running back.
This was an area the Cardinals struggled in this season, having to move quarterback
Dominique Brown
to the position.
Victor Anderson
is gone, and this team could really used another back to carry the load.
Pitt

Quarterback.
This one is pretty self explanatory if you watched
Tino Sunseri
play.
Mark Myers
and
Trey Anderson
are also on the roster, but the Panthers are in definite need here -- which is why so many fans are looking forward to commit Chad Voytik coming to town.
Linebacker.
This has been an area of inconsistency for the Panthers, who lose their best player in
Max Gruder
. There are some young players with talent in
Todd Thomas
and
Ejuan Price
, but this position could definitely use an upgrade.
Receiver.
The play of the offense was disappointing this season, and that includes the receivers. Pitt could use some players to stretch the field.
Ronald Jones
was a start this season. But when you consider that
Cameron Saddler
,
Mike Shanahan
and
Devin Street
will all be upperclassmen in 2012, this is a definite area of need.
Rutgers

Receiver.
Mohamed Sanu
is gone, and
Mark Harrison
is a senior to be. There is plenty of young talent, but there is a reason Rutgers has commitments from four athletes. This gives the Scarlet Knights the flexibility to try them at receiver or running back, another area of need.
Running back.
Once
Savon Huggins
got hurt this year, Rutgers had
Jawan Jamison
and
Jeremy Deering
at running back and that was about it. Depth has to be developed here.
Offensive line.
Strides have absolutely been made at this position, but coach Greg Schiano likes to reiterate that the Scarlet Knights aren't going to pull themselves out of the hole they were in overnight. They need another solid draft class at this position to keep building.
USF

Secondary.
Injuries and inconsistent play this season showed the Bulls really lacked some depth and need some immediate help in this area, which is why they signed junior college cornerbacks Fidel Montgomery and
Josh Brown
. One of their top four-star commitments is cornerback Chris Bivins.
Quarterback.
Beyond
B.J. Daniels
, a senior in 2012, the Bulls have
Bobby Eveld
and
Matt Floyd
as the two heirs to take over. Eveld has been less than impressive, and we don't know much about Floyd. The Bulls would be served to get another quarterback in as they prepare for the future.
Running back.
Darrell Scott
is gone, and the Bulls are really in need of a game breaker at this position.
Demetris Murray
is going to be a senior, and nobody else really has stepped up at the position. Depth has to be built here, because USF goes into spring practice with four running backs on the roster.
Syracuse

Defensive line.
The Orange are losing
Chandler Jones
and
Mikhail Marinovich
and could really used some difference-makers up front who can help get after the quarterback. Depth is an issue here. One of their big commitments so far has been defensive end Josh Manley out of Georgia.
Secondary.
This was one of the weakest parts of the team and now the Orange lose
Phillip Thomas
and Kevyn Scott, and there was a lack of depth when injuries hit this position in 2011. Brooklyn prep safety Wayne Morgan would be a huge get to add to this unit.
Receiver.
Alec Lemon
is a senior,
Van Chew
is gone and who knows what happens with
Marcus Sales
. The bottom line is the Orange are in major need of a game-changer to turn 15-yard passes into 40-yard receptions.
West Virginia

Quarterback.
Geno Smith
is a rising senior and after him it is crickets in the form of one player behind him in
Paul Millard
. So consider this need majorly filled with Ford Childress, ranked No. 139 on the ESPNU 150.
Offensive line.
The most inconsistent part of the team in 2011, West Virginia has a major need here. The Mountaineers struggled so badly here they started converted defensive lineman
Curtis Feigt
late in the season.
Don Barclay
is gone, and
Joe Madsen
,
Jeff Braun
and
Josh Jenkins
are all upperclassmen.
Defensive line.
Julian Miller
,
Josh Taylor
and
Bruce Irvin
are gone, and there are depth concerns here. West Virginia has four commitments from defensive linemen already.
September, 29, 2011
9/29/11
7:17
PM ET
PITTSBURGH -- Kickoff is closing in between No. 16 USF and Pitt on a cool, breezy night at Heinz Field. Here are a few keys to the game.


For USF
1. Establish the run game. Pitt would love nothing more than to test the new-found confidence
B.J. Daniels
is playing with in his first road game since the opener at Notre Dame.
Darrell Scott
has shown some nice flashes, but it is one thing to have a big game against Florida A&M. It is quite another to have a big game on the road against a Big East opponent as solid as Pitt.
2. Harass
Tino Sunseri
. This is something that nearly everybody has had success doing early on in the season, a big reason why Pitt has given up 19 sacks. Sunseri has not looked comfortable running this offense, and USF needs to keep it that way. The Bulls have played decently well on the defensive line, and should have an advantage against a Pitt offensive line that has struggled at times.
3. Keep testing the Pitt linebackers. Pitt actually played its best game on defense last season, but the Panthers have shown problems covering underneath routes in the pass game. USF could take advantage of this with its fast receivers that have the potential to get big plays in the pass game.
For Pitt
1. Get to B.J. Daniels. Pitt has played well up front, and that has to continue against a Bulls team that has done essentially whatever it has wanted in the past three games. Much has been made of the way Daniels has played through the first three games of the season, but we will see how he responds if Pitt knocks him down a few times and keeps the pressure on. Todd Thomas and Ejuan Price are going to be huge in the contain game, should Daniels be able to escape the pocket when the pressure closes in.
2. Get Sunseri comfortable. That means getting a little more help from his teammates. Better play from the offensive line. More consistent play from the receivers. More of a reliance on
Ray Graham
. Sunseri has not been able to shoulder the entire offensive load thus far.
3. Get Graham going. Graham slowed down a bit in his past two games, but there is no question he has got to help the Pitt offense get going with some big plays.
September, 22, 2011
9/22/11
3:00
PM ET
Pitt has had breakdowns in its pass coverage that have really hurt the Panthers in all three of their games.
Now they face another quick-strike offense in Notre Dame on Saturday, putting the pressure once again on the linebackers and defensive backs to step up and make something happen. Many of the problems have come on underneath routes against the linebackers, who have been slow to cover and react.
[+] Enlarge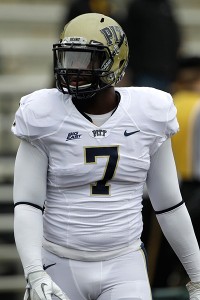 AP Photo/Charlie NeibergallBrandon Lindsey is switching positions as Pittsburgh tries to shore up its pass defense.
That has Pitt ranked next-to-last in the nation in pass defense, giving up an average of 336 yards a game. The Panthers have moved around their starting linebackers -- true freshman Ejuan Price is now starting at Panther, while Tristan Roberts has replaced Shane Gordon and Todd Thomas is starting over Greg Williams.
Brandon Lindsey, who the Panthers wanted to play linebacker, is now back at defensive end because he is more effective lining up with his hand on the ground.
Defensive coordinator Keith Patterson said it is a matter of finding the right players to fit into the 3-4 scheme as they get adjusted to the new defense.
"We're constantly evaluating what we're doing, making sure what we're doing fits the talent and skill level," Patterson said in a phone interview. "We're not asking young men to do something they're not capable of doing. You can sit here and go against your own offensive personnel but until you get out there in a game situation, you don't know how certain people are going to react, you don't know how well they match up with other people's personnel.
"Through three games, we're able to evaluate that and maybe get guys in different positions better suited for their talents and ability."
Buffalo and Maine play more of a quick-style offense than Iowa, so the breakdowns in each game were different. The Hawkeyes were able to erase a 24-3 deficit in large part because quarterback James Vandenberg passed for 162 yards in the fourth quarter.
Coach Todd Graham said there were 12 errors by the pass defense in that quarter. Iowa was aided by good starting field position on several of its drives, and the Pitt offense simply could not sustain a drive to get the defense off the field. Still, Pitt could not make a play on defense when it needed to despite dominating the game for three quarters.
Finishing the fourth quarter has been a theme. The Panthers have given up 41 fourth-quarter points -- 35 in the past two games.
"What's been really strange about this season is how we've been so dominant in certain parts of every game and then all of a sudden, it's almost like I don't know. It's been hard to explain," Patterson said. "I haven't been a part of that.
Another problem that has plagued the defense has been a lack of turnovers. Pitt only has two on the season -- both interceptions. Patterson counted three dropped interceptions against the Hawkeyes.
Notre Dame has turned the ball over 13 times this season, so creating more is a huge point of emphasis. But above all else, coaches have harped on their players to finish.
"We shut teams out in the first quarter and have not been able to finish," Graham said. "We've made a lot mental mistakes in the fourth quarter. A lot of those have come off blitzes and things like that. We're trying to execute a new system. We'll keep working hard to eliminate the errors."
September, 17, 2011
9/17/11
1:37
PM ET
Pitt leads Iowa
10-3 at halftime
. Here is a look at what the Panthers have done well, and what they need to do in the second half to hold on and win.


Tino Sunseri has played better. That does not mean he's been perfect. He had a badly underthrown pass intercepted at the Iowa 2, killing a great scoring opportunity. But he also had a nice 66-yard touchdown pass to Devin Street that caught Iowa totally off guard. He has been sacked a few times and lost a fumble, but for the most part is holding his own, going 7-of-11 for 116 yards. What Pitt needs to do is just finish drives and really push the tempo in the second half.
The Pitt defense has played well for the most part. Ejuan Price has done a nice job starting at Panther linebacker, with two sacks in the early going. The defensive line has gotten a lot of pressure on James Vandenberg, and that has got to continue after halftime for the Panthers to be able to hold on.
More consistency out of the run game. Ray Graham has been contained for the most part. Take away a 24-yard run, and Graham has 10 carries for 24 yards.
Better on third down. Pitt is 2-of-6 in the first half.
Hang onto the football. The Panthers have given it away twice.
August, 16, 2011
8/16/11
2:00
PM ET
Pitt freshman linebacker Ejuan Price made headlines during the summer when he decided to transfer from Ohio State to Pitt without ever setting foot in Columbus.
But now he is making headlines for a different reason. Price has caught the eye of coach Todd Graham during the early part of fall practice, and has a chance to make an impact as a true freshman for the Panthers. He is playing the hybrid "Panther" position behind Brandon Lindsey right now, but most assuredly will be used for depth and situational purposes.
Price is just happy to contribute.

"Playing was one of my goals, so I'm real happy with that," Price said during a recent telephone interview.
Price does want to make one thing clear about his move from the Buckeyes to Pitt. Much was written at the time about the impending NCAA investigation at Ohio State as a big reason Price decided to leave. But Price said he always had a nagging feeling that he made the wrong decision, even after he signed his letter of intent in February.
Price is from Pittsburgh, so he says the move was made because he wanted to return home. He stressed repeatedly his decision had nothing to do with Ohio State coach Luke Fickell. Ohio State did grant Price a release from his scholarship, and he is eligible to play immediately.
"The allegations had nothing to do with my decision," Price said. "I was comfortable with Coach Fickell. He was sincere. It had nothing to do with that. I wanted to come closer to home. ... My decision always lingered over me, but I felt like I didn't want to do that to Coach Fickell. But after talking to my family, they were like, 'Whatever I want to do, I had to do it.' I had to do what's best for me so that's what I did."
Price, rated the No. 12 linebacker prospect in the nation by ESPN, enrolled at Pitt in June and got to participate in the offseason strength and conditioning program. But he didn't get his playbook until practice started. On top of that, he had to adjust to the fast-tempo offense Pitt is running, something he wasn't used to coming from high school.
"Everything weighed heavily on me at the beginning," Price said. "The first few days I was winded, and I had to learn the defense in five days and that was hard on me. But lately, the last couple of practices, I've been getting faster and doing a lot better."
Price is a natural pass-rusher, and he hopes to help the team in that area, especially on third-and-long. But he also is looking to get better, and learning behind Lindsey has been a big help.
"I feel like it's a real advantage," Price said. "Instead of throwing me in right way, this way is better because he's already played. He's already made an impact. I can learn the ropes, and it's making me better. His intensity is something I watch. He helps me a lot with the plays. Sometimes coach lines me up right behind him so I can study his techniques and pass-rushing moves, so I watch that closely, too."
June, 23, 2011
6/23/11
2:00
PM ET
Colleague Bruce Feldman has a new blog post ranking his
Top 10 impact true freshmen.

Two are from the Big East, and should come as little surprise.
Louisville quarterback Teddy Bridgewater comes in at No. 5 and Rutgers running back Savon Huggins ranks right behind at No. 6. Here is what Feldman has to say about them.
On Bridgewater: Landing the Miami native was quite a coup for Charlie Strong. Bridgewater arrived in time for the spring and battled for the job vacated by Adam Froman and Justin Burke. His only challenger is 5-foot-10 former walk-on Will Stein. ... Given the Cards' inexperience on the offensive line, Bridgewater's playmaking skills and mobility only figure to be that much more valuable this fall.

On Huggins: Greg Schiano needs a big-time back to emerge, and the 5-foot-11, 195-pound Huggins has the kind of "lets-get-to-business" running style the coach likes. The book on Huggins is that he doesn't waste time, he just attacks the hole and has the burst to get through, and can finish off his runs. For a program that has struggled in the running game since Ray Rice left for the NFL after the 2007 season (finishing 80th, 78th and 110th in the last three seasons), Huggins' arrival is a welcome one.
How about candidates for the other Big East schools?
Marquise Vann and Jefferson Ashiru, Connecticut.
Linebacker is the biggest question on defense after the Huskies lost two starters in Lawrence Wilson and Scott Lutrus. Vann and Ashiru were two of the most highly touted in the signing class in February and should have a chance to contribute immediately.
Nick Temple/Dwight Jackson, Cincinnati.
The Bearcats have the potential to have a handful of impact true freshmen. Jameel Poteat, Shaq Washington and Akise Teague could have filled in this spot here. But I am going with the linebacker tandem of Temple and Jackson because the Bearcats are in need of help on defense more than offense. With Walter Stewart moving to the hybrid defensive end/linebacker spot, Cincinnati really needs one of its freshmen to step up at linebacker.
Ejuan Price, Pittsburgh.
The Panthers landed a pretty explosive player in Price, who came to Pittsburgh after being granted his release from Ohio State. Price seems to be the perfect fit for the 3-4, and will no doubt compete for playing time at the "Panther linebacker" spot as a hybrid linebacker/defensive end.
Elkino Watson, USF.
The four-star defensive tackle prospect was perhaps the biggest coup for the Bulls on signing day, when he chose USF over Miami. He will have a chance to play immediately and help the USF defensive line.
Dyshawn Davis, Syracuse.
Davis enrolled in school early and ended the spring atop the depth chart at weakside linebacker. This is one of the biggest question marks for the Orange, so it makes the most sense for Davis to have the biggest impact here.
Andrew Buie/Vernard Roberts/Dustin Garrison, West Virginia.
Yes, I am a weasel for not picking one of these players. Easy way out for sure. But I have to honestly say I am not sure which of these players is going to emerge, and I am pretty sure the coaches have no idea, either. But I do think one of these guys is going to come out and make an impact. No question this is going to be one of the most fun competitions to watch during fall practice.
June, 21, 2011
6/21/11
2:12
PM ET
Former Ohio State signee Ejuan Price joined Pittsburgh on Tuesday and is eligible to play for the Panthers this fall.
The Woodland Hills (Pa.) linebacker originally signed with the Buckeyes in February but recently asked for and was granted his release from Ohio State. ESPN ranked Price the
No. 12 linebacker prospect
in the nation in the class of 2011.
"Ejuan Price is an outstanding addition to our freshman class," coach Todd Graham said in a statement. "He comes from a tremendous football program in Woodland Hills. Ejuan is an explosive player who has great leadership abilities. He will fit in well with our defensive schemes and philosophies."
The 6-foot, 235-pound Price was selected All-State Class AAAA by the Pennsylvania Sports Writers and played both as a tight end and linebacker. He had a hard time deciding between Ohio State and Pittsburgh back in February. The turmoil at Ohio State was a big factor in his
decision to ask for his release
.
It stands to reason Price will be given every opportunity to be a contributor this season. There is uncertainty at the linebacker position headed into the fall. Pittsburgh is switching to a 3-4 and experimented with different lineups there this spring. Dan Mason is still recovering from a brutal knee injury and Todd Thomas also missed the spring with an injury. There is talent at the position with the return of Max Gruder, Greg Williams and Tristan Roberts. Adding Price into the mix is a bonus.