NCF Nation:

Elijah Daniel
July, 23, 2014
Jul 23
10:30
AM ET
HOOVER, Ala. -- At SEC media days,
Auburn
coach Gus Malzahn confirmed the worst -- sophomore defensive end
Carl Lawson
had indeed undergone ACL surgery on the knee that he injured the last week of spring practice.
[+] Enlarge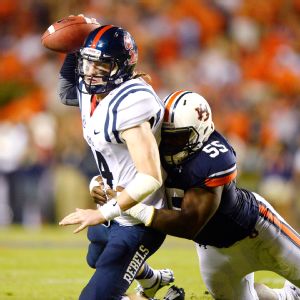 AP Photo/Todd J. Van EmstCarl Lawson's absence at defensive end will be felt, but Auburn has capable bodies ready to fill in.
Lawson waited until the first week of May to have the surgery, and now, the Auburn coaches are hoping to get him back "toward the end of the year."
"That's yet to be determined," Malzahn said of Lawson's return date. "But he is an unbelievable worker. He's a physical specimen, put together extremely well. He's very determined, so we'll see where that goes."
The former five-star recruit, ranked No. 2 overall in the 2013 class, was in line to replace top pass-rusher
Dee Ford
this fall. Ford led the team with 10.5 sacks and 14.5 tackles for loss last season, but Lawson showed glimpses of greatness when he got the opportunity. As a freshman, he was second on the team with four sacks.
However, it's time for Auburn to move on. If the Tigers get him back for the last two, three, four games, it would be a huge lift, but they have to worry about how to replace his production prior to his return, if he comes back at all.
Senior
LaDarius Owens
is already penciled in at one of the two starting defensive end spots. He started 12 games a season ago, and, though he missed all of spring practice, he's expected back for the beginning of fall camp.
The question will be who starts opposite of Owens and who else will be in the rotation once the season gets underway.
The candidates
Elijah Daniel, sophomore:
If not for Lawson, Daniel might have been talked about more last season. He too was a top recruit coming out of high school, ranked No. 34 overall in the ESPN 300, and he wasn't far behind his teammate with 2.5 sacks as a freshman. The plan was for the duo to play opposite each other down the road, but with Lawson out for the foreseeable future, the time is now for Daniel. Can he step out of Lawson's shadow and make his own mark?
DaVonte Lambert, junior:
Fans don't know his name yet, but Lambert might prove to make the biggest impact of anyone in Auburn's 2014 recruiting class. He arrived on campus last month, meaning he'll have to pick up the defense in a hurry, but there's no doubting his physical tools. The 6-foot-2, 275-pound junior college transfer was the top-rated defensive lineman in the ESPN JC50, and he's eager to get on the field for the Tigers.
Andrew Williams, freshman:
As the other newcomer on this list, Williams has yet to go through an organized practice with his new team. He was in high school just two months ago. Don't be fooled, though. That didn't stop Lawson and Daniel from making an impact their freshman season, and Williams could be on a similar path. The Georgia native practically lives in the weight room, which should help ease his transition at the next level.
Gabe Wright, senior:
The Auburn coaching staff experimented with Wright at defensive end this spring due to injuries and a lack of depth at the position, but nobody thought it would stick. That sentiment has since changed with Lawson's injury, and there's a chance the so-called "Rhino Package," with Wright on the edge, will be used more often than not.
Montravius Adams, sophomore:
Wright wasn't the only defensive tackle to try his hand on the edge this spring. Adams, who measures in at 6-foot-4, 306 pounds, took reps at defensive end, and Malzahn mentioned his name, along with Wright's, as a player who could help fill the void left by Lawson's injury.
Analysis
The early leader in the clubhouse is Daniel because he has the experience to go along with the talent, and both Wright and Adams are better suited for defensive tackle. However, fall camp will be critical for the newcomers, specifically Lambert. If he can pick up the defense and impress the coaches, he has as good a chance as anybody to start the season opener.
Regardless of who starts, expect Ellis Johnson and Rodney Garner to rotate a lot of bodies throughout the game and use a variety of packages. The key will be generating a pass rush, an area in which they struggled last season when Ford wasn't on the field.
The loss of Lawson shouldn't be understated -- the coaches will try to get him back as quickly as possible -- but there are enough capable bodies to make do without him.
May, 13, 2014
May 13
1:00
PM ET
AUBURN, Ala. – When
Gabe Wright
looks at
Auburn
's defensive line, he sees a lot of potential and something really special.
The Tigers' senior defensive lineman sees talent spilling out and the experience needed to create even more of a presence than the one this line had during Auburn's 2013 BCS title game run.
"As far as ability-wise, this D-line could go down as, if not the best, one of the best in the SEC and NCAA," Wright told ESPN.com in April.
Wright doesn't mince his words. He's serious about the potential from a defensive line that could play five seniors, line up three rising sophomores or play all defensive tackles. He's that confident about the players around him.
[+] Enlarge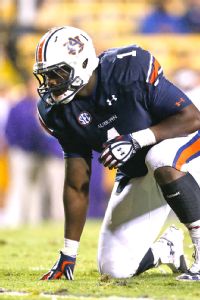 Derick E. Hingle/USA TODAY SportsMontravius Adams displays "unbelievable" talent on Auburn's defensive line.
Last year, Auburn's defensive line was very much a work in progress to start the season. The line grew with every week and produced a first-round draft pick in end
Dee Ford
, who was second in the SEC with 14.5 tackles for loss and 10.5 sacks last year. Freshmen
Carl Lawson
,
Elijah Daniel
and
Montravius Adams
matured quickly.
Really, when people think about and dissect Auburn's defensive line, they mostly come back to those blossoming youngsters who will all play even bigger roles up front this fall. As last season wore on, those three went from role players to rotational players.
"They have a better understanding," Auburn coach Gus Malzahn told ESPN.com in April. "Their heads aren't spinning like they were [last season]. They have a better understanding of the defense than their roles."
And while the sophomores-to-be, who were all
ESPN 300
prospects in the
2013 recruiting class
, will have a lot more on their respective plates this fall, they certainly won't be alone to shoulder all the responsibility.
Ford is gone, but there's leadership from Wright and fellow seniors
Angelo Blackson
,
LaDarius Owens
and
Ben Bradley
, who combined for 18.5 tackles for loss and seven sacks last year. They'll also benefit from the return of senior
Jeffrey Whitaker
, who missed all of last season with a knee injury.
All that leadership was crucial to the group's success this spring as the line found itself short on defensive ends because of graduation and injuries.
Owens, who Wright classifies as "freakish," broke his foot a week before spring practice began, and Daniel pulled his groin 20 minutes into the first spring practice. Because of that, defensive coordinator Ellis Johnson and defensive line coach Rodney Garner had to move Wright and Adams to end for the sake of numbers.
The moves were good and bad for the Tigers. On one hand, Johnson said he'd like to use heavier fronts at times this fall, so Wright and Adams needed some work outside. But it took away valuable time those two could have used inside this spring, as both will still mainly be tackles this fall. Johnson didn't like having to play guys outside longer out of necessity while taking away from the main looks Auburn will run this fall.
Still, watching Adams cross-train caught Johnson's eye. Johnson already knew Adams was an athlete because he played tackle, end, running back, tight end and punted in high school. But Johnson said he saw some pursuit plays from Adams that were "unbelievable," and he's excited about Adams' second-year capabilities.
"He's so athletic for his size, he can do about anything," Johnson said with a laugh.
Another youngster to grab Johnson's attention was Lawson, who could be his most talented lineman. Lawson was second on the team with four sacks last year and evolved more this spring, Johnson said.
What really impressed Johnson about Lawson was his thirst for being more well-rounded this spring, tossing the "rookie flash" to be an "every-down player."
"A good spring in our system and he'll learn all the special things that it'll take to be a complete player," Johnson said. "He did some great things for us last year but had little mistakes here and there just from a lack of experience."
Johnson didn't get all the work he wanted out of his line this spring, but he's excited. He likes the foundation and the crop of blue-chip players coming in, headlined by junior college tackle
DaVonte Lambert
. Johnson doesn't have a Dee Ford to throw out there right now, but he sees flashes of something special.
What was a major question entering last season should be a bright spot for the Tigers in 2014.
"Let's just face it: We have so many packages, so many guys who can hit you where it hurts," Wright said. "We have ends who can make the quarterback step up and tackles who can push the pocket and rush the passer.
"Will I say that the talent level could be as good as Dee's? Yes, I'll absolutely say that."
December, 30, 2013
12/30/13
9:00
AM ET
Editor's note: Each day this week, Florida State reporter David M. Hale and Auburn reporter Greg Ostendorf will preview a position battle in next Monday's VIZIO BCS National Championship. The first matchup is between Florida State's offensive line and Auburn's defensive line.


Florida State's offensive line:
The five starters on the line for Florida State are all NFL prospects. The group is led by senior center
Bryan Stork
, a first-team AP All-America selection. Tackle
Cameron Erving
and guard
Tre' Jackson
were first-team All-ACC selections.
The group excels at run-blocking, and Florida State topped 2,600 yards and 40 touchdowns on the ground for a second consecutive season. Factoring out yards lost to sacks, FSU is rushing for more yards per carry against FBS teams this season than Auburn.
The question — if there is one — for Floirida State is in its pass protection. The Seminoles have allowed a sack on 6.7 percent of passing attempts, which ranks 83rd nationally, and 13 of the 29 sacks allowed have came in the last five games.
While those numbers might be a cause for concern against an stout Auburn defensive front (28 sacks, tied for third in SEC), two factors mitigate any perceived struggles.
For one, teams have blitzed Florida State often in hopes of rattling quarterback
Jameis Winston
, as 36 percent of his throws come against the blitz. Occasionally they've gotten to him, with 12 sacks when rushing five or more defenders, according to ESPN Stats & Info. More often, however, he burns them. Winston is completing 71 percent of his passes against the blitz, with 20 TDs and three interceptions.
The second issue is Winston's desire to complete the deep ball. The redshirt freshman won the Heisman Trophy by being aggressive, but he admits there are times he needs to check down and get rid of the ball quicker rather than asking his line to hold blocks for a few extra seconds. The payoff to the approach, however, has been an array of big plays. Winston leads the nation in yards per attempt (10.9) and only LSU's
Zach Mettenberger
has a higher percentage of completions gain 15 yards or more than Winston (43 percent). Winston is tough against pressure, completing 62 percent of his throws when hit or hurried — nearly double the average for a quarterback from a BCS automatic-qualifying conference. Even getting him into third-and-long situations doesn't help much; he's an absurd 16-of-21 with 15 first downs on third-and-10 or longer.
Auburn's defensive line:
When Auburn last won the national championship in 2010, it had an above-average defense, but it was a defense that featured a dominant front line with All-American defensive tackle Nick Fairley and veterans Antoine Carter, Zach Clayton and Mike Blanc. The 2010 Tigers also had highly-touted freshman defensive end Corey Lemonier, who is now a rookie with the San Francisco 49ers.
[+] Enlarge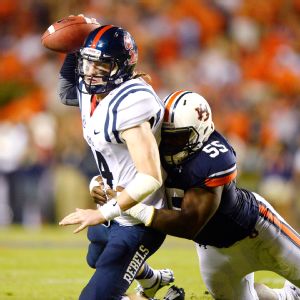 AP Photo/Todd J. Van EmstAuburn freshman Carl Lawson had four sacks this season.
This year's Auburn team is similar. The defense has struggled at times this season, but its strength is up front on the defensive line.
The star is defensive end
Dee Ford
, who leads the team with 8.5 sacks, 12.5 tackles for loss and 17 quarterback hurries. A senior, Ford missed the first two games with an injury but has since recorded a sack in seven of Auburn's last 11 games. He's a different type of animal than Fairley, but an animal nonetheless.
The rest of the line also has its share of veterans with senior
Nosa Eguae
and juniors
Gabe Wright
,
LaDarius Owens
and
Ben Bradley
. Eguae, who moved inside to tackle midway through the season, started in the 2010 BCS title game.
And then there are the freshmen. The trio of
Carl Lawson
,
Montravius Adams
and
Elijah Daniel
is as good a collection of young defensive linemen as there is in college football. Lawson, the nation's No. 2 player coming out of high school in the 2013 recruiting class, leads the group with four sacks.
Fairley was dominant in the 2010 game as Auburn's defensive line controlled the line against a smaller, quicker Oregon team. That likely won't be the case this time around against a Florida State offensive line that's much stronger and much more impressive, but the key to stopping the Seminoles will still begin and end with the front four. Auburn defensive coordinator Ellis Johnson will rely on his line to get pressure on Winston, knowing how good the Heisman Trophy winner has been against the blitz this season.
Hale:
Edge to Florida State
Ostendorf:
Toss-up
February, 6, 2013
2/06/13
8:05
AM ET
A recruitment filled with twists and turns, it only seemed right for
Elijah Daniel
(Avon, Ind./Avon) to flip to Auburn the morning of signing day following a late visit to The Plains.

Daniel, No. 34 overall in the ESPN 150, faxed his letter to Auburn on Wednesday morning despite entering signing day as an Ole Miss commitment. He was previously committed to Clemson as well.
What is the impact of Daniel's decision?
What it means for Auburn:
The Tigers land an elite defensive end to pair alongside No. 2 prospect
Carl Lawson
(Alpharetta, Ga./Milton), who is expected to stick with his Auburn commitment.
What it means for the teams that lost out:
It is a tough blow for Ole Miss, which landed his commitment only a few weeks ago, but the Rebels can overcome it. They have a talented haul on the offensive line as well, headlined by No. 1 prospect
Robert Nkemdiche
.
Turning point:
Daniel took an official visit to Auburn this past weekend and immediately connected with the coaching staff. Tigers assistant Rodney Gardner recruited Daniel's older brother when Gardner was a coach at Georgia.
Surprise (scale of 1-5):
4. Daniel has family in Alabama, but he usually talked about the Tide when bringing up his family. Auburn only entered the picture a few weeks ago and was able to flip him from the Rebels, who were toward the top of Daniel's list since November.
Immediate impact (scale of 1-5):
3. With a new coaching staff, there will not be any allegiances to the players already at Auburn, although head coach Gus Malzahn spent time on The Plains as offensive coordinator on the Tigers 2010 national championship team. Daniel could see some time as a situational pass-rusher by season's end.