NCF Nation:

Elliott Coffey
November, 20, 2011
11/20/11
2:23
AM ET
WACO, Texas --
Robert Griffin III
made his way into Baylor's locker room, but paused when he opened the door.
Nobody was there.
"I was like, where'd everybody go?"
They were still on the field celebrating. There was a postgame party at Floyd Casey Stadium, and everybody wearing green and gold was invited. The Bears had swiped the Sooners' picnic basket.
Before tonight, Baylor had never had a chance to celebrate a win over Oklahoma.
With a 34-yard toss from Griffin to
Terrance Williams
in the back corner of the end zone, that all changed.
"There at the end, God works in mysterious ways," Griffin said with a wide smile. "When I looked down the field, I saw him one-on-one. All this is happening in milliseconds, so I saw him one-on-one and I was like, 'Well, I'll give him a shot.' I threw it up, and he made a great catch."
[+] Enlarge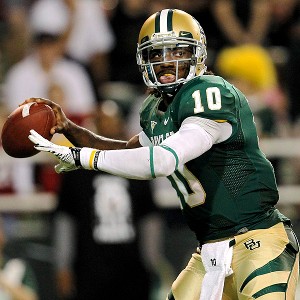 Sarah Glenn/Getty ImagesBaylor's Robert Griffin III passed for 479 yards and four touchdowns in the upset over Oklahoma.
Baylor 45, Oklahoma 38
.
That play, coach Art Briles admitted, was "not the way we drew it up."
"The dude has had the ability to take over a game by himself," said Baylor linebacker Elliot Coffey, "and you saw it."
We all saw it. We saw Griffin prove once again he's the best deep-ball passer in college football, throwing four touchdown passes, even if one of them unbelievably deflected off
Tevin Reese
's hands and helmet before floating into
Kendall Wright
's hands for a game-changing 87-yard score.
Griffin could only shake his head at that one, but he finished with a school-record 476 yards on 21-of-34 passing, breaking his own single-season school record for passing yards. He was also the Bears' leading rusher with 72 yards.
"Another day at the office for Robert," Briles said. "He's been doing that for three or four years. When the ball's in his hand, he's going to make good things happen, because he's very intelligent, very passionate and very gifted."
Said Baylor safety Ahmad Dixon: "You can't really defend him. You have to just take what he gives you."
No run was bigger than a 22-yard scramble on second down on the game's final drive, when Baylor had just 51 seconds left and no timeouts. Oklahoma had three, and when the Bears looked content to try to run it and settle for overtime, the Sooners used one. Baylor knew it needed a first down. The man they call RG3 provided those precious 22 yards.
"Then the whole thing flips," Briles said.
The aggressive move backfired, and the Sooners' fate was in the hands of the most dangerous player in the Big 12. Baylor should have known.
"Robert Griffin's the best in the game," running back
Terrance Ganaway
said. "When the ball's in his hands, expect big things."
The late toss to Williams was the biggest, and Griffin barely saw it. He took a big hit, but saw Williams haul it in. He wasn't sure, but the offensive linemen that mobbed him confirmed it.
"Robert, you just won us the game," they told him.
He got up, took a moment to kneel near midfield, then pointed to the sky and jogged to the sideline. He just wrote maybe the most memorable chapter in Baylor history. They'll never forget this night in Waco.
"When you work for something extremely hard for a lot of years, and you finally get it, it's a great feeling," Griffin said. "We worked for this. We haven't been waiting for it. We've been preparing for it. And it finally came to pass."
Baylor's already been through the whole bowl eligibility brouhaha. That's so 2010. Saturday was the third time Floyd Casey Stadium's field has been stormed in the past two seasons. Baylor's already equaled its win total from 2010 with two games remaining, and the Bears might be favored in both. Then there's a bowl game.
That's not lost on Griffin.
"It's great, but you've still got to show up every day and go to work. Go to practice. Watch film. That's something I've learned to appreciate, because the year I was hurt, I couldn't practice," said Griffin, who missed the final nine games of the 2009 season with a torn ACL. "I couldn't walk. I couldn't go to the bathroom by myself. My mom had to help me. My fiancee had to help me. So, when things like that happen to you, it makes you appreciate everything."
America learned to appreciate Griffin once again, too. He captured the nation's attention with a game-winning drive on the first weekend of the season against TCU, but the Bears suffered a pair of losses and dropped out of the Top 25. A slew of losses from top-ranked teams, though, combined with RG3's heroics?
The Heisman race has gotten a sudden face-lift.
"They say we needed a signature win," Griffin said with a laugh. "And we got it."
November, 14, 2011
11/14/11
1:00
PM ET
Time for our weekly look back at the weekend that was in the Big 12.
Best offensive player:
Collin Klein, QB, Kansas State.
This was a close one, but Klein made a ton of plays late in a tight game and again erased a 10-point, fourth-quarter lead. He finished with 384 yards of total offense and
six
touchdowns in a
53-50
, four-overtime victory over Texas A&M. A&M forced him into pressure throws late; Klein made them.
Honorable mention
:
Brandon Weeden
, QB, Oklahoma State;
Robert Griffin III
, QB, Baylor
Best defensive player:
Elliot Coffey, LB, Baylor.
Coffey picked off two passes, made a tackle for loss and had 10 tackles.
Honorable mention:
Damontre Moore, LB, Texas A&M
Best game:
Kansas State 53, Texas A&M 50 (4OT).
This was the best game of the year and one of the best in Big 12 history. K-State erased deficits of 14 and 10 points and both teams made a handful of huge plays in overtime, including an unbelievable, game-extending touchdown pass from
Ryan Tannehill
to
Uzoma Nwachukwu
. It wasn't enough, though, and Klein beat the Aggies in 4OT with a predictable, yet unstoppable QB sneak.
[+] Enlarge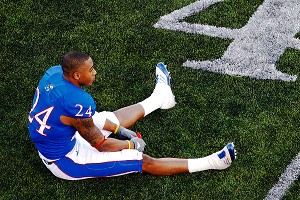 AP Photo/Orlin WagnerBradley McDougald and Kansas saw their first Big 12 victory in more than a year slip away against Baylor.
Best team performance:
Oklahoma State.
The Cowboys eviscerated Texas Tech on the road, handing the Red Raiders the worst loss in school history, a
66-6
laugher that could have been even worse. Texas Tech's only points came on a fumble return. Good grief, OSU. Don't hurt 'em!
Best guest:
Sal Giunta.
As part of the Wounded Warrior Project, Giunta was an honorary captain for the Red Raiders. Very cool scene before the game, too, when Tech and the Lubbock Homes for Heroes charity presented a mortgage-free home to soldier Louis Flores. Giunta was the first living veteran since Vietname to receive the Medal of Honor, the highest award for valor in the armed forces. He rescued several of his squad members in Afghanistan.
Worst quarter:
Kansas' fourth quarter.
KU looked on the verge of its first conference win ... until it wasn't. RG3 evaporated a 24-3 fourth-quarter deficit with three long touchdowns and forced overtime, where the Bears won it after a missed 2-point conversion to win it for Kansas.
Worst guest:
The injury bug.
Seriously, this is getting out of hand. Big 12 talents are having big issues staying healthy. Saturday, it was Missouri running back
Henry Josey
and Texas back
Fozzy Whittaker
with awful-looking knee injuries. Terrible.
Worst half:
Texas Tech.
Even Kansas did better against Oklahoma State. In Stillwater, the Jayhawks trailed, 56-7 and took a 7-0 lead to start the game. Tech? It started with a three-and-out and trailed 49-0 at halftime. Ugly.
Worst self-parody:
Texas A&M.
I mean, at this point, the jokes are beyond old. Four times this year, Texas A&M has lost double digit leads in the second half, and long after the jokes have gone stale, the Aggies are still losing games late. Why? Your guess is as good as mine. If anyone really knew, it'd be fixed by now. This team just hasn't been able to make plays late.
Worst-sounding injury:
Tyler Lockett, WR/KR, Kansas State.
Lockett, one of the league's most dangerous return men, is out for the season with a
lacerated kidney
. Good grief, how does that happen playing football? Don't think I've ever heard of that. Philadelphia Eagles cornerback
Asante Samuel
suffered a "lacerated groin" last week, but that's maybe the only injury I've ever heard of that sounds worse. Here's hoping Lockett's OK long-term.
Worst trip home:
Oklahoma State.
The Cowboys had plane troubles, and got stuck on a plane and in the Lubbock airport for several hours before making it home to Stillwater. Despite leaving the stadium sometime around 3:30, the C0wboys didn't make it back home until 10:30 and had a pretty boring rough afternoon. That's about all that went wrong for them on Saturday, though.
Worst play:
Texas Tech's kick return team.
Two return men failed to retain possession, and four seconds after going down 28-0,
Josh Stewart
recovered the loose ball in the end zone to put OSU up 35-0. Not good, Red Raiders.
Biggest guts:
Turner Gill, Kansas.
Gill's guts didn't pay off, but it was the right call to try and beat Baylor with one play in overtime. Calling timeout before the two-point conversaion probably wasn't the best move, but KU was so, so close to the win. Gotta go get it when you can. Kansas almost did.
August, 9, 2011
8/09/11
10:00
AM ET
Moving on in our rankings of the top 10 at each position in the Big 12 entering 2011.
[+] Enlarge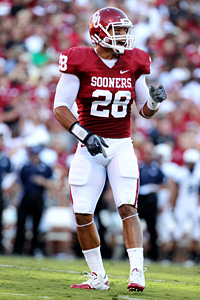 Matthew Emmons/US PresswireOklahoma's Travis Lewis is among the Big 12's top linebackers entering the season.
Here are the top 10s you've missed so far:
The Big 12 is really, really strong at linebacker, just as it is at receiver. Running back and defensive line are two of the Big 12's weakest positions, but linebacker might prove to be a true strength by season's end.
If you're curious, here's
how I ranked the units by team.
We might even see big, young talents like Corey Nelson, Tom Wort, Arthur Brown, Jordan Hicks and Huldon Tharp fight for spots on this list by season's end, but overall inexperience keeps them off for now.
Here are the top 10.
1. Travis Lewis, Oklahoma:
Lewis took home the Big 12's preseason Defensive Player of the Year Award (as much as someone can take home an award with no actual hardware, anyway), but he'll be the easy favorite for the award entering the season. Of
my postseason top 25 Big 12 players
, Lewis is the only returning defensive player. He's made 100 tackles in each of his first three seasons at Oklahoma, and eschewed the NFL draft to try and win a title at Oklahoma.
2. Jake Knott, Iowa State:
Knott doesn't get the national pub of some other guys on this list, but he should. In just his first year as a starter, Knott made 130 tackles, the most of any returning Big 12 starter. Just a junior, Knott should make even more improvement in 2011.
3. Keenan Robinson, Texas:
Robinson has all the physical tools, and should be set loose in new coordinator Manny Diaz's aggressive scheme. Robinson made 106 tackles in 2010, but look for his sack totals (two in 2010) to get a big boost from spending more time in offensive backfields.
4. Shaun Lewis, Oklahoma State:
Lewis exploded into the Big 12 fan's consciousness as a true freshman in 2010, sharing Big 12 Defensive Freshman of the Year honors with Oklahoma's Tony Jefferson after making 58 tackles with eight tackles for loss, despite not officially being a starter until the second half of the season. He's a bit faster than you might expect him to be at 5-foot-11 and 220 pounds, but he should be due for a big encore.
5. Emmanuel Acho, Texas:
Acho joins Robinson in one of the best linebacker groups in the league, and will likely be a team captain alongside his fellow linebacker. Acho made 81 tackles to rank second on the team, and added 10.5 tackles for loss and 3.5 sacks for an underrated Texas defense in 2010.
6. Zaviar Gooden, Missouri:
Gooden is easily the fastest guy out of this group, and should be due for a breakout year on the national stage if Missouri gets the ball rolling with
James Franklin
at quarterback and becomes a top 25 mainstay. He tied for the team lead in tackles last season (84, 49 solo) during his first year as a starter, and could see that number jump as a junior in 2011.
7. A.J. Klein, Iowa State:
As little respect nationally as Klein's teammate, Knott, gets, Klein gets even less. Which is a shame. Klein, like Knott, was a first-year starter but became one of just 11 players in the Big 12 with more than 100 tackles. Was that number (111, 49 solo) aided by a weak defensive line? Sure, but somebody made those stops. And it was Klein. He'll get plenty more chances to further prove himself.
8. Garrick Williams, Texas A&M:
Williams returns as one of the leaders of the Wrecking Crew after making 112 tackles in 2011, including five tackles for loss and a forced fumble. The Aggies need him to play well at inside linebacker in Tim DeRuyter's 3-4 scheme, if for no other reason than because of the uncertainty and likely inexperience at the inside linebacker spot.
9. Elliot Coffey, Baylor:
Coffey should be one of the lynchpins of a maturing Baylor defense with lots of work to do under new coordinator Phil Bennett. Though there's no formal depth chart just yet, Art Briles admitted that if anyone has solidified a starting spot, it's Coffey. The 6-foot, 230-pounder made 61 tackles (34 solo) and 4.5 tackles for loss as a junior in 2010.
10. Steven Johnson, Kansas:
Johnson emerged out of a good group of linebackers last season to lead the team in tackles, with 95 stops (62 solo). He loses fellow linebackers Justin Springer and Drew Dudley, but will get help with the return of Huldon Tharp. Johnson was a former walk-on, but in his first year as a starter in 2010, rewarded the Jayhawks' decision to put him on scholarship.
Just missed:
Will Ebner, Missouri; Sean Porter, Texas A&M