NCF Nation:

Elliott Porter
October, 20, 2014
Oct 20
2:00
PM ET
BATON ROUGE, La. -- After a rocky start in SEC play, LSU is finally starting to accomplish some of its objectives on offense.
The initial spark, according to offensive coordinator Cam Cameron, was settling on the starting lineup of offensive linemen that has been in place for each of the past four games.
"It's a pretty good line," LSU coach Les Miles said after last Saturday's 41-3 win against Kentucky. "They're starting to play like they're capable."
[+] Enlarge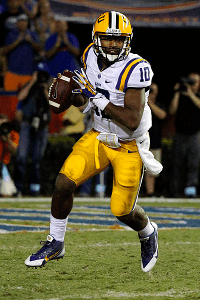 Kim Klement/USA TODAY SportsAnthony Jennings and the LSU offense will surely get a stiff test against Ole Miss on Saturday.
Playing like they're capable was a lengthier process than most expected for a line that returned four starters. Not only did center
Elliott Porter
miss the first two games on suspension, but guards
Vadal Alexander
and
Ethan Pocic
had struggled with injuries.
"Something that's overlooked is all the movement we had early in the year," Cameron said after the Kentucky game. "It was significant, not only with Elliott not starting the season, but with some injuries, with Pocic and so forth, and just our style of wanting to be physical and getting better each week. Our guys played tonight like they practiced all week."
LSU has long prided itself on a physical, run-first mentality, but the line's general ineffectiveness was one of the lowlights from a bumpy first half of the season. Perhaps the group has turned a corner after back-to-back solid outings against Florida and Kentucky.
Although it ran the ball reasonably well against Auburn (36 carries, 138 yards), LSU didn't deliver a strong performance against a good run defense until
Leonard Fournette
was the driving force in a 195-yard night against Florida. The Tigers followed that by wearing down a mediocre Kentucky run defense, rushing for 231 of their 303 yards in the second half.
The Kentucky game was the first time LSU rushed for 200 yards against a Power 5 opponent after Wisconsin, Mississippi State and Auburn -- all of which rank among the nation's top 26 defenses against the run, as does Florida -- effectively defended the Tigers' running game.
"We're getting better," said Cameron, who participated in postgame interviews for the first time all season after the Kentucky game. "I think our guys up front really did a nice job. That was the plan coming in. Obviously [Kentucky employs] a pressure front. They bring a lot of field blitzes, a lot of boundary blitzes and I thought our guys did a nice job once we got on track."
Pinning the Tigers' offensive improvement solely on improved play from the offensive line would be too simplistic, however. It's also receivers running better routes and getting separation from defensive backs. It's running backs hitting the correct holes and making tacklers miss. It's playing with a full complement of fullbacks for the first time in weeks and having them create consistent running space for the backs.
It also helps that the Tigers (6-2, 2-2 SEC) recently faced two mediocre teams from the SEC East -- clearly the lesser of the conference's two divisions -- in Florida and Kentucky after opening league play against Mississippi State and Auburn, teams ranked No. 1 and 5, respectively, in the newest Associated Press Top 25.
They'll move back toward the tougher end of the SEC spectrum on Saturday when No. 3 Ole Miss (7-0, 4-0) visits Tiger Stadium, bringing a run defense that ranks sixth nationally at 97.1 yards per game.
Facing the Rebels' defense will be the true test of the progress LSU has made recently – and whether quarterback
Anthony Jennings
can truly be an effective performer against a top-flight defense. Although LSU seems to have settled on sophomore Jennings as the starter after freshman
Brandon Harris
struggled mightily in his lone start at Auburn, Jennings has hardly scared the major-conference defenses LSU has faced thus far.
"He really can play better than he played [against Kentucky]," Miles said. "There are a number of guys that he could have chosen to throw the ball to early on in the game and I think that he'll see this and learn from that and I think he will be a better quarterback when we get to next Saturday."
Jennings was 7-for-14 for 120 yards and a touchdown against Kentucky and 10-for-21 for 110 yards and one score against Florida. Harris threw an interception in his only pass attempt against Kentucky and didn't play against Florida.
"I don't know that it's a competition as much as it's just guys working to get better," Cameron said. "It's two guys that are growing just day by day, snap by snap and just maturing and understanding what we're trying to get done."
One objective that Jennings has met is taking care of the football. He briefly lost the starting job with three early turnovers against New Mexico State, but otherwise Jennings has not been plagued by turnovers. He has thrown three interceptions and lost one fumble through eight games, helping LSU tie for 11th nationally with a plus-7 turnover margin.
If all LSU asks of Jennings is to be a game manager, it will probably need to have more games like last Saturday's, where it made big plays on special teams and controlled the contest with stout defense and a powerful running attack. It was the type of performance that LSU fans have grown accustomed to seeing under Miles.
"We're trying not to put our defense in a tough position if we can help it. They do a great job of getting us the ball," Cameron said. "Our special teams got us in great position. They scored tonight. I think it's a collective effort.
"Anytime you block well and take care of the football, whether it be run blocking, pass protection, you should be successful. ... We're in the back half of the season and we're still getting better, and that's a good thing."
October, 1, 2014
Oct 1
1:25
PM ET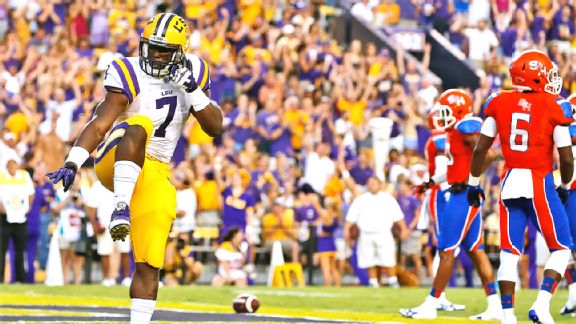 AP Photo/Jonathan BachmanLSU freshman running back Leonard Fournette was criticized for striking the pose.
BATON ROUGE, La. -- All of his life,
Leonard Fournette
has been ahead of the athletic curve, so naturally he was disappointed when his first college game didn't go according to plan.
In LSU's season-opening win against Wisconsin, Fournette ran eight times for 18 yards and returned five kickoffs for 117 yards, while senior
Kenny Hilliard
instead carried the Tigers' running game. It was an OK debut for a typical freshman running back, but not for the player who was ESPN's No. 1 overall prospect in the 2014 recruiting class, whom many college football analysts had compared to the greatest college running backs of the last 20 years.
"I was kind of hard on myself because I was so used to having 200-plus rushing yards in a game and I didn't have that, so I was kind of disappointed," Fournette said. "But I talked to Coach, talked to my father and my mother and they were like, 'This is college now. It's not going to happen [in college] like it used to happen.' "
Maybe that early disappointment also made Fournette want to fast forward his collegiate development. A week later came Fournette's most memorable college moment to date -- one that brought more criticism than praise.
After a 4-yard touchdown run against Sam Houston State, Fournette's first college score, he struck the Heisman Trophy pose in the end zone. LSU coach Les Miles immediately gave Fournette an earful over the freshman's me-first moment and he later apologized to his teammates for what could easily be called a premature celebration.
All of a sudden, he was the subject of national ridicule -- a rude awakening for a player who had been roundly praised since middle school.
"I prayed on it, my parents talked to me, Coach Miles talked to me and just told me, 'Don't worry about it,' so I got over it," Fournette said of the Heisman backlash.
Ever since then, Fournette has quietly shown steady improvement. Other SEC freshmen like Tennessee's
Jalen Hurd
and Texas A&M's
Myles Garrett
have made bigger national splashes, but last Saturday's win against New Mexico State marked the fourth straight game that Fournette led No. 15 LSU (4-1, 0-1 SEC) in rushing.
Each week since the Wisconsin game, Fournette has averaged at least 5 yards per carry, which he believes is a result of improved patience.
"We'll be in the meeting room and watching practice and I'll be seeing [senior running back
Terrence Magee
] making cuts like I used to make in high school," Fournette said. "I'll just be like, 'Man I wonder why I can't do that?' I'm always rushing, so I feel like I've just got to be patient, slow down. I've been taking all that to heed and I've been slowing it down and the cuts will be there for me."
Running room and cutback space were certainly available last weekend against New Mexico State, when Fournette broke the 100-yard barrier for the first time at LSU. He finished with 122 yards and two touchdowns on 18 carries, all career highs, and credited his offensive line and seniors Magee and Hilliard afterward -- exemplifying another lesson in humility that he learned from the Heisman hoopla.
"Thanks to Kenny, thanks to Terrence, like they're really my mentors. Anything I have a problem with, I come to them," Fournette said. "I never really had a big brother on the football team. I always was the big brother, so I have them and they help me a lot."
The veterans, in turn, credit the rookie for his personal growth. Making the transition from high school legend to SEC freshman can be difficult, but Magee said Fournette adjusted his expectations to fit what LSU has asked of him thus far.
"Every game you're not going to go out and rush for 200 yards, 100 yards, so I think he's a lot more comfortable than what he [was] now and starting to relax and just play his game," Magee said.
That said, Fournette has not fully tapped into his massive potential yet. As Fournette mentioned, he hasn't hit holes decisively at times and, for a player listed at 230 pounds, he has been surprisingly ineffective at breaking tackles.
According to ESPN Stats & Information, Fournette ranks 11th in the SEC and 59th nationally with 3.48 yards per carry before making contact with a defender. And yet he's fourth among regulars in his own backfield in yards after contact. Freshman
Darrel Williams
(3.64 ypc after contact) and Magee (3.18) both rank in the SEC's top 10, but Fournette's average of 2.27 ypc also ranks behind Hilliard (2.53) among LSU regulars.
His game remains a work in progress, but it is easy to envision a game-breaking finished product on the occasions when Fournette accelerates past defenders or leaves one in the dust with a well-placed stiff-arm, as he did on his first touchdown run against NMSU.
Those brief flashes are signs that Fournette is coming along fine, even if he didn't achieve instant superstardom like some expected.
"That's hard, especially with those expectations," center
Elliott Porter
said. "I don't think nobody in the last 10 years faced quite that much hype."
August, 6, 2014
Aug 6
1:00
PM ET
There are always debates this time of year as we anticipate the start of another college football season.
Who's the favorite to win the national championship?
Which is the strongest conference?
Who's the Heisman Trophy front-runner?
[+] Enlarge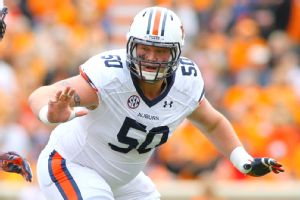 Greg McWilliams/Icon SMIReese Dismukes was a finalist for the Rimington Award last season and is joined by 10 other SEC centers in this year's Rimington watch list.
What's not up for debate, at least with regard to the SEC, is that the league has never been this talented or this deep at the center position entering a season.
Eleven of the 14 starting centers in the SEC were among the 66 players on the preseason watch list for the Rimington Trophy, which is presented annually to the top center in the country.
Talk about being the center of attention.
And while it's true that we all get caught up in the skill players -- the quarterbacks, running backs and receivers -- it all starts right there in the middle of the offensive line.
If you're good at center, everything else usually has a way of falling into place up front offensively.
"The thing I like best about it is that you're in control of five guys, and really, the success of those five guys is sort of on your shoulders," said Auburn senior center
Reese Dismukes
, who was a finalist for the Rimington Trophy a year ago.
"You hear a lot of people say the center is the quarterback of the offensive line. That appeals to me. I like being in control, making the calls and making sure everybody's on the same page. If you're not making the right calls, somebody's going to be on the wrong page, and it only takes one person being on the wrong page for it all to go bad. I like having that pressure on me."
Dismukes' SEC cohorts on the Rimington Trophy watch list include Georgia's
David Andrews
, Missouri's
Evan Boehm
, Mississippi State's
Dillon Day
, Florida's
Max Garcia
, Alabama's
Ryan Kelly
, Texas A&M's
Mike Matthews
, LSU's
Elliott Porter
, Kentucky's
Jon Toth
, Vanderbilt's
Joe Townsend
and South Carolina's
Cody Waldrop
.
They're all a little different, some more experienced than others, and some bigger than others. But they've all perfected the rarest of crafts, which is being able to successfully snap a football (usually a shotgun snap in this day and age) with a 300-pound plus defensive tackle itching to step on their throat as soon as the ball is snapped.
"You're doing a lot of different things at once and processing a lot of information very quickly," said Boehm, who started all 14 games last season at center after starting all 12 at left guard as a true freshman. "It's a big responsibility as an offensive lineman to touch the ball every play. Everything starts with you, and you have to be vocal up there."
Dismukes, a preseason All-American, is part of an Auburn offensive line that should again be one of the best in the SEC. The 6-3, 295-pound senior has been a fixture up front for the Tigers from the day he walked onto campus and has started in 37 of his 39 games.
Ask him how much he's grown up during that time, and he offers a hearty chuckle.
"Light years," he said. "This game makes you grow up fast, or it will shove you right out of it."
Whereas Dismukes has been a center ever since he can remember, Boehm didn't start playing the position until last season. He actually went to Missouri coach Gary Pinkel and requested the move after playing left guard as a freshman.
"I felt like it was the best thing for the team and best thing for me, and I appreciate Coach Pinkel for having enough trust in me to make the move," said Boehm, who was actually a fullback when he first started playing football in the seventh grade.
Boehm isn't the only SEC center who's relatively new to the position. Garcia is making the transition as a fifth-year senior at Florida after splitting his time last season between guard and tackle. He began his career at Maryland and started all 12 games at left tackle in 2011 before transferring to Florida.
But regardless of the path a player takes to the center position, there's a fraternity of sorts, a pride thing that transcends size, speed, and even looks.
Boehm and Dismukes know each other from the recruiting process, as Dismukes was Boehm's host when Boehm visited Auburn.
Dismukes and Georgia's Andrews also stay in touch and will occasionally share tips on upcoming opponents. Between them, they have 64 career starts. Mississippi State's Day has 34 career starts. So if you throw Day into the mix, that's a combined 98 starts among the SEC's three most grizzled center veterans.
"We're not the strongest or most athletic or any of that stuff," Dismukes said of his center brethren. "Maybe we're a little weird, but we just love the game."
They love their hair, too.
Boehm and Day are running a tight race for the "locks" award. Both are known for their trademark hair as much as they are for locking down opposing defensive linemen. Boehm has the bushy look going -- beard and all -- while Day is sporting the long, blond-rocker look.
Of course, it's not like either is overly concerned with style. Technique, maybe, but certainly not style, not with some of the monsters they have to block in the SEC.
"With the defensive line culture in the SEC, you better also create that same culture in the offensive line, and that starts in the middle," Boehm said. "The great thing about this league is you've got guys like Reese and David and all the other guys, and you can study their moves and why they've been so successful and try to incorporate it into your game.
"It's an honor to be among them."
And even better to be front and center.
November, 10, 2013
11/10/13
2:05
AM ET
TUSCALOOSA, Ala. -- Standing at the front of a cramped room filled with a throng of media members, LSU coach Les Miles gazed toward the back wall as he recalled two gut-wrenching plays that changed the complexion of Saturday night's game against top-ranked Alabama.
It appeared as though he was struggling with the images of a
J.C. Copeland
fumble at the goal line and an early snap that ricocheted off
Zach Mettenberger
before being scooped up by Crimson Tide linebacker
Trey DePriest
on back-to-back drives in the first quarter.
[+] Enlarge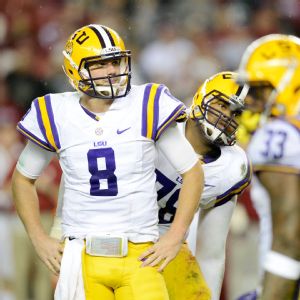 John David Mercer/USA TODAY SportsZach Mettenberger and the offense were stifled in the second half.
They happened in an instant but would linger for three more quarters, as LSU dropped its third straight to Alabama with a 38-17 loss inside Bryant-Denny Stadium. The scoreboard showed a 21-point defeat, and those two plays easily could have cost the Tigers an early double-digit lead against the No. 1 team in the nation.
"Here we are, frankly going off left tackle here to take the lead 7-0," Miles said of Copeland's careless fumble on second and goal at Alabama's 3 with more than 8 minutes remaining in the first quarter.
LSU coaches were seen tossing their headsets after Copeland's turnover. Maybe it was because the miscue came on only his 13th carry of the season, or because star back
Jeremy Hill
wasn't in the game. Nevertheless, it played out like the same old story with this year's LSU team. Mistakes have crippled it in big games, leaving so many questions about what this squad could and should look like right now.
In the loss to Georgia, an
Odell Beckham Jr.
fumble on a punt return led to a Georgia touchdown that gave the Bulldogs a late third-quarter lead. Three weeks ago, Mettenberger dug his team into a major hole with three first-half interceptions at Ole Miss. Both games ended in LSU losses.
"Going back to every loss we've had this season, the turnovers have just killed us," said Hill, who ran for a season-low 42 yards and a touchdown on 13 carries. "You take the turnovers away from us this season, and who knows what our record would be right now?"
On paper, Saturday's loss knocked 13th-ranked LSU to 7-3 on the season and 3-3 in SEC play. But when you look closer, it's tough to say where this team might be without those costly errors. Saturday night clearly showed that LSU can play with the best. The Tigers held Alabama to just 372 yards, grabbed the lead once and tied the game once before the Crimson Tide broke things open with a 14-point fourth quarter.
If Copeland doesn't fumble, the Tigers go up seven and put a damper on Alabama's raucous crowd. If Mettenberger and center
Elliott Porter
don't botch the exchange a drive later, Alabama isn't put in great position to take a 3-0 lead with
Cade Foster
's 41-yard field goal.
That's a 10-point swing that eventually changed everything.
"When you play in games like this, you just can't turn the ball over," receiver
Jarvis Landry
said. "We put ourselves into bad position.
"When you turn the ball over ... it's hard to beat a team like Alabama."
What made things that much more frustrating for the Tigers was the defense's inability to get off of the field. Alabama owned nearly 34 minutes of the clock, leaving LSU's potent offense to stew on the sideline. As badly as that unit wanted to make up for its early mistakes, it had to suffer through watching the Tide work like an efficient, mistake-free football team should.
It didn't help that penalties and missed tackles added to the offense's stay on the sideline. The defense's play was frustrating, but Landry showed his displeasure for calls that only added to his irritation.
"It was kind of sad and made me kind of mad looking at it from the sideline," Landry said. "There were a lot of calls toward Alabama's favor that were kind of questionable and kept their drives alive."
Landry can scoff at the officiating and vent about the defense's struggles, but the early offensive mistakes cost this team. The Tigers rebounded to an extent, but you could feel the deflation after both fumbles. This could have been a special night for LSU, but devastating turnovers only fueled Alabama and left the Tigers once again asking, "What if?"
"You can't turn the ball over," Hill said. "If we don't turn the ball over, there's no telling what this team could do."
March, 7, 2012
3/07/12
11:00
AM ET
The pads went on in Baton Rouge, La., as LSU's football team participated in its fourth spring practice Tuesday.
"I liked practice today," coach Les Miles said. "We are getting better. I like the improvement that some of our young offense and defensive linemen are making. I think we threw the ball extremely well today considering how early we are in spring. It was a good, physical practice. We started well and finished on a good note."

The guy throwing the ball the best this spring is new starting quarterback
Zach Mettenberger
. So far, he has really impressed his head coach with both his passing ability and his leadership skills. That's certainly a good thing, considering how much both of those areas were criticized when
Jordan Jefferson
was under center for the Tigers last season.
"He has command of the huddle and it appears that he has anticipation as to where the ball is going," Miles said. "He's throwing it pretty well."
Miles also complimented the play of sophomore offensive lineman
Elliott Porter
, who worked out at center.
"I liked the way he practiced today," Miles said. "He got better today and he continues to improve. I think he will challenge for playing time."
The Tigers return a solid, veteran line in 2012, but it never hurts to have depth up front. Depth helped LSU out in 2011 when top lineman
Josh Dworaczyk
went down with a season-ending injury last year.
T-Bob Hebert
started the season off in Dworaczyk's spot at left guard, but
Will Blackwell
eventually moved there and had an All-American season.
LSU also moved pieces around when center
P.J. Lonergan
went down with an ankle injury halfway through the season. LSU had seven different offensive linemen make starts last season.
Miles also talked about the on-going tryout at kicker, where former LSU women's soccer keeper Mo Isom stole all the headlines. Miles said there isn't a timetable on making a decision about the kicking participants, including Isom, but he won't hesitate to use her if he feels she can be a real asset for the Tigers.
"If she gave us an opportunity and an advantage, we will certainly consider that," he said. "There has to be an advantage to the team.
"The good thing about this is that she's an athlete. She's been through a team before and she understands commitment. I would have much less reservations with her than I would with any number of other people who frankly didn't know what they were getting in to."
If she makes LSU's team, she would be the first female football player in school history. However, she'd have some tough competition this fall with rising senior
Drew Alleman
returning. He is coming off the most accurate season by an LSU kicker in school history, after hitting 16-of-18 field goals and 62-of-63 extra points in 2011.
The tryouts for placekicker will continue Thursday. For more information on Isom and her tryout with the Tigers, check out what GeauxTigerNation's David Helman
wrote about her Tuesday
.
LSU will take Wednesday off before returning to practice on Thursday. The Tigers will wrap up their first full week of spring practice Saturday and are scheduled to practice three times a week for the next three weeks.