October, 11, 2012
10/11/12
1:10
PM ET
It wasn't supposed to be like this.
Missouri was supposed to be at its best with the ball in its hands. Even after moving from the offensive-packed Big 12 to the more defensive-minded SEC, this team had enough firepower and speed to challenge its new defensive counterparts.
The Tigers expected their spread offense to work, and they were supposed to be a legitimate contender in the SEC East.
But at the halfway point of the season, Missouri's offense is sputtering around and has been pushed around by SEC defenses. Missouri is 0-3 in conference play after having been outscored 91-45. The explosion we expected from the passing game has been relatively nonexistent and the Tigers are getting worn down in the second half of games.
[+] Enlarge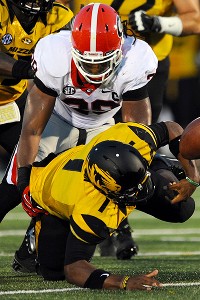 AP Photo/L.G. PattersonInjuries to quarterback James Franklin and many of the Tigers' linemen have left the once-potent Missouri offense sputtering.
Injuries to the offensive line and quarterback
James Franklin
's inability to stay healthy have certainly contributed to Missouri's struggles, but with the second half of the season approaching, the Tigers have to find answers to all their offensive problems or this team won't make it to a bowl.
"We can start making some plays," senior wide receiver
T.J. Moe
said. "We have guys who can make plays.
"How you turn it around is you start playing like [former Missouri wide receiver] Danario Alexander and when your offense struggles you throw it to a guy and he has four consecutive 200-yard games. That's how you turn it around. You don't have to fix the offense; guys just need to start making plays. We have a lot of talent, we just need to start catching better and blocking better because it's not just going to do it itself," Moe said.
From top to bottom, this offense has been uninspiring since the first half of the Georgia game. For a team that ranked 12th nationally in total offense last year, averaging 475.5 yards per game, the Tigers are currently 12th in the SEC in total offense, averaging over 100 yards less.
Only once this season has Missouri had a quarterback pass for 200 or more yards and a running back rush for 100 yards or more in the same game.
Injuries up front have obviously been a problem, as all five of Mizzou's preseason starters --
Justin Britt
,
Elvis Fisher
,
Jack Meiners
,
Mitch Morse
and
Travis Ruth
-- have suffered injuries since fall camp and backups
Taylor Chappell
and Mark Hill are out for the season. Ruth has yet to play this season, while Meiners has been in and out and just underwent knee surgery that will keep him out a few weeks. Redshirt freshman
Brad McNulty
replaces Morse at center after Morse went down with a knee injury against Vanderbilt last week.
"Being football, you're going to have your injuries here and there but you need to be able to have people, like we do, on your team that can go up there and play multiple positions on the line," quarterback
Corbin Berkstresser
said.
Fighting through injuries is part of the game, as Berkstresser is finding out. He replaces Franklin, who will be out for a few weeks with a knee injury of his own.
Players are invested in Mizzou's backups, but all of the up-and-down movement on offense is frustrating.
"I have confidence, I have confidence in our guys -- but it's hard to have confidence in a torn MCL, like half of our offensive line [has] and it's hard to have confidence in your quarterback when he's sitting on the bench," Moe said. "We've had some tough breaks and we haven't played yet to the best of our ability."
Now, Missouri gets No. 1 Alabama, which is first nationally in scoring defense and total defense and ranks in the top four in rushing and passing defense. Nothing says going backward on offense like playing against Alabama.
So, simplifying things is the next step, coach Gary Pinkel said. Pinkel is hoping less is more for the Tigers. It should help with the players' comfort level and restore some confidence. It could also help with consistency.
In the end, Mizzou has to rediscover its big-play persona. Without it, the Tigers are toast in this league. Simplifying things is a start, but execution has to be there, regardless of who's banged up.
"When you're out there, you probably have nine or 10 guys doing their job and then there are one or two who mess up and it messes it up for the whole scheme of things," Fisher said. "So you've got to be able to get everyone on the same page for the majority of the game and for everyone to do their job -- that's all you can really ask for."
July, 20, 2012
7/20/12
9:30
AM ET
HOOVER, Ala. -- Now that another year of SEC media days are through, it's time to take a look back at the best moments from this year's three days in the Wynfrey Hotel:
Best interview:
Yes, Missouri wide receiver
T.J. Moe
had a pretty good time with the media in Hoover and Arkansas coach John L. Smith seemed to win over the main ballroom during his press conference, but the best interview of the week had to go to Alabama offensive lineman
Barrett Jones
. The veteran strolled right into our interview room munching on pecan pie bites without a care in the world. But the real magic came during his video interview where he playfully crushed his best friend and former teammate William Vlachos and gave fellow SEC blogger Chris Low a shout out during his hit. Jones came prepared and knew how to have fun.
[+] Enlarge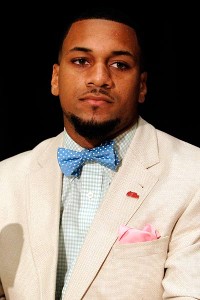 Butch Dill/AP PhotoOle Miss WR Donte Moncrief dresses to the nines for his appearance at SEC media days.
Best quote:
There were so many good one-liners from Moe that we're giving you our top three from the week:
Moe on what's different about the SEC: "They say girls are prettier here, air's fresher and toilet paper is thicker." -- Offensive lineman Elvis Fisher later told us that this line was planned after a conversation during the trip over.

But Moe wasn't done there: "Apparently Ryan Swope is a god because he can come in and get first-team all-SEC. But that's fine."

And this one really got to Arkansas running back Knile Davis: "In the Big 12, we put our best athletes on offense. [In the SEC], they put their best athletes on defense."
Best outfit:
The players came out and dressed well this week, like Auburn's
Corey Lemonier
and bow tie and red-striped socks and Vanderbilt's
Trey Wilson
in his slick charcoal suit with the black checkered shirt and red tie. But Ole Miss wide receiver
Donte Moncrief
stole the show with his colorful outfit. He rocked a light beige jacket over a checkered mint shirt and a blue bow tie. He was also equipped with salmon pants and a bright pink pocket square. The man dresses with confidence.
Best moment:
Davis was as cool and relaxed as ever during his time in Hoover. He had no problem proclaiming that he still was the league's best running back, but the best moment came when he was leaving our room. As Davis headed toward the door, Chris asked him if he still thought he was the best and Davis replied with a smile, "Still the best and tell Marcus [Lattimore] I'm coming for him."
Best interviewer:
We paled in comparison to the journalistic skills of Mississippi State offensive lineman
Gabe Jackson
, who took some time to interview Chris on camera. Chris looked like a deer in headlights when Jackson started firing hard-hitting questions and then asked him to name as many dog breeds as he could in 10 seconds. The tongue-tied Chris didn't even mention bulldog.
Most improved:
LSU quarterback
Zach Mettenberger
has had a very up-and-down college career, but he walked right into media days without a nervous fiber in his body. He's known to boast a little about his talents and had every opportunity to once again, but didn't. He was very humble and praised his teammates before even mentioning his ability. Plus, he handled questions about his past at Georgia like a pro.
Most confident:
We're naming our top four here:
Moe: He's sick of hearing about transitioning over to the SEC and he let everyone know about it.

Davis: No hesitation in claiming he's the SEC's best running back.

Tennessee quarterback Tyler Bray: He doesn't talk much, but he made the statement that Tennessee will win the SEC this season. That's pretty gutsy.

Florida running back Mike Gillislee: His goal for the season: 1,500 rushing yards and 24 touchdowns. Florida hasn't had a 1,000-yard rusher since Ciatrick Fason in 2004 and 24 rushing touchdowns would break Tim Tebow's record of 23.
Best hair:
Georgia linebacker
Jarvis Jones
had his hair braided in a very creative, funky way and it looked clean. It also took three and a half hours to do.
Coming out of his shell:
Florida outside linebacker/defensive end
Lerentee McCray
is pretty soft-spoken and can be shy around the media, but not in Hoover. He was talkative and showed a little confidence when he said his favorite part of football is hitting the quarterback so he can "wipe the smiles off their faces."
May, 9, 2012
5/09/12
3:00
PM ET
COLUMBIA, Mo. -- With all due respect to much ballyhooed wide receiver signee
Dorial Green-Beckham
, he wasn't the biggest get for Missouri in 2012.
That title belongs to great grandpa of the program, left tackle
Elvis Fisher
. While Green-Beckham's commitment and signature caused coaches to do figurative backflips around Missouri's football facility, Fisher's return caused an eruption of even more excitement from the staff.
"That was the best recruit we signed," offensive coordinator David Yost said.
[+] Enlarge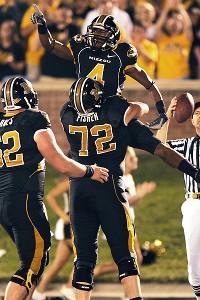 AP photo/L.G. PattersonElvis Fisher surely won't be complaining about doing some heavy lifting for the Missouri offensive line these days.
But it didn't come without worry. Fisher ruptured the patellar tendon in his left knee during preseason camp of what was supposed to be his final year, causing him to miss all of the 2011 season. He applied for a medical hardship, but already had four years under his belt. He redshirted in 2007 and was a three-year starter afterward.
"There was a slim opportunity for me to be able to get that," Fisher said. "A lot of guys don't get their senior year back."
Let alone a sixth year. Fisher said he spent the early part of 2012 discussing other options with his father and Mizzou coaches. One of those options was actually pursuing the chance of going straight to the NFL. He said he was "sweating bullets" until a trainer approached him in early February with news of a phone call from Mizzou's compliance office.
Fisher called compliance back, received word that the NCAA granted him a sixth year, then called his coaches, who already knew, his father and his girlfriend. Once the chitchat finished, he went right back to work at skill improvement with his teammates.
It was business as usual for Fisher and it will be again this fall.
The 6-foot-5, 295-pounder went through some spring drills at full speed, but took it relatively easy for the most part. It's not like he needs a lot of practice. What he needed was the chance to strengthen his knee.
"I take it as I don't have to take practice as hard as I can," Fisher said. "I just want to go out there and have fun and focus on the little things I need to do to get my knee better. I'm not trying to push myself to hurt myself. I'm trying to push myself to be able to play on Saturdays and perform."
This spring, Fisher said he looked to strengthen his quads and hip flexors in order to be more stable and take pressure off his knee. He still has trouble planting on his knee when he's running, but said that will come with summer running and working with the strength staff.
"I'm actually really darn comfortable with it," he said.
And that's a good thing because Mizzou needs him anchoring its line as the Tigers move to their new home in the SEC. Fisher understands that he and his line mates will be tested more in the SEC and that means that strength and communication are two areas that have to improve up front. This isn't a very big line, so the weight room will be a second home, and three starters from last year are gone. Sure, there's experience, but not a ton.
The biggest thing this line will have to adapt to, Fisher said, is the amount of defensive line talent it will face.
"When you look around a league like the Big 12, every team has like one or two linemen that are really good," he said. "In the SEC, their whole line is stacked."
With that comes some pressure, but Fisher said he's making sure he keeps his teammates play their games and don't listen to all the outside noise.
"You have to go out there and play your game and not worry about all the hype, if they're first-round draft picks, whether they're going to win, or Missouri sucks. You can't listen to all that," Fisher said. "We're just going to keep practicing the way we're practicing and give them hell."
And more hell can be given with a healthy Fisher back.
April, 11, 2012
4/11/12
9:18
AM ET
COLUMBIA, Mo. -- I made it out to the
new
Columbia to check out the
new
Tigers in the SEC Tuesday. It was my first time visiting the city and school and it was the first time I had ever spoken to coach Gary Pinkel.
Immediately, I could tell that he wasn't afraid of his new surroundings. Not one bit. He's been at Missouri for 11 seasons and after some thought he'd be run out of Columbia before he even figured out where his office was he'll enter the 2012 season with 85 wins at Missouri. He's also taken the Tigers to seven straight bowl games.
[+] Enlarge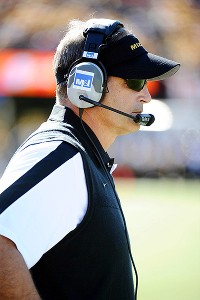 Dak DillonGary Pinkel has led the Tigers to double-digit wins in three of the past five seasons.
So when the coach with 21 years of head-coaching experience was asked about adjusting to the SEC, it was no surprise that he didn't budge much. He gives the SEC a ton of respect, but thinks his team can earn some with the move.
"It's hard to argue with anybody and say the SEC's not the best league in the country, consistently," Pinkel said. "There's no argument.
"I understand we're going into a great league this year, but we go in with some credibility and some success."
The Tigers have reached double-digit wins in three of their past five seasons, so there's no doubt this team will get some respect, but earning it means adjusting to life in a league that lives and dies by line play. That's where things might get a little tricky for the Tigers.
Missouri has to replace six linemen on the offensive and defensive side of the ball. Missouri has been without defensive linemen
Brad Madison
and
Sheldon Richardson
this spring due to injuries. It hurts because both are expected to contribute a lot this fall, but it has helped get younger players more reps, especially end
Kony Ealy
who should give Madison a real run for his spot when the senior-to-be returns.
On the offensive line, the Tigers were fortunate to get wise, old
Elvis Fisher
is back after he was granted a sixth year by the NCAA, following a devastating knee injury that end his 2011 season during fall camp. They also return a group of players that might not have started every game, but got good game experience last year.
To the coaches, the Tigers aren't exactly losing three starters on the offensive line. Offensive coordinator David Yost acknowledges that
Jayson Palmgren
,
Austin Wuebbels
and
Dan Hoch
are all gone, but he also considers guard
Jack Meiners
a starter from last year and Fisher is considered a returning starter as well. It also helps that
Justin Britt
started at left tackle last year, essentially giving Missouri two left tackles and containing the edges on this year's line. That's big because Missouri doesn't use an attached tight end much.
Speaking of tight end,
Eric Waters
, who is replacing All-American
Michael Egnew
, underwent surgery to repair a torn MCL in his knee Tuesday and Pinkel said he's out for three months. He should be ready for the season opener.
As for tweaking the offense and making sure Missouri is fit to run its true spread in the SEC, the players and coaches aren't worried. In fact, they're pretty confident in their scheme and they're not changing from being a true spread team.
"Until you play us, it's different than what other people do and how they do it," Yost said. "We have our system, and we're going to stick with it. Their challenge is to do what they do and have their stuff mesh to what we do."
The Tigers will have to have a balanced attack like they did last year.They'll have quarterback
James Franklin
back for the opener and think he'll help guide their group of unproven wide receivers. Missouri can also go four or five deep at running back, even without
Henry Josey
, who likely won't see the field this fall following that devastating knee injury.
September, 10, 2011
9/10/11
2:40
AM ET
Ouch. Those are the losses that hurt the most for fans.
Missouri stormed back from a 14-point deficit in the fourth-quarter, but settled for a deep field-goal attempt late in the fourth quarter and -- in what's sure to be a controversial decision -- iced its own kicker.


Grant Ressel missed the 48-yard kick and the game went into overtime, where Missouri couldn't match Arizona State's touchdown and lost,
37-30
.
Let's start with the nasty stuff.
THE BAD
Argue the statistics surrounding icing kickers all you'd like. It's dubious if not counterproductive. But I've never seen a coach ice his own kicker, and unless Ressel explicitly asked for Pinkel to do it, I don't see the benefit. Additionally, Missouri went superconservative offensively once it was in field goal range, instead of fighting to get an easier attempt. Both of those decisions are ripe for second-guessing, and will be digested to no end throughout the week for the black-and-gold inclined. Outside of being embarrassingly unconventional, I don't see the huge harm of the kicker icing. I do think the Tigers needed to keep running their usual offense and ride the wave of momentum that got them there, rather than settle for a big kick from Ressel, who is usually reliable and a legitimate Lou Groza Award candidate.
Ouch, secondary. It was out of position a lot throughout the night, and failed to make plays when it was in position several times. E.J. Gaines especially had a rough night, getting burned twice for scores by Aaron Pflugrad, who finished with eight catches for 180 yards. The secondary solidified late in the game, which was good to see, but Missouri took a huge step defensively under coordinator Dave Steckel last season. It looks like this year, with young corners, it may take a step back. There's lots of room for growth, sure, but the Tigers better do it fast. There are a lot better offenses than Arizona State waiting for the Tigers in the Big 12. Osweiler would probably be the fifth or sixth best QB in the Big 12, and he finished with 353 yards, three TDs, no turnovers and completed 24 of 32 (77 percent) passes. Not good.
The flip side of those secondary struggles? Where was the defensive line? The Tigers are the most talented in the Big 12, but didn't look like it on Friday. It didn't reach Osweiler often, and where was top pass-rusher Brad Madison? His spin move wasn't working and he was quiet when Missouri needed him to step up. The defense was much better late when momentum turned, but Osweiler picked apart the defense for the better part of the night, in part because of the lack of pressure up front.
Awful luck for Missouri at running back. Henry Josey was great (9 carries for 94 yards), but we'll see how long De'Vion Moore is out. He injured his ankle on the opening drive and didn't return. Missouri had four great backs to begin fall camp. Now, with starter Kendial Lawrence sidelined with a broken fibula, Moore out and Marcus Murphy likely done for the season with shoulder surgery, Josey may be leaned on a whole lot more. Those guys combined for 1,557 yards and 19 TDs last year, but two games into the season, only one is standing. Josey accounted for 437 yards, five scores and 76 carries as a freshman in 2010.
Arizona's penalties stole the show, but Missouri was undisciplined, too. The Tigers had 11 for 114 yards, compared to Arizona State's 12 for 110 yards. Bad, bad, bad.
THE GOOD
What a difference a week makes for James Franklin. He's going to be sporadic all year, but he's going to improve fast, too. He had some awful throws, yes, but he had a lot more good ones, and kept Missouri alive with a handful of high-pressure passes in big positions. It's a loss, and he didn't make a play in OT when Mizzou needed it most, but you've got to feel good about the future behind Franklin. His mechanics looked better, he was more accurate, and did a decent job of running when he needed to. Very good signs.
Missouri needed more receivers to show up and help out T.J. Moe and Michael Egnew with a banged-up Jerrell Jackson in uniform, and they answered. Marcus Lucas had a huge catch in the fourth quarter to get the Tigers into scoring position, and finished with four catches for 87 yards. L'Damian Washington also had a big catch in traffic on a beautiful throw from Franklin to cut the lead to 30-23 in the fourth quarter. He finished with three catches for 39 yards. Six different receivers had at least two receptions, and Josey caught two for 51 yards. All good things for Missouri's offense.
The offensive line looked rough late in the game, but without left tackle Elvis Fisher and center Travis Ruth, the patchwork line had a pretty good game, especially against a good front seven. Vontaze Burfict wasn't running wild, which is a nice start. The offensive line didn't play so well in overtime, but Franklin had room to operate for most of the game and wasn't rushed too often. Not great, but good. Like Franklin, they'll get better as they move along without Fisher for the season and whenever Ruth returns from his sprained knee.
August, 29, 2011
8/29/11
10:00
AM ET
Oh, yes.
It is game week
.
Today is Monday, which means we'll kick off our weekly power rankings and continue doing so each week throughout the season.
1. Oklahoma:
The Sooners are clearly the class of the Big 12 but will have to start proving it early with a hyped trip to Tallahassee to face a Florida State team that yours truly thinks is a bit overrated. Saturday, though?
Landry Jones
and
Ryan Broyles
will open the season at home against an underrated Tulsa team that won more games in 2010 than Florida State but will
travel to Norman perhaps without its top playmaker,
Damaris Johnson
.
G.J. Kinne
is great, but he'll have to be spectacular for the Golden Hurricane to be a serious threat.
2. Oklahoma State:
The Cowboys gave college football fans a treat with the return of
Brandon Weeden
and
Justin Blackmon
, who will kick off their encore seasons against Louisiana-Lafayette, a
team that spawned Weeden's trust in Blackmon originally last season.
The opener should be a snoozer, but next week's rematch of the Alamo Bowl against Arizona could produce big fireworks on a Thursday night national broadcast.
3. Texas A&M:
This is an absolute coin flip. Until the teams meet on Sept. 24, I'll probably flip OSU and A&M depending on who was more impressive the previous week. The Aggies will have the best chance to impress with a Sunday nighter against an underrated SMU team coming to Kyle Field with a crowd that could get a huge boost from the prospect of a future in the SEC,
which might be announced later this week.
4. Missouri:
We'll get our first real look at
James Franklin
when the Tigers suit up against Miami (Ohio). After struggling early in spring camp during his competition with Tyler Gabbert, Franklin has only gotten better. This week will be big for the Tigers' offensive line, which has to find a suitable replacement for stalwart left tackle Elvis Fisher, a 40-game starter who will miss the season with a torn patellar tendon. The Tigers' first big test is just six days from Saturday, when they travel to Tempe, Ariz.,to play Arizona State.
5. Baylor:
Baylor's new-look defense will get a pretty good test from TCU. The Bears are the Big 12's lone team matched up with a ranked opponent in Week 1. A win against the defending Rose Bowl champs with the nation's eyes watching a Friday night ESPN broadcast could be a big coming-out party for Art Briles and
Robert Griffin III
on a national scale.
6. Texas:
obody knows
what to expect from the Longhorns
, but we might find out who'll be starting at quarterback for the Horns later today. The defense, which has led the Big 12 in total defense the past four seasons, should still be stout in spite of a young secondary, but an amorphous offseason depth chart will take shape this week.
7. Texas Tech:
There are a lot of new faces on the field for the Red Raiders, but Year 2 under Tommy Tuberville will probably get off to a yawn-worthy start with FCS Texas State heading to Lubbock for the opener. Tech is a bit of a wild card that might be as good as the league's fourth-best team. This is probably as low on the power rankings as you'll see the Red Raiders all season.
8. Kansas State:
The Wildcats caught a break with Arthur Brown and
Bryce Brown
being
given limited immunity by the NCAA and avoiding eligbility issues from the mess at Miami
, but we'll finally get a chance to see K-State's hyped transfers take the field. Arthur Brown emerged as one of the defense's top playmakers during the spring, but what will Bryce Brown have to offer? And has
Collin Klein
improved enough as a passer to help the Wildcats claw into the next tier of Big 12 teams?
9. Iowa State:
The Cyclones might be better than this, but they're going to have to prove it. No one above them in the power rankings finished with a worse record last season. The Big 12 had only one team (Kansas) that finished with a record worse than 5-7. New quarterback
Steele Jantz
, replacing three-year starter Austen Arnaud, should be fun to watch.
10. Kansas:
Improvement is the name of the game for the Jayhawks, who dropped a game to an FCS team in Week 1 last year. It's doubtful we'll see a repeat against McNeese State this time around, but how much better will Kansas be? We'll get a better sense when the Jayhawks tangle with an underrated Northern Illinois team in Week 2 and ACC foe Georgia Tech the next week.
August, 15, 2011
8/15/11
12:48
PM ET
Missouri left tackle Elvis Fisher suffered what coach Gary Pinkel called a "serious" knee injury in Monday's practice, according to multiple reports.
"He's got a very serious knee injury," Pinkel
told reporters after practice
, which was open to the media. "It's very serious. We'll know more about it … and he's probably getting an MRI as we're talking right now. But it's very significant."
From the Columbia Tribune:
Fisher, who has started every game since 2008, went down during a 1-on-1 pass-rush drill against defensive end Michael Sam and instantly clutched his left knee and screamed in pain. The co-captain was helped off the field by two trainers and taken into the team facility.
Fisher has 40 consecutive starts for the Tigers, 10 short of the school record. He was on
ESPN.com's All-Big 12 first team
and also ranked No. 18 on
our countdown of the top 25 players in the Big 12
.
Fisher was replaced by Justin Britt at left tackle after the injury.
He's the second top talent in the Big 12 to go down in as many weeks. Oklahoma linebacker Travis Lewis, an All-America-caliber talent who's led the Sooners in tackles in each of the past three seasons, suffered a broken toe last week and will miss eight weeks, but is expected to be available for Oklahoma's date with Texas on Oct. 8.
July, 19, 2011
7/19/11
4:50
PM ET
The Big 12 has released its All-Big 12 preseason team as voted on by the media, including yours truly.
Here's my ballot
, for reference.
And here's the preseason team, in all its glory.
OFFENSE
QB:
Landry Jones
, Oklahoma
RB:
Cyrus Gray
, Texas A&M
RB:
Bryce Brown
, Kansas State
RB:
Roy Finch
, Oklahoma
WR:
Justin Blackmon
, Oklahoma State
WR:
Ryan Broyles
, Oklahoma
TE:
Michael Egnew
, Missouri
OL:
Levy Adcock, Oklahoma State
OL:
Kelechi Osemele, Iowa State
C:
Ben Habern, Oklahoma
OL:
Lonnie Edwards, Texas Tech
OL:
Luke Joeckel, Texas A&M
DEFENSE
DL:
Brad Madison, Missouri
DL:
Ronnell Lewis, Oklahoma
DL:
Kheeston Randall, Texas
DL:
Frank Alexander, Oklahoma
LB:
Travis Lewis, Oklahoma
LB:
Jake Knott, Iowa State
LB:
Keenan Robinson, Texas
DB:
Coryell Judie, Texas A&M
DB:
Markelle Martin, Oklahoma State
DB:
Blake Gideon, Texas
DB:
Demontre Hurst, Oklahoma
SPECIALISTS

K:
Grant Ressel, Missouri
P:
Quinn Sharp, Oklahoma State
KR:
Coryell Judie, Texas A&M
PR:
Ryan Broyles, Oklahoma
AWARDS
Offensive Player of the Year:
Justin Blackmon, WR, OSU
Defensive Player of the Year:
Travis Lewis, LB, Oklahoma
Newcomer of the Year:
Malcolm Brown
, RB, Texas
Selections by team:
Oklahoma (9), Oklahoma State (4), Texas A&M (4), Missouri (3), Texas (3), Iowa State (2), Kansas State (1)
And a few thoughts:
Generally, I agree with most of the selections. Nothing was really shocking. Brandon Weeden vs. Landry Jones is pretty close to a coin flip, and let's not act surprised that the quarterback from the bigger program got the nod. Perception is reality, even if the numbers are so, so close. Jones has the Heisman hype coming into the season, certainly more than Weeden, based on little more than the possibility his team runs the table.
Running back is going to get a lot of attention, but let's not get riled up. This is going to sound bad, but believe me when I say I don't mean it to: Bryce Brown's selection is more an indictment of the returning talent at running back in the Big 12 than an endorsement of the hype surrounding Brown, who isn't even the clear-cut starter at K-State just yet. Here's what I wrote when I posted my ballot earlier this month. "The second running back spot is near impossible. Just about anyone might get it on the official vote when its revealed by the Big 12. You could realistically make a convincing case for James Sims, Eric Stephens, Joe Randle, Roy Finch and even newcomers like Malcolm Brown, Bryce Brown or Oklahoma's Brandon Williams. And that's the first team!" Well, there you go. For the record, I voted for Christine Michael, and still feel good about it.
Finch and Brown tied for votes, giving the Big 12 three running backs. There weren't three spots on the ballot. And it also explains how Malcolm Brown got Newcomer of the Year and Bryce Brown got first-team All-Big 12 running back, despite both being newcomers. It's a little confusing, I suppose, and maybe not everyone did it, but my guess is a lot of ballots had Finch as the first-team running back and Malcolm Brown as the Newcomer of the Year. Not all that surprising.
I originally had Luke Joeckel on my ballot, but took him off for Missouri's Elvis Fisher. I think Joeckel will end up being better, and maybe even by the end of this year, but right now, Fisher is the better lineman, and that's how I define the ballot. Perhaps others see it differently. There's no concrete rubric for this.
I'm not very surprised to see Ronnell Lewis and Blake Gideon grab spots on the team, though I voted for Tony Jerod-Eddie and Trent Hunter in those spots on my ballot. Second safety and defensive line were pretty tough for me to fill out. Neither spot is very deep in this league, and both Lewis and Gideon have two of the biggest names, which matters in a media vote.
Quite a huge gap between Oklahoma and the rest of the league. The Sooners had a lot of guys on my ballot that were close, but five more selections than anyone else in the league? That's impressive, and if ballot deadlines had been after Jamell Fleming's reinstatement, Oklahoma might have had 10 guys on the team. My ballot had Oklahoma State leading the way with seven selections, followed by Texas A&M with six and Oklahoma with five. My ballot also only had six teams represented. The media's Bryce Brown vote put Kansas State on the board, making it seven teams represented on the official team.
January, 14, 2011
1/14/11
11:24
AM ET
We've spent the week wrapping up the bowls, and now that it's Friday, here's our Big 12 bowl team comprised of players who got it done individually in their bowl games.
Plenty of guys got snubbed, particularly at receiver (Sorry,
Lyle Leong
,
Cameron Kenney
and
Kendall Wright
!), but without further ado, here it is.
OFFENSE
QB:
Landry Jones
, Oklahoma
RB:
Daniel Thomas
, Kansas State
RB:
Eric Stephens
, Texas Tech
WR:
Ryan Broyles
, Oklahoma
WR:
Justin Blackmon
, Oklahoma State
WR:
T.J. Moe
, Missouri
OL:
Zach Kendall, Kansas State
OL:
Tim Barnes, Missouri
OL:
Eric Mensik, Oklahoma
OL:
Lonnie Edwards, Texas Tech
OL:
Elvis Fisher, Missouri
DEFENSE
DL:
Phil Taylor, Baylor
DL:
Jeremy Beal, Oklahoma
DL:
Jared Crick, Nebraska
DL:
Richetti Jones, Oklahoma State
LB:
Von Miller, Texas A&M
LB:
Travis Lewis, Oklahoma
LB:
Orie Lemon, Oklahoma State
CB:
Jamell Fleming, Oklahoma
CB:
Kevin Rutland, Missouri
S:
Byron Landor, Baylor
S:
Tysyn Hartman, Kansas State
SPECIALISTS
P:
Matt Grabner, Missouri
K:
Dan Bailey, Oklahoma State
KR:
Coryell Judie, Texas A&M
PR:
Ryan Broyles, Oklahoma
December, 6, 2008
12/06/08
10:29
PM ET
Posted by ESPN.com's Tim Griffin
KANSAS CITY, Mo. -- Oklahoma came into the Big 12 title game needing to make a statement to prove their legitimacy as the South Division title-game participants.
After one half, the Sooners' resounding 38-7 lead shows that they not only belong in Kansas City, but likely in Miami for the BCS title game as well.
The Sooners have scored on all but one first-half possession as they have manhandled the Tigers from the start. They've already piled up 359 yards on 54 first-half plays, averaging 6.6 yards per snap.
It's that high-powered offense that has enabled them to score 678 points for the season, setting a modern-day NCAA record.

Oklahoma's defense has been fearsome, notching two sacks and forcing two turnovers. Cornerback Brian Jackson has notched a fumble recovery and an interception that set up scoring drives.
How dominant has it been? Leading Oklahoma rusher DeMarco Murray sprained his ankle on the opening kickoff and hasn't played. And he's hardly been missed as the Sooners have piled up 119 rushing yards.
The onslaught could best be seen late in the first half. After Chase Daniel was tackled with seven seconds left, the Tigers decided to meekly let the rest of the clock tick away despite having the ball on the Sooners side of the 50.
Oklahoma scored 28 points in the second quarter and blew the game open. The Tigers look beaten and like they want to go sit where it's warm instead of coming out for the second half.
Here are some items of interest I've noticed in watching the first half.
The South Division has dominated the Big 12 in the last several years and it's continuing tonight with Oklahoma's fast start. Including the last four years and tonight's first half, the South Division teams have outscored the North, 202-37.
The Sooners have taken advantage of their huge size edge on the left side, running behind clearing blocks by massive left tackle Phil Loadholt and Outland finalist Duke Robinson for success throughout the first half.
The Sooners became the first team in Big 12 history with a pair of 1,000-yard backs. Murray came into the game with 1,002 yards. And Brown has joined him with 83 yards and two touchdowns in the first half, giving him 1,071 for the season.
Missouri's secondary struggled throughout the season. And the loss of starting cornerback Castine Bridges appears to have worsened the condition. The Tigers have been susceptible to slants as they've been outclassed by Oklahoma's more physical and quicker collection of receivers. Ryan Broyles has six catches, Juaquin Iglesias has four and Quentin Chaney has two. And massive tight end Jermaine Gresham has run free through the secondary with six receptions for 59 yards.
The game has been chippy in the early going. Oklahoma defensive end Frank Alexander and Missouri tackle Elvis Fisher both were flagged for unsportsmanlike conduct after tangling in the first quarter.
Veteran Missouri wide receiver Tommy Saunders was flagged for taunting after the Tigers' touchdown, setting up good field position that the Sooners turned into a 53-yard touchdown drive. And Iglesias was flagged for taunting after his own touchdown later in the second quarter.

It prompted referee Randy Christal to call the teams together with about 12 minutes to go in the half, telling them to cool the extra energy.
Sam Bradford's Heisman candidacy has never looked stronger. Despite playing with an injured left thumb immobilized by a splint, Bradford has completed 22 of 31 yards for 240 yards and two touchdowns in the first half.
November, 20, 2008
11/20/08
1:18
PM ET
Posted by ESPN.com's Tim Griffin
Here are some links to get you excited about Saturday's games. Enjoy them.
August, 27, 2008
8/27/08
11:36
AM ET
Posted by ESPN.com's Tim Griffin
Credit Western Michigan coach Bill Cubit for being honest.
Cubit had a unique description for his mindset leading up to the Broncos' season opener Saturday at Nebraska.
"You kind of go in there blind," Cubit said, reflecting on his lack of knowledge about how new Nebraska coach Bo Pelini will operate his program during game situations.
Pelini has been a head coach for one previous game -- a 2003 Alamo Bowl victory over Michigan State as interim coach after Frank Solich was fired. So Cubit doesn't know much about what he'll be facing.
So he's preparing for just about anything.
"We just don't know," Cubit said on the Mid-American Conference's weekly teleconference. "You can talk to people about what coach Pelini did at LSU. But you've got different players and you're always trying to adapt your system to the players you've got, and what their strengths and weaknesses are.
"For us, it's just going to be more fundamentals. The unknown in the first game is always severe, but with the new coaching staff ... With our kids, you can't tell them exactly where people are going to be all the time."
Other coaches are facing similar problems across the country.
And that's why we're here. To provide enlightment about the Big 12 one link at a time.
Here are some of this morning's goodies.