NCF Nation:

Emerald 2009 bowls
December, 27, 2009
12/27/09
12:05
AM ET
For a moment, it looked like another bad night for the Pac-10, with another conference bowl game falling into a familiar, indefensible pattern: fast start, disaster thereafter.
[+] Enlarge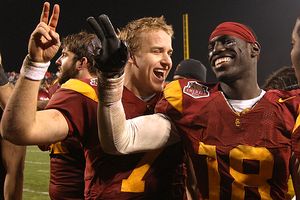 Jed Jacobsohn/Getty ImagesMatt Barkley, left, connected with Damian Williams on big plays to lead USC over Boston College.
But USC, a team that has been all over the place this season, figured out that a football game lasts longer than the early moments of the first quarter and managed to hold on to beat a scrappy Boston College squad
24-13 in the Emerald Bowl
.
The Pac-10 thereby improves to 1-2 in the bowl season.
And USC gets to walk away from its season with a 9-4 record, which is not so bad anywhere else outside Heritage Hall.
How the game was won
: USC's defense, terrible in the second quarter, put the clamps down, pitching a second-half shutout, while quarterback
Matt Barkley
reversed a late-season slide by leaning on receiver
Damian Williams
and fullback
Stanley Havili
to make big plays.
Turning point
: With 13 minutes left in the game, and USC only leading 17-13, cornerback Shareece Wright, who was academically ineligible until the bowl season, grabbed an interception at midfield. On the next play, Barkley found Williams deep over the middle for 48 yards to the Eagles 1-yard line. Wright made the catch despite being surrounded by three defenders. A play later, Barkley snuck in for the touchdown and the final margin.
Stat of the game:
Zero. That's how many points the Eagles scored in the second half after they dominated the second quarter and scored all 13 of their points.
Player of the game:
Williams was the best player on the field catching 12 passes for 189 yards, though one catch on the sideline -- a 38 yarder that set up the Trojans second touchdown -- was curiously ruled in bounds when, golly, it sure didn't look that way (someone feel free to explain that one to me).
Unsung hero of the game
: USC fullback Havili always seems to catch opposing defenses off-guard. Havili scored the Trojans first two touchdowns, the first when he transformed a short dump from Barkley into a 53-yard touchdown.
What it means
: The Trojans' worst season since 2001 ends on a high note, despite speculation that indifference and off-field turmoil would combine to produce a flat performance. It means the Trojans head into the off-season with a modicum of positive momentum. And it wasn't hard to see the promise of some of USC's young players, particularly Barkley. The USC dynasty done? Maybe. Or maybe not. We'll see in 2010.
December, 26, 2009
12/26/09
11:39
PM ET
Here's a quick look at USC's
24-13
win over BC in the Emerald Bowl:
[+] Enlarge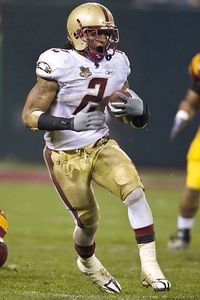 Jason O. Watson/US PresswireMontel Harris was a bright spot for Boston College, rushing for 102 yards and a touchdown.
How the game was won:
USC took advantage of BC's mistakes, and pressured quarterback
Dave Shinskie
into third-and-long situations and poor decisions in the second half. USC's defense had a forced fumble and recovery, a pass breakup, and beat the Eagles up front to sack Shinskie several times. Quarterback
Matt Barkley
had the better performance and was able to overcome the absence of three key starters, while
Montel Harris
wasn't enough for the Eagles' offense.
Turning point:
Shinskie was intercepted with 12:22 left in the game, and it was another costly turnover in his fledgling career, as Barkley completed a 48-yard pass on the following play to the BC 1-yard line. Barkley punched it in on the next play, and finally gave the Trojans some separation with a 24-13 lead. It would be the score that won the game.
Stat of the game:
Boston College had just 23 yards of offense in the third quarter. After a solid performance in the first half, in which Shinskie did a good job of managing the offense without turning it over, he had a string of five straight incompletions in the third quarter.
Unsung hero of the game:
BC running back Montel Harris. Despite a bruise to his backside in the third quarter, Harris continued to forge ahead and give the Eagles some offense. Considering Shinskie's penchant for turnovers and inconsistency, Harris was their best hope in the fourth quarter. He finished with 102 yards and a touchdown on 23 carries.
What it means:
Despite the loss, Boston College should take some pride back to the East Coast for keeping things interesting, and approaching USC with respect, not awe, for its tradition. It was yet another reminder, though, that the program isn't yet where first-year coach Frank Spaziani wants it to be, but it is headed in the right direction. The brief injury scare to Harris was a reminder of the depth that still needs to be built, and the offensive improvements that still need to be made.
Record performance:
Senior wide receiver
Rich Gunnell
's 61-yard touchdown catch in the second quarter gave him 91 in the game and 2,420 in his career, which is the new BC career receiving record. He surpassed Pete Mitchell's 2,388 yards that he gained from 1991-94. It was the second longest reception of Gunnell's career. He caught a 68-yard pass on December 28, 2007 in the Champs Sports Bowl against Michigan State. Gunnell finished with 117 yards and one touchdown on five catches.
December, 24, 2009
12/24/09
10:20
AM ET
Breaking down the Emerald Bowl between No. 24 USC (8-4) and Boston College (8-4).


WHO TO WATCH
: USC quarterback
Matt Barkley
transformed from being the toast of college football after he led a game-winning drive in the waning moments at Ohio State on Sept. 12 to a guy who looked like an overmatched true freshman quarterback. The Trojans' offense sputtered down the stretch, and Barkley ended seventh in the Pac-10 in passing efficiency, with his 12 interceptions almost keeping pace with his 13 touchdowns. If Barkley reclaims his steady, heady self from the first half of the season, which means getting the ball into the hands of his playmakers and avoiding risky throws, the Trojans' offense should have no problem matching the smooth-running unit that scored 106 points against California, Notre Dame and Oregon State.
WHAT TO WATCH
: USC in general. The conventional wisdom is the Trojans will come out flat and uninspired because: 1. the Emerald Bowl is beneath a team that's played in seven consecutive BCS bowls; 2. the program has been in the news a lot of late for all the
wrong reasons
, and that will dilute motivation. Perhaps. Or it might do the opposite. It might make them mad and focused -- us against the world! unite! -- and they might then play up to their capabilities. Or at least with some passion. Know that BC will show up hungry and unintimidated. Even without its A-game, which we haven't seen since the first three quarters of the win at Notre Dame, USC might prevail because it's got better players, but a lackluster effort could lead to another embarrassing defeat.
WHY TO WATCH
: Because everyone is trying to figure out what's up with USC. If the Trojans roll and post an impressive win, it would suggest the program is righting itself and will be back in the Pac-10 and national mix next fall. If they look sloppy and uninspired, folks will start to wonder if the dynasty is truly dead. And keep in mind: While USC has lost four times in the Pac-10 this season, no team outside the conference has beaten USC since the 2005 national championship game.
PREDICTION
: USC 30-17. The guess here is that USC has too much pride to play without fire. The absence of three starters and a reserve due to academics and NCAA issues will hurt, but that might be offset by a team that was beaten up getting three weeks to rest and heal, mentally as well as physically. BC will fight hard and keep things close early, but the Trojans' talent -- and motivation -- will eventually prevail.
December, 24, 2009
12/24/09
9:02
AM ET
The Eagles (8-4) are making their 11th straight appearance in a bowl game and exceeded almost everyone's expectations under first-year coach Frank Spaziani, as BC was picked by the media to finish last in the Atlantic Division. BC owned the nation's longest winning streak in bowl games (eight games) until it lost in the Gaylord Hotels Music City Bowl last year against Vanderbilt, 16-14. The Eagles are the first team in Emerald Bowl history to play in the game twice. They beat Colorado State 35-21 in 2003 in what was then called the Diamond Walnut San Francisco Bowl.


Here's a quick scouting report on Saturday's game:
WHO TO WATCH:
BC linebacker Luke Kuechly. He was named the ACC's Defensive Rookie of the Year, and is averaging 11.83 total tackles per game. That's the highest average by any rookie since the NCAA began tracking tackles in 2003. In all, Kuechly has made 10 or more tackles in eight straight games. He leads the ACC in tackles per game and is second nationally to New Mexico linebacker Carmen Messina (13.50).
WHAT TO WATCH:
The turnover battle. If BC is going to win, this is where it has to be done. And it can be done. The Eagles didn't turn it over once in their season finale win at Maryland. The week before, though, BC turned it over six times in a loss to UNC -- five interceptions and one fumble. It will help if the Eagles' offensive line can give quarterback
Dave Shinskie
time to make smart decisions and develop a running game to keep him out of third and long situations.
WHY TO WATCH
: USC is vulnerable.
If BC is going to upstage this storied program, now is the time to do it. The Trojans have three players suspended, and ended the season losing three of their last five games for a fifth-place finish in the Pac-10. Boston College can pull off the win by playing smart, disciplined, well-coached football. Besides, this team has made a habit of proving its doubters wrong. Why stop now?
PREDICTION:
Like Spaziani said, "USC is still USC." The Trojans will have a different caliber of athlete and BC's blue-collar work ethic won't be enough to overcome it. BC will play well enough in the first half to keep the TVs on, but USC will eventually pull away later in the game by forcing Shinskie into some mistakes. Trojans win, 31-24.
December, 23, 2009
12/23/09
12:09
PM ET
Disappointment? Distractions? Declining performance? Controversy and allegations? Criticism and even ridicule?
All are words or phrases one could associate with USC's football program at present. Yet none seems to touch
Matt Barkley
.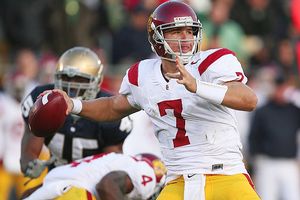 Jonathan Daniel/Getty ImagesUSC quarterback Matt Barkley is focused on Saturday's Emerald Bowl against Boston College.
Perhaps one big reason that coach Pete Carroll is such a fan of his quarterback is that the true freshman's sunny disposition matches his own, even during dreary times.
And these are dreary times for the Trojans.
After seven consecutive Pac-10 championships and BCS bowl berths, they dropped four conference games, finished tied for fifth in the standings and will play unranked Boston College in the Emerald Bowl on Saturday.
And USC didn't just get beat this year. It got blown out by Oregon and Stanford and seemed indifferent during a loss to Arizona in the season-finale.
Oh, and there's this little matter involving running back
Joe McKnight
and the alleged use of a 2006 Land Rover owned by a Santa Monica businessman who employs his girlfriend that might raise an eyebrow from the NCAA. And then there's three players ruled academically ineligible this week, including starting tight end
Anthony McCoy
and offensive tackle Tyron Smith.
Yet all one gets from Barkley is gee-whiz enthusiasm. That's probably a good thing, by the way.
"We're excited -- we can't wait for this game," he said. "We've had a great last two weeks of practice preparing for the bowl game. We're really stoked to get one last game in and to be able to finish the season strong."
Barkley's season devolved individually like the Trojans has a whole. He threw nine of his 12 interception over his last six games. He finished ranked seventh in the conference in passing efficiency and was mostly eclipsed in the Pac-10 quarterback pecking order by several other young starters, such as Stanford's
Andrew Luck
and Arizona's
Nick Foles
.
As to what triggered his and his team's slide, Barkley isn't specific.
"A lot of factors contributed -- a lot of little things that we don't have time to get into," he said. "But overall execution is what it came down to. All those things piled up and we weren't playing Trojan football like we know it."
Barkley hardly deserves the predominant blame. Offensive coordinator Jeremy Bates struggled to find his rhythm in his first year replacing Washington coach Steve Sarkisian. Carroll also probably set the bar too high for Barkley by repeatedly calling him an "outlier" and casting him as a quarterbacking savant.
And, you know, the defense wasn't exactly the impenetrable wall that has been typical during Carroll's tenure.
Whatever the reasons -- and it's never just one thing, is it? -- USC's slide seemed to be greeted with glee across the college football landscape. It certainly inspired copious message board ripostes.
Barkley acknowledged that the Trojans are well-aware of the sniping of their critics.
So, is that motivation?
"Absolutely. Guys never like to hear how it's been a terrible season and how bad we've done," he said. "To be able to finish the season with a win will be huge. Not only to end this year but for next year's off-season and how we approach that. A win on Saturday will be huge to right those wrongs."
Barkley said sympathy -- not distraction -- was the reaction to recent off-field issues that will sideline two and probably three starters for Emerald Bowl.
"It's really terrible that they can't be with us," he said. "But we've been dealt a lot of adversity this year, so it's just another challenge for us in this last game. But it is really disappointing to know those guys can't play."
It seems many are expecting a flat and apathetic performance from the Trojans against Boston College. Barkley said that's not going to happen.
"We'll be up, definitely. We're so excited," he said. "We don't care if it's the Emerald Bowl. It's another game we get to play. And Boston College is a great team. They are going to put up a fight. We're not approaching this any differently than a Pac-10 championship game. We're excited to play one last time."