NCF Nation:

Emmanuel Dieke
March, 25, 2013
3/25/13
9:00
AM ET
Georgia Tech opens spring practice today with a new defensive coordinator in Ted Roof, and a new starter at quarterback in
Vad Lee
. I had a chance to catch up with coach Paul Johnson to ask about his expectations of both headed into the spring. Here is a little of what he had to say.
I have to start off by asking -- how are you enjoying Twitter so far?
PJ:
My daughter, she said, 'You'll be good at that, Dad, you need to do it.' And, 'I'm like, I don't know about that.' She goes, 'Oh just try it.' So it's been interesting.
What is the No. 1 thing you want to see this spring out of your defense as it starts to get adjusted to playing a different scheme?
PJ:
It's the same regardless of scheme. You want guys that can play fast, play hard and understand what they're doing. The scheme is there to help them. We try to work the scheme around them rather than trying to fit them into the scheme. And I think our guys are excited about it. Ted's a fiery guy. He's going to have a lot of passion, a lot of energy and I think they're looking forward to that. And it's not that big of a change from what we did the last half of the season.
You guys showed major improvement the second half. Is the goal to build on some of what you were able to do?
PJ:
Yeah I think the second half we simplified things and tried to let guys play fast and understand what they were doing and basically we played a lot of 4-3 tenets the last six games. We got away from the 3-4 a little bit.
Jeremiah Attaochu is going to be playing more at defensive end. What are your hopes for him in that role?
PJ:
That's what he played last year. Very seldom did he drop. He was more our rush guy. We played a field boundary guy and it's going to be very similar in what we're doing now, so we'll try to play to his attributes and his strong suits. He's a really good pass-rusher and we'll try to utilize him in that area and line him up on some tight ends and some of that.
[+] Enlarge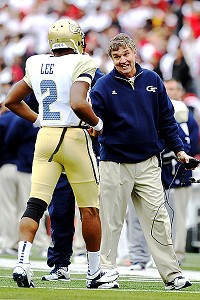 Mitch Stringer/USA TODAY SportsGeorgia Tech's Vad Lee is in a QB competition this spring, but coach Paul Johnson said there's no doubting Lee's leadership skills.
How do you see some of the competition playing out along the line with T.J. Barnes and Izaan Cross gone?
PJ:
We've got some good depth.
Euclid Cummings
is a guy I'm excited about. I think he's got a ton of ability.
Emmanuel Dieke
has played a lot.
Adam Gotsis
,
Shawn Green
played. We've got a couple guys, Pat Gamble, Rod Chungong,
Francis Kallon
that we redshirted so we feel like we've got depth there and some guys so we'll probably play six, seven guys up front.
Now that Vad looks to be your starter, have you seen him taking on more of a leadership role?
PJ:
Vad's always been a leader. It's in his DNA. Usually the good ones in that position are that way. He's a hard worker and I think that he's trying to develop a chemistry with everybody and we've got another guy named
Justin Thomas
that we redshirted at quarterback, and that ought to be a heck of a battle this spring. Clearly, Vad's in front but Justin's a good player in his own right, so that ought to be some pretty good competition between those two guys.
How will you work the reps?
PJ:
Well, Vad will start out at 1 but in the spring, you're going to run two teams anyway so they'll probably get an equal number of reps.
Any kind of scenario where you play both like you did with Vad and Tevin Washington last year?
PJ:
It's possible. It will be determined on how it turns out, once we get into the spring and we start playing how it looks and how it unfolds, but I think going into the spring you'd have to say Vad's the No. 1.
What about at A-back. Orwin Smith was able to do so much, what's the competition going to look like there?
PJ:
We've got a lot of guys back there who have played a lot.
Synjyn Days
played the last half of the season there, we moved from quarterback so we're excited about him.
Robbie Godhigh
is the starter that returns.
Deon Hill
,
B.J. Bostic
,
Dennis Andrews
is a guy we redshirted. We have a lot of guys there we feel can be pretty good players.
What are you looking for out of those guys to take the next step?
PJ:
Well Robbie's been a reliable guy, he played well all year and I think the other guys are very capable. I think the more Synjyn plays, hopefully the better he's going to be. He's 225 pounds so he's ideal. He can block, has good speed, hard to tackle. B.J. and
Tony (Zenon
) both are shifty littler guys, Deon's in the middle so out of that group of guys we just hope to find a rotation that fits what we need really.
What about Broderick Snoddy? Will he continue to run track this spring?
PJ:
Football will override the track part and so he'll be at practice. Whenever they have meets and those kind of things we'll try to work it out and let him do both.
Do you envision a bigger role for him?
PJ:
Yeah, I would hope so. Every time we got to the point last year where we were trying to get him in, he would get hurt or something would happen and it just didn't materialize but certainly we'd love for him to have a bigger role. But that's going to be up to him this spring to earn it.
Who are you looking at to replace Omoregie Uzzie on the offensive line?
PJ:
There will be some competition. We were able to redshirt a couple of classes of guys and we feel like we have some depth, so we'll just work it out. We'll end up with the best five playing if we have to move some guys around. With Jay (Finch) missing the spring,
Catlin Alford
,
Freddie Burden
will get a lot of reps. We'll slide some guys. We've got some guys,
Will Jackson
has played both guard and tackle. He can slide in there. He and Shaq (Mason) will probably be the starters and then
Morgan Bailey
and
Ray Beno
, who both started at tackle all year -- we could still have five guys who started a lot of games.
December, 1, 2012
12/01/12
7:14
PM ET
CHARLOTTE, N.C. -- It's a beautiful evening here in the Queen City, and the dedicated ACC fans who are here are enjoying themselves.


Let's get to the news first.
B.J. Bostic
will start in place of A-back
Orwin Smith
, the Jackets' leading rusher who injured his ankle in the Duke game and was also sidelined for last week's game against Georgia. Defensively,
Euclid Cummings
will start in place of defensive end
Emmanuel Dieke
. Florida State has not reported any lineup changes.
As for attendance, which is sure to be a hot button topic this year ...
More than 50,000 tickets were sold in advance, according to an ACC official. There are two giant, black, ACC-branded tarps blocking off four upper-deck sections in each end zone, and if the seats are empty, you'll be able to see them on TV, as the majority are Carolina Panthers blue. This year should be an anomaly, though, not a trend for the league championship game (at least ACC officials hope). Last year was great attendance for the Clemson-Virginia Tech rematch, but let's face it: this game has taken the backseat even to other news within the conference this week. Not to mention the Coastal Division was an absolute disaster, with both Miami and North Carolina ineligible to play in this game. Georgia Tech is here by default, and if it loses this game, it will drop to 6-7 and play in a bowl game thanks to a waiver granted by the NCAA.
And yet Georgia Tech is just one win away from playing in the Discover Orange Bowl.
It's the goal for both teams, regardless of how many fans come out to watch tonight.
January, 31, 2012
1/31/12
3:25
PM ET
We've already taken a look at what the recruiting needs were for the Atlantic Division. Let's shift our attention to the Coastal Division. Here's a look at where each school's biggest holes will be in 2012 or are anticipated to be in the near future:
DUKE

Offensive skill positions:
After last year's rare class that didn't include either a quarterback or running back, both positions are needed in this group. Quarterback
Thomas Sirk
-- the MVP of the 57th annual Florida Athletic Coaches Association North-South All-Star Football Classic last December -- has already enrolled in school while
Shaquille Powell
-- a PARADE All-American running back from Las Vegas -- has committed to the program. In addition, with David Cutcliffe's offense, wide receivers and tight ends also are a priority.
Kicker:
Will Snyderwine
, who earned first team All-America honors as a junior before struggling through a sub-par season in 2011, graduated, but Duke has a commitment from Ohio native
Ross Martin
, considered the No. 2 placekicking prospect in the country by ESPN.com.
Safety:
With the transition to a 4-2-5 alignment that utilizes three safeties, this becomes an annual point of emphasis. The Blue Devils lose All-American
Matt Daniels
to graduation.
GEORGIA TECH

Defensive line:
This is the most glaring need in the current class. The Yellow Jackets have to replace senior starters
Logan Walls
(DT) and
Jason Peters
(DE), but return
Izaan Cross
(DE) and solid backups
T.J. Barnes
(DT),
Emmanuel Dieke
(DE) and
Euclid Cummings
(DE). The Jackets are expected to sign about 18 players in this year's class, and five of them should be defensive linemen.
Wide receiver:
This is another glaring need after the departures of
Stephen Hill
, who decided to leave early for the NFL draft, and
Tyler Melton
.
Darren Waller
and
Jeff Greene
, who both played last season as true freshmen, have lots of potential, but the position still needs depth.
MIAMI

Defensive backs:
There's still a lot of depth with this group, and the return of
Ray-Ray Armstrong
and
Vaughn Telemaque
helps, but the Canes have to replace two starters in the secondary and have six commits in the current class to help do that.
Defensive line:
The Canes have to replace
Adewale Ojomo
,
Micanor Regis
,
Andrew Smith
and
Olivier Vernon
from last year's two-deep. The defensive end position was a particular focus in this class.
Receiver:
This position lost a lot with the departures of
Tommy Streeter
,
LaRon Byrd
and
Travis Benjamin
.
Allen Hurns
is now the veteran of the group, along with redshirt senior
Kendal Thompkins
. There are five receivers currently committed in this class.
Quarterback
: Beyond
Stephen Morris
, Miami has a lot of questions at the position and not a lot of experience. True freshmen
Gray Crow
and
Preston Dewey
are already on the roster, along with redshirt sophomore
Ryan Williams
.
NORTH CAROLINA

Defensive line:
This is one of the biggest areas of concern after the departures of
Quinton Coples
and
Tydreke Powell
.
Receivers
: Larry Fedora's offense will make good use of this group, but he needs to replace standout
Dwight Jones
.
Linebackers:
This group was thin to begin with in 2011, and now the Heels need to replace outgoing senior
Zach Brown
.
Kevin Reddick
is now the main man.
Safety:
UNC will have to replace two starters in
Matt Merletti
,
Charles Brown
and
Jonathan Smith
, so this position will have to be rebuilt for the future.

VIRGINIA
Defensive back:
This should be the main priority in this class. The Cavaliers will lose four DBs, including two starting safeties in Rodney McCleod and
Corey Mosley
, and standout cornerback
Chase Minnifield
. They'll also miss
Dom Joseph
, who came in for the nickel packages.
Demetrious Nicholson
, who started as a true freshman last year, is suddenly the veteran of the group.
Offensive line:
The Hoos will have to replace their starting center and left guard. Redshirt freshman center
Cody Wallace
could get a promotion, and sophomore right guard
Luke Bowanko
started in the bowl game. They've got some big bodies waiting in the wings, but they'll have some questions to answer here this spring.
Kickers:
This position needs to be rebuilt, as the Cavaliers lose
Robert Randolph
, who finished sixth all time in scoring at UVa, kickoff specialist
Chris Hinkebein
, and four-year punter
Jimmy Howell
. The position is wide open heading into the spring.
VIRGINIA TECH

Running back:
This one is a no-brainer, as the Hokies have lost four players here in the past two years.
David Wilson
and his backup,
Josh Oglesby
, were the latest to depart, and
Tony Gregory
just had ACL surgery and is out for the spring. The staff likes
Michael Holmes
, who redshirted last year, and
J.C. Coleman
enrolled last week.
Receiver:
The Hokies will miss
Danny Coale
and
Jarrett Boykin
, and next year's class has three seniors in
Dyrell Roberts
,
D.J. Coles
, and
Marcus Davis
. The future of the position is young, and the staff is still going after several uncommitted players pretty hard.
Defensive line:
This year's class already includes at least five committed defensive linemen, and the Hokies will be particularly thin at noseguard. They had some players graduate early who didn't play a lot, but at least provided depth.
Linebacker:
The Hokies have four committed, and are still chasing another just to build the depth. The staff missed on some recruits at this position last year and would like to make up for it in this class.
August, 15, 2011
8/15/11
9:00
AM ET
It was a busy weekend in the ACC. Here's a look back at the highlights from the scrimmages, according to the sports information departments of the teams that provided reports:

BOSTON COLLEGE
Coach Frank Spaziani told reporters after the 70-minute scrimmage that there were some good things, but "it's like a jigsaw puzzle with all the pieces in the box; they're not connected yet."
Offensive highlights:
Defensive highlights:
Linebacker Nick Clancy and defensive back Sean Sylvia led the team with four tackles each.
Sophomore linebacker Jake Sinkovec had one interception and one fumble recovery.

CLEMSON
Quarterback
Tajh Boyd
had an impressive performance, as he completed 10 of 12 passes for 168 yards and a touchdown to highlight the new offense in Clemson's 75-play scrimmage in Memorial Stadium on Saturday morning.
Offensive highlights:
Defensive highlights
:
The first-team defense did not allow a scoring drive.
Martin Jenkins led the team with seven tackles, including a tackle for loss.
Corico Hawkins had five tackles and a fumble recovery, while freshman defensive end Corey Crawford had five stops, including a sack.
Special teams highlights:
Clemson's three kickers, Chandler Catanzaro, Ammon Lakip and Brian Symmes were a combined 16-of-16 on the day in field goal attempts and extra points against a live rush.
Notable:
Three Tigers missed the scrimmage because they were going through graduation exercises across the street from Memorial Stadium in Littlejohn Coliseum. Starting offensive tackle Landon Walker, starting safety Rashard Hall and reserve defensive end Kourtnei Brown all graduated from Clemson on Saturday. It was especially noteworthy for Hall, who has been at Clemson just three years. He joins Nick Eason (now in the NFL with the Arizona Cardinals) as the only scholarship football players to graduate with two years of athletic eligibility remaining.
Four players missed the scrimmage due to injury. Those players were defensive back Xavier Brewer (sprained foot), defensive back Garry Peters (bruised calf), Andre Branch (head injury), DeShawn Williams (sprained ankle).

GEORGIA TECH
Georgia Tech coach Paul Johnson had mixed reviews after the Yellow Jackets' first scrimmage, which ran 90 minutes inside Bobby Dodd Stadium on Saturday morning.
"It was like a lot of first scrimmages, there were way too many balls on the ground and way too many penalties," Johnson said. "But we hit some big plays. When you play against each other there's positives and negatives on both sides. It's a starting place and we'll look at it and try to make some improvements."
Offensive highlights:
While no official statistics were kept, quarterback Tevin Washington passed for well over 100 yards, including a 63-yarder to senior A-back Roddy Jones. Redshirt freshman quarterback Synjyn Days threw the only touchdown of the day, to true freshman Jeff Greene.
Greene ran with the first unit Saturday as most of the veterans -- junior Stephen Hill, senior Tyler Melton, sophomore Jeremy Moore and junior Daniel McKayhan -- all sat out with injuries.
Washington scored the only other touchdown Saturday on a 1-yard QB keeper.
Defensive highlights:
Defensive end Emmanuel Dieke had a sack, true freshman Jamal Golden intercepted a Vad Lee pass, and Steven Sylvester and Isaiah Johnson both recovered fumbles.
Special teams highlights:
Sophomore Justin Moore booted a 45-yard field goal on his only attempt.
David Scully's 52-yard attempt was long enough, but just wide left.

MIAMI
The most important news out of Miami's first scrimmage was that quarterbacks
Jacory Harris
and
Stephen Morris
combined for five touchdown passes and only one interception. That sounds like improvement. Miami's quarterbacks combined for 407 passing yards on 38-of-52 passing for six touchdowns and only one interception.
Offensive highlights:
Receiver Tommy Streeter had the best offensive day for the Canes, catching five passes for 71 yards and three touchdowns, two of which came from Harris.
Lamar Miller had runs of 16 and 31 yards on the opening drive.
Defensive highlights:
Senior defensive back JoJo Nicolas led all defenders with eight tackles (six solo), with two tackles for loss.
Ramon Buchanan and freshman Gionni Paul and each had six total tackles, with Paul also recording a tackle for loss.
The defense totaled eight tackles behind the line of scrimmage for a total loss of 29 yards

VIRGINIA TECH
The Hokies' offense was the highlight, but what does that mean for the defense? Coach Frank Beamer pointed out that there were some long plays allowed, as the offense racked up 398 yards of total offense in the 78-play scrimmage at Lane Stadium on Saturday afternoon. The touchdowns came against Tech's second- or third-team defense, though, so the jury is still out.
"I thought it was a good first scrimmage -- better than most," Beamer said, according to the team's scrimmage report. "You take into consideration that you're trying to get everyone some work, people who don't know quite what they're doing, and that makes things a little ragged. I thought overall, though, it was a sharp scrimmage. The quarterbacks made some nice plays and Wilson got a couple of long plays against the defense, and we need to see what's going on there. Overall, the effort was good and the play was good."
Offensive highlights:
Backup quarterback Mark Leal led the quarterbacks with 116 yards passing, completing 6 of 13. He also threw an interception. Beamer said Leal is No. 2 on the depth chart behind Logan Thomas. Ju-Ju Clayton, who has dropped to No. 3 on the depth chart, completed 6 of 10 for 51 yards, while starter Thomas completed 4 of 8 for 79 yards, with an interception, in limited action.
Tailback David Wilson scored against the Hokies' second-team defense on a 22-yard run. Wilson led all rushers with 57 yards on five carries. Freshman Michael Holmes added 54 yards rushing on a game-high 11 carries.
Defensive highlights:
Freshman tackle Luther Maddy led the team with eight tackles, including two for a loss, and a sack. Freshman Michael Cole added six tackles, while Telvion Clark and Jack Tyler each finished with four.
Barquell Rivers had three tackles and an interception.
Jayron Hosley and freshman Ronny Vandyke also had interceptions. Hosley intercepted a Logan Thomas pass, while Vandyke intercepted a Trey Gresh attempt.
Special teams highlights:
The kickers connected on 5-of-6 attempts. Cody Journell hit from 35, 22 and 35 yards, while Justin Myer drilled a 52-yarder and a 28-yarder. "Cody's kicking extremely well," Beamer said. "Myer has a load of potential, and he needs to win some of the kicking contests during the week. That shows consistency, and that's where he is right now. Cody is usually winning it or right in the running at the end."
July, 10, 2009
7/10/09
9:20
AM ET
Posted by ESPN.com's Heather Dinich
Much of the attention Georgia Tech has received this preseason has been focused on Jonathan Dwyer and the Jackets' stable of running backs. If they're going to contend for the Coastal Division title, though, the defense will have to hold its weight, too, and the Jackets have to replace three of four starters up front. I caught up with defensive coordinator Dave Wommack to check in on the defense heading into summer camp.
| | |
| --- | --- |
| | |
| | Todd Kirkland/Icon SMI |
| | Entering 2009, Dave Wommack has some holes to fill on his defensive line. |
Are you changing anything? I've heard some rumblings about maybe a different scheme this year.
DW: We may change up some things a little bit, but I think it may be based [more] on personnel than it will anything else. We'll see when we get into two-a-days, but there's not going to be any drastic changes.
Are there things you saw in the spring on the defensive line that give you concerns that are forcing you to tinker with it?
DW: [He laughed]. Just inexperience. When you lose three guys to the draft, it's just a matter of inexperience. I think we've got some good, young guys that are coming up. They just haven't played very much. That's the biggest thing, but no, that's not why we're changing. It's really our experience is more in the secondary, maybe get more five DBs on the field more than anything else.
Yeah, tell me about that group a little bit. You have a lot of guys coming back, especially with Morgan Burnett.
DW: It kind of flips. Now your most-experienced players are guys that have played one year. I'm looking forward to the secondary. I think it will be a strength for us with Morgan leading the way.
What more can he do? What are you expecting from him this year?
DW: Really that's the thing that concerns me as much as anything, because Morgan wants to make every play. It's really, Morgan, stay within the framework of your defense. Don't let your eyes get you in trouble. The play is going to come your way. You're a featured stop for us on defense, so don't try to do more than what you need to do because the defense will break down. So I don't think it's so much asking him to do more, just really do what you've done. Don't try to do too much.
March, 23, 2009
3/23/09
5:35
PM ET
Posted by ESPN.com's Heather Dinich

At 6-foot-7, 325 pounds, and from the football-rich state of Alabama, massive Georgia Tech redshirt freshman T.J. Barnes wowed a lot of college coaches during his recruiting process as a potential offensive tackle or guard -- two positions he had absolutely no interest in playing anymore. Alabama and Louisville were among his suitors, as was Auburn, where his father, Terry Jones, was a defensive lineman and his cousins, Fred Baxter and Randy Hart both played.
"All my offers were for offense," Barnes said. "Nobody really believed I could play defense except for Auburn and Georgia Tech."
Georgia Tech had no doubt he'd have a future as a defensive tackle.
"That's all I wanted to do," Barnes said, "play defense."
That and make a name for himself somewhere other than Auburn, where expectations to continue the family legacy would be high.
This spring, Barnes will get his chance to do both.
Georgia Tech only lost six starters from last year's nine-win team that tied with Virginia Tech for the Coastal Division title, but three of them were on the defensive line and had combined for 87 career starts. That leaves the door wide open for Barnes -- and several other young players -- to win starting jobs this spring and summer. The unit lacks both depth and experience, and is easily the Yellow Jackets' biggest question mark heading into the fall, as junior defensive end Derrick Morgan is the only player returning with any starting experience.
"Coach (Giff) Smith instills in us we have to be the best group on the team," said Morgan, who cracked the starting lineup as a true freshman in 2007. "That's what we strive for. I know we're losing four seniors, but we're not looking at it as a lack of talent. We have talent. We don't want to lower our expectations coming into next year just because we're losing four seniors. We're setting the bar high."
Morgan has set the standard high for himself. He was second on the team and eighth in the ACC with seven sacks last year. He had 9.5 tackles for loss and was tied for second nationally in fumble recoveries with four. He led all of Tech's linemen with 51 tackles, but soaked up his teammates' knowledge on a daily basis.
Former starters Vance Walker, Michael Johnson and Darryl Richard often shared different pass rush techniques and how to see blocks. Morgan said he's still learning from the trio as they audition for NFL scouts, and give him advice on going through the NFL combine and handling his post-collegiate career. They've also added to the growing list of voices telling him he has to be a leader this season.
"I'll probably have a bigger leadership role amongst my teammates," said Morgan, a junior who recently turned 20 years old. "I'm ready for that. A couple of coaches have said I have to step up and become one of the leaders of our team, and I have no problem doing that."
He'll be anchoring a group that includes defensive end Robert Hall and defensive tackle Ben Anderson, both who played significant snaps last year. Defensive end Jason Peters returns, along with defensive end Anthony Egbuniwe, who played sparingly last season after transferring from Tulsa. Defensive end Emmanuel Dieke (D-A-K) enrolled early and has impressed the staff, and defensive end Antonio Wilson is a redshirt freshman who didn't start playing football until his junior year in high school. There's no shortage of bodies at end, but experience and the interior line is another matter.
"Anytime you lose guys that have played as much football as they have, there's an adjustment," Smith said, "but I think we've done a good job of keeping talent coming in. Although it will be a little bit inexperienced, I think it's a great challenge. It's like I told them last year, all the eyes were on us for one reason, now all the eyes are on us again for a different reason. I think they're excited about the challenge and I think people will be surprised when they see the caliber of players we have at Georgia Tech."
Morgan said he's heard all off-season about what the Yellow Jackets don't have coming back on the defensive line.
"I kind of expected that," Morgan said. "We're just going to take that with a grain of salt, work hard, and use it as motivation, which is kind of an advantage. Teams are going to probably underestimate our d-line and not take as much time to game-plan for us like they did last year. We're going to have to go out there and prove ourselves, which is no problem for us."
Like Barnes, Morgan, too, has something to prove. He said he wants to silence come critics who don't think he can be as effective as he was last year without the veteran lineup beside him.
"God-willing that's what I'm aiming for, that's what I'm working for," he said of a breakout season. "I know there are going to be skeptics who say, well, can he do the same thing he did last year without the three veterans? I want to go out there and prove I can do everything I did last year and more."
There's no doubt the Yellow Jackets will need him to.