NCF Nation:

Emmett Merchant
December, 10, 2010
12/10/10
10:30
AM ET
For Navy players, the objective is simple: Keep the winning streak alive.
For Army players, the objective is simple: Do everything it takes to break the losing streak.
[+] Enlarge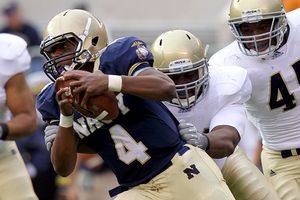 Nick Laham/Getty ImagesNavy quarterback Ricky Dobbs is hoping to lead the Midshipmen to their ninth straight win over rival Army.
Nine years have passed since Army beat Navy, a source of stigma for the Black Knights, a source of pride for the Midshipmen. With both academies headed to bowl games in the same year for the first time since 1996, we could see a more competitive game than we have in several years when they square off Saturday in Philadelphia.
But does that mean Army is going to break the eight-game skid, the longest for either team in the series?
"This has been the best season we've had in quite some time, so with that, I just believe this is our best shot at beating Navy," Army defensive end Josh McNary said. "No one is lacking in confidence. There's nothing more that we want to do than beat Navy.
"All the accolades I've had are negligible if we haven't beaten Navy. If 10 years down the road when the question comes up, and I'm not able to say I beat Navy, I can't be as proud as I'd like to be."
Army is playing catch up to what has been an impressive decade of football for Navy, which had won seven straight Commander-In-Chief Trophies until Air Force claimed it this season. According to ESPN Stats & Information, Navy has 69 wins since 2003, more than traditional powers Nebraska (66), Penn State (65), Miami (64), Michigan (61) and Notre Dame (53). By contrast, Army has won 26 games in the same time span.
What has made Navy incredibly special is its incredibly special senior class. If Navy beats Army and San Diego State in the S.D. County Credit Union Poinsettia Bowl, the Midshipmen will have back-to-back 10-win seasons for the first time in school history.
That would also give the seniors 36 wins, which would tie the class of 1909 for the most wins by a class at the Naval Academy.
"We all play for each other," Navy defensive back Wyatt Middleton said about 2010 senior class. "I can honestly say the guys on the football team are my best friends and I'm pretty sure it goes the same way for them. We've all been friends since first day, and when it comes down to football, the important part is communication. It's a lot easier to talk to a friend than a stranger."
There are plenty of stud players in this class of 24 seniors. Middleton has started 46 straight games and has made 198 solo tackles in his career, tied for the 11th most in the NCAA among active players. He and quarterback
Ricky Dobbs
have earned their team captaincies. Dobbs set the NCAA record for rushing touchdowns by a quarterback last season with 27, and has 48 in his career, ranking No. 5 in NCAA history.
He needs just two rushing touchdowns to pass Kareem Wilson of Ohio University for fourth. Then there's center Jeff Battipaglia, who has started 38 straight; and cornerback
Kevin Edwards
, who has started 25 straight. Safety Emmett Merchant and offensive tackle Mike Molloy made big contributions as well before concussions cut their careers short.
"There are some things from a football standpoint that will be unparalleled, but I'm more gratified for the things they've done off the field," Navy coach Ken Niumatalolo said. "There's so much more to being a Navy football player than what happens on the field. They've done everything we've asked of them. When you recruit guys, you hope things will turn out a certain way for them. To have a chance to finish on top in everything we've asked them to do is gratifying."
There is another pretty impressive streak Navy has going over Army as well. The current Navy senior class has not allowed a touchdown to Army in its three previous meetings. The Midshipmen have outscored the Black Knights, 89-6 over the last three years. No Army or Navy team has ever kept the other out of the end zone in four straight years.
Whether that happens or not is immaterial, as long as Navy keeps that win streak alive.
"Since the first day we got to the Academy, they've instilled in us beat Army," Middleton said. "This isn't only football. From an academic and military standpoint it's always been beat Army, beat Army, beat Army. It's all we know. Not to do that would be a huge letdown."
November, 19, 2010
11/19/10
12:18
PM ET
October, 21, 2010
10/21/10
11:00
AM ET
If Navy coach Ken Niumatalolo has sprouted a few gray hairs, or even ripped out a few, you could hardly blame him.
Navy (4-2) has taken on a life as the "Cardiac Mids" as it goes into its big game against Notre Dame (4-3) on Saturday, living on the line between barely winning and barely losing.
[+] Enlarge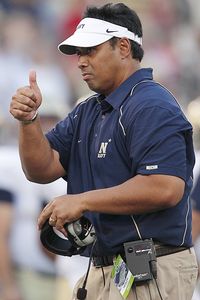 AP Photo/Rob CarrLast-minute finishes have become the norm for Navy and coach Ken Niumatalolo this season.
Five of Navy's six games this year have been decided by eight points or less. In three of its four wins, the Midshipmen overcame halftime deficits. In its two losses, Navy was a few plays away from turning them into wins.
"We feel like we're three plays away from being undefeated," Niumatalolo said in a phone interview. "It seems like every week we go through this."
He cites a failed rush on fourth-and-goal late in a 17-14 loss to Maryland as one of those plays. Navy had a blocked punt that Maryland converted into a touchdown, and a holding call that negated a run down to the 1 in a 14-6 loss to Air Force.
That was a particularly devastating loss, considering the ramifications. Navy had won seven straight against Air Force, and seven straight Commander-In-Chief Trophies. The loss gives Air Force a leg up in the competition for the trophy, but both teams still have to play Army.
Niumatalolo had no idea how his team would respond to the loss, and had no idea what he would say when he gathered the players for a team meeting the following Monday.
"I had some thoughts prepared, but the captains had already had a team meeting, and they told the team, 'We have so much to play for. We're not going to let that loss destroy the rest of our season,' " he said.
Navy has won two straight since that loss, though neither win came easily. In a 28-27 triumph against Wake Forest,
Ricky Dobbs
threw a 6-yard touchdown pass to
Greg Jones
with 26 seconds remaining after trailing 17-14 at halftime.
Then last week, Navy dug itself a 14-0 hole at the break before rallying to beat SMU28-21.
"The drive and determination that we have offensively and defensively -- the never die, never quit mentality we have – is what makes the difference," Dobbs said. "We know we have to finish strong."
Of course, Navy would love to get out to quicker starts to begin games. Dobbs has taken responsibility for much of the offensive struggles this season because he has not been playing at the level he did in 2009. After setting an NCAA record for rushing touchdowns by a quarterback last season with 27, Dobbs only has five rushing touchdowns this season and is averaging a career-low 2.9 yards a carry.
There are several reasons for that. First, Dobbs says he pressed early because he felt the responsibility to lead this offense, and the pressure that comes along with the high expectations placed on his shoulders. Second, teams began keying in on him, forcing him to reluctantly pitch the ball out. Third, he tweaked his ankle in the opener and dealt with a groin injury, too.
Niumatalolo said he takes some blame for what has happened to Dobbs as well. Dobbs sat out spring practice because of knee surgery, and the team limited his contact during fall practice.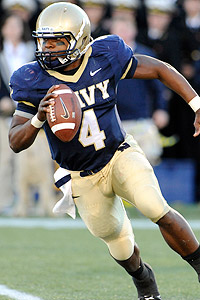 Mark Goldman/Icon SMINavy QB Ricky Dobbs is playing better after working through some injuries early in the season.
"We put a bubble around him so to speak," Niumatalolo said. "We tried to simulate ball security as much as we could with guys trying to rip at it. You don't want your quarterback to get hit, but when he got hit in the Maryland game, it was the first time he got hits since December. I feel like I could have done more things to help him coming back."
Niumatalolo and Dobbs both say the quarterback is playing more like the Dobbs we saw last season because he has stopped pressing and is having more fun. Dobbs also says he feels as healthy as he did going into the season.
"I feel things are coming together. I just have to calm down and not overthink things, let the game come to me," Dobbs said. "If f I'm having fun, then the sky's the limit for this whole offense. They can feel my energy and my drive and they can fly off that, too."
Navy also has done a good job overcoming injuries to many of its starters. Right tackle Matt Molloy (concussions), nose guard Shane Bothel (toe) and receiver
Mike Schupp
(knee) are out, while fullback
Vince Murray
(knee) is questionable and safety Emmett Merchant (concussion) is doubtful for the game. Kicker Joe Buckley (leg) is also out after getting hurt last week against SMU on the final extra-point attempt of the game.
Despite some big losses, Navy has had players step up.
Alexander Teich
, a former starter himself, replaced Murray and had the best game of his career against SMU, rushing for a career-high 95 yards and two touchdowns. His 4-yard touchdown run with 1:38 remaining won the game.
Navy will need big games from Dobbs and Teich to have a shot Saturday. But the way things have gone this season, make sure not to miss the fourth quarter.
That has proven to be must-see TV.