NCF Nation:

Enrique Davis
September, 23, 2011
9/23/11
10:51
AM ET
Houston Nutt has always taken pride in a treacherous rushing attack. Mostly because its success relied on multiple bodies.
There was Darren McFadden and Felix Jones at Arkansas. And more recently at Ole Miss he's had the combinations of Dexter McCluster, Cordera Eason,
Brandon Bolden
,
Jeff Scott
and even a little
Enrique Davis
.
In Nutt's three seasons at Ole Miss, his teams have averaged 186.5, 183.6 and 207.6 yards per game during a full season. Most of that damage was done with the help of the use of multiple running backs in the offense.
[+] Enlarge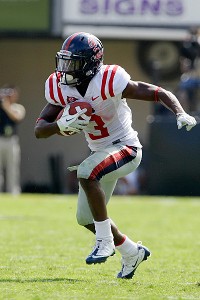 AP Photo/Mark HumphreyRunning back Jeff Scott has had to carry the load for Mississippi because of injuries.
Fast forward to 2011, and Nutt finds himself without a strong running game and his Rebels are 1-2, averaging 109 rushing yards a game, which ranks 11th in the SEC.
Nutt watched as his top two backs -- Bolden and Davis -- went down with injuries in Week 1, leaving Scott to carry the load. Scott has been successful, but not having that second punch in the backfield has hurt the Rebels' offense.
Bolden returned last week, but Ole Miss still couldn't run the ball effectively. Without a successful multiple rushing attack, Nutt thinks any offense will struggle in this league.
"It's a must," Nutt said of having a multi-running back system in the SEC. "You probably gotta have three -- two for sure -- but you need three and sometimes four. This is the guy that's going to get hit … this is the guy that's gonna take some shots. How durable you are at the position is really the key for the year."
Look at past three national champions.
In 2008, Florida basically used four rushers in quarterback Tim Tebow, wide receiver Percy Harvin and running backs
Chris Rainey
and
Jeff Demps
. Each eclipsed the 600-yard mark and had four or more touchdowns. The Gators averaged 231.1 rushing yards per game and finished 13-1.
Alabama's 2009 team had one of the toughest running back duos around in Mark Ingram and
Trent Richardson
. Ingram won the Heisman Trophy after rushing for 1,658 yards and 17 touchdowns. Richardson, then a freshman, had 751 yards and eight scores.
Of course, Auburn's perfect run last season was fueled by the three-headed rushing monster of quarterback Cam Newton and running backs
Michael Dyer
and Onterrio McCalebb. Newton and Dyer both rushed for more than 1,000 yards (Newton had 1,400-plus) and McCalebb had 810, giving Auburn a staggering 284.8 rushing yards per game.
Currently, four -- Alabama, Florida, Auburn and Vanderbilt -- of the top six rushing teams in the SEC consistently utilize multiple running backs. Tennessee, Ole Miss and Kentucky are at the bottom of the league in rushing and don't.
South Carolina, the SEC's top rushing team, runs on
Marcus Lattimore
power, something coach Steve Spurrier worries could begin to weaken over time without some help. Lattimore already leads the nation in yards (534) and carries (87).
Alabama coach Nick Saban understands Spurrier's concern, saying the use of more running backs helps keep players fresh and the offense firing. Saban's combo of Richardson and
Eddie Lacy
has combined for 619 yards and 11 touchdowns.
"I don't think there's any question about it that if you're going to be able to run the ball it's always good to have a guy who's healthy and fresh out there that can give a little change of pace and have a little juice all the time," Saban said. "That's been beneficial for us for several years now."
Seeing two talented running backs lineup together can also have defenses spinning, wondering who and how to attack.
"We're going to be anywhere from empty to three backs," said Florida coach Will Muschamp, whose rushing attack averages 210.3 yards a game. "That's what's difficult in preparing for our offense.
"There are a lot of multiple formations and shifts and different things that happen with the same personnel on the field."
For Richardson, he's thrived in a two-running back operation and loves it, even though he's the go-to guy. It not only keeps him energized but it makes wearing down defenses that much more fun.
"It's like, how are you going to control these two guys?" he said. "With the rotation that they have, and with the features they have to bring to the field, it's kind of hard to slow these guys down."
September, 12, 2011
9/12/11
9:22
AM ET
»
Power Rankings
:
ACC
|
Big 12
|
Big East
|
Big Ten
|
Pac-12
|
SEC
Another week means more movement in our power rankings:
1. LSU:
The Tigers (2-0) have shown that you don't need a powerful offense to succeed. It's all about defense for LSU and that defense has been very good for the Bayou Bengals. After shutting down Oregon in Cowboys Stadium, LSU sported the purple jerseys in its home opener and totally dismantled an over-matched Northwestern State team, allowing just 95 total yards of offense. Moving the ball against this group looks like it will be a tall order for any team this fall.
2. Alabama:
The Tide (2-0) isn't flashy on offense by any means, but this team manages the game well and is efficient.
AJ McCarron
seems to have cemented himself as the starter in Tuscaloosa after an impressive day in Happy Valley over the weekend. Help will eventually be on the way on offense, once receiver Duron Carter is cleared to play. He should provide a much-needed deep threat to the offense. Like LSU, consistently moving the ball on this defense is beyond hard.
3. Arkansas:
This team has quietly put up a ton of points in its first two games. The Razorbacks (2-0) have outscored their opponents 103-10. Granted, Arkansas isn't playing top-level talent, but we can see that this offense can still move the ball, despite losing Ryan Mallett to the NFL draft and
Knile Davis
to a knee injury. It will be interesting to watch how injuries in Week 2 affect the Hogs. Quarterback
Tyler Wilson
left the game with concussion-like symptoms, receiver
Jarius Wright
suffered a strained knee, and defensive end Jake Bequette injured his hamstring. Arkansas won't need them against Troy this weekend, but they'll need to be healthy for the trip to Alabama to close the month.
4. South Carolina:
The defense hasn't been pretty, but it made the necessary plays to squeak by Georgia in Athens on Saturday. South Carolina (2-0) has really been pushed in the first two weeks, but the Gamecocks have showed resiliency. They aren't winning the way they'd like to, but the Gamecocks are undefeated and have the early lead in the SEC East. Teams know
Marcus Lattimore
and
Alshon Jeffery
are going to be heavily targeted and both are still making plays.
5. Florida:
We still don't really know what to expect from the Gators (2-0). Florida's defense has looked faster and much more aggressive under new head coach Will Muschamp and defensive coordinator Dan Quinn, but Florida hasn't faced SEC-quality opponents. This week, the Gators will as Tennessee comes to town with its high-flying offense.
Chris Rainey
has been the star on offense and
John Brantley
isn't making a lot of mistakes, but the playbook will have to open up as the Gators get ready for the conference season.
6. Auburn:
This team just doesn't know how to lose. Auburn (2-0) has won a nation-leading 17 straight games -- 10 by eight points or fewer. The Tigers kept that winning streak intact after a back-and-forth slugfest with Mississippi State Saturday. The defense still has a lot of question marks, but when a play had to be made, the Tigers did it. The offense isn't too exciting, but plays were made at critical times and
Michael Dyer
looked like his running legs were back as he made the Bulldogs' defense look silly. Will taking it down to the wire eventually catch up with these cats?
7. Tennessee:
Well, we know the Volunteers (2-0) will keep the scoreboard lights on. Quarterback
Tyler Bray
has looked like the league's best quarterback through the first two weeks, passing for 678 yards and seven touchdowns. Receivers
Da'Rick Rogers
and
Justin Hunter
have made things easy for Bray, combining for 31 catches for 502 yards and five touchdowns. The Vols' offense will get a major test in Gainesville this weekend, where the winner will become top contender to challenge South Carolina for the division.
8. Mississippi State:
The Bulldogs (1-1) came into the season as a trendy dark horse pick in the West, but left the weekend with yet another loss to the West under Dan Mullen. Mississippi State's defense showed it misses defense coordinator Manny Diaz and its three starting linebackers from last year as Auburn carved up the defense for 235 rushing yards.
Chris Relf
was most of the offense for the Bulldogs Saturday, until running back
Vick Ballard
finally got things going late, but Mississippi State needs much more from its receiving corps.
9. Georgia:
This group of Bulldogs (0-2) has had a rough start to the season, but things get a little lighter from here on out. After losing a tough one in the Georgia Dome to Boise State, Georgia dropped a heart-breaker to South Carolina at home. Fans are no doubt growing more impatient, but the Bulldogs aren't out of the East race by any means. It will be a fight to get ahead now, but the season is far from over. It's all about staying together and making sure the Bulldogs are mentally ready for the rest of the season.
10. Vanderbilt:
Getting that win over Connecticut Saturday was huge. The confidence is through the roof in Nashville and the Commodores (2-0) have a two-game winning streak for the first time since 2008. New coach James Franklin injected some swagger into this Commodores team and it showed when Vandy was down 21-14 in the fourth and scored 10 unanswered points. This defense is flying around and has been much more aggressive under defensive coordinator Bob Shoop.
11. Ole Miss:
The Rebels (1-1) got into the win column over the weekend, but the offense still has a ton of question marks around it.
Jeff Scott
showed that he is a solid option at running back with
Brandon Bolden
and
Enrique Davis
out with injuries, but he looked like the only consistent weapon Ole Miss has on offense. The defense, which played very well against BYU in the first week, made things interesting against Southern Illinois by giving up 21 points in the second half.
12. Kentucky:
The Wildcats (2-0) might be undefeated, but the offense is still struggling, especially in the passing game.
Morgan Newton
has been a starter before, but he hasn't looked very comfortable out there on the field yet. He has just 211 yards passing, two touchdowns and four interceptions in two games this year. Someone needs to step up alongside
La'Rod King
in the receiving game to give Newton some help. Two bright spots have been a faster, more effective defense and the play of freshman running back
Josh Clemons
, who has 165 rushing yards and two scores this year.
September, 11, 2011
9/11/11
12:56
AM ET
Ole Miss had to be sick about last week's performance on offense. This week, the coaches had to feel a little bit better, as the Rebels
beat Southern Illinois 42-24
. But there are still issues in Oxford.


Running back
Jeff Scott
, who filled in for the injured
Brandon Bolden
(ankle) and
Enrique Davis
(knee), had quite the day, rushing for 118 yards and three touchdowns. He also returned a punt 67 yards for a score.
Other than Scott, Ole Miss couldn't generate much momentum on offense.
Zack Stoudt
started for the Rebels and passed for 118 yards and a touchdown, but the big play was lacking in the passing game, as the longest completed pass went for 26 yards to Vincent Sanders.
Randall Mackey
came in after being suspended for the first game, but attempted just one pass for 18 yards and carried the ball six times for 36 yards.
Last week's starter,
Barry Brunetti
didn't record any stats.
While the defense took tiny baby steps forward, the defense slipped a little, giving up more than 200 rushing yards and allowing the Salukis to make it interesting with a 21-point second half. But the Rebels did force four interceptions.
Who knows what's going on with this team at this point? The offense has to find consistent playmakers at receivers in order to have any sort of threat through the air. Otherwise, defenses are going to load the box against Scott, who is Ole Miss' best weapon at the moment.
A win establishes some confidence, but a trip to Vanderbilt looms and the Commodores are as confident as ever after a 2-0 start.
April, 15, 2011
4/15/11
10:40
AM ET
Spring game

Questions answered
: The Rebels' running game should be solid this fall. Work horse
Brandon Bolden
didn't miss a beat before suffering an ankle injury during one of the scrimmages. The injury doesn't seem to be serious, which is a good sign. He's gotten some help from speedster
Jeff Scott
and
Enrique Davis
. Davis appears to be having his best spring. The offensive line will also be one of Ole Miss' strengths. With All-SEC candidates in tackles Bradley Sowell and Bobby Massie, the Rebels return seven players that started two or more games each on the offensive line last year.
Questions unanswered
: Ole Miss entered spring with a massive quarterback battle and will end it that way. With senior
Nathan Stanley
abruptly leaving the program,
Randall Mackey
, Zack Stoudt and
Barry Brunetti
will look to put on a show in Saturday's spring game. Mackey made the most progress, taking the lead at the position, but word out of Oxford is that Brunetti might have the best set of tools, but has yet to be granted a waiver by the NCAA to be eligible to play this fall after transferring from West Virginia in January. Stoudt might not have the speed, but he could have the best arm. The wide receiver position still seems to be very inconsistent. Playmakers haven't been found, which doesn't help the inexperience at quarterback. Junior
Melvin Harris
has the most experience, but even he has been shaky at times. The secondary is still a concern for the Rebels as well. Only three cornerbacks entered spring with experience, but Marcus Temple missed all of spring after hernia surgery.
Spring stars
: Mackey really impressed this spring. The former junior college standout has great wheels for a quarterback, but has also shown tremendous arm strength. He's overcoming a speech impediment to become a real leader for the Rebels. Corner Wesley Pendleton also came from the JUCO ranks and while he's still pretty raw, he's had a solid spring. He's got great speed and athleticism, which helps him overcome some of his coverage mistakes. Fellow corner Charles Sawyer has also made strong improvements after being benched earlier in the spring. Linebacker Mike Marry had a pretty successful spring for the Rebels.
Of note
: The most crushing news of the spring came when linebacker -- and defensive leader -- D.T. Shackelford suffered a torn anterior cruciate ligament in his knee this spring. He's likely done for the year, leaving a gigantic hole on Ole Miss' team. … Defensive end Kentrell Lockett (knee) was granted a sixth year of eligibility by the NCAA and while he didn't practice this spring he will be back this fall. … Junior linebacker Joel Kight underwent surgery to repair a meniscus tear, but should be fine for the fall. ... Cornerback Julian Whitehead left the team before spring for personal issues. … Offensive lineman
Michael Brown
missed spring with a disc issue in his back. … Defensive end Gerald Rivers is out with a knee injury.
August, 19, 2010
8/19/10
6:14
PM ET
Now that everybody in the SEC has gone through at least one scrimmage in the preseason, what do we know now that we maybe didn't know when practices began earlier this month?
Right tackle battle:
The consensus coming into the preseason was that junior college transfers Brandon Mosley and Roszell Gaydon would battle it out for Auburn's right tackle job. But after three scrimmages, sophomore John Sullen and junior A.J. Greene (the other one) are the two guys fighting it out for the final starting spot on Auburn's offensive line, which returns four senior starters.
Davis sighting:
In danger of being labeled a bust, Ole Miss junior running back
Enrique Davis
has played some of his best football this preseason and displayed some of the same moves that made him one of the top running back prospects in the country when he signed with the Rebels.
Please remove your hat:
You better not wear a Florida hat to one of Arkansas' press conferences. If you do, you might not have a job the next day, especially if you're in the media. Wonder what would have happened if Renee Gork had been wearing one of those Hog heads instead of a Gators cap?
Lee to baseball:
Zach Lee was intent on playing football and baseball at LSU and possibly could have played his way into some snaps this season at quarterback for the Tigers. That all changed when the Los Angeles Dodgers offered him a $5.25 million signing bonus, leaving LSU with just two scholarship quarterbacks on its roster.
Brown is back:
Nobody questioned Jeremy Brown's ability, but there were major questions about his back. So far, so good for the Florida sophomore cornerback, who's in line to replace Joe Haden after missing two straight seasons with chronic back problems. Brown is due some good luck.
Turning the Tide:
Nobody's saying Alabama is going to be subpar on defense, but the personnel losses from a year ago have been obvious so far during camp. It's a secondary that has a ways to go, especially when you consider how much Nick Saban likes to use five and six defensive backs.
Freshmen of influence:
It's still a little bit of a crap shoot, but the early returns are that South Carolina running back Marcus Lattimore, Auburn receiver Trovon Reed, Auburn running back Michael Dyer, Tennessee receiver Justin Hunter, Tennessee offensive tackle Ja'Wuan James, Alabama cornerback DeMarcus Milliner, Arkansas defensive tackle Byran Jones, Florida defensive end Ronald Powell and Florida defensive tackle Sharrif Floyd are 10 true freshmen we're going to see early.
Masoli's impact:
We haven't heard much from Jeremiah Masoli this preseason. He's been extremely guarded with the media, but he's fit in well with his teammates and has made a difference for Ole Miss offensively with his ability to scramble around and make plays.
Getting defensive:
Arkansas coach Bobby Petrino told us that the Hogs would be improved on defense. The real proving ground comes in several weeks, but star quarterback
Ryan Mallett
is a believer. He said the Hogs have been aggressive, fast and nasty on defense this preseason.
Houston, we have a problem:
It's clear that Georgia's Justin Houston is going to be a problem for opposing offenses, and it's equally clear that he's a perfect fit as an outside linebacker in the Bulldogs' new 3-4 defense. He had 7.5 sacks last season. Here's betting he gets 10-plus this season.
April, 22, 2010
4/22/10
9:00
AM ET
Nathan Stanley
says he was as surprised as anyone when he got the news in January that
Jevan Snead
was turning pro.
He knew Snead was thinking about it, but like most people, felt like Snead would return to Ole Miss for his senior season.
[+] Enlarge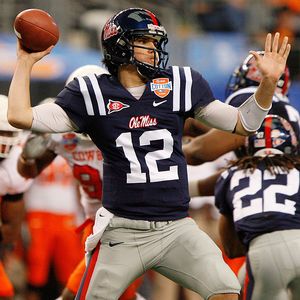 Matt Pearce/Icon SMINathan Stanley is the front-runner to take over as Ole Miss' starting quarterback.
"I found out when I got back from Christmas break," Stanley said. "The first thing that goes through your mind is that you didn't really see it coming. Then you think, 'Wow, he's leaving. This is my shot, my chance. I'm going to have to buckle down.' "
Stanley, a 6-foot-5, 215-pound sophomore, did just that for much of the spring and established himself as the clear-cut starter at quarterback. Redshirt freshman
Raymond Cotton
also played well, particularly in the spring game, but he's got a lingering shoulder problem.
The Rebels are hopeful that Cotton will be able to make it through the season before having surgery, but there are no guarantees.
For now, Stanley is the only sure thing, although junior college newcomer Randall Mackey is set to arrive this summer.
"The main thing for me this spring was getting out there and earning everyone's trust," Stanley said. "Everyone looks to the quarterback to be the leader of the offense, and I knew I had to step up and prove that I was that guy."
Snead threw 20 touchdown passes last season, but he also threw 20 interceptions. And 15 of those interceptions came in SEC contests.
When the Rebels got in trouble last season, they turned around and handed the ball to
Dexter McCluster
. They won't have that luxury next season with McCluster gone.
That means Stanley will have to walk that fine line of producing enough big plays to jump-start the Rebels' offense, while not trying to do too much and turning the ball over.
He feels like his strength is decision-making.
"I want to be real level-headed and real calm," Stanley said. "My job is to put the team in a position to be successful."
Not only is McCluster gone, but so is leading receiver
Shay Hodge
. Stanley thinks the Rebels will spread it around more next season and be even more diverse on offense.
"Dexter will be hard to replace, but we have guys who played behind him last year like
Jesse Grandy
, who's definitely a game-breaker," Stanley said. "All he needs is the ball. He's got the speed, got the hands. He's got it all. I feel like he will sort of take Dexter's place."
Stanley said sophomore
Melvin Harris
and redshirt freshman
Ja-Mes Logan
also made big strides this spring, and that junior running back
Brandon Bolden
looked like his old self now that he's about 10 pounds lighter.
Senior receivers
Markeith Summers
and
Lionel Breaux
helped set the tone for the offense with their consistent play, and the most pleasant surprise was junior running back
Enrique Davis
, who looked like it was finally clicking for him.
"He makes us a whole different offense," Stanley said. "He really seemed to perfect his craft. He's big and fast and is really going to help us out."
Stanley will take all of the options he can get on offense in 2010. The more, the better.
"We'll all lean on each other," Stanley said. "It's going to take more than just one guy anyway, but I feel like we're on the right track and have the time to get there."
October, 29, 2008
10/29/08
11:37
AM ET
Posted by ESPN.com's Chris Low
Looking purely at the hard numbers, Auburn and Ole Miss are having comparable football seasons.
| | |
| --- | --- |
| | |
| | AP Photo/Rogelio V. Solis |
| | Auburn's Tommy Tuberville might be in trouble despite having won 42 football games in the four seasons prior to this one. |
They meet Saturday at Vaught-Hemingway Stadium with identical records. Both teams are 4-4, 2-3 in the SEC. Both teams are fighting to get bowl eligible. Both teams are jockeying for that third spot in the Western Division standings, and both teams have lost some bitterly close games this season.
But that's where the similarities end.
Take a stroll on the Plains these days and check out the climate. Then do the same through the Grove.
What you'll find is two programs that look the same on paper, but two programs with distinctly different outlooks about where everything is headed.
At Auburn, there is increasing chatter that veteran coach Tommy Tuberville might be in trouble despite the fact that he'd won 42 football games in the four seasons prior to this one, has won nine of his last 13 games against top 10 opponents and has won six straight against Alabama.
The offense has been a disaster, so much so that Tuberville fired first-year coordinator Tony Franklin six games into the season after the spread experiment failed miserably. The Tigers are ranked 109th nationally in total offense and 102nd in scoring offense, haven't been able to get any consistent play at the quarterback position and have lost four of their last five games.
In their last six games, the Tigers have been outscored 77-16 in the second half -- never a good sign when you start examining a team's resolve.
October, 13, 2008
10/13/08
12:04
PM ET
Posted by ESPN.com's Chris Low
We take our daily run through the conference to see what else is out there:
Ian Rapoport of The Birmingham News takes an expansive look at what makes Alabama freshman receiver Julio Jones so good and what makes him tick ... and does so by talking to everybody but Jones. Freshmen are off limits to the media under Alabama coach Nick Saban.
Auburn's Tommy Tuberville is looking for any and all solutions for an offense that just gets worse by the week, including pulling the redshirt off of Barrett Trotter and giving the true freshman quarterback a shot to run the Tigers' struggling offense.
LSU's Les Miles wants to see more poise from his quarterbacks than he saw in the 51-21 loss to Florida.
Arkansas goes from the lowest of lows to the highest of highs and now looks to build on the momentum of its first SEC victory.
Where have you gone Enrique Davis? The prized Ole Miss freshman tailback has played sparingly this season, but coach Houston Nutt said that's about to change.
Tim Tebow answers the call for Florida at a crucial time last weekend, and the Gators go on to trounce LSU and put themselves right back into the national championship race.