July, 28, 2014
7/28/14
2:52
PM ET
CHICAGO — Fittingly, the Big Ten put its two most talked about coaches back to back during Day 1 of media days.
First came Urban Meyer and then James Franklin, who addressed a number of topics during his first go-round here in the Windy City:
Franklin's only concern about this place? Each elevator at the Hilton Chicago is plastered with a different Big Ten logo, and the elevator that went to his floor did not have Penn State's logo. So Franklin, never one to shy away from a headline, relayed an anecdote about how he had to take the stairs to his room, lest he ride an elevator that features another league logo painted on it. No word on how many flights of stairs he took. Or which team was, in fact, on that elevator.
In a reflection of just how much turnover there has been at Penn State, Franklin reminded everyone that, having been hired just seven months ago, he is the veteran of the Nittany Lions' public faces, as the school just hired a new athletic director (Sandy Barbour) on Saturday and had hired a new president (Eric Barron) in February.
Franklin said his equipment staff has used Notre Dame and Navy as resources for how to prepare for a season-opening trip to Ireland, as Penn State will open overseas against UCF. The Lions will depart from State College for the trip on Tuesday night of game week.
Asked about Vanderbilt players' disappointment in the way he left the program for Penn State, Franklin said that he has learned that "there's no good way to leave," and that he hopes he tried to do it the right way. He added that he hopes that over time people will look back and see how much he cared about and invested in the Commodores during his time in Nashville, Tennessee.
Franklin let out a brief laugh and smile when asked if Christian Hackenberg is the most talented quarterback in the country. He said the sophomore has a ton of tools, and he admired the way the signal-caller handled everything from his recruitment to expectations to a coaching change.
As for his satellite camp at Georgia State, which drew the ire of former SEC comrades, Franklin said he was not sure why it received all of the attention that it did. He said he and his staff get on the Internet every day to explore what other people are doing, and to see if it makes sense for Penn State. He wants to do everything within his power within the rules to give the Lions a competitive advantage. "Whatever that may be, whether it's recruiting certain parts of the county, we're going to look into all those things." He again added that he cannot speak to the reaction it has drawn.
June, 5, 2013
6/05/13
8:05
PM ET
Florida State has to get modern in its search for a new athletic director.
Modern ADs know how to connect to fans, to donors, to booster groups. Modern ADs know how to squeeze money out of places where there is no money. Modern ADs come up with innovative revenue streams, to augment the bottom line as programs compete every single day against each other for the biggest budget and, in turn, the biggest facilities.
Randy Spetman was simply not the picture of a modern AD. That is through no fault of his own. Spetman was brought in by another president, during a time of NCAA issues, and was never really seen as a strong leader. Today, athletic departments need strong leaders. Perhaps that is one reason why he is
taking on another role
, as senior advisor to the athletics department.
[+] Enlarge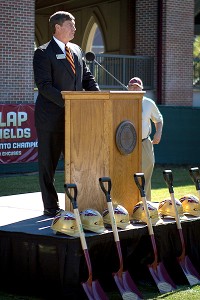 Courtesy of D'Vel PhotographyOne of Randy Spetman's achievements as Florida State AD: breaking ground on a new indoor practice facility.
From the moment he arrived, there seemed to be a general disconnect with the fan base, too. Then when new president Eric Barron arrived in 2010, there was a disconnect between them as well. Spetman was never Barron's guy. When the president and AD do not see eye to eye on many issues, well, you have problems. You kinda got the idea this day would become an eventuality when Spetman only got a one-year extension in February. He remains one of the lowest paid ADs not only in the ACC but in Florida as well.
Spetman, however, was putting together a five-year strategic plan for Florida State, to be presented Thursday at a board of trustees meeting. He believed in the plan, and thought that would give him more time. Give Spetman credit for his accomplishments. Florida State has had no NCAA issues since his arrival, a major plus considering the problems that predated him. He got the indoor football practice facility done. And the teams within the athletic department reached unprecedented heights.
But many times over the past several years, Florida State made headlines for issues a stronger AD may have handled better. And many of those issues surrounded one major problem -- money. The Noles had budget problems; they had home attendance problems; and, of course, they had conference problems caused by board of trustees members who saw more dollar signs in a different neighborhood.
Spetman handled the shenanigans over Big 12 speculation last year poorly, scurrying away from reporters while failing to attack the issue head on. It was Barron who took the lead in making sure the Noles were on board with the recently signed grant of rights, solidifying conference stability, not Spetman.
But that whole episode illustrated a great problem Florida State has faced under Spetman and will continue to face when a new athletic director arrives: The Noles make heaps of cash, yes. But not nearly as much as in-state rival Florida, nor other elite programs the Noles compete with for recruits and championships. Coach Jimbo Fisher has patterned his program after his experiences coaching at LSU and with Nick Saban. But he also knows reality -- he does not have the cash or the resources of a wide variety of those SEC schools.
How then to get there? Finding bigger, better more revenue streams. The best ADs today have mastered that. These days, a background in sales and marketing is almost a must. Having said that, the new AD must also be able to handle the big personalities both Fisher and Barron bring to their respective programs. Florida State needs an athletic director both coaches and Barron can listen to and trust. Fans need to believe in the new AD, too. There never was that belief in Spetman for a variety of reasons.
Essentially, Florida State now needs an AD everybody can rally around for this program to keep moving forward.