July, 27, 2011
7/27/11
4:00
PM ET
DALLAS -- One play could have changed the entire Big 12 landscape in 2010. Iowa State took a
Taylor Martinez
-less Nebraska team into overtime and scored what looked like a game-tying touchdown … until the Cyclones faked the extra point.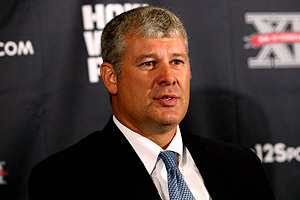 Kevin Jairaj/US PresswirePaul Rhoads and Iowa State were a play away from making noise in 2010.
Reserve punter Daniel Kuehl had a wide-open
Collin Franklin
, the Cyclones' leading receiver, in the back of the end zone, but short-armed the pass on a wind-swept November day in Ames, allowing Nebraska's Eric Hagg to come down with a game-clinching interception.
"It's a call that I relive and a play I relive every week," Iowa State coach Paul Rhoads said. "There's not a week that goes by that I don't think about the play and what it could have created for our football team and our football program."
And not just for the Cyclones, who would have been bowl-eligible with the win. It also would have put Iowa State in the Big 12 North Division drivers' seat and sent Nebraska to the Big Ten without so much as a share of the Big 12 North title. Instead, Missouri would have represented the conference against Oklahoma.
Rhoads, though, has repeatedly emphasized he'd do it all over again.
"And as the game went along, it was a play I studied and certainly was there," he said. "That's the name of the game, when it's a play like that, the final play of a game or the first play of the game, you have to execute to be successful."
Iowa State was playing with a limping quarterback, a limping top receiver and a center in Ben Lamaak who left the game twice with an injury. One play was the best way to decide it.
The Cyclones lost a game on that day, but Rhoads, perhaps the Big 12's most underrated coach, earned a whole new legion of fans with the gutsy call gone wrong.
"The fallout was positive," Rhoads said. "If anything, from players to fans to most people I talked to they thought it was a right call -- gutsy call, but the right call -- and would have given us an opportunity to really springboard our program, I feel."
April, 28, 2011
4/28/11
9:00
AM ET
During my
Big Ten chat
Wednesday,
Dan from B1G Country
asked about any NFL draft bargains from the conference this year.
With the draft set to begin Thursday night, I thought this would be a good time to look at some Big Ten players who might benefit teams in the middle or later rounds, or even as free-agent pickups.
Here's one potential bargain from each Big Ten squad (heights and weights according to ESPN's Scouts Inc.).
ILLINOIS
Randall Hunt
, G, 6-6, 318
The skinny:
Hunt anchored a formidable Illinois offensive line that helped
Mikel Leshoure
and others run wild in 2010. He shut down Baylor's
Phil Taylor
in the Texas Bowl and brings a sturdy frame to the interior line. Hunt wouldn't be a bad choice in the later rounds.
INDIANA
James Brewer
, T, 6-6, 323
The skinny:
I'm hesitant to call Brewer a bargain because he could be off the board early in the draft. Indiana had another tackle, Rodger Saffold, taken with the first pick of the second round in 2010. Brewer has the size to be good at the next level, and if he's still available on the third day, he'd be a nice pick.
IOWA
Derrell Johnson-Koulianos
, WR, 5-11, 202
The skinny:
The character questions are there, but DJK was an extremely productive player at Iowa and could be a nice late-round addition for a team. He's a strong route runner with good speed and good hands, and he can stretch defenses. If a team is willing to take a bit of a risk, it could be rewarded.
MICHIGAN
Stephen Schilling, G, 6-4, 308
The skinny:
Schilling played a ton of football at Michigan and helped the Wolverines to a record-setting offensive performance in 2010. His measurables might not blow teams away, but he's a smart, solid lineman who could be a nice addition in the middle to later rounds.
MICHIGAN STATE
Eric Gordon
, LB/S, 5-11, 224
The skinny:
Overshadowed by fellow linebacker
Greg Jones
for much of his career, Gordon quietly produced at an extremely high rate for Michigan State. You could argue he was the Spartans' best linebacker during the second half of the 2010 season. Gordon turned in an impressive performance on pro day and would be a nice pickup late in the draft or as a free agent.
MINNESOTA
Adam Weber
, QB, 6-3, 221
The skinny:
Some Gophers fans might scoff at this, but I always felt Weber got a raw deal during his college career. He played for three different offensive coordinators, never complained about it and still set a bunch of team records. While his junior season was a disappointment, Weber did some good things last fall and drew respect around the Big Ten. Not a bad pick in the later rounds.
NEBRASKA
Eric Hagg
, S, 6-1, 209
The skinny:
Hagg is a playmaker, as he showed with a team-high five interceptions plus a school-record 95-yard punt return for a touchdown against Texas. He also brings versatility to the table, having played a safety-linebacker hybrid role last fall for the Blackshirts. Hagg has played on an elite college defense and would be a good get in the middle to late rounds.
NORTHWESTERN
Quentin Davie
, LB, 6-4, 238
The skinny:
Davie entered the 2010 season as a solid NFL prospect and started off strong but disappeared at times down the stretch. He made big plays throughout his career and boasts good size as an outside linebacker. Davie could help a team as a late-round or free-agent addition if he gets back to his 2009 form.
OHIO STATE
Dane Sanzenbacher
, WR, 5-11, 182
The skinny:
If I were an NFL general manager, I wouldn't hesitate to draft Sanzenbacher. He lacks ideal measurables but makes up for it with football intelligence and a fearless approach to the game. Sanzenbacher has great hands and became Ohio State's top threat in the red zone this season. He stood out at the Senior Bowl and would be an excellent pick in the middle rounds.
PENN STATE
Evan Royster
, RB, 5-11, 212
The skinny:
Royster is a patient runner with good vision who could thrive in the right situation at the pro level. His slow start to the 2010 season is a concern, but he picked things up down the stretch and boasts a productive college résumé. If a team needs a running back in the late rounds, Royster would be a nice choice.
PURDUE
Keith Smith
, WR, 6-2, 224
The skinny:
There's risk here as Smith comes off of tears in two knee ligaments, but a team could get a major steal if the Boilers receiver can stay healthy. He has the size to excel at the pro level and might have been the Big Ten's top receiver had he stayed on the field last season. Smith is a class act who has a chance to be a solid NFL receiver.
WISCONSIN
Scott Tolzien
, QB, 6-2, 209
The skinny:
He might never be a full-time starter in the NFL, but teams certainly can benefit from having Tolzien on the roster. He's an extremely smart player who makes up for mediocre measurables with superb intangibles. Tolzien is accurate and efficient, and he'll prepare harder than anyone. If a team needs a quarterback in the later rounds, Tolzien would be a great pick.
March, 2, 2011
3/02/11
10:33
AM ET
The
NFL scouting combine wrapped up
Tuesday with the defensive backs going through drills.
Let's check out the Big Ten's top performers:
CORNERBACKS
Ohio State's Chimdi Chekwa tied for third in the 40-yard dash at 4.4 seconds; Nebraska's Prince Amukamara tied for fifth at 4.43 seconds;
Ohio State's Jermale Hines (listed as a cornerback for the combine) tied for 10th in bench-press reps with 19
Amukamara tied for fifth in the vertical jump at 38 inches
Amukamara tied for second in the broad jump at 10 feet, 8 inches; Chekwa tied for sixth at 10 feet, 6 inches
Nebraska's Eric Hagg finished 10th in the 3-cone drill at 6.73 seconds
SAFETIES
Iowa's Tyler Sash tied for fourth in the 40-yard dash at 4.62 seconds
Sash tied for fifth in the vertical jump at 33 inches
Sash tied for second in the 3-cone drill at 6.9 seconds
Now that the combine is finished, let's see which Big Ten players ranked in overall top performance.
BIG TEN TOP COMBINE PERFORMANCES (all positions)
Chekwa tied for eighth in the 40-yard dash at 4.4 seconds; Nebraska running back Roy Helu Jr. finished 13th at 4.42 seconds; Amukamara finished 14th at 4.43 seconds
Wisconsin defensive end J.J. Watt tied for fourth in bench-press reps with 34; Ohio State linebacker Ross Homan tied for 10th with 32; Purdue defensive end Ryan Kerrigan tied for 12th with 31
Indiana receiver Terrance Turner tied for fifth in vertical jump at 41 inches
Amukamara and Turner tied for ninth in broad jump at 10 feet, 8 inches
Ohio State receiver Dane Sanzenbacher finished third in the 3-cone drill at 6.46 seconds
Sanzenbacher finished sixth in the 20-yard shuttle at 3.97 seconds; Helu tied for 11th at 4.01 seconds
Sanzenbacher finished fourth in the 60-yard shuttle at 10.94 seconds; Helu tied for ninth at 11.07 seconds
November, 5, 2010
11/05/10
10:28
AM ET
It had been hours since
Roy Helu Jr.
shed his bright red No. 10 jersey, but the other Roy Helu had no plans to take his off any time soon.
The father and son pulled up outside the Lincoln dining staple, Lazlo's, and started making their way to the door.
"Dad, can you take off your jersey?" Junior asked.
It was the same one he wore every time he came to see his son play, and Helu Sr. served up that reminder to his son.
"Yeah, but not tonight," Junior begged.
[+] Enlarge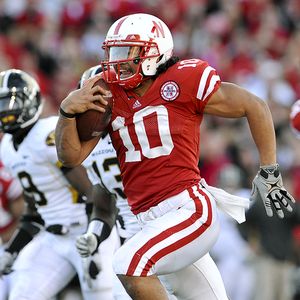 AP Photo/Dave WeaverWith his father in attendance, Roy Helu Jr. ran for a Nebraska record 307 yards in a 31-17 win over then No. 6 Missouri last Saturday.
Helu Sr. turned back toward the car and started to take it off. He stopped. He was too proud. Maybe one day he wouldn't wear it to a family postgame dinner, but the night his son became the first 300-yard rusher in the history of a program best known for running the ball wouldn't be it.
Helu Jr. sensed what might be coming, so he slid the hood of his sweatshirt over his head, hiding his signature long, black hair and made his way inside.
"Roy, don't try to hide, we know it's you!" Helu Sr. says a fan yelled across the restaurant. The patrons promised not to bug the pair, and the two Helus took a table, Junior digging into some baby back ribs. Senior, the prime rib.
Where credit and attention are, Helu Jr. is not. In 10 minutes in front of reporters after Saturday's 31-17 win over Missouri, Helu spent more time talking about the performance of his offensive line and his belief in Jesus Christ than he did about any of his 307 rushing yards.
He needed an assist from the stadium's public address announcer to learn of his freshly set record.
Whether it be from coaches, fans, media or his family, the praise is unnecessary.
"If he thinks he plays bad, he calls me right away," Helu Sr. said. "If he thinks he played all right, he'll never call. I have to call him."
There are six Helu children, but until Roy Jr. became the fourth, Roy Sr. was a father to all girls. A rugby player himself, Helu Sr. took every opportunity to nurture the athletic talent obvious in his son.
Most babies are beginning to walk by their first birthday. Roy Jr. was running and dancing at his first birthday party. Don't worry, there's video of it somewhere. At eight, a Pop Warner coach told the Helus that Roy Jr.'s speed was an uncoachable gift.
Father and son would run the hills around the family's Bay Area home in hopes that he'd only get faster. Helu Sr. is no football coach, but he knows how to run with a ball in his hand.
"I help him with vision and cutting," he says.
The two are close.
"Really, really close," Helu Sr. says.
At those postgame dinners, football rarely comes up. After Helu suffered a painful shoulder injury in a win against Missouri last year, Helu Sr. stayed with his son for three weeks, helping him do what Helu Jr. couldn't, like drive. Junior stayed on the field, though.
Games don't get much bigger than Nebraska's contest against Texas in Helu Jr.'s senior year. Fourteen members of Helu's family made the trip to Lincoln for the game. Helu Sr. volunteered to stay behind in the Bay Area with the two youngest children, a freshman and sophomore in high school, along with Helu Jr.'s grandmother and let the rest of the family go. He'd have his turn in two weeks when Missouri came to town.
Helu Jr. only got 11 carries against the Longhorns. His longest went for 7 yards. Nebraska lost. Helu Sr. wasn't surprised when his phone rang so soon afterward.
The running back wanted his father's thoughts.
"There's nothing you can do about it now," he said. "You dropped four balls, you know. That's just the way it went today."
He had more thoughts, but that didn't seem like the time to share them.
[+] Enlarge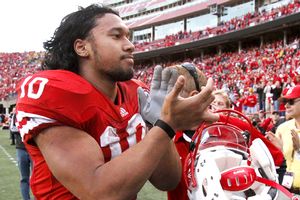 AP Photo/Nati HarnikRoy Helu Jr. and his father are close. "If he thinks he plays bad, he calls me right away," Helu Sr. said. "If he thinks he played all right, he'll never call. I have to call him."
"He wasn't patient, he didn't catch, he tried to run outside," Helu Sr. said of his son's play against Texas and Oklahoma State. His wife, Kristi, said if she really wanted to tell his son how to improve, he should do it in person.
Once he got to Lincoln for the Missouri game, the two Helus drove to the football facilities for some last-minute film work. Some lessons from the rugby pitch don't get lost in translation.
"The easiest running path is when you see the hole, hit it and hit it hard," Helu Sr. told his son.
There wasn't any dancing on any of Helu's three touchdown runs of 53, 66 and 73 yards. He saw the hole. He hit the hole. He hit it hard. If Missouri had time to get a hand on him, they would have agreed.
After the game, Helu Jr. tried to reach his dad for a hug. His teammates dragged him into the locker room while his dad could only flash a wide smile from a distance and laugh. Later, Helu sent a team official to find his dad, who took an unassuming seat on a workout bench about a hundred feet away from where his son shyly answered questions about his record-breaking day, shrugging off questions about its significance and bragging on the five guys who created the huge holes he ran through.
This time, the postgame Helu family dinner featured two, not 15.
"He doesn't want to talk about it a lot, he doesn't want to brag about it, but what he's done, I know deep in his heart, he feels good," Helu Sr. said. "Me too, but we hardly show emotion on stuff like that."
Family called throughout the night, happy for their favorite Husker and jealous they'd missed the game in person. Helu Sr. told them about the day, one he called "unbelievable," and one that left Big Red chanting his name as he left the field. Helu Jr. didn't hear it.
"How do you chant 'Roy'?" Helu asked a reporter after the game, in front of at least 20 reporters and almost as many cameras. "My name's like three letters."
"They didn't chant "Roy," Roy. They chanted "Helu," the reporter said.
"They said 'HAY-lew?'" Helu asked.
Despite their best intentions, the crowd had butchered his surname.
"My name's 'Hel-lou,'" Helu Jr. said. "I mean, you know, that's OK. You can call me HAY-lew."
He finished his uncomfortable exercise, conducted in a quiet tone with both hands behind his back for the entire ordeal, offering up an apology if he didn't feel he'd given a suitable answer to a question. His father waited nearby, seated at a workout station. Finally, they finished, and headed to Lazlo's.
After dinner, they headed back to the house Helu Jr. shares with a couple teammates, including Eric Hagg.
Father and son crashed on the couch and flipped on the TV for a well-earned rest.
"Man, I guess I did pretty good, huh?" Helu Jr. asked.
"Yeah," replied Helu Sr.
October, 18, 2010
10/18/10
2:08
PM ET
Here's a look back at the best and worst of the week that was in the Big 12.
Best offensive player:
Tie, Justin Blackmon (OSU), Landry Jones (OU), Ryan Broyles (OU), Robert Griffin (BU).
Call it a cop out if you must, but there's really no way to differentiate between these guys. Blackmon had a career-high 207 yards receiving and a huge 62-yard score. Jones completed 30 of 34 passes in a 52-point conference win. Broyles had 10 catches for 131 yards and a score two minutes into the second quarter. Griffin engineered a conference road win, throwing for 234 yards and running for 137 more. I honestly just can't pick between these guys. You could make a solid case for any one of them.
Best defensive player:
Brad Madison, DE, Missouri.
Splitting time with Michael Sam in place of injured end Aldon Smith, Madison sacked
Jerrod Johnson
three times to help Missouri beat the Aggies 30-9.
Honorable mention
: Orie Lemon, LB, Oklahoma State.
[+] Enlarge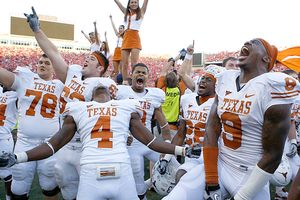 Bruce Thorson/US PresswireTexas surprised Nebraska in the Longhorns' upset victory over the Cornhuskers.
Best team performance:
Texas
. Shock the world is probably too strong, but the Longhorns mildly disturbed the majority of the population by knocking off the then-No. 4 Huskers in Lincoln, ruining one of the most anticipated games in Nebraska history.
Best offensive freshman:
Joseph Randle, RB, Oklahoma State
. Randle carried the ball 17 times for 95 yards and a touchdown in the Cowboys 34-17 win over Texas Tech, providing a great second option to
Kendall Hunter
.
Honorable mention
: Baylor WR Tevin Reese and Oklahoma RB
Roy Finch
.
Best defensive freshman:
Tre' Porter, CB, Texas Tech.
Porter takes home the award for a second consecutive week, with eight tackles, a tackle for loss and a pass breakup.
Best play:
Eric Hagg, S, Nebraska.
Yeah, it was in a losing effort, but Hagg's school-record, 95-yard touchdown return of Justin Tucker's pooch punt injected some unexpected late drama into a Nebraska-Texas game that needed it. He made plenty of guys miss, shook off a few tackles, and put Nebraska within a recovered onside kick of having a chance to send its game against Texas into overtime.
Worst play:
Tie, Nebraska RB Rex Burkhead, WRs Niles Paul and Brandon Kinnie.
All three dropped touchdown passes that weren't necessarily easy grabs, but trailing to Texas in a game of that magnitude, those are plays that have to be made. None of them did, and the team added a handful of other drops that added up to a frustrating day for the Huskers.
Worst call:
Dan Hawkins, Colorado.
If someone can explain to me the rationale behind going for two after first touchdown of the game late in the first quarter, I'm all ears. Going for it again (and failing again) only makes it worse.
"That is just the same thing that we did against Georgia. You get it and you`re feeling good," Dan Hawkins told reporters after the game. "And as it ended up it was kind of negligible anyway, so then we had to go for two in a sense the second time."
Maybe that's over my head, but the only teams in America that do that are dominant high school teams. Colorado would be a dominant high school team, no doubt. But this is the Big 12. Take the points and the Buffs Hail Mary to tie the game becomes a field goal to win it. That's not hindsight. That's common sense.
Worst quarter:
Kansas' second quarter.
Kansas let
Carson Coffman
run in a pair of touchdowns, throw for another and gave up a rushing touchdown to get outscored 28-0 in the quarter. The Jayhawks were in it after 15 minutes, down just 3-0. After the second quarter, it was officially ugly.
Worst team performance:
Kansas
. I
said enough on Thursday night
, but still. Almost two weeks to prepare. Rivalry game at home. 52-point loss. Can't do that.
Best game:
Texas 20, Nebraska 13.
Baylor's win over Colorado had the drama and late heroics, but Texas' masterful job covering
Taylor Martinez
provided a shock of its own: Martinez getting benched in favor of
Zac Lee
. Lee played well and led a lengthy drive that nearly ended in seven points. The shock of the Nebraska crowd, as well as that of everyone watching, provided somewhat of a surreal scene.
September, 18, 2010
9/18/10
3:55
PM ET
Plenty of folks wondered how Nebraska's new defense would look in its first test against a major conference offense.
Early on, it has answered emphatically.
The Blackshirts picked off Washington quarterback
Jake Locker
's first pass -- his first interception of the season -- and scored two plays later when
Taylor Martinez
threw the first touchdown pass of his career to
Mike McNeill
. Nebraska leads,
7-0
, and forced a punt on the next possession.
Locker's throw was a bad decision and a badly underthrown ball, easily intercepted by Eric Hagg.
Huskers fans flooded Seattle for today's game and have a strong presence at the game.
If Washington wants to upset the Huskers, Locker will have to showcase more of the attributes that made him the top quarterback prospect in the 2011 NFL Draft.
June, 9, 2010
6/09/10
10:00
AM ET
You heard about Oklahoma's
Landry Jones
and his backup earlier this morning, but here are the most irreplaceable players for the rest of the conference.
Robert Griffin III, QB, Baylor:
This one's pretty simple. Griffin means more to his team than any player in the conference. The 2008 Big 12 Newcomer of the Year helped the Bears win their 2009 season opener at Wake Forest before a season-ending knee injury in the third game. He'll come back for 2010 still a sophomore. But his injury last season now means his backup,
Nick Florence
, is surprisingly experienced.
Alexander Robinson, RB, Iowa State:
Robinson rushed for 1,195 yards in 2009 and is by far the Cyclones' best player. His yards per carry average is almost 1.5 yards higher than his backup last season. This year, the battle for No. 2 is ongoing, with
Beau Blankenship
and freshmen
James White
and
Jeff Woody
trying to earn any spare carries not soaked up by Robinson.
Nate Solder, OT, Colorado:
This season will be Solder's third as starting left tackle, the key position on the offensive line. He's proven to be one of college football's premier linemen, but his durability and experience have meant very little playing time for backup Ryan Dannewitz, a redshirt freshman.
Jake Laptad, DE, Kansas:
Laptad is a force in the backfield and racked up 6.5 sacks and 12 tackles for loss last season. His backup is junior college transfer Quintin Woods, but with just four career tackles, there's a clear dropoff in both production and talent.
Blaine Gabbert, QB, Missouri:
In just his second year as starter, Gabbert could be poised for a big jump like his predecessor, Chase Daniel. The Tigers earned a North title in Daniel's second season and No. 1 ranking after the regular season. But Gabbert needs to stay healthy. His backup is former walk-on
Jimmy Costello
, who's never played a meaningful snap, but behind him are a group of untested freshmen with potential in
Ashton Glaser
,
James Franklin
and Gabbert's younger brother,
Tyler Gabbert
.
Eric Hagg, S/LB, Nebraska:
The central figure of the Huskers' Peso defensive scheme (Hey!
Remember that
?) gives the Husker defense the teeth that helped them nearly upset Texas and blow out Arizona. His backup is Austin Cassidy, who has plenty of on-field experience after appearing in all 13 games last season. Like Hagg, Cassidy has the ideal size for the position at 6-foot-1 and 210 pounds, and notched nine tackles as a sophomore in 2009.
Markelle Martin, S, Oklahoma State:
Martin's sophomore season was overshadowed by big-hitting senior Lucien Antoine, but he'll be one of the team's leaders as a junior in 2010. He's the team's leading returning tackler, and should join Orie Lemon and Ugo Chinasa as the anchors of a defense replacing its four leading tacklers from 2009. His backup, Mathies Long, played in the last six games of 2009, but has just three career tackles.
Sam Acho DE, Texas:
The better known of Texas' Acho brothers, he played in 24 games before taking over as starter last season. He notched 63 tackles and four fumble recoveries, tied for most in college football. He was also a semifinalist for the Lott Trophy. But at Texas, there's always a pretty narrow gap between starter and backup. Acho's backup should be either Russell Carter
or
Alex Okafor, who will also play behind opposite defensive end Eddie Jones. Carter played in nine games last season and notched five tackles. Okafor played in all 14 games last season and tallied 22 tackles.
Jerrod Johnson, QB, Texas A&M:
No backup will be able to reproduce Johnson's impressive numbers from 2009 (38 touchdowns, 4,085 total yards). But Johnson's backup
Ryan Tannehill
does have plenty of experience--at a different position. He got plenty of reps this spring with Johnson sidelined from live action after minor shoulder surgery, but he's the team's active leader in receiving, with 1,418 career yards. He's thrown just nine passes in two seasons with the Aggies.
Colby Whitlock, DT, Texas:
Should assume the role of nose tackle in Tech's new 3-4 scheme under coach Tommy Tuberville and defensive coordinator James Willis. Though it's a new position, Whitlock's experience will be tough to replace. Of his 46 tackles in 2009, 8.5 came behind the line of scrimmage. His backup is a mountain of a man, Myles Wade. The 6-foot-2, 340-pound junior college transfer made just two tackles in limited action last season, but he still has two years of eligibility left, and could plug plenty of holes in the middle of the defense after Whitlock graduates.
December, 5, 2009
12/05/09
10:08
PM ET
By
Tim Griffin
| ESPN.com
ARLINGTON, Texas -- In one of the ugliest first halves in Big 12 championship game history, Texas has slogged ahead of Nebraska en route to a 7-6 halftime lead at the break.
Here's why they have been able to do it:
Turning point:
Eric Hagg's pass interference in the end zone -- when he was ruled to have face-guarded
Dan Buckner
-- put the Longhorns at the Nebraska 4-yard line. It gave the Longhorns a critical conversion on a third-and-14 play when their offense finally was showing signs of life.
Colt McCoy
scored two plays later, giving Texas its first lead.
Stat of the half:
Texas' defense has limited Nebraska to 32 yards on 28 snaps in the first half. That's an average of 1.14 yards per play. The Cornhuskers produced only two first downs and none of those came in the last 18 minutes of the half.
Best player in the half:
Ndamukong Suh is living up to his promise as an All-American defensive tackle with four tackles, 2.5 sacks and three tackles for losses. He's personally helped clog up the middle of the Texas line and make life miserable for McCoy for much of the half.
Best call:
Game officials get the honors here on a tough decision early in the first half.
Rex Burkhead
appeared to have been stopped short of the first down at the Nebraska 31. But after a second look at the replays, they ruled that Burkhead had made the first down with inches to spare.
What Texas needs to do:
The Longhorns struggled offensively before showing life late in the first half on their scoring drive. McCoy worked several different receivers into the rotation and overcame three sacks earlier in the drive. That resiliency will be important to start the second quarter. McCoy should follow a similar plan by utilizing all of the weapons at his disposal as the second half progresses.
What Nebraska needs to do:
The Nebraska offense is sputtering, mainly because they have stubbornly continued to try to hammer the inner strength of the Texas defense. It's obvious that any thought that the Cornhuskers' coaches thought about running "downhill" against the Longhorns appears misguided. They might try some outside running plays. And it might be a time to work backup freshman quarterback
Cody Green
in for a series -- just for the opportunity to change the pace of the game. Nebraska has to do something early after producing so little in the second quarter -- an interception and three-straight three-and-outs to finish the half.
January, 1, 2009
1/01/09
6:29
PM ET
Posted by ESPN.com's Tim Griffin
Joe Ganz and Nebraska showed a lot of grit and determination Thursday, storming back from early misfortune to cap the season with triumph.
| | |
| --- | --- |
| | |
| | Marvin Gentry/US Presswire |
| | Joe Ganz overcame injuries to direct Nebraska's final scoring drive. |
Ganz overcame a shaky start to direct Nebraska to a 26-21 victory over Clemson in the Konica Minolta Gator Bowl.
The biggest reason was Ganz, who shook off a gimpy knee in the first half to throw two touchdowns and help Nebraska reclaim the lead in the third quarter. Earlier, Ganz's botched option pitch was returned for a Clemson touchdown and his interception late in first half led to another Tigers score.
But Ganz saved his biggest comeback for last after he appeared to be dazed by another hit early in the fourth quarter.
After sitting on the bench for several minutes, Ganz coolly returned to the game and directed Nebraska's final scoring drive, culminated by Alex Henery's fourth field goal.
Nebraska's defenders did the rest, playing like they deserved the Blackshirts that coach Bo Pelini gave them midway through the season to signify their emergence as a unit.
A punishing Nebraska defensive front dominated the game throughout, notching four sacks and harassing Clemson quarterback Cullen Harper from the opening snap. Nose tackle Ndamukong Suh produced two sacks and blocked a field goal and defensive tackle Ty Steinkuhler produced another sack.
The Tigers were presumed to have the advantage in speed and athleticism, but Nebraska limited them to 90 total yards in the second half and shackled Clemson's vaunted running combo of James Davis and C.J. Spiller. The Tigers also converted only 3 of 16 third-down plays, misfiring on nine straight third-down conversions at one point in the second half.
The biggest series came after Clemson had marched to the Nebraska 10-yard line with less than 2 minutes remaining. Nebraska twice gambled on cornerback blitzes by sophomore Eric Hagg, leading to an incompletion and a pivotal 16-yard sack on second down.
Two incompletions later, the Cornhuskers were jubilant and dancing after Pelini had wrapped up his second bowl victory in two tries.
The late defensive stand was clearly the shining moment for the Big 12 so far in the bowl season. It might not change many attitudes about the conference's overall defensive prowess, but was still good enough to lead to the Nebraska triumph.
The Cornhuskers (9-4) finished the season with a four-game winning streak and won six of their final seven games. They should finish the season ranked in the Top 25 and will likely enter the 2009 season as a preseason favorite in the Big 12 North.
After Marlon Lucky and Roy Helu Jr. struggled early, backup I-back Quentin Castille stepped up to provide rushing consistency that helped wrap up the victory. Castille finished with a game-high 125 rushing yards, including a key 58-yard rumble early in the third quarter.
In the process the Cornhuskers continued a tradition of comebacks in bowl games. It was the seventh time Nebraska has overcome a halftime deficit to win a bowl game. The Cornhuskers' 11-point halftime deficit was the largest the team has ever overcome in the school's 45-game bowl history.
September, 17, 2008
9/17/08
10:09
AM ET
Posted by ESPN.com's Tim Griffin
Kansas quarterback Todd Reesing probably would have liked to have gone unnoticed after his team's loss to South Florida last week.
He just didn't realize it would really happen when he got back home to Lawrence after the game.
Lawrence Journal-World columnist Tom Keegan recounts an interesting tale that took place earlier this week in preparation for his newspaper's "On the Street" column. The newspaper poses a question at random to five Lawrence residents whom they meet on the streets.
Journal-World reporter Robert Riley was walking down Massachusetts Avenue Monday afternoon asking respondents their opinion about the Jayhawks' loss at South Florida three days prior. Riley originally planned to pose a question about the stock market collapse, but that produced little passion among respondents.
So the football question was asked, first to a normal-looking college student who was waiting for a couple of his friends to leave a store.
Here's the way Riley relayed the conversation to Keegan.
Riley: "Has the KU football team's recent loss shaken your faith in the team?"
Student: "I sure hope not."
Riley: "Why's that?"
Student: "I'm on the team."
Riley: "What position do you play?"
Student: "I'm the quarterback."
It turns out that Riley was asking the questions of Reesing, who ended up as the first answer in Riley's column on Tuesday morning.
"I thought it was more funny than anything," Reesing told Keegan, laughing at the memory. "I don't even know what to say. It was a funny thing, though. I was trying not to laugh too hard. He was pretty cool about it."
Here are some other links from across the conference this morning.