August, 20, 2013
8/20/13
9:00
AM ET
Baker Mayfield
was passed up by countless college recruiters during his senior year of high school. Now the true freshman walk-on likely will be a Big 12 starting quarterback.
His precipitous rise at Texas Tech became perhaps the most surprising fall camp storyline in the league this month. Mayfield and true freshman
Davis Webb
split snaps in practice while expected starter
Michael Brewer
is sidelined with a back injury.
[+] Enlarge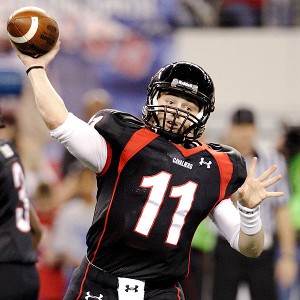 AP Photo/Tony GutierrezTrue freshman Baker Mayfield is trying to go from walk-on to starter.
Texas Tech coach Kliff Kingsbury has called Brewer's injury a "day-to-day" issue, but the starting quarterback for Tech's season opener at SMU on Thursday is
expected to be the walk-on
.
In a few short weeks Mayfield has gone from unheralded newcomer to Tech's first freshman starting quarterback in nearly 30 years. Even his own high school coach never could have seen that coming.
"I don't know what I expected, to be honest," Lake Travis High School coach Hank Carter said Monday. "But Baker is a player. He's a competitor. Baker has gotten an opportunity here, and that's what it's all about. He has a chance here to make the most of it, and it sounds like that's what he's doing."
The 6-foot-2, 220-pound freshman starred at powerhouse Lake Travis in Austin, Texas, and had a 25-2 record in his two season as a starter. He threw for 6,255 yards and 67 touchdowns in two years, but that wasn't enough to warrant serious attention from recruiters.
In fact, Carter summed up the process Mayfield endured to end up at Texas Tech with two words: bad luck.
He received offers from Washington State after his junior year, but before he could visit the Cougars accepted a commitment from another quarterback. Same thing happened with Rice.
"The rest of that spring, he had probably 20 to 25 big-time Division I programs looking at him and coming back to look again," Carter said. "For whatever reason, the big guys just didn't pull the trigger after that."
Mayfield had offers from FAU and New Mexico but put all his hopes on landing an offer from TCU. That never came, and the Frogs ended up signing Temple (Texas) quarterback
Zach Allen
. So Mayfield looked into his options as a walk-on.
The decision, Carter said, came down to Texas Tech or Texas. He chose the Red Raiders because of his relationship with Eric Morris, who left Washington State to join Kingsbury's staff, and the fact that Tech's offense better resembled what he ran at Lake Travis.
"Even though I love those guys on the Tech coaching staff, I wasn't real fired up that he was going to a place where there was going to be a redshirt sophomore as the probable starter and another scholarship kid in the same class as Baker," Carter said.
Webb, a graduate of Prosper (Texas) High, also had the advantage of enrolling early and participating in spring practices. Tech's post-spring depth chart listed Brewer "or" Webb as the starter.
But Mayfield made a strong push. Being quarterback No. 1 at Lake Travis, a school that won five straight state championships from 2007 to 2011, gave him a proper education in handling expectations and pressure.
"I think it's a pretty neat story. I hope Baker goes in there and he's able to show and give them confidence that he can get it done," Carter said. "We have all the confidence in the world in him. He's a great kid, such a smart and tough competitor. That would be the thing I'd say about Baker. He welcomes the underdog role and he always has."
Mayfield was a late bloomer who stood 5-5 when he began his freshman year, but he had an arm, a knack for leadership and plenty of energy.
"We always said, 'Man, if that Baker Mayfield ever hits a growing spurt, he'd be something else,'" Carter said. "And then one day he did."
Still, this situation is bittersweet for Carter and his coaching staff. Mayfield's near-unprecedented opportunity arose only because Brewer, his predecessor and friend at Lake Travis, is injured.
"It's exciting, but I've got two kids in this thing," Carter said. "I'm disappointed for Michael because he's worked so hard when he's been there. College fans can be kind of flavor of the week, but I'm sure the coaching staff would want Michael to get back.
"I think the prospects of looking at two true freshman quarterbacks going to SMU is not something they'd be real fired up about."
Seeing Mayfield earn the start at SMU is an exciting for Carter, though. His first start will come against another Lake Travis legend:
Garrett Gilbert
.
His former coach knew Mayfield was going to have a difficult task in beating Webb for the starting job, but he was alwasys confident Mayfield could pull this off and make some history.
"If it's a matter of who's going to pick up the system quicker and handle the big stage, he's been in those situations before," Carter said. "I know it's not the same thing, but heck, he doesn't know any different. He'll jump in there and compete."
May, 28, 2009
5/28/09
9:05
AM ET
Posted by ESPN.com's Tim Griffin
Some Big 12 position groups are clearly above others as far as raw talent and athleticism. Here's a look at some of the most dominant in the conference.
Oklahoma's front seven: The Sooners go two-deep in talent in the defensive line and linebackers. Defensive tackle Gerald McCoy anchors the defensive front and is an Outland Trophy candidate. Adrian Taylor and Cordero Moore also are capable players. The Sooners have the best collection of defensive ends in college football with Frank Alexander, Jeremy Beal, R.J. Washington and Auston English. Travis Lewis could develop into one of the finest linebackers in Oklahoma history and Mike Balogun, Brandon Crow and Keenan Clayton all are expected to contribute. If heady team leader Ryan Reynolds comes back from his knee injury, this group could rival any in the country -- if it doesn't already.
Texas' secondary: After producing only six interceptions last season, Texas defensive coordinator Will Muschamp ratcheted up competition among defensive backs. The results were seen in the spring, when the group was the best defensive backfield group I saw in the conference. Aaron Williams and Chykie Brown have emerged as starters at the corners with Curtis Brown and Deon Beasley providing backup. Safeties Blake Gideon and Christian Scott both are emerging, but the key player might be sophomore safety Earl Thomas, who played the nickel position with tenacity and abandon. It's not a stretch to say that two Thorpe Award winners could emerge out of this group in the next several years.
Colorado's running backs: The Buffaloes seemingly have a back for every situation with the deepest backfield in the conference. Darrell Scott appears intent on making a comeback after a disappointing freshman season. Rodney Stewart looks recovered from a broken leg sustained last season that kept him from rushing for 1,000 yards. Sophomore Brian Lockridge appears to be the fastest back and 215-pound Demetrius Sumler is the biggest back with the best inside running ability among the group. This group will serve as the backbone for the Buffaloes' hopes of returning to a bowl game and perhaps their dark horse challenge for the Big 12 North title.
Kansas' wide receivers: Dezmon Briscoe missed all of spring practice for an undisclosed violation of team rules, but is back to serve as one of the nation's most explosive deep talents. Coach Mark Mangino hopes to be able to permanently switch Kerry Meier to receiver for his senior season after a breakout season in 2008. Meier and Briscoe were two of the nation's top-15 receivers last season when they combined for 189 catches, 2,452 yards and 23 touchdown grabs. And Wilson emerged as quarterback Todd Reesing's go-to receiver in the spring when Briscoe was gone, notching six catches in the spring game. Add Rod Harris, Tertavian Ingram and Raimond Pendleton and it might be among the most potent pass-catching groups in the nation.
Nebraska's running backs: With unproven Zac Lee starting at quarterback, look for Shawn Watson to lean heavily on a pair of talented returning backs. Quentin Castille trimmed about 20 pounds to get into better shape and leading returning rusher Roy Helu Jr. boosted his weight by 24 pounds to become a more powerful rusher between the tackles. Together, it wouldn't be a stretch that the two backs could combine for 2,000 rushing yards and 20 rushing touchdowns if both can stay healthy.
Iowa State's running backs: With new offensive coordinator Tom Herman taking over with a spread offensive attack, a talented array of running backs still will have frequent opportunities to contribute. Leading returning rusher Alexander Robinson could be poised to become one of the most underrated rusher/receiver combination backs in the conference. But Robinson will have to fight for playing time with a stacked group that also includes bruising redshirt freshman Jeremiah Schwartz and heralded University of Florida transfer Bo Williams. Herman will be able to utilize all three backs in a variety of roles.
Missouri's defensive ends: The Tigers appeared loaded before spring practice with Brian Coulter and Jacquies Smith back, but redshirt freshman Aldon Smith has developed into an immediate contributor. Converted offensive tackle Brad Madison and redshirt Marcus Marlbrough also had strong springs, leading Gary Pinkel to say it was his best group of defensive ends he's ever had at Missouri.
Texas Tech's wide receivers: Even after losing two-time Biletnikoff Award winner Michael Crabtree and Eric Morris, the Red Raiders developed several potential playmakers during the spring. Edward Britton appeared to have crawled out of Mike Leach's doghouse with strong late production. New quarterback Taylor Potts should have many productive targets including Detron Lewis, Tramain Swindall, Lyle Leong, walk-on flanker Adam Torres, 6-foot-7 Adrian Reese and redshirt freshmen Austin Zouzalik and Eric Ward. The Red Raiders won't have two players grab the majority of balls like Crabtree and Morris did in recent seasons. Instead, they will feature a more balanced attack featuring eight to 10 receivers capable of thriving in a tag-team approach.
May, 22, 2009
5/22/09
6:38
PM ET
Posted by ESPN.com's Tim Griffin
Sometimes the spring provides a chance for personnel holes to be filled. Sometimes it doesn't.
Here are some of the notable positions around the Big 12 that picked up some assistance during the spring.
Baylor: The quick development of defensive tackle Phil Taylor, a heralded transfer from Penn State, should turn a traditional position of weakness for the Bears into a strength. Joining him at the position will be Jason Lamb, who showed some promise after moving over from defensive end before spring practice.
Colorado: The emergence of hulking 260-pound middle linebacker Marcus Burton and B.J. Beatty at outside linebacker have helped transform the Buffaloes' defense. Burton led the team in tackles and was a prime playmaker in the spring game with eight tackles, two sacks and a fumble recovery. He had eight tackles in 10 games last season.
Iowa State: Redshirt freshman quarterback Jerome Tiller outplayed starter Austen Arnaud in the spring game, passing for 210 yards and getting free for a 65-yard touchdown run. I'm not sure that Tiller will be starting come September, but he'll make Arnaud work harder to earn his job.
Kansas: The Jayhawks had questions in the defensive line before the spring, even with the return of all-Big 12 honorable mention selections Caleb Blakesley and Jake Laptad and late season starting defensive tackles Richard Johnson and Jamal Greene. The development of tackle Darius Parish and end Max Onyegbule should add to the depth. And that doesn't even account for the arrival of heralded junior college transfer Quintin Woods, who originally signed with Michigan out of high school before heading to Bakersfield (Cal.) Community College to get his grades in order.
Kansas State: The emergence of linebackers like Alex Hrebec, Ulla Pomele and John Houlik has helped turn the position into the strength of the defense, even as the Wildcats are transforming to a 4-2-5 alignment. Hrebec, a former walk-on, contributed 19 tackles in the spring game and Houlik is a huge hitter despite his 5-foot-11, 219-pound size.
Missouri: Redshirt freshman Aldon Smith has only added to the Tigers' depth at defensive end, which already featured Brian Coulter and Jacquies Smith in front of him. Smith was voted as the team's most improved player in the spring. Throw in converted offensive tackle Brad Madison and redshirt freshman Marcus Marlbrough and you'll see why Gary Pinkel considers it his best collection of defensive ends at Missouri.
Nebraska: The Cornhuskers had serious questions at quarterback, particularly after the departure of projected starting challenger Patrick Witt before spring practice and Kody Spano's knee injury. But the strong spring by Zac Lee and the surprising development of converted linebacker LaTravis Washington eased some of offensive coordinator Shawn Watson's concerns. Their strong spring work also should mean that heralded freshman Cody Green likely won't be thrown into action perhaps as quickly as Watson might have feared before the spring.
Oklahoma: After losing starters Nic Harris and Lendy Holmes, safety was the only position without returning starters for the Sooners on defense. Quinton Carter nailed down one starting position and Sam Proctor and Joseph Ibiloye are poised to fight for the other job beside him. Emmanuel Jones and Desmond Jackson also had strong spring efforts to challenge for playing time.
Oklahoma State: Defensive tackle was enough of a question that new coordinator Bill Young moved Derek Burton inside from defensive end to help bolster depth at the position. Burton and Swanson Miller appear to have won starting jobs with redshirt freshman Nigel Nicholas and junior Chris Donaldson providing strong depth. Their strong play helped the Cowboys rack up seven sacks in the spring game - more than half of their 2008 season total of 13.
Texas: The Longhorns were concerned about defensive end after the departure of NFL draft picks Brian Orakpo and Henry Melton from last season. Those fears appear to be assuaged after the seamless transition of Sergio Kindle to the position from linebacker and the quick assimilation by freshman Alex Okafor. Toss in Sam Acho and Russell Carter and the return injured pass-rushing threat Eddie Jones and the Longhorns appear stacked at the position.
Texas A&M: Safety was a question mark before spring camp after the loss of Devin Gregg and Alton Dixon and the move of 2008 starting free safety Jordan Peterson to cornerback. But the strong return to safety by converted cornerback Jordan Pugh and the noticeable development by Trent Hunter helped solidify the position during the spring. And the Aggies' depth at the position was improved after the move of wide receiver Chris Caflisch to the position along with strong play from DeMaurier Thompson.
Texas Tech: The departure of two-time Biletnikoff Award winner Michael Crabtree and underrated Eric Morris was supposed to cripple the Red Raiders' receiving corps. Mike Leach appears to have found several serviceable replacements after Tramain Swindall, Lyle Leong, Detron Lewis and walk-on flanker Adam Torres all emerged during the spring. And that doesn't include Edward Britton, who was in Leach's doghouse much of the spring after falling behind in the classroom but still is perhaps their most athletic force on the field.
May, 14, 2009
5/14/09
7:58
AM ET
Posted by ESPN.com's Tim Griffin
Football careers can sometimes turn on a fortunate break.
| | |
| --- | --- |
| | |
| | Michael Strong Photography |
| | Alex Torres has some big shoes to fill in taking over Michael Crabtree's flanker position. |
Texas Tech walk-on wide receiver Alex Torres knows all about that, as his opportunity to play with the Red Raiders was boosted by a break that proved to be more literal than figurative.
Specifically, a broken hand that Torres sustained while in basic training to join the Air Force Academy two summers ago snuffed out any hopes he had of joining the Falcons.
But when that dream ended another one materialized. After sitting out of football for a year, Torres has walked on with the Red Raiders, sending him from a program that ranks among the least friendly for wide receivers to one of the nation's most prolific aerial teams.
In the mindset of a receiver, it was like going from a barren desert to a rain forest.
"There's a huge difference in the programs," Torres said. "It's a receiver's dream to play at this school. I'm very excited and happy how it all turned out. I couldn't feel more fortunate."
Torres has made the most of his opportunity as a walk-on with the Red Raiders this spring, emerging from relative obscurity before spring practice to claiming a starting job on Tech's depth chart after spring practice ended.
February, 27, 2009
2/27/09
10:43
AM ET
Posted by ESPN.com's Tim Griffin
Heading into spring practice, several players across the Big 12 appear they might ready to blossom and become key contributors for their teams. Here are some of the most notable as spring practice approaches.
Missouri DE Brian Coulter -- After arriving from Florida State last summer, Coulter brashly predicted he would develop into an All-Big 12 player. He didn't do it last season, but might be ready this season as new Missouri defensive coordinator Dave Steckel rebuilds the defensive front after losing three starters.
Colorado WR Markques Simas -- After redshirting as a true freshman in 2007, Simas was academically ineligible last season. During that period, he tore it up on the Buffaloes' scout team. That performance has provided coach Dan Hawkins with hope that Simas can develop into a consistent producer with regular playing time.
Texas Tech WR Edward Britton -- Despite the presence of receivers like Michael Crabtree and Eric Morris in the Red Raiders' rotation last season, Britton produced a team-best average of 16.5 yards per catch on his 35 receptions and produced six TD grabs. With new quarterback Taylor Potts throwing, Britton might have a chance to emerge as his featured receiver without Crabtree and Morris returning.
Texas A&M DE Von Miller -- He's been known primarily for a late hit on Graham Harrell two seasons ago and his controversial horse-collar tackle that caused a broken leg for Colorado's Rodney Stewart last season. But Miller may be ready to become one of the conference's top pass-rushing threats for the Aggies after producing 3.5 sacks last season.
Oklahoma State DT Derek Burton -- A prime contributor as a starter last season at defensive end, Burton could blossom after moving inside. Developing his run-stuffing abilities will be critical as the Cowboys compensate after the loss of starters Tonga Tea and Jeray Chatham from last season.
November, 9, 2008
11/09/08
2:09
AM ET
Posted by ESPN.com's Tim Griffin
LUBBOCK, Texas -- Graham Harrell had a few early jitters. But he didn't have the meltdown that many observers expected.
His early fumble and the resulting Oklahoma State touchdown sparked a few groans about how Texas Tech would respond after last week's upset over Texas.
| | |
| --- | --- |
| | |
| | Sam Adams/US Presswire |
| | Texas Tech quarterback Graham Harrell matched his career-high with six touchdown passes in a win over Oklahoma State. |
"I just wanted to stay calm," Harrell said. "It was only two minutes in the game and there was no reason to worry about it. We gave them the ball and they scored. But it was no reason to panic because we still had 58 minutes of football to play."
Harrell and the Red Raiders proceeded to erupt with a vintage offensive performance that even had Mike Leach smiling at the end of the game.
"Yeah, it (the fumble) wasn't good," Leach said. "But if anything, it was beneficial. It settled us down and we had better tempo after that."
Tech charged ahead with touchdowns on seven-straight possessions as they cruised to a resounding 56-20 victory over Oklahoma State.

"Seven-straight was good," Harrell said. "That's what it's all about: putting the last drive behind as you are scoring the next one."
The length of the drives were equally impressive. Tech marched for touchdowns on drives of 80, 70, 97, 72, 48, 80 and 96 yards. Only another fumble by Harrell on his final play of the game ended the streak.
"That's probably as good of a whole game as we've put together," said Eric Morris, who led Tech with 10 catches for 97 yards and a touchdown. "We were clicking on all cylinders."
Harrell said he was inspired by many doubters who thought the Red Raiders would crumble after the victory over Texas last week.
Oklahoma State had upset Missouri and played Texas close in Austin. In both games, they had limited those opponents to more than 20 points below their yearly scoring averages.
But the Cowboys were no match for Texas Tech's offense on Saturday as the Red Raiders raced to their first 10-0 start since 1938.
"I think it says a lot about us, it's big," said Harrell, who completed 40 of 50 passes for 456 yards while matching his career high with six touchdown passes.
"A lot of people picked us to lose and thought we wouldn't be ready to play. But that's the thing about this team is we put games behind us quickly and come out ready for our next opponent."
The Red Raiders got production up and down their lineup. Harrell was barely pressured and, after being sacked twice in each of his last two games, he wasn't sacked tonight.
Eight different receivers produced at least two receptions. Baron Batch and Shannon Woods combined for 115 yards. It was the 10th straight game this season that Tech produced at least 100 rushing yards.
And Michael Crabtree had another big performance as he grabbed eight passes for 89 yards and three touchdowns.
"There wasn't anything to it," Crabtree said. "I was just doing my job and making routine plays. It came out to three touchdowns."
But the biggest offensive performance still was sweet for the Red Raiders, who proved something to many who expected them to fail.
"I feel every week we have something to prove," Crabtree said. "Week after week they seem to come up with something about us not having this or that. So every time we come out and we've got to play. That's what I put into everyone's head and that's what we've done."
October, 25, 2008
10/25/08
7:42
PM ET
Posted by ESPN.com's Tim Griffin
LAWRENCE, Kan. -- They are already breathlessly calling Texas Tech's game with Texas next week the biggest game in the history of the school.
| | |
| --- | --- |
| | |
| | Douglas Jones/US Presswire |
| | Mike Leach's Red Raiders face a tall order in Texas next Saturday. |
First place in the Big 12 South will be up for grabs in the battle between two 8-0 teams. And still, Tech wide receiver Michael Crabtree isn't caught up in the excitement yet.
"I don't feel hype, I just see footballs," Crabtree said. "Whatever they say, I don't listen to it."
Crabtree's attitude, although rather simplistic, might be the reason why this Tech team is suited to slay the monster from Austin better than most of coach Mike Leach's recent teams.

The top-ranked Longhorns have beaten Tech six out of the seven times they have met under Leach. It almost seems like the Longhorns have gotten into the Red Raiders' head with the way they have dominated them along both sides of the line of scrimmage during the recent run.
Texas has averaged nearly 46 points in the last seven games against Tech, including 59, 35, 52 and 51 points in the last four games.
But if Tech can follow the formula that marked their 63-21 victory over Kansas on Saturday, the Red Raiders are the team best suited to beat the Longhorns among Big 12 challengers.
The Red Raiders have developed balance in their running game that will force Texas to play them honestly. And their massive offensive line has only allowed three sacks this season, meaning they should be better able to neutralize top Texas pass-rushers like Brian Orakpo and Sergio Kindle.
If Tech can protect Harrell, it will give them the best chance to pick on young Texas safeties Blake Gideon and Earl Thomas -- particularly with game-breaking receivers like Crabtree and Eric Morris roaming through the secondary.
And on defense, the Red Raiders appear to be peaking. They have allowed only 23 points in the last six quarters. During a span of 19 defensive possessions, the Red Raiders have allowed only three scoring plays and forced six turnovers.
"My thought is that it's another team and we'll do the best job we can against them," said Crabtree, who played through a sprained ankle to provide a team-best nine receptions for 70 yards and two touchdowns. "It should be fun."
August, 22, 2008
8/22/08
1:42
PM ET
Posted by ESPN.com's Tim Griffin
| | |
| --- | --- |
| | |
| | Sam Greenwood/Getty Images |
| | Graham Harrell racked up the second-most passing yards in history last season with 5,705. |
Mike Leach made an interesting comment at a luncheon Thursday in Lubbock honoring his team, mentioning something I'm sure he probably thinks about more than he ever would readily admit.
In a throwaway line during the proceedings, Leach talked about how he'd like to see quarterback Graham Harrell have the opportunity to pass for "a few more yards, perhaps."
And when Leach said that, it could mean that Harrell might have a shot at a milestone that has more sizzle than any modern-day passing record: 6,000 passing yards in a season.
That number is so round and so magical that I'm sure it has a lot of appeal to Leach, particularly considering his passers already have notched the two top passing numbers in NCAA history and four of the top 10. It's particularly amazing that four different Texas Tech passers have accounted for those four big seasons.
But 6,000 passing yards would have the kind of permanence like Wilt Chamberlain's 100-point game or a .400 batting average in baseball that would make it truly special in the modern-day world of athletics.
B.J. Symons passed for a record 5,833 yards in 2003. Harrell missed that by only 128 yards last season, notching the second-most passing yards in history with 5,705.
To get to 6,000 yards, Harrell would have to average 461.5 yards in a 13-game season. His chances to reach the milestone would be even better if Tech ended up with a 14-game season that would be necessitated by playing in the Big 12 championship game and a bowl game. That would drop his number to 428.6 yards per game. Harrell averaged 438.8 yards per game last season.
With the return of Biletnikoff Award winner Michael Crabtree and the development of young receivers like Edward Britton, Eric Morris and Detron Lewis, Harrell will have one of the best receiving groups in college football. He needs to stay healthy and thrive early against a weak nonconference schedule that will feature SMU, Nevada and Division I-AA schools Eastern Washington and Massachusetts.
Top passers in NCAA history
Player
School
Yards
Year
1. B.J. Symons
Texas Tech
5,833
2003
2. Graham Harrell
Texas Tech
5,705
2007
3. Colt Brennan
Hawaii
5,549
2006
4. Ty Detmer
BYU
5,188
1990
5. David Klingler
Houston
5,140
1990
6. Paul Smith
Tulsa
5,065
2007
7. Kliff Kingsbury
Texas Tech
5,017
2002
8. Tim Rattay
Louisiana Tech
4,943
1998
9. Steve McNair
*Alcorn State
4,863
1994
10. Sonny Cumbie
Texas Tech
4,742
2004
* Division I-AA school
And if he gets close, I'm sure a "numbers guy" like Leach would give him a few more snaps for "a few more yards, perhaps."
The Texas Tech program under Leach has obviously produced the biggest passing numbers in college football history. And that's why I'm thinking that having the first passer to toss for 6,000 yards would be kind of Leach's "man on the moon" moment that would truly provide his program with some kind of historical permanence.
And that's why I think "a few more yards," at least for Leach, certainly means 6,000.
August, 16, 2008
8/16/08
12:57
PM ET
Posted by ESPN.com's Tim Griffin
Few schools have the rich historical base of Texas. And that's why the recent addition at Darrell K. Royal/Texas Memorial Stadium is so neat.
School officials have installed an exhibit in the stadium's north end zone that will list and honor the five retired numbers in the school's football history. Players who have been honored include Vince Young, Ricky Williams, Bobby Layne, Earl Campbell and Tommy Nobis.
Other schools have done this. I always have a fond remembrance of the past when I see Johnny Roland's or Kellen Winslow's number at Faurot Field or Rashaan Salaam at Folsom Field. It's a great way to recall the past.
I'm still waiting for some school to erect its own version of Monument Park like I saw at Yankee Stadium. Walking up to the bronze plaques of Babe Ruth, Lou Gehrig and Mickey Mantle left me with a lump in my throat. And I don't even like the New York Yankees.
Here's hoping that the Texas architects have arranged for these retired numbers to be prominently displayed where it will occasionally be noticeable on television broadcasts and be clear enough for people in the stadium. Because schools need to remember great players and their history.
And hopefully, these links will be as similarly cherished in 50 years.
August, 14, 2008
8/14/08
11:00
AM ET
Posted by ESPN.com's Tim Griffin
LUBBOCK, Texas -- Texas Tech cornerback L.A. Reed has been around the Red Raider program long enough to know about the predominant public perception about his team.
The Red Raiders are the only Big 12 team to be bowl-eligible in every season in the conference's history. But a frustrating knack of stumbling against lesser opponents has kept the Red Raiders from ever qualifying for a BCS bowl game or winning a Big 12 title.
Tech hasn't won an outright conference championship since winning the Border Conference in 1955 and hasn't won 10 games in a season since 1976.
"I've been here for four years and we were right there about winning the Big 12. And we always lost a game to mess it up," Reed said. "This year, we don't have any excuses."
With a talented array of returning players led by Heisman Trophy candidates Graham Harrell and Michael Crabtree, the Red Raiders have been the boys of summer -- at least in terms of preseason publicity.
Tech was ranked 14th in the preseason USA Today coaches' poll -- its highest preseason ranking in 31 seasons -- and cracked the top 10 in several preseason magazines. But in order to fulfill those lofty expectations, the Red Raiders will have to bring a different attitude than in previous seasons.
| | |
| --- | --- |
| | |
| | AP Photo/Waco Tribune Herald/Jerry Larson |
| | Texas Tech's Mike Leach isn't fazed by the lofty expectations surrounding his program. |
Last year, Tech fell out of the South Division race with a crushing streak of three losses during a four-week period after starting 5-1. Losses at Missouri and Texas weren't really surprises, but a home loss to Colorado was.
In 2006, Tech dropped a 30-6 decision to Colorado after the Buffaloes had started the season 0-6. Their outside hopes for a BCS berth in 2005 were snuffed out by a 24-17 late-season loss at Oklahoma State that was the Cowboys' only Big 12 victory that season.
Tech dropped a 27-24 loss at New Mexico in 2004 against a Lobo team that started that season 2-4. And in 2001, the Red Raiders squandered a 34-31 home double-overtime loss to Kansas that was the Jayhawks' only Big 12 win that season
"In the past, we've been known to come up with one or two big victories a year that we shouldn't get and then turn around the next week and lose a game that most people think there's no way we should have lost," Tech inside receiver Eric Morris said. "We're just trying to stay on more of an even keel this season."
Although expectations are shooting through the roof around the Tech program, coach Mike Leach says his outlook hasn't changed despite this season's lofty goals.
"I've never coached a game in the Big 12 that, before the game started, I didn't think we were going to win," Leach said. "Our expectations are already high. So what that means to me is that we just have to ignore expectations and everybody needs to do their job."
And the preseason hype, Leach says, hasn't affected his coaching style or his demeanor.
"You do the best you can every day," he said. "That's all anybody can do. I don't feel any pressure."
Leach has been a consistent during his time coaching the Red Raiders. Tech has never won less than seven games or won more than nine games in his eight previous seasons at the school. But whether the Red Raiders can take the next step and become a BCS challenger remains to be seen.
"Everybody thinks about Texas Tech, they always think we'll have that stumble somewhere," Reed said. "We've got to push through that. We've got everything we need. We just need to prove everybody wrong this year."
July, 22, 2008
7/22/08
8:05
AM ET
Posted by ESPN.com's Tim Griffin
New Texas A&M coach Mike Sherman isn't ready to name his starting quarterback for his team's Aug. 30 season opener against Arkansas State. Sherman told the Houston Chronicle Monday at the Big 12 media days that incumbent Stephen McGee and backup Jerrod Johnson will battle for the job during spring camp. "I think it would be unfair to walk in and just hand Stephen the job," Sherman told the Chronicle. "I told him he's going to have to earn it. In fairness to him and Jerrod, they both have to work against one another and earn the job." I guess that's the reason that McGee didn't accompany Sherman to Kansas City.
Lots of stories from lots of places after the first day of the Big 12's annual summer media gathering.
My take -- Morris swore to me that he weighed 172 pounds when I talked to him on Monday. I don't know, maybe a couple of extra Keebler cookies in his pocket.
My take -- Pelini is saying it now, but it could be a different story when his defense starts lining up against Chase Daniel and Todd Reesing in the Big 12.
My take -- Leach has been better, but it was still a solid media day performance that was better than any other coach so far. My favorite Leach line Monday came when the overhead lights blinked on during his media availability at the podium with several reporters. "I guess it must be last call," he responded.
My take -- Sherman's old-school philosophy wouldn't work at a lot of schools, but is ideal for a tradition-bound program like A&M. It might take him a couple of years to get his players, but when he does it will be interesting.
My take -- Daniel's confidence around his program is palpable. He's the top candidate to win the Big 12's first Heisman Trophy since Jason White in 2003.
My take -- Maclin still is the one player in the Big 12 that makes me hold my breath every time he touches the ball. He can make something exciting happen on every play.
My take -- I remember when Laymance started his career as a prep reporter in Dallas in the early 1980s. Even though he's spent most of his recent time working in the ivory towers of newspaper management, he still hasn't lost his touch. But I bet he hopes to hire a new Missouri beat writer to replace my new ESPN.com colleague Graham Watson -- sooner rather than later.
My take -- Are you really surprised? Kansas officials went to court last week trying to say the school had copyrighted a shade of blue. A presidential candidate? Small potatoes.
My take -- That might be a tad extreme, but Stoops should expect to hear that question in a variety of forms when he arrives at the Big 12 media days on Wednesday. Consider that to be his fair warning before he arrives.