April, 26, 2010
4/26/10
5:59
PM ET
Notre Dame had four players selected in the NFL draft over the weekend, and three more Irish players have inked free-agent deals.
Offensive tackle
Paul Duncan
and safety
Kyle McCarthy
both signed with Denver, where they will join center
Eric Olsen
, whom the Broncos drafted in the sixth round. Safety Sergio Brown signed with New England, where he'll be reunited with former Notre Dame defensive backs coach Corwin Brown.
Running back
James Aldridge
has been invited to the
Miami Dolphins
rookie minicamp, while wide receiver Robby Parris will attend rookie minicamp with the
Cleveland Browns
. David Grimes has been invited to try out with Kansas City, where former Notre Dame head coach Charlie Weis now serves as offensive coordinator.
October, 17, 2009
10/17/09
9:37
PM ET
Posted by ESPN.com's Brian Bennett
| | |
| --- | --- |
| | |
| | Kirby Lee/US Presswire |
| | Quarteback Jimmy Clausen and Notre Dame closed the gap with USC but could not pull out the victory. |
SOUTH BEND, Ind. -- Notre Dame has made a habit of walking tightropes at the end of games. After Saturday's literal last-second loss to No. 6 USC, the Irish performed a balancing act with their emotions.
In one heartbeat, the players could say they finally moved into the same zip code as USC, which had beaten Notre Dame by a combined score of 76-3 the past two years. No Irish team had come this close to the Trojans since 2005.
One pulse later, they would realize that there are no moral victories in South Bend. It's still a disheartening loss for a program seeking a validating victory under Charlie Weis, one that had put so much emphasis the past two weeks on ending the seven-game losing streak in this now one-sided rivalry.
"It's tough," center Eric Olsen said, describing that inner balancing act. "At least it wasn't 38-0 again or a blowout. But at the same time, we're not in a conference, so we can't look forward to a conference championship. It's BCS or bust for us."
Olsen then acknowledged the grim reality for the 4-2 Fighting Irish: They almost certainly will have to win their last six games to get into consideration for a BCS berth. And even then, they would need some help.
"Anything is possible," he said, hopefully. "I saw some of the scores around college football today. We'll have to run the table, and then it will be up to the polls."
There's not a ranked team left on the schedule, though Pittsburgh could well move into the Top 25 this week. An optimist would say this team can play with anyone in the country if it can battle the No. 6 Trojans to the final tick of the clock.
Jimmy Clausen
had three pass attempts from the 4-yard line in the final nine seconds to tie the score at 34. Had you offered that scenario to Weis, Clausen or any Irish fan at any time before 7 p.m. local time on Saturday, they would have snatched it and run away giggling.
Notre Dame also continued this season's newfound resiliency by refusing to go away after falling behind 34-14 with 13:33 remaining. Spike Lee and Will Ferrell were squirming on the sidelines just moments after a blowout seemed certain.
"We don't really care what the score is," receiver
Golden Tate
said. "We're going to keep playing."
Yet as much as the gap appears to have narrowed between the Irish and USC, Weis's team displayed some of its more disturbing 2009 trends.
The defense let a true freshman quarterback,
Matt Barkley
, shred it for 380 passing yards. The offensive line, whose improvement was touted as reason for belief this week, allowed Clausen to be sacked five times, or one more time than in last year's 38-3 humiliation. The line couldn't get enough push on fourth-and-1 from the USC 29 early in the third quarter, which helped the Trojans seize momentum.
And then there is the maddening tendency to play up or down to whatever competition comes along.
"When you live on the edge like that, you're not always going to come out on the winning side," Clausen said.
Weis declined to reveal what he said to the team after the game, calling it private. It would have been interesting to hear, because even he seemed conflicted about the outcome.
"It's never OK to lose," he said. "But they're a bunch of fighters."
None of the players looked like they were crying at the end of this game, unlike the Michigan loss. Though they were down, they didn't seem crushed during postgame interviews like some losses in the past. There's not much time for dwelling on this one, because another rival with a long winning streak arrives in South Bend next week: Boston College.
Until then, the Irish will have to keep balancing the divergent emotions from this game, while trying to lean toward the positive.
"We showed a lot of heart today," Olsen said. "That's something that is a little bit of light in a lot of darkness."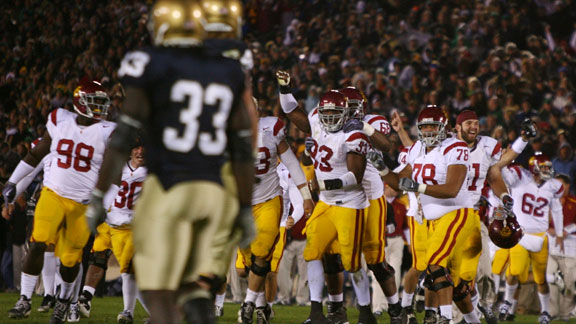 September, 28, 2009
9/28/09
5:33
PM ET

Posted by ESPN.com's Adam Rittenberg
The Big Ten might lack a top 5 team, but the league leads the nation in suspending its own players.
Ohio State star safety Kurt Coleman on Monday became the third Big Ten player in as many weeks to be issued a
one-game suspension
from the conference office.
Coleman will sit out this week's game at Indiana because of a helmet-to-helmet hit on Illinois quarterback
Eddie McGee
in the final minutes of Saturday's 30-0 Ohio State victory. Officials flagged Coleman for a personal foul, and though he wasn't ejected, he left the field and did not return.
In issuing Coleman's suspension, the Big Ten cited a new NCAA rule requiring conference to review flagrant personal fouls, especially those involving helmet-to-helmet contact and "targeting an opponent."
From the Big Ten's news release:
In the 2009-10 NCAA Football Rules and Interpretations, Rule 9-6, Article 2, states: "When there is a foul called for initiating contact/targeting an opponent [Rule 9-1-3] that does not result in a player disqualification, there shall automatically be a video review by the conference for possible additional sanctions before the next scheduled game." Rule 9-1, Article 3.a., states in part that "no player shall initiate contact and target an opponent with the crown [top] of his helmet." Rule 9-1, Article 3.b., states in part that "no player shall initiate contact and target a defenseless opponent above the shoulders."
The Big Ten reviewed the play and consulted with NCAA National Coordinator of Officials Dave Parry before imposing the one-game suspension for Coleman.
Ohio State athletic director Gene Smith and head football coach Jim Tressel issued a joint statement Monday disagreeing with the league's decision.
"Obviously, we will abide by the one-game suspension from the Big Ten Conference, but we feel as if there was poor judgment throughout," Ohio State's statement reads. "We concur that Kurt's hit was late and a result of poor judgment; he was thus penalized and removed from the game by his coaches. We do not agree that it was 'premeditated' or that he was 'targeting a defenseless' player. The decision to suspend points to the conference office's feeling as if there was poor judgment by the game officials for their decision not to eject at the time. In our estimation, the final 'poor judgment' is in levying a one-game suspension in this particular case. We will abide by the decision, learn from it, and move forward."
Wow. It doesn't seem like the Big Ten's recent string of suspensions is sitting well with its members.
The league
suspended Michigan linebacker Jonas Mouton
for punching Notre Dame's Eric Olsen in a Sept. 12 game, while Purdue offensive lineman Zach Reckman was
suspended for Saturday's game
against Notre Dame after a late hit at the end of the Northern Illinois loss.
The difference here is neither Mouton nor Reckman drew penalties for their actions. Michigan wouldn't have suspended Mouton had the league not intervened, while Purdue planned a one-quarter suspension for Reckman.
Coleman is a co-captain at Ohio State and by all accounts a fabulous representative for the team and the university. Ohio State understandably hates to see a guy like Coleman cast in a negative light.
The league, by the way, had no comment on Ohio State's response when I checked in this afternoon.
By suspending a prominent player like Coleman, the Big Ten reiterated the message that on-field conduct will be closely examined and severely punished, if necessary. It'll be interesting to see if other conferences follow suit or not.
September, 16, 2009
9/16/09
5:58
PM ET

Posted by ESPN.com's Brian Bennett

Saturday's game against Michigan State looms as a virtual must-win situation for Notre Dame's BCS hopes, which is a bit problematic since the Spartans have dominated the Irish in recent years.

Michigan State has won two straight and nine of the last 12 meetings against Notre Dame and, even more impressively, has taken six straight in South Bend. The Spartans' last loss in Notre Dame Stadium came in 1993.

"That's one stat I'm certainly well aware of," head coach Charlie Weis said. "If you think this team comes in after losing last week feeling like they have no chance to beat you, well, the last six times they've come in here, they've done it."

Both sides approach this week's game with an air of desperation. Michigan State lost last week on a last-second field goal to Central Michigan. The Spartans can't wait to try to change the conversation after that embarrassment.

The Irish lost 38-34 at Michigan in a game they led in the final three minutes. A 1-2 start would be disastrous and would mean they would probably have to run the table -- including a win over USC on Oct. 17 -- in order to win 10 games and have a realistic shot at the BCS.

Notre Dame first has to put the pain of last week's loss to bed, something that last year's team might not have been able to do. But the players said they had all but erased it from the memory banks by the time Tuesday's practice began.

"I think we have a much more mature team this year," safety Kyle McCarthy said. "We know we have to put last week behind us no, matter how hard it is, and move on. There's a whole lot of football left to be played."

In the locker room after last week's loss in Ann Arbor, Weis challenged his team to "do something about it" if they wanted to avoid feeling the sting of defeat again. He left that purposefully vague, and it was up to the team captains to take charge.

"It starts with me and the other captains on down," center Eric Olsen said. "Jimmy [Clausen] did a good job [on Tuesday] of coming out and not hanging his head but coming out with fire and emotion. I tried to do the same thing. I think the guys picked up on that and gravitated to that. We can't hang our heads after one loss."

The question on Saturday won't be one of focus but rather one of toughness for the Irish. Michigan State plays a bruising, physical style that has given Notre Dame fits of late. Last season, for instance, the Spartans had 203 yards rushing to just 16 for the Irish in a 23-7 victory.

Notre Dame likes to think it has gotten much tougher this year, and the play of the offensive line through two games suggests that is the case. Clausen has yet to be sacked this season despite facing two teams with good pass rushes, and the running game has been vastly improved. Still, Michigan State figures to be a harder-hitting team than either Nevada or Michigan.

"They're one of the more physical teams we'll play all year," McCarthy said. "That's just their mentality, something they have in their program. They're a hard team to play, and we'll definitely be sore on Sunday."

If the Irish don't find a way to end the Spartans' streak, they'll be a lot more than sore. Their season will be in a world of hurt.
September, 12, 2009
9/12/09
9:40
PM ET
Posted by ESPN.com's Brian Bennett
ANN ARBOR, Mich. -- Notre Dame's players have become as familiar with road losses and where-do-we-go-from-here queries as they are with the lyrics to the school fight song.
Saturday's 38-34 loss to Michigan
felt a little different, however. This felt more like one that got away than one they simply weren't good enough to take.
"Obviously, I've been through a lot of losses here," senior center Eric Olsen said. "This one is painful because we know what we're capable of and what our goals are."
This was supposed to be the season that the Fighting Irish won 10 or 11 games and got back to national prominence. Instead, two weeks in they find themselves at 1-1 and needing to beat Michigan State next week at home in a game pitting two suddenly desperate teams.
And so again Charlie Weis -- whose job security will come under renewed scrutiny -- had to tell his players it was up to them to end this repetitive feeling. Weis gave a similar come-to-Touchdown-Jesus speech after last year's 38-3 loss at USC in the regular-season finale. The team insists, however, that it doesn't need to hear those words nearly as much this time around.
"This right here is a small speed bump, as far as I'm concerned," receiver
Golden Tate
said. "We beat ourselves."
Unlike the past two years, the Irish showed some heart when adversity struck.
Michigan took a 31-20 lead early in the fourth quarter and had all the momentum in its favor. Instead of wilting, though, the Irish rallied back to score a touchdown on a 14-play drive. Then they forced a turnover, on Kyle McCarthy's interception, and punched it in again for another touchdown to take a 34-31 lead with 2:29 left.
Quarterback
Jimmy Clausen
proved his recent stellar play wasn't just a product of Swiss-cheese WAC defenses. He completed 25-of-42 passes for 336 yards and three touchdowns with no interceptions and continues to make solid decisions in the pocket
"You can look at a lot of people for what went wrong," Weis said, "but you can't look too much at him."
Notre Dame has a lot of things to work with now, including a seemingly-unstoppable receiver in sophomore
Michael Floyd
(seven catches, 131 yards before a leg injury forced him out late) and an improved running game that saw Armando Allen run for a career-best 139 yards.
Still, this latest loss didn't come at USC. This was to Michigan, a team itself battling back from last year's 3-9 disaster. The Wolverines gashed through the Irish defense in the second half behind a freshman quarterback,
Tate Forcier
. Notre Dame left too many points on the board in the first half because of poor red zone execution and got stymied in the third quarter by the Michigan pass rush.
Then there were the mental mistakes. Allen got called for a celebration penalty on the Irish's final touchdown by putting his finger to his lips to shush the crowd. Weis let Michigan hang onto its timeouts and have plenty of time for the winning drive by throwing the ball twice in the final two minutes instead of running the ball and draining clock. The normally sure-handed Tate dropped two potential touchdown passes and failed to get out of bounds or go down on the last play to give his offense one more shot.
"It was just a lack of focus on my part," Tate said. "I put this loss on my back."
Tate doesn't deserve that much blame; lack of focus may have been a team-wide issue. Olsen said Tuesday and Wednesday's practices were sloppy as some guys tried to coast through the workouts. He thinks that directly translated to Saturday's nine costly penalties and other problems.
Notre Dame might be a better team this year, but it still can't afford those kinds of slip-ups. Not unless it wants to keeps repeating its recent history.
"We have to use this game as a springboard and look ourselves in the mirror," Olsen said. "There's no other choice for us."
September, 5, 2009
9/05/09
9:05
PM ET

Posted by ESPN.com's Brian Bennett
| | |
| --- | --- |
| | |
| | AP Photo/Michael Conroy |
| | Quarterback Jimmy Clausen and the Notre Dame offense was nearly flawless in the opener. |
SOUTH BEND, Ind. -- Kyle McCarthy's voice warbled as he sang the Notre Dame fight song in the locker room after Saturday's game. The senior safety admits he has a bit of a tin ear when it comes to music.
"I'm hoping that will change this year, because I'm taking a piano class," he said.
McCarthy's serenade created one of the few false notes on this day for the Irish, who put on a virtuoso performance in their
35-0 season-opening victory
over Nevada. Head coach Charlie Weis chose McCarthy for the postgame fight-song honor because he's the captain of the defense, which pitched its first shutout since 2002.
He could have easily chosen quarterback
Jimmy Clausen
or receiver
Michael Floyd
, who were in perfect harmony in the passing game, or the offensive line, which finally got the running game and blocking schemes in symphony.
"Overall, I thought the operation, how everything went, went pretty much like clockwork," Weis said. "Even the few times that something went bad on offense or defense, we knew what the answer was."
Notre Dame has plenty of doubters out there, critics who wonder why a 7-6 team from a year ago is ranked in the Top 25 and being mentioned as a BCS contender. For one day, at least, the Irish displayed why expectations are running high in South Bend again. Players and coaches were forbidden from talking about lofty ambitions during the preseason, and Weis still wants that muted, but their play went to 11 on the amps Saturday.
"There's been a lot of talk since the Hawaii game," Clausen said. "We had to go out and show it, and I think we did."
Clausen may want to consider an immediate transfer to the WAC so he can win the Heisman Trophy next year.
He was nearly flawless on Saturday, finishing 15 of 18 for 315 yards with four touchdowns with no interceptions. In his last two games against WAC defenses, including last season's Hawaii Bowl, the junior quarterback has gone 37 for 44 for 716 yards and nine scores without a pick.
On Saturday, Weis found only two faults with Clausen's play: early in the game, he overthrew tight end
Kyle Rudolph
for what could have been a big gainer, and later he and Golden Floyd changed a called slant to a go route on a fourth-down incompletion.
"Other than those two, I can't remember a play when he wasn't right on," Weis said.
Having a receiver like Floyd erases a lot of mistakes. The 6-foot-3 sophomore had 189 yards and three touchdowns on just four catches. He took a swing pass 70 yards and turned a jump ball on a 40-yard fly route into an electrifying 88-yard score. The Irish's offenses sputtered toward the end of last year when Floyd was hurt; with him, Tate and Kyle Rudolph healthy, Clausen can simply choose where to look for a gamebreaker.
The Irish have almost always been able to pass the ball well, though. What made Saturday different is that they excelled at other things, too.
The much-maligned offensive line kept Clausen clean while facing a pair of Nevada ends who combined for 21.5 sacks a year ago. The line also paved the way for 178 rushing yards on 41 attempts, and might have reached Weis's magic cutoff stat of 4.6 yards per carry if the team didn't milk the clock at the end. The running game still isn't dominating -- Armando Allen led the way with a pedestrian 72 yards -- but at least it offers the offense more balance.
Weis put the onus on his line early, going for a 4th-and-one on the game's first possession. Fullback
James Aldridge
converted it with a two-yard dive. Early in the second half, Notre Dame got pinned inside its own 1 on a punt but gave it to Allen three straight times for a first down. That set up the touchdown bomb to Floyd.
"That was really important, because it gave us a chance to show we're for real," center Eric Olsen. "(Those situations) are something we definitely struggled with in the past, and we wanted the opportunity to show what we can do."
The defense surrendered 184 rushing yards and let the Wolf Pack average more than five yards per carry. But they continually came up with key third-down stops and created three turnovers while disrupting Nevada's pistol offense with constant pressure.
"People can say it was only Nevada, but let's not forget they scored 38 points a game last year and are a pretty good football team," McCarthy said. "So it was a good day for our defense. I think this was a pretty good starting point for this season."
And on that note, McCarthy was pitch perfect.
Posted by ESPN.com's Brian Bennett
Junior quarterback Jimmy Clausen, senior safety Kyle McCarthy, senior offensive lineman Eric Olsen and senior linebacker Scott Smith were named on Saturday as Notre Dame's captains for the 2009 season.
The selections were made by a vote of team members on Friday. Clausen and Olsen will captain the offense, McCarthy will be the defensive captain and Smith will captain special teams.

The selections weren't exactly a surprise, but it's a good sign that Clausen -- whose leadership has been a question mark during his first two years in South Bend -- was voted a captain by his teammates.
Notre Dame also named its leadership committee based on the voting results. The members will be senior fullback James Aldridge, senior cornerback Mike Anello, senior safety Sergio Brown, sophomore wide receiver Michael Floyd, junior defensive end Kerry Neal, sophomore tight end Kyle Rudolph, senior defensive end John Ryan, junior linebacker Brian Smith and senior offensive tackle Sam Young.
August, 8, 2009
8/08/09
1:49
PM ET
Posted by ESPN.com's Brian Bennett
SOUTH BEND, Ind. -- As a freshman offensive lineman, Eric Olsen remembers getting some advice from veteran teammate Dan Santucci.
Santucci, who's now with the Cincinnati Bengals, told Olsen to learn how to snap the ball, because you never know when that will come in handy.
| | |
| --- | --- |
| | |
| | Scott Boehm/Getty Images |
| | Eric Olsen is slated to slide from left guard to center this season. |
Luckily, Olsen listened, and that advice is now paying off as a senior. After 19 consecutive starts at left guard, Olsen is being moved to center for the Irish.
It's a new world for Olsen, who'd never played the position before getting some work there this spring. But he's ready for the change.
"I'm very comfortable in the offense now going into my senior year," he said. "I have a great grip on everything. I think playing center will be a good position for me personally. I feel comfortable making the calls and all the assignments."
Head coach Charlie Weis said on Friday that he'd planned on shuffling the line since the end of last season, but an injury to guard Trevor Robinson in the spring kept him from making the change official until this summer. Olsen steps in for senior Dan Wenger, who had started 15 straight games at center. Chris Stewart goes from right to left guard, while Robinson will play right guard.
The changes are interesting because the Irish returned all five starters on the O-line from a year ago, and their top six linemen combined for 100 starts, tied with Virginia Tech for the most in the FBS. The continuity and chemistry of that group seemed to be one of the team's strengths.
"We had to sit down and weigh what was best for the structure of offense versus the continuity aspect," first-year offensive line coach Frank Verducci said. "And we felt like we can get the continuity during two-a-days. There's a certain amount of continuity already. These five guys have all played and have all played with each other. Some of them are at a new position, and there is a learning curve there. But in my opinion, it's not as steep as it would be with an inexperienced player."
Verducci sees the 6-foot-5, 305-pound Olsen as a natural center, given his athleticism, size and smarts. It's up to Olsen to learn all the nuances of the position in training camp.
"There are definitely technical aspects that are difficult," he said. "But I feel like I've picked it up pretty quickly, and I have to pick it up quickly. As far as the calls and stuff, I like that responsibility and I'm embracing that responsibility. I pretty much do all the mental parts, the thinking before a play, already anyway."
Olsen doesn't see the changes affecting the cohesion of the offensive line.
"The only real dramatic changes were from guard to center," he said. "But I'm still on the interior, and it's the same guys and same faces. So I don't think chemistry will really be affected. I mean, it hasn't so far."
The other chemistry concern is between Olsen and quarterback Jimmy Clausen. Olsen has been practicing snaps since he was a freshman, thanks to Santucci's advice. And all spring and summer, he and Clausen have worked on the exchanges to make sure they're second nature.
When asked if Clausen had given Olsen any tips, the new Irish center sounded like a guy who had been snapping the ball all his life.
"He needs a little bit softer hands under there," Olsen said, laughing.
August, 7, 2009
8/07/09
6:00
PM ET
Posted by ESPN.com's Brian Bennett
SOUTH BEND, Ind. -- A few leftover notes from the first day of Notre Dame's weekend media extravaganza:
• A new depth chart was handed out shortly before coach Charlie Weis addressed reporters, and there were some changes from the spring. The most significant differences were on the offensive line.
Senior Eric Olsen, who started all 13 games at left guard last season, is now listed as the first-team center. Last year's starter at center, Dan Wenger, was banged up this spring. Sophomore Trevor Robinson is now No. 1 at right guard, while Chris Stewart has moved from right guard to left guard.
"We intend to play the best five guys," Weis said. "If Danny can beat out one of those three guys, then we'll shuffle accordingly. Right now, going into day one, that's where they are."
Weis said he's been planning this move for a while, but Robinson wasn't available in the spring because of a shoulder injury.
"With our scheme, the guy who gets isolated a whole bunch of times is the right guard," he said. "I think we believe that he's a guy that could athletically be in that position to give us the best chance to be successful."
• Speaking of the offensive line, Weis was encouraged by the newfound depth at the position.
He said this will be the first time in his tenure that he'll have 15 O-linemen on scholarship, and some young players have stepped forward in the weight room. He mentioned sophomore Braxston Cave, who bench-pressed 520 pounds this summer.
"That's not numbers; that's big numbers," Weis said. "Now, I don't know how that's going to translate into performance, but I do know that I'm encouraged with the number of people we're going to see when we walk out there."
• Freshman Manti Te'o, one of the nation's top recruits in last year's class, is currently listed as the backup will linebacker behind Brian Smith. But Te'o could play any of the three linebacker spots and has a great chance to start right away.
"He's very confident and understands the game from both sides," defensive coordinator Jon Tenuta said.
Weis said Te'o was physically no different than Smith and other upperclassmen at 6-foot-2, 244 pounds. I'm really looking forward to seeing Te'o running around in the open portion of tomorrow's practice.
• Wide receiver Golden Tate was one of 30 players nominated for the Walter Camp Award, which is given to the nation's top player.
September, 12, 2008
9/12/08
11:37
AM ET
Posted by ESPN.com's Adam Rittenberg
Sorry for the late start today. Had to make a quick trip to downtown Chicago and got caught in some morning traffic. The good news is, I got to hear Ohio State coach Jim Tressel on Mike & Mike in the Morning

. He reiterated that running back Chris "Beanie" Wells is doubtful for Saturday night's game against top-ranked USC (ABC, 8 p.m. ET). He added that the decision likely will be to play Wells sparingly or not at all. So it's unlikely Wells will play a major role in the game, even if he gets off the sidelines.
Let's start the links with the game everyone's talking about: