NCF Nation:

Eric Whitaker
May, 9, 2012
5/09/12
12:00
PM ET
For all the different competitions spilling out of Stanford this spring and into the fall -- quarterback, safety, offensive line -- head coach David Shaw made it clear that kicker is not one of them.
"Jordan is our kicker," Shaw said on Tuesday's Pac-12 conference call, referring to kicker
Jordan Williamson
.
Williamson, some might recall,
had a rough outing at the Fiesta Bowl
, missing three of four field-goal attempts in the 41-38 overtime loss to Oklahoma State. Most notable was a 35-yarder as time expired that would have given Stanford the victory.
Shaw was asked if there is a competition between Williamson and
Eric Whitaker
, which led to his decisive declaration for Williamson.
"Eric Whitaker is ready when called upon, just like a year ago when he was called upon to go at USC and was the special teams player of the week for the conference," Shaw said.
[+] Enlarge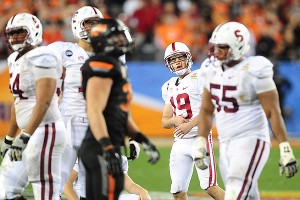 Mark J. Rebilas/US PresswireAn ugly Fiesta Bowl doesn't appear to have cost Jordan Williamson (19) his job as Stanford's kicker.
Williamson opened the season by converting his first seven field goals and 11 of his first 12. An injury forced him to miss three games -- USC, Oregon State and Oregon. Whitaker filled in and was 4 of 5 during that stretch.
"Jordan Williamson is an exceptional kicker who is athletic, who has a strong leg, who has been consistent up until the point he got hurt," Shaw said. "He came back and his timing was a little off and his technique was a little off."
Shaw said Williamson isn't lingering on it -- so neither is he.
"He and I have had one conversation about the Fiesta Bowl, and that was the day after," Shaw said. "All I told him was anybody that is any good at anything has always hit a low point. That was his low point. Scars heal, but they don't necessarily go away. He can use it as motivation or however he wants to use it. All I told him was when we go back to school, we go back to work. Your everyday activity, your everyday work ethic, how you carry yourself, your confidence, all of those things are things I'm going to observe. And when you're dedicated and work your tail off, and use the talents that you have, I said I'll never hesitate to put you back in that situation."
Speaking of "that situation" Shaw took the conference call as an opportunity to reiterate his decision to kick a field goal on the final drive in regulation. He was asked (full disclosure, by me) to reflect in general on his first year as a head coach -- whether he felt he was too aggressive or conservative in any situations or if he'd change anything moving forward.
"I don't know if you are referring to anything specific [for the record, I wasn't], if we're in a situation where we're driving the ball in a 2-minute drill against the team that leads the nation in interceptions, I don't give a doggone who the quarterback is. We're going to run the ball, get down to field-goal position and kick the field goal," Shaw said.
Sounds like coach and kicker have both moved on.
November, 22, 2011
11/22/11
11:00
AM ET
A few questions kicking around my head as we look to the final regular-season game.
Can the Cardinal finish what they started? Anything less than a BCS bowl game at the end of the year would be a letdown -- based on the expectations this team had going into the season. We always knew the national championship would be a difficult achievement -- it's supposed to be hard, and it's supposed to separate the very elite teams. Whether Stanford is an elite team, several notches below or somewhere in the middle remains to be seen. But a win over a ranked Notre Dame team can restore a lot of the national confidence lost against Oregon.
Will the Tree Amigos reunite? It's questionable, at this point. Tight end Zach Ertz might return this week after going down with a knee injury on the opening kickoff of the USC game. Stanford's offense -- though getting by with the versatile Ryan Hewitt, is far more explosive with Ertz. If he can get a few snaps in and get some live work, Stanford's chances of moving the ball successfully against a pretty stingy Notre Dame defense (20.3 points per game) increase significantly.
Is the pressure on Stanford's equipment/grounds-keeping staff? I understand that when it rains, footing becomes less stable. But we're not talking about one or two slip-ups over the last two games. There have been a lot of Cardinal players struggling for traction when it seems to only have a minor impact on opposing teams. Longer cleats? Shorter grass? Longer grass? Had it not been for a penalty, one of those slips would have cost the Cardinal a pick-six (though Cal scored anyway). It's something to keep an eye on Saturday.
Is the kickoff situation set? Despite kicker Jordan Williamson's return after missing three games with an injury, it was Ben Rhyne who handled the kickoff duties last week against Cal. With 58 kicks on the year (66.3 average) Williamson has been the primary kicker. Though in his absence, Eric Whitaker (57.9 average) filled in. Rhyne has 13 kicks on the year for an average of 62.4 with one touchback. It will be interesting to see if Williamson returns to kickoffs or if this is a permanent change for the remainder of the season.
How much emotion can these teams handle? The loss of Notre Dame running back Jonas Gray hurts from a team morale standpoint. Though Cierre Wood is the primary back, Gray was an emotional leader for the Irish -- who barely squeaked by Boston College last week. The Irish could rally -- or the lack of running back depth could hurt them against an aggressive Stanford front seven. Stanford has its own emotional issues at work. Already coming off back-to-back games rife with emotion, Saturday will be senior day -- and more than likely (pending the outcome of Oregon-Oregon State) -- the final home game for Andrew Luck and a cast of fourth- and -fifth-year seniors who turned the program around.
November, 13, 2011
11/13/11
2:36
AM ET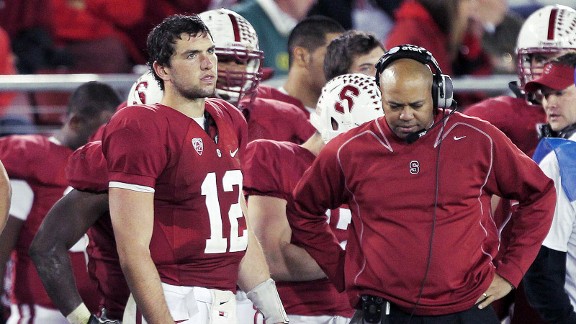 Ezra Shaw/Getty ImagesStanford QB Andrew Luck and coach David Shaw saw their 17-game win streak evaporate.
STANFORD, Calif. -- Babies don't go from crawling to running marathons. They stumble along the way. They awkwardly grope for something to hold on to. And when there is nothing there, they fall.
In terms of playing in significant college football games, Stanford is a program still very much in its infancy. And when it tried to get up and run, it fell. And when it groped Saturday night -- usually for Oregon running back
LaMichael James
-- there was nothing there. And when the Cardinal fell, they took the nation's longest winning streak and a shot at the national championship along with them.
"Now, we're going to see maturity-wise how we handle coming back from a game like this," said David Shaw, who suffered his first loss as Stanford's head coach. "It's hard to say what's going to define a season because the season is not over. We have a lot of football to be played, so we'll see how it all shakes out."
Stanford may very well end up in a BCS game as an at-large team (let's go ahead and assume Oregon doesn't lose its remaining two games, to USC and Oregon State). It could still win out and have one of the strongest seasons in school history. No shame in that.
But this is the one that people are going to remember. The one-sided
53-30
score, for sure. But also the missed tackles and turnovers -- five of them, if you're keeping count at home.
They won't remember a fantastic, two-touchdown game from wide receiver
Griff Whalen
, who at times looked like the only guy in red capable of catching a ball. They'll remember the drops. They'll remember James going for 146 yards and three touchdowns.
They won't remember a pretty good 99-yard rushing game from
Stepfan Taylor
-- who once again wasn't tackled for a loss. They'll remember the three sacks and two interceptions by quarterback
Andrew Luck
, who finished 27-of-41 for 271 yards and three touchdowns.
"They were fast on film and they were fast on the field," said Luck. "It was no surprise. They are a very good defense. They did a lot of good things. That forced us to make some bad decisions. Fast, definitely. Probably the best defense we've faced all year."
And that defense made a high-powered offense look mediocre, holding the Cardinal to 129 yards rushing and knocking Luck around the backfield. For perspective, he'd been sacked only four times in the previous nine games -- including seven games without a sack.
"We're not a team that turns the ball over," said center Sam Schwartzstein. "We're a team that executes extremely well. When you turn the ball over, it doesn't matter how well you execute. They did what we expected them to do. We had a good game plan. But they forced turnovers and got us out of our element."
That might be the most telling thing any player or coach said all night. Stanford fell behind early and was forced to play catch-up all night. They were out of their element. They threw 41 times and rushed 35 times. It was the first time this season a tight end didn't have a touchdown.
"Schematically, I thought we were fine," Shaw said. "This was not going to be one of those games where we run for 300 yards. This was going to be, the way we had it mapped out, a tight game -- which is what it was for a while. But once you turn the ball over and put it back in their hands, that's what they're built for."
And Oregon didn't pussyfoot. It ran right at the teeth of the Stanford defense and the Cardinal failed to make the stops. Oregon ran between the tackles 34 times for 168 yards and three touchdowns.
"The bottom line is they're a great team and great teams execute," said defensive lineman Matt Masifilo. "Great teams find your glitches and they executed more than us. They found our flaws and they exploited us."
And it didn't help that safety Delano Howell -- who had just returned after missing three games with a hand injury -- went out at the 8:13 mark in the second quarter after using his casted hand to force a fumble.
Stanford turned that into a 37-yard Eric Whitaker field goal to cut the deficit to 15-9. But in the third quarter, after James fumbled a punt, the Cardinal weren't able to capitalize. Trailing 29-16, Stanford got the ball at the Oregon 34, but moved the ball only 4 yards before Whitaker missed from 48 yards. It was the first time Stanford failed to score this season after gaining a turnover.
Oregon, meanwhile, had three touchdowns off five Stanford turnovers (though the last two fumbles happened when the game was well out of hand and Oregon wasn't trying to score).
"They took advantage of our turnovers," Shaw said. "We got turnovers and didn't turn them into points. That's the bottom line. You play against a team with that kind of speed, that kind of talent that is as well-coached as they are, you turn the ball over and you can't win."
It was clear Saturday night that -- as a program -- Stanford has some growing up to do.
"We're close," Shaw said. "We're not there yet. We have to keep recruiting. We have to keep coaching and our guys that are here have to keep pushing and fighting.
"I expect them to rebound greatly. We have a lot of guys in our locker room with a lot of character. They love playing the game of football. We've got two regular-season games and next week is Cal. We don't need help with motivation this week."
Saturday night, Stanford stumbled and fell. Next week, we'll see if they can stand back up.
November, 5, 2011
11/05/11
5:24
PM ET
CORVALLIS, Ore. -- A few thoughts
from halftime
of Stanford-Oregon State.


Turning point:
Wide receiver
Chris Owusu
was taken off the field in an ambulance after taking another illegal hit. After making a reception, Owusu was hit and fumbled the ball and it was returned for a touchdown, but the play was negated because of the penalty. The score would have tied the game at 14, but instead the Cardinal were able to convert a 31-yard Eric Whitaker field goal for a 17-7 lead. Initial reports are Owusu suffered a concussion, but was fully conscious and had full motion of all of his extremities.
Turning point (2):
On the opening play of the second quarter, tight end
Levine Toilolo
suffered an "upper body" injury. The Cardinal were already down one tight end with
Zach Ertz
suffering a knee injury last week.
Best player
: As
Andrew Luck
's targets continue to go down, wide receiver
Griff Whalen
continues to be Mr. Reliable on third down. Luck has twice looked to him on third down and he's converted both times. Plus he had a 17-yard touchdown reception midway through the second quarter to put the Cardinal ahead 14-0.
Stat of the half
: 2: Two more significant injuries to marquee playmakers. The Cardinal already limped into this game without Ertz, offensive tackle Cameron Fleming, kicker Jordan Williamson and safety Delano Howell. Without Toilolo and Owusu, Luck loses the player he targets more than anyone else in Owusu and a 6-foot-8 red zone threat in Toilolo.
October, 30, 2011
10/30/11
3:24
AM ET
LOS ANGELES -- Atlas doesn't carry this much on his shoulders. And yet, Stanford's world keeps turning.
Stanford is still in the hunt. Still in the conversation. Still perfect on a night when the Cardinal were anything but. Still in the game when fate's dice seemed so unbelievably loaded.
In an epic contest that made last year's last-minute nail biter look like a Swedish massage, the Cardinal overcame three deficits before topping USC
56-48
in triple-overtime.
It wasn't just the fact that they won. It was the burdens they had to carry on their way to victory lane.
Consider:
For the second consecutive week, they were without safety Delano Howell (and he was missed).

Before kickoff, it was decided that kicker Jordan Williamson, Mr. Accuracy himself, would not play.

Before quarterback Andrew Luck even took the field, tight end Zach Ertz, one of his biggest and most reliable weapons, was lost for the game with an injury on the opening kickoff.

Add the weight of the nation's longest win streak (now 16 games) and playing in a hostile environment with national championship aspirations and it would be easy to see how they'd collapse.
And they almost did.
But they didn't.
"We talk about fighting adversity, but I didn't know it was going to be this much adversity," said head coach David Shaw. "But the kids fought through it and I love them to death for it."
The Cardinal overcame their first deficit of the season – three deficits in regulation, to be exact – but fought back each time. They overcame injuries to three starting offensive linemen that cost all of them some time. And with a little more than three minutes remaining in the game, they overcame a horrendous miscue from Luck, their unflappable signal caller.
[+] Enlarge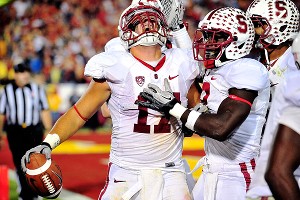 Gary A. Vasquez/US PRESSWIREStanford linebacker AJ Tarpley celebrates after recovering a fumble in triple overtime to seal the victory over USC.
With the score tied at 27-27, the stage was set for Luck to march the Cardinal down the field for the go-ahead score. But even though we're in sight of the Hollywood sign, things don't always go as scripted. USC corner back Nickell Robey jumped Luck's pass intended for
Chris Owusu
and returned it 33 yards for a touchdown and a 34-27 lead.
The weight could have been crushing. It wasn't.
"I was very disappointed in myself," said Luck, calling it a bad decision from the start. "There were a couple of seconds there when I wanted to dig a hole and bury myself. But the guys believed in me. For that I was grateful. I was happy there was still some time on the play clock to go down there again."
And they did, moving 76 yards on 10 plays and capping the overtime-forcing drive with a 2-yard
Stepfan Taylor
run. From there, the Cardinal and Trojans went blow-for-blow until Taylor's 5-yard score put them ahead and USC failed to answer, with
Curtis McNeal
fumbling into the end zone to cap the game.
"When a bad play happens, he goes completely down in the dumps," Shaw said of his quarterback. "He's so mad, so upset, so furious. Then it's like flushing a toilet. He flushes it and it's like it never happened and he moves on more determined. The look in his eye was 'We're going to get this done.' That's what he said. He went up and down and told everybody, 'We're going to get this done.' He was so mad at himself. He was not going to let that play lose the game for us."
Without Ertz, much of Stanford's offensive identity is lost. The Cardinal's three-tight end formations are as much their calling card as Luck.
"It's probably 25-30 percent (of our offense)," Shaw said. "It's a healthy chunk. And we also have a lot of two-tight-end stuff. And between those two, it's doggone near 50 percent. We had to count on other guys stepping up."
To lose that significant portion of the offense right before it takes the field has to be daunting. There are game plans. Scripted plays. It would crush most teams. Right?
"We had to regroup and restructure part of our game plan," said offensive coordinator Pep Hamilton. "… It was a character-building game. Our group, collectively they do a great job of maintaining their focus. Tonight was a night where we had a lot of adversity … It's a testament to the poise of our head coach. What you see is what you get. He never panics. I tend to get emotionally hijacked at times. He calmed us all down. Our kids feed off his temperament. It was a night when we were only as good as our last play and we were focused on winning each play."
And then there was the kicker situation. An undisclosed injury kept Williamson out of the game. So it was up to Eric Whitaker – who was yet to kick a field goal in a game this season — to step in and perform. While he was shaky on kickoffs, putting two of them out of bounds, he made both of his field goals (33 and 29 yards) and converted all six PATs – including two in overtime.
The weight could have been crushing. It wasn't. Not when the Cardinal fell behind by 10 points in the third quarter.
"We had talked all week about the fact that Stanford hadn't had to go into the fourth quarter trailing," said USC head coach Lane Kiffin. "Our goal was to keep it close and take the lead in the second half and see what happened. They haven't been in that situation before."
Now they have. Even when Luck's pick-six put them in the hole, the players had overtime on their minds.
"We always talk about how adversity is an opportunity for greatness," said defensive end Ben Gardner. "This was our first chance to show our mettle in the face of adversity. We got behind, but we never lost faith. It was a struggle, but when the time came, we made the plays."
October, 30, 2011
10/30/11
12:32
AM ET
LOS ANGELES -- Quick observations on an
epic game
in Southern California.
How the game was won
: First,
Stepfan Taylor
scored from 2 yards out with 38 seconds left in regulation to tie the game at 34-34. Then Taylor plowed in from 5 yards out in the third overtime period and
Andrew Luck
completed the 2-point conversion to
Coby Fleener
. USC's
Curtis McNeal
fumbled to end the game.


Turning point
: USC wide receiver
Robert Woods
failed to get out of bounds at the Stanford 35 as time expired. Despite two timeouts, USC was unable to get a field-goal attempt because Woods went for the sidelines rather than going down and taking a timeout.
Stat of the game
: Two — the number of times Luck was sacked this game after being sacked just twice in the previous seven games. Both came on third down.
Best call
: Stanford's double-reverse, wide-receiver pass out of the wildcat. Running back
Tyler Gaffney
took the direct snap, handed off to
Anthony Wilkerson
on an end-around, who flipped it to Luck, who was lined up as a wide receiver. Luck then connected with
Ty Montgomery
for a 62-yard gain.
Unsung hero of the game
: Cardinal linebacker A.J. Tarpley played his best game of the season, notching an interception in the first half and finishing the game with nine tackles. He also recovered McNeal's fumble on the game's final play.
Second guessing
: With Stanford knocking on the door, trailing 27-24 in the fourth quarter, the Cardinal went back to the wildcat on third-and-8 on the USC 13 with 5:20 remaining. Gaffney took the direct snap and ran for just 2 yards. Eric Whitaker converted the 29-yard field goal to tie the game, but I wasn't a fan of taking the ball out of Luck's hands at a crucial point in the game.
What it means
: The Cardinal are still in the conversation for a spot in the national championship game.
October, 29, 2011
10/29/11
9:17
PM ET
LOS ANGELES -- Midway
through the second quarter
, the
Stanford Cardinal
continue to punish opponents for committing turnovers.
A.J. Tarpley intercepted
Matt Barkley
, which led to a 33-yard Eric Whitaker field goal.
The Cardinal are now 12-of-12 on the season turning turnovers into points -- with 10 touchdowns and two field goals.
October, 29, 2011
10/29/11
7:10
PM ET
LOS ANGELES -- Should today's Stanford-USC game mimic last year's contest -- which the Cardinal won on a last-minute field goal -- it might not be
Jordan Williamson
doing the kicking.
The Stanford kicker will be a game time decision, according to a school spokesman, who did not elaborate on the injury.
On the season, Williamson is 11-of-12 on field goals. His only miss of the season came on a 47-yard attempt against Colorado.
If Williamson, who also handles kickoffs, is unable to play, Eric Whitaker will handle the kicking. Williamson did not take any kicks during pregame warmup.
Ironically, it was Whitaker's older brother Nate who hit the 30-yard field goal as time expired last year to lift the Cardinal to a 37-35 victory at Stanford Stadium.
September, 8, 2011
9/08/11
7:15
AM ET
Five things to watch as the
Stanford Cardinal
take on Duke on Saturday:
1. Running game, running game, running game
: Stanford coach David Shaw called the running game the heart and soul of everything his team does -- the foundation of his team's principles and philosophy. They want to be physical and push teams off the ball -- especially in the red zone, where they were hot-and-cold in Week 1. "The couple of runs we scored on, we did it perfectly," Shaw said. "Did it great. You give
Stepfan Taylor
one guy to beat, we've got a chance to be successful. When he's got two guys bearing down on him, that's not fair. That's going to hopefully be much improved next week."
[+] Enlarge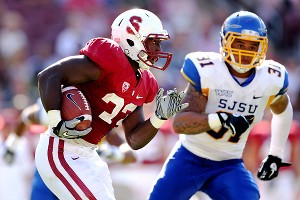 Ezra Shaw/Getty ImagesStepfan Taylor rushed for 61 yards and two touchdowns in Week 1.
2. Secondary slip-ups
: While the run defense was stellar in Week 1, holding San Jose State to minus-2 yards rushing through three quarters, the pass defense was also hit-and-miss -- as in missed tackles. There were pockets in the secondary, and when those pockets were exploited, there were missed tackles that led to some big San Jose State plays. "Missed tackles in the secondary lose games," Shaw said. "You have to get guys on the ground. That's why you're called a safety."
3. Give it a boot
: Wouldn't mind seeing a little more length in the kicking game. Both Jordan Williamson and Eric Whitaker got chances to kickoff against San Jose State. Williamson had eight kicks, averaging 64 yards. Whitaker had two for an average of 57.5. Same goes for David Green and the punting. He had four punts for an average of 37.5. Field position wasn't a huge factor last week, but it will be in weeks to come. "The biggest thing (regarding Williamson) was he put the ball between the pipes (2-for-2 field goals, 7-for-7 PAT)," Shaw said. "We'll keep working on the kickoffs and see if we can get a little more distance on those, which he has the ability to do. It's like golf. He has to have a consistent swing and he's dedicated toward making that happen."
4. Forget last week
: It's hard to disregard Duke's collapse -- yet again -- to FCS Richmond. But that's what Stanford has to do. And it's what they have been saying all week. Duke is a capable team with some athletic players who are probably still a little salty about what happened on Saturday. But taking care of business, as the players like to say, is priority No. 1. "They really didn't play a bad game," Shaw said, "they had some bad plays ... It doesn't make us look at Duke any differently."
5. Weekly difference
: Following Saturday's game, offensive tackle Jonathan Martin said the biggest leap an offensive line makes is between Weeks 1 and 2. We'll see. The pass protection was solid. Quarterback
Andrew Luck
only took a couple of incidental hits all game and was never sacked. There were some issues on the run blocking -- a couple of missed assignments that led to negative gains in the red zone. That was a point of emphasis in practice this week. "I think it's going to take some time for us to jell," said offensive guard David DeCastro. "We want to get better each day and get used to each other."