NCF Nation:

Erik Kuraczea
October, 21, 2010
10/21/10
2:01
PM ET
Redshirt freshman
Michael Box
will get his first career start at quarterback for Connecticut for Saturday's game at Louisville, head coach Randy Edsall said Thursday.
Box replaces
Cody Endres
, who was suspended for the rest of the year Wednesday for violating school policy. Edsall said Endres' time at UConn is officially over.
Box has appeared in two games this season, completing two of his five passes for 30 yards. He'll be backed up by senior
Zach Frazer
, who started the Huskies' first four games.
The 6-foot-3, 209-pound Box is from Suwanee, Ga., and has been praised by the coaching staff for his work in practice.
Edsall said he had "complete confidence" in Box despite the quarterback's lack of game experience. Edsall also said he had a team meeting Wednesday in which he discussed the departures of both Endres and starting guard Erik Kuraczea this week.
"A lot of times, you get addition by subtraction," he said.
October, 20, 2010
10/20/10
3:14
PM ET
This was supposed to be a breakthrough season for Connecticut. Instead, it's shaping up as one to forget.
The Huskies have suffered disappointing losses at Michigan, Temple and Rutgers, and now -- just a few days before an important conference game at Louisville -- they announced that starting quarterback
Cody Endres
has been suspended for the season.
No reason other than "university policies" was given for Endres' suspension. But he was suspended in the preseason and missed three games, so you'd think a guy in his shoes would be on his very best behavior the rest of the year. I don't want to speculate as to what Endres did to run afoul of team rules, but whatever it was could not have been smart on his part.
Curiously enough, offensive lineman Erik Kuraczea was suspended at the same time as Endres this preseason, and the school announced on Tuesday that Kuraczea was leaving the team. As of now, UConn isn't saying whether the two moves are related.
So now what does UConn do? Go back to
Zach Frazer
, who was inconsistent and inaccurate in his first four starts? The senior has been bumped down to third on the depth chart, and it sure seemed like Randy Edsall was talking about him Tuesday when he mentioned an unnamed player had not handled a demotion well. It appeared the team had lost some confidence in Frazer (and the fan base sure had).
Redshirt freshman
Michael Box
is currently the No. 2 quarterback, but he's never played any significant minutes and would be making his first career start on the road. The coaching staff likes him a lot, but that's a tough way to break in a young guy at that spot.
It's just another headache for Edsall, who thought he had a veteran team that would be ready to take the next step this year after a strong finish to 2009. Instead, he's been talking about how his team has felt a "sense of entitlement" and trying to find ways to fix various gaps and issues that have sprung up all year.
At 3-3 and sitting in a 0-1 Big East hole, this is the last bit of bad news UConn needed right now.
March, 8, 2010
3/08/10
8:55
AM ET
This could be a big year for Connecticut.
The Huskies were playing as well as anybody in the Big East down the stretch and finished the 2009 season with a victory over South Carolina in the Papajohns.com Bowl. They bring back a wealth of starters and plenty of depth. I caught up with UConn coach Randy Edsall last week to talk about the beginning of spring practice, which starts March 16. This is part I of my interview. Check back later for part II.
First of all, you have to be feeling pretty good about where the program is given all the players you bring back from last year, right?
[+] Enlarge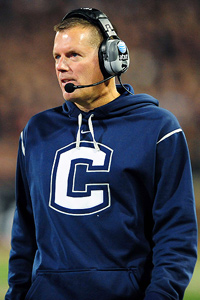 Andrew Weber/US PresswireRandy Edsall led the Huskies to an 8-5 record in 2009.
Randy Edsall:
We do. We have a lot of guys back and we only have 12 seniors on the roster, so that bodes well for us. We're going to have more depth than we've ever had. The thing about this spring that's going to be a little different is, we're going to have a lot of guys who won't be doing things because of injuries. So we'll be able to get a lot of work in, but some of the kids won't be out there with us because of injury. But the thing I'm excited about is that we're going to give some of these young guys a lot of work to even develop more depth in the program.
Do the injuries cause a little less of a concern this spring just because you have so much experience coming back?
RE:
Yeah, it really does. Just looking at our depth chart and our board ... even though Jesse Joseph is not going to go through the spring, Greg Lloyd is not going to go through the spring, Blidi Wreh-Wilson is not going to go through the spring on defense, with those guys out we still have so many guys and we know what those guys can do because they played for us. And now get some other kids more repetitions and kids we know are going to be available to play next year. For me, it's a plus for us. And we had six kids who came in at midyear, so it's another plus that those kids are going to get a lot of reps.
We're not going to be the finished product coming out of spring, because like with Jimmy Bennett and Mike Ryan on offense, they're not going to be practicing due to the injuries that they had in the fall and
Robbie Frey
will be limited and won't be full go. That's where in terms of the offensive line, it's going to give us a chance to work with some of our young guys and really get them a lot of reps to develop them so if they've got to get into a game, they're going to have some experience there.
Let's talk about the quarterbacks. Zach Frazer played well for you at the end of the year, but Cody Endres also played well before his injury. Is Frazer the No. 1 guy right now or is it more of a competition?
RE:
As we came out of the season, we won four straight there with Zach and I thought he did some good things. Cody did, too, I think, so we're in a good situation. But as we go into the spring, Zach's the No. 1 guy and it would be his job to lose. He knows there's always competition, but he's the No. 1 guy as we start practice on the 16th.
What did you like about the way Frazer played at the end of the year?
RE:
I thought he really just played within himself. I thought he was relaxed, he was poised and I thought he made a lot of good decisions He wasn't forcing the ball; he was taking what the defense was giving and throwing the ball where it should have been thrown. And when it wasn't there, he threw the ball away as opposed to trying to make a great play, squeeze a ball into somewhere you shouldn't. I really thought he did a good job of what we asked him to do in the game plans we had for those games.
People may forget that you put in a new offense last year, and there must have been some adjustments along the way.
RE:
You could see the improvement as the season went on with what we did offensively, and I think one of the keys this spring is now the kids are going to be more comfortable in the offense. There are going to be some things that we're able to do to add or to tweak where we think it will make us better. But I was pleased with the development of the offense as the season went along. Our point production and passing yardage was up from a year ago, and we maintained what we wanted to do in the running game.
It took two guys to replace Donald Brown, but that's fine. And we want to keep building on the positives we had last year and keep moving forward, and the good thing is we only lost Andre [Dixon], and we still have
Jordan Todman
coming back. We lost Brad [Kanuch] and
Marcus Easley
, but we feel we have receivers to step in and do the job. And up front the only guy we lost was Mike Hicks. We really feel good about the guys we have coming back and what we can do to improve upon the production and the output we had a year ago.