NCF Nation:

Erik Magnuson
October, 30, 2013
10/30/13
9:00
AM ET
Brady Hoke endears himself to Michigan fans by embracing all things maize and blue, but he outlines the standards for the Wolverines program in black and white.
Success: a Big Ten championship and a trip to the Rose Bowl.
Failure: anything else.
Ricky Bobby
would be proud.
[+] Enlarge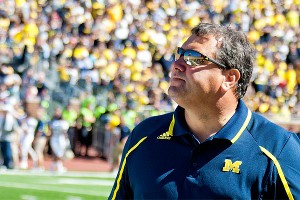 AP Photo/Tony DingMichigan coach Brady Hoke sees championships or failures. There is no in-between, which is why Saturday's game at Michigan State means so much for the Wolverines.
Hoke's clear approach is refreshing in an environment where many coaches avoid specifics on how to judge them -- mindful of whacked-out fan expectations, quick-trigger athletic directors and boosters, and a media environment where everything you say can and will be used against you. Perhaps Hoke feels secure enough in his situation to set such narrow parameters for success.
Or he simply thinks Michigan shouldn't settle for anything but championships. Again, refreshing.
It has been eight seasons since Michigan last won a Big Ten championship. That should never happen.
While Hoke undoubtedly has done some good things in his two-plus seasons as Michigan's coach, his tenure to date, by his own standards, has fallen short. Maybe that's too harsh an assessment, given the fragile program Hoke inherited from Rich Rodriguez. Then again, if Hoke judges himself that way, why shouldn't we?
He's in Year 3, enough time to have Michigan positioned for a championship push, regardless of the issues when he took over. As November dawns, Hoke and the Wolverines embark on a stretch that will determine exactly who they are -- champions or guys who talk about championships at a school that has won more than any in the Big Ten.
"The month of November is when you win championships," Hoke told ESPN.com. "A lot of that has always been because of the meat of your schedule, who you're playing. When you look at our schedule and the divisional games are all over that schedule, it's important."
It begins Saturday when No. 21 Michigan visits No. 22 Michigan State. The Spartans are the only Legends Division team without a Big Ten loss. Michigan's lone defeat came in a cross-division game at Penn State, and a loss to Michigan State would essentially put the Wolverines 2½ games behind the Spartans with four weeks to play.
"If we want to win a championship," Michigan offensive tackle
Taylor Lewan
said, "we have to go through Michigan State."
Could Michigan still achieve its goal with a loss Saturday afternoon?
"You're counting on a lot of things to happen," Hoke said. "It gets out of your hands to a certain degree. Are we a good football team? Yeah. Are we perfect by any ways? No, and we haven't been. We've been inconsistent, but we have won six games and lost one in four overtimes where we had plenty of opportunities.
"We've grown, but obviously [if you lose] you put yourselves behind the eight ball."
Michigan has been an enigma this season, impressively beating Notre Dame in Week 2 but struggling against Football Bowl Subdivision bottom-feeders Akron and Connecticut and losing to an unremarkable Penn State squad. The Wolverines are one of the Big Ten's most talented teams, bolstered by the recruiting success Hoke and his staff have engineered, and they're certainly capable of blossoming into a division champion in the next five weeks. They also could crumble as the competition gets tougher.
The next five weeks not only will provide answers about Team 134 but also about Hoke and his ability to meet his own standards.
Several of Hoke's achievements at Michigan can't be touched. He has ended long losing streaks against rivals Ohio State and Michigan State. He boasts a 19-0 mark at Michigan Stadium and became the first Michigan coach to go undefeated at home in his first two seasons since Fielding Yost (1901-02). He has made significant upgrades in recruiting, as Michigan signed top-10 classes in
2012
and
2013
and likely will
do so again in February
.
He also blends seamlessly with the Michigan family, unlike his predecessor, and oversees a program that lacks the drama that seemed to surface throughout Rodriguez's tenure.
Hoke has achieved many of the things Rodriguez could not, but that's not enough at this type of program. He has yet to make the Big Ten championship game, even with Ohio State, Wisconsin and Penn State in the other division. Michigan had fortune on its side in Hoke's first season, as it beat the worst Ohio State team in a generation, received a BCS at-large berth ahead of a Michigan State team it lost to and beat a Virginia Tech team in the Sugar Bowl that many believed had no business being in New Orleans. Last year, Michigan lost to all the elite teams it faced and finished a disappointing 8-5.
Hoke's teams are just 6-8 away from Michigan Stadium, including a 28-14 setback two years ago at Michigan State, an emotion-charged contest that featured six personal foul penalties on the Spartans.
"Two years ago up there, we, as a team, flinched too many times," Hoke said. "That bothers you, so I wasn't expecting that from the Michigan teams that I've been around before."
Hoke hopes to see more poise Saturday from his team, including young players like starting guards
Kyle Bosch
and
Erik Magnuson
, a true freshman and a redshirt freshman, respectively. He needs to see better tackling technique from a Wolverines defense that surrendered 47 points and 572 yards in its last game against Indiana.
He needs to see great leadership from players like Lewan, who embraces Hoke's championship-or-bust mentality and passed up millions in the NFL for one more title shot at Michigan.
Lewan recognizes what's on the line for Michigan and ensures anyone who doesn't will by week's end.
"Just staying in their ear, over and over again, letting them know what this game is about," Lewan said.
How close is Michigan to being a championship team?
"Golly," Hoke said, "the best way I would say it is we need some more seasoning, some more experiences."
There's no better experience than the one Michigan will have Saturday at Spartan Stadium. A win gives Michigan control of the division. A loss likely extends Michigan's title drought for another year.
The stakes are spelled out for the Maize and Blue in black and white. Hoke would have it no other way.
January, 9, 2013
1/09/13
6:41
PM ET
Taylor Lewan
had every reason in the world to leave Michigan.
The 6-foot-7, 302-pound junior left tackle had seemingly accomplished just about everything he could from an individual standpoint. He was named the 2012 Big Ten offensive lineman of the year and was a first-team All-American. He more than held his own against South Carolina's
Jadeveon Clowney
-- the most fearsome defensive end who's not currently collecting paychecks -- in the Outback Bowl.
Lewan's draft stock doesn't have a lot of room to grow. Scouts Inc. rated him as the No. 13 overall prospect for the 2013 draft and the No. 2 offensive tackle. Mel Kiper Jr. also had Lewan at No. 13 on
his latest Big Board

. Lewan would likely have battled Texas A&M's
Luke Joeckel
to see who was the first offensive lineman taken in April.
[+] Enlarge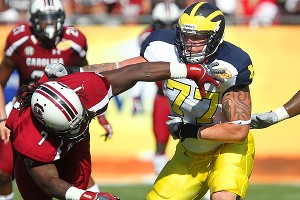 Cliff Welch/Icon SMITaylor Lewan held his ground against South Carolina's Jadeveon Clowney in the Outback Bowl.
Instead, Lewan stunned everyone on Wednesday night by announcing he would come back to campus. The pull of playing one more year for the Wolverines turned out to be stronger for him than cashing in right now.
And Michigan couldn't be happier about that.
Lewan already spent this past season as the anchor of a Michigan offensive line that did not live up to expectations at the other spots. He'll now carry even more weight on his shoulders as the undisputed leader of what could be a very young line.
Only one other starter -- right tackle
Michael Schofield
-- will return next season. Head coach Brady Hoke has made it a priority to recruit offensive linemen who fit his system more than previous coach Rich Rodriguez's style and to build depth at a position that was thin upon his arrival two years ago. Now he'll get a chance to at least bring his young tackles along more slowly. Redshirt freshmen
Ben Braden
(6-foot-6, 308 pounds) and
Erik Magnuson
(6-6, 285) would likely have been thrust into one of the starting tackle spots had Lewan left. They instead will either have to beat out Schofield, move to guard or simply get more seasoning as backups.
The line will still be inexperienced at the inside spots and must build cohesion this offseason. Question marks at that position were a main reason why we only placed Michigan fifth in our
early 2013 Big Ten power rankings
. Of course, at the time we figured Lewan was gone.
So, too, did just about everybody else. Lewan said even his father thought he'd skip his senior year. But Lewan had a lengthy conversation with former Wolverine star
Jake Long
about staying in school. Long also spurned the NFL after his junior year ended up as the No. 1 overall draft pick in 2008.
Lewan said he was told by the NFL draft advisory board that he would have been a high first-round pick. He could certainly parlay a big senior year into an even higher selection, but you have to wonder if the difference in money between maybe 5-to-10 slots in the first round versus the potential to get hurt next season is a gamble worth taking. Lewan said he'd definitely take out an insurance policy. We also saw from
Montee Ball
's season that sometimes things don't go smoothly when you return after a star-studded junior year.
But Lewan is also a fun-loving guy, one who famously rode a tandem bicycle around campus last year. Though he's matured greatly since his freshman year, sticking around college one more year and trying to lead the Wolverines to a Big Ten title are perfectly reasonable desires, even if they don't necessarily make for the wisest business decision.
Quarterback
Devin Gardner
certainly won't complain, as he'll have the best blindside protector in college football guarding him next year. You couldn't blame Gardner for roaring his approval of Lewan's decision right now, along with Maize and Blue fans everywhere.