January, 8, 2010
1/08/10
4:57
AM ET
PASADENA, Calif. – Even Nick Saban's Gatorade shower wasn't exactly textbook.
The players soaked more of Saban's shirt than they did his head.
"I wish they'd do the water," Saban said. "You know, the Gatorade is awfully sticky."
But, hey, he wasn't complaining. Not on this night.
[+] Enlarge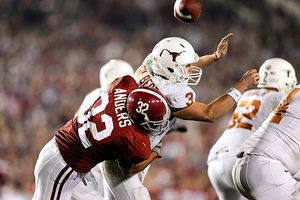 Kevork Djansezian/Getty Images Eryk Anders forced this Garrett Gilbert fumble late in the fourth quarter, all but sealing an Alabama national championship.
In only his third season at Alabama, he's guided the Crimson Tide back to national championship prominence, and in doing so, becomes the only coach in the AP poll era (since 1936) to win national championships at two different schools.
Saban revels in talking about the process. Well, the process for this team and for this season was all about getting it done – no matter what it looked like, how close it was or how unorthodox it was.
Alabama's
37-21
victory over Texas on Thursday at the Rose Bowl won't go down as a classic. The Crimson Tide knocked quarterback
Colt McCoy
out of the game, built a big lead at the half and still had to sweat it out in the fourth quarter.
"The thing about this team is that when a guy has a play to make and everybody else does his job, that guy always makes that play," Alabama senior cornerback Javier Arenas said. "That's the way it's been all year."
Indeed it has.
The play that sealed it Thursday night was Eryk Anders' perfectly called and perfectly executed blitz off the edge. Texas backup quarterback
Garrett Gilbert
never saw him coming and coughed up the ball. Courtney Upshaw recovered at the Texas 3 with 3:02 to play, and Alabama finally put the game away.
"I didn't think about anything but hitting him and didn't know he fumbled until I looked up and saw Courtney Upshaw jumped on the ball," Anders said.
At last, the Crimson Tide could exhale.
They couldn't have started the game any worse, thanks to a couple of special teams gaffes. And then in the third quarter, they sort of fell asleep at the wheel and allowed Texas to climb back into the game.
"That's who we are. We bend, but don't break," Alabama sophomore center William Vlachos said. "Our defense did a tremendous job. They made the plays when they had to make them, and we were able to run the ball when we had to. It all came together for us.
"We had a goal going into the year. Championship teams are defined by how they finish and what they accomplish."
Junior linebacker Rolando McClain played through a nasty virus that had knocked him for a loop all week. He had two IV's before the game and one at halftime.
"I just want to go home and take another shower and go to sleep," McClain said. "That's how weak and tired I am right now. But my team needed me. They needed me to be a leader, and I couldn't let them see that I was sick. I couldn't let them see that I wasn't 100 percent. For them, I'd do anything."
And while the Alabama players expressed genuine remorse that McCoy missed almost the entire game, they weren't buying for a second that their national championship was somehow tarnished.
Not after everything this program has been through the past few years.
"I don't write the script. I just play it out," said Alabama junior quarterback
Greg McElroy
, who was held to 58 yards passing, the lowest output in BCS National Championship Game history.
"It's unfortunate for them, and I feel terrible for Colt. But when it comes down to it, that's how things go sometimes. We lost one of our best players early in the season in Dont'a Hightower to a torn ACL. Sometimes terrible things happen in this game.
"But on my ring, it's not going to say, 'Beat Texas without Colt.' It's going to say, 'National champions.' "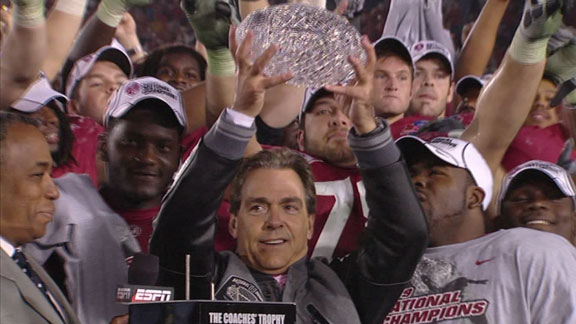 January, 8, 2010
1/08/10
3:33
AM ET
By
Tim Griffin
| ESPN.com
PASADENA, Calif. -- It was the kind of game that left Texas players feeling empty, wondering if they could have beaten Alabama under some different circumstances.
Like having a healthy starting quarterback. Or without a botched shovel pass late in the first half that cost them a touchdown, a touchdown that proved to be pivotal at the end of a
37-21
loss to the Crimson Tide.
[+] Enlarge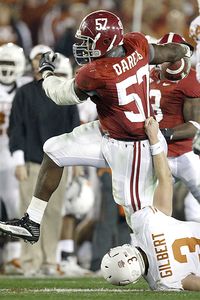 AP Photo/Chris Carlson Alabama's Marcell Dareus (57) breaks away from Texas quarterback Garrett Gilbert after intercepting a pass that he would return 28 yards for a touchdown.
"Who knows?" Texas senior defensive end Sergio Kindle said. "If Colt hadn't gotten hurt, things might have been a little different. It's something we'll never know."
The Longhorns were already in a huge hole after McCoy's injury occurred only five plays into the game. But Alabama was able to cruise into a 24-6 halftime lead after a bizarre call. Backup quarterback
Garrett Gilbert
's shovel pass for
D.J. Monroe
was intercepted by Marcell Dareus for a 28-yard touchdown with three seconds left in the half.
Texas coach Mack Brown initially considered letting the clock run out. But the Longhorns got greedy, thinking they could hit a big play and get some points.
"We knew it would be a struggle with points and we felt that with 15 seconds left we had the safest thing," Brown said. "We called a little shovel pass that had never been intercepted before and I certainly never had seen it intercepted for a touchdown. We were trying to run down 10 or 15 yards and then take a shot in the end zone."
Instead Brown's gamble backfired and gave the Crimson Tide a huge surge of momentum before the break.
"They tried to shovel pass and my first reaction was to grab the ball," Dareus said. "Then I blanked out and all I could do was think about
Mark Ingram
and Javier (Arenas), and making all the moves I didn't think I could do. I saw the lineman coming for my legs and my first reaction was to spin. I looked to my left and I saw Eryk Anders and I knew it was a touchdown. I could not wait to get into the end zone."
Brown didn't show the moxie Thursday that led to eight bowl victories in the past nine seasons, and a 3-0 record in BCS games. The Longhorns battled to overcome mistakes for much of the night.
But Brown said he was proud of what his team accomplished during a 17-game winning streak that stretched back to a October 2008 loss at Texas Tech.
"I told the guys they had a great run," Brown said. "I thought they were prepared and had worked really hard. Losing is tough. We're proud to be in the national championship game, and it's still equally hard to lose it."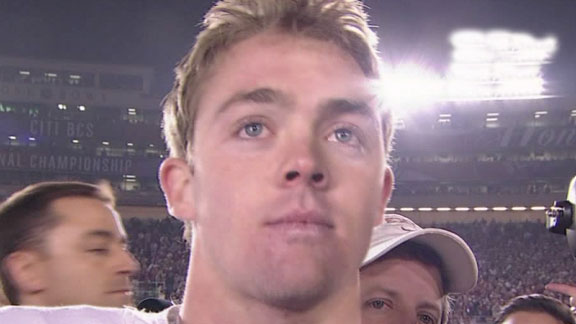 January, 8, 2010
1/08/10
12:19
AM ET
PASADENA, Calif. -- No. 1 Alabama won its first college football national championship since 1992, beating No. 2 Texas
37-21
in the Citi BCS National Championship Game at the Rose Bowl on Thursday night.


Here's how the game was played:
How the game was won:
Alabama used its stingy defense and explosive running game to overcome a couple of mind-boggling mistakes on special teams in the game's opening moments, then held on for dear life in the fourth quarter.
After Texas quarterback
Colt McCoy
injured his right shoulder after only five plays and never returned, Alabama took control of the game in the first half with its running attack and defense. The Tide carried an 18-point lead into halftime, but played so poorly in the second half that the Longhorns nearly came all the way back.
Texas freshman
Garrett Gilbert
threw two touchdowns to
Jordan Shipley
and nearly led the Longhorns to one of the most improbable comebacks in recent college football history. The Crimson Tide didn't put Texas away for good until linebacker Eryk Anders hit Gilbert from behind, forcing a fumble that Courtney Upshaw recovered at the Longhorns' 3-yard line with 3:07 to play. Heisman Trophy winner
Mark Ingram
scored a 1-yard touchdown run with 2:01 left to put Alabama ahead, 31-21.
Turning point:
Alabama's defense knocked McCoy out of the game on defensive end Marcell Dareus' jarring tackle with 10:54 to play in the first quarter. McCoy injured his right shoulder and never returned. Gilbert, who had attempted only 26 passes in nine games, seemed overwhelmed during the first three quarters, but finally found his rhythm late in the game.
Player of the game:
Dareus, a sophomore from Huffman, Ala., turned in the game's two biggest plays. Along with knocking McCoy out of the game on a clean hit, Dareus returned an interception 28 yards for a touchdown to give the Crimson Tide a 24-6 lead with 15 seconds to go in the first half. Trailing 17-6 with 29 seconds left, the Longhorns were backed up and inexplicably used a timeout before Gilbert's shovel pass was bobbled by
D.J. Monroe
and picked off by Dareus.
Unsung hero of the game:
Texas defensive end Sergio Kindle was a monster in his final college game, finishing with 8 tackles and 2.5 sacks. He rattled Crimson Tide quarterback
Greg McElroy
for most of the night. McElroy looked uncomfortable from the start, and Alabama's celebrated offensive line wasn't able to provide him with much protection.
Best call:
Trailing 6-0 late in the first quarter, Alabama finally decided to get Ingram involved in its offense. Starting at the Bama 43, Ingram carried the ball on five of seven plays in the touchdown drive. After the Tide reached the Texas 12, he carried three consecutive times and walked into the end zone on first-and-goal from the 2.
Second guessing I:
In the early moments, Alabama coach Nick Saban gambled and lost. On the opening possession, the Crimson Tide attempted a fake punt -- from their 20-yard line. Punter P.J. Fitzgerald's pass was intercepted by safety Blake Gideon, setting up a Texas field goal (after the Longhorns failed to score on three plays from inside the Bama 5). Alabama failed to cover the ensuing kickoff, and Texas recovered at the Tide's 30. But the Longhorns were again unable to score a touchdown, and they settled for another field goal and 6-0 lead.
Second guessing II:
Texas' decision to call a timeout with 15 seconds left in the half will be debated in the Lone Star State for a long time. The Longhorns were backed up at their 37-yard line and had an inexperienced quarterback on the field. After the timeout, Dareus intercepted the pass and returned it for a touchdown to give the Tide an 18-point lead at the half.
What it means:
An SEC team (and third different one) won a BCS national championship for the fourth consecutive season. By beating the Longhorns, Alabama replaces Florida as the SEC's hot program and could very well start the 2010 season ranked No. 1 in many polls. Saban also cements his place among the game's greatest coaches, after leading two schools to BCS titles (he also led LSU to the 2003 championship).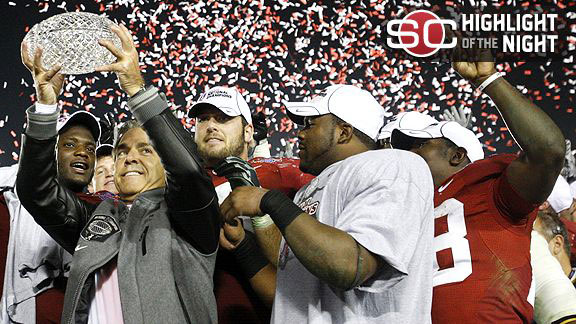 January, 8, 2010
1/08/10
12:14
AM ET
By
Tim Griffin
| ESPN.com
PASADENA, Calif. -- After overcoming obstacles throughout the game, Texas' late hope was undone by a pair of critical late mistakes by freshman quarterback
Garrett Gilbert
.
Alabama got a clinching 1-yard touchdown by Heisman Trophy winner
Mark Ingram
with 2:01 left to ice the
Tide's 37-21 victory
.
The Crimson Tide took advantage of a short field after a blindside sack by linebacker Eryk Anders. The fumble was recovered by Courtney Upshaw at the Texas 3.
On the ensuing drive, Javier Arenas returned an interception to the Texas 27 that led to a 2-yard TD run by
Trent Richardson
with 47 seconds left.
And Tyrone King produced the final interception with a pick at the Alabam 31 with 26 seconds left.
Those two late scores make the final margin of victory for the Crimson Tide a little misleading.
The Longhorns had a chance to take the lead with 3 minutes left before the sack on Gilbert.
Before the late struggles, Gilbert had shown promise and moxie. But in the end, he couldn't overcome those late miscues so deep in his own territory in the end.
January, 7, 2010
1/07/10
11:58
PM ET
PASADENA, Calif. -- Alabama's blitzes had been a step late the whole second half.
But senior linebacker Eryk Anders changed that when he came barreling in on
Garrett Gilbert
's blindside and knocked the ball loose. Courtney Upshaw recovered for the Crimson Tide inside the Texas 5.
A couple of different times, Texas had burned Alabama when the Crimson Tide were blitzing, but they dialed it up when they needed something to happen, and Gilbert never saw Anders coming.
January, 7, 2010
1/07/10
7:00
AM ET
By
Tim Griffin
| ESPN.com
NEWPORT BEACH, Calif. -- Here are three keys for Texas if it hopes to pull its second upset at the Rose Bowl in four seasons and earn another Bowl Championship Series national title.

1. Producing yards on first down:
The Longhorns have a better chance of achieving offensive success if they produce early in a series. Second-and-long and third-and-long will make the Crimson Tide's defense much more difficult to crack. If
Colt McCoy
can make things happen on first down – particularly early in the game – it should boost the Longhorns' confidence and their chances at an unexpected victory.
2. Dominate special teams:
The Longhorns had one of the nation's most proficient special teams units all season. Alabama has struggled in kick coverages, ranking 116th nationally with an average of 25.7 yards per kick return, and have been blistered with two returns for touchdowns. With the likely return of
D.J. Monroe
to the kick return rotation, the Longhorns will add the No. 2 kick returner in the nation.
Marquise Goodwin
was strong while Monroe was suspended, and
Jordan Shipley
is a threat to score a touchdown every time he returns a punt. The Longhorns need to make several big plays in this phase of the game.
3. Protect Colt McCoy:
The Longhorns have allowed 30 sacks this season, and nearly half came in tight victories over Oklahoma (four) and Nebraska (nine). If the Longhorns have hopes of claiming the national title, they must give McCoy enough time to pass and keep fearsome Alabama pass rushers like Marcell Dareus, Eryk Anders, Javier Arenas and Rolando McClain away from their senior quarterback. And it would be a good time for the center of Texas' offense – guards Michael Huey and Charlie Tanner and center Chris Hall -- to keep massive defensive tackle Terrence Cody away from McCoy.