NCF Nation:

espn the magazine

December, 10, 2013
12/10/13
11:00
AM ET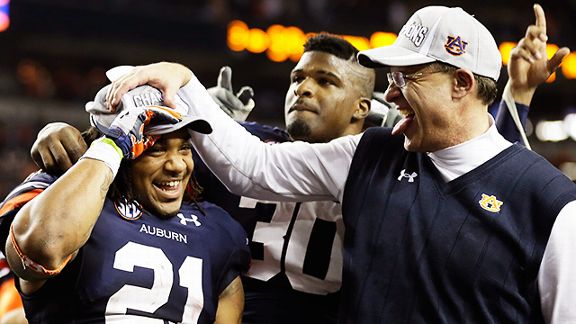 AP Photo/John BazemoreAuburn's Tre Mason and head coach Gus Malzahn celebrate their win over Mizzou on Saturday.
For four months, ESPN The Magazine will follow the march to the VIZIO BCS National Championship, moment by moment, culminating in our "Story of the Season" double issue Dec. 27. Every Tuesday, Mag senior writer Ryan McGee will pick the previous week's biggest moments and tell you why they'll have the most impact on potential BCS title matchups. If you disagree, send a tweet to @ESPNMag and tell us why your moment matters more, using the hashtag #StoryoftheSeason. Who knows? Your moment (and tweet) might just end up in our issue.
As the clock ticked below the three-minute mark at Saturday night's SEC championship game, the Auburn running backs sat perpendicular to their sideline, tucked in behind a standing wall of their much larger teammates, lined up in two neat rows of folding chairs.
"It looks weird right?" a security guard said, motioning toward the six players, three facing one direction, three facing the other, all with their helmets off, mouths hanging open, no one saying a word. "It took me a about half the game to realize what they're doing."
Well, I asked, what are they doing? He pointed.
"They're watching the game on TV."
Indeed they were. Each row faced a separate massive widescreen in each end zone, a high-definition telecast of what was happening live and in person only a few dozen yards away. The images were of Missouri quarterback
James Franklin
desperately trying to do something -- anything -- to cut into Auburn's 17-point lead.
Three plays after a 43-yard completion to cross midfield, he broke off a nice run to the Auburn 9 to make it first-and-goal.
The running backs' collective expression never changed.
On first down, Franklin was sacked.
Again, nothing.
On second down, Franklin threw an incomplete pass.
Still, silence.
On third down, he completed a screen pass to the Auburn 7.
Crickets.
On fourth down, with 1:46 remaining, Franklin's would-be TD pass fell incomplete. Now, finally, the navy-clad backs stood and snatched up their helmets. Only one player cut through the silence. He also happened to be the one player whose uniform was covered in stains and helmet was pocked with streaks of Mizzou black. It was No. 21,
Tre Mason
.
"One more time, fellas, and we're celebrating."
In actuality, it was two more times. The final two carries and 14 yards of a night so large that teammates joked they were going to ask him to tow the team bus back to Auburn. Mason's final stat line: 46 carries, 304 yards and four touchdowns, with a long run of 52 yards and a per-carry average of 6.6.
"Sometimes you just have one of those games where you don't want it to end," said a former Auburn back, Bo Jackson. As his alma mater took to the stage and hoisted its new conference championship trophy, the 1985 Heisman Trophy winner leaned on the makeshift safety fence and captured the moment with his phone's video camera. "You just see the whole field, your legs feel good and you can't carry it enough. Tonight that kid's going to sleep well ... assuming he ever goes to bed."
Mason's night shattered nearly every rushing record in the storied two-decade history of the SEC title game. It was the perfect illustration of first-year coach Gus Malzahn's longtime offensive philosophy of "go with the hot hand." In fact, Mason's entire 2013 season is the ideal representation of his team's improbable year. A running back who found his legs in the season's second half, leading a group whose run began outside the hemisphere of the preseason AP Top 25 and will now end on the field at the Rose Bowl playing for a BCS title.
"Honestly, they couldn't give it to me enough," Mason, a junior from Palm Beach, Fla., shouted to a scrum of TV cameras after the game. Then, unknowingly echoing Bo, he continued: "Sometimes you just have one of those nights and you're in a groove and it's just, 'Give me the ball, Coach.' It seems like every week we've had someone in that zone. Tonight it was me."
Really, for the past month, it has been mostly him. Like his team, Mason has gained steam with each turn of the calendar page. Now, when it counts most, he has been at his best. During the season's first five games, he cracked 100 yards only once. In the past five, he has averaged 174. The past two weeks alone, he has racked up 468, and did it against a pair of top-10 teams (Alabama and Missouri) both known as run-stoppers. Mizzou entered Saturday night's game ranked 14th in FBS in run defense. By game's end, the other Tigers had fallen to 47th.
"You're a NASCAR guy," Malzahn said to me following the game. "Well, a season is like a 500-mile race. You want to be at your best at the end of the race. You think about where this team was last spring, or even in August, and then look at where these guys are now. Man, it's hard to believe. That's peaking at the right time."
Yes, it is. Even if, while peaking, you don't allow yourself to peek at the actual game.
"Yeah, we were watching on TV, weren't we?" Mason said when asked about the backs' Georgia Dome sideline routine, saying they'd done the same whenever there were stadium big screens available for sideline viewing. "Whatever we were doing, it worked, right? Now we've got to get out of here, get home, and watch some more TV."
Mason wasn't heading off to watch "The Sound of Music: Live." He was looking for the Big Ten championship game. So were all his teammates and fans, which is why the Georgia Dome field was cleared much quicker than normal.
"I bet we're all headed out of here pretty quick to go find a television somewhere," admitted Auburn athletic director Jay Jacobs. Just a few feet away, SEC commissioner Mike Slive was saying the same, fingering his green necktie and admitting that his choice of color was not a coincidence.
Everyone from Atlanta to Auburn would be rooting for Michigan State to defeat Ohio State in Indianapolis, in the hopes that the BCS formula would boost the Tigers past a field of fellow one-loss teams.
Only a week earlier, Ohio State had quickly hustled off the field of the Big House, anxious to root for this very Auburn team as they played top-ranked Alabama. When the Tigers pulled off the most insane of all college football finishes, it set off an equally crazy celebration on the Buckeyes' team bus. The video of that moment became a bit of
a social media sensation
.
This past Saturday the roles were reversed. Now the YouTube stars are the Auburn trainers and equipment managers, who were back home in time for the Big Ten finish, still dressed in their SEC championship caps and T-shirts that were handed out on the field
in Atlanta
.
When
Braxton Miller
's final pass fell incomplete at midfield and the Spartans iced the 34-24 upset, Auburn's support crew went crazy, the clip ending with a shout of "We're going to Pasadena, baby!"
Better call ahead to the Rose Bowl and check on the big-screen TV situation.
"Hey y'all, who is Tre Mason?"-Heisman Trophy Trust #StoryOfTheSeason #AUBvsMIZZ

— ESPN The Magazine (@ESPNMag) December 8, 2013

December, 3, 2013
12/03/13
11:00
AM ET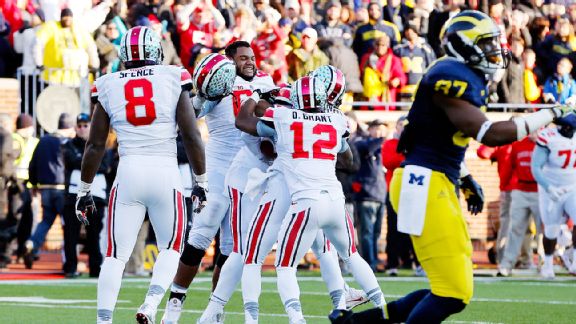 Gregory Shamus/Getty ImagesOhio State players celebrate stopping Michigan's fourth-quarter two-point conversion attempt.
For four months, ESPN The Magazine will follow the march to the Vizio BCS National Championship, moment by moment, culminating in our "Story of the Season" double issue Dec. 27. Every Tuesday, Mag senior writer Ryan McGee will pick the previous week's biggest moments and tell you why they'll have the most impact on potential BCS title matchups. If you disagree, send a tweet to @ESPNMag and tell us why your moment matters more, using the hashtag #StoryoftheSeason. Who knows? Your moment (and tweet) might just end up in our issue.
"We play the game to win ..."
Brady Hoke's vocal cords sounded even more tired than usual as the Michigan coach stood at the podium on Saturday afternoon, moments after losing to archrival Ohio State 42-41. His answer was a response to the first question he faced -- and the one he'll keep hearing as his Wolverines trudge through their mid-tier bowl and into a cold Ann Arbor winter.
Going for two instead of kicking the PAT and likely heading to overtime? At home? In the Big House? With your offense performing at a season-best clip? With a chance to shoot down the Buckeyes' chances at a BCS title?
That's the scenario Hoke had presented to his seniors on the Michigan Stadium sideline. He'd left it up to them, though he was quick to absorb all the criticism after the final outcome. They wanted to go for it. So did he. Besides, they had the go-to, two-point play already dialed up. Always did.
From the moment quarterback
Devin Gardner
stepped into the shotgun position, the play -- like so many others during his amazing 451-yard passing and five-touchdown day -- had looked perfect. In reality, it looked too perfect. On both sides of the football.
Michigan initially lined up with two receivers stacked on the right side, led by 6-foot-5
Devin Funchess
, who had just hauled in the touchdown pass that set up the situation. On the left side was the sneaky Wes Welker-like possession artist, 5-10
Drew Dileo
. But before the snap, Dileo went into motion and jogged over to take his place behind Funchess and
Jeremy Gallon
, who already had 175 yards receiving on the day.
The moment Dileo took his position, Ohio State corner
Tyvis Powell
had to catch himself. He didn't want to reveal what had just popped into his mind, like some sort of heavenly transmission from Woody Hayes ... or at the very least a current OSU position coach.
"It's all thanks to Coach Coombs," said Powell, referring to the Buckeyes' demonstrative secondary coach, Kerry Coombs. Head coach Urban Meyer had let Michigan get set for the two-point try and called a timeout to discuss what the coaches had just seen. Coombs approached Powell, a redshirt freshman, and told him that there was no doubt the Wolverines would run one of two plays. It would either be a speed option, which had already led to a pair of Michigan touchdowns. Or the play would come out of a triple stack ... with Dileo, Powell's man, hiding in the third slot ... as the primary receiver ... running something short ... likely a pivot ... at the goal line ...
"It all started happening just like we'd seen on film and how the coaches said it would," recalled Powell, still sounding a little stunned by it all. But he didn't believe that's how the actual play would go down. It was too obvious, right? Wrong.
Even though Ohio State had four defensive backs guarding three receivers, it was a designed mismatch by Michigan. At the snap, Funchess made contact with Powell and was supposed to either screen him out or draw him into the back of the end zone to help the waiting safety. But Powell didn't bite. His eyes never left Gardner, whose eyes never left Dileo. Funchess had a size mismatch in the back of the end zone, and if Gallon had run a true out instead of a halfhearted block attempt on OSU corner
Doran Grant
, he would've had room to work on the outside half of the end zone.
But Gardner fired the ball into unexpected double coverage, where Powell stepped in at the goal line and made the interception. (Had he not, Grant was also waiting in front of Dileo, having slipped Gallon's shove.)
"He really threw the ball," said Powell, admitting he was "shocked" to see it come his way. "That's their bread-and-butter play on two-point conversions. All week that's what we practiced."
Michigan, too.
A couple of hours later, Powell was still gripping the Michigan football in his arms on the team bus. He was still grinning. But now he was watching Alabama play at Auburn on the bus TV. Like the game he'd just played in, this one seemed destined for overtime.
"There was a shot ... we had the wind behind us ..."
If Hoke's voice was hoarse, then Nick Saban's was like the inside of a gravel truck. Like Hoke, the Alabama coach had rolled the dice. Unlike Hoke, Saban's situation -- a 57-yard field goal with no time remaining -- seemed risk-free. Miss and go to overtime.
But what happened next --
Chris Davis
' impromptu 109-yard kick return for the game-winning touchdown -- has sparked college football conversations in every corner of America, from stuffed-shirt academia to Barbara Walters and Whoopi Goldberg on Monday morning's "The View."
It should be no surprise that perfection-obsessed Saban routinely addresses that very situation in practice, despite the fact that Saturday night's Miracle on the Plains was, according to the NCAA, only the fourth time a game has ended on a similar play. It should also be no surprise that Saban reminded his team as they took the field (like the Michigan two-pointer, after a timeout) to keep an eye on Davis, who was lining up in the end zone, more than half a field away from the line of scrimmage.
Of course, Auburn practices that play, too. No matter how rare it might be. That was made obvious by the beautiful wall of blockers that lined the left sideline to plow the road for Davis. At least three pancake blocks took place in Davis' line of sight. But while all that was going on, we all should have been paying more attention to the cornerback's left foot, which came within inches of stepping over the line and out of bounds at the 35 ... the 40 ... the 45 ... and pretty much every yard in between.
It was so close that a group of bitter Tide fans posted what they believe is photographic evidence that he did step out of bounds, along with a
petition to have overtime played.
"It was closer than I thought," admitted Davis, who carried his game-winning football all the way home, just like Powell. "But I knew I was in."
Davis' white-line ballet was reminiscent of so many other moments in so many games this season that came down to inches. (Remember that missed Missouri field goal against South Carolina in double-OT? How much more interesting would the SEC title game be had it gone the other way?)
But as Lou Holtz reminds us each weekend on "College Football Final," every team that wins a national championship has to have one game in which they're lucky. Auburn now has two. Ohio State, on the other hand, hasn't needed much this year, at least not until Michigan.
Still, for these two teams to meet in Pasadena, Calif., in January, it will require ... lots more luck. They'll need Duke (perhaps second only to Auburn when it comes to 2013's out-of-nowhere teams) to work some magic in Charlotte, N.C., against Florida State. And they'll both need to make sure they aren't on the wrong side of luck in their respective conference title games.
But regardless of what happens this weekend, Tyvis Powell and Chris Davis will never have to buy another lunch in their home states. And Powell will always have his football. Davis is still searching for his.
He dropped it after crossing the goal line during the celebration. The last time anyone saw it, it was at the feet of fellow defensive back
Robenson Therezie
, one of Davis' escorts into the end zone, who stood over it signaling for a touchdown as the crowd started flooding the field. At one point it was thought that it had been retrieved and Davis was even handed a football that was believed to be the one. But it was not.
A crystal football in January would be a nice substitute.
Why we love college football. #StoryOfTheSeason pic.twitter.com/qqqidLG1Op

— ESPN The Magazine (@ESPNMag) December 1, 2013

November, 26, 2013
11/26/13
11:00
AM ET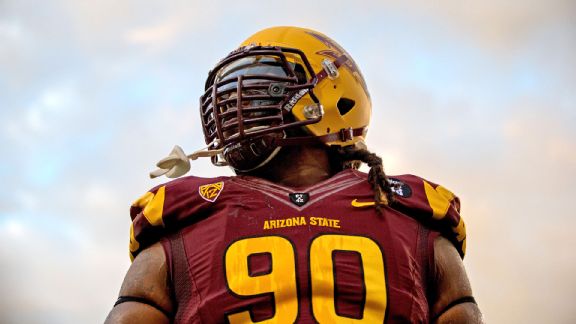 Mark J. Rebilas/USA TODAY SportsDefensive lineman Will Sutton has helped the Sun Devils win six games in a row.
For four months, ESPN The Magazine will follow the march to the Vizio BCS National Championship, moment by moment, culminating in our "Story of the Season" double issue Dec. 27. Every Tuesday, Mag senior writer Ryan McGee will pick the previous week's biggest moments and tell you why they'll have the most impact on potential BCS title matchups. If you disagree, send a tweet to @ESPNMag and tell us why your moment matters more, using the hashtag #StoryoftheSeason. Who knows? Your moment (and tweet) might just end up in our issue.
WILL SUTTON WIELDED
the hammer like Thor.
On Saturday night, Arizona State's 6-foot-1, 288-pound senior defensive lineman stood in the center of the visitors' locker room, surrounded by his teammates, and nodded his head as they egged him on with concentrated silence, his very large hands wrapped around the maroon and gold handle.
Just moments earlier, the Sun Devils were dancing and celebrating on the field at the Rose Bowl, having just held off a late-charging UCLA Bruins squad to win 38-33, clinching the Pac-12 South and a berth in the Dec. 7 conference championship game. On the line against Stanford that night will be a shot at a BCS bowl berth and a possible return trip to Pasadena for a much, much larger game.
That would complete a long road back for a team that started the season 3-2 with the biggest of those three wins (a Week 2 victory over Wisconsin) still considered by some to be hampered by an asterisk.
Now the Sun Devils have won six in a row.
"Most impressive thing I've ever watched," second-year coach Todd Graham said to his 9-2 team in the locker room after the win over UCLA, shifting into State of the Union mode. "Pac-12 South champions. We gotta go beat Arizona next week. And then we host ..." The coach paused after adding emphasis to the word host before continuing. "And then we host the conference championship."
Then, as has happened all season, a large black brick was laid out onto a towel in the center of the room. This one was engraved with the true blue UCLA Bruins logo. That's when the hammer was handed to Sutton, who grew up just 45 minutes away in Corona, Calif. The 2012 Pac-12 Defensive Player of the Year let out a primal scream and unleashed the sledgehammer, smashing the brick to bits.
The whole night was a bit of a mountaintop experience for Sutton, who started his career in Tempe as a redshirt on a four-win team, endured the firing of coach Dennis Erickson, the controversial hiring of Graham and is now an integral member of the first nine-win ASU team since 2007, when it won 10. After starting the year with nagging injuries and whispers about his weight and declining stats, Sutton has rediscovered his 2012 form, leading a unit that racked up nine sacks and 10 tackles for loss against the Bruins.
In the midst of the postgame celebration, Sutton felt a hand on his shoulder. It was UCLA coach Jim Mora. "Will Sutton is a big-time player," he said. "It's not often after the game I'll seek someone out, but [quarterback
Taylor Kelly
] and
Will Sutton
, I wanted to shake their hands. I have a lot of respect for those guys."
ASU's run to the postseason is the perfect encapsulation of this most unusual Pac-12 season. A year that began as another edition of "Oregon, Stanford, (maybe USC) and everyone else" has emerged as possibly -- some would say
finally
-- the year that a league has stepped up to seize the role of "Best Top-to-Bottom Conference Not Called The SEC." For that to happen, the Pac-12 needed the Grand Canyon State to help close the gap.
"All of that sounds great and something I want to be a part of," says Graham. "But right now our focus is beating Arizona."
Ah, yes, the Wildcats. Before the Sun Devils took on UCLA Saturday night, they were already well aware of what their rivals had accomplished down in Tucson. Coming off two straight home losses and sitting at a mediocre 6-4, Arizona woke up and completely dismantled fifth-ranked Oregon in a 42-16 rout.
The Ducks' second loss in three games knocked them out of Pac-12 and BCS contention, officially sliding Stanford into the conference title game. Quarterback
Marcus Mariota
's first and second interceptions of the season likely knocked him out of Heisman contention. And like Graham, who infamously bailed on Pitt after one season to go to ASU, Arizona coach Rich Rodriguez took one more giant step away from the shadow of his disastrous three-year stint at Michigan.
There are few game tapes to be found in Ann Arbor that illustrate a RichRod offense doing what it is supposed to do best. But there are many in the library at West Virginia. And now there is at least one in the offices at Arizona. The extremely red-clad Wildcats rolled up 482 yards of offense, 304 on the ground, anchored by junior
Ka'Deem Carey
's 206 rushing yards and four scores on a bone-crushing 48 carries.
Rodriguez started the week preaching about respect. So much so that
Arizona Daily Star
columnist Daniel Berk wrote: "The only thing missing from Rich Rodriguez's weekly news conference Monday afternoon was Aretha Franklin and her fleet of backup singers."
What RichRod didn't know was that at the same time he was delivering lines like "This is the game you prove it," the Wildcats' opponents were in the process of taking the Rose Bowl down a notch. Some have argued that the comments made by Oregon's
De'Anthony Thomas
and
Josh Huff
about wanting to play for a national title and not just another Granddaddy of Them All were taken out of context. But anyone who watched the Oregon offense on Saturday quickly realized that a "what's-the-point-of-it-all" malaise had grabbed a hold of the usually machinelike Ducks.
Arizona deserves credit for forcing three turnovers, particularly the Ringling Brothers tip drill at the start of the game. But from the onset, Oregon contracted a rash of drops with seemingly pass after pass banging off receivers' chests. An offense that had been averaging more than 50 points per game scored just 16. Now the Ducks won't have to worry about settling for the Rose Bowl. They'll likely be headed to the Alamo Bowl on Dec. 30. (Just imagine if they were joined there by fellow high-scoring Baylor, which was held to 17 points by Oklahoma State on Saturday.)
While the Wildcats' archrivals were holding off UCLA, Rodriguez was chatting with a group of recruits, anxious to leverage the biggest win of his still-young Arizona career. In the hallway, a handful of RichRod's 16 seniors were wondering aloud if perhaps a photo of this win might go up in the concourse gallery reserved only for the program's defining victories, the images that future players will use for inspiration as they make the walk out into Arizona Stadium.
"I love adding photos to that wall," said Rodriguez. "I look forward to the day when we are in so many big games that it makes it hard to choose which ones go up there."
Suddenly, this week's trip to Tempe has a chance to be one of those games.
Now playing in Oregon: Tom Petty's "Free Fallin'" #StoryOfTheSeason #UOvsAZ

— ESPN The Magazine (@ESPNMag) November 23, 2013

November, 19, 2013
11/19/13
11:15
AM ET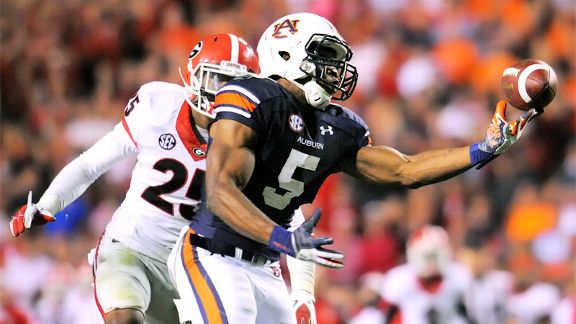 Shanna Lockwood/USA TODAY SportsRicardo Louis is listed fourth (at best) among wide receivers on the Auburn depth chart.
For four months, ESPN The Magazine will follow the march to the Vizio BCS National Championship, moment by moment, culminating in our "Story of the Season" double issue Dec. 27. Every Tuesday, Mag senior writer Ryan McGee will pick the previous week's biggest moments and tell you why they'll have the most impact on potential BCS title matchups. If you disagree, send a tweet to @ESPNMag and tell us why your moment matters more, using the hashtag #StoryoftheSeason. Who knows? Your moment (and tweet) might just end up in our issue.
Throw me the ball.
As Auburn quarterback
Nick Marshall
looked at his teammates in the huddle, the situation at Jordan-Hare Stadium on Saturday was bleak. To be more specific, it was fourth-and-18 at your own 27 with 36 seconds to go and you've just blown a 20-point fourth-quarter lead to Georgia and you're about to get knocked out of the BCS race bleak.
The play call from first-year coach Gus Malzahn was for Marshall to find sophomore wideout
Sammie Coates
somewhere in the middle of the field on a dig route. You know, play it in the middle, get the first down, stop the clock and keep marching. After all, Coates had entered the Georgia game ranked second in the nation by averaging nearly 25 yards per catch.
But as the Tigers broke the huddle, it wasn't Coates who shouted to get his quarterback's attention. "
Ricardo Louis
looked me in the eye and said, 'Throw me the ball,'" Marshall recalls with crystal clarity.
Wait ... Ricardo Louis?! The same Ricardo Louis who's listed fourth (at best) among wide receivers on the Auburn depth chart? The sophomore who'd had two games with negative receiving yards? And whose only touchdown catch had come against Western Carolina?
Actually, that Ricardo Louis hadn't shown up on this day. The Louis who suited up against Georgia played a pivotal role in the 117th edition of the Deep South's Oldest Rivalry. His pair of beautiful, short-side speed sweeps had resulted in 66 yards rushing and set up two Auburn touchdowns. He'd also hauled in 58 yards receiving to that point in the game. Finally, his still-young career, which had been highlighted more by mistakes (such as running into running back
Tre Mason
on a would-be handoff, squashing a drive and spurring UGA's stunning fourth-quarter comeback), was showing hints of the promise that he'd arrived with from Miami as the No. 21 recruit in the country.
Yes, he was feeling it. And he wanted everyone to know they should take advantage of this suddenly fortuitous night. He'd bugged Malzahn and his staff on the sideline, promising that if they gave him the ball, he'd make a big play. He said the same to teammates. Now he was telling his quarterback.
Hey, it wasn't that crazy. He was just repeating what he'd already been told.
"I always dreamed about making a great play in a big game," Louis said Saturday night. "Coach Malzahn said at the beginning of the week, he was like, 'Ricardo is due for a great play in a big game!' And he was right."
He was. But as Malzahn watched the play develop after the snap, he wasn't thinking about any midweek premonitions. He was waiting to watch Marshall lob a first-down pass to Coates, who had started in the slot and was open, cutting across the middle. Instead, Marshall cocked his arm and uncorked a much longer pass from his 27 well into Georgia territory.
"I went through all my reads," Marshall said. "[Louis] had a step on the defender, and I had to deliver the ball. He just came out with an awesome catch."
It was not an awesome throw. It was short. So short that not one but two Georgia defenders had a play on it. For the Dawgs' sake, they will always wish it had been only one. The ball went through the hands of safety
Josh Harvey-Clemons
and off the pads of
Tray Matthews
... into the hands of Louis ... who ran into the end zone, giving Auburn a 43-38 victory and establishing his place in the annals of War Eagle lore.
So what was the sudden SEC folk hero thinking as the most ridiculous bounce since The Immaculate Reception landed in his gloves? "I thought I was going to drop it ... for real."
He didn't. What dropped were the heads of the Georgia coaching staff, some of whom collapsed to the turf in disbelief, one last kick in the groin for a team that has experienced a year full of them. Nearly the same reaction probably happened in nearly every corner of the SEC, from Tuscaloosa to both Columbias. Had the ball fallen incomplete -- which it very well might have had it not been touched -- then Alabama would've instantly clinched the SEC West and essentially the same thing would've happened for Missouri in the East. And keep in mind that all of this happened when it looked as though Florida might have a chance to beat South Carolina. (That didn't happen.)
So now the Iron Bowl on Nov. 30 might end up being one of the biggest in the history of the series, with an SEC and perhaps even BCS championship at stake. The Missouri Tigers still have the Gamecocks breathing down their necks with no margin of error against Ole Miss or Texas A&M. (South Carolina is done with its conference slate.) Meanwhile, Auburn's dream season rolls on and Georgia continues its walk through the haunted house it entered in early October.
Throw in what are suddenly Pac-12 and Big 12 round-robin elimination tournaments, and it's hard to think of another single play that had such a profound impact on so many current and former BCS hopefuls. Oh, and toss in the fact that Auburn didn't enter the AP Top 25 until Week 8 ... and then the goofiness of the play itself ... and, well ... Mr. Louis?
"Unbelievable."
Yeah, that.
WHHHAAAAAATTTT???????? #StoryOfTheSeason #UGAvsAUB

— ESPN The Magazine (@ESPNMag) November 17, 2013

November, 5, 2013
11/05/13
11:00
AM ET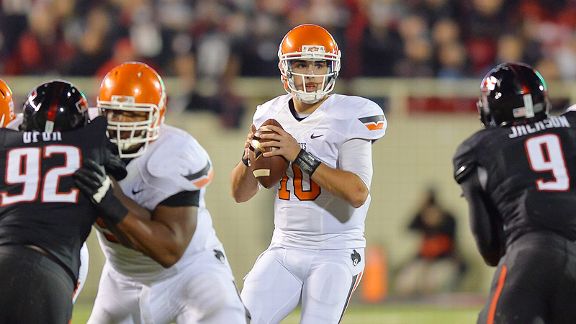 John Weast/Getty ImagesQuarterback Clint Chelf and the once-forgotten Cowboys beat Tech 52-34 on Saturday night.
For four months, ESPN The Magazine will follow the march to the Vizio BCS National Championship, moment by moment, culminating in our Story of the Season double issue Dec. 27. Every Tuesday, Mag senior writer Ryan McGee will pick the previous week's biggest moments and tell you why they'll have the most impact on potential BCS title matchups. If you disagree, send a tweet to @ESPNMag and tell us why your moment matters more, using the hashtag #StoryoftheSeason. Who knows? Your moment (and tweet) might just end up in our issue.
YOU KNOW THE
deal with Mike Gundy, right?
He's a man. He's 40. So, if you've got something to say, come after him.
OK, actually, the Oklahoma State coach is now 46. But the rule still applies. If you have an issue with his football team, you're supposed to talk to him about it. So that's exactly what his wife Kristen did. And if OSU's Week 10 performance against Texas Tech is any indication of what's to come, then Cowboys fans should thank her -- and Cowboys opponents might wish she'd never opened her mouth. Or watched film.
On Saturday night, the once-forgotten OSU squad throttled Tech 52-34, racing to 492 yards of offense, nearly 300 of which came on the ground. It was a performance that quickly reminded their Big 12 rivals why, back in August, the Cowboys were picked as the conference favorites and ranked 13th in the AP preseason poll. An inexplicable 30-21 loss at West Virginia on Sept. 28 effectively knocked OSU out of the top 20 and erased the Cowboys from the national football conscience. It also opened the door for Texas, Baylor, Oklahoma and, yes, Texas Tech, to try to swoop in and take the Big 12's coveted BCS berth.
But now that conference rolls into a brutal final month of constantly huge clashes. And now all those wannabe BCS teams have been served notice: the Cowboys aren't out of it yet. They aren't the only ones. Throughout Week 10, a similar declaration could be heard across the Big Five:
- Michigan State's loss to Notre Dame now feels like ancient history after the Spartans stomped Michigan 29-6. Now they begin a march through Nebraska and Northwestern before hosting upstart Minnesota and then perhaps meeting Ohio State in the Big Ten championship.
- Auburn's Sept. 21 loss at LSU is also growing smaller in the rearview mirror. After a decisive 35-17 win at Arkansas, the Tigers are now 8-1, ranked ninth in the BCS standings and are already eyeing a chance to derail Alabama's BCS title hopes in the Iron Bowl. That is, if never-intimidated LSU doesn't do it first.
- In the SEC East, Missouri rebounded from its lone loss -- to South Carolina on Oct. 26 -- by whipping Tennessee 31-3. Now the Tigers, too, look to ruin Alabama's year, if both make it to Atlanta.
- Arizona State still has just one Pac-12 loss on its record, against BCS contender Stanford, and the Sun Devils are hitting their stride as the sudden favorites in the Pac-12 South. And perhaps troublemakers for Oregon in the league title game on Dec. 7. Again, that's assuming Stanford doesn't knock off the Ducks on Thursday night.
"Anyone who thought they were out of the game hasn't seen what we're all seeing on tape," Texas coach Mack Brown joked when asked about Oklahoma State, adding that he knows a little something about being forgotten after an early-season loss. "We've all known this conference was coming down to November. Well, November's here."
Yes, it is. And the teams who have learned from the losses and evolved with the calendar are the ones who are likely to make the most November noise. For signs of such an evolution, no matter how subtle, you only had to watch the Cowboys on Saturday night. Specifically, on fourth-and-goal from the Texas Tech 1-yard line with 10:27 still remaining in the second quarter.
That's when, up 21-10 and looking to send a message, OSU quarterback Clint Chelf did something that, within Gundy's high-flying Air Raid offense, looked downright bizarre. He didn't set up in the shotgun, but instead the senior took five steps forward and (gulp) settled in behind the center.
Of course, this is still Oklahoma State, so even its under-center formation wasn't typical. With his left foot lined up slightly off-center, Chelf's shoulders were closed off to the odd lineup to his right. That's where fullback Kye Staley stood, hands leaning on thighs, behind the right guard. To Staley's right, slightly off the right heel of the tackle, was the only slightly more crouched Jeremy Seaton, a second fullback.
Tech had crammed 10 men in the box, expecting either a QB keeper or at the very least a handoff and dive from tailback Desmond Roland, who had already scored on a pair of 1-yard runs in the first quarter. At the snap, the entire right side of Tech's defense bit hard, linebacker Will Smith even leaped into the air to meet the onrushing tailback ... but the tailback never arrived.
Instead, Chelf broke into a right-side option rollout with Roland as his backfield escort and Staley as his upfield blocker. Seaton cut left, applied a block, and slipped into the end zone. No shotgun pad meant the two backs had to hustle up and out of the chaos. But it is also what created that chaos, one whole side of the defense breaking down in one direction while the other half scrambled to chase in the other. There was no shotgun pad there, either. No room to react. And no film to show them how they should react.
You see, this was just the third goal-line play that Oklahoma State had run from under center all year long. The first two instances had been just one week earlier during a 58-27 win at Iowa State. One of those resulted in a rushing touchdown, not to mention a "told you so" from Kristen Gundy.
"I got the most pressure from my wife about being in the shotgun on short yardage and goal line and not going under the center. She's been on me for three weeks," Gundy explained when asked about those first two under-center plays in Ames. "She's been on me for three weeks, so I said, 'OK, we'll take a snap under center if it makes you feel better!'"
Gundy was only half-joking. He's heard questions about stepping out of the shotgun in the red zone throughout his coaching career. He openly admits that the Air Raid's biggest weaknesses come about as it marches closer to the end zone and runs out of real estate to spread the field. That flaw was exposed in Morgantown, when OSU failed to score for the first time in its first 16 trips into the red zone.
To combat that goal-line sluggishness during last year's disappointing 8-5 campaign, OSU started running the ball Tim Tebow-style, with quarterback J.W. Walsh. But since Chelf took over, that page of the playbook hasn't been as prevalent. Now there's a new page being written, just in time for the heart of the Big 12 schedule.
As Chelf kept rolling to his right, he started to approach the hash mark. One defender made a cut to try and wrangle him down at the 7, but was blocked just enough by Roland. Meanwhile, Staley was dragging along the 1-yard line, having drawn no fewer than three men in black.
Behind them, slicing through the middle of the giant red "RAIDERS" in the black end zone, Seaton had shed safety Tre' Porter. Chelf calmly left his feet, shot-putted the ball a dozen yards forward, over the extended hands of Staley's escorts, and into the hands of Seaton.
Gundy is visibly pleased with his new under-center option, especially when added to the standard Air Raid stack of plays and the constant threat of bringing in Walsh. Said Chelf: "I like it. It's different. I think we've given them all something to think about."
Yes, they have. Just in time to make a run at the BCS, or at the very least ruin someone else's.
Thanks, Kristen.
No. 18 Oklahoma State vs. No. 15 Texas Tech - defense optional. #StoryOfTheSeason

— ESPN The Magazine (@ESPNMag) November 3, 2013

October, 29, 2013
10/29/13
11:00
AM ET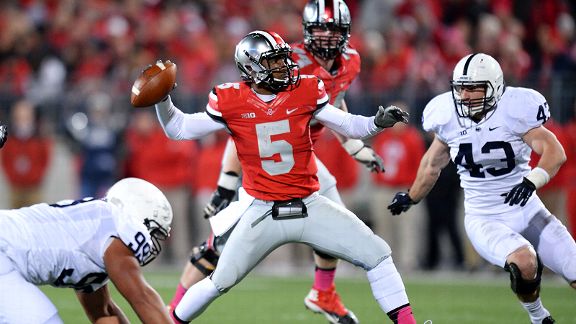 Jamie Sabau/Getty ImagesIn the first quarter, Braxton Miller and the Buckeyes were already beating Penn State 14-0.
For four months, ESPN The Magazine will follow the march to the Vizio BCS National Championship, moment by moment, culminating in our Story of the Season double issue Dec. 27. Every Tuesday, Mag senior writer Ryan McGee will pick the previous week's biggest moments and tell you why they'll have the most impact on potential BCS title matchups. If you disagree, send a tweet to @ESPNMag and tell us why your moment matters more, using the hashtag #StoryoftheSeason. Who knows? Your moment (and tweet) might just end up in our issue.
"Oh, yeah ... this is how it's supposed to be."
THAT'S WHAT POPPED
into Braxton Miller's mind as he came to his feet slowly off the red-painted turf of the end zone, immediately enveloped in the arms of three teammates. Behind him a wave of raised arms started in the seats that lined the field and it washed over the entirety of Ohio Stadium. The first quarter wasn't yet over and the
Ohio State Buckeyes
were already rolling over Penn State 14-0 in front a national television audience. The same Nittany Lions who, in their previous game, took down OSU's archrival Michigan in four overtimes.
And they too were joining in the junior quarterback's revelation: The Buckeyes are legit.
With 1 minute, 10 seconds remaining in the opening stanza, surely none of the 105,889 in attendance realized that Ohio State was beginning what would turn out to be a 63-14 romp, the worst beatdown suffered by a PSU squad in 114 years (darn that 1899 Duquesne Athletic Club!).
But what the Buckeyes faithful did know was that their team was making a statement, a collective message sent out by all four teams in atop the BCS standings. After an October filled with upsets, upstarts and puzzling parity, Ohio State locked arms with Alabama, Oregon and Florida State. The quartet combined to march over their opponents by a combined score of 199-55 and a 35-point average margin of victory, all in games that had been labeled as potential tripwires.
So let's call Week 9 Superpower Saturday.
Remember when Alabama's D still had work to do? Well, it's done. Remember when Florida State still had trap-game syndrome? Gone. Meanwhile, running back
De'Anthony Thomas
is back for Oregon after missing a month and scored a touchdown in the Ducks' win over UCLA.
As for Columbus, the Buckeyes are finally at full strength too. Because Miller is at full strength. He came into 2013 on everyone's short list for the Heisman Trophy. But when he suffered an ankle sprain against San Diego State on Sept. 7, he quickly disappeared. His backup,
Kenny Guiton
, won Big Ten offensive player of the week twice in his absence.
Even when Miller returned and beat Wisconsin on Sept. 28, there was some doubt about his game, and thus his entire team. At Northwestern, in front of a national TV audience, he tossed one interception and zero TDs in the win. Against Iowa he racked up 324 yards of offense, but it was against, well, Iowa.
Through it all, Miller and his team were taking a public beating. The Buckeyes fell behind Florida State in the polls and it was their seeming unworthiness that sparked a national sports talk radio debate: If we had the playoff this year, who would be your fourth? Really, the Buckeyes?
[+] Enlarge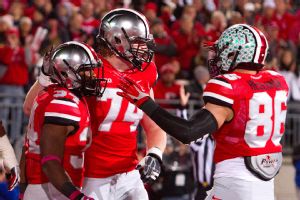 Trevor Ruszkowksi/USA TODAY Sports The Buckeyes made a strong statement with their dismantling of the Nittany Lions.
However, against Penn State, Miller finally looked like Miller and Ohio State finally looked like a team worthy of BCS title consideration. Even coach Urban Meyer, who still hasn't lost a game since he took over, said "I like where this team is right now."
He also said: "I just love where Braxton's at right now. I love the fact he's acting like a quarterback. I'm not disrespecting Braxton. You guys know I love that guy. But I felt like he was an athlete playing quarterback a year ago. I feel like he's a quarterback that's a really good athlete now."
There was one play in particular that led to those feelings. The 39-yard TD run. It was old-school Miller, but it was also new-school Miller, in control the entire time. As the quarterback explained matter-of-factly, but with a smile: "Coach said he wanted a running touchdown. And I gave it to him."
In the closing two minutes of the first quarter, Miller took the shotgun snap at the Penn State 44-yard line, not even bothering with what was supposed to be a hard-sell fake handoff to tailback
Rod Smith
. Instead, he immediately tucked and took off, so quickly that he ran into the back of 6-foot-6, 319-pound left guard
Andrew Norwell
.
He placed his hand on the lineman's very broad waist and pushed off, a shove that helped launch him to the right and across the back of right tackle
Taylor Decker
, who was standing up Penn State D-end
Anthony Zettel
. Within a collapsing box only about 5 yards long and perhaps 3 yards wide, he made no fewer than three tiny cuts -- right, left, right -- and once again placed his left hand against a lineman's back. This time it was the right guard, 6-6, 315-pound
Marcus Hall
, who had teamed with center
Corey Linsley
to drive D-lineman
Austin Johnson
backward 4 yards, throwing him into onrushing linebacker
Nyeem Wartman
and blowing open the front door.
Hall took his cue and turned up field, running over the fallen Wartman and alongside Miller … well, sort of. By the time Miller hit the 40, he was at full speed, angling right and looking downfield toward the goal line. After a stutter-step at the 10, he started cutting again -- left, right, left -- and dove into the end zone through the arms of three tacklers.
Per the clock, the play of near-perfection took 11 seconds. But to the team and its followers, it was the kind of play -- and game -- they'd waited two-thirds of a season to see. "We probably played our best game of the season," said offensive line coach Ed Warinner. "It was fun to be a part of."
There was no probably to it. Miller accounted for 320 yards of offense and five touchdowns, three passing and two rushing. In addition to his fancy footwork, he also impressed with his willingness to plant those feet and launch quality passes, particularly a 25-yard TD throw at the close of the first half. It was crisp, on target and straight into the middle of the field.
Just as encouraging was a defensive unit that seemed to turn every decent Penn State drive into a turnover; freshman QB
Christian Hackenberg
was intercepted early and sacked often, including two takedowns by linebacker
Noah Spence
, who was headed to Happy Valley before the Jerry Sandusky scandal turned him toward Columbus.
Now the Buckeyes must travel to Purdue and Illinois, host Indiana and then venture up to Michigan to close out the regular season. They believe they sent a message in October. As for the critics, they'll still save judgment for the Big House.
BCS top 4 heard all wk they'd be challenged but Bama, FSU, Oregon, Ohio St all gonna win big. Message sent. #StoryoftheSeason

— Ryan McGee (@ESPNMcGee) October 27, 2013

October, 22, 2013
10/22/13
11:00
AM ET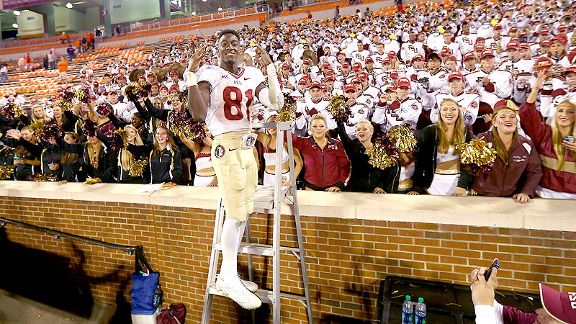 Streeter Lecka/Getty ImagesFlorida State's Kenny Shaw celebrates after defeating the Tigers 51-14.
For four months, ESPN The Magazine will follow the march to the Vizio BCS National Championship, moment by moment, culminating in our Story of the Season double issue Dec. 27. Every Tuesday, Mag senior writer Ryan McGee will pick the previous week's biggest moments and tell you why they'll have the most impact on potential BCS title matchups. If you disagree, send a tweet to @ESPNMag and tell us why your moment matters more, using the hashtag #StoryoftheSeason. Who knows? Your moment (and tweet) might just end up in our issue.
THERE IS NO
greater entrance -- perhaps moment -- in all of college football than when the Clemson Tigers emerge at the base of the big scoreboard in Memorial Stadium's open end zone. The team gathers around Howard's Rock, and the sound that gathers with it is unsurpassed, especially on a night like Saturday night, the gemstone matchup with Florida State, when greatness is anticipated.
It is equally awe-inspiring to watch someone silence Death Valley just as quickly as it has been riled up.
"Tonight was an amazing environment," FSU coach Jimbo Fisher said Saturday night, looking just as shocked as everyone else that his team had rolled over the Tigers to the tune of 51-44. "This is a tremendous place to play."
It truly is. And that begins in the east end zone. Some old-timers still refer to it as the Green Grass Section. The rest of the world calls it The Hill. A knoll covered in Clemson students, parted to form a narrow ribbon of turf upon which the Tigers run into Death Valley. To soak that up, one must get out of the press box and take their place among them. (Without a hillside ticket, don't even try from the gate. With a media credential, you can sneak your way from the bottom if you catch a South Carolina state trooper looking the other way.)
As the noise level grew, it was impossible not to think of these same two teams 25 years earlier. On Sept. 17, 1988, the No. 3 Tigers hosted the No. 10 Seminoles. What most remember about that day was Bobby Bowden's fabled Puntrooskie, a fake botched punt deep in the Noles' own territory that was gathered up by FSU's LeRoy Butler, who ran 78 yards to set up the game-winning score. The images of that play still make older Clemson loyalists shake their head in anger. They did the same on Saturday morning when ESPN's "College GameDay" ran a Puntrooskie feature that echoed off the buildings throughout campus.
"Damned disrespectful!" an orange-clad tailgater yelled toward the giant TV screens on Bowman Field in the center of campus.
But the Puntrooskie isn't the first image that pops into the heads of many who were there that day. That group includes me (I was a high school senior in nearby Travelers Rest, S.C.) and Clemson tailback Terry Allen, who went on to play 11 years in the NFL. "I remember coming down The Hill and the place was rocking and all the sudden it was like, Who is this fool down there standing at the bottom of The Hill telling us to bring it?"
It was FSU's Deion Sanders, hitting himself in the numbers and screaming at the Tigers as they ran into their own house. No doubt the gentleman from the quad was somewhere in the stadium that day shouting "Damned disrespectful!"
No opponent stood at the base of The Hill pounding on his chest plate Saturday night. But FSU quarterback Jameis Winston might as well have. Not even 90 seconds into the game, Winston flicked a 22-yard touchdown pass to Kelvin Benjamin, directly toward The Hill crowd, and it was 7-0 Florida State. Not even 10 minutes later, the Noles were laying siege to The Hill again as a field goal sailed toward them and through the uprights for a 10-0 FSU lead. The next score they saw was FSU defensive end Mario Edwards Jr. rumbling into their end zone after recovering QB Tajh Boyd's fumble and returning it 37 yards for a touchdown that made it 17-0 with 3 minutes, 7 seconds still to play in the first quarter. At game's end, FSU would have 565 yards of offense. Winston had 444 yards passing with three touchdowns, officially launching him into the Heisman Trophy hunt and catapulting Florida State to second in the initial BCS standings.
Clemson fell out of the realm of the unbeatens, down to ninth in the BCS, and Boyd likely lost his invitation to New York this December.
By the end of the first quarter, the feeling on The Hill was more like being in The Library. By the end of the third quarter, it looked as though that's where everyone who had started the game on The Hill had gone.
"My granddad and dad were here for the Puntrooskie game," one student explained (she asked that her name not be included because she was supposed to be on a church mission trip). "We have a rule in the house that we don't talk about it. I was always like, well, it couldn't have really been that bad. But now I feel for them. This sucks."
It could have been worse. The Tigers' locker room is located on the opposite end of the stadium, 100 yards from The Hill. As the clock hit zeroes and the home team slowly walked toward that refuge, they were serenaded by a swath of garnet-and-gold fans doing the FSU war chant, right by the field house entrance.
Over where the Clemson players had started their night, there was no one left to hear it.
"Yo Jimbo, I got this." #StoryOfTheSeason #FSUvsCLEM pic.twitter.com/b7rx1ungS8

— ESPN The Magazine (@ESPNMag) October 20, 2013
On Saturday night and again on Sunday afternoon, Clemson coach Dabo Swinney was understandably in damage-control mode. He reminded the room that his team has only one loss, is still ranked in the top 10, still has a chance to win an ACC championship, and at the very least will lock up a great bowl game.
A similar speech was being repeated on practice fields and in pressrooms throughout the country after a Week 8 full of bloodletting. It started Friday night when No. 8 Louisville fell to unranked UCF. It continued Saturday afternoon when No. 9 UCLA lost to No. 13 Stanford. Throw in a bushel of second SEC losses by Texas A&M (to Auburn), Georgia (to Vanderbilt), LSU (to Ole Miss), South Carolina (to Tennessee) and Florida (to Missouri).
Just two weeks ago, there were 14 undefeated teams across the BCS conferences. Now there are only eight. For some high-profile one-loss teams, such as Stanford, and yes, perhaps Clemson, the season might still come back to them. But as Swinney was quick to emphasize on Sunday, they are all walking on the thinnest sheets of ice ... in cleats.
"We're at that 'elimination game' phase of the season when it comes to championships," former Oregon coach-turned-ESPN analyst Mike Bellotti explained as he sifted through the wreckage of the weekend. "You don't want to lose any games. But from here on out, you really can't lose again. One loss and you're in trouble -- how much trouble depends on who you lost to and who you are still going to play. But two losses? You're done."
Indeed. I like my crow with butterbeans & corn. RT @ESPNMag: "That one was for you, @ESPNMcGee." - UCF faithful #StoryOfTheSeason #UCFvsLOU

— Ryan McGee (@ESPNMcGee) October 19, 2013

October, 15, 2013
10/15/13
11:00
AM ET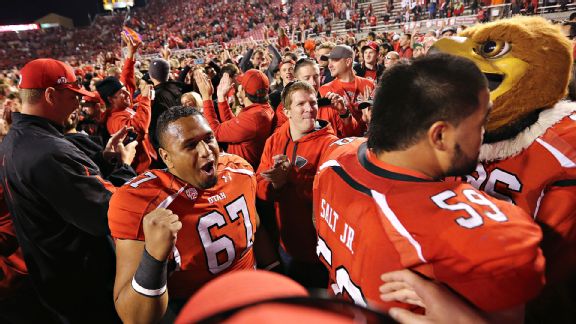 George Frey/Getty ImagesThe Utah Utes celebrate their 27-21 upset win over Stanford on Saturday in Salt Lake City.
For four months, ESPN The Magazine will follow the march to the Vizio BCS National Championship, moment by moment, culminating in our Story of the Season double issue Dec. 27. Every Tuesday, Mag senior writer Ryan McGee will pick the previous week's biggest moments and tell you why they'll have the most impact on potential BCS title matchups. If you disagree, send a tweet to @ESPNMag and tell us why your moment matters more, using the hashtag #StoryoftheSeason. Who knows? Your moment (and tweet) might just end up in our issue.
---
WEEK 6 WAS ABOUT
moral victories, those dreaded "character builders" for underdogs that fell just short of altering their seasons and the BCS title picture.
But in Week 7, the underdogs came through early and often, posting statement wins: Stanford went down at unranked Utah, Georgia lost at home to Missouri, Oklahoma was run over by unranked Texas in Dallas, Michigan fell in four overtimes to unranked Penn State, and Northwestern was routed by unranked Wisconsin.
Meanwhile, several conference favorites were tested more than they would have liked: Washington finally pushed Oregon into the fourth quarter, Clemson struggled mightily with Boston College, and Louisville's BCS hopes took a hit with a 24-10 win over Rutgers that was much closer than the score. Even undefeated teams in the lower half of the Top 25 had to survive scares: Baylor needed a fourth-quarter comeback against Kansas State, Texas Tech outlasted Iowa State, and Northern Illinois slogged through a night of going 1-for-15 on third down to hold off Akron.
But we can all agree that the Story of the Season thus far is a toss-up between what (and who) went down in Salt Lake City and Athens.
---
IN THE FRANTIC
moments before kickoff of Saturday night's game against then-No. 5 Stanford, Utah coach Kyle Whittingham paused and took a little emotional inventory. It might have seemed like a bit much to label the contest against the Cardinal with an "our season rides on this game" tag. But, well, it kind of did.
When the Utes joined the Pac-12 in 2011, they did so riding a reputation built on a decade of success that started with Urban Meyer, moved on to Whittingham, and had given the program the title of original "BCS Buster" with a pair of big-stage berths despite their non-AQ status. But Utah's entry into an AQ conference had not gone as planned, beginning with a solid 8-5 inaugural year before stumbling to 5-7 in 2012. Both seasons, Utah started 0-4 in Pac-12 play.
"You could just hear people at the old established Pac-10 schools getting their 'They don't belong here' stuff started up," said Steve Smith, the former Utah wide receiver who is now with the Carolina Panthers. "Everyone knew that all it would take is one signature win and all that talking down to us would go away."
But entering Saturday night, the Utes were already 0-2 in the conference, having suffered an overtime heartbreaker to Oregon State and a 34-27 loss to UCLA in which QB Travis Wilson threw six interceptions. And oh yeah, Stanford was 5-0. Basically, the rest of the college football world had circled the Cardinal's showdown the following Saturday against UCLA, not the one at Rice-Eccles Stadium.
That's why Whittingham called a team meeting on Thursday afternoon, and why he was eyeballing his team on the sideline just before kickoff. He knew the game plan was a good one, but he needed to gauge his players' mental well-being. After he glanced at his offensive line (led by three seniors), then at senior defensive end Trevor Reilly and finally at Wilson, his worries vanished.
A few hours later, he watched his defense stop Stanford at the goal line to preserve an improbable 27-21 victory.
"We could have fragmented and thought, 'What is the point?'" Whittingham said. "But this senior class refused to let that happen. They are tough individuals, and they knew they were close, and we knew they were close and they persevered."
They also, finally, got that signature Pac-12 win. And oh yeah, they play at Oregon on Nov. 16. Just sayin'.
---
The entire Southeast is Googling "Maty Mauk" right now… #StoryOfTheSeason #MIZZvsUGA

— ESPN The Magazine (@ESPNMag) October 12, 2013
Missouri coach Gary Pinkel's phone started buzzing Saturday afternoon and never stopped.
It kept on buzzing during the bus ride from Georgia's Sanford Stadium to the departing airport, from the arriving airport back to the Missouri campus, from campus back to home and well into the night. It buzzed so much that Pinkel quit keeping up with the messages.
Congrats, coach!

Go Mizzou!

Grown Man Football!
There were 87 texts in all. That might not be a lot for your typical college student. But it's a downright deluge for a 61-year-old head coach. That's what happens when you go on the road as a barely ranked team, still new to the nation's most powerful conference, and silence 97,746 mostly red-and-black clad fans. That's what happens when you knock off the No. 7 team in the nation that also happens to be one of the most recognizable brands in college football history.
Missouri has three straight home games against No. 22 Florida, No. 11 South Carolina and Tennessee coming up, so the road to the SEC East division title runs through Columbia, Mo. Not bad for a team that finished under .500 one year ago (its inaugural SEC campaign) and were picked by most this year to finish sixth out of seven in the West.
"Tell me that ain't good enough!" Tigers wide receiver L'Damian Washington screamed to the crowd in Athens, Ga., as the scoreboard clock hit zeroes on the 41-26 victory. "Tell me that ain't good enough!"
Like Utah, though over a shorter period of time, Missouri ached for some measure of SEC respect. Heck, the Tigers weren't even looking for a signature win -- they just wanted a win. In 2012, they won just two conference games, against lowly Kentucky and bottoming-out Tennessee. That record was made even more painful by the stunning success of fellow Big 12 defector Texas A&M.
But this year, as people publicly picked apart Mizzou's "weak" 5-0 record (with wins over Murray State, Toledo, Indiana, Arkansas State and Vanderbilt), Pinkel's seniors also used a team meeting to circle the wagons. They made the rest of the players watch video of last year's SEC opener, a 41-20 loss to these same Georgia Bulldogs. After that game in Columbia, some of the Dawgs celebrated on the Memorial Stadium turf by holding signs that read, "Grown Man Football." As Washington, one of the players who'd called the meeting, explained it: "Sometimes you need to be knocked down to be brought back to reality."
Watching the video on Friday felt like being knocked down all over again. But on Saturday, they got up, even after QB James Franklin went down.
"We can compete in the SEC," Washington said as the team prepared to leave Athens. "Period."

October, 8, 2013
10/08/13
11:00
AM ET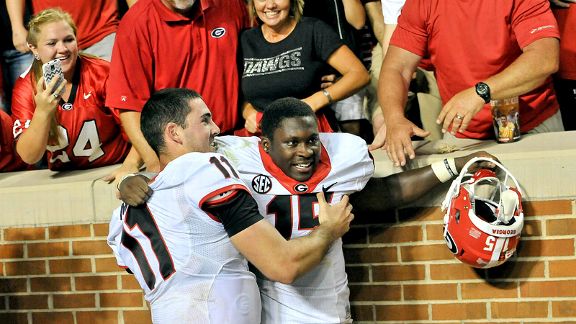 Jim Brown/USA TODAY SportsGeorgia may have celebrated the win, but the Vols were in it until the last minute.
For four months, ESPN The Magazine will follow the march to the Vizio BCS National Championship, moment by moment, culminating in our Story of the Season double issue Dec. 27. Every Tuesday, Mag senior writer Ryan McGee will pick the previous week's biggest moments and tell you why they'll have the most impact on potential BCS title matchups. If you disagree, send a tweet to @ESPNMag and tell us why your moment matters more, using the hashtag #StoryoftheSeason. Who knows? Your moment (and tweet) might just end up in our issue.
---
COACHES HATE
a "statement loss." So do fans, players and anyone else whose lives are built around a team's record. (Well, OK, that's everyone.) As former Clemson coach Danny Ford once said, "Moral victories only feel good if you don't know how good an actual victory feels."
Week 6 of the season was packed with moral victories, from TCU's 20-17 near-miss in Norman to Northwestern's closer-than-the-score, 40-30 loss to Ohio State. None of those games felt good for the losers, but they may have all signified something larger over the horizon. Sure, there's the far-flung notion of program-building, but Saturday's efforts might also have a much-larger-than-expected impact on the not-so-distant future, ultimately altering the BCS title march. That could either happen by way of an actual win over the next would-be BCS bowler, or simply damaging the image of the team that won on the scoreboard but could now be vulnerable for its next top-shelf opponent.
"We won and we'll take it," Georgia coach Mark Richt admitted after defeating Tennessee 34-31 in overtime, the Bulldogs' second consecutive three-point, nail-biting W. "But this is the kind of win that you are likely to feel some effect from for a while down the road. The LSU game had some effect this week. Now you hope this doesn't add on to that."
Those words sounded a little like what was coming out of the mouths of Tennessee faithful after the heartbreaking defeat:
We didn't win, but we made them earn it!
That's the message that was being rained down upon the Vols as they left the field on Saturday night. They were still reeling from the emotional about-face of thinking receiver Pig Howard's corner dive toward the pylon had been perhaps the game-winning score to learning that, via the replay booth, it was actually a fingertip fumble and touchback. Moments later, they lost.
As Neyland Stadium emptied, a group of orange-clad fans crowded their way into the first rows that overlook the entrance to the north end zone tunnel, where their gray-clad team was beginning to file through en route to the locker room. They shouted encouragement to the players, but were waiting on the coach.
Butch Jones doesn't typically walk off the field. He runs. He jogs. He at the very least speed-walks. But as the Vols first-year coach turned toward the tunnel at Neyland Stadium, he was walking. Exhausted, covered in sweat, and with only a wisp of his perpetually hoarse voice remaining. The famously exuberant coach had been fearless during the game, going for it on fourth down three times in the fourth quarter, twice in his own territory and converting all three with perfect play-calling. But he looked beaten down. Moments earlier, his undermanned Vols had Georgia on the ropes. Now as he strode toward the tunnel, the scoreboard on the giant video screen behind him read "34-31 F OT."
"They knew we were here, coach!" the fans shouted down, drawing a halfhearted thumbs up. "Brick by brick! Brick by brick!"
On paper, it will look like just another big-game loss for Tennessee, which still hasn't defeated a top-10 team since 2006 and extended its winless streak against ranked opponents to 19. The Vols will face at least two more ranked teams (Alabama, South Carolina) and possibly a third (Missouri) this season. But the reality is that the Vols were in the game until -- actually during -- the last minute. They also hit hard, inflicting injuries to four key Georgia players and adding the likes of
Keith Marshall
,
Michael Bennett
and
Justin Scott-Wesley
to an already too-long list of wounded stars.
That might make this week's game in Athens against undefeated largely unknown Missouri much more of a contest than previously expected.
"I'm not really in the celebrating mood so much," Richt said. His finger was bleeding, having just been cut on his postgame news conference chair. During the game he'd been knocked to the turf when a play ran over the sideline. "I'm just thankful to escape here with a victory, considering what happened."
The only two undefeated teams in the #SEC are Alabama AND... Missouri!! #MakesSense #StoryOfTheSeason

— ESPN The Magazine (@ESPNMag) October 6, 2013
---
Nearly 2,500 miles west of Neyland Stadium's tunnel, Stanford Stadium's walkways were also filled with dejection.
"There's no awards for losing."
Those were the words of Steve Sarkisian, coach of the then-No. 15
Washington Huskies
, whose chances of knocking off the fifth-ranked Cardinal came down to one final fourth-down play. That's when electrifying quarterback
Keith Price
scrambled ... and then scrambled again ... to fire an on-the-run pass that was so close to being a first down catch that it was ruled a catch by the on-field officials, but was overturned by the instant replay booth, which ruled that it was an incomplete pass, having squirted out and touched the turf. Washington turned the ball over on downs and lost 31-28.
"It's unfortunate the game had to come down to a judgment call like that," Sarkisian said. "That part was unfortunate, because it was two good football teams battling and competing with one another, and I wish the game would have gotten won on the field and not in the booth upstairs with some guy that didn't get to feel the emotion and the hard-fought football game that that game was."
Stanford coach David Shaw (who admitted he also believed it was a catch until his press box coaches convinced him otherwise) was asked to address the same concerns expressed by Richt earlier in the evening. What would be the mental and physical cost of a win like Saturday night's, especially with the Cardinal's brutal upcoming Pac-12 schedule, starting with a trip to Utah? But instead of worrying about damage, he turned the conversation back toward toughness.
"This is what we're built for. All we talk about is the fourth quarter. About being finishers. Every day we have a finisher at the end of the day. Every week we have a finisher at the end of the week. We train ourselves to be at our best in the fourth quarter."
---
Coach Sark's rant about the replay booth, a job that he also compared to playing a video game, is threatening to become a shared chorus. Most of the weekend's biggest games, including Washington-Stanford and Georgia-Tennessee, hinged on replay rulings.
The contentious tone surrounding game-deciding calls, on the field and in the booth, has built throughout the season, from the bizarre finish of Wisconsin-Arizona State to the in-or-out sideline ruling at Clemson-NC State. But the decidedly testier feelings on replay that were shown throughout Week 6 were put into motion by Iowa State coach Paul Rhoads, who after Thursday night's 31-30 loss to Texas unleashed one of the coolest postgame coaching rants of all time. It ranked alongside Tommy West's 2009 post-firing directive on how to rebuild the Memphis football program. ("Give the next guy a fighting chance.")
Texas running back
Johnathan Gray
had the football ripped away just short of the goal line, and it appeared Iowa State had possession before the whistle blew. Game over. But the officials ruled Gray down by contact. The booth upheld the call.
@ESPNMag #TEXvsISU #StoryOfTheSeason The "indisputable evidence" that denied the obvious fumble. (Oh, the first one)

— Randy Moore (@OfficiallyRandy) October 4, 2013
Keep in mind, Rhoads' speech is not a CTRL+C of Sarkisian's comments, which came 48 hours later: "What you saw tonight were a couple of teams playing their hearts out. You could argue both deserve to win the football game." Then, his voice rising: "And to make a play ... on the 1-yard line ... with their backs against the wall ... clear to everybody ... and have it taken away from them! That's hard to express. You don't just put your arm around a guy and tell him that's OK ... if that's just happened to him!"
It'll be even harder to do that if one of those calls ends up determining who does or doesn't get to play for the BCS championship in January.
That's nearly happened already, at least three times -- and it's not even the second weekend of October.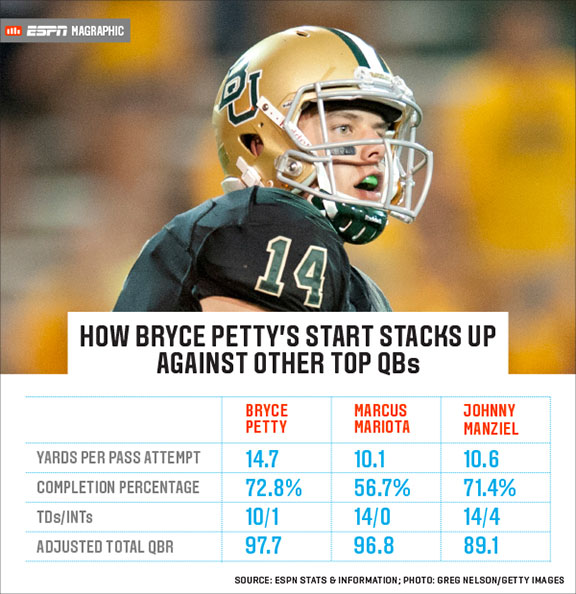 ESPN The Magazine

October, 1, 2013
10/01/13
11:00
AM ET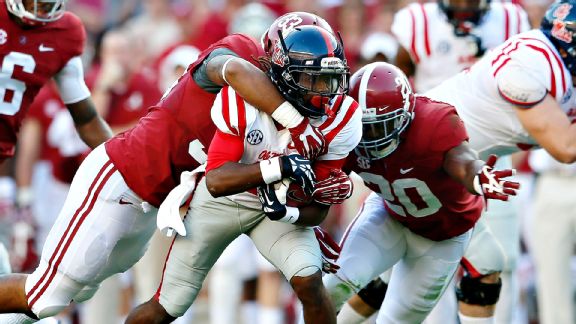 Kevin C. Cox/Getty ImagesAlabama announced its presence this season by shutting out Ole Miss on Saturday.
For four months, ESPN The Magazine will follow the march to the Vizio BCS National Championship, moment by moment, culminating in our Story of the Season double issue Dec. 27. Every Tuesday, Mag senior writer Ryan McGee will pick the previous week's biggest moments and tell you why they'll have the most impact on potential BCS title matchups. If you disagree, send a tweet to @ESPNMag and tell us why your moment matters more, using the hashtag #StoryoftheSeason. Who knows? Your moment (and tweet) might just end up in our issue.
---
SATURDAY EVENING'S GAME
against Ole Miss had barely gotten started when the all-business leader of the Crimson Tide defense, linebacker
C.J. Mosley
, caught himself grinning.
The first play of the game had been a 38-yard pass that had sliced into Alabama territory. And just moments later the vaunted Rebels offense had decided to take their first big chance of the night. On fourth-and-2 at the Alabama 29, Ole Miss was going for it. Receiver
Laquon Treadwell
, the man who caught that demoralizing pass to start the contest, took the ball and seemed destined to get the first down. But he was met by a Tide safety -- he of one of college football's greatest names,
Ha Ha Clinton-Dix
-- who scooped up Treadwell, upended him and threw him to the turf, inches shy of the conversion. Treadwell was credited with a 1-yard carry, one of Ole Miss' scant 46 yards rushing in a 25-0 shutout, shutdown loss.
"That stop set the tone. Before the game I kept telling everybody, 'Remember what they said'," Mosley says, grinning as he recalled the waning confidence in the nation's No. 1-ranked team, acerbated by Mississippi quarterback
Bo Wallace
saying his team could score on anyone. "They called us out. We answered the bell."
Mosley's words were meant to apply only to his team. But he could have very easily been speaking for multiple other big-name programs that sent some very big-time messages during September's final football weekend. Alabama, Oregon, Ohio State, Georgia, Oklahoma ... they all announced their presence with authority.
Officially speaking, it was Week Five of the 2013 college football season. In reality, it was Statement Saturday.
Alabama holds Ole Miss to a goose egg, 25-0. #StoryOfTheSeason #MISSvsBAMA

— ESPN The Magazine (@ESPNMag) September 29, 2013
---
In Columbus, Ohio State quarterback
Braxton Miller
returned and quickly reminded everyone why he was on so many preseason Heisman short lists: He threw solidly and efficiently, often on the run, for four touchdown passes and racked up 281 total yards.
Miller made his "Remember me?" statement at the end of the first half. Leading 17-14 after a big Wisconsin score, he drove the Buckeyes across midfield but then lofted up a horrible wounded-duck Hail Mary toss on third down with 10 seconds remaining. The ball wobbled its way toward the right side of the goal line and into the hands of cornerback
Sojourn Shelton
, but slipped through the freshman's hands and fell incomplete.
Given a second chance with time ticking away on fourth down, Miller calmly took the snap, jogged up through the left-side alley of a collapsing pocket and fired an off-the-back-foot strike. The 45-yard rope hit waiting
Corey Brown
, who had inexplicably slipped alone behind the secondary. Though Wisconsin would make it close late, the half-ended pass was the backbreaker. "Man, it slipped out of my hand," Miller said of the interception. "I told Coach, let's do it again and make up for it on the next throw."
A soft early schedule -- Buffalo, San Diego State, Cal, Florida A&M -- hasn't exactly won the hearts of college football experts or pollsters. But a victory over a should-be undefeated, top-25 team; the fact that the OSU defense held the Wisconsin running machine to 104 yards; and the return of Miller all add up to image momentum that will only increase should the Buckeyes win at 16th-ranked Northwestern this weekend.
Said safety
C.J. Barnett
: "I don't know if we made a statement. We know we had our doubters. Hopefully, we proved them wrong. But if not, it doesn't matter. We're just going to keep working."
---
Along the I-85 corridor, two schools who met nearly a month ago were busy making statements of their own. Clemson, coming off a somewhat flat nationally televised Thursday night performance against NC State, looked crisp early and often against Wake Forest, one of the culprits behind the "Clemson pulling a Clemson" perception that has dogged the program over the last decade. The Tigers won 56-7 in a game that was largely over at the end of the first quarter.
Just down the road at Georgia, the Dawgs outlasted LSU, thanks to a big-boy fourth-quarter drive led by oft-criticized quarterback
Aaron Murray
. Speaking of which, you think maybe it's time to park the "Richt and Murray don't show up for big games" talk?
Murray certainly does. After Sanford Stadium had emptied out, he made his way to the "College GameDay" stage, where an hour earlier his former roommate, LSU quarterback
Zach Mettenberger
, had come up short in the closing moments. When Murray was prepped on the upcoming topics of conversation with Tom Rinaldi, he was told there would be a question about shedding the "bad in big games" image.
"Yeah," he said with a smile. "I figured that was coming."
On camera he was smooth, admitting that he hadn't been able to watch LSU's final drive ("My teammates said, 'Stop being a baby and watch the game!'") and repeating his in-huddle statement to the team that he'd used against North Texas the week before: "Relax and have fun". And yes, he addressed the whispers about his big-stage performances. "This isn't about me. This is about our team. This has been a brutal first month and I think we've proved to the nation that Georgia is for real. No matter what happens, we keep pushing."
Consider this: Georgia played four games in September and three were against top-10 opponents; they won two of those, becoming the first team since Alabama's 2008 squad to defeat two top-10 teams before Oct. 1. The one game they lost was by only three points at Clemson's Death Valley, which, when on its game, is one of America's most intimidating venues.
Yes, UGA is giving up yards and points, but when you're producing 554 yards and 41 points a game, you buy your D time to get their act together, especially with O-challenged Tennessee as their next opponent. "We're ready. We're here, man," says wide receiver
Justin Scott-Wesley
, with enthusiasm. "We can take on anybody, any time … We'll take anybody, anywhere."
Aaron Murray threads the needle to his man Scott-Wesley to put UGA up 44-41 in Athens. EDGE. OF. OUR. SEATS... #StoryOfTheSeason #LSUvsUGA

— ESPN The Magazine (@ESPNMag) September 28, 2013
---
On the West Coast, Oregon posted 55-plus points for the fourth consecutive week. The Ducks racked up 381 yards of offense, despite
De'Anthony Thomas
being injured on the opening kickoff, purposely letting off the gas in the second half, and playing in a rain storm so strong that it knocked out power to a chunk of Eugene. They also played a little defense, shutting down Sonny Dykes' famed Air Bear (with an admitted assist from the monsoon).
Meanwhile, Stanford steamrolled Washington State and Oklahoma ran past Notre Dame … all while key rivals USC and Oklahoma State stumbled, one into program in chaos (Wanted: Head Coach), the other into an inexplicable loss (Take Me Home, Country Roads!).
See? September statements, one and all.
"September is great, and on the win-loss record, the September wins count just like all the others," says Sooners head coach Bob Stoops, already looking ahead to the next two weeks, with TCU coming to Norman and then the annual visit to the Cotton Bowl to see Texas. "But there's an old football cliche and we know it around here better than anybody: They remember what you do in November."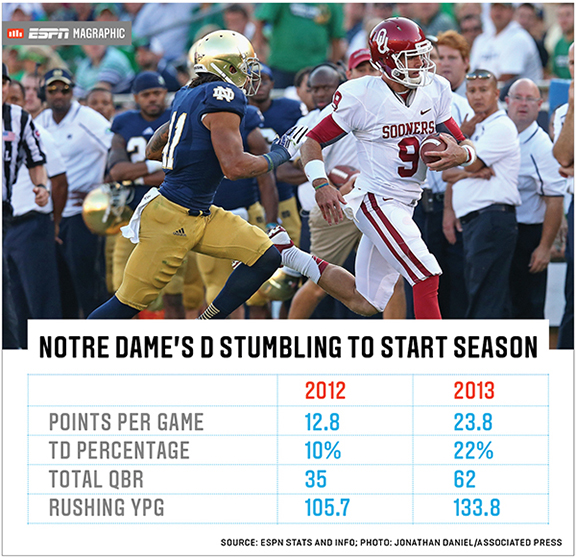 ESPN The Magazine

September, 24, 2013
9/24/13
11:00
AM ET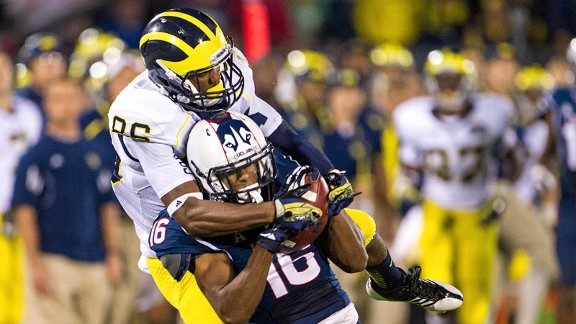 David Hahn/Icon SMIMichigan survived a nail-biting game against what was supposed to be a pushover team.
For four months, ESPN The Magazine will follow the march to the Vizio BCS National Championship, moment by moment, culminating in our Story of the Season double issue Dec. 27. Every Tuesday, Mag senior writer Ryan McGee will pick the previous week's biggest moments and tell you why they'll have the most impact on potential BCS title matchups. If you disagree, send a tweet to @ESPNMag and tell us why your moment matters more, using the hashtag #StoryoftheSeason. Who knows? Your moment (and tweet) might just end up in our issue.

---
"WELL,
it was a win ... that's about all I've got."
You can't blame Michigan coach Brady Hoke for being speechless at his postgame news conference, as if he'd just gotten off a roller coaster. UConn certainly wasn't billed as the Top Thrill Dragster, but the Huskies shook up the Wolverines like an old, half-broken down ride that isn't supposed to knock the breath out of you -- except that it does.
It didn't help that Hoke had to survive a nail-biter over what should have been a pushover opponent just one week earlier. On Sept. 14, Michigan needed a stop on the game's final play to hold off lowly Akron 28-24. Then college football's winningest program barely made it out of East Hartford alive, edging the Huskies 24-21. Yes, the same UConn that opened the season with a loss to Towson, an FCS opponent, by 15.
"You can't give the ball away," Hoke said, speaking of his team's eight turnovers in two weeks. "We've got a major league problem and we've got to fix it, because that's not going to win you championships."
Ah yes, championships. By the time an overwhelmingly underwhelming fourth stanza of the 2013 season had finished late Saturday night, no fewer than three would-be BCS contenders nearly had their championship dreams crushed.
How close did they come?
Three yards, one finger and one toe.
---
At jam-packed Rentschler Field, where UConn welcomed Ray Allen and Derek Jeter and had to bring in more than 2,000 temporary seats to meet ticket demand, the Huskies hassled Michigan quarterback Devin Gardner all night. He threw two interceptions (one tipped) and fumbled away a snap. During one ridiculous five-minute stretch that ended the first quarter and started the second, UConn tied the score 7-7, recovered a botched punt that hit the leg of a member of Michigan's return team, took the lead at 14-7 and then took the Gardner fumble 34 yards for a TD that made it 21-7.
(Flips the channel to ABC to see UConn ahead of Michigan, 21-7. MIND. BLOWN.) #StoryOfTheSeason #MICHvsUCONN

— ESPN The Magazine (@ESPNMag) September 22, 2013
The Wolverines clawed back to take the lead 24-21, but in the closing two minutes, UConn still had a chance to set up overtime or win in regulation. On fourth-and-29 from the Huskies' 33, quarterback
Chandler Whitmer
had receiver Deshon Fox tracked. The up-and-down Whitmer flicked a beautiful pass and hit Fox in the middle of tight coverage with a safety sliding over in a hurry. That safety,
Jarrod Wilson
, provided just enough help to drop Fox less than 3 yards short of a first down, which would have put UConn at Michigan's 41 with 1:43 remaining.
Three plays prior to that pass, UConn already had been across midfield, but a pass for minus-2 yards, a false start penalty and a sack for a 12-yard loss had driven Whitmer back into his own territory. Reverse any of those plays, and that fourth down becomes a first down.
"We've got an off week to work this out," Hoke said as he departed for the bus and then the airport. "We'll take 4-0. But we can't keep counting on the breaks to go our way."
Hoke didn't know it, but he looked and sounded an awful lot like Georgia coach Mark Richt had earlier in the day, lumbering into a postgame presser as though he had sandpaper in his pants.
Anyone who has made a trip to Denton, Texas, recently knows that the North Texas football program has all the potential in the world. It's in a recruit-rich area with sparkling new facilities. But even the staunchest supporter of the Mean Green will tell you that coach Dan McCarney's players still have a lot of work to do to meet that potential.
Yet there they were, between the hedges, tied 21-21 with the No. 9 Bulldogs in the middle of the third quarter. The rain was beginning to pour. The Mean Green was a team ready to believe and the Dawgs appeared to be a team ready to go home. Then quarterback
Aaron Murray
led his team on an eight-play, 53-yard drive that he capped with a keeper for the go-ahead score.
"Hey, we're fine," he told his teammates. "Just play ball and have fun."
And they did. In fact, the next drive (12 plays for 95 yards) was even prettier. But it nearly ended in disaster. On second-and-goal from the 4-yard line, receiver
Chris Conley
ran a picture-perfect, inside-to-outside route and was headed to the right-front pylon as Murray turned and flicked the ball toward the corner. North Texas's Zac Whittlefield is a great athlete, a converted running back who is now an All-Conference USA candidate at cornerback. He hadn't bit on Conley's fake. In fact, he'd used it to set up a great inside move that put him on the goal line between Murray and his target.
Whittlefield had a read on the ball floating toward him and actually appeared to take a quick glance downfield to see the open lane for what could be a 100-yard pick-six. He timed his leap and extended his left arm upward. He swiped and made contact. It wasn't going to be a pick, but it was definitely going to be batted down. The pass hit three of Whittlefield's fingers -- he needed it to hit one more.
Instead of being slapped to the turf, the ball dropped straight down … and into Conley's hands. Whittlefield, assuming he'd broken up the pass, was stunned when the Georgia crowd erupted and he turned to see Conley celebrating. Down two scores, the wind out of its sails, the Mean Green lost 45-21 and Georgia's one-loss title hopes kept floating.
Two nights prior, the coach who pinned that loss on Georgia, Clemson's Dabo Swinney, had also arrived to his postgame Q&A looking as worn out as Hoke and Richt. The Tigers had just survived an unquestionably ugly, 26-14 Thursday night win at NC State.
The initial volley of questions didn't center on Heisman hopeful Tajh Boyd's accuracy issues (his season-best 64.9% completion rate looked good on paper but not in person) or even the importance of earning the team's first ACC win and avoiding, for a week anyway, talk of "pulling a Clemson." Instead, reporters immediately asked about one specific play.
Down 13-7, Wolfpack receiver Brian Underwood electrified Carter-Finley Stadium with an 83-yard touchdown reception, setting up a chance to lead the third-ranked Tigers by a point (or more) with 7:31 remaining in the third. But line judge Richard Misner ruled that Underwood had stepped out of bounds at the Clemson 47-yard line. When the whistle was blown, the play was instantly dead, meaning that it couldn't be reviewed from the replay booth.
Within minutes, ACC coordinator of officials Doug Rhoads had vanished from the NC State press box. He was off to the instant replay booth so he could see all angles of the play. The former back judge knew that, regardless of whether the play could be officially reviewed, he needed to know exactly what it looked like, especially as the ESPN TV booth continued to question the call and NC State fans kept booing every scoreboard replay.
It was a rare instance when freeze frames and replays contradicted one another. Multiple shots seemed to prove that Underwood had stayed in bounds. But at least one appeared to show the right side of his foot barely over the line. In the end, Rhoads explained, even if the whistle hadn't blown, there wouldn't have been enough evidence to overturn the on-field ruling.
@ESPNMag @ESPNMcGee NCSU play called out of bounds vs. Clemson that was a touchdown. Total game changer. #accconspiracy #swoffordisajoke

— Andrew Williams (@ATWBUNS) September 21, 2013
Just three plays later, NC State quarterback
Pete Thomas
fumbled. Five plays later, Clemson went up 20-7. The Pack never recovered, physically or mentally.
As Swinney took his seat in the press room, he unknowingly spoke for many of his fellow coaches, not to mention thousands of fans, when it came to summing up a gross, sloppy Week 4 filled with mismatches, miscues and malaise from coast to coast. Yes, in the end nearly all of the teams that were supposed to win did. But like Clemson, most of them seemed uneasy, unsatisfied and anxious for Week 5.
"Glad to get that one over," Swinney said. "We can't load up the buses soon enough."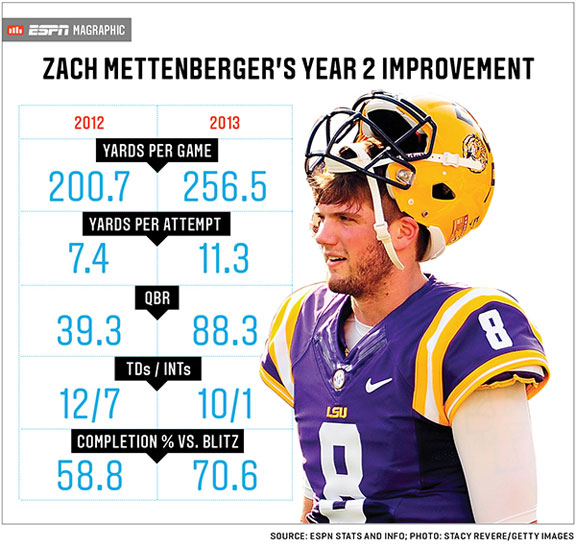 ESPN The Magazine

September, 17, 2013
9/17/13
9:16
AM ET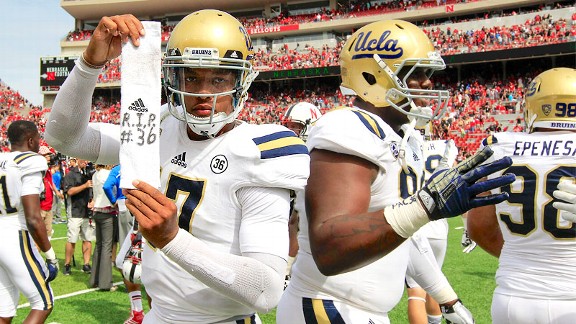 AP Photo/Nati HarnikBrett Hundley pays homage to late teammate Nick Pasquale after UCLA beat Nebraska.
For four months, ESPN The Magazine will follow the march to the Vizio BCS National Championship, moment by moment, culminating in our Story of the Season double issue Dec. 27. Every Tuesday, Mag senior writer Ryan McGee will pick the previous week's biggest moments and tell you why they'll have the most impact on potential BCS title matchups. If you disagree, send a tweet to @ESPNMag and tell us why your moment matters more, using the hashtag #StoryoftheSeason. Who knows? Your moment (and tweet) might just end up in our issue.
---
AS UCLA
jogged off the field at Nebraska's Memorial Stadium, having erased an 18-point first-half deficit to defeat the Cornhuskers 41-21, one Bruin began to cry. Then another. And another.
The magnitude of the moment was felt by all, the release instantaneous. It was a stunning visual of a team finally letting go of what it had held inside for a week.
Yes, UCLA had just knocked off a ranked team, higher-ranked according to the USA Today coaches' poll. Yes, the Bruins had scored 38 unanswered points in 31 minutes. Yes, quarterback
Brett Hundley
, who went 16-of-24 for 295 yards and three TDs and added 61 yards rushing, might have stepped into the Heisman ring. And yes, the team had officially announced itself as the favorite in the Pac-12 South and a legit contender to win the league. But the flow of tears had little if nothing to do with any of that.
"We realized this game is bigger than just us now," Hundley explained. "Everybody is always so worried about themselves, but this game is so much bigger and we understand that now."
Hundley's waist towel was emblazoned with "R.I.P. #36." Every member of the team wore a patch with that same number on their jerseys; the Huskers wore it on their helmets. It was a combined memorial to UCLA walk-on wide receiver
Nick Pasquale
, who was killed early on the morning of Sept. 8, when he was hit by a car as he walked alongside the road near his home in San Clemente, Calif.
Hundley, who threw all three TDs in the final six minutes of the third quarter, spent the final seconds of the game waving that towel from the bench area, drawing applause from the small group of fans wearing true blue and gold. But Nebraska students who had hung around for the end also applauded. Some of them had participated in a somber pregame ceremony in which they released balloons in Pasquale's memory and held up a sign reading: "Two Schools, One Team." The Huskers faithful put aside their disgust over their team's pitiful second-half performance to give the Bruins a classy sendoff of applause.
"Our aim is to be special," said UCLA coach Jim Mora. "Our aim is not to be average."
So how special can this team really be? We'll find out in a hurry. After a home game with perpetually miserable New Mexico State, the Bruins come off a bye and travel to Utah for a Thursday night game. (They've been drubbed on their last two visits.) After hosting Cal at the Rose Bowl, they make back-to-back trips to No. 5 Stanford and No. 2 Oregon. Not to mention back-to-back home games against currently-ranked Washington (Nov. 15) and Arizona State (Nov. 23).
It's safe to say that by the time UCLA visits the Coliseum to play USC on Nov. 30, its season will have either spiraled into an around-.500 campaign or been the worthiest BCS run of the 2013 season.
Because the Pac-12 has proved, top to bottom, it's back. As a conference, it went 8-1 against quality opponents in Week 3 (even if one of those victories was tainted by the bizarre final play of Arizona State's win over Wisconsin). The only loss was Cal's defeat at home to No. 4 Ohio State. So whichever team emerges from the Pac-12 title game on Dec. 7, there shouldn't be any question that the winner belongs in the BCS title game, something that hasn't been apparent the last few seasons.
"I know it's a cliche, but this is one week at a time," said Mora. "Last week was one day at a time, sometimes one hour at a time. Now we'll move forward and Nick will move forward with us."
But first, the Bruins had to take one more trip back. On Sunday morning they boarded buses to San Clemente to attend Pasquale's memorial service ... and Hundley gave his towel from the Nebraska win to Nick's family.
---
AJ McCARRON AND
Johnny Manziel
seem destined to be forever linked in the annals of SEC history. Entering 2013, they'd already done enough to ensure their place together, especially after last year's thriller in Tuscaloosa and this past summer's weird "Why didn't McCarron wake Johnny up at the Manning camp?" controversy.
But the slugfest that the two unlikely friends unleashed in this year's first official "Game of the Season" was like something out of "Rocky II." After spotting A&M a 14-point lead, McCarron coolly stroked his way through the rest of the first half with touchdown passes of 22, 44 and 51 yards. Manziel started the second half with what should have been a backbreaking pick-six, but instead he threw four TDs of his own, including a 95-yarder to
Mike Evans
.
It was in the middle of that Johnny Football barrage that McCarron, who is becoming increasingly tired of the "game manager" label, smoothly swung to his right on play-action. He gave up what looked like a safer run into the end zone, instead flicking a 5-yard score on third down to
Jalston Fowler
that essentially iced the game.
In the end, McCarron and Manziel combined to go 48-of-68 for 798 yards and nine TDs. Manziel had the day's only two interceptions, but also added 98 yards rushing to McCarron's 0. I was watching the game while on the phone with an NFL scout, who relished the comparison of the two signal-callers.
"I love to watch Manziel play," he said. "But it feels so impromptu. That one play in the second quarter, breaking loose of the tacklers, scrambling his butt off and then completing a blind pass downfield ... that's great as a fan. But coaches in our league, they get a little twitchy about impromptu.
"McCarron makes things happen within the game plan. He makes decisions that are smart, but he still keeps it within the boundaries of what the plan was. Coaches love that. Here's the play, execute it without stupid mistakes. AJ does that all day and all night. That might not win you a bunch of quarterback awards, but it will win you a lot of rings."
Nick Saban put it more succinctly: "He wanted the ball in his hands on third-and-5 at the end of the game."
Translation: You can have your game manager talk and Heisman trophy discussions. This kid's a winner, no matter what you say.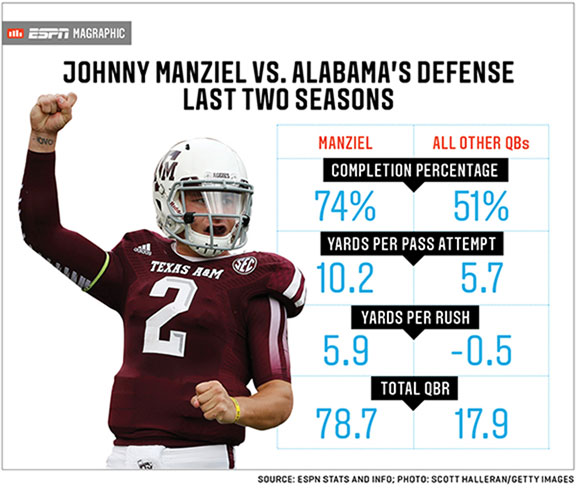 ESPN The Magazine

September, 10, 2013
9/10/13
11:00
AM ET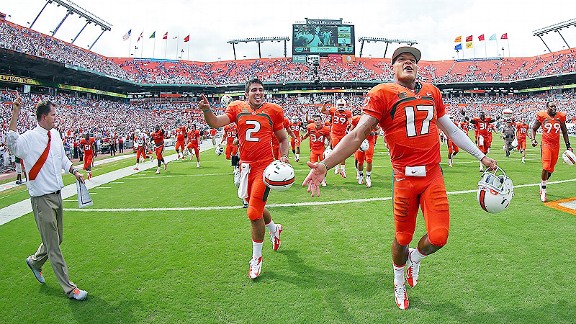 Mike Ehrmann/Getty ImagesThe Miami Hurricanes celebrated an upset win over the Florida Gators on Sept. 7.
For four months, ESPN The Magazine will follow the march to the Vizio BCS National Championship, moment by moment, culminating in our Story of the Season double-issue on Dec. 27. Every Tuesday, Mag senior writer Ryan McGee will pick the previous week's biggest moments and tell you why they'll have the most impact on potential BCS title matchups. If you disagree, send a tweet to @ESPNMag and tell us why your moment matters more, using the hashtag #StoryoftheSeason. Who knows? Your moment (and tweet) might just end up in our issue.
---
ON PAPER,
Week 2 didn't exactly appear overrun with BCS-altering showdowns. But by the time the final whistle had blown in the Pacific time zone, there were indeed dashed postseason hopes scattered among the wreckage.
If Week 1 was the Saturday that the FCS-FBS line officially blurred, then Week 2 was the Saturday that the BCS storylines officially started to take shape. Let's just call it Power Shift Saturday. And let's start in South Florida.
The previous five times the Florida Gators and Miami Hurricanes played, the winner finished the season ranked in the top 5 in the AP poll. The programs have been on-again, off-again rivals, part of a longstanding, round-robin tourney (along with Florida State) to be the kings of the Sunshine State.
Sensing that this will be the final regular-season matchup between the two teams for the foreseeable future, the oft-maligned Sun Life Stadium crowd actually showed up. Officials even uncovered extra seats, a practice normally reserved for the Orange Bowl, not Hurricanes fans who don't typically bother with the drive from Coral Gables.
With the heightened stakes, the blood was up early on both sidelines -- early as in before the game started. During warm-ups, the two teams started edging closer and the jawing became so intense that game officials had to give a polite warning. "There was so much smack talk, I can't even describe it," Miami quarterback
Stephen Morris
said after the game.
To open the game, the Gators' offense, led by
Jeff Driskel
, marched down the field on an eight-play drive, only to fumble in Miami territory. They marched again on a seven-play drive that bled into the second quarter, only to have Driskel throw a pick inside the Miami 5. And again they marched, only to have an 11-play drive stall after a failed fourth-and-1 at the Miami 16. Finally, a 12-play drive ended on a
Trey Burton
fumble in the red zone, with less than a minute to play in the half.
Still, the Gators' defense gave the offense a chance to win, eventually locking down what started as a runaway Hurricanes offense and limiting them to less than 2 yards per rush.
With seven minutes remaining in the game, Miami led 14-9, but Florida was driving (again), with a third-and-3 at the Canes' 16-yard line. Driskel took the snap from the shotgun and immediately fell into the habit that plagued him all day: His eyes betrayed him.
As soon as he had the ball, he was looking right, where two wide receivers were running quick outs. With an onrushing Miami defender in his face, Driskel rocketed a pass toward the sideline and wideout
Quinton Dunbar
, who was at the Miami 7, just beginning his turn to the quarterback.
"This is where you see Driskel get himself into trouble as a one-level thinker," an NFL scout told me on Sunday, watching film of the play on my laptop. "It's a boom-boom play; he's not supposed to take a lot of time, but damn, he never even considered another option. He already had his mind made up who the ball was going to, come hell or high water."
The play had a designed safety valve, which was Burton, running toward the sideline at the 12. Instead, Driskel fired it past Burton to Dunbar, who was cut inside by cornerback
Tracy Howard
, who essentially iced the game with an interception. The Gators did get the ball back, but turned it over (again), this time on a Driskel fumble deep in their own territory. Florida's final TD made the 21-16 result look closer than the game was.
"[Driskel] does this the whole game," the scout said, taking my laptop and scrolling back to the second quarter, when Driskel appeared to be first-option only, gunning blindly into nearly quadruple-coverage for an INT. "That play was designed to the running back on the left. If he's not there, then he's got a clear out to run. But again, he'd decided where he was going with it before the play even started. You can't be a real title contender like that. Did you see Tennessee against Western Kentucky? Ball hawks. That team might intercept this kid five times."
If the Vols do so on Sept. 21 in Gainesville, Florida -- which dropped from No. 12 to No. 18 in the AP poll -- is nearly guaranteed an opening SEC loss. During the Will Muschamp era, the Gators are 19-9. In those 19 wins, they've committed 18 turnovers, good for a plus-20 turnover margin. In the nine loses, that margin falls to minus-21.
As for the power shift, The U scored its first win against a top-15 opponent since 2009 and easily its biggest since knocking off No. 3 Virginia Tech in 2005. The Canes, which went from unranked to No. 15 in the poll after the win, reinforced the ACC media's preseason decision to vote them as the Coastal Division favorites. But more importantly, they reinforced the ACC itself. For the second straight week, the conference knocked off a highly ranked SEC foe. The coach who earned that first power-shifting win was quick to acknowledge the trend.
"How about that ACC?" Clemson's Dabo Swinney said as he wrapped up his postgame news conference Saturday after trouncing South Carolina State. "Spunky little league."
Then he threw up Miami's trademark "U" hand gesture and walked off the stage.
Of course, he doesn't have to face the Canes during the regular season, unlike Jimbo Fisher and Florida State, who do on Nov. 2.
---
Georgia, the team that Swinney and Clemson beat Aug. 31, last week knocked off the team that the Tigers hope to beat on Nov. 30: Jadeveon Clowney and South Carolina. The Dawgs' 41-30 win over the then-No. 6 Gamecocks also indicated a significant power shift. UGA snapped a maddening three-game losing streak to its SEC East rival. Yes, Georgia still managed to make the SEC title game the past two years, but the South Carolina losses always dogged its potential BCS title game status. Should Aaron Murray and company return to Atlanta this season, they still will have the Clemson loss hanging over them. But if the Tigers win out (they will certainly be favored in all of their remaining games), then they could potentially meet the Dawgs again in Pasadena. Then again, South Carolina could ruin the party for both if it beats Clemson in Columbia, something it has done in four straight seasons.
Michigan's 41-30 victory over Notre Dame signified a bit of a power shift: The Wolverines managed to beat a ranked opponent, something they did only once in five tries last season. Meanwhile, the Irish, who were ranked No. 14 last week, failed their first test of 2013 after beating an all-star list of schools during their improbable unranked-to-BCS title game run of 2012. Last season, Michigan lost to South Carolina (No. 11), Ohio State (No. 4), Alabama (No. 2) and yes, Notre Dame (No. 11). Now both teams have done something they couldn't a year ago -- one beat a ranked team, and the other lost a regular-season game.
Speaking of power shifts ... was it really just eight years ago that Texas and USC played for the national title at the Rose Bowl? In case you need to be reminded, both suffered surprising upsets Saturday. And if you're a member of either of those fan bases, safe to say you're also upset. The Longhorns fired one-time wunderkind defensive coordinator Manny Diaz after just two games, a decision accelerated by BYU's unthinkable 550-yard rushing performance. As for the Trojans' fall (at the Coliseum, no less), the closing minutes of the loss to Mike Leach's Washington State squad were played among "Fire Kiffin!" chants. USC has lost seven of its past nine games; Texas has dropped three of its past five.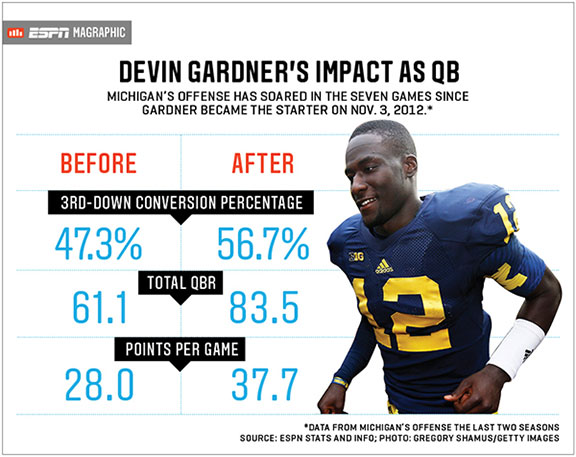 ESPN The Magazine