January, 2, 2014
Jan 2
1:30
PM ET
STATE COLLEGE, Pa. -- Most Penn State players reacted with a stunned silence when told of the news that their head coach, Bill O'Brien, was
heading to the NFL's Houston Texans
.
The story broke about 90 minutes before the new year, and most players were either with friends or on their way to parties. Linebacker
Brandon Bell
was driving when he answered his buzzing cell phone.
"It's official?" he asked at 10:30 p.m. Tuesday night. "I don't have much to say. ... Yeah, I guess I'm surprised."
[+] Enlarge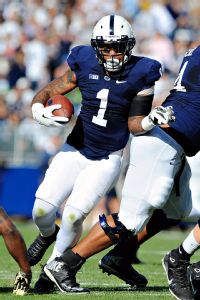 Rich Barnes/USA TODAY SportsBill OBrien's departure caught Bill Belton and his teammates by surprise, but the players feel Penn State will be just fine moving forward.
He paused a few seconds and then continued on: "You can't worry about what you can't control. We got to do what we got to do."
Fifteen minutes later and defensive end
C.J. Olaniyan
said he hadn't heard anything about O'Brien heading elsewhere either. He seemed just as off-guard and even a bit reticent to believe the breaking story.
"Like I said, I haven't heard anything," Olaniyan said. "But no matter what happens, Penn State has shown -- everybody's shown -- that we're going to keep striving forward. No matter what happens."
The overwhelming sentiment from players on Tuesday and Wednesday was one of surprise, but not of betrayal. Their emotions were mixed but not polar -- they felt disappointed, but they were happy for their head coach. They seemed down, but they spoke with conviction about their university and the next season.
"As long as we have each other," wideout
Jake Kiley
said Wednesday, referring to his teammates, "we'll be fine. I think everyone's in the same mind-set."
Tailback
Bill Belton
wanted to enjoy the new year, forget about the coaching change and deal with it later. Wideout
Allen Robinson
hung up as soon as O'Brien's name was mentioned. Offensive guard
John Urschel
took to Twitter to
congratulate his head coach
.
Different players reacted differently. But everyone seemed to agree that Penn State's certainly been through worse, and that it would emerge once again just fine.
Those same players who congratulated their head coach first met O'Brien in January 2012 when the relative unknown landed in Happy Valley and told the media he was
"thrilled to be the head football coach,"
months before the NCAA levied unprecedented sanctions against the school. O'Brien asked players for their commitment, their loyalty, and they overwhelmingly surrendered it.
Eugene Lewis, now a rising redshirt sophomore, was one of those players. The coveted four-star recruit arrived on campus a few weeks before those sanctions, and he could've chosen to transfer elsewhere without penalty. But he decided to stick with O'Brien in Happy Valley.
And, even now, Lewis doesn't regret his decision. Even now, he bristled at feeling even the slightest twinge of betrayal by his old coach.
"That's a strong word because you have to look at it from his point of view," Lewis said Wednesday. "He came into a position that was hard for his family, with the sanctions that we got. You have to look at what he did and how he did all he could. You can't really be mad at him for leaving after two years. I still really respect him."
Lewis was at a friend's house, watching ESPN, when he discovered the news of O'Brien's departure. His phone buzzed with calls and texts from his teammates shortly before midnight. They agreed they'd enjoy the night and then just see what happens.
But Lewis was adamant, whomever the next head coach turns out to be, that he'll still be all-in.
"At the end of the day, we all know we're family and we all know we still have to go out there and play for our school," he said. "You have to be able to fight through adversity, and this is just another obstacle. I'm not mad at Coach O'Brien, I'm happy with what he's done for me and this university.
"I know my team and everyone else there at Penn State -- everyone -- is going to be behind us, and we're going to greet the next coach the same way we greeted Coach O'Brien."
Defensive end
Curtis Cothran
echoed Lewis' words and succinctly summed up the message from Penn State's players: "We're going to be OK."
October, 13, 2013
10/13/13
12:00
AM ET
STATE COLLEGE, Pa. -- Defensive coordinator John Butler scanned the sideline after the referees signaled touchdown, finally bringing to end an instant classic that'll be talked about five years from now.
He watched as more than 100 Penn State players erupted in ecstasy -- spinning around, hugging, pumping their fists -- as they sprinted to the end zone to join their offensive teammates, who clinched a 43-40 win. In quadruple overtime. Against Michigan.
Two seconds after the game had ended, no one was left on the sideline. Maybe Butler was just looking for an assistant coach to embrace after the season-defining win. But he couldn't find one; they had already started a celebration that's sure to last until morning. He instead looked around, turned to the person closest to him and said one line before jogging off.
"We're going to be fine," he said, with no smile on his face but a sense of conviction in his voice. "Write that -- we're going to be fine."
[+] Enlarge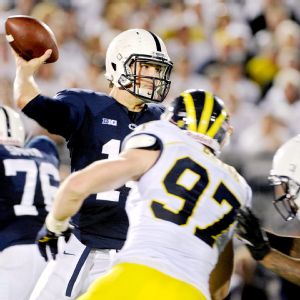 Abby Drey/Centre Daily Times via Getty ImagesChristian Hackenberg passed for 305 yards and 3 TDs in the upset of Michigan.
Beaver Stadium was filled with a sold-out crowd of more than 108,000 -- but it was also filled with question marks. Had Penn State's magic run out? Could this team really come away with a big win? Would this defense collapse again when it counted? Was there anyone on this offense besides
Allen Robinson
who could make plays?
The Nittany Lions didn't punctuate each answer with an exclamation mark. But they won. With dozens of lettermen on the sideline for homecoming, the Nittany Lions did to UM what it did to PSU in 2005: put an end to a perfect season.
"You can't really compare this to anything else; it's pretty much indescribable," quarterback
Christian Hackenberg
said. "It's just one of those things where if you're fortunate enough to be in this type of game and you experience it -- it's something that's going to stick with you for the rest of your life."
Added tailback
Bill Belton
: "Oh, I'm going to remember this. Ten years from now? Yeah."
This wasn't a game that anyone "deserved" to win. Then again, maybe no one deserved to lose. Michigan quarterback
Devin Gardner
paced the sideline, with a headset over his ears, as
Brendan Gibbons
' 40-yard attempt was blocked in the first overtime. Then, in the third overtime, Michigan's players stared at the ground -- tight end
Khalid Hill
yelled, "Damn!" -- when Gibbons' missed a 33-yarder.
Both teams had plenty of opportunities to win. Michigan came into this game always making plays when it needed to, while Penn State always seemed to watch the ball bounce in a bad direction. The roles were reversed this time around. Call it luck, call it skill, call it whatever -- but, whatever it was, it couldn't have come at a better time for Penn State.
"I would just say that in a lot of situations, God was on our side today," Robinson said. "We were able to make some plays down the stretch to keep this game alive."
Safety
Stephen Obeng-Agyapong
promised after the UCF loss that a game like that wouldn't happen again. Then Indiana happened. And wideout
Eugene Lewis
took to Twitter to let everyone know PSU was better than that. If PSU loses this game? Well, at some point, you stop believing it gets better. Those words don't have meaning if the losses pile up.
Bill O'Brien usually heads into every game by taking the dais and telling the media that every game is important. This week, he said he'd be crazy to say this was just another game. It wasn't. Win or lose, this was going to be a turning point for the Lions.
And, for the first time this season, it turned out the right way for Penn State.
"I'm just so jacked-up and so happy because you're putting it out on the line every single play," linebacker
Mike Hull
said. "This says we're a resilient bunch of guys."
Offensive tackle
Garry Gilliam
lingered beneath the tunnel and slapped hands with the fans. Linebacker
Glenn Carson
jumped around as if he were at a track meet. And fans, many of whom wore the same color for a stadium-wide "White Out," didn't move from their seats minutes after the game had ended and the Wolverines had already retired to their locker room.
Penn State had answered the questions by scoring 10 points in the final seven minutes of the fourth quarter to force overtime; then enduring a swing of emotions -- unlike any game either team has played this season -- and coming out with a win.
But, overall, the answers all revolved one simple theme. And it's one these fans can head home through snarled traffic with in mind.
These Nittany Lions are going to be just fine.
October, 11, 2013
10/11/13
3:30
PM ET
STATE COLLEGE, Pa. -- The Nittany Lions have found themselves at a crossroads early on this season.
Expectations last year were low. Students walked around campus with "We Still Are ..." plastered on their T-shirts and in their minds. The team, held together by shoestrings and their dimple-chinned coach, came out of nowhere to capture the admiration of Big Ten coaches and the respect of many who sat in front of their couches on Saturday afternoons and watched the Nittany Lions pummel teams that many thought they'd get pounded by.
[+] Enlarge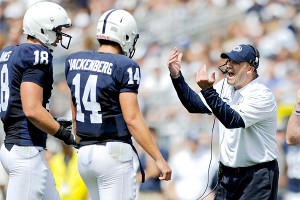 Abby Drey/Centre Daily Times via Getty ImagesBill O'Brien has seen more growing pains with his young team this season.
That's changed this season. Eight to 10 wins were expected.
Christian Hackenberg
was heralded as a savior before he moved in to a dorm. The group of tight ends smiled and referred to themselves as "TEU." The sanctions were wrongly thought to be behind them. And PSU has come out wheezing like a short-distance runner asked to run a marathon.
The defense, without Gerald Hodges and Michael Mauti, isn't the same. The tremendous story of a determined Matt McGloin has given way to a talented true freshman trying to find his footing. The lack of scholarships, whether or not O'Brien wants to keep discussing them, has impacted the team.
The narrative has clearly shifted. And it sure seems as if O'Brien and the rest of these Lions are aware of that.
Last October, on the Tuesday before the Ohio State game, O'Brien took the dais like he has every week and discussed the upcoming opponent. He was asked about the importance of the home game, just as he's always been. And this was his response on Oct. 27, 2012: "I think every game we play is a very important game here at Penn State. I would say that for every team. ... And this year we only get the chance to lay it on the line 12 times; 12 Saturdays. So every game for us is a very, very big game."
Contrast that with what a feisty O'Brien said on Tuesday before this weekend's contest against Michigan. A reporter asked if he needed to emphasize to this team not to buy into the hype, that this is just another game.
"No," O'Brien said. "We tell them, 'Look, this is an exciting opportunity. Penn State-Michigan. ESPN. 5 o'clock. 108,000 [fans]. You got Nittanyville going crazy over there.'
"It'd be crazy to think this is just another game."'
It would be crazy. This isn't just another game because this isn't last season. Fans' memories are shorter than coaching tenures nowadays and some of same ones who wait around at Damon's every Thursday in hopes for O'Brien's autograph after his radio show have logged onto message boards and spit venom about how Joe Paterno never would've lost to Indiana. And how defensive coordinator John Butler should be fired.
Penn State is 3-2 right now. That has to be stated because, by the looks of the record alone, it seems as if it might be premature to inch closer to the proverbial panic button. Well, it's not.
Stephen Obeng-Agyapong
said after the UCF loss that the defense's performance was just a one-time mistake, a bad day. It wouldn't happen again. Then Indiana happened. And
Eugene Lewis
said on Twitter, "We going to be better promise that."
You can only believe so many times that it's going to get better. And that's why Saturday's contest against Michigan is paramount to the Nittany Lions. Win; and all the concern, all the message-board fodder, all the doubt -- that can be looked back upon and labeled an overreaction. Lose, and those generalizations and critiques seem about right, especially with a tougher Ohio State team up next.
O'Brien likes to say he's not a genie. He also said Tuesday he's no psychologist or psychiatrist. Well, he's no magician either. Different reporters, fans and analysts have their own ideas about why Penn State has struggled. It's the lack of leadership or the lack of talent or maybe a play-calling problem. Maybe it's a combination of the three.
But, whatever the exact issues are, the only panacea is winning. And O'Brien isn't the only one who knows that.
"Penn State vs. Michigan has always been a big-time game," safety
Malcolm Willis
said. "And I'd be lying to you to tell you it wasn't."
August, 31, 2013
8/31/13
9:50
PM ET
EAST RUTHERFORD, N.J. -- Before making his college football debut, Penn State true freshman quarterback
Christian Hackenberg
made a request for teammate
Garry Gilliam
.
"If I get spaced out or anything, give me a smack," Hackenberg told his right tackle.
Gilliam noted that Hackenberg was grinning when he made the request, so he knew the kid was going to be OK. All things considered, he was a lot better than that.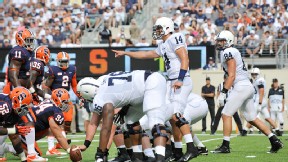 Cal Sport Media/AP ImagesFreshman Christian Hackenberg had some big mistakes but showed poise in Penn State's win.
Hackenberg completed 22 of 31 passes for 278 yards and two touchdowns while leading the Nittany Lions to a 23-17 win over Syracuse at MetLife Stadium. He made some crucial mistakes, including a pair of interceptions. But the guy who finished his high school baseball season earlier this summer faced down an ACC defense on an NFL field. He also played the entire first half without Penn State's top receiver,
Allen Robinson
, who was serving a suspension for undisclosed reasons, and much of the game without injured star tight end
Kyle Carter
.
That's a lot to ask of any first-time starting quarterback, much less an 18-year old. But Bill O'Brien is all in this season with Hackenberg, handing the keys to the Nittany Lions' season over to the talented rookie.
"We're Penn State," O'Brien said. "We can't dip our toe into the water. We've got to come out ready to go. We've got to take our shots."
So O'Brien didn't hold back when Penn State stared at third-and-11 on its own 30, nursing a 23-10 lead with under eight minutes to go. Rather than run, punt and turn it over to a defense that smothered Syracuse all day, O'Brien called for Hackenberg to throw the ball. Defensive end
Robert Welsh
slipped underneath the route and picked off the pass, returning it to the 1-yard line to set up a touchdown and put the Orange right back into the game.
O'Brien blamed himself for the call, but youth also played a part. O'Brien said he doubted that Hackenberg had ever seen that type of coverage from a defensive lineman in high school.
"They threw a lot of blitzes at us today, and I had a little bit of a tough time finding a couple of them and recognizing them," Hackenberg told ESPN.com after the game. "That will definitely be a big emphasis for me this week."
The encouraging part was that Hackenberg kept his cool despite his mistakes, which also included a first-half interception and a near pick-six later in the game. Teammates said they saw no difference in his demeanor throughout the game.
"He's just a confident kid," tight end
Jesse James
said. "He knows what he's doing. He's always been the same [in the huddle]."
Hackenberg's father, Erick, who attended the game and talked to his son before kickoff said his son showed the same calm attitude he usually displays.
"It's something I've had to get used to over the years," Erick Hackenberg said. "My emotions change, but he's always so focused."
Hackenberg also showed at times why he was the No. 1 pro-style quarterback recruit in last year's class, especially on his 54-yard touchdown pass to Eugene Lewis in the fourth quarter. O'Brien wanted only to talk about the job Lewis did on his route and how
Zach Zwinak
picked up the blitz on that play, saying Hackenberg had the easiest job of anyone. But Hackenberg also fired a laser downfield that his predecessor, Matt McGloin, might not have been able to match.
O'Brien walked a fine line in his postgame news conference, predictably dominated by Hackenberg questions. He loves the freshman's potential but doesn't want to heap too much praise on someone with still so much to learn.
"He's a young guy who's got a tremendous future," O'Brien said. "But we're not ready to waltz him into the College Football Hall of Fame."
O'Brien and the Nittany Lions will have to live with some freshman mistakes along with the natural playmaking ability of their quarterback. And as Saturday's game indicated, the team might be in for a bumpy ride all season.
Hardly anyone would call last year a smooth one for Penn State, but at least the program benefited from relative health. The Lions went into the opener with only about 65 scholarship players, and 16 true freshman, including walk-ons, made the trip. Before it was over, starting linebacker
Mike Hull
and tight ends Carter and
Matt Lehman
had to leave the game with injuries. That put even more pressure on the team's depth and ability to adapt, the latter of which it handled beautifully.
Stephen Obeng-Agyapong
, who started the game at safety, played linebacker for long stretches and came up with an interception and a forced fumble. Cornerback
Trevor Williams
, who switched from receiver in the middle of spring practice, secured the clinching interception. The 300-pound Gilliam, a converted tight end playing tackle, made a touchdown-saving tackle when he ran down Syracuse cornerback
Brandon Reddish
following a Robinson fumble.
"It's next guy up," defensive end
Deion Barnes
said. "We're all willing to do whatever it takes to win."
O'Brien downplayed the depth issues, but it clearly will remain a concern all season long. As will the youth under center. Counting
Tyler Ferguson
, who played one series, Penn State's quarterbacks committed three turnovers Saturday. Last year's starter, McGloin, had five interceptions all year long.
Expect some dizzying highs and some head-smacking lows with Hackenberg.
"It depends on how he handles it," Gilliam said. "But he's very mature, very poised."
By the looks of things, the kid is going to be OK.
March, 18, 2013
3/18/13
9:00
AM ET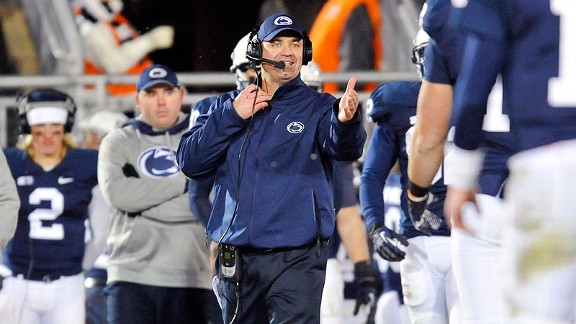 Randy Litzinger/Icon SMIBill O'Brien is excited about his team as he heads into his second season at Penn State.
The last time we saw Penn State, the Lions were celebrating a surprisingly strong finish to the 2012 season and saying farewell to a special senior class. Penn State since has turned the page and will begin spring practice Monday with a mix of familiarity and uncertainty. Bill O'Brien is not the "new coach" in Happy Valley anymore, and players have acclimated to O'Brien and his staff. But the Lions are looking for a starting quarterback for the second consecutive spring. They also must replace several outstanding defenders and fill holes on both lines. But the
depth crisis many of us envisioned
for the Lions when the NCAA sanctions came down last summer simply isn't there in State College.
ESPN.com caught up with O'Brien late last week to discuss spring ball.
What are some of the main objectives you're looking for when you get on the field again?
Bill O'Brien:
The No. 1 objective offensively is to make sure we come out of this spring practice with improvement from the quarterback position. We won't name a starter coming out of the spring, but at least at the end of 15 practices we'll have a good idea of how well these guys are grasping the system, Tyler Ferguson and
Steven Bench
. So that's a big deal for us offensively.
And defensively, some new guys will be in there, and seeing how those guys do, whether it's
Nyeem Wartman
at linebacker or
Jordan Lucas
at corner or some other guys who are going to be playing a little bit more next year, how much they improve. And then we'll work our special teams every single day, so hopefully we'll find some core special-teams players this spring.
What's your message to Steven and Tyler going into the spring? You're not naming the starter, but what do you want to see out of them?
BO'B:
[Thursday] I was talking to them, and I said, 'Look, I just want you guys to put your head down and go to work. Don't worry about what everybody else on the outside of the program thinks about your performance, whether it's in scrimmages or the Blue-White Game or whatever it is. Just try to get better every single day.' These are two really, really good kids. They're smart, they work hard at it, they're grasping it pretty well to this point. We're pretty excited about getting started with them. I don't want them to think about anything other than trying to improve and be as good a leader as they can be.
Will you have to change the offense for one or the other? Do they fit in with what you did last year?
BO'B:
We'll definitely be different. We'll be different in many ways. Matt [McGloin] had certain strengths we tried to play to, no question about it. Our system is expansive enough that you can have different parts in there to take advantage of the talents of the quarterbacks who are playing. So we'll be a different offense than we were last year.
Anything specific on what might change with these two quarterbacks or areas you can draw out more?
BO'B:
I'd rather not get into all of that, but I can tell you these are two guys who are big, they're strong, they're fast, they look to be accurate passers. We're just looking forward to working with them.
September, 12, 2012
9/12/12
10:20
AM ET
Penn State's passing attack is showing life under coach Bill O'Brien, but a familiar question surfaced Tuesday night when reports of another player departure began streaming in: Who will catch the ball for the Nittany Lions this season?

It's worth asking after Penn State confirmed Wednesday morning that junior wide receiver
Shawney Kersey
has left the program for personal reasons.
Kersey entered the season as Penn State's most experienced receiver. His five receptions in 2011 made him Penn State's leading returning pass-catcher, as seven others had left the program, either through graduation or transfer.
Justin Brown
, pegged as the team's top target for 2012, transferred to Oklahoma in August, and
Devon Smith
, who ranked third on the squad in receptions last fall, transferred to Marshall.
Kersey had six catches for 44 yards in Penn State's first two contests. He was listed as a starter on
this week's depth chart
for the Navy game.
Brown sparked
debate about the real reason for Kersey's departure
, tweeting Tuesday night: "Y they have to do that to my boy" and "They in no position to b giving guys the boot." He later tweeted that his comments had been taken out of context.
Although
Allen Robinson
(19 receptions) clearly has emerged as
Matt McGloin
's top target, and the tight ends, namely
Kyle Carter
, are more involved in O'Brien's offense, Kersey's loss certainly stings. An already thin position group is even thinner.
Penn State really needs
Alex Kenney
to emerge along with others like
Evan Lewis
and
Eugene Lewis
.
February, 6, 2012
2/06/12
11:10
AM ET
The Big Ten recruiting classes are signed and sealed, and although a few more recruits could come aboard, we have a good idea of what the rosters will look like heading into the 2012 season.
That means it's Power Rankings time. Again.
We're taking a post-signing day look at where the league stacks up. There aren't too many changes from our
previous rundown
, but some teams received a bump from strong recruiting classes.
As they say on Twitter, #legooo.

1. Michigan State:
The Spartans' recruiting class didn't crack ESPN's top 25, but it features several strong prospects and is loaded up at wide receiver and defensive back. Mark Dantonio tells us he can't remember recruiting 10 athletes like the ones Michigan State added in the class. Michigan State already is one of the Big Ten's most athletic teams, so this bodes well for the Spartans as they look for another big season.
2. Michigan:
Brady Hoke and his staff rode a fast start to 2012 recruiting and finalized a class ranked No. 7 nationally. The Wolverines started three freshmen on defense in 2011 and added several more who can contribute early in their careers, including linebacker Joe Bolden, cornerback Terry Richardson and defensive tackle Ondre "Pee Wee" Pipkins. If Michigan can maintain its momentum on defense after losing several stud linemen, it will be very tough to beat in 2012.
3. Ohio State:
Urban Meyer announced himself with a superb recruiting class featuring arguably the nation's best crop of defensive line prospects. Ohio State would have been an improved team in 2012 after its first seven-loss season since 1897, but the recruiting class boosts the Buckeyes even more. The defensive front seven should be a deeper and stronger unit, and players like Noah Spence, the Big Ten's top-rated recruit, have a chance to contribute immediately.
4. Nebraska:
The Huskers missed on their top signing day target (offensive lineman Andrus Peat) but still inked a solid class that should help at positions like linebacker, where Big Red lacked size and depth. Linebacker Michael Rose could contribute early in his career. Nebraska also addressed the departure of standout cornerback Alfonzo Dennard with talented juco addition Mohammed Seisay.
5. Wisconsin:
Quality not quantity was the theme for Wisconsin, which signed only 12 players, the Big Ten's smallest class by five recruits. The Badgers lost two offensive line commits to other schools but added a decorated quarterback in Bart Houston and some solid players to the defensive back seven, including linebacker Vince Biegel. This is the type of season that will test Wisconsin's ability to reload and provide a true gauge of the program's progress under Bret Bielema.
6. Penn State:
New coach Bill O'Brien and his staff had to scramble to keep the class together, and the 2012 recruiting haul didn't quite match what Penn State adds in most seasons. The coaches were able to keep some good prospects and fulfilled a need at wide receiver with Eugene Lewis and others. It'll be interesting to see how quarterback Steven Bench turns out after Penn State lost verbal commit Skyler Mornhinweg to Florida.
7. Purdue:
The Boilers added speed in their 2012 class, and they loaded up on quarterback prospects for the future with four signal-callers. But Purdue also beefed up along the offensive line with Jordan Roos and others. With coaching changes and personnel changes throughout the Leaders Division -- not to mention Ohio State's bowl ban -- Purdue has an excellent chance to make some noise in 2012.
8. Iowa:
The big story in Iowa City isn't so much the recent recruiting class but the seismic changes going on in one of the nation's more stable programs. After having the same coordinators for the past 13 seasons, Kirk Ferentz must replace both Norm Parker and Ken O'Keefe, who left late last week for a post on the Miami Dolphins' staff. Iowa will have new leadership on both sides of the ball, creating some uncertainty but also some excitement. The Hawkeyes added some nice pieces in the 2012 class, such as running back Greg Garmon and defensive end Faith Ekakitie.
9. Northwestern:
Although the Wildcats' class didn't crack the national rankings, it looks like the best haul in Pat Fitzgerald's tenure as head coach. Northwestern picked up a potential difference-maker on defense in defensive end/linebacker Ifeadi Odenigbo. Malin Jones could be the team's answer at running back, a spot that has suffered during Fitzgerald's tenure. The Wildcats also added the league's top transfer in former USC receiver Kyle Prater.
10. Illinois:
It might take a year for Tim Beckman and his staff to make a big splash on the recruiting scene. Illinois' 2012 haul didn't receive great reviews, but the Illini are pursuing several nationally elite 2013 prospects from within the state. Linebacker recruits Tajarvis Fuller and Tyrone Neal should help Illinois in the defensive back seven. There's enough talent on the squad to get back to a decent bowl, but Beckman and his staff have plenty of work ahead.
11. Minnesota:
The Gophers inked a class that drew good reviews from ESPN's analysts. Jerry Kill and his staff retained several top in-state prospects, including offensive lineman Isaac Hayes, wide receiver Andre McDonald and quarterback Philip Nelson. McDonald and fellow wideout Jamel Harbison could be immediate contributors for an offense that needs more options. But defense must be the top offseason focal point for Minnesota, which added several juco defenders.
12. Indiana:
Although the Hoosiers remain at the bottom, we liked their recruiting class, which should first and foremost provide immediate help on defense. Junior college defenders like Tregg Waters and Jacarri Alexander likely will step in right away for a struggling unit. Indiana also will increase the competition at quarterback with heralded prep prospect Nate Sudfeld and juco addition Cameron Coffman.
February, 3, 2012
2/03/12
2:30
PM ET
Larry Johnson has been Penn State's lead recruiter for years, helping the Nittany Lions reel in several blue-chippers, particularly from the Washington D.C./Maryland area. But Johnson's recruiting responsibilities increased this year as Penn State scrambled to hold onto its class. New head coach Bill O'Brien, named to his post Jan. 6, is still juggling two jobs and turned over the recruiting reins to Johnson. Penn State lost several of its top verbal commits to other schools, but held things together enough to sign a class of 19 on Wednesday.
Johnson, the team's defensive line coach and one of two assistants retained from the previous staff, discussed the recruiting process with ESPN.com on Thursday.
[+] Enlarge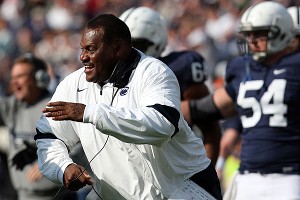 Rob Christy/US PresswireAssistant Larry Johnson helped manage Penn State's recruiting during its coaching transition.
Here are his thoughts:
How was this recruiting cycle different from what you've been used to at Penn State?
Larry Johnson:
I don't think it was a different cycle, but just the transition from the old staff to the new staff. The only thing different was Coach O'Brien made a decision on every new guy we wanted to offer, just to make sure it was the kind of player he wanted in his system offensively or what we thought defensively. He gave us some parameters and things he was looking for with specific positions. So we had to take those parameters and select players who we wanted to add to the class as we move forward. But the biggest transition was just getting the new staff on board, getting the new staff ready to move forward and really continuing what the old staff had done to that point, moving forward with recruits that we had created relationships with.
When Coach O'Brien came on board, how much of the process was offering new players and how much was trying to keep the committed recruits on board?
LJ:
Really, the biggest thing he wanted to do was try to keep the guys who were committed. That was the most important thing, so we had every coach out to see every single recruit who was committed to us. And it was whatever it took, two coaches, three coaches, we did it, and did it by position and did it by areas just to get everybody involved. And then the second weekend in January, it was our biggest recruiting weekend. We had pretty much all those guys on campus, and then Coach O'Brien had a chance to be here and really sat down with each family, each kid for 45 [minutes] to an hour before he left, just to reassure them his commitment to Penn State University and answer questions. That was huge, in the sense of starting out. He was committed to doing it and it worked out well. That was our first priority, hold onto the 14, 15 guys we had and go after more and let them know we're committed. And as we moved along, there were some needs we still had, and we targeted a few kids we could go after and offer and move from there.
Do you think if Coach O'Brien was in place earlier, it would have prevented some recruits from looking elsewhere?
LJ:
It's hard to tell. It's hard to really tell if that would have been the factor. The issue is what it was, and parents have a right to make those decisions and what's best for them. Their decision would have been made whether the coach was in place or not in place. The neat thing about it was the guys that stayed with us stayed with us through the whole process. Some kids didn't waver. The focus should really go back to the families and the kids that decided to wait and then stay and then come. It speaks volumes about those people. Some kids say, 'OK, coach, we'll see.' They listened and waited it out and waited for the new coach to be in place. Even though guys took [recruiting] trips during that process, they still came back to one thing. The families realized Penn State is Penn State. You get a great education, and it's a great place to be. Those are the families, and the people we got are very excited about it. Everybody has a choice, and we're just thrilled to death that these guys decided and the families decided to stay with us.
The guys who stayed, did any of that surprise you? Could it have been worse with guys leaving for other programs?
LJ:
You never know what's going to happen once the fire starts rolling, one guy changes his mind. Each one of those kids got pressure from the media or their neighbors, 'Why are you still going to Penn State?' We all endured it. It could have been worse, but it wasn't, and I think the biggest key was when Coach O'Brien got named head coach, the first thing he did was call the players, call the parents, talk to them on the phone, and then he was here that first weekend that we had a big official visit. That was huge. They needed to see him, they needed to see his face and they needed to hear his vision of where this program is going. That was a big selling piece. And having all the coaches in place as fast as he did. Normally, it takes a long time to do that, but he had a vision in mind with the staff, and that was in place pretty fast also.
What were your top needs in this class, and how did you do in addressing them?
LJ:
We got some really great wideouts. The wideout need we met very well. We needed a running back, and we thought we got a great one in
Akeel Lynch
. We got some secondary players we wanted, more guys, and we got a couple corners there. We would like to have gotten another corner, but we didn't. Defensive line, I thought we met our needs there. Offensive line is probably one of the only places we came up short in getting the numbers we need to have, but you don't want to take a guy late. You might want to roll it over into next year, and that was our mind-set. When we didn't get the few guys we really wanted to get, we didn't want to move anywhere else. We said, 'Let's wait and see next year, we'll get a couple great guys.' We wanted to get four [offensive linemen] and we got two.
What stands out to you about the wide receivers, guys like Eugene Lewis?
LJ:
Coach [Stan] Hixon saw them on videotape and it doesn't take much to figure out what kind of kid [Lewis] is. He's great with the ball in his hands, great, athletic kid, great basketball player, great hands, great competitor. All the things you want in a big wideout, he has. So I think he's a great player. Then you have
Trevor Williams
, another guy who caught 99 balls last year.
Jonathan Warner
, he's got great hands,
Malik Golden
, another very athletic guy also. So I think it's a really outstanding class of wide receivers.
And the defensive linemen, what stands out about them? You'll obviously be working closely with those guys.
LJ:
All four of those guys are very athletic, can do a multitude of things. Three of them played basketball, one wrestled, so they're multi-sport guys, great competitors, and they're big and can run. And they're great kids, great students, high-character families. So we're very fortunate to hold onto all those guys. And then we got
Evan Schwan
, the young D-end, we got him late but he was in our camp for two years, so we knew a little bit about him, but we weren't really sure we were going to take another defensive end. We just felt he was too good of a guy. To not play his junior year and have a great senior year, he's 6-6, you just can't pass up his athletic skills. We were very fortunate to get him late in the process.
How much have you talked the next class and your philosophy going forward with recruiting under Coach O'Brien?
LJ:
I think the groundwork has already been laid. He gave us some parameters moving forward with the 2013 class and what we're looking for. That won't take place totally until he gets here next Tuesday, and then we'll really put the groundwork. But he did give us some parameters of where he wanted to go in the next class and the numbers we're looking at. There's some areas we're going to really hone in on. I know one thing is he wants to control the state of Pennsylvania, so we're going to make a lot of effort in-state to really hold these kids in it. And then we're going to attack the surrounding areas as hard as we can on the East Coast and in through Ohio. And then we may jump and recruit some areas we haven't been before, only because it ties to the coaching staff, Georgia, Alabama, Florida a little bit. But our base is going to be Pennsylvania, the D.C. area, the Maryland area, Western Pennsylvania, all the places that we've got a chance to really get some great players from.
So a little more Southeast focused with this staff?
LJ:
I think so. We're going to dip down in there. You get one or two guys. The key there is travel, getting here. But we've got some guys on this staff, Coach [Ted] Roof and Coach Mac [McWhorter] have got some expertise in that area, some friendships down in the Alabama, Georgia area. So it makes sense to use their connections and try to get some kids out of there.
How much of your job has been reassuring recruits and their parents about the situation at Penn State and that the program is moving forward?
LJ:
Signing this class now, I think we can all move forward. That starts the moving forward for Penn State football, having Coach O'Brien and his staff here, that's been a great starting point. I think now we can really move forward, we really can, and focus on putting together a great class, our kind of people, and ones who want to come to Penn State for all the right things and play at a high level. That's what we're selling right now. And I'd be remiss if I didn't say this: the previous staff, two months prior to this all happening, that's all we sold, Penn State. That's a compliment to those guys. Knowing the situation we were in as coaches, we never stopped selling Penn State. I really think that's why we're here today, because we didn't waver from that and really believe in the system here at Penn State. Now moving forward with this class, people are going to see a difference in what we'll do and how we approach this as we move forward. There are exciting times ahead, I really believe that.
February, 2, 2012
2/02/12
10:30
AM ET
National signing day is in the books, and it's time to evaluate the Big Ten teams and their classes. Although several potential Big Ten recruits are announcing their plans after signing day, most of the classes are complete.
Here's how ESPN Recruiting
graded the Big Ten classes

.
Let's take a look at how teams filled their big recruiting needs:

ILLINOIS
The Illini have had a nice run at defensive tackle with 2011 NFL first-round draft pick Corey Liuget and Akeem Spence, who enters 2012 as a legitimate pro prospect. They solidified the interior line for the future with recruits like
Teko Powell
and
Vontrell Williams
.
INDIANA
It's no secret Indiana needs to make significant upgrades on defense, and coach Kevin Wilson looked to the junior college ranks for help. Indiana added six juco defenders, including cornerback
Tregg Waters
and linebacker
Jacarri Alexander
. These players give the Hoosiers a chance to get better in a hurry.
IOWA
Running back has again become a pressing need for Iowa with the departures of Marcus Coker and Mika'il McCall. While Iowa has lost running backs at an alarming rate, it also has developed young backs very well in recent years. The coaches hope to work their magic with
Greg Garmon
, who could be the most significant recruit of the 2012 class.
MICHIGAN
Arguably no staff in the country makes defensive line a bigger priority than Michigan, which has three coaches, including head man Brady Hoke, focused on the front four. The Wolverines lose standouts Mike Martin and Ryan Van Bergen from the 2011 line, but they addressed the situation in recruiting with pickups like defensive tackle
Ondre Pipkins
and defensive end
Chris Wormley
.
MICHIGAN STATE
Michigan State is creating a nice recruiting pipeline at the wide receiver position. The Spartans lose their top two wideouts from 2011 (B.J. Cunningham and Keshawn Martin) but added several nice receiver pickups in the 2012, including Tennessee transfer
DeAnthony Arnett
and four-star prospects
Monty Madaris
and
Aaron Burbridge
.
MINNESOTA
Quarterback MarQueis Gray returns, and Minnesota needed to get him some help in the passing game after the departure of Da'Jon McKnight. The Gophers added some excellent pickups at the wide receiver position in
Andre McDonald
and
Jamel Harbison
.
NEBRASKA
The Huskers were thin at linebacker in 2011 and lose standout Lavonte David to graduation. Nebraska coaches also have discussed the need to add more traditional linebackers to face Big Ten offenses. Big Red filled the need in the 2012 recruiting classes with players such as
Michael Rose
and
Jared Afalava
.
NORTHWESTERN
Defense has been Northwestern's downfall in the past two years, and the Wildcats need more difference-makers on that side of the ball. They likely landed one in end/linebacker
Ifeadi Odenigbo
, an ESPNU 150 prospect who is Northwestern's most decorated defensive recruit in recent memory. Odenigbo could help immediately as a situational pass-rusher.
OHIO STATE
No Big Ten team made a bigger impact at one position than Ohio State did along the defensive line. The Buckeyes, who were a bit thin up front in 2011, got a lot better with this class, which is headlined by ESPNU 150 prospects
Noah Spence
,
Adolphus Washington
,
Se'Von Pittman
and
Tommy Schutt
.
PENN STATE
Skyler Mornhinweg
's decommitment stings a bit, as Penn State needs more quarterbacks in the mix, but the Nittany Lions also need more difference-makers at wide receiver and tight end. They helped themselves in the 2012 class with wide receiver
Eugene Lewis
, ranked as the nation's No. 34 wideout by ESPN Recruiting. Tight end
Jesse James
is another nice pickup.
PURDUE
Offensive line has been a position of stability for Purdue the past few seasons, but the Boilers lose two starters from the 2011 squad (Dennis Kelly, Nick Mondek) and will say goodbye to several more after 2012. Purdue had to reload up front, and the two highest-rated players in the 2012 class, according to ESPN Recruiting --
Jordan Roos
and
Cameron Cermin
-- all play offensive line.
WISCONSIN
Quarterback is undoubtedly Wisconsin's top priority as
Russell Wilson
departs and Jon Budmayr and Curt Phillips battle back from major injuries. The Badgers needed a signal-caller in a small class and landed a decorated one in
Bart Houston
, a four-star prospect from California powerhouse De La Salle High School.